The Best Adjustable Sandals
We independently research, review, and recommend shoes we know you'll love. We want you to find the absolute best pair – whether that's one of our shoes or a pair from another brand. Unlike other websites, if you buy a pair of shoes from another brand, we do not earn a commission. Happy Shopping!
We all know that feet come in different shapes and sizes. Unfortunately, shoe and sandal manufacturers do not always accommodate the variety of different foot widths. Getting the right width for your feet can be a challenge, especially if your foot is either wide or narrow. Without the proper fit, your feet are going to be tired and uncomfortable. If this sounds familiar, you've found the right article!  
If you have been struggling to find the right sandals for your feet, you may need to look at adjustable sandals. Adjustable sandals make it possible for you to fit your sandals with ease, no matter how difficult and specific your fitting needs might be. Adjustable sandals are often very comfortable and can be a good option no matter the style. If you want to learn more about the best adjustable sandals to fit any foot width, read on!
The first thing that you need to know before you go shopping for good adjustable sandals is what your actual foot size is. One option is that you can get a professional fitting at a sports store or other location that offers them. The people who help you with your fitting will be able to tell you your exact size complete with actual measurements for all the parts of your feet. You can also measure your own feet at home or you can use an app that will give you the measurements for your shoe sizing needs. Remember that people's feet change over time, so your foot width might not be the same as it once was as you get older.
You should also be sure that you know the width and height of your arches and the measurement you will require for your toe box. This will help you greatly with your shoe shopping needs, no matter what kind of footwear you are looking for. Being able to have your exact measurements on hand is a big benefit when you are shopping for shoes.
What Kinds of Adjustments Should You Look For in Sandals?

If you have very narrow feet, you will want to look for adjustments in all the straps. It's important that even the heel has adjustments so that you can keep the sandal snug on your foot. Having adjustments on all the straps will keep the sandal comfortably on your feet no matter what activity you're doing.
Remember that you will not be wearing sandles with socks like you do shoes, so fit is crucial to your comfort. Otherwise, you might end up with painful foot conditions like blisters and hotspots. So makes sure you get the just-right fit for sandals, especially ones for active use, is essential.
If you have wide feet, you will want to be sure that the soles are going to be the right size and you will also want to look for adjustments across the top of your foot. You will need room for your toes to spread out and to protect the top of your foot from the pressure of the straps.
No matter what size feet you have, it is usually not a great idea to buy sandals that don't have adjustments. This is because you will probably struggle to get the right fit unless all you need to do is walk a little bit in these shoes. If you are purchasing sandals for things like walking, hiking, sports, and more, they must adjust in order to fit comfortably.
What Are Sports and Hiking Sandals?

These are the kinds of sandals that are made for activities that might challenge other sandals. They are made with adjustable straps, soft and protective soles, and heel straps that will not rub or cause pain. These are the best sandals to buy to be able to do your favorite activities in comfort.
Sports sandals are made on the model of tennis shoes and will include a springy and protective sole as well as soft, durable straps. These sandals are the best choice for playing sports, hiking, and water-based activities like whitewater rafting.
Hiking sandals are made to be more durable than sports sandals. They are designed to offer grip and support as you cover tough terrain. They will often be water-resistant and they will usually come with durable straps that offer a lot of adjustment. These sandals can be a little heavier than sports sandals but they are made to hold up to all kinds of activities.
How Are Sandal Adjustments Designed?

There are numerous ways that adjustments on your sandals might be designed to function. The old style of adjustment used heavy and bulky Velcro that was not soft and could lead to blisters and restrictive fit.
Now, materials have improved greatly. There is soft and stretchy Velcro that is made to conform to the back of the strap or around your heel. This means that your strongly secured Velcro will not impede your movement or create friction points around your foot.
Straps with hook and loop closures might adjust farther than those without this featue. But there are also soft corded adjustments that allow you to cinch the top of the sandal around your foot. You might also have a full ankle enclosure made of soft sports material that cups your heel and can be adjusted at the front.
Sandals without these adjustment options will not fit your foot as ones that do have these fit options. You should always consider these parts of your fit options when you are looking for sandals to buy. You want to be sure that you will be able to adjust your sandals to the optimal comfort settings that you need.
The Best Adjustable Sandals to Fit Any Width Foot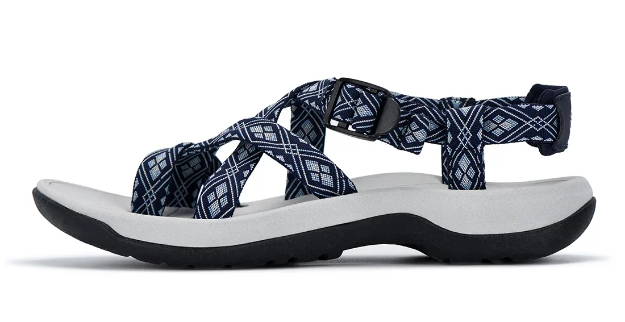 This sport sandal is lightweight, comfortable and offers fully adjustable straps in every part of the sandal. You will get access to a soft and comfortable EVA midsole and the toe box is perfect for any size foot. The soft heel strap can be adjusted readily and you will not have trouble keeping your heel from sliding around.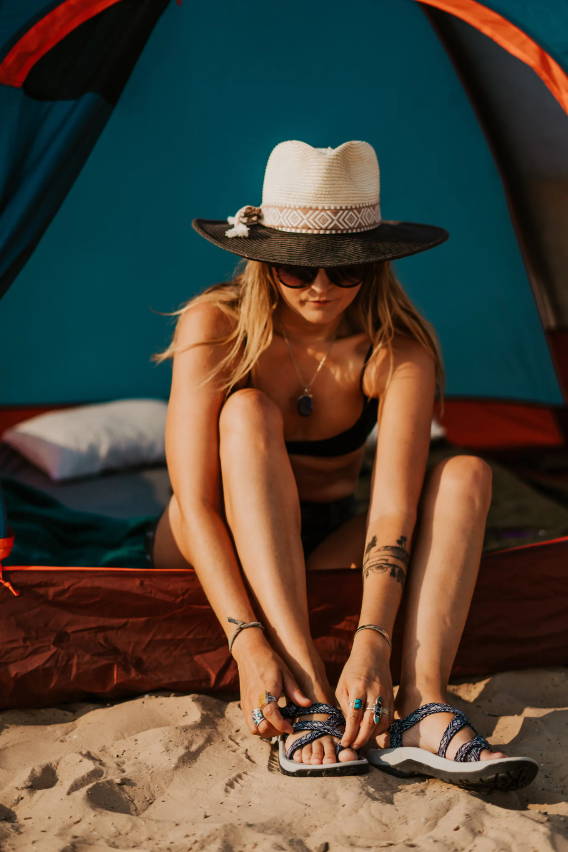 This is the perfect sandal for your sports activity needs as well as hiking, biking, golfing, and more. There are not many sports sandals out there that are adjustable and comfortable. On top of all of these benefits, these are really cute sandals that will go with any outfit.
2. KEEN Women's Rose Sandal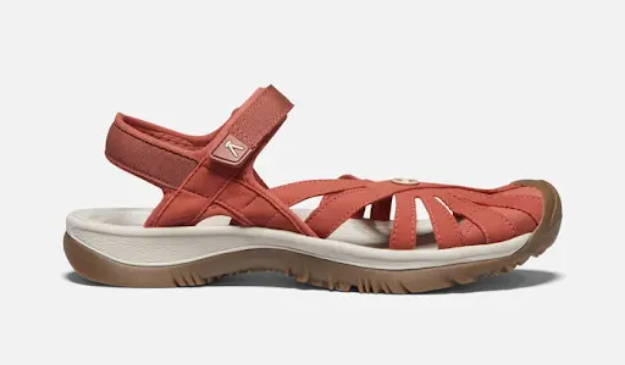 These highly adjustable hiking and sports crossover sandals come in many colors and offer soft and waterproof straps. This sandal will not rub your feet or compress your toes. You will find that the quick-dry lining will keep your feet comfortable no matter what activity you are doing.
The sole on this sandal offers superior grip and comfort and the toe bumper will keep your feet in place no matter what you are doing. These sandals can match any outfit and are made with all the right features to keep your feet comfortable and secure all day long.
If you have been looking for a soft and waterproof sandal with hook and loop closures will keep your feet comfortable all day as you engage in your favorite activities. This is a really nice sandal for people who want the lightweight of a sports sandal but the durability of a hiking sandal.
3. The Napali Hiking Sandal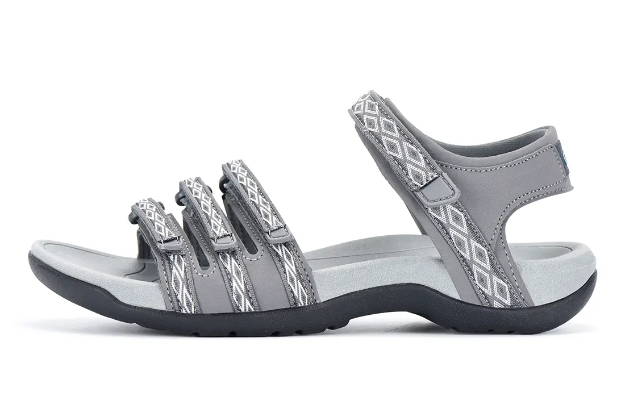 This is a really nice sandal that offers simple adjustments and a comfortable EVA midsole. The heel support is very superior and you will gain access to a very adjustable heel strap that will never rub or pinch your foot. The open design keeps your foot comfortable, even if you have wide feet.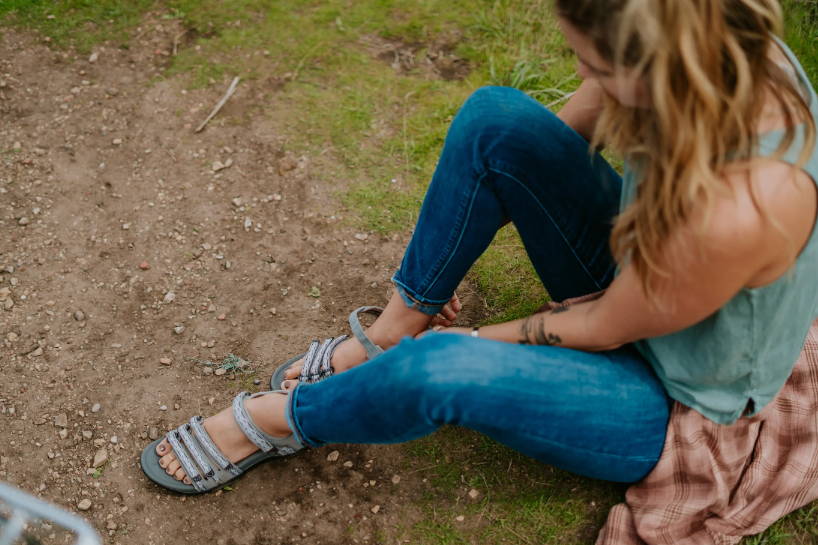 The toe adjustment offers three straps with their own unique adjustments. Your feet will never slide around in this shoe and you will get all the benefits of a sport sandal with the durable and grippy sole of a hiking sandal. There are few sandals that offer this many benefits in one neat package and you will love how many kinds of feet these will fit.
You will find that these sandals are so cute that you will be able to wear them on dates and to sporting events, or you can use them without concern for all your outdoor adventures. This is a versatile and comfortable sandal that offers all the adjustments that you need to be comfortable under any conditions.
4. Teva Women's Verra Sandal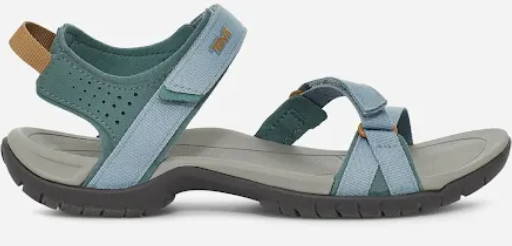 Teva has always been the right brand for your active sandal needs and this simple design still offers all the necessary adjustments to keep your feet happy and healthy. This sandal comes in many different colors and all of them offer the same flexible and sturdy foot support that this sandal is well-known for.
The simple and protective heel strap will never rub or bind up on your heel. You will be able to adjust all of the straps as you wish and the toe box offers room for your toes to spread and take care of your balance. You will get access to the grippy sole of a hiking sandal with the lightweight feel of a sport sandal.
The heel Shoc Pad absorbs impact when you are engaged in activities that require running or climbing over rough terrain. This sandal is waterproof as well and you will never have to worry about it drying out as you head about your day. Your feet will be safe and secure in these sandals no matter what activities you want to engage in.
5. The Siena Sport Sandal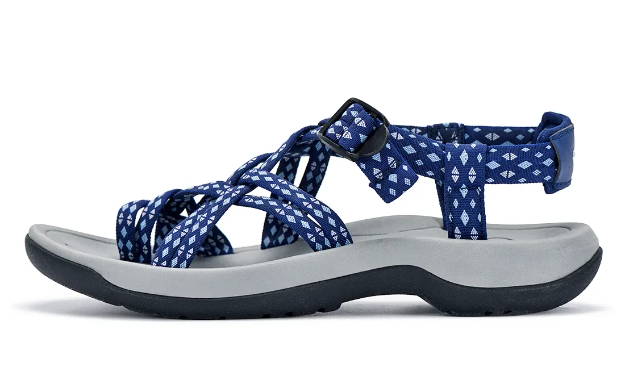 This classically designed sport sandal offers a soft EVA midsole and the grip and support of a quality sole. You can use these sports sandals for any kind of outdoor activity that you want to do and they adjust from the heel and across the top of the foot for superior comfort.
This sandal has a really simple and comfortable design and the durable and flexible straps will keep your feet secure without pinching or pain. The softback of the heel strap will prevent blisters and rubbing and you will love the curved and ergonomic design of the footbed.
This is a sandal that will not chafe or pinch your feet and its waterproof materials will dry out as you wear them. This is the right sandal to choose for your adventuring needs and you will love how comfortable and secure the sandal is on your foot.
6. DREAM PAIRS Women's Adventurous Sandal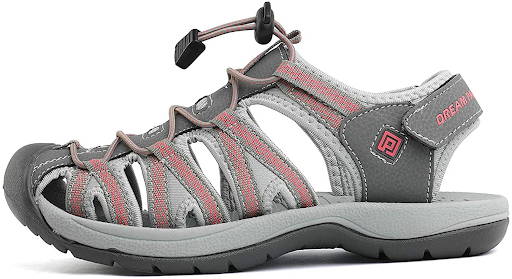 These sandals offer all the benefits of your favorite sneaker without the confinement of a full shoe. This easy-to-adjust and comfortable sandal offers adjustment at every fitting and every strap. This is one of the most supportive and comfortable sandals that you can ever buy and you will love everything about this sandal from the moment that you first put it on.
The lightweight sole and the flexible and comfortable straps make this sandal a pleasure. Having a closed-toe helps keep your foot secure no matter what kind of activity you are doing when you are wearing this sandal. The soft EVA footbed is made to secure your foot properly for any kind of activity and this sandal makes the perfect fit for any active needs.
This is the perfect blend of comfort and practicality and it comes in many colors and combinations. You can wear this sandal for all kinds of activities and it will free you of the need to wear hot shoes to get the right supportive fit for your all-day comfort.
7. Sloane Outdoor Sandals

This nice sandal offers all the fit and comfort adjustments that you need. You will love the sport sandal styling of this shoe and the superior fit that it offers in the heel. You will be able to get these to stay firmly in place without blisters and rubs.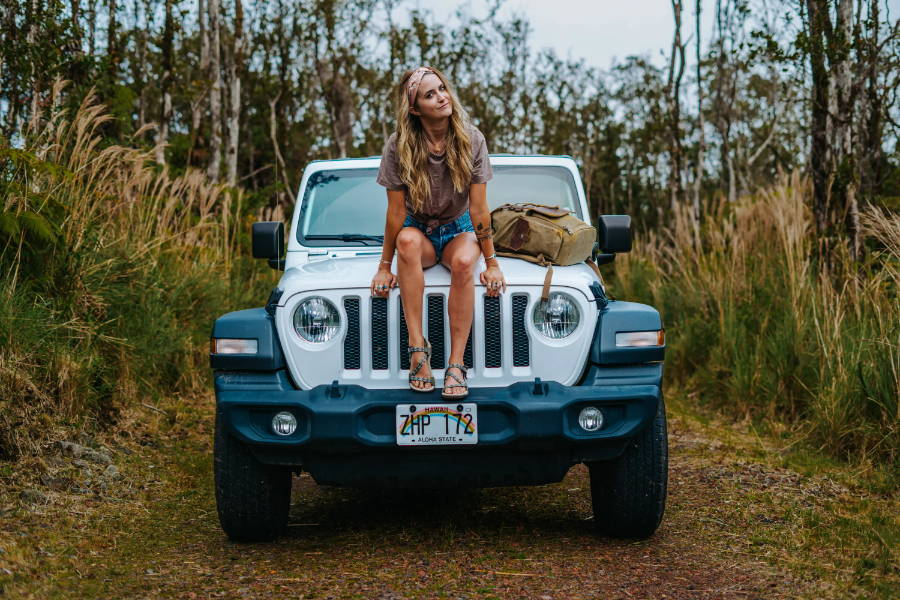 These sandals are pretty and offer the right level of comfort for any kind of use. You will enjoy superior toe box comfort in this sandal and the crisscross straps will prevent pinching and chafing. If you hate having the sides of your foot pinched, you will love how comfortable these sandals are.
The heel strap on this sandal is really effective at creating the right comfort for your active needs. You will never get blisters or rubs from this heel design and those with a narrow heel will love this sandal for their fitting needs. This is one of the best sandals made by this brand for superior adjustments.
8. ECCO Women's Yucatan Toggle Sandal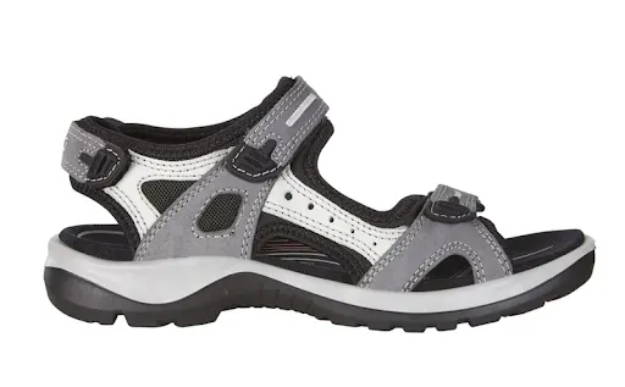 This really comfortable sandal offers all the benefits of a sandal and a shoe combined. You will get really comfortable and sturdy nubuck uppers and a great soft footbed with this sandal. Every part of this sandal adjusts for your comfort and you will never have to struggle to feel comfortable when you are wearing it.
This is one of the nicest blended shoe and sandal combinations that you can pick for your active footwear needs. This sandal has a grippy synthetic sole and the stretch-fit lining will dry out if it gets wet. No wet feet or rubbing straps due to moisture when you pick these sandals.
You will also get a dual intensity footbed for added comfort in this sandal, making it a great choice for your hiking and rough terrain requirements. This is a really nice option for your activewear needs no matter what kind of rough and tough activity you need to have a quality sandal for.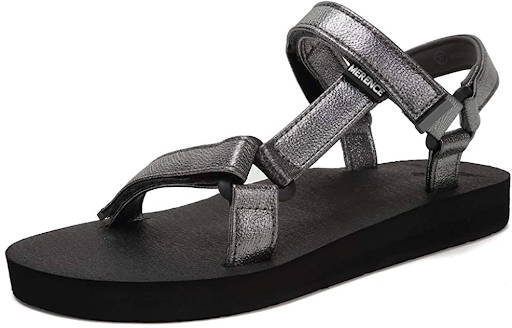 These cute sandals are made for your comfort and offer up fun design notes at the same time. These sandals can be used as water sandals or hiking sandals and the soft midsole will protect your feet from all kinds of challenges. This is a classically designed shoe that will make sure that you get the right blend of support and comfort as you go through your day.
The simple strap design of this sandal is made with waterproof and dry-fit interior material that will prevent chafing and rubbing. The sole is made for superior grip and the footbed design will keep your foot from sliding around. These are the perfect sandals for tough terrain or walking on the beach as you will never have to worry about them rubbing or slipping around as you cross tough terrain.
Use these sandals for your daily shoes or head out on water-based adventures, surfing trips, and more. These are really nice sandals with a classic design that will adjust readily to any size foot or any fitting need you might have.
10. DREAM PAIRS Outdoor Hiking Sandals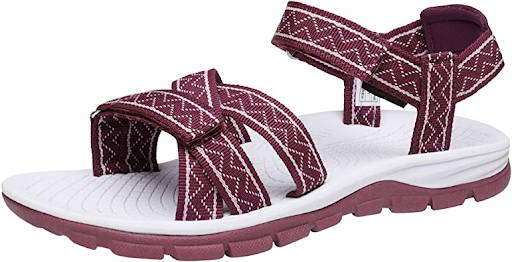 This really nice sandal offers the enclosed toe and support of a good running shoe without the constriction of a full shoe. This is a great sandal to choose from if you want comfort and superior performance all in one package. You will get a stylish and fun design with this sandal as well as a soft and supportive heel.
The soft straps will protect your feet from chafing and you will be able to adjust all of them as much or as little as you want. The durable sole is made for grip and security when you are crossing tough terrain and the waterproof interior will hold up to water-based challenges. It is really nice to be able to know that your sandals will dry out after you are in the water to prevent blisters and chafing that might hurt your feet later in the day.
This is a sandal that can be worn with anything and that will take care of all of your needs for performance and comfort with ease.
11. CIOR Women's Hiking Sandal

This is a really nice lightweight sandal that offers lots of room for adjustments. You will get a simple strap layout and a nice soft and gently shaped footbed with this shoe. This is a really great choice to make if you love water sports and want to replace your water shoes with something more supportive for your activities.
You will be able to adjust the heel fittings readily with this shoe and the soft heel backing cushion is made for your comfort no matter what adjustments you need for this part of the sandal. The toe box is wide and open and you can adjust the strap that encloses this part of your foot. The straps are soft and stretchy and the security of your foot is not created through force but is instead the result of the superior fit of this sandal.
The sandal comes in many colors, all with a hook and loop closure design and an anti-skid sole. No slipping on wet rocks or sliding on tough terrain with these sandals on your side. This is a great choice if you are tired of water shoes that rub your feet raw and you want to make a change for the better.
12. Skechers Reggae-Irie Sandal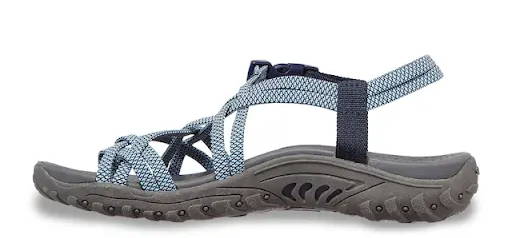 This is a fun and funky sandal that comes in many colors. You will get a rubber sole that is curved to fit your foot and have a soft and protective midsole for your activewear needs. The toe loop enclosure will make sure that your feet do not slide around. The heel and ankle strap adjustments are perfect for your long-term comfort.
The strap design is simple, these sandals adjust in all the right ways and you will be able to get a superior fit when you pick this sandal for your hiking or outdoor adventure needs. There is no exchange for comfortable and soft straps with the proper adjustments for your comfort and this pair of sandals offers all of that and more.
The footbed is designed to break in with the shape of your foot, making a custom fit an easy-to-achieve outcome for this lightweight and comfortable sandal. The waterproof design of the sandal will let you keep your feet dry and secure no matter what kind of terrain you need to cross.
13. TEVA Unisex Tirra Ct Sandal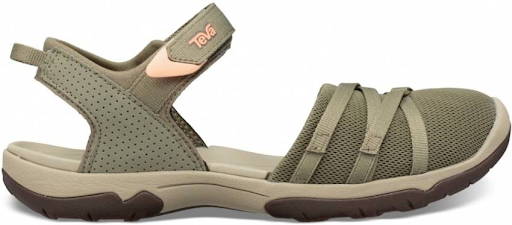 This is another really nice blend of soft show components as well as adjustable straps and heel support. You will get all of the benefits of the cushioned Shoc Pad in the heel to absorb impact and help you to balance when you are hiking and climbing. The EVA midsole is made for superior arch support and long-term wear.
This is a very supportive sandal that gives you all of the benefits of a shoe without the restrictions of a fully enclosed shoe. The webbing of the top layer of the shoe will keep your feet dry and secure and you will love that this part of the sandal will never rub your foot. Some closed-toe sandals can pinch or rub your feet, but this sandal will not do that.
These are a few sandals that can hold up to the kinds of stresses that these can. You will get the best experience out of these if you want the right kind of footwear that will hold up to hiking, water, and more. You can get this sandal in many colors and you will be able to use them for all of your favorite activities without issue.
14. Skechers Reggae Trailway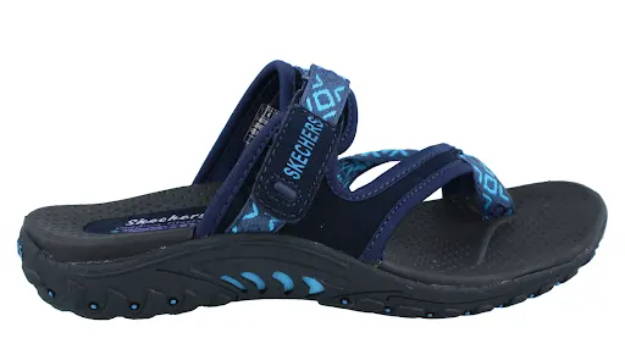 This simple but still highly adjustable sandal offers soft and comfortable sole support as well as a few simple adjustments that will allow you to make these your own. You will love the grippy rubber sole and the flexible nature of the sole. The waterproof straps will flex with your foot and they will never rub or chafe.
This is a sandal that is made with leather and webbing straps that will conform to your foot. The thong-style toe spacer works perfectly to keep the sandals in place. The hook and eye closures are easy to adjust and the soft Velcro will not impede your foot as you do your favorite activities.
If you want a really simple sandal that is durable and well-made, this is the right choice for your needs. The sole is superior to many other sandals and the grip and comfort will keep your feet comfortable for all of your favorite activities. These sandals come in many colors and are attractive as well as effective.
Adjustable Sandals Can Help You to Enjoy Your Favorite Activities

Sandals that have enough adjustments will always be a better choice for your feet. Always make sure that you know exactly what size sandal you truly need. Buying the wrong size can lead to injuries just like wearing incorrectly balanced sandals can.
If you know what size sandals you truly need and you make sure that you buy quality ones with soft and secure straps, you will have a good custom fit experience. You will love being able to wear your sandals all day without any discomfort at all. Being able to do your favorite activities in sandals that feel like they are made for your needs is a really nice feeling.
Sandals that adjust effectively are the right choice to make under any conditions. If you have been struggling to be comfortable, you might have simply been picking sandals that are not adjustable enough for your needs.
Pick from the sandals on this list and your feet will thank you for caring for them so thoughtfully.
Collection 2019
Sale 70% Off
Title for image