Best Men's Hiking Sandals
There's nothing like spending a beautiful day out hiking on the trails – fresh air, beautiful views, and great exercise. But having hot feet while on the trail can really ruin a hike. Fully-enclosed hiking shoes can cause your feet to perspire, resulting in wet socks and feet and blisters. That's why more and more hikers are turning to hiking sandals to free their feet while enjoying the outdoors. But finding the right pair of hiking sandals – a pair that can handle the rough terrain and provide a comfortable ride – can be a challenge.
If you have been trying to find a comfortable pair of athletic sandals for your next outdoor adventure, you might have realized just how tough it can be to track down the best hiking sandals. There are many sport sandals on the market but not all of them will hold up on the hiking trail. We've scoured the 4 corners of the Earth coming up with a list of the best men's hiking sandals. This list of high-quality hiking sandals will be your go-to source for purchasing your next pair of comfortable, high-quality performance sandals.
If you are ready to discover the best men's hiking sandals for your outdoor adventures, both big and small, you need to read on!
What is a Men's Hiking Sandal?
We are going to go out on a limb here and assume you are familiar with flip-flops and slides. You may even have owned some sandals in the past. But, a true pair of hiking sandals have a durable and flexible outsole that can handle tough terrain, has waterproof or water-resistant materials, and provides ample arch support and comfort.
When you are looking for quality hiking sandals, you need to be sure that these features are included in the sandals that you are considering. Otherwise, you might end up with sandals that will fall apart as soon as you start using them or they might leave you with tired feet.
When shopping for hiking sandals, these key considerations can help you narrow down your options and find the right pair for your needs:
Lightweight: You want to make sure the sandals you choose will add to your mobility, not weigh you down. This will especially be the case if you will be tossing them in a bag or packing them for vacation. The right combination of lightweight and durable is key to finding the right pair.

Comfort and Adjustability: The best pair of sandals will also be comfortable on your feet the entire day long. Make sure they are adjustable in multiple directions so you can get the optimal fit. You don't want your feet slipping around or your sandals sliding off while you are hiking through the woods or strolling in the water.

Budget: This is obviously a personal consideration. How much do you want to spend on your hiking sandals? The right pair of hiking sandals for your needs can be a smart investment if the pair lasts longer and you are more comfortable on your treks.
Hiking sandals are made to take on tough jobs like walking through water or trekking over rocky terrain, and they should be very adjustable and stable on your feet. When you think about the kind of fit that your hiking shoes provide, you will have some idea of what hiking sandals need to offer as well. In other words, you should get all of the benefits of a hiking shoe included in your athletic sandals.
Picking the Right Size Sandal
When you are investing in a pair of hiking sandals, the fit needs to be more exact. The right fit will help you avoid foot issues like blisters. The wrong size can also cause soreness when you are out walking, rafting, or camping for extended periods. At worst, the wrong size can lead to slips, falls, and injury.
It can be beneficial to get professionally measured before you start shopping for hiking sandals. This kind of fitting will tell you if you have wide or narrow heels and will also tell you about the kind of arch support that you need. Knowing your stride can also help you determine what features you need to look for.
You can also measure your own feet at home using a variety of different tips and tricks. Whether you measure at home or have a professional help you, consider this as one of the necessary steps that you should take when you start shopping for your hiking sandals. You will have a much better chance of getting sandals that fit your feet perfectly and are much more comfortable.
Not every sandal comes in wide or narrow heel widths for example. You will also find that some sandals have higher arch supports than others. These factors can make a big difference in your comfort overall. Looking for sandals that have multiple adjustments can help fine-tune the fit, whether you have wide, medium, or narrow feet.
Finally, read the online reviews of the sandals that you are considering. People who have purchased and worn the shoe will often comment if the sandals run narrow or wide, or fits just right. The feedback of others will give you a better idea of whether you need to pick a size larger or smaller than your usual size. There are many variables that can go into the way that sandals are made, and many brands have their own unique fitting peculiarities that you can learn about in the reviews.
Perhaps the most important thing for many people is that they want to wear sandals that look nice. No one is very excited about buying sandals that you would rather not be seen wearing to lunch or the store and you should not have to hike in sandals that are functional but just don't look so great. Buying sandals that also look well-made and stylish is an important consideration as well.
What Are the Benefits of Men's Hiking Sandals?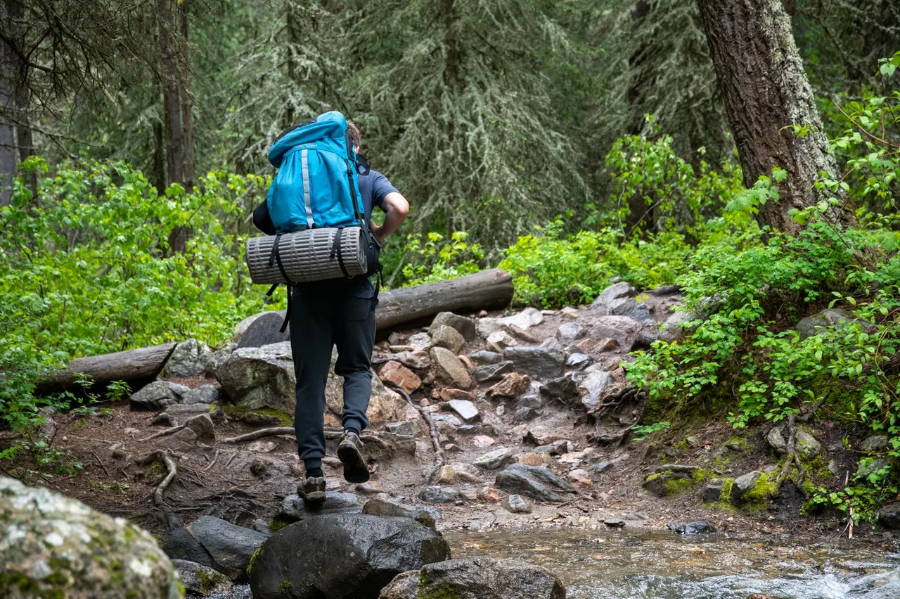 Things to be Wary of in Hiking Sandals
There are a few things that you need to be careful about when you are shopping for hiking sandals. Not every hiking sandal is created with the same attention to detail that you might be expecting. There are some common problem areas that you should be on the lookout for when you are looking into a hiking sandal for your outdoor adventuring needs.
Abrasive straps are the most common issue that can lead to discomfort in a hiking sandal. Some brands try to make really durable straps but this leads to thick or tough straps that will rub your feet raw. Be on the lookout for chunky straps that look like they are made of rough materials or with poor design. These factors can make your straps so tough and stiff that they will never break in properly.
Soles that are too smooth
While this is not always a marker for concern, you should be aware that smooth insoles can lead to more foot slippage, blisters, and burns. Soles that are perfectly smooth can also sometimes get quite warm as they will stick to your feet as your feet warm up. These kinds of soles can lead to burns and other discomforts that can be avoided by picking sandals that have textured soles.
Hiking sandals really need to have a solid outsole in order to transverse over challenging terrain. When you do not have the right texture on the bottom of your hiking sandals, or if there is inferior rubber material used, you can lose your footing and fall. A great outsole, with excellent traction, will give you the confidence you need while out on the trials.
You should also remember that your feet are most exposed when you are wearing sandals on the trail. If you are hiking in areas that have snake populations or really sharp brush along the trail you will need to take care to watch where you place your feet. Your exposed feet will be very comfortable unless you expose them to risks that are better off avoided. Sandals are not going to protect your feet or toes from these kinds of risks, no matter which brand or style you buy.
Best Men's Hiking Sandals
1. Teva Men's Forebay Sandal
This sandal offers a nice blend of features and functions that will keep your feet comfortable all day as you hike, raft, or camp. The synthetic sole is made with grippy cutouts and you will get superior leverage when walking over slippery terrain due to the rubber materials that are added to the exterior layer of the sole. The mesh uppers will breathe well and shed water and you will get access to lots of ankle adjustments with the unique ankle strap design.
The inside of the sole and the uppers are lined and will not rub your feet or cause blisters and sore spots. The front of the upper uses a combination of Velcro and hook and loop closure that allows your foot to flex and move as needed without being pinched. This sandal also offers an EVA midsole which will keep your feet comfortable and supported all day long.
2. Camel Crown Hiking Sandal for Men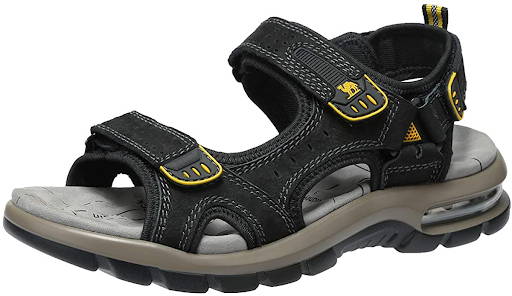 If you really prefer a very open sandal for your hiking needs, this is the right choice for you to make. This is a simple sandal design that offers a really grippy and flexible sole as well as simple adjustments that will keep your toes and ankles comfortable all day long. This sandal is waterproof and the comfortable uppers are made of durable nubuck leather. There is a soft textile lining inside the sandal that will keep your feet from getting hot or from getting blisters.
This sandal offers adjustments over the toes and at the front and back of the ankle. This allows your foot to move and flex without being constricted by the fit adjustment points. This is also a really great sandal choice for those with high arches that often struggle to get the right supportive features from sandals that they have bought in this style.
3. KEEN Newport Men's Hiking Sandal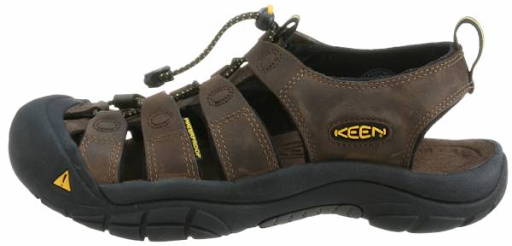 For a closed-toe hiking sandal that will not rub your feet or pinch, you need to pick this product. You will get access to a really soft and durable upper that encloses your toe and the ankle adjustment at the sides and back of the ankle portion of the shoe will keep your foot secure and stable in this sandal. This sandal comes in extended large sizes for bigger feet and it is a great choice if you want something that breaks in quickly and is easy to adjust.
The grippy sole on this sandal is made to handle tough terrain and prevent slipping and sliding and the soft texture inside the sandal will keep your foot from moving around while you are hiking or walking over uneven surfaces. These sandals can be used as water shoes as well. They are quick-drying and excellent for hiking and trail use. They will be able to protect your toes from sharp objects and snake bites with ease in these sandals.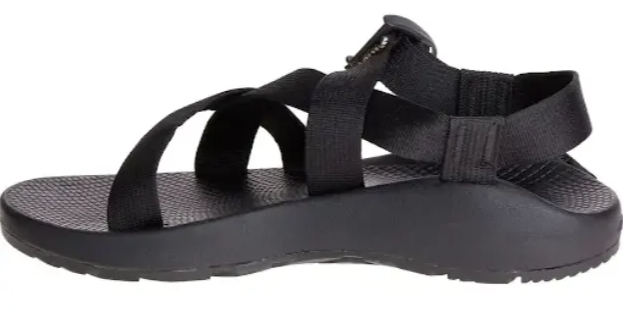 If you are a minimalist and really like a simple sandal that is very lightweight. This is the right choice for your needs. Chaco is a brand that makes durable and effective sandals that are very lightweight and responsive to your foot shape and the demands of the ground you are covering with each step. These sandals are excellent for wide or flat feet as the sole is molded to be flatter and have a deeper heel support function.
The straps on this simple sandal are made of pliable synthetic materials that shed water and they are easy to adjust to fit any size ankle and foot. You will enjoy minimal points of contact with this sandal since the straps are so simple and this can prevent issues with rubbing or friction that can happen when you are walking through water or hiking and rafting. This brand also makes really high-quality soles that will not fail you when you need a grip on tough terrain.
5. Camel Crown Waterproof Sport Sandal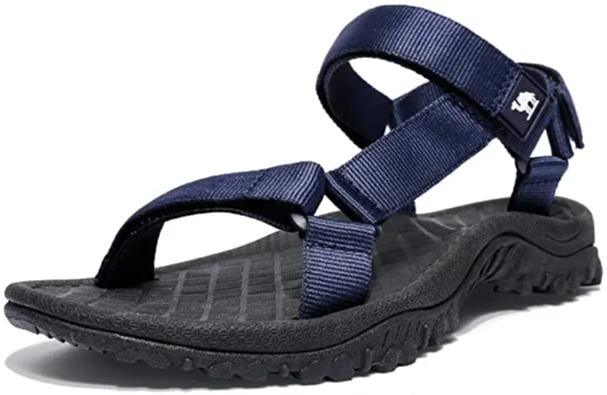 Sport sandals can often make the crossover to hiking needs and this is one example of this kind of cross-purpose use that is a big success. These sandals are made with flexible and grippy soles that will handle wet or tough terrain with ease. You will get a lot of arch support from this sandal and the soft and adjustable straps will not pinch your feet or cause issues if they get wet.
The EVA footbed keeps your foot stable and supported with ease and the soft ridges that are built into the side of the sole that your foot rests on will keep your feet from sticking or rubbing as you walk or hike. This sandal is also made with a unique channel design along the sole that removes water and silt and other items with ease, keeping your feet free of possible contact with abrasive materials that could cause abrasions over time. The sizing is a little more limited on this shoe but if it is offered in your size you will get a great and reliable fit when you buy your usual size.
6. HOKA Hopara Sport Sandals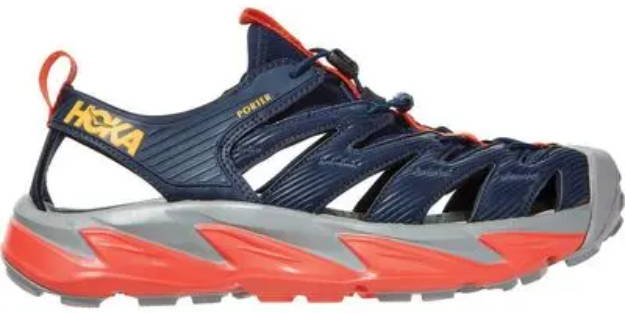 If you want an all-terrain style sandal that will hold up to the demands of the trail and lots of walking, this is a great choice for your needs. The smooth neoprene uppers on these sandals will not pinch or press on your feet and they are very breathable as well.
The interior of the sole on this sandal is made to funnel water away from the sole of your feet to keep them dry. The grippy lug pattern on the sole will keep you comfortable and secure on all kinds of terrain. This sandal offers a quality EVA midsole and you will enjoy lightweight wear from this sandal that you cannot get from many other sandals of this type.
The rubberized toe will protect your feet against everything the trail throws at them. With quick-to-adjust laces, you don't have to waste any time finagling the perfect fit. Just pull them snog and tuck the laces away and you're good to go!
7. Merrell Choprock Trail Sandal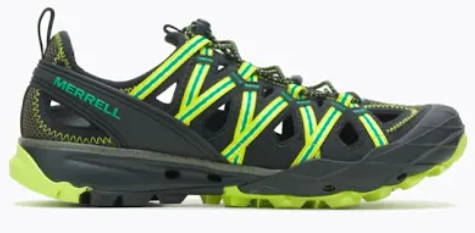 As mentioned previously, some sport sandals can offer the best of a variety of different design features. This sandal offers the flexibility and comfort of a sport sandal as well as an enclosed toe box for added stability and comfort. You will be able to adjust the soft mesh and webbing upper with an elastic and loop arrangement. This is a really durable shoe that will offer you lightweight comfort as well as a very grippy and durable sole.
This sandal has a cushioned midsole that is made for secure comfort on your feet all day long. This is furthered by the enclosed rubber toe that will not pinch your feet. This is a shoe that is made to handle all kinds of terrain as well as water crossings, rafting, and more. The midsole channels drain water and ventilate your feet.
8. TEVA Men's Universal Hiking Sandal for Men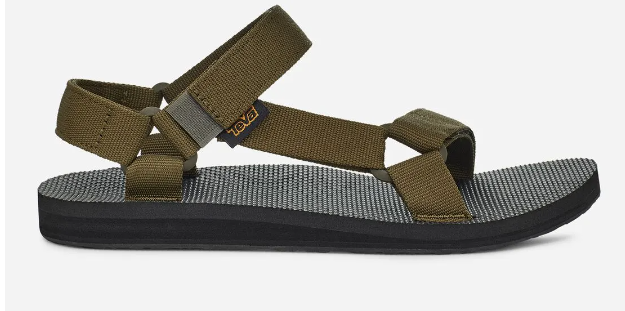 Sometimes a simple sandal is all that you really need access to. You can trust these very basic and well-made sandals to handle tough terrain and to shed water as you cross streams and other locations with some moisture on the ground. This sandal adjusts readily at the heels and across the top of the foot with Velcro straps. The interior sole is made of a soft and grippy material that will not chafe your feet and that will keep your feet from getting hot or uncomfortable.
This sandal is also made to break in to fit your foot perfectly which can offer superior comfort for flat feet or narrow heels that might not fit into other sandals with such ease. This is a great sandal if you want a flat and stable sole that will also provide you with hours of comfortable walking support.
9. Dunham Men's Nolan Hiking Sandal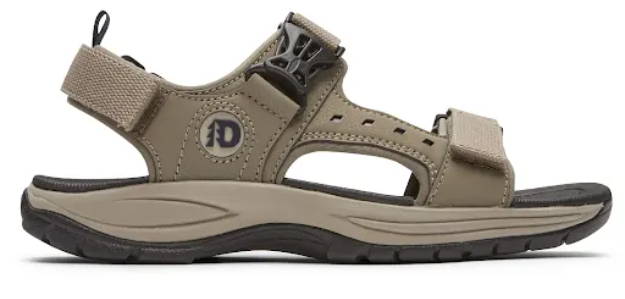 If you love water shoes but they do not provide enough support for your feet when walking or hiking, these sandals are going to be perfect for your needs. The soft uppers will breathe well and provide your foot with some security when walking over rough terrain. You will love how simple these are to slide on and off and the basic Velcro adjustment and secure buckle that will keep your shoes secure in even the most intense rapids.
The sole of this sandal provides great arch support for kinds of terrain and for uses like days out rafting or paddleboarding. These are sports-type sandals that offer hiking benefits like a durable sole and a grippy heel. You will be able to wear these in comfort no matter what shape your feet are or what your arch support needs might be. These are simple and yet very effective and they pack up really easily into a bag or satchel if you want to wear other shoes for part of your trip.
10. Dockers Men's Fishermen Sandals

This clever hiking sandal is made with style but offers all of the protective and durable components of a stable and effective hiking sandal. The fit adjustment is handled with the two Velcro straps and trademark Generous Fit design. These are made with quality man-made materials that mimic leather, making them perfect for both a short hike and lunch at your favorite eatery.
The rubber sole is very durable and is shock absorbent so that you can be sure to be comfortable even on tough terrain. The memory foam interior design of the sole is also made to prevent fatigue in your feet and keep them comfy the entire day.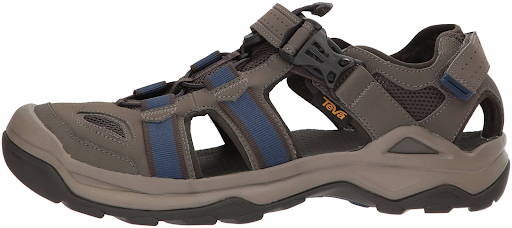 Tevas have always been really excellent outdoor and hiking sandals and the options that are offered on this sandal are of the best quality which you can expect from this company. You will get a quality rubber sole that offers stability and grip and the interior surface of the sole is made to cushion your foot. This sandal is made with an EVA midsole and you get a spider rubber layer on the outside that sticks to all kinds of surfaces without complaint.
This sandal is made for wet conditions specifically and the soft and durable mesh upper will cradle your foot without rubbing or pinching. The ankle enclosure on this sandal offers superior adjustment for your comfort and you get a durable adjustment strap over the top of your foot as well as an elastic and loop arrangement that keeps the uppers snug and secure. This is a well-made sandal that can be used for a variety of different outdoor adventures with ease.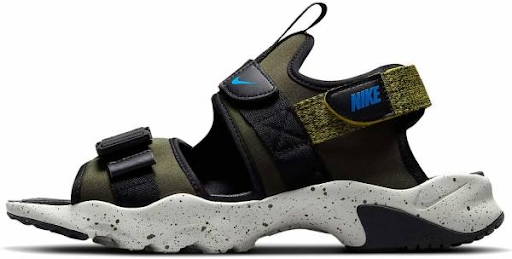 This is a really nice quality hiking sandal that offers a really supportive ankle enclosure as well as a durable and flexible sole. The quality upper is highly adjustable and you will get access to a sole that is made to mold to your foot without pinching or causing burns. The upper is waterproof and you can adjust it at the back of the heel as well as across the top of the foot and at the front of the ankle.
This sandal is also made with large lugs that can be trusted to provide grip and support to your walking and hiking hours and the dual-density midsole foam lets you feel the ground beneath you without being uncomfortable. This is a really good choice for a sandal that will give you access to all the best features of a sport sandal combined with the durability of a hiking sandal.
13. ECCO Men's Exowrap Sport Sandals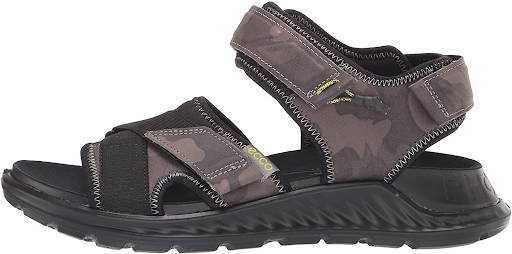 This brand of sandal is lightweight and provides supportive comfort that is also really adjustable and easy to make fit perfectly. The cushioned heel is comfortable and readily adjustable and the hook and loop closure combined with the buckle keeps them safe and snug on your feet. This is a sandal that is made to handle water perfectly and your feet will be dry and secure in these sandals no matter what activities you are engaged in.
The combination of premium textiles and leather makes this sandal both stylish and durable. With a microfiber footbed, you'll feel comfortable as your feet are supported in any condition. This is a versatile sandal that will allow you to hit the trails all day long.
Men's Hiking Sandals Are Comfortable and Versatile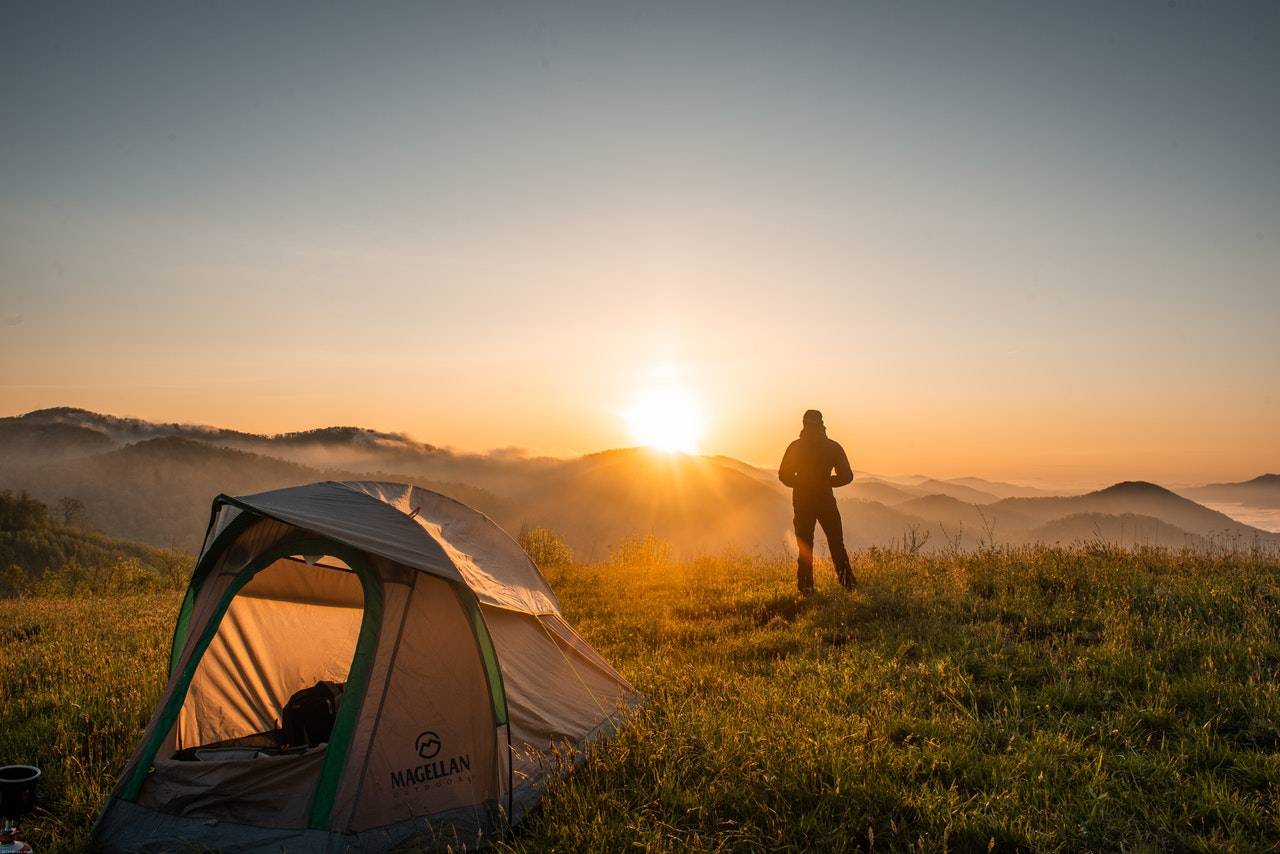 If you have gotten tired of hiking in hiking boots, you can easily switch the hiking sandals that will offer you all of the same design benefits with increased comfort and flexibility. You can easily pack these sandals into your bag or satchel and head out on the trail or to go hiking. These sandals are really comfortable, lightweight, and supportive and you can wear them for hours and cross tough terrain and rivers and streams with ease in your hiking sandals.
If you are ready to hike in comfort even in hot weather, hiking sandals are the perfect footwear for your needs!
Collection 2019
Sale 70% Off
Title for image