The 12 Best Sandals for Women With Heel Spurs
The Best Sandals for Women with Heel Spurs
Having heel spurs can be a pretty big inconvenience. They can be painful and make finding the right type of shoe a challenge.
Some people who have them aren't even aware, yet others have very painful symptoms. Either way, getting the right shoe is imperative to helping and possibly even curing heel spurs.
Spurs are calcium deposits that protrude from the underside of the heel bone. Some X-rays have shone that they can extend forward up to a half an inch. When the spur becomes larger they are typically very painful.
Spurs form in reaction to injury or inflammation of the soft tissues in the heel of the foot. Generally, spurs are common among athletes, particularly ones whose activity involves substantial amounts of running and jumping. It is also frequently linked to plantar fasciitis and muscle strains.
Folks that suffer from Heel Spur Syndrome say the sensation is worse when they first stand up in the morning or after extended periods of rest. It can start off feeling like pins and needles sticking into the bottom of their feet, but then as they walk it becomes a dull ache.
Either way, painful or not, it's super important to alleviate the symptoms of spurs. As most podiatrists will agree, you can skimp on most any other piece of your wardrobe, but don't buy cheap shoes. You only have one pair of feet!
Generally speaking, they can resolve themselves with the proper care and exercise within 10-12 months.
Luckily, for the spring and summer months, there is a wide variety of sandals out there to choose from that can help you stay comfortable while having the best foot health possible.
VIONIC Naples Can Help Alleviate Heel Spur Pain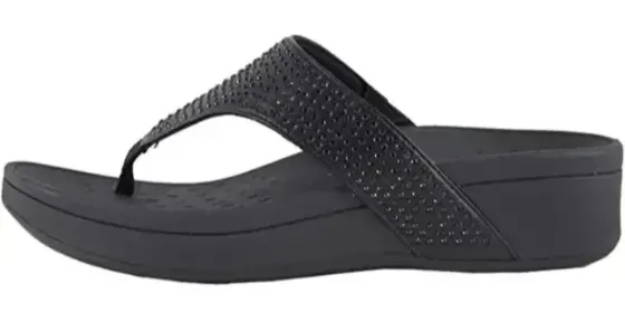 One of the key factors for great cushioning and comfort is EVA foam. These sandals have a cushy EVA insole and a flexible midsole with fantastic shock reducing capabilities, so while being active you can reduce stress on your joints.
Their arch-hugging design gives them unparalleled support to help with any related plantar fasciitis symptoms. This helps provide stability and maintain your body's natural alignment.
With a soft, woven toe post, the Naples sandal guarantees a snug and secure fit. On top of all that, they are fabulously stylish with a variety of colors available, leaving you comfortable and ready for spring and summer.
The Siena Sport Sandal Is a Great Option For Outdoor Adventures With Heel Spurs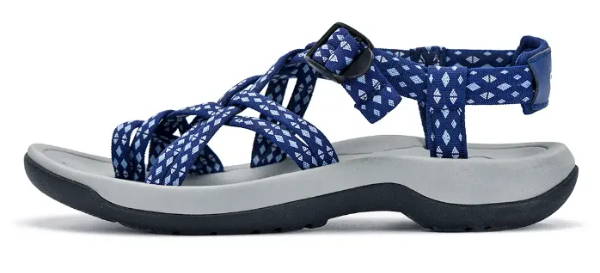 Excursions into the wilderness are what these sandals were made for. Whether you're wearing them to the lake, on the trail, or around the campsite, they are an unparalleled choice.
These sandals, manufactured by Viakix, come with over-the-foot straps that are stretchy, allowing for a comfortable personalized fit, and a heel strap that is completely adjustable.
The soles you'll be walking around on are out of this world! Not only do they have terrific traction, but they're also outfitted with structural support shanks, which lessens the impact of each step, making these walking sandals perfect for people with heel spurs.
To top it all off, the midsole is made from EVA foam. This added padding provides great arch support and even more cushion to each step. Placing these sandals squarely at the intersection of sport and support.
OOFOS OOlala is Another Great Sandal if You Have Heel Spurs

A pair of OOlala sandals will indeed get you some looks. These sleek and durable slip-on thong-style sandals offer unwavering support and comfort, with a super soft contouring toe post and OOFoam footbed. Their superb padding, that cradles your arch and absorbs impact, can really take the pressure off your heels.
These sandals are designed to rejuvenate and soothe tired feet after a long workout, or just to give you a delightfully cushioned walking experience. Making them great for people with heel spurs.
They even received the American Podiatric Medical Association's Seal of Acceptance for their "exceptional quality" and aid in good foot care.
Arenal Wedge Flip Flops Have Great Padding for Heel Spurs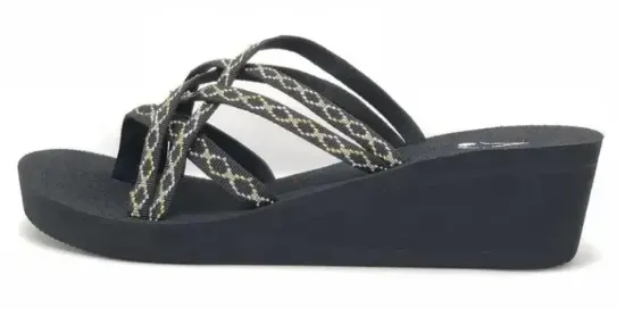 These cuties are a sure bet! With a thick and sturdy wedge-style sole, there is plenty of cushion for your heel; and the crisscross webbing gives you stellar stability.
A pair of Arenal sandals are ready to go anywhere you are. Suitable for an island getaway or a weekend camping with friends.
They have been said to "exceed" customer's expectations in online reviews. Amazon shows that happy buyers gave them 5 stars over 70% of the time.
You really can't go wrong with a fashionable and insanely comfortable wedge, and these ones fit the bill.
Teva's Original Dorado is a Good Heel Spur Sandal Choice
These puppies are fashionable, fun, and functional. With molded EVA foam made to conform to your foot exactly and an encapsulated shock pod built into the heel of the sandal, their comfort cannot be overstated.
The Original Dorado has unbeatable slip-resistance, with their crazy durable Spider Rubber out-sole. You can rest assured that you'll be able to maneuver any terrain safely or take these sandals on a water adventure. No problem; they've got you covered.  
Plus the awesome added bonus is that they are earth-friendly and vegan. With straps made from 100% recycled plastic, a pair of these sandals prevent 4 plastic bottles from finding their way into the ocean. Pretty cool right?
Napali Hiking Sandal Area a Great Waterproof, Durable Sandal for Women With Heel Spurs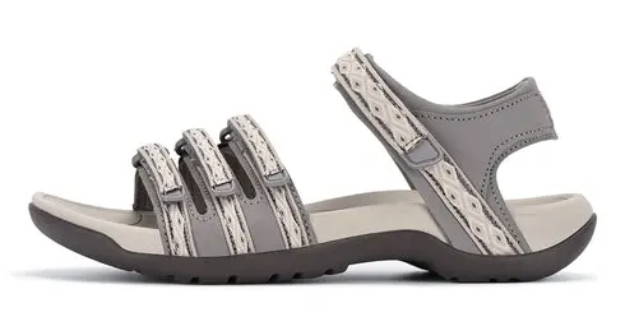 These sandals are great for days that are going to include getting wet. Whether it's a day trip to a river or lake or even a hike that will include crossing some streams, the quick-drying design and stellar traction make these babies a must-have.
The trendy design sports no less than four adjustable straps, allowing for a personalized fit and maximum stability.
With the Nepali, comfort is the name of the game. A high-arched EVA foam sole manages to walk the line of providing ergonomic support while having a pleasantly soft feel. This combination is just what the doctor ordered when it comes to heel spurs.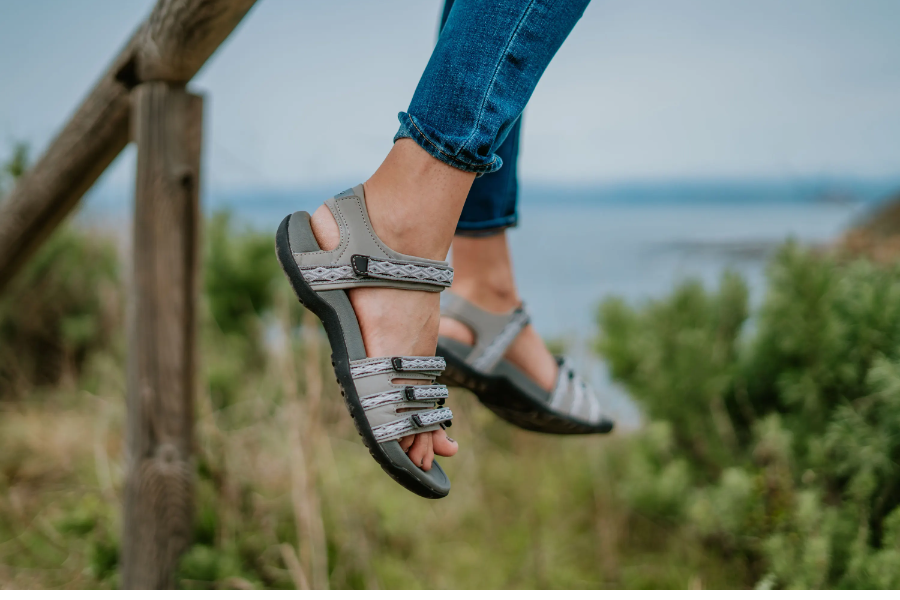 The long-lasting rubber soles, with built-in support shank, make these sandals a pair that you can wear all day with no problems. From a simple picnic in the park to an all-day trek to a remote campsite, they can handle whatever you throw at them and help your feet do the same.
Clark's Wave Coast is a Good Heel Spur Sandal Option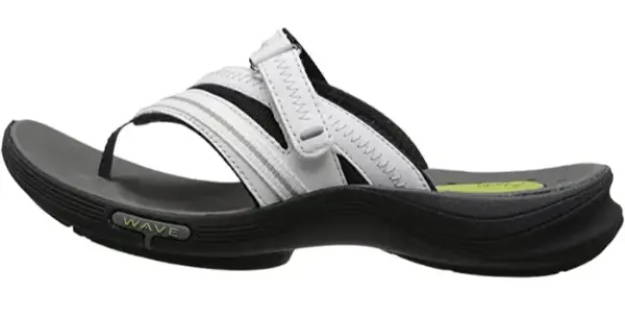 This pair of Clark's is the quintessential beach shoe. Not only are they cute, but they are built to conserve energy as you walk and cushion joints by absorbing shock upon impact.
They achieve this with their latest WaveWalk technology, featuring the ingenious curved rocker sole design. Leaving you feeling like you're gliding along the ocean side.
In addition, they have the desired EVA foam for extra padding all around and a supportive shank. With an adjustable strap to ensure a snug fit and mesh thong, they provide great stability and breathable comfort.
The Samara Walking Sandal Is A High Quality Choice For Women With Heel Spurs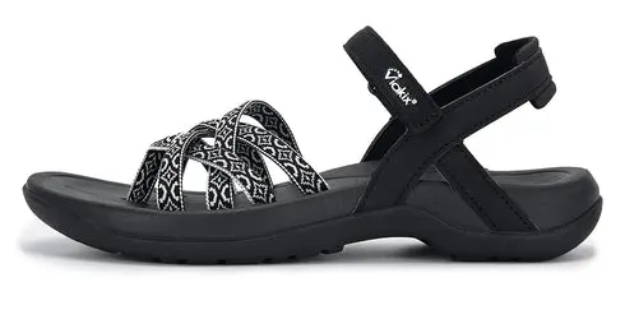 These walking sandals are absolutely top of the line. And those aren't just idle words; the Samara Walking Sandal was recognized by Expert World Travel as being one of the top three best walking sandals. When you consider the specs, it's no wonder why.
These sandals are quality from the ground up. The durable rubber sole is equipped with a support shank for stability and shock absorption and offers excellent traction whether they're being worn on the sidewalk, up a mountain, or down at the dock. Did we mention they're waterproof?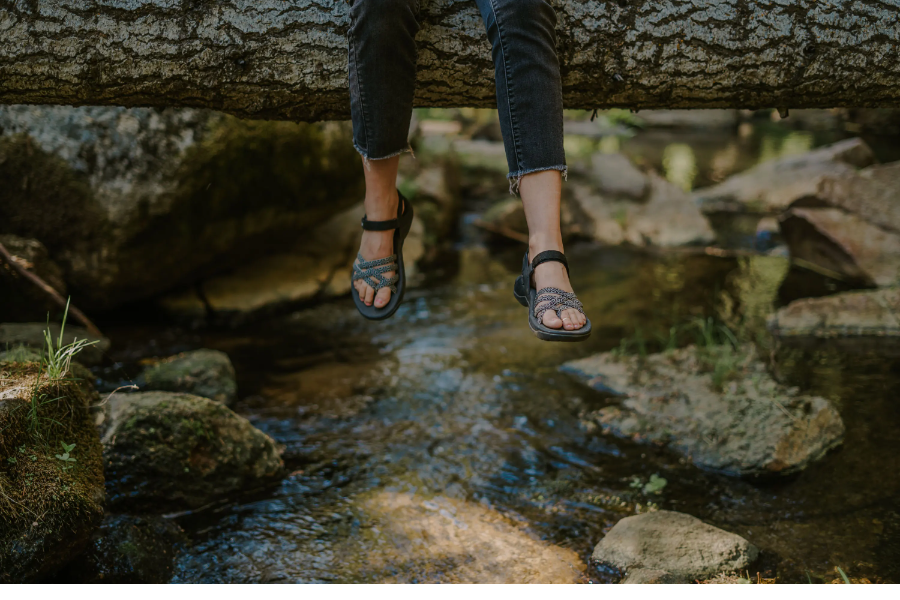 The EVA foam built into the sole will provide an extra buffer of protection to the sensitive tissues of the heel that are so important for sufferers of heel spurs.
Available in four colors, with adjustable Velcro ankle straps and elastic front straps, these babies are tough enough to handle it out at the campsite and stylish enough to wow at the neighborhood barbecue. It's no wonder that they're one of Viakix's best sellers. They really are the best of both worlds.
KEEN Bali Strap Is a Good Heel Spur Choice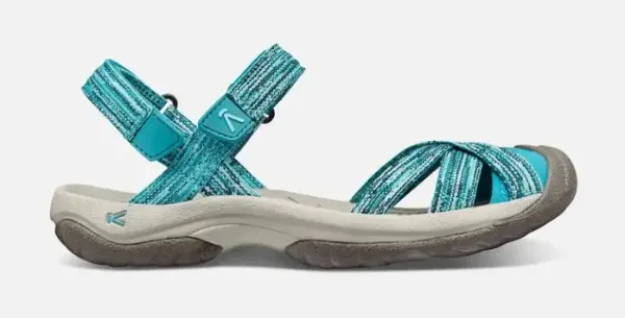 Now, if these sandals aren't adventure-ready, we don't know what is. With their functional, closed-toe design providing added protection, you really can wear them anywhere.
Made with a multi-lug outsole for unmatched traction, no matter the surface. On a mountain hike or for a day on the water, the Bali sandal is a dependable choice.
The EVA foam in this particular sandal is compressed and molded to fit the shape of your foot exactly, providing personalized comfort in every situation.
The Cortona Sport Sandal, Perfect For Women With Bone Spurs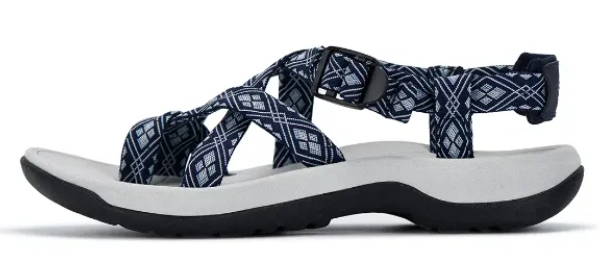 It doesn't matter much what your activity is. Rugged hike through the backwoods, a vigorous game of volleyball at the campground, or a simple stroll along the lakeshore; these super cute sandals are unquestioningly up to the challenge.
High arched for loads of support, the soles of these sandals are made with a generous helping of EVA foam, ready to act as a thick pillow for the soles of your feet.
But it's not just about the feeling of walking on air; the soles on these sandals are perfect for people with bone spurs, not just easing the pain but also treating the spurs themselves.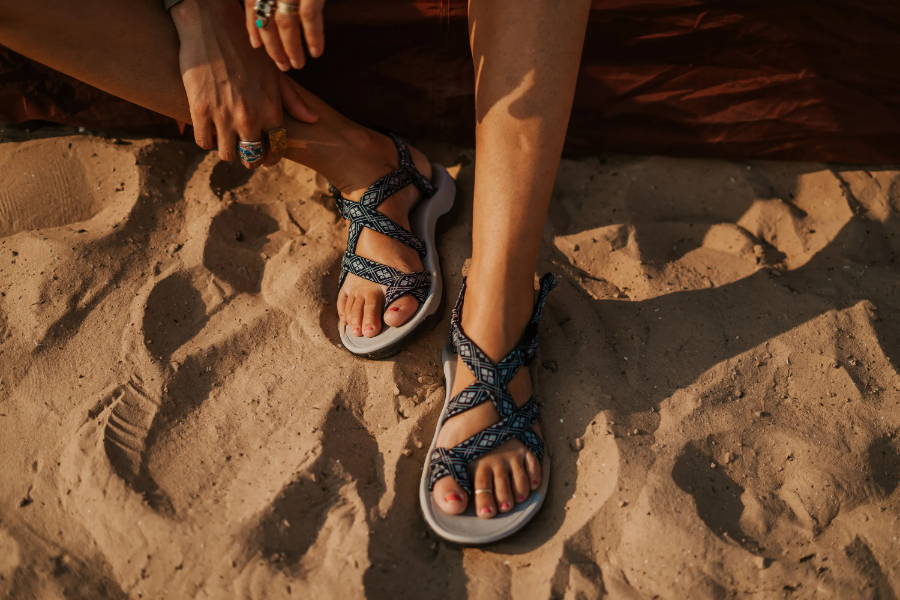 The support shank embedded in the sole works double duty to disperse the shock of each step away from the sole of the foot and to protect from any hazards on your path that might try to penetrate the sole of the sandal. Plus, the heavy-duty rubber sole provides top-notch traction.
With stylish straps that stretch across the front of the foot and adjust around the ankle, these sandals promise a custom fit that will work for any foot and a beautiful look that will turn heads.
Altogether, these sandals are knocking it out of the park when it comes to not just comfort and durability, but also style and versatility. And really, when you think about it, what more can you ask for?
Birkenstock Mayari, A Cushioned Sandal For Heel Spurs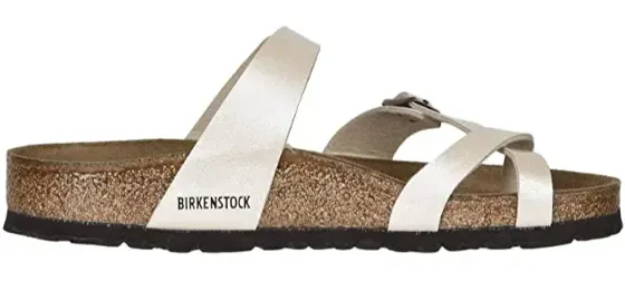 Good old Birkenstock to the rescue. These sandals are the right fit all around for folks with heel spurs. They have particularly deep heel cups that help keep the cushion of the sole directly under the heel bone.
They are also designed to be contoured to your whole foot in a precise and anatomically correct way, providing unbeatable support.
Providing more toe room for your toes to move naturally helps with balance and proper foot alignment. There's also a raised toe bar to give your toes the ability to naturally grip as you walk. This motion gently exercises your legs and can help stimulate circulation.
It's no wonder that Birkenstock has been making shoes for over 240 years. These sandals are no exception to their unparalleled track record.
Acadia Hiking Sandal, A Comfortable Sandal for Hiking With Heel Spurs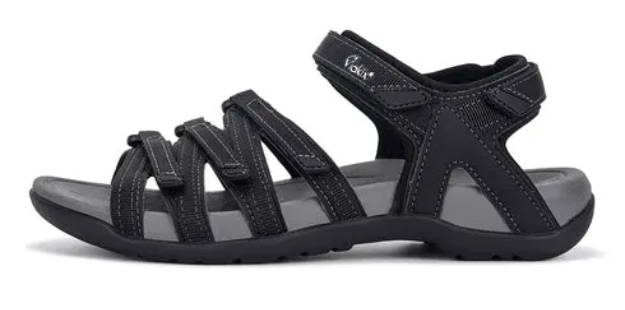 It doesn't matter if it's up the side of a mountain, through a forest, or across a desert, a trail is where these hiking sandals long to be. But don't let that hold you back; they're so comfortable you'll start referring to your evening stroll with the dog as a hike just to keep them on. Plus they're stylish to boot.
These beauties aren't just the newest addition to Viakix's outdoor sandal line, they're also the most versatile on this list! With five (yes that's right, five) chic adjustable straps, the perfect fit is not hard to find.
The ergonomic EVA foam soles are back again to save the day. Providing an equal measure of support and padding, they tick all the boxes for heel spur sufferers.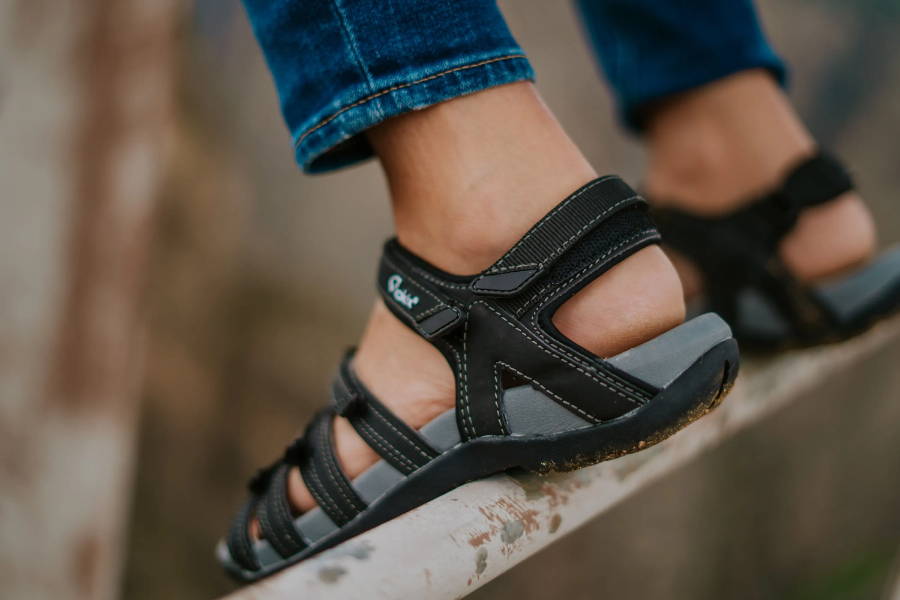 From the farmer's market to the summit of that mountain you've always wanted to climb, and everywhere in between, these sandals can be trusted to carry the load. Ditto for your feet, with the help of the support shanks, engineered into the strong rubber soles.
With dependable traction and light-weight comfortable design, there's nowhere these sandals can't carry you.
Heel Spurs Don't Have to Hold You Back!
We know it's difficult, and sometimes very painful, to live with heel spurs. Thankfully there's hope, with a wide array of shoe and sandal options out there for you.
Remember that cushioning is key! You want as much padding for your heel as possible and ideally some decent arch support.
Fortunately, there are so many small steps you can take to ensure your feet are getting the best care possible. A little exercise can go a long way for healing spurs and, as you can see, there are more than enough options for an active lifestyle.
So don't worry. Just because you are dealing with heel spurs, doesn't mean that you can't live an adventurous and simultaneously comfortable life. Simply do yourself a favor and take the time to do a little research. You'll be on your way in no time!