Secrets to Finding the Best Sandals for High Arches
Are You Looking for the Best Sandals for High Arches?
If you are searching for the best shoes for high arches, you've come to the right place. If you have--or suspect you have--high arches, then you've likely already noticed that buying any old pair of sandals off the rack doesn't exactly provide you with comfortable, stable foot support. But you don't have to spend the summer wincing from the discomfort caused by your off-the-rack sandals: there are sandals designed for people with high arched feet that will leave you comfortable and stylish all season long.
Before we get into the top best sandals for high arches, let's take a closer look at what having high arches really means, how high arches will impact your health, and why it's important to wear the right kind of shoes for your arch type in order to reduce pain and other potential side effects.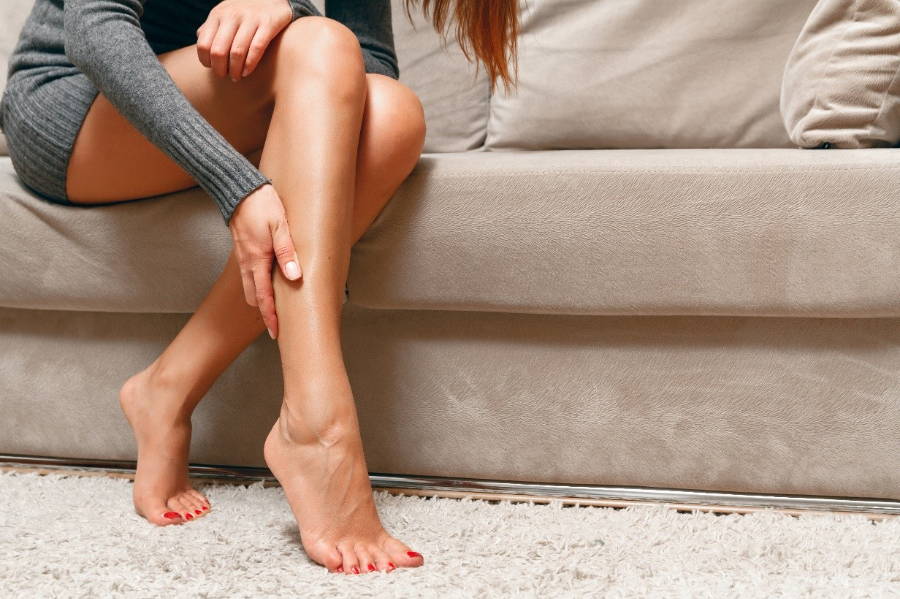 Foot Arches: Identifying Your Arch Type
Low arches are found in people who have nearly "flat" feet, or arches that sit low to the ground. People with low arches also typically have highly flexible feet, though they also experience various foot problems related to certain pressures and walking gaits caused by low arches. To see if you have low arches, take a look at your feet planted firmly on the ground; is there a raised curve or hardly any curve? If there is no raised curve in your arch or it barely lifts off the ground, then you likely have low arched feet.
Medium arches are found in people who have a defined but not significantly high arch; this arch is noticeable when you view it from the side but is not excessively high. Medium arches are considered to be the most mechanically efficient and ideal arch for avoiding many types foot problems. People with medium arches may still experience some foot problems, but it is typically related to improper stress and improper footwear rather than their foot arch. To see if you have medium arches, take a look at your feet planted on the ground; is there a defined curve? If there is a defined curve and it does not raise too high off the ground, then you likely have medium arched feet.
High arches are found in people with a defined, high arch that sits higher off the ground than a medium arch. People with high arches typically have stiff feet that are not as flexible as they should be; the most distinctive feature is the curve in the arch of the foot which sits relatively high off the ground. Someone with high arches will experience a host of foot pain related to improper foot pressure and stress caused by a high arch. To see if you have high arches, take a look at your feet planted on the ground; is there a defined, high curve? If there is a defined curve which raises high off the ground, then you likely have high arched feet.
If you believe you have high arches, it will help to confirm with your podiatrist, as they will be able to help you understand the degree of your high arch and whether or not you may need special inserts or orthopedic pieces in addition to wearing shoes (and sandals!) designed for people with high arches. Remember: high arches are perfectly manageable as long as you take the right steps to keeping your feet properly supported.
How High Arches Affect Your Feet
High arches are found in about 20% of people; high arches are usually inherited as a genetic trait, although not everyone with high arches has inherited them through their genes. Due to the nature of high arches, people who have them are at a significantly higher risk for experiencing certain types of foot problems and conditions than people with medium arches.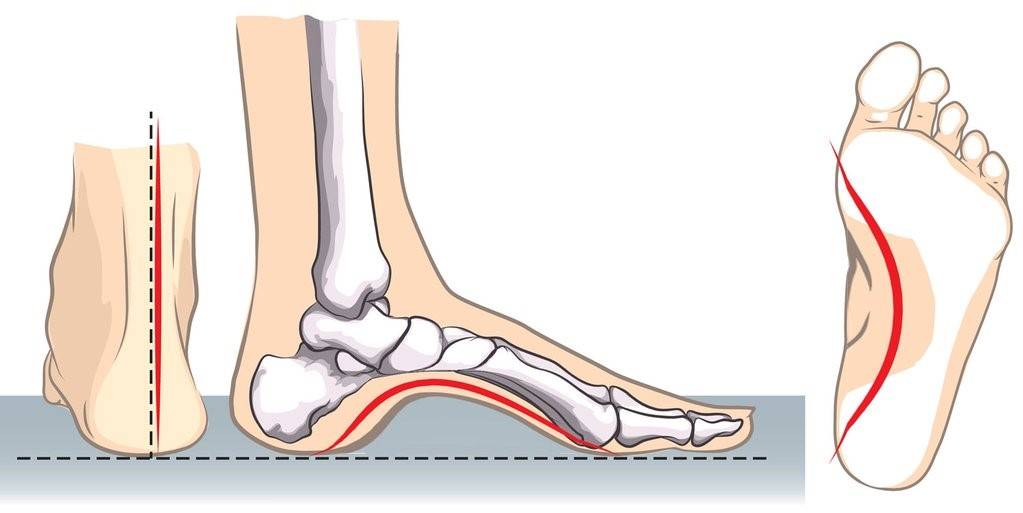 Image: A high arch foot with pressure line (Via https://treadlabs.com/pages/high-arch-foot-problems)
Why, exactly, do high arches impact your feet? The primary reason that high arches will negatively impact your feet is due to the fact that the foot arch sits higher off the ground than it ideally should. Your feet are constantly absorbing impact, shock and pressure when you walk, run or otherwise move your feet. For people with medium arches, this constant impact and pressure is absorbed throughout the arch's surface area--meaning, for medium arches, a mechanically ideal amount of area that will reduce the impact to more negligent degree. If you have high arches, however, there is much less surface area for absorbing the impact of walking, running and other movement pressure throughout your arch. This means that most of the impact is placed on the rear and front of your foot, rather than spreading throughout the foot as it would with an ideal arch type. This type of pressure causes a range of problems, including but not limited to:
Heel pain

Ball-of-foot pain

Plantar fasciitis

Arch strain

Metatarsalgia

Calluses

Corns

Claw toes

Hammer toes

Stiff feet

Higher risk of ankle sprains

Higher risk of ankle fractures

Cavus foot
These are just some of the more common side effects of high arches, particularly untreated or mismanaged high arches. As you can see, having high arches is not simply a matter of looks or even shoe preferences: high arches can have a significant impact on the health of your feet. That it is why two things are essential when you have high arches: one, you consult with your podiatrist to ensure that any corrective orthopedic pieces you may need are in place; and two, you wear the right kind of shoes that are designed to help minimize the unnatural stress impact of high arches.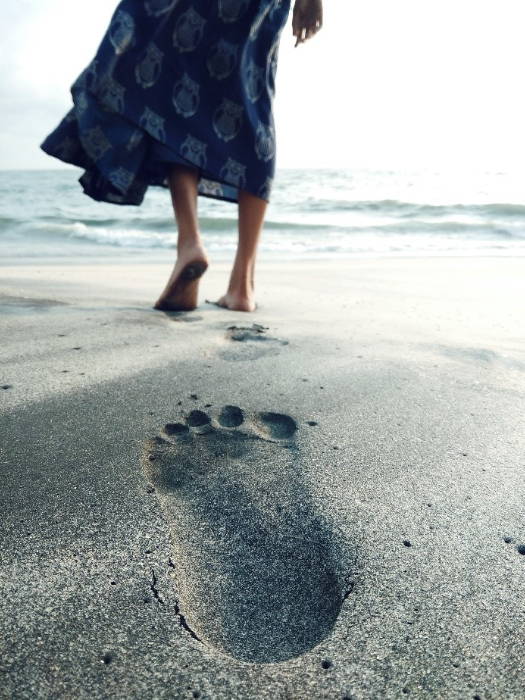 How the Right Sandals Can Help High Arch Troubles
Sandals are the perfect shoe of choice for summer--or a winter vacation in the Bahamas!--but typical sandals you might pick off a Target or other retail store shelf don't have the best arch support for high or low arched feet. Most shoes are made with medium arches in mind, which is why you've likely noticed that your typical shoes just don't provide much in the way of proper support.
Shoes designed for people with high arches accomplish one primary goal: they provide support for the otherwise unsupported high arch. This may be done with built-in inserts as well as cushioned insoles. In either case, these types of shoes actually help increase the surface area of the arch, which reduces the stress on the rear and frontal areas of the foot; in effect, shoes for people with high arch troubles help the stress and pressure of walking and running disperse throughout the foot's surface area as they would in a person with a medium arch.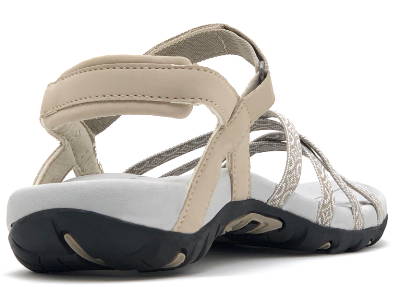 You might be thinking: why do I need sandals or shoes with arch support at all? The truth is, when you have high arches, wearing the right kind of shoes is essential to reducing the chances of developing the side effects mentioned above. If you wear the wrong kind of shoes--that is, shoes without support for your high arches--then you are putting excessive pressure on the wrong areas of your foot, which is almost certain to lead to pain, calluses, higher risk of sprains and fractures and other foot conditions which can be painful and frustrating to treat.
The best way to tackle the potential problems caused by high arches is through prevention. The right pair of shoes is a practical--and, if you have the right eye, fashionable!--way to help prevent negative consequences of high arches while making sure your feet stay comfortable and pain-free all summer (or winter--we won't judge!) long.
Choosing the Right Sandals for High Arches
So, now that you know all about the potential negative consequences of poorly managed high arches, the question naturally becomes: how do you know what sandals are actually best for high arches? The answer is surprisingly simple once you stop to think about what shoes designed for high arches are meant to do; from there, it's merely a matter of finding the best sandals for high arches as recommended by podiatrists and consumers. Since shoes and sandals with high arches are meant to provide enough support to reduce the stress and impact on the rear and frontal areas of the foot, you need to look for sandals designed with this purpose in mind.
The first thing to look for when searching for sandals designed for high arches is the presence of cushioning. The addition of high-arch support cushion will help with the pressure/shock absorption when you walk, which is essential for anyone with high arches.
The next thing to look for is a shoe that has more volume on the inside. The reason for this is because a high-arched foot will require more space inside the shoe in order to avoid unnecessary friction on the front, rear and sides of the foot. Another reason why additional volume is often necessary for people with high arches is the potential presence of inserts or specialized insoles in order to treat certain degrees of high arches; the additional volume will ensure the insert can fit comfortably and properly. This particular factor can be a bit tricky to find with sandals--but that is why you should look for personalized reviews and recommendations, as these will be able to separate out sandals with the right kind of volume from the others.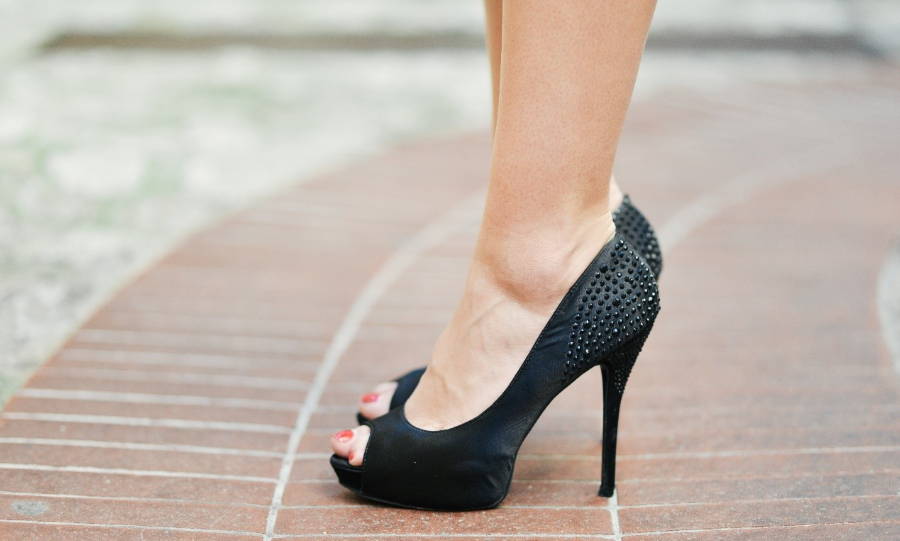 Finally, you should look for shoes that have a good amount of space in the toe area. If you have high arches, you are at a higher risk for developing issues such as hammertoe or claw toe, both of which can be exacerbated by shoes with too-little space in the toe area. Wearing shoes with enough toe space can greatly reduce your risk of developing these two conditions; or, if you have already been diagnosed with claw toe or hammertoe, wearing shoes with adequate toe space is essential to avoid worsening them while in treatment.
Top List of Women's Sandals for High Arches
Finding the right sandals for high arches isn't always easy--which is why we've done the work for you! The following are the very best of the best women's sandals for high arches available on the retail market today. These sandals are either specifically designed with high arches in mind or are perfect if you have inserts or insoles you wear with your everyday footwear.
In this list you'll find a range of excellent options that are sure to suit you, no matter what your personal budget, your personal fashion style, or whatever you happen to be looking for in your sandals. Have fun shopping!
Birkenstock Unisex Arizona
Birkenstock has a range of sandals that are great for a variety of foot problems, but the Unisex Arizona is the perfect one for high arches--as well as flat feet, chronic back pain, and even plantar fasciitis. The key to the "high arch magic" of this particular sandal lies in the cork and latex cushioned foot bed; the foot bed features a raised toe bar which reduces friction on your toes, and a deeper heel cup that will help reduce extra pressure on your heel as you walk. The curved natural arch support of the foot bed is perfect for walking around with high arches. This particular Birkenstock sandal also features buckles across the top which are fully adjustable to your foot size and needs; the buckles have soft, cushioned straps for added comfort. Best of all, the shoe comes in three width sizes--narrow, medium/regular, or wide. You can purchase these sandals directly on Amazon.
Viakix Samara Walking Sandal for Women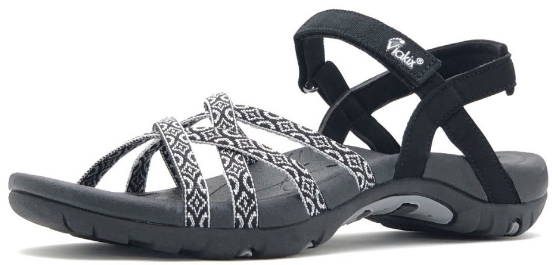 If you are looking for a comfortable walking sandal you can wear during outdoor activities that doesn't sacrifice looks for comfort, this is the one! The Samara Walking Sandal is designed to be comfortable and practical whether you're camping outdoors, backpacking, or even hiking! It's stylish, non-bulky design makes it perfect for simply shopping and hanging out as well. This supportive shoe features a thick EVA foam mid-sole which provides additional cushion for your high arches and reduces the overall stress on the rest of your foot. The outer sole has a shank stabilizer built into the midsole, which makes this sandal a must for those looking for a sandal with arch support; and the shoe features an adjustable Velcro strap for ensuring the fit is secure no matter what your size. Best of all, this particular shoe comes in multiple colors--including blue, grey, black, and beige--so you don't have to sacrifice style for comfort.
Teva Women's Vera Sandals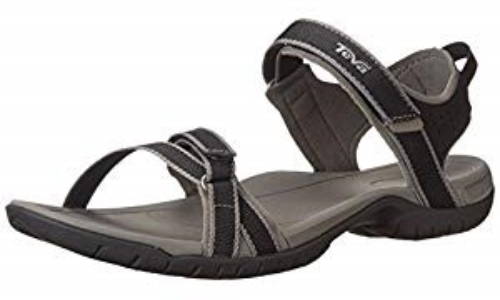 If you are looking for a more casual lightweight sandal with plenty of comfort, then the Teva 'Verra' sandal may be right for you. This sandal features a durable outer sole with adjustable straps and, most importantly for those with high arches, a contoured foot bed design for plenty of arch support. The shoe also features a deeper heel cup backed by an ankle support strap, which will keep your feet steady and reduce pressure and friction. The heel also features a shock pad cushion to help absorb impact, which will reduce some of the stress on your heel caused by high arches. While the shoe isn't designed for rugged terrain, it can withstand some tougher walking, so feel free to bring them along the next time you take a hike in the great outdoors. You can pick up your Vera Sandals Here.
Oofos Ooahh Slide Sandals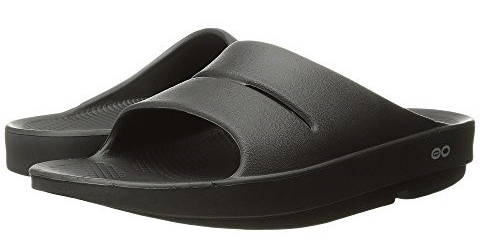 If you can get past the unusual name, these sandals are a great choice for a casual, simple sandal when you have high arches. These Oofos sandals have a foot bed made using the brand's unique Oofoam material, which is highly cushioned and comfortable while also providing support and stability for people with high arches. The cushioned foot bed is contoured specifically to help absorb pressure and shock from walking, which is a major area of concern for people with high arches. The material itself feels more gel-like than traditional shoe cushion foam, which makes them more comfortable and particularly perfect for slipping into after a long day on your feet. These shoes aren't particularly fashionable--let's be honest!--but if you are looking for a basic sandal that provides tons of comfort, it's a great choice.
Vionic Amber Sandal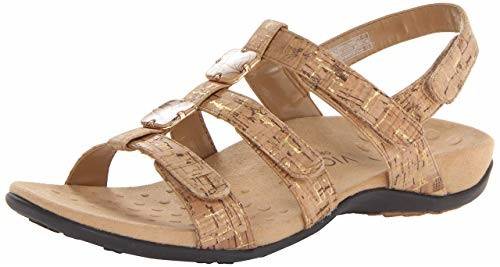 If you're interested in a shoe with the latest in podiatrist-approved design, then the Vionic Amber Sandal may be the right choice for you. The Vionic Amber sandal features Orthaheel technology that has received a seal of acceptance from the APMA, or the American Podiatrist Medical Association. The Vionic Amber features an EVA mid sole that reduces stress and pressure on your feet, knees and ankles while also absorbing shock caused by walking, running and other activity on your feet. The foot bed also features a unique microfiber material that helps improve traction in the shoe, which increase stability as you walk. The shoe comes in a few colors--including beige, black, and white/beige--and will fit in well with plenty of summer looks. You can purchase these here, directly on Amazon.
Keen Women's Class 5 Flip Sandal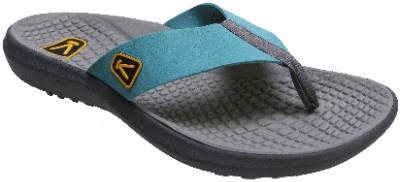 If you love the look of flip sandals but want a pair that actually provides high arch support, then the Keen Women's Class 5 Flip Sandal may be the right option for you. This ultra-secure flip sandal features a reinforced mid sole made from a polyurethane shock absorbent material, which will reduce the stress and impact on your feet as you go about your day. The shoe is designed with traction-based toe pegs and fabric that will reduce the chances of your feet slipping and moving while in motion, which is necessary for reducing stress-inducing friction. Best of all, these shoes are super lightweight, so they are perfect for throwing into your backpack or travel bag when you're on the move.
Vionic Lizbeth T-Strap Sandal
If you are looking for a fashionable sandal that doesn't skimp on high arch support, then this may be the right choice for you! Vionic is well-known for their podiatrist-approved designs, and the Vionic Lizbeth T-Strap Sandal is no exception: this shoe carries the official APMA seal of acceptance. The shoe itself is designed with a cushioned EVA insole and a flexible EVA mid sole for maximum shock absorption and cushion for high arches. The contoured mid sole is ideal for high arches and will help reduce the stress on the rear and frontal areas of the feet. The exterior of the shoe features an adjustable heel strap and a patterned tread for added stability. The Vionic Lizbeth comes in 3 colors: white metallic, gold cork and black, so they are perfect for adding a touch of summer fashion to your seasonal wardrobe. Check out the Lizbeth sandal here.
FITORY Women's Faux Fur Slippers with Arch Support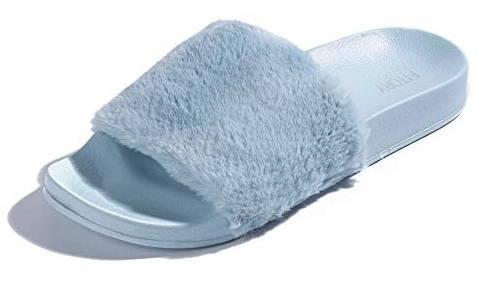 If you're looking for indoor sandals perfect for colder winter months or the chill of your AC-heavy home in the summer, then this may be the perfect choice for you. These slip-on sandals from FITORY are designed to provide contoured, cushioned arch support for people with high arches. The sole is made from high-density EVA which is ideal for absorbing some of the shock impact of walking while also feeling comfortable for wearing around the home. They aren't meant to be worn outdoors or for hours on end (stick to an outdoor shoe for that!) but when you want added support while walking around the house, they are a great option. The bottom of the shoe features a slip-resistant pattern for added stability when walking indoors, especially on hardwood floors. Best of all, this sandal comes in four colors: blue, pink, black and grey, so you can pick whatever color suits your personal style.
Naot Women's Kayla Sandal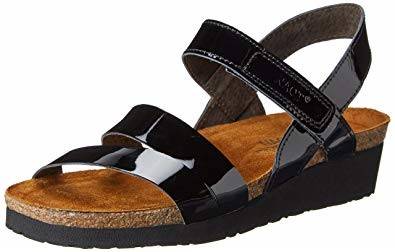 If you're looking for a stylish sandal with plenty of arch support for walking, then this may be the right choice for you. The Naot women's Kayla Wedge Sandal is made with a dense cushioned mid sole that is contoured to help support high arches, while a deep heel cup in the back helps prevent movement and reduces stress placed on the heel when walking. The sandal features a hook-based adjustable strap and a heel strap for added stability, although the lack of an adjustable toe strap means you'll likely need to go barefoot or wear only thinner socks with this particular design. One of the primary attractions of this particular shoe is the sheer number of available colors to choose from, which makes it perfect for anyone who wants a shoe to match their personal style or favorite colors. There are a total of 33--yes, 33!--color options available. The color options include black, pink, blue, gold, white, red--and much more; so if you've been itching to buy a high arch sandal in every color of the rainbow, the Nato Women's 'Kayla' is on the ball.
Therafit Shoe Women's Grace Leather Walking Sandal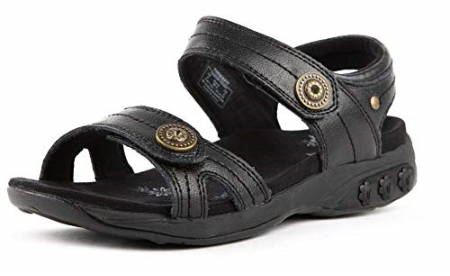 If you are looking for a highly comfortable shoe with optimized support even in the summer months, then this may be the perfect option for you. The Therafit Shoe Women's Grace Leather Walking Sandal is made with a cushioned EVA mid sole that is contoured in order to provide high arch support. It features a slightly deep heel cup for additional stability in the heel, and plenty of toe space, both of which will help reduce the impact on your rear and frontal areas of your feet. The shoes are extremely comfortable and are ideal if you experience regular foot pain, as the highly cushioned sole is great at reducing pressure on your feet even while you're walking. The shoe comes in four color options: black, brown, and red. While the shoe itself is on the bulkier side, the significant amount of added comfort is more than worth the slightly unfashionable aesthetic. If you are interest in the Grace sandal, you can purchase the sandal here.
Brand
Sandal
Model
Price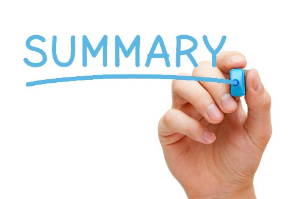 High arches can cause everything from calluses to fractures, which is why it's essential that you manage your high arches properly. Part of that management includes wearing the right kind of footwear, rather than stepping into whatever shoe you pull off the shelf. If you are someone who has suffered from the pain and stress of high arches, it's high time to take that first step to reducing your pain by ensuring you are wearing proper footwear all year around. The above sandals are the very best choices currently available for women with high arches, whether you're going to wear them at the beach, on a hiking trip, or simply around the house. The difference you'll feel in your feet once you've worn a shoe designed for high arch support for a few hours will quickly make you realize just what you--and your feet--have been missing all these years.
Collection 2019
Sale 70% Off
Title for image