Best Women's Sandals for Hip Pain
Imagine walking around during the summer with both comfortable and stylish sandals and feeling pain-free in both your feet and hips. Sounds amazing, right? As someone who suffers from chronic hip pain, you know how frustrating it can be to want to be able to participate in everyday activities. Wearing shoes that you find both comfortable and flattering without having to experience pain isn't an impossible dream.
Since your feet are your body's first point of contact for movement, protecting them with supportive and comfortable footwear is vital. You likely will have to choose a pair of shoes based on both design and function. It may feel unfair that your shoe selection is more limited than others. But the good news is that the fashion industry has come a long way and you no longer only have the original velcro orthopedic shoes to choose from as your only option.
Sandal Shopping Tips From the Hip Pain Pros

Before purchasing a pair of sandals to help provide relief from hip pain, it is helpful to understand both the cause of the pain and the features to look for in a sandal to help support your hips.
You know that support matters when it comes to choosing tennis shoes, and the same is true when it comes to purchasing sandals as well. When shopping, keep an eye out for sandals that are designed to form to the shape of your foot and have extra padding.
The padding and support help provide a soft spot for your feet to land which in turn will alleviate the strain you are putting on your joints. Alleviating joint pain means alleviating hip pain too.
Orthopedic Sandals to Reduce Hip Pain for Women

Did you know that the word orthopedic translates to "correct feet"? Orthopedic sandals are designed to support your feet with multiple layers of cushion. These sandals are often made with comfortable and adjustable straps to fit your feet just right. When your feet are comfortable it means your hips will be comfortable too.
Pronation Control Sandals

If you are new to learning about footwear, you may not be familiar with the word pronation. Pronation is related to the inward movement of the foot and how it rolls when you walk.
You will want to find a sandal that has just the right amount of pronation control. This will allow the correct amount of impact for when your foot hits the ground and will help support your body weight and the proper alignment of your joints.
Women's Adventure and Sports Sandals for Hip Pain Sufferers
The best thing about hiking and sports sandals is that they can be worn in a variety of activities and settings. Many of these sandals were designed with high impact in mind and offer stability and support for both your feet and ankles which in turn supports the rest of your leg and hips as well.
What Type of Arch Do You Have?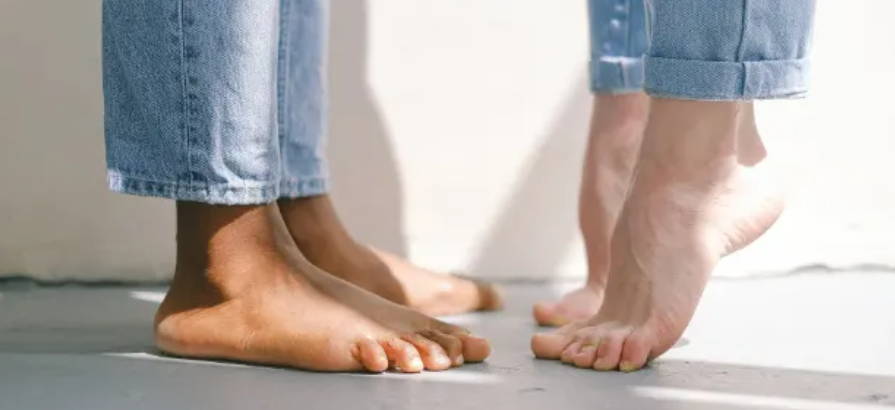 Before you head out to the stores looking for the perfect sandal for hip pain, you need to know what type of arch you have specifically. There are three categories which include low, normal, and high. If you use this simple method, you can determine your arch type on your own or you can ask for help from the experts at a shoe store.
Once you determine your arch, you will want to be on the lookout for a sandal that has a firm foundation. You can test the stability of a sandal by twisting the sole. The more challenging the sole is to twist, the more supportive the sandal for arch support. As you are trying on the sandal, check for motion control to make sure that your foot is not sliding from one side of the sandal to the other as that can cause overpronation that will develop over time.
Get In the Zone, the Foot Strike Zone That Is

The foot strike zone is another important shoe terminology to learn. This concept has to do with where your foot hits the ground first. This can impact alignment and pain throughout your feet and hips. Shoes and sandals can be designed to help guide your foot to the ideal zone which is between the middle to top of your foot.
What you don't want to happen is for your heel to be the first to hit the ground. If your heel hits first, this can damage your hip joints and cause sciatica pain as well. When trying on sandals, notice the cushion in the heel. The more cushion the better as it will elevate your heel allowing the front of your foot to hit the ground first. Focusing on the foot strike zone will help support the weight of your legs which in turn will support your hips as well.
Here's a video we found that provides some helpful tips on how to improve hip pain through stretching
The Parts of the Sandal That Matter for Women Whether You Have Hip Pain or Not

Just like any footwear, the details matter for both aesthetic purposes but even more importantly the details are what impact comfort the most. It is important to think about the different parts of the sandals and which areas you want to focus on when making a purchase to help with hip pain. The main components to review before purchase are below.
This is the part of the sandal that covers your foot. When looking at the uppers section of a sandal, you want to make sure that it is adjustable and made of soft yet durable material. Some of the best materials are leather, nylon, or fabric. It is an extra bonus if the lining is padded.
When determining which sandal has the best footbed support, you want to find a sandal that has a cushioned insole or a footbed contoured to fit your foot. This will provide both comfort and arch support as well.
A thick midsole is key in supporting your joints and reducing the impact on your hips when walking. You want to look for a midsole that is shock-absorbing and made of foam such as EVA for the best durability.
Outsole technology is constantly changing and most recently carbon rubber has been a big hit in the shoe world as it provides both support and traction. When looking for the ideal outsole, look for a high-traction rubber outsole. You can make a synthetic sole work too, but rubber is best if possible.
A Few Extra Reminders For Hip Pain Sufferers

Understanding Pronation and Supination

Appropriate weight distribution is key in avoiding or reducing hip pain. Improper distribution creates a greater strain on your ankles, knees, and ultimately your hips. Over long periods of time, the repetition of incorrect distribution of weight will then cause stressful impact on your joints and can lead to further injuries. It is important to focus on your form when walking or exercising, but having a supportive shoe is a good place to start too.
As you are doing research and learning more about both your feet and the footwear you need, it is helpful to know the terms you will encounter while researching. Pronation is when your ankles roll inward due to flat or fallen arches.
When walking, your foot hitting the ground is called the initial point of contact. If your initial point of contact isn't steady or stable due to pronation, issues will follow which may be one of the reasons for your hip pain.
It isn't unusual for people to have slight pronation. The concern is that with a more significant flat arch, the pronation is more intense thus causing your foot to collapse as you put most of your weight on the inner side. This unfortunately can cause more pain and problems for both your joints and hips.
The other concern is just the opposite, in that you can roll your ankle towards the outer edge of your foot. This happens when someone has substantially high arches and is called supination. When your weight is distributed on the outer side of your foot, issues such as shin splints, rolled ankles and even hip pain can occur.
Did you know that hip pain is often caused by overpronation or supination? When you choose a pair of sandals, focus on choosing a pair that encourage the proper alignment of your foot. When you find the just-right pair of sandals you will know because they will be the ones that provide support where it matters most.
Remember how you need to know the type of arch you have? Well, the issues of pronation and supination are related to your arch type. Once you know your type, you can purchase a pair of sandals that are made for your specific arch. This will help to prevent misalignment and improper gait when you walk.
Sciatica, A Leading Cause of Hip Pain

When the root of a spinal nerve is compressed in the lower back and hip socket, you experience something called sciatica. Sciatic pain can include throbbing, numbness, and sharp shooting pains from your hip down your leg. This is, unfortunately, a common occurrence and forty percent of people may experience this at some point in their life.
Sciatica pain can be caused by a variety of issues including intense impact on lower body joints. Did you know that the sciatic nerve is the largest nerve in your body? Because it is such a vast nerve, any compression can lead to pain around your lower back and hip down through your leg.
As you walk and the first impact is your heel to the ground, that impact can then go straight from your heel up your leg to your hip joint. This is why proper shoe support is crucial in eradicating hip pain. Finding supportive sandals that fit correctly can be one step to help eliminate sciatic and hip pain.
If you have chronic heel pain as well as hip pain, you may have something called plantar fasciitis. This condition is caused when the band of tissue that connects the heel bone to your toes becomes inflamed. How does that relate to your hips? Well, it's cause and effect.
This condition can cause you to overpronate and can either directly or indirectly impact your hip joints due to the way you are moving as you put stress on your heels. This is just another reason why proper heel support in a sandal is imperative.
Top 8 Recommended Women's Sandals for Hip Pain

Women's Siena Sport Sandal for Hiking with Hip Pain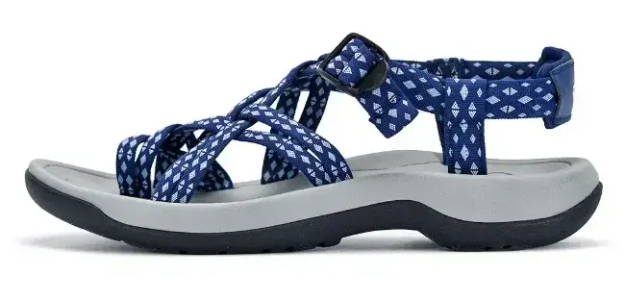 The last thing you want to do is let hip pain get in the way of having fun and going on adventures with family and friends. Shoe experts have kept you in mind and created items like the Siena Sport Sandal. These sandals were created by Viakix and are an excellent choice for any outdoor activity you dream of participating in.  
The Siena Sport Sandal is designed with over the foot straps that come in an array of colors and stretch to fit your foot. The sandals come with an adjustable heel strap for a snug yet comfortable fit. And even better they have a contoured heel which provides a safe and supportive space for your foot to land when striking the ground.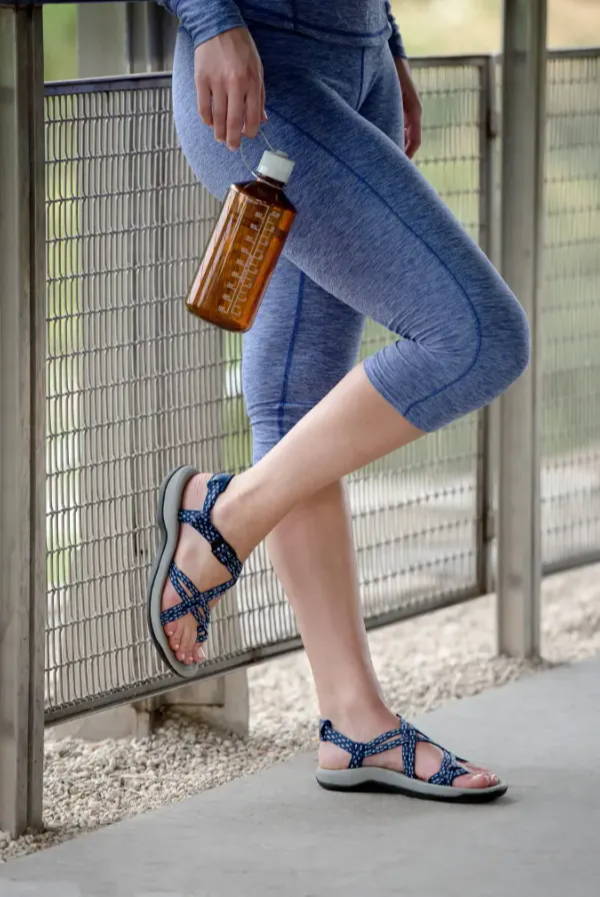 The outsoles of this sandal were designed with traction and durability in mind. The soles are outfitted with structural support shanks which help to lessen the impact of each step you take, an ideal option for those that struggle with hip pain.
Siena Sport Sandals include a just right midsole created from EVA foam to provide extra padding for the middle of your foot. These sandals are the perfect blend of comfort and sport.
And the best part? Viakix partnered with Soles4Souls  because they believe in giving back to the community and helping those in need. So not only will you be purchasing a pair of sandals that will make your feet and hips happier, but you will also be helping to make the world a better place.
Skechers On the Go 600 to Ease Hip Pain for Women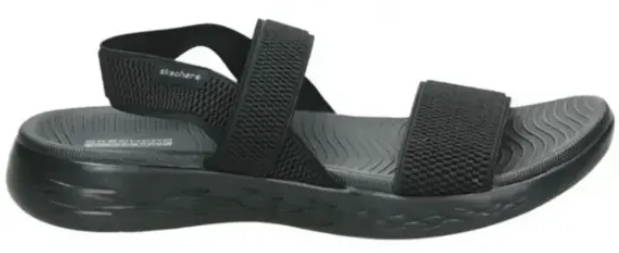 Skechers brand is well-known when it comes to tennis shoes, but were you aware that they also have memory foam sandals available too? These Skechers On the Go 600 sandals are equipped with 5Gen cushion technology which basically means you are walking on a cloud. In other words, the footbed comes with ridiculously comfortable memory foam that is made with memory retention to help absorb impact.
The straps on these sandals are not only adjustable but are made of soft synthetic material with comfort in mind. And the heel strap is padded which provides both support and help with any potential blisters.
The coolest part about the shoes is that they are built with the most up to date shoe technology to provide you with energy-returning cushioning. This means that as you are walking it is absorbing some of the impact which is much better for your joints and hips. Skechers did a phenomenal job finding the balance between both style and comfort when they put these sandals on the market.
Samara Walking Sandal Cute and Comfy Women's Shoes for Hip Pain Sufferers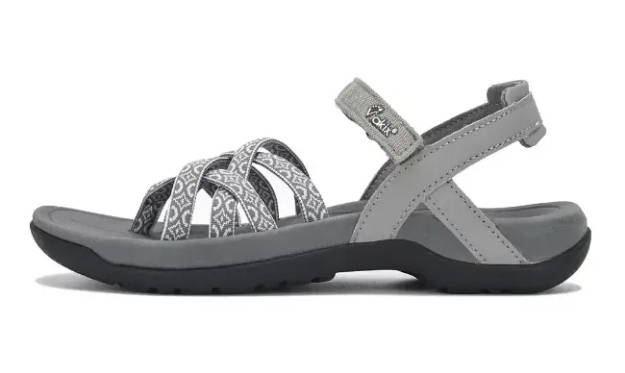 The Samara's are one of Viakix's best selling sandals and it is easy to see why. They are super supportive and thoughtfully designed without sacrificing style and chicness.
The Samara Walking Sandal is built with comfort and support from heel to toe. Not only are the sandals waterproof, but they are constructed with EVA foam in the midsole to help provide an extra layer of comfort and protection for your heel and joints when walking for longer distances.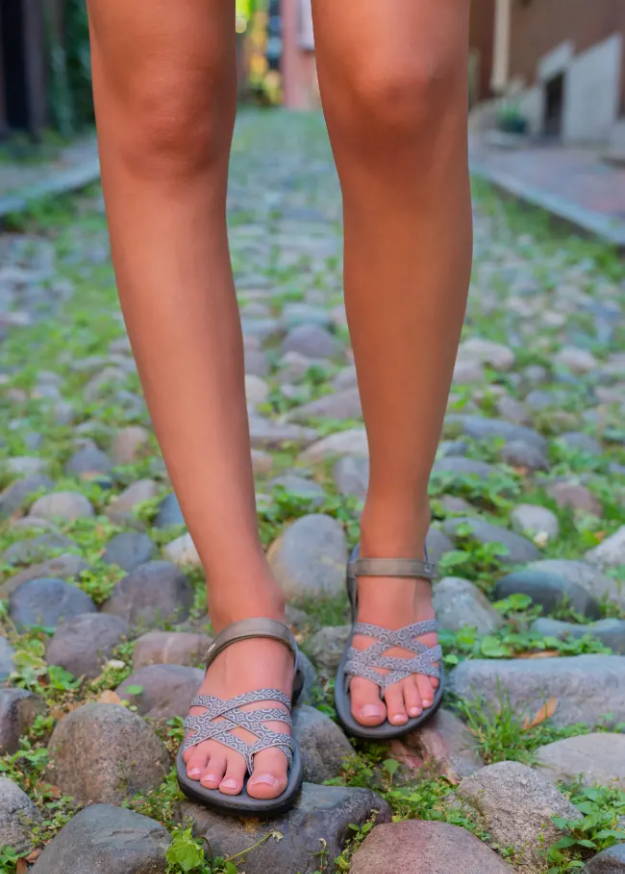 The outsole of the sandal kept alignment in mind and comes with a support shank built in to help stabilize your feet when you walk.
Available in four fun shades with both elastic and velcro straps, the Samaras can be worn around town or out on the trails as they were designed for both. Purchasing a pair of Samara Walking Sandals means you will be wearing a sandal that expertly marries both cuteness and comfort.
Hip Pain Reducing Women's Teva Tirra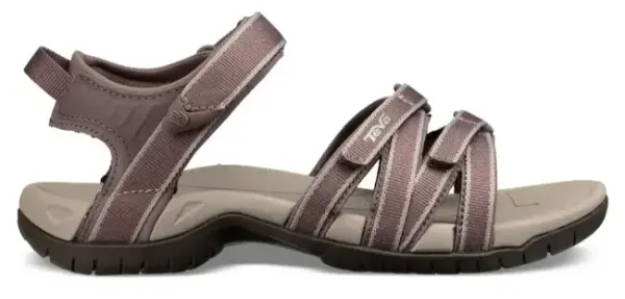 Anyone in the outdoor world is familiar with the brand Teva and likely has a pair of Tevas they use out on the trails or on the water. Well, Teva has done it again and come up with the Teva Tirra, a sandal that is both vegan friendly and earth friendly being made of one hundred percent recycled plastic.
The Teva Tirras come with a contoured footbed which includes Teva's signature Shoc Pad technology. This technology provides your feet with the maximum amount of shock absorbency allowing much of the impact to be taken away from your joints and hips.
The upper part of the sandals is made with a fabric and textile material that comes with a friction-free lining and adjustable straps.
Ideal for arch support thanks to EVA foam in the midsole and a durable outsole with a strong grip, the Teva Tirras provide the wearer with Teva's quality style and the support needed for an active on-the-go lifestyle.
Women's Napali Hiking Sandal for Hip Pain Free Adventures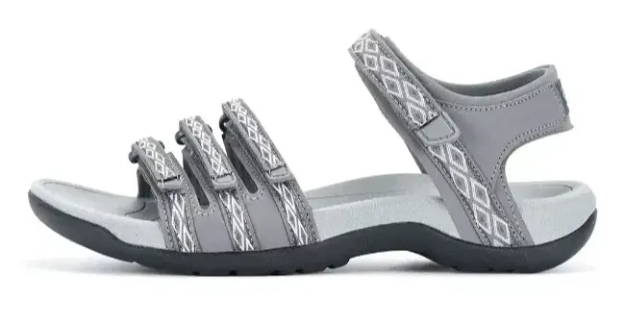 If you spend any time on the water, you know that it is imperative to have a slip-resistant shoe with quick-dry technology. The Napali Hiking Sandal fits that description and more offering a personalized fit thanks to its four adjustable straps.
The sole of the Nepali sandal is built for high arches to provide ergonomic support while the EVA foam provides a soft place to land. These shoes are an excellent option if you tend to supinate or roll your ankle outwards when walking.
Investing in the Nepali Hiking Sandal means you are investing in a long-lasting, durable, and stylish sandal that won't cause hip pain when walking. What more can you ask for when it comes to sandal options?
Dr. Scholl's Sheena, Stylish Women's Shoes for Hip Pain Sufferers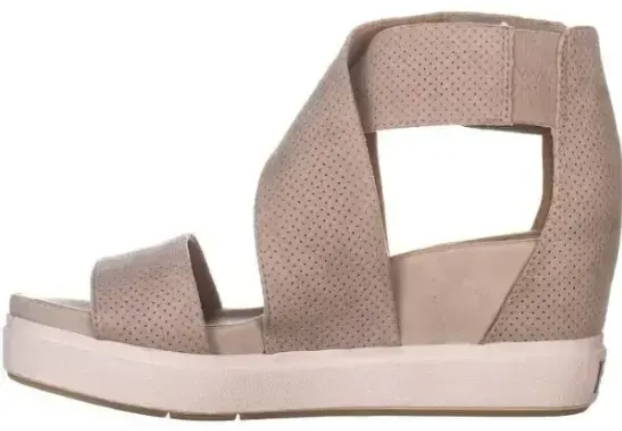 The Dr. Scholl's brand is known for both quality and comfort and if you have ever owned a pair you can see why. The Sheena sandal doesn't disappoint and is one of the most flattering supportive sandals on the market. Next time you are out and about in the warm weather look around and you will likely find a pair of Sheena sandals somewhere in the crowd.
These crowd-pleasing sandals come with a wedged sole adding a little height to your step while also providing a snug fit thanks to the hook and loop ankle strap. The midsole of the sandal is well cushioned to provide extra support when walking which will give your sore hips some relief.
A solid durable rubber outsole means that you will be steady and safe on almost all surfaces. And don't forget the stylish scored pattern outsole that is not only beautiful but allows for extra flexibility when walking. You can wear the Sheenas for date night or to church as they are versatile and can go with any outfit.
Vionic Wave Hip Pain Reducing Women's Flip Flops


Many people with chronic hip pain are hesitant to wear flip flops due to the supposed lack of support and stability. But the Vionic Wave flip flop sandals are here to prove that notion wrong. A multilayered EVA foam in the midsole provides your feet and joints with maximum support to lessen the impact of your body weight when walking.
These stylish sandals were designed purposefully with pain relief in mind. If you struggle with over or under pronation, the Vionic Waves were made for you with a unique spotted footbed meant to prevent sliding when walking. The upper strap and toe post are both made of the softest material, helping to prevent blisters while adding comfort while you walk. You truly can't go wrong with these cute and comfy sandals.
Women's Chaco Mega Z Hiking Sandal to Reduce Hip Pain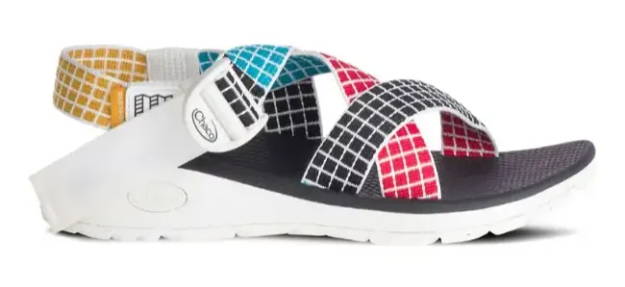 When you are out on the trails, you want to trust that your shoes will stay put and keep you safe as you trek across rugged terrain. The Chaco Mega Z Hiking Sandal has a sturdy outsole that is designed to provide the best traction possible as you explore.
Not only is the traction on the Mega Z superb, but the sandals come with adjustable straps to truly tailor to your foot. And even better, the signature LUVSEAT footbed provides impact support to lessen wear and tear on your joints which you know will be helpful to your aching hips. Don't let hip pain keep you off the trails, simply invest in a pair of Chacco sandals.
There's Hope for Sandal Loving Women with Hip Pain

It is already hard enough to deal with pain, but when it causes you to miss out on some of your favorite activities it is easy to feel discouraged. As shoe technology improves, so do the options available for chronic hip pain sufferers.
Remember when going sandal shopping to know your arch before you head to the store. And keep in mind you want to find a sandal with traction on the outsole and comfort and extra support for the midsole.
Look for sandals with adjustable straps to find the best fit for your feet. And most of all, have fun shopping. There are more options available now than ever before when it comes to supportive and stylish sandals. You're sure to find an adorable pair that you'll love to slip on!
Collection 2019
Sale 70% Off
Title for image