The Best Sandals for Long Toes
We're all built a little different. Some of us have wide feet or narrow feet. Others have high or low arches, some have short toes and others have long toes. This makes for quite a challenging experience when buying the right shoes. Where do you even start?
If you have long toes you might have had a hard time finding sandals that fit just right in the past. Finding that, even open-toed sandals can be a poor fit for your foot shape and toe length. Having longer toes inherently means that your whole foot is going to be slightly longer and larger in size and require special footwear.
That's alright! Luckily for you, we have some helpful tips and tricks to aid in your shopping endeavors and have a list of the seven-teen best sandals for long toes. Just for you.
A Few Tips and Things to Look For When Shopping Women's Sandals For Long Toes
Having longer toes means that it requires more energy to take each step and that you generate more shock than folks with shorter toes. This means the muscles in your feet have to work harder to maintain stability as you walk. This can affect your balance and endurance when running or on long walks.
An improperly fitted shoe or sandal means the foot can slide around, or be scrunched up, leading to instability and blisters or even more substantial injuries long term.
Our recommendation, head into your local shoe store and have your feet measured. And don't rely on a measurement that you had done that one time you needed nice fancy shoes for a wedding a decade ago. As we get older the soft tissues and ligaments in our feet will stretch and relax. This causes your feet to change shape and size over time. Including in your toes.
Knowing exactly what length of sandal to be on the lookout for is going to be a huge help in your search for the perfect pair. Also, this might be stating the obvious, but search for sandals designed specifically for people with long toes. Do some research online and read the reviews of folks that are looking for the same thing.
Besides that, when searching for the right shoe or sandal for long toes, keep in mind that there are a couple of features that will help guarantee you'll get a nice snug fit for your longer toes and feet.
Be on the lookout for a well-cushioned and extra supportive sandal with added stability features. With the proper padding and support in the right places, it will aid in balancing out some of the mechanics of foot motion that occurs with longer toes.
To know that you are getting the most comfort and support, you should know the basic components of the shoe and what features to look for in each of them.
The Upper – This is the topmost portion of the sandal that covers or wraps around the top and sides of your feet. The material for this portion is important because if your toes rub against it you don't want it to be uncomfortable or create a blister.
The most commonly used materials for sandals best for long toes are soft leathers like suede, synthetics, and in some sports sandals, a breathable textile fabric blend. Whatever it's made out of, make sure it's soft or padded.
The Footbed and Midsole – Next is the footbed and midsole, where the bottom of your foot sits. This is where the cushion and support come in. Ideally, the footbed is contoured to match the natural curves of the bottom of your feet. Arch support is a big factor with that. Look for an anatomically shaped design with a midsole that is padded with EVA foam, memory foam, or a good layer of cork. This will give you the support you need and help with shock absorption.

The Toe Box – This is, well exactly what it sounds like. This is the space where your toes sit. For folks with wide feet, they look for a wide toe box to make sure their little piggies don't get squished. You on the other hand need to look for a more elongated toe box.

The Outsole – This is the part of the sandal where the rubber meets the road as they say. Shoot for a pair of sandals with a durable rubber outsole with a thick lug style tread. This will provide good traction on all surfaces which will help with your stability. Plus, a tough outsole means they can take a little more use and last a good long while.

Adjustability and Closing – For sandals you're either going to slip them on, or there will be some strap that forms the upper portion of the sandal that needs to be fastened once your foot is in the shoe. Most sandals that aren't slip-ons have either velcro, a buckle, or a hook-and-loop design.

Other Features – To get the most stable sandal out there that will keep you balanced we highly recommend looking for a pair with adjustable straps. This will allow you to get a nice snug fit. Ensuring your feet don't slide around and cause any unnecessary instability.
Along those same lines, a bonus feature to keep an eye out for in active-wear sandals is a moisture-wicking lining. Again, aiding in stability to prevent slipping around in case your feet get a little sweaty. Also, a deep heel cup with plenty of cushioning is going to be critical for absorbing shock. Helping save any undue stress on your feet and joints.
Some Options – Narrow width shoes may be something to look into, as most people with long toes tend to have more narrow feet. Now that's not always one hundred percent true (which is why you should get your feet

professionally measured!

) Though it might be worth investigating. Narrow width sandals may have the correct extended toe box for your extended toes.
Below you'll see we have outlined a diverse selection of the best sandals for long toes. From pairs that are well suited for the rugged outdoorsy type to pairs that have a more delicate look and elegant style to go with any outfit.
Siena Sport Sandal, a Rock Solid Foundation for Long Toes
If you're looking to head outside for some fun, these sandals are designed for your outdoor adventures. If you are going on a camping trip, planning on participating in water sports at the lake, or headed out for a day hike, these are a fantastic choice to keep your toes comfortable along the way.
Made with a strong and durable foundation, which is a critical staple in well-fitting shoes for long toes, the Seina Sport Sandal's exceptional traction makes this pair a winner. Viakix sandals are made to have fully adjustable straps all around allowing for a fully customizable fit, perfect for feet and toes of all shapes and sizes.
Designed with super comfortable EVA foam and an ergo-friendly contoured midsole, these sandals are ideal for a comfortable experience in any athletic situation.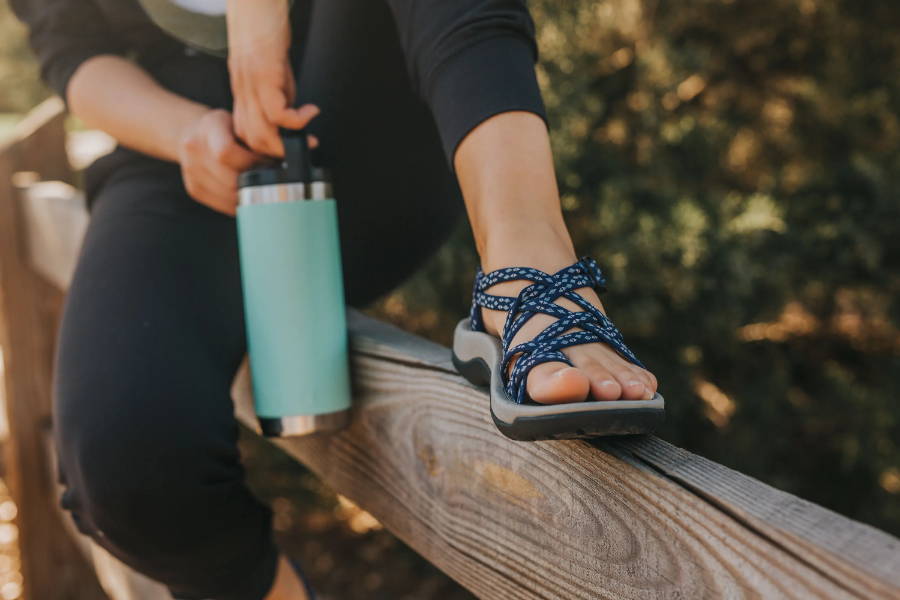 Keen Terradora II, Comfy and Good For Women With Long Toes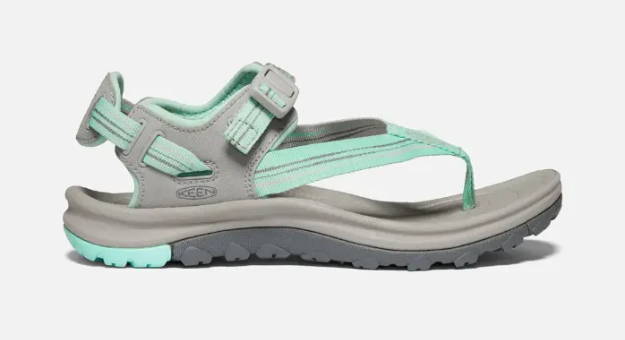 The Keen brand is a leader in comfy and cute sandals. These ones in particular fit the bill nicely for those with long toes. The upper portion of the sandal is made with a water-resistant synthetic material that is durable yet super soft. The upper webbing is also made from recycled plastic making these cute kicks eco-friendly.
As you can see, there is an added heel pad on the back strap to increase stability and comfort, ensuring a snug fit without any unpleasant rubbing on your heel. The anatomically contoured footbed molds perfectly to the shape of your foot. Featuring a layer of low-density EVA foam in the midsole for excellent shock absorption and support.
Chacos Wayfarer Loop Provides Forefoot Stability For Long Toes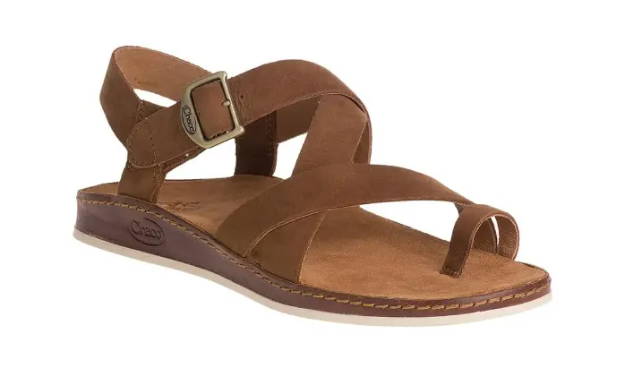 Now, this brand of sandals is great for people with long toes and offers a few different varieties of their designs. We're partial to the Wayfarer Loop. Featuring a stylish strap that wraps around the big toe which gives them a sort of Gladiator-style feel. Though it also provides forefoot stability to help with balance.
This particular choice is a stand-up option for folks with long toes since it has a strap that can be tightened and adjusted for a good fit. If you put in a request when you order online, they will even take a little length off various straps for an even better fit.
Chacos trademark LUVSEAT footbed combined with an EVA midsole provides lots of cushion and tons of arch support. Add in their ChacoGrip technology for an outsole that's going to ensure solid traction, and this sandal is a perfect option for a casual night out or a weekend adventure outdoors.
Kenneth Cole Reaction Fine Glass Wedge, Great For Showing Off Your Long Toes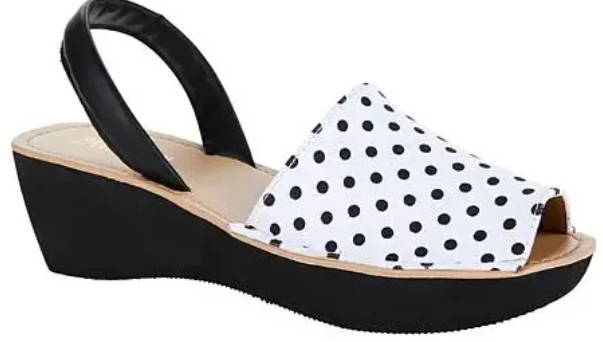 These super cute peep-toe sandals are perfect for ladies that want to show off that pedicure, but not over accentuate their long toes. They are an easy slip-on, yet have the slingback for a secure fit. Featuring a longer and slimmer toe-box, ideal for longer toes.
With a well-cushioned midsole made of EVA foam and a stable wedge style outsole designed with durable rubber, these sandals are ideal for a special occasion. They come in a variety of colors that pair nicely with pretty much any outfit.
Rainbow Flip-Flops, Easy Sandals for Long Toes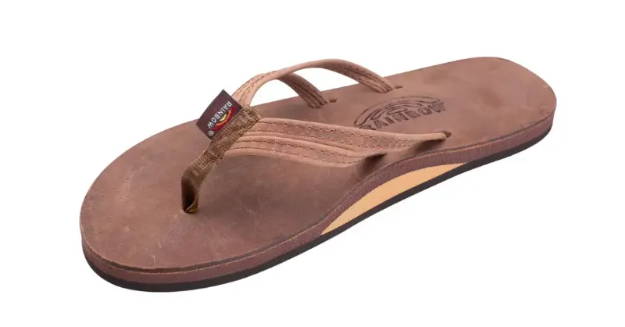 For the more casual wearer with long toes who needs a great pair of slip-on sandals, the Rainbow flip-flop is an outstanding choice. They are a great brand, well known for having high marks for comfort and style.
These sandals are built to last for years and have a slimmer design through the middle and into the toe box. This quality makes them a great choice for shoppers with long toes since they are slightly longer sandals.
Additionally, as they are worn they mold and form nicely to your feet which gives them a natural contour effect. The upper material is ultra-soft leather that never rubs the top of your foot or between your toes. Not to mention, every pair is backed by Rainbow's Lifetime guarantee. That's pretty tough to beat!
Samara Walking Sandal, A Stable Women's Sandal for Long Toes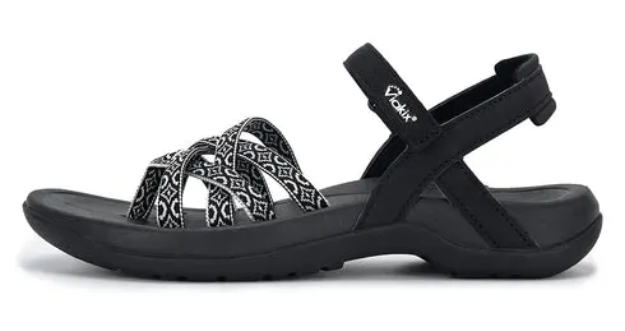 Another stellar option for unmatched comfort when on an extended stroll, these walking sandals reduce stress on your joints. With a sturdy layer of EVA foam midsole, they also offer awesome arch support for maximum stability.
Yet another lovely feature on this pair is the webbed upper made of soft and stretchy material and adjustable hook-and-loop strap to get them nice and tight. Making these sandals a no brainer when you are on the hunt for a pair that will be a match for your long toes and long walks.
With a super tough rubber outsole, these sandals are suitable for any terrain you can throw at them, making them a superb choice for urban or outdoor adventures. It's no wonder that the Samara Walking Sandal by Viakix was listed in the top 3 best walking sandals by Expert World Travel.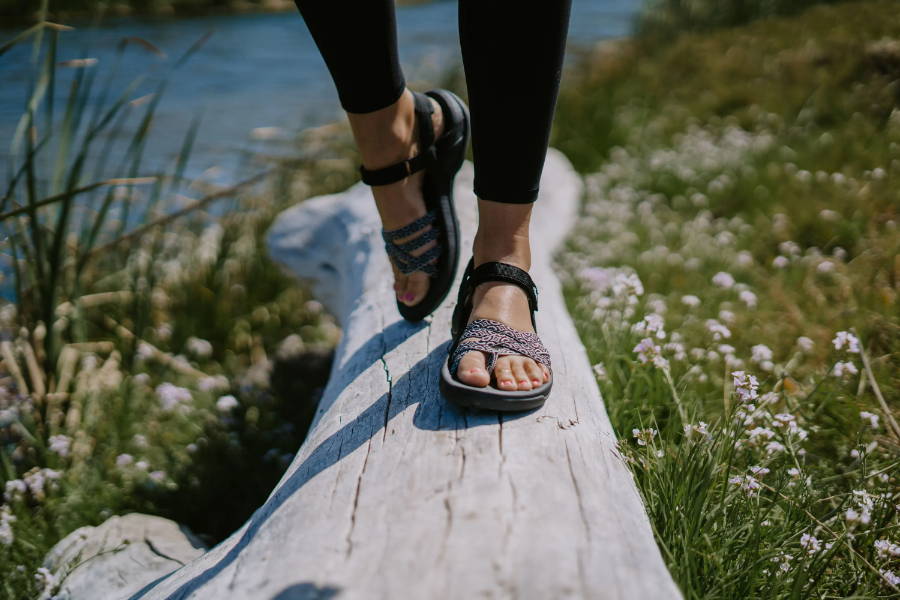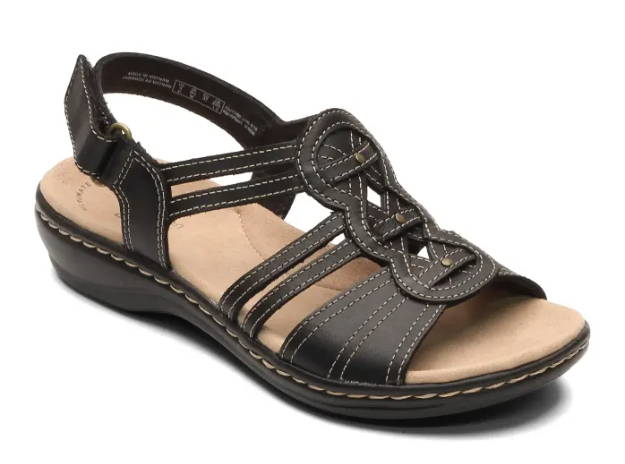 These wonderful sandals are highly rated. Of course they are, they are Clarks! They sport a footbed made from Ortholite, an eco-friendly material made from recycled rubbers, which also happens to provide an insanely comfortable level of arch support. Even the outsole has a layer of EVA foam for top-notch cushioning throughout the whole sandal.  
With a basic understanding of the anatomy of our feet, especially having long toes, we can start to realize what orthotic sandals have to offer. Proving stability through support and comfort. They can relieve pain while still being functional and fashionable.
Ecco Summer Buckle, Comfortable for Women With Long Toes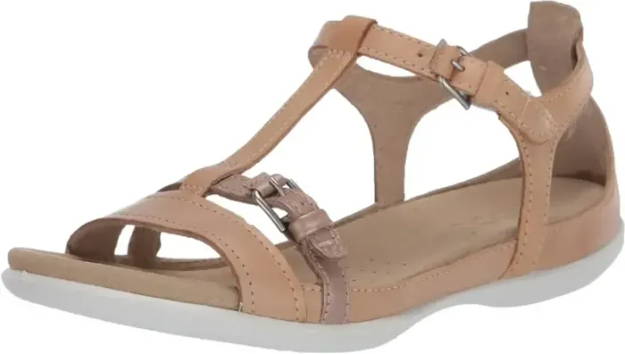 If you're in the market for a comfortable, super cute, and durable summer sandal; look no further. These are known for having outstanding and dynamic support provided by their trademark Receptor technology.
The Receptor tech works by balancing the impact between the main three points of contact when your foot hits the ground and when it pushes off. Thereby they simulate the motion your foot naturally makes going from heel to toe, aiding in maintaining stability for every step.
Plus, all Ecco sandals are manufactured with outsoles of polyurethane. A material that lasts two to three times longer than normal rubber, is extremely flexible and absorbs shock better. So there's no undue impact in your heels related to your long toes.
NAOT Kayla, Great For Long Toes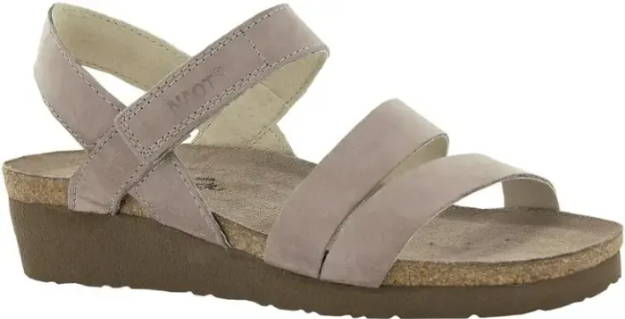 This sandal is part of Naot's Elegant collection, and elegant they are. Complementing any outfit, while also being comfy and perfect for long toes. Featuring a footbed that is structured to be anatomically supportive, they help distribute your weight equally to lessen impact and stress in any one place.
A well-cushioned midsole made of EVA foam makes for a cozy step every time, the toe box is plenty long, and the supple leather upper material is no-rub for maximum comfort from the first wear.
Cortona Sport Sandal, Large Toe Box for Women With Long Toes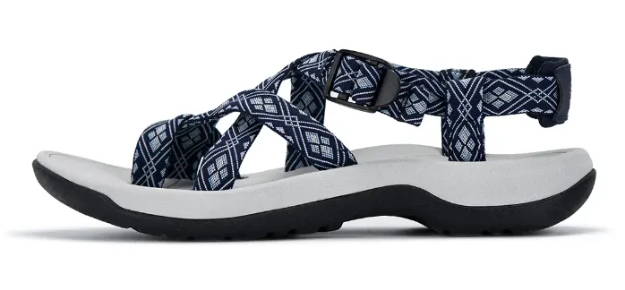 For those more sporty folks, take a look at these. Designed with high performance in mind, while still being super cute and stylish, the Cortona sandal is a top pick.
The soft and stretchy strap material conforms to your feet perfectly. A wonderful choice for folks with long toes, since they have the best feature combo of dual adjustable straps that are uber also soft. And, as you can see, there's plenty of room in the toe-box for all your toesies.
The support shank embedded below the EVA foam in the midsole works double-time to dissipate the shock of each step away from the sole of the foot. Plus, the heavy-duty rubber sole provides top-notch traction. It also protects from any hazards on your path that might try to penetrate the sole of the shoe.
You can wear these babies on a long mountain trek or a leisurely evening stroll with the dog. Their delightful fit and feel are versatile beyond compare.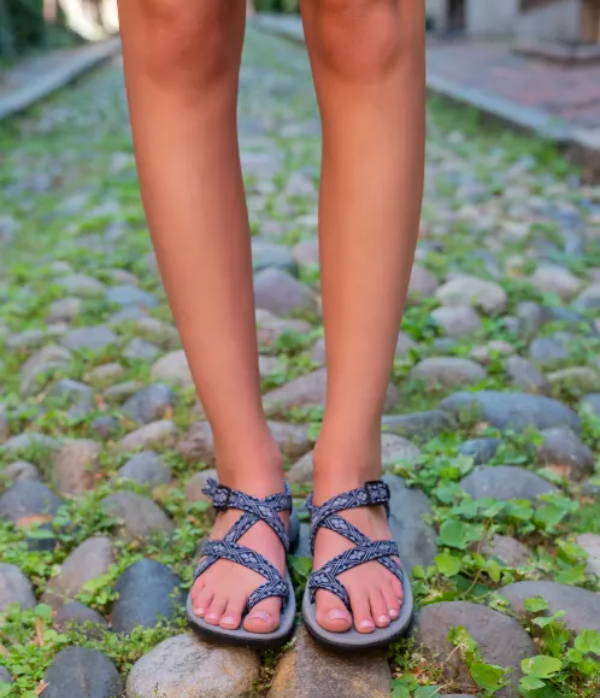 OluKai U'I, An Easy Long Toe Alternative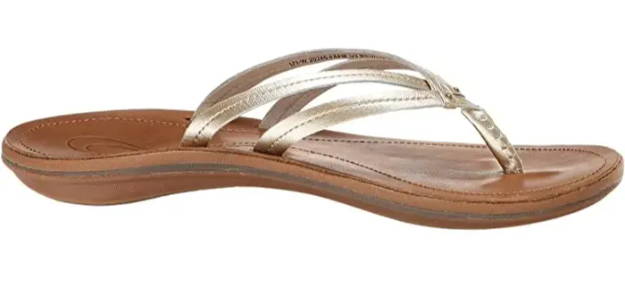 Giving a more sophisticated, yet still laid back feel, these sandals are a super adorable flip-flop option that will fit your long toes well. The upper leather is soft and conforming, and features a hand-sewn toe post for ultimate comfort.
Designed with a contoured footbed to nicely mold to the curves of your feet topped with a layer of the latest molded ICEVA foam. You're certainly going to get support and stability from a pair of these. The seaweed inspired tread of the outsole guarantees traction and durability. An all-around great option for any occasion.
Naturalizer Taimi, A Fancy Sandal for Women With Long Toes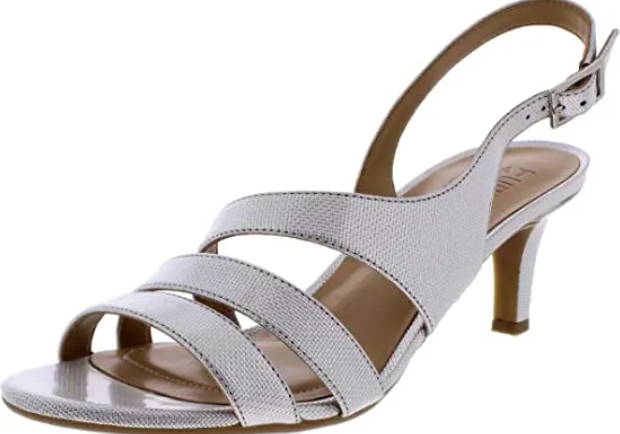 If you're looking for something a little more dressed up, these fancy sandals are great for a night out on the town. Available in a variety of colors to go with any formal wear or date night outfit. They have a durable synthetic outsole for great traction, even for a heeled sandal. They feature soft leather uppers with an adjustable heel strap for the best fit.  
The Taimi is hands down a fantastic choice for a dress shoe suitable for longer toes with a slightly extended toe-box and subtly curved point. These create a new take on a classic look that goes with everything. These are a high-class choice to add to your collection.
Established in 1927, it is fair to say they have made a few good pairs of shoes along the way for all feet shapes and sizes.
Napali Hiking, A Great Long Toe Hiking Option for Women
True to form and true to fit, a pair of these sandals can take you anywhere, longer toes and all.  
Super trendy and wonderfully functional, this sandal is ready for the rugged backcountry or a low-key picnic in the park. For a sandal that is up to the challenge of your active lifestyle and meets your needs for great shoes for long toes, these are a definite go-to.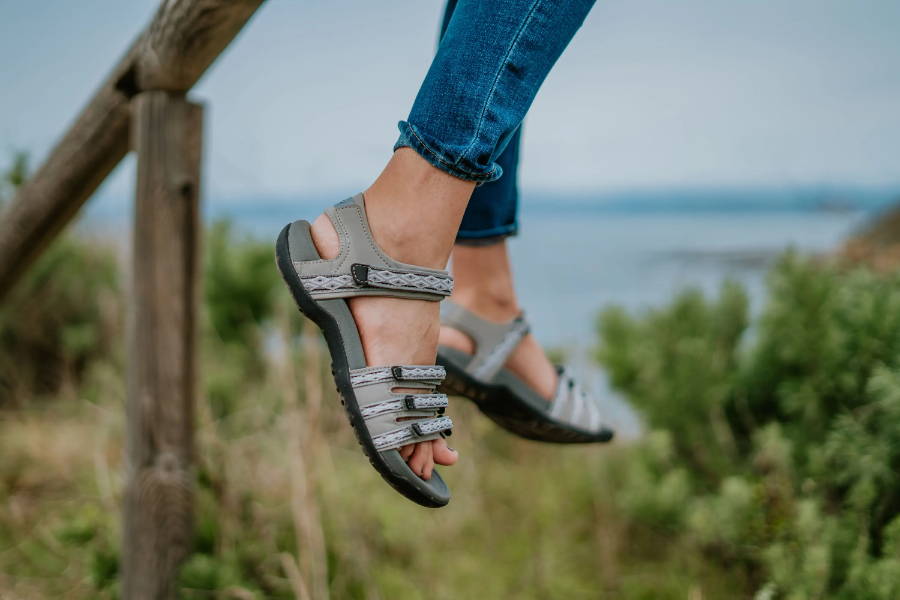 They check all the boxes for a superb sandal; four straps that can be fine-tuned for a customized fit, a durable rubber outsole for traction and stability, and more than adequately cushioned midsole of EVA foam that contours to your feet. So when you're ready for an adventure, pick up a pair of these!
Earth Origins Sophie, Wide Open Toe Box for long Toes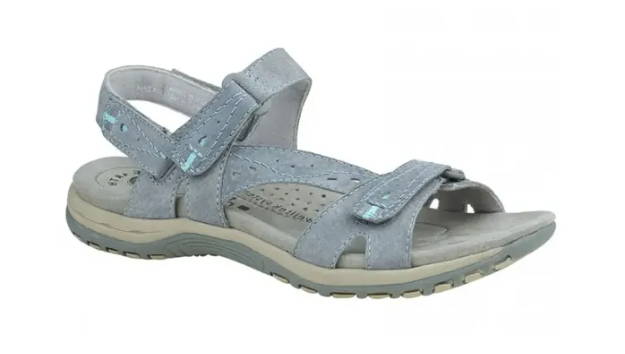 These sandals are pretty nifty. Not only do they fit the bill for those with longer toes and are very attractive, but the heel strap is also removable. This gives you two different looks from one pair of sandals. Like we said, pretty cool, right?
The inner portion of the hook-and-loop suede straps is lined with fabric to prevent any uncomfortable rubbing or blisters. Featuring a molded footbed, they offer fantastic arch support. With a wide-open toe box and thick rubber outsole for great shock absorption, these sandals are a superb choice for you and your long toes.
Teva Voya Infinity - Mitigates the Stress on Long Toes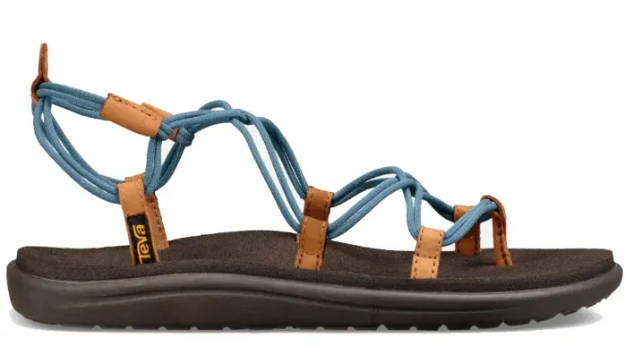 We think these are some awesomely unique sandals. Seriously, have you ever seen a pair like this? We didn't think so. And even though they look a little different, they are a stellar choice for those with long toes.  
The polyester webbed upper is soft, lightweight, and quick-drying. Their special Soft Mush midsole material provides outstanding cushioned comfort that lasts all day. This effectively aids in lowering the stress from overworked foot muscles.
To increase the comfort level even further, the outsole is made up of EVA foam for outstanding shock absorption. That makes these funky sandals a winner in our book.
Acadia Hiking Sandal, Unparalleled Support For Women With Long Toes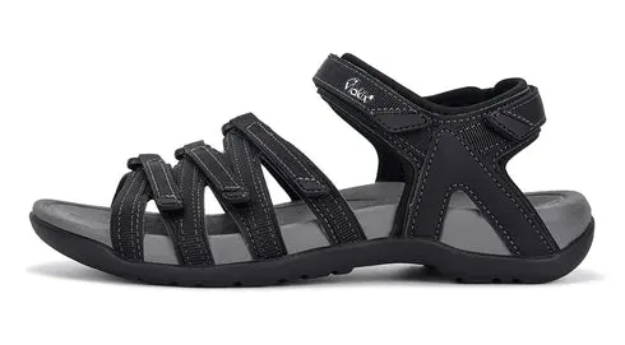 As the latest addition to the Viakix line of fantastic sandals, this one is versatile as all get out. Delivering unparalleled performance for hiking with consistent all-day comfort with long toes. Every pair of Viakix sandals comes with a thick layer of EVA foam in the midsole, providing pillow-soft comfort.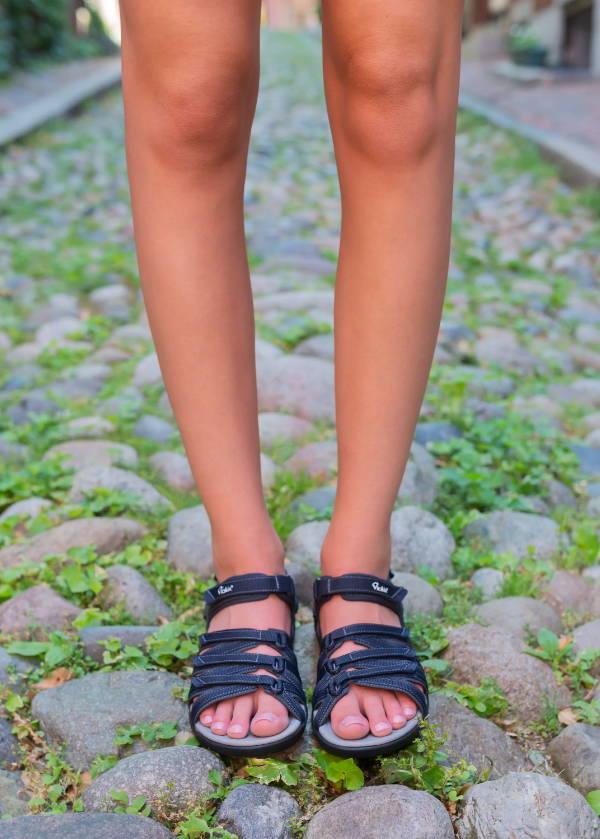 Designed with five customizable straps for the perfect fit and a hearty, long-lasting rubber outsole with a built-in support shank provides all the traction and support you will need out on the trail. Hiking, backpacking to a remote location to camp, or practicing water sports; no problem!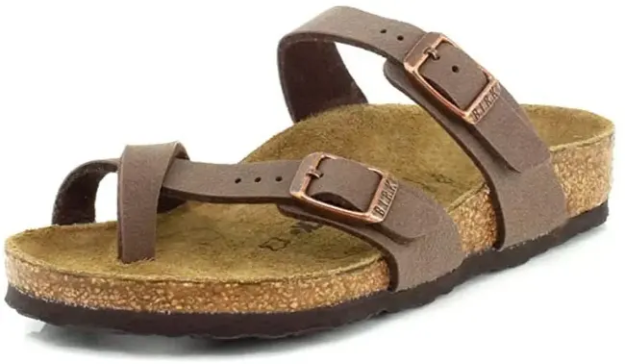 Then of course there are Birkenstocks, which are always a fabulous option, long toes or not. Though, the Mayari design is an excellent choice for long toes. These oldies but goodies come out of the box shaped and ready to mold right to your feet.
They feature an adjustable toe loop, for the best stability and anatomically correct cork footbed that molds to fit your foot exactly. With a raised toe bar, they are extra great for long toes by encouraging the natural gripping motion of the toes. This gives longer toes something to stabilize with.  
Good for a day at the beach or a casual social mixer, having a pair of Birks will leave you well prepared for any warm-weather event.
There Are Sandals for Everyone, Even If You Have Long Toes
Just because you have long toes, does not mean you should have to sacrifice quality and comfort in a pair of sandals.
Owning a fashionable and durable shoe for the summertime is absolutely essential, and a cute pair of sandals that can get you anywhere you want to go is a wardrobe must. Don't get discouraged when shopping for a great pair of shoes to fit your feet and lifestyle. There are a lot of top-notch choices out there!
Whether you are looking for a casual slip-on, a classy slingback, or a tough pair of hiking sandals, the options for long toes are endless. Just remember to look for a couple of features like straps that can be adjusted, a soft yet supportive footbed, a durable outsole with good traction, and a longer toe-box space.
Keep in mind having shoes that don't fit just right isn't only annoying but it can also lead to more unpleasant issues down the road, like calluses and even bunions. There is nothing better for helping enjoy the great outdoors or a stroll downtown than shoes that carry you lightly along on your journey.
Hopefully, we have sent you on your way to discovering a glorious pair of sandals designed just for you.
Happy shopping!
Collection 2019
Sale 70% Off
Title for image