Top 15 Outdoor Shoes and Sandals
So, you want to go on an adventure. Awesome! Whether you are new to venturing into the great outdoors or a seasoned explorer, it's super important to find the best shoe for the occasion.
Though, with so many options out there, it can be a bit of a hurdle. You're going to want to have different features for different activities. Here, we'll go over some of the absolute best shoes for your outdoor adventures to help you narrow it down.
Factors to Consider When Considering Shoes for Outdoor Adventures
If you think about it, you're definitely not going to want to be wearing the same pair of shoes for going paddle boarding and backcountry backpacking. A good first step is to figure out what you'll be doing and what the footwear requirements will be.
But don't worry, we'll also highlight a handful of all-purpose shoes if you want to do it all. We've got you covered.
Traction Can Help With Outdoor Terrain
Are you going to be on some pretty steep terrain? Or, out on the docks doing water sports? You'll want some great traction in that case.
Having a shoe with a good grip is important because you certainly don't want to slip and fall. Especially if you are a few miles into a hike. That would ruin your adventure for sure.
Look for shoes with a super sturdy rubber sole. As a rule, the deeper the tread of the sole, the better the traction.
Support Helps Keep Your Comfortable While on an Adventure
In general, for any activity, it's a good idea to have shoes with good support. It's better for your feet and overall comfort. Having the proper support can help long term issues. Especially if you have high arches.
Proper support in your activewear shoes isn't just important; it's mission-critical. It not only makes the shoe more comfortable, but it's also a safety issue. You certainly don't want to roll your ankle while out trying to enjoy nature.
Breathability Helps You Keep Dry
This one is pretty important, particularly for longer hiking or walking excursions. You want your feet to say cool and dry the entire day. Nothing is worse than taking your shoes off at the end of the day and having them be all sweaty and gross. Plus it's just not comfortable while you're trekking.
The majority of quality outdoor shoes are designed to be more breathable these days. However, be aware that if you're looking for a close-toed shoe that's waterproof, it might not be super breathable. The mesh material used to keep shoes breathable typically isn't good at keeping moisture out.

Again, this is where planning comes in. Are you going to be doing long hikes in the rainy season or are you planning to be camping in the desert?
Versatility Of Your Outdoor Shoes
This brings us to versatility. Ideally, the perfect outdoor shoe will cover all the bases for every situation. If you're looking for just a single pair to get you by for most of your adventures, look for something that has the most key features we just discussed.
It's also nice when the shoes you take on your adventures are wicked cute and stylish too. A shoe you can hit the trail or hit the town in is always going to be a winner.
The Samara Walking Sandal is an Exceptional Outdoor Choice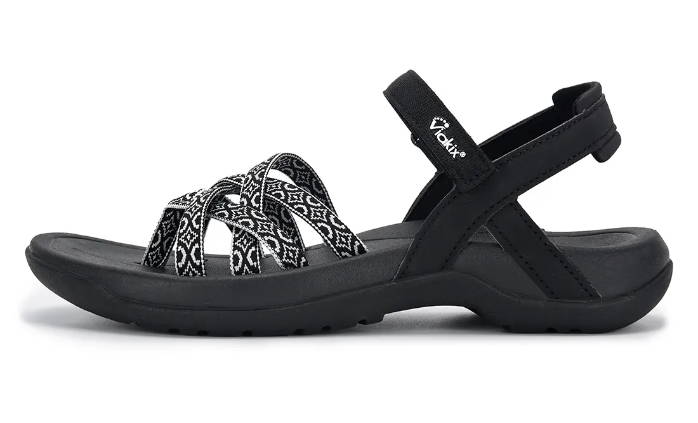 A great all-around option is the Samara. Made with a super durable rubber sole, these babies rock some truly excellent traction that is ready for just about any terrain you can throw at them.
Plus, the sole is engineered with a support shank that absorbs the shock of each step. This protects the vulnerable soles of your feet from any stray rocks that may try to penetrate through the bottom of the sandal.
A layer of EVA foam runs through the midsole, providing cushy support and making these hiking sandals crazy comfortable even after hours on the trail.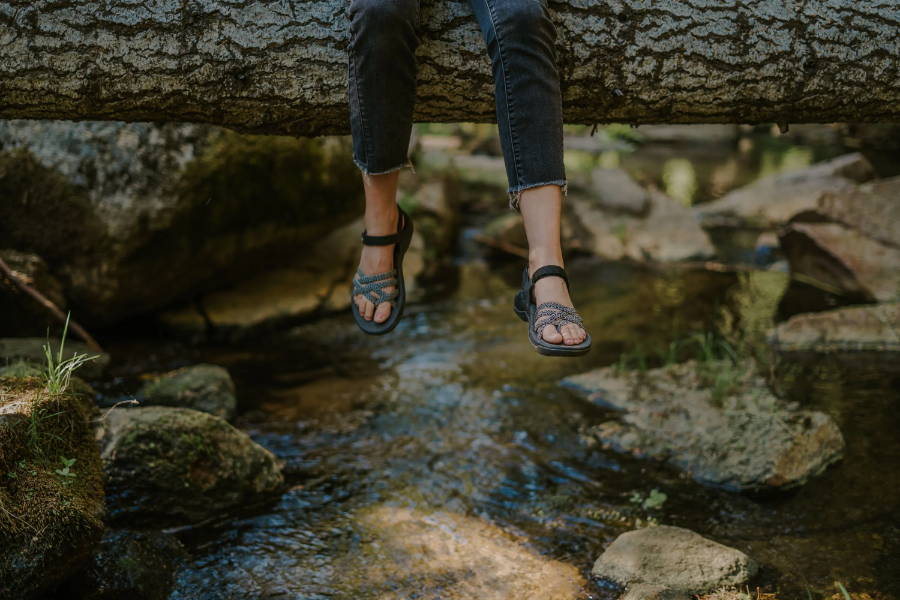 The question of breathability becomes null when the majority of your foot is open to the air. The Samara has elastic front straps that hug your foot for a snug fit and velcro ankle straps that are completely adjustable. But other than that, your tootsies are free to breathe.
Unlike most breathable options, these sandals are also waterproof. Making them incredibly versatile. Hiking a mountain? Check. Paddleboarding? Check. There's nothing they can't do.
The North Face Ultra Fastpack III GTX Are Great For Wet Outdoor Conditions
Some people really dig the rain. We're not talking watching it drizzle through your living room window; we're talking choosing to stand in a downpour when there's shelter a few feet away. If you're one of them, these are certainly the shoes for you.
Built with wet weather in mind, these waterproof trekking shoes are designed with Vibram Megagrip rubber soles that offer unrivaled traction. No matter how wet or muddy it gets, these puppies will make sure you don't lose your footing.
A big factor with these shoes is durability. We've all had that pair of sneakers that got wet and never really fit right again. These hiking shoes will make sure you never have to worry about that again.
Built to last, those trademarked rubber soles and woven uppers are ready to take to the trail as often as you are. They can take all kinds of punishment. In fact, in terms of hiking shoes, they're some of the most durable on the market.
Mammut Ducan Knit High GTX Boot, Great for Mountaineering Outdoor Adventures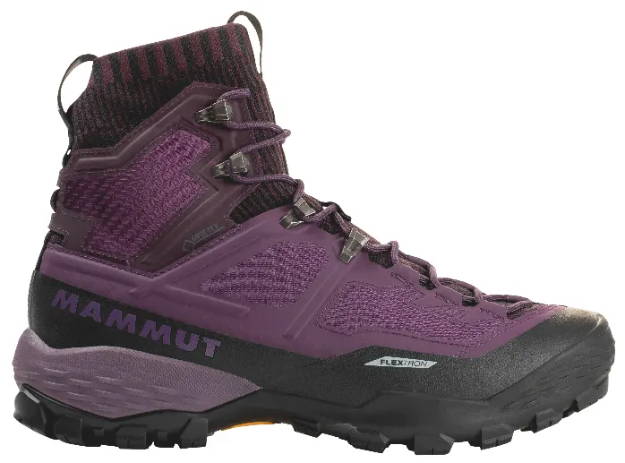 Mammut is an industry leader in outdoor wear. They are known for their great mountaineering and rock climbing gear. So you better believe these babies have killer traction.
Their unique Mammut Flextron tech steel-spring sole provides support and comfort like you've never experienced in an activewear shoe before. There's no doubt your feet will be comfortable all day.
The high ankle design gives you great support. Then to boot, they have a built knit top to help weatherproof these shoes to make them super versatile. Not to mention it makes for a perfect fit. No more blisters on your heel where the top of your boot rubs when you are trekking along.
A pair of Mammuts will be comfortable if you're out ziplining through the forest or hiking through Zion National Park. Anywhere you want to go, they'll take you there. No problem.
The Nepali Hiking Sandal, Great for Hiking Adventures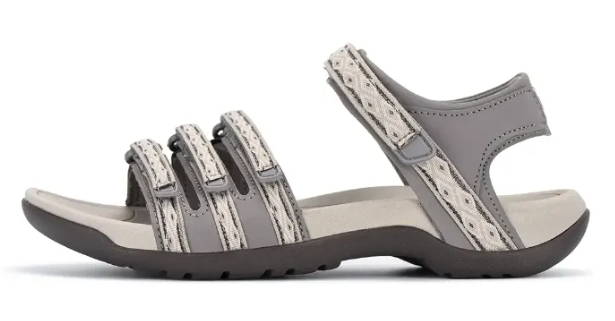 Hiking is the name of the game when it comes to the Nepali. These bad boys are all about the trail and now you can be too.
These sandals are another great option that are both breathable and waterproof. Designed to be quick-drying, you don't have to be afraid to cross that stream or try to avoid that puddle.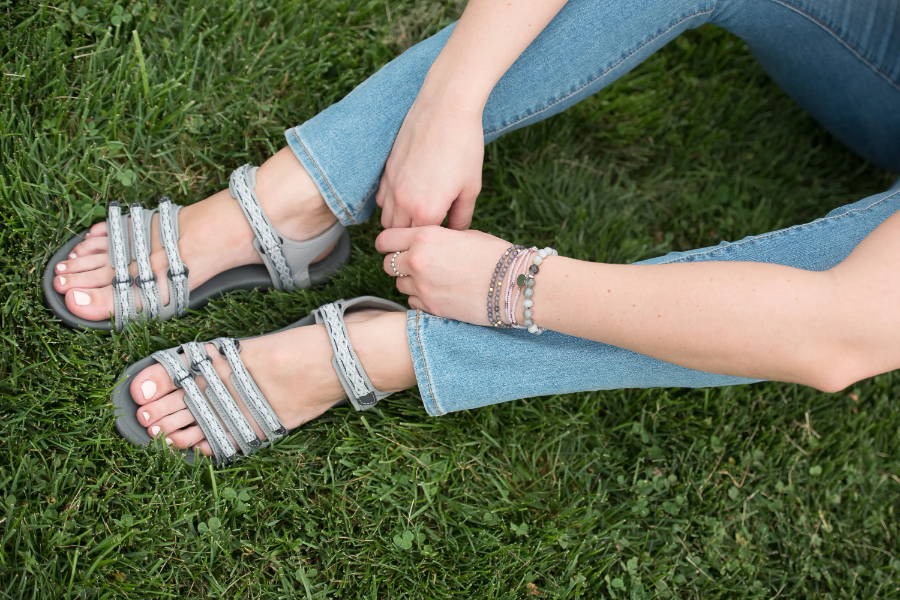 The comfort level here cannot be understated. The soles are made with a thick layer of EVA foam to cushion your feet and keep them happy all day.
Since they're designed for both wet and dry enjoyment, the Napali have a great tread on their sturdy rubber soles that give them unparalleled traction. Throw in a support shank and you've got one incredibly well-built sandal.
As a bonus, there are four different adjustable straps that make for a completely customizable fit.
Chaco Odyssey Sandal, For Outdoor Comfort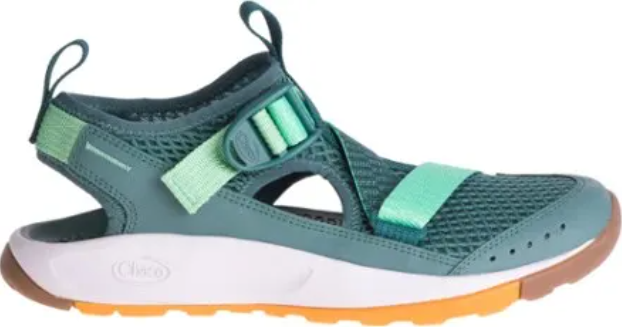 This shoe/sandal hybrid gives you the best of both worlds. Named one of the top shoes for travel and adventure by the Travel Channel, you definitely want to make sure you pack these shoes for your next excursion.
Featuring super breathable mesh material closed-toe, with an open design in the back you could wear these biking through the vineyards of Napa or white water rafting down the Colorado River.
Their midsole is made of Chaco's signature Luvseat EVA foam, for an extra supportive and comfortable experience. Are you ready to start your odyssey?
Vivobarefoot Tracker FG Boot, For Barefoot Outdoor Adventures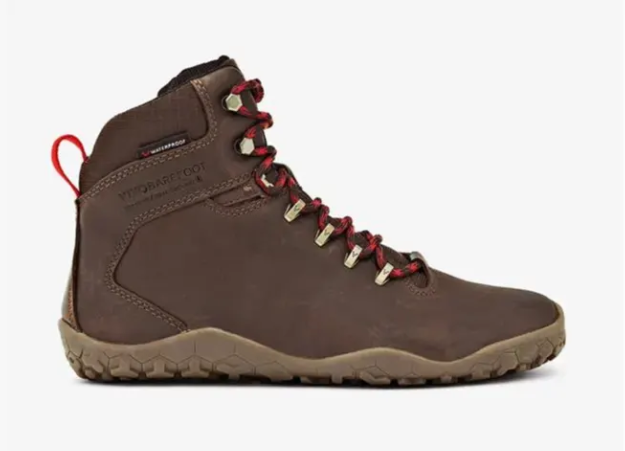 Are you one of those people who would rather be barefoot all the time? We get it, us too. Though that would be ill-advised on a big outdoor adventure, a pair of these Vivobarefoot Trackers are just as good.
They are actually pretty cool. Combining that feeling of being barefoot and a sturdy supportive boot giving you the best of both worlds. You get the flexibility and ankle support. Score!
With HydroGuard Winterproof technology that draws moisture away from your skin, you can seriously have an awesome adventure anywhere, any time. Want to have a winter adventure in the show? Go for it!
Plus, they are very lightweight. The pair weighs in at less than two pounds total. That's about 0.9 pounds per shoe. Now that will really feel like you don't have a boot on. No one likes big clunky, bulky boots anyway.
The Acadia Hiking Sandal, A Stylish Outdoor Adventure Sandal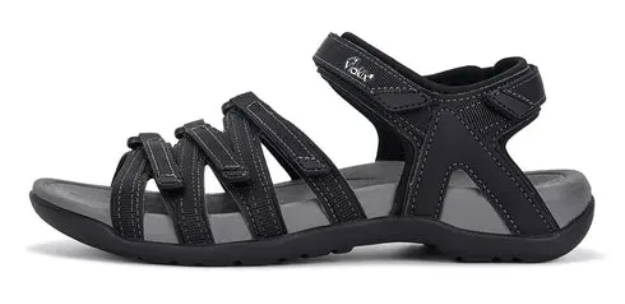 Were you impressed by the four adjustable straps on the Nepali? Well then buckle up. The Acadia ups the game by having five. No, you didn't read that wrong. Every single strap on these sandals is completely adjustable. You're welcome.
A hearty, long-lasting rubber sole with a built-in support shank provides all the traction and support you will need out on the trail. Rouge tree roots and gopher holes are no match for these rugged sandals.
It's pretty darn easy to be breathable when you're rocking a chic open-toe design. Plus, it means water can't get trapped inside, making these puppies easy to dry.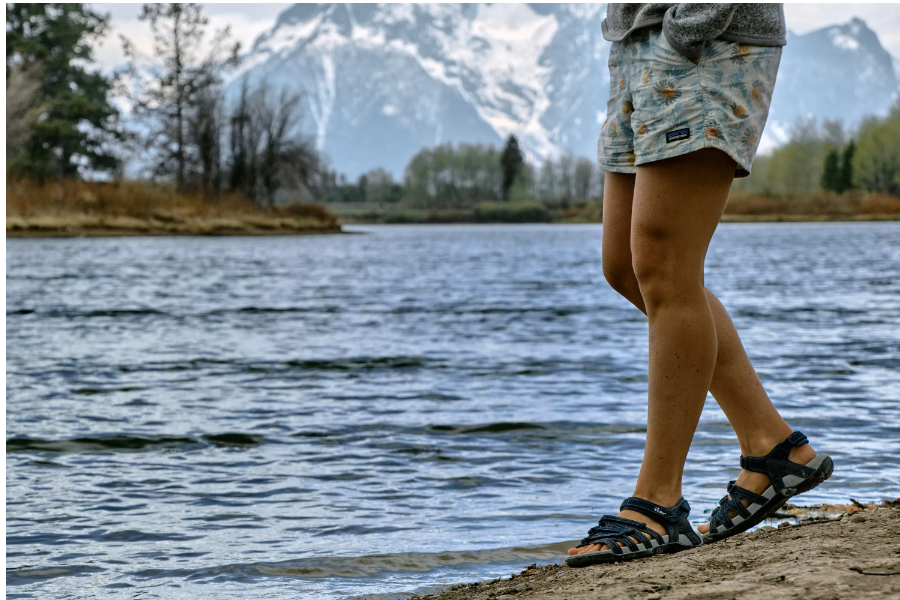 A long day on the trail can be hard on your feet, which is why comfort is a must. Not a problem with these sandals. With ergonomic EVA foam built into the sole, they walk the perfect line between cushion and support.
Lems Trailhead Hiking Outdoor Adventure Shoe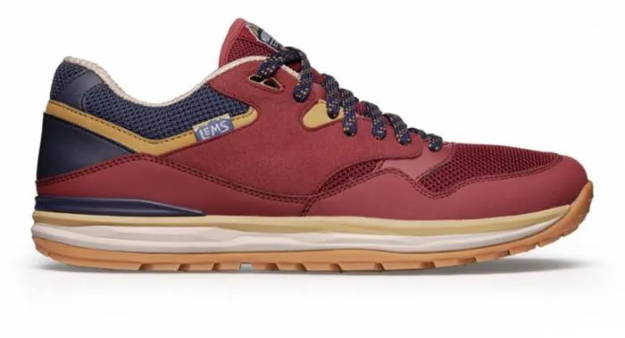 Sure, they say hiking shoes, but you can legit do anything in these. With their ultra-grip sole and EVA foam midsole, you're set to hit the ground running, walking, or sauntering.  
Planning a camping trip at Yellowstone? Going horseback riding with friends? These are the versatile do-anything shoes for you. Not to mention, their retro design is kinda nifty. Right?
Designed with minimalism in mind, the Trailhead isn't bulky or heavy. With a 4mm drop (the difference in height from the heel of the shoe to the toe) that helps maintain a good posture and a natural gait. So you feel like you're walking on air while enjoying your adventure.
KEEN Whisper, For Aquatic Outdoor Adventures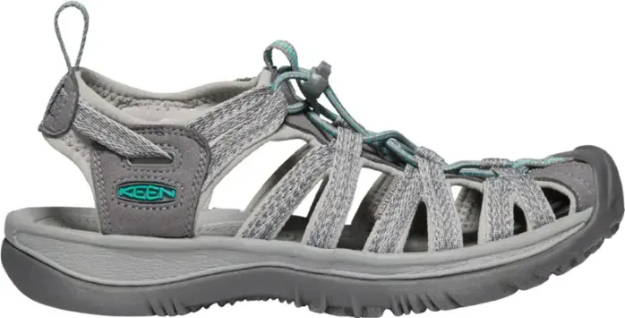 These Keens are made for aquatic adventures. Kayaking, rafting, water skiing, hiking through a stream, it's all on the table.
With a thick durable rubber sole and closed-toe design, you are totally protected. No slipping on wet rocks or stubbed toes here. Featuring an elastic pull cord for a perfectly snug fit.
Just imagine, trekking up to a gorgeous waterfall in Hawaii and being able to just jump right in. No need to fiddle with hiking boots and socks. Keens are super quick-drying and have odor control technology to keep them smelling fresh after splashing around all day.  
Who wouldn't want to have a tropical getaway to splash around and soak up the sun? We sure want to!
Oboz Sawtooth, A Durable Outdoor Adventure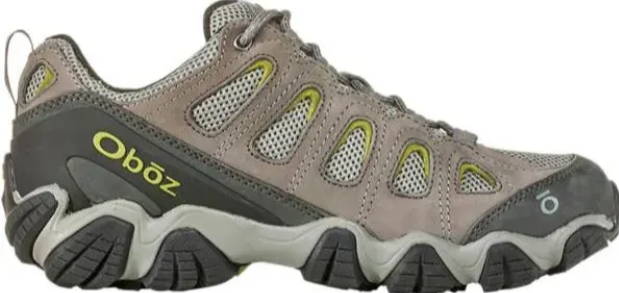 If you are ready for a seriously hardcore adventure, slip these babies on and strap in. The Oboz is made for steep inclines and long hauls. If you're training for a tough excursion, like Bishop Peak in central California with a 1,200-foot elevation gain, grab yourself a pair of these for sure!
With their unique 3D molded heel for first-rate comfort and stability, plus soles built with crazy traction. They give you all the protection and support you want from a hiking boot, without all of the bulk. The breathable mesh upper material makes these shoes ideal for extended exploration.
Right when you snag a pair of these, you can be on your way since they have essentially no break-in time. They are also lightweight so there is one less thing weighing you down as you head for the peak.
Our favorite thing about these? For every pair purchased a tree is planted. Oboz partnered with Trees for the Future, an amazing organization dedicated to ending poverty by teaching farmers how to rejuvenate the land. A worthy cause in our opinion. And, you get the added benefit of knowing you are contributing to maintain the wonders of nature we all love so much.
The Siena Sport Sandal, A High Performance Outdoor Choice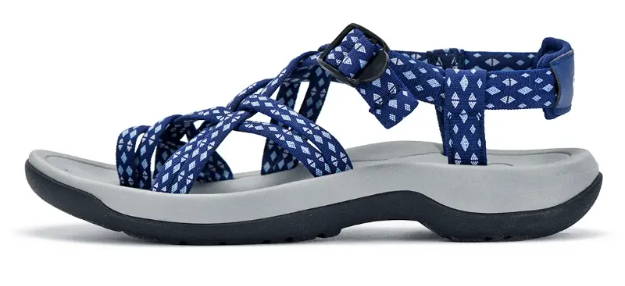 Excursions into the wilderness and beyond are what these sandals were made for. Whether you're wearing them to the lake, on the trail, or around the campsite, they are a stellar choice.
Made with a strong and durable sole, the Seina Sport Sandal's exceptional traction makes this pair a winner. Outfitted with structural support shanks, which lessens the impact of each step, and an EVA foam midsole, you'll be guaranteed unparalleled comfort and support.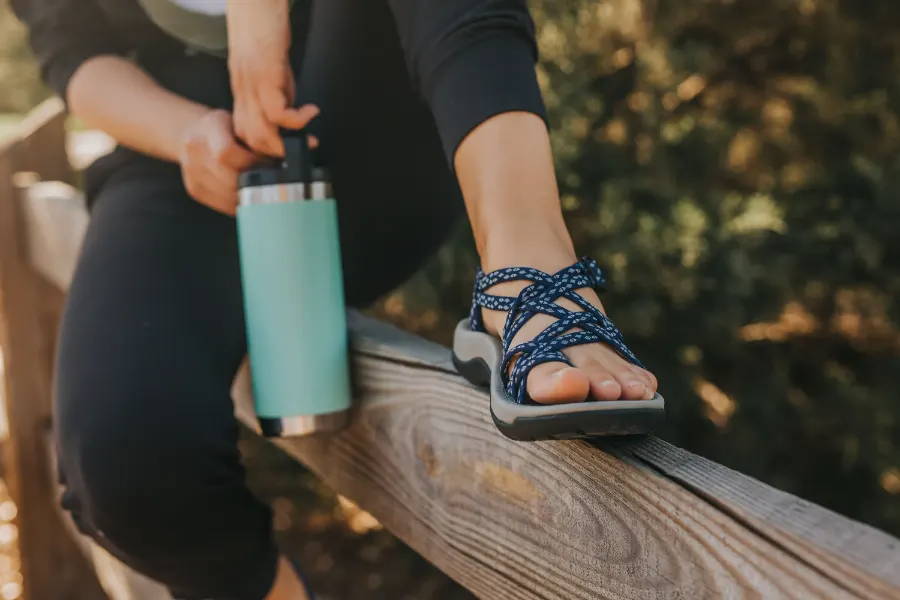 Viakix sandals are made to have fully adjustable straps all around allowing for a fully customizable fit. There's nothing worse than when your feet are slipping and sliding around in your shoes creating blisters.
It doesn't matter much what your activity is. Rugged hike through the backwoods, a vigorous game of volleyball at the beach, or a simple stroll along the lakeshore; these wicked versatile sandals are totally up to the challenge.
Added bonus, they are super cute! Merging style and functionality perfectly.
The North Face Hedgehog Fastpack, A Waterproof Outdoor Adventure Choice
These hiking shoes are super interesting because they're one of the only closed-toe shoes that are both breathable and waterproof. It's a difficult combination to pull off, and these babies have an ingenious way of doing so.
The leather uppers on these shoes are coated in polyurethane. This means that, while they're as breathable as just about any other shoe on the market, they also repel moisture and wick it away before it penetrates to the inside of the shoe.
Designed with a three-part stability system, these shoes provide universal support to the whole foot. So, no matter what terrain you're conquering, these shoes will always have your back (or, technically, feet).
Plus, these shoes are crazy durable! They can handle even the toughest terrain and hold up to any weather you can think of. And that durability leads to versatility. There's nowhere you can't go and nothing you can't handle with these incredible shoes. They are great all-around hiking shoes.
Adidas Outdoor Terrex CMTK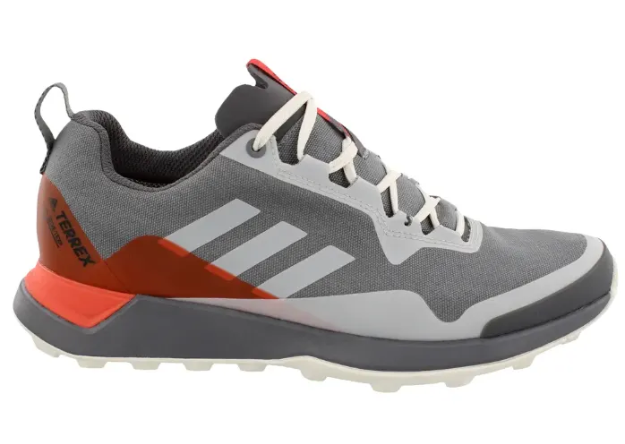 That's right, we said Adidas. Now, hear us out. We know that Adidas has made a name in fashionable and sporty shoes, and frankly, these are no different.
Made for trail running, you get the awesome benefit of years of experience designing running shoes all wrapped up in an activewear shoe. These feature Adidas' signature style but built for the outdoors.  
These shoes are best for surfaces that are a bit flatter such as walking trails. Though they sure do have some good traction, with a trademarked sturdy rubber sole. You'll be cruising along the trail with ease.
The Terrek is ideal for a mellow meandering path through the woods or a shorter day hike. Then, after that, you can wear them out to dinner with friends. That's the kind of versatility we're looking for.
Joorma Minimalist Trail Running Barefoot, Be One With the Outdoors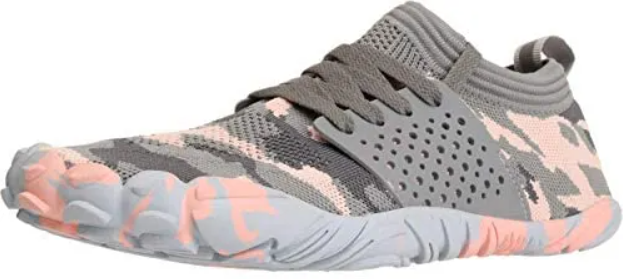 Ready for a run in the fresh air? These are the shoes for you. There can be a lot of benefits to running barefoot. It activates smaller muscle groups in your feet and can help improve balance.
Though, we don't necessarily suggest going without shoes while trekking through the great outdoors. As fun as it is. These shoes are the answer. Providing just enough protection for your feet while keeping you fully grounded.
These shoes have a zero drop, meaning there is no height difference from the heel to toe. So it truly does feel like there's nothing between you and the earth. You serious will barely be able to tell you are wearing them.
The Cortona Sport Sandal, A Top Outdoor Adventure Choice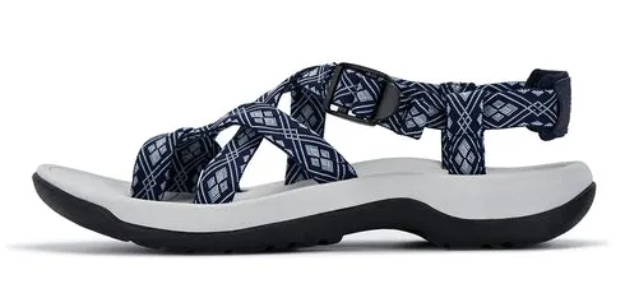 These sandals are undoubtedly made for any outdoor adventure you can throw at them. If you are going on a camping trip, having fun playing water sports, or headed out for a day hike these are a great option.
Designed with high performance in mind, while still being super cute and stylish, the Cortona sandal is a top pick. You can wear these babies on a long mountain trek or a leisurely evening stroll with your four-legged friend.
With stylish webbing that stretches across the front of the foot and adjusts around the ankle, these sandals promise a custom fit. The soft and stretchy strap material conforms to your feet perfectly. They have the best feature combo of cushy straps that are also customizable, providing maximum support and comfort.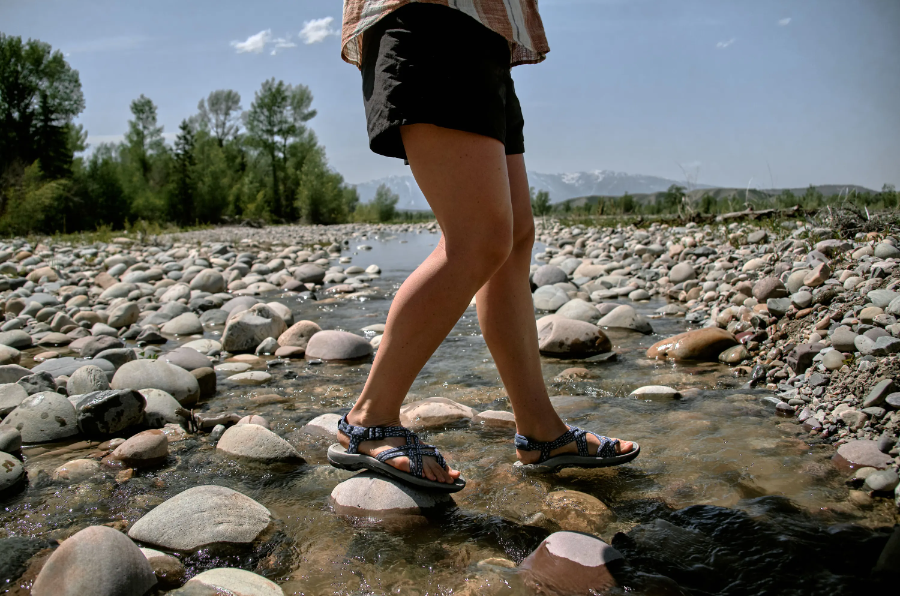 Built with a high arch for tons of support, the soles of these sandals are made with a generous helping of EVA foam, ready to act as a thick pillow for the soles of your feet.
The support shank embedded in the sole works double-time to dissipate the shock of each step away from the sole of the foot. Plus, the heavy-duty rubber sole provides top-notch traction and protects from any hazards on your path that might try to penetrate the sole of the shoe.
All in all, these sandals are knocking it straight out of the park when it comes to comfort and durability. Plus they are also wicked stylish and versatile. And really, when you think about it, what more can you ask for?
Get Moving on Your Outdoor Adventure with the Right Footwear!

There are more sports to play and adventures to embark on than anyone could possibly count. No matter what yours is, there is a shoe on this list that is ready to get to work and allow you to do the same.
Like the foundation of a house, the shoe you choose will be the bedrock on which your adventure is built. But don't stress. Always keep in mind the factors we listed above and you'll be just fine.
Traction for safety, breathability, and support for maximum comfort and always go for the shoe that's going to get you the most bang for your buck.
The great outdoors is waiting for you! So, strap on a sandal or pull on a shoe and get the heck out there!
Collection 2019
Sale 70% Off
Title for image