Best Men's Sandals for Wide Feet
Finding sandals for wide feet can feel like a real task. There are lots of shoes on the market for average size feet or average width feet, but wide feet sometimes get left out of the design process for many brands. You might have tried to get sandals in the past but gave up on wearing them because they pinched your feet.
If you have been trying to find wide sandals, you might have been just looking at flip-flops or really basic footwear. This will make it much less likely that you will find unique widths and designs to shop from. When you shop for higher-quality sandals that are made for activities like hiking, you will be able to enjoy more variety in your overall shopping experience.
If you are ready to learn some more about the best men's sandals for wide feet, you need to read on!
What is a Wide Shoe Width?

In the shoe industry, a wide shoe is measured at 2E or larger. 4E is an extra wide. If you are not sure if you have wide feet, you should consider measuring your feet at home to see if you do measure out in this category. You might be close to having a wide foot but not quite in the "wide shoe" category yet. This can make your fitting process a little more specific, but at least you will be aware of the size shoes that you need to look for.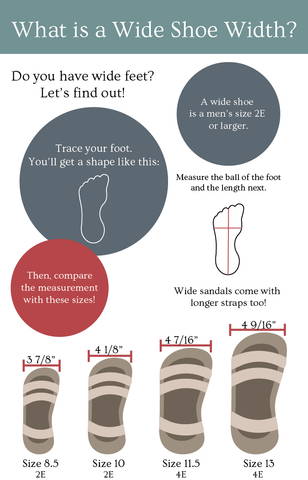 If you want to measure your feet at home, it is actually really simple. You just need some white paper, a pen, and a ruler. You will also need to have a size chart pulled up to look at for comparison. You will simply draw around your feet (measure both), and then you will measure the width at the ball of the foot and the length across from heel to toes. These measurements can then be compared to the sizing chart to tell you if you have wide feet or not and to give you an accurate shoe size that matches your feet as well.
If you need a little help with the process, just check out this video.
Top Men's Sandals For Wide Feet

Now that you know how to measure your feet so that you can shop smarter, you are ready to find the sandals that you have always wanted but could never find! These sandals are perfect for your wide feet, and you will never again have to be uncomfortable as you try to enjoy your favorite outdoor activities or hiking and watersports.
Even if you are not looking for active sandals, you will still be much more likely to get comfortable support and wide-width sandals when you shop for these kinds of sandals. Plus, these sandals look a lot nicer than flip-flops and are much better for your feet. There is nothing that says that you cannot use your hiking sandals to run errands, go to work, or watch your kid's sports events. Being comfortable with wide feet doesn't have to be a struggle with these sandals in your closet.
These sandals are made to keep your feet comfortable no matter how wide or how flat they are. These are really good-looking sandals with lots of nice design features, and they are rugged enough to take on the trails, the beach, or your favorite campsite with ease. These sandals also offer the helpful benefit of being made to help support plantar fasciitis, which can plague people with very wide feet.
When you are looking for a sandal that will take care of your feet, this brand is always a good choice. The soft uppers are made to prevent blisters and to shed water, and you will find that the therapeutic sole design prevents pinching, slipping, and heel pain. This sandal is also made with room for custom orthotics, which can be great for people with gait issues or other kinds of foot pain problems.
The soft layer of interior sole material in this sandal is really comfortable as well as being excellent for keeping your feet dry and cool all day long. These are really durable sandals that feel luxurious, and you can count on them to take on tough work without complaint.
If you love a classic outdoor sandal with hiking sandal style notes, this is a great choice for your sandal needs. The uppers are made of distressed leather that can handle all the toughest of conditions without issue, and the interior gel layer in the sole will protect your feet all day long. You can be comfortable standing, hiking, or even boating in these sandals all day long.
There is an additional memory foam layer inside the sole that keeps your feet level and secure as your walk or stand. The Velcro used in the uppers will not cause blisters or other discomforts, and you will be able to secure the heel portion of the strap perfectly for your unique comfort.
These sandals will feel like they were custom-made for your feet, and they will be ready to enjoy right out of the box. You will be able to enjoy wide-width sizing with this sandal without trouble, but they are only sold in whole sizes. Make sure that you take that into consideration when picking your size.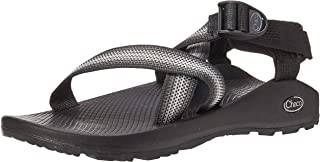 For a stripped-down and simple sandal that will still take care of your wide feet, the Chaco Z1 is a great choice. The simple strap arrangement used in this sandal will allow your feet to be cool and comfortable, and free from rubs or blisters. The high tensile webbing that is used for the straps will fit your feet like a glove, and it sheds water which makes these sandals a great choice for rafting or hiking.
The Luvseat dual-density midsole is soft and supportive, and you will get a lot of heel comfort from this sole design. This sandal is also made with a really grippy and effective outer sole that can handle tough terrain without complaint. Each of the design features of this sandal were made with minimalism and support in mind at the same time.
These are really simple sandals that provide the comfort that you would normally expect from an orthotic shoe. This is a great choice if you have high arches or want some added arch support for your feet and if you hate having to adjust a lot of straps to get that perfect fit.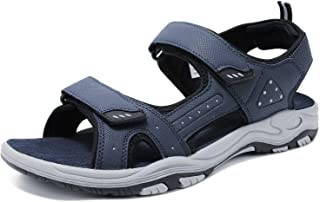 Don't let the name of these sandals fool you. These are not simple slide sandals, and they offer so much more than what a slide could do for you. These sandals are made to be really lightweight and to take on water without any issues. These sandals are made with flexible and softly-padded uppers and straps to prevent blisters, and you will love the perfect fit sole. These sandals come in a lot of colors and a full range of sizes as well.
The strap arrangement of these sandals is perfect for wide feet, and you will not have to deal with pinching, rubbing, or slipping when you put them on. The EVA foam insole will provide soft and comfortable support all day as well. You can wear these good-looking sandals on any kind of adventure and be comfortable the whole time you are doing your favorite activities.
If you love a slide but know that a slide will not provide enough support for your favorite activities, these sports-inspired sandals will give you the best of everything that you love about sports sandals and slides rolled into one.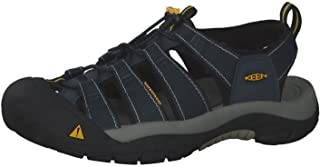 If you love watersports and want a sandal that can also take on hiking and sports needs, this is a great choice for your needs. This is a water-resistant sandal that doubles as a water shoe. You will get access to a really nice traction layer on the outer sole of these sandals, and the supportive and comfortable interior sole is made better with an EVA layer.
These sandals are even machine washable, which is really nice if you love to take your sandals out into the world to have adventures. The soft and flexible uppers are layered with a protective and soft interior material that prevents blisters and rubbing. You will also get access to all the arch support that you need due to the flexible and cradling interior sole design.
These are very versatile and well-made sandals that are made to take into the water, on hikes, or to the store. Whatever you want to do in sandals, these are a great choice because they are made for any kind of activity that you want to engage in. Water shoes don't have to be lacking in support, and you can use these sandals for any kind of activity that you want without issues.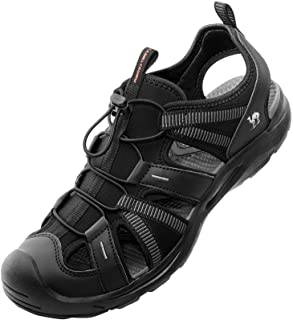 These are a really great choice if you need a waterproof sandal with a protective and enclosed toe. These sandals are elastic and stretchy enough to be comfortable no matter what you are doing. They are also really easy to adjust for a perfect fit. The soft and supportive inner sole is flexible, and you will not get rubbed or chafed even when your feet are wet.
The anti-slip sole is grippy and sturdy, and you can trust your feet on rocks, slippery surfaces, or a paddleboard. This sandal comes in a wide range of sizes and colors, and the adjustable drawstring will make sure that you can slip into them easily and without any muss and fuss. If you hate dealing with Velcro and strap adjustments, you will be freed from all of that with these sandals.
These sandals dry off quickly, and you will never have water puddling under your feet. If you are not using these shoes in water, you will get all the support that is offered by a hiking sandal as well as lightweight and flexible comfort for your needs.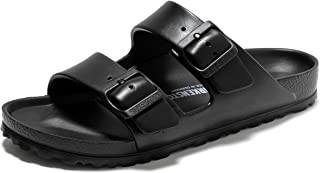 If a simple sandal is what you have been wanting, there is nothing more basic and comfortable for wide feet than a Birkenstock sandal. These sandals are the classic version of this sandal, and they are minimally adjustable and slip-on. This version is made to be washable and water-resistant, which makes them a little more versatile than some of the other versions of this sandal on the market.
If you want to have access to a supportive inner sole that will cradle your heel and your arch, these are a great choice. If you don't want to deal with an enclosed toe or partially enclosed upper, this sandal is perfect for your needs as well. Birkenstocks are such easy sandals to enjoy, and they can be a great addition to your closet for those times that you want to have access to a sandal that will just slip right on your feet.
So many slip-on sandals are not made with any inner support, and you cannot trust them to stay put when you are being active. This is one of the places where Birkenstocks are head and shoulders above the competition, and you can easily access all the benefits of hiking sandals without all the straps and the fuss with a pair of Birkenstocks.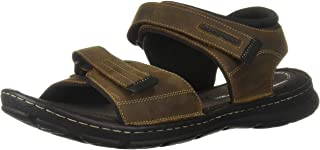 For sandals that are made to be tough and yet comfortable to wear, these simple sandals will handle rough and tumble activities as well as simple walking or trips to the store. These sandals are perfect for wide feet, and the simple two-strap arrangement is great for your needs if you don't want to mess with a lot of straps. The inner layer of the straps on this pair of sandals will wick moisture and keep your feet ultra-comfortable all day long.
The truTECH inner layer of the sole is made to absorb shock and balance your feet perfectly as you engage in all your favorite activities. The heel strap is soft and flexible and will keep you from having to fuss with adjustments all day to get things right. The stitching and the durable material of the upper will hold up to lots of wear on this pair of sandals, and the material is really breathable.
If you need sandals that are made to be durable but breathable and comfortable right out of the box, these sandals are the perfect choice for your needs.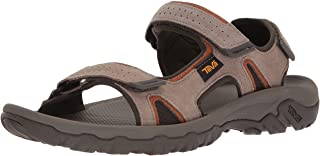 Teva has always made really comfortable and supportive sandals that are highly adjustable, and the Katavi 2 is no different. This is a really great choice if you like to hike and walk or raft and want a sandal that can take on all of these activities without issues. The nylon shank inside this sandal is durable without being stiff, and you can trust your feet to be safe and secure on even the slipperiest surfaces.
This sandal also offers the perfect range of sizes and colors so that you can get the right fit for your needs with ease. Each pair of these sandals is made with the same soft and flexible sole that has a rugged and durable outer sole for your outdoor adventuring needs. The EVA footbed helps keep your foot stable and supported no matter what you are up to, and you can trust this pair of sandals to take on tough challenges without issues.
Teva sandals are the original hiking sandals and have always been made in wide sizes for people who need them. This is one of the most trusted sandal brands out there, and you will get a really durable and comfortable sandal when you choose Teva for your needs.
Wide Feet Can be Comfortable in Sandals Too!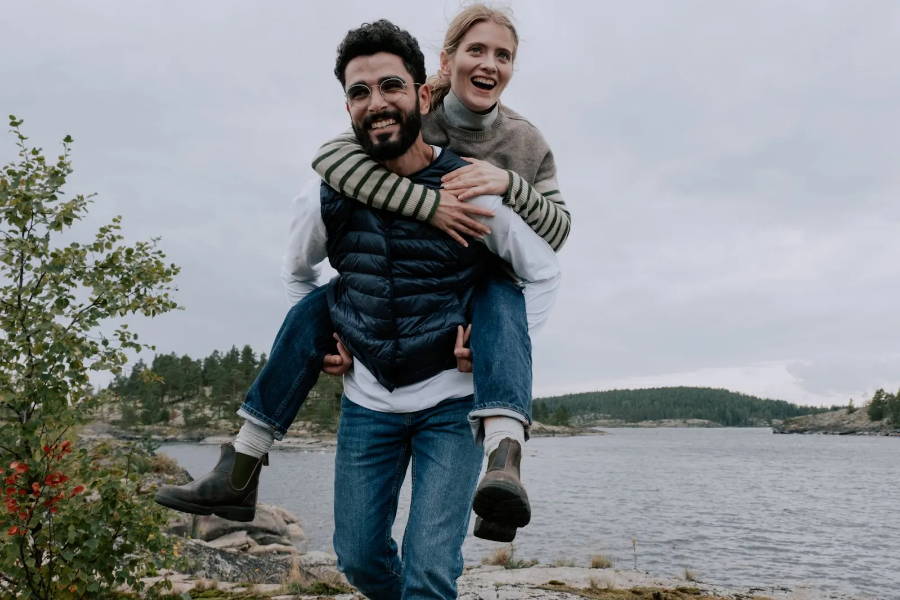 If you have gotten tired of struggling to find sandals that don't hurt your feet and you want to be sure that you can get sandals that are made in wide sizes, these products are perfect for your needs. No more pinched feet, aching soles, or struggling to wear flip flops that just don't fit. Wide feet deserve to be comfortable, too and when you shop for sandals that are made for active purposes like hiking or rafting, you will be much more likely to be able to shop in wide widths.
These sandals can be used for any activity that you want, and you don't have to feel pressured to go hiking or camping just because you now own some hiking sandals. However, if you are motivated to go enjoy your sandals in these new ways, that is great too! Wide-width sandals are easier to find than you might have thought, and you will love that all of the sandals on this list will take care of your needs with a great fit, durable materials, and lots of style choices.
Collection 2019
Sale 70% Off
Title for image