Men's Sandals You Must Pack for Vacation
Vacation sandals need to be comfortable, but they also need to be versatile. The wrong pair of sandals could limit what activities you can do on your trip. And no one wants to pack more than one pair of flip-flops or sandals when you leave for vacation. .
This is why you need to have the right sandals that fit your vacation needs. Men's sandals can be made in many different styles, and you should make sure that you have a versatile and comfortable pair that can take on challenging adventures. Hiking, rafting, kayaking, or paddleboarding are best done in sandals, but flip flops will not take on this kind of challenge without issues.
If you are ready to learn more about the best men's sandals to pack for vacation, you should keep reading!
Many people are not aware that hiking sandals exist. If they do know that they are an option, many assume that hiking sandals are the stiff and tough footwear that many people remember from their childhood. These older trekking sandal versions rubbed your feet raw for months until they broke in, and they were not really made for water or for slippery surfaces.
Sandal technology has come so far since those days, and you can get hiking sandals that are cool, comfortable, and that will keep your feet feeling great all day long. Today's sandals are also very trendy looking! You will have your choice of options, from sandals with soft and supportive inner footbeds to those that shed water and have partially-enclosed uppers.
If you want a pair of flip-flops to use on the beach, there is nothing wrong with that! However, you will probably want to have a pair of hiking or sports sandals in your bag as well. Being able to adventure all over in warm weather without having hot and sweaty feet is a big plus, and these sandals will help you to keep your feet cool and comfortable while you enjoy your outdoor adventures.
Men's Vacation Sandals to Pack for Your Next Trip

These sandals are all attractive enough to wear out to dinner, but they are durable enough to take on the trail, into the water, and more. You will be able to use these sandals for pretty much any activity that you can think of, and they are the perfect choice for a vacation where you want to be comfortable but casual. There is no need to bring your flip-flops along with you on your trip when you have these effective, durable, and comfortable sandals in your closet! You can replace all your hot and sweaty shoes with these comfortable and cool sandals to make every day of your trip more enjoyable.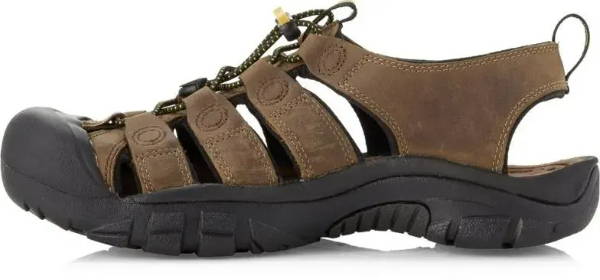 This is a really great sandal choice because it is so versatile and so comfortable. You can wear this sandal to paddleboard, hike, kayak, and more. The water-resistant upper is made of soft material that will not rub your feet, and you can adjust the tension across the top of your foot with ease. This sandal also offers grippy outsoles and a soft and supportive interior sole.
This sandal comes in many colors, and it is made to be durable and to last for a long time. You will be able to simply rinse these sandals off at the end of a busy day in the sand or on the trail as well, which is a nice added benefit. For a really supportive sandal that will keep your heel secure and the top of your foot from being pinched, this is a great choice.
You can also care for these sandals by tossing them into the washing machine on gentle, which makes it simple to keep your sandals from getting smelly or from getting so dirty that they are not comfortable to wear. This is a great choice if you like to use your sandals for rafting or adventures where your feet might get wet and then have material from the trail that gets stuck to them as you keep moving on. Water sandals alone are not anything like these durable and effective sandals that can take on the toughest trail and the wettest adventure without complaint.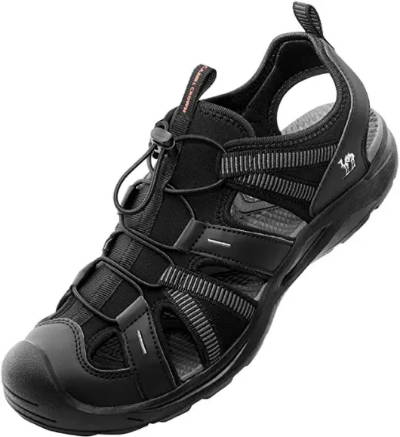 These sandals are made to feel like sneakers without the fully-enclosed upper. This is a great choice if you want a lightweight, comfortable, and flexible sandal that can still take on water, hiking trails, and sandy surfaces with ease. The protective enclosed toe will keep your feet safe from jagged rocks, and you can trust that your foot will not slide around inside the sandal as you are getting around.
The heel strap is soft and supportive, and you will be able to readily adjust the fit of the upper by simply pulling the elastic string on the top of the sandal. You also get a soft and supportive inner sole with this sandal that provides enough arch support to make your walking and standing, and climbing activities more comfortable than they have ever been.
The rubber outer sole is grippy and will not slip or slide on tough surfaces, and you can count on these sandals to work perfectly in the water for your kayaking, paddleboarding, or trail hiking needs. This is a very supportive and comfortable sandal that will give you access to all the best features of a sneaker and a hiking boot without the hot and enclosed upper.
This sandal blends the old-fashioned Birkenstock design that we all know and love, with a more modern and flexible inner sole and a waterproof upper. The hook and loop closure for the straps make putting these on and adjusting them a snap, and your feet will stay cool, as can be due to the mesh lining that is connected to all of the inner surfaces that contact your feet.
The midsole is made of soft and supportive EVA, which will not get water-logged and drag your feet down. The platform on this sandal is low, and the sole is so flexible that you will never have to worry about your balance on tough terrain or about pine needles and other material getting under your toes. When EVA is used in the midsole of a sandal, you get superior comfort with additional flex and give, which makes it simple to be athletic and secure in your sandals while also being comfortable all day.
This is a very nice, classic sandal design that you can use for all kinds of activities. You will have cool feet that are still able to handle all the toughest of activities. This is a great choice as well if you want to have access to a casual slip-on style wear experience without having to use flip-flops for all of your favorite activities.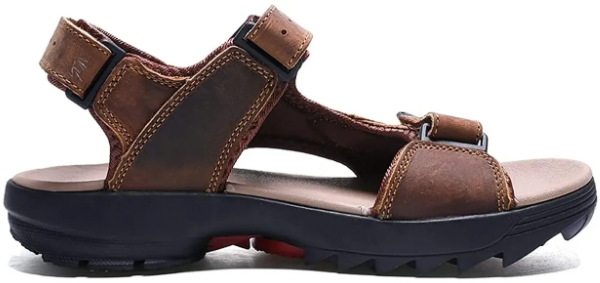 The water-resistant upper on this sandal is a really nice feature, and the soft and pliable leather material will keep your feet comfortable no matter what activity you are doing. These sandals are simple to fit, and you will have access to all the heel strap support that you could want without the risk of blisters and other issues to do with poor strap fit.
The shock-absorbing and non-slip inner fabric and materials of this sandal will make sure that your feet are comfortable no matter what, and you will love that you have such a locked-in feel with this sandal without risk of discomfort. This sandal offers you a grippy sole that would fit right in with the sneakers that you have in your closet, so you will never slide off a rock or have to scramble to get up a tough surface.
If you love hiking or water activities, these sandals are a great choice for your needs. You will be able to take on both kinds of challenges with these sandals on your feet without worrying about traction, comfort, or performance of the sandal. Having dry and comfortable feet matters when you are outside all day long, and you will never be uncomfortable in these sandals.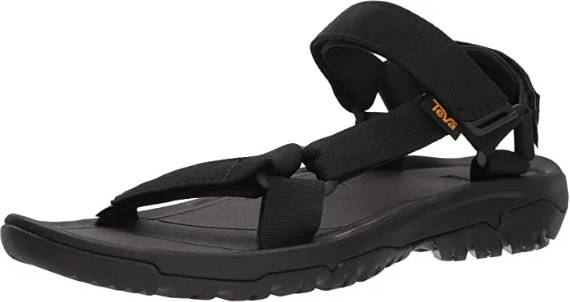 This is the classic outdoor sandal but made with a new twist. TEVA products have always been the first name that everyone thinks of when they are looking for outdoor sandals that can stand up to hiking and to water use. This sandal is one of their newer generations of products that can take on all the toughest conditions without complaint and remain durable and comfortable for years of use.
These sandals are made with a soft and supportive inner sole that will conform to your foot without pinching or rubbing. The interior layer of this sandal is EVA foam, so you will experience a soft and supportive layer of comfort that you cannot get from many other sandals. All of the parts of this sandal are also waterproof, so you will not have to worry about wet, sticky, or slippery feet as you move through your day.
TEVA sandals are easy to adjust as well, and the soft and comfortable straps also have tough and resilient Velcro inside of them so that your sandals will never slide around on your feet. The old rigid and inflexible Velcro that everyone remembers from the first few generations of these sandals is long gone, and the current models are the height of comfort and support.
This is a simple sandal that will take care of all of your needs for activities that demand cool feet, but also dry feet and secure feet. This is a great choice if you love a minimal sandal design but still want all the right structural support and durability that hiking and outdoor sandals can offer you.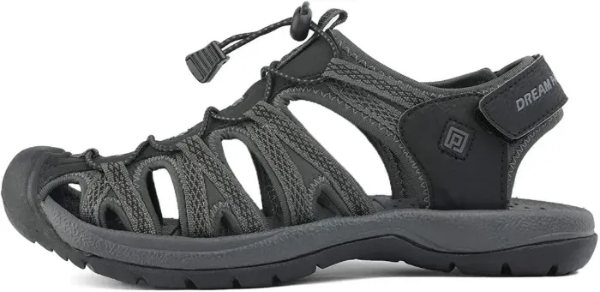 This is a really nice and supportive pair of sandals that will take on tough terrain and water without any issues. The criss-cross straps are supportive and cozy around your feet, and the heel height is a little raised for those that want a bit of a drop in their sandal, just like in a sports shoe. This sandal has a rubber sole as well, and you will enjoy grippy and effective support as you navigate tough trails and other conditions in these sandals.
For those who want to have a really comfortable interior footbed, the mid-sole of this sandal is made with EVA foam, and there are soft, grippy bumps on the interior of the sole that keep your foot from sliding around or from getting rubs when the sole is wet. This sandal also comes in many colors, which makes it a great choice if you have a specific preference.
This is a very lightweight and comfortable sandal that is just as durable as any rough and tumble hiking sandal. You do not have to wear heavy and sturdy sandals for your hiking adventures just to protect your feet, and these light and comfortable sandals will handle everything you throw at them with ease.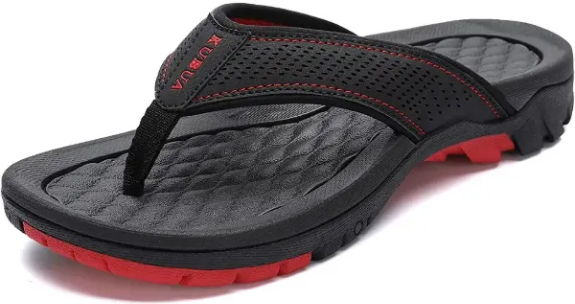 While generic flip-flops cannot take on the hiking trail or water sports, these sandals are made to conform to your feet without slipping and sliding, and they are designed to provide grip on your paddleboard, protective comfort in a kayak or raft, and durable and comfortable support for your hiking needs as well. You will get the best of every kind of sandal from these slip-on shoes, and you will be able to trust that they will stay on your feet despite their slip-on design.
These sandals are made with an orthopedic insole that reduces shock and helps keep your feet properly balanced all day long. They are water-resistant as well as being orthotic. The soft and supportive upper strap will shed water and conform readily to your foot, and you will never have to deal with blisters, rubs, or other discomforts when you have these sandals on your feet.
This is a great choice to make if you really love a flip-flop but don't want to get hurt trying to wear basic flip-flops on the trail or on your rafting trip. This is a great vacation shoe that will suit all of your needs perfectly, no matter what kind of activities you are planning to engage in.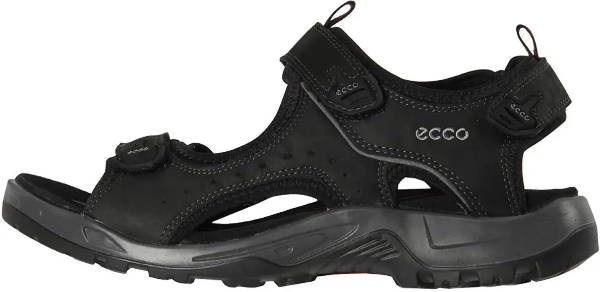 This is a sandal that offers a really nice blend of leather and textiles to keep your feet comfortable and cozy all day long. You will get really nice nubuck uppers with this sandal as well as water-resistant interior strap materials. Your feet will be comfortable and secure because the uppers and the heel support strap stretch and conform to your foot as you wear them.
This is a great choice for really grippy outer sole material and a supportive arch in the sole. The footbed is dual-density for a lot of added comfort, and you will love that the insole uses RECEPTOR technology to shape itself to your foot for maximum fit and function. This is a great choice if you like a really supportive and complete ankle enclosure in your sandal and if you want to make sure that your toes will not slide around.
If you have narrow feet or you often have issues with rubbing and slipping against the straps of a sandal, this product will not let you down. You will feel like this sandal was made just for your feet, and you will be able to spend hours in these sandals without any kind of function or fit issues. This sandal also comes in many colors, which can make it a really versatile option for those who are looking for specific design choices.
Men's Sandals Can be the Perfect Choice for Your Vacation
If you have gotten tired of having to take off your comfortable flip-flops and switch into regular shoes for activities that you are doing during vacation, you just need to get some hiking sandals. These sandals will offer you all of the features and functions that hiking boots or sneakers can give to you, but you will also be able to be comfortable and cool throughout the day. Having the benefits of a more durable shoe with the comfort of a sandal is easier than ever, and these sandals will make sure that your feet never feel sweaty or uncomfortable during your trip.
Being able to vacation in comfort matters and hiking or athletic sandals can make it simple for you to engage in all your favorite pastimes on your trip. These sandals can shed water, prevent blisters, and handle tough terrain all at the same time. You will never have to take off your sandals to put on fully-enclosed shoes again while you are trying to have fun. Investing in some hiking or athletic sandals can make all the difference in your vacation experience, and you will love that you can do so much in these sandals and be so comfortable at the same time.
Collection 2019
Sale 70% Off
Title for image