The 7 Best Shoes to Wear After Surgery
You don't need us to tell you that foot surgery isn't always pleasant. Whether you've just gotten a painful bunion removed or are recovering from some other corrective procedure, it's likely that your foot is still in pain.
As such, it's highly recommended that you get a pair of shoes that can accommodate your foot pain and help you through the recovery process. In this guide, we'll go over some general health guidelines for post-foot surgery patients, as well as examine what makes a good shoe for patients in this situation. Finally, we'll take a look at the top seven shoes to wear after surgery that are currently on the market.
Keep reading to find the perfect pair of post-surgery shoes for you!
General Health After Surgery
There are a number of foot and toe surgeries that may require patients to wear special footwear. Procedures such as bunion removal may leave your feet sensitive and rigid for days or weeks post-op, impairing your mobility and making it more difficult for you to accomplish necessary tasks at home and at work.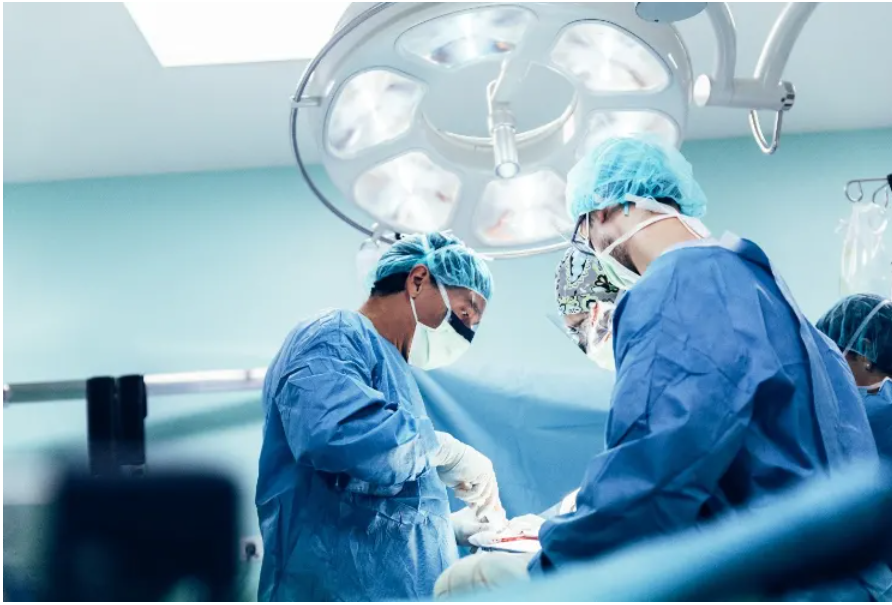 With this in mind, it's important that you remember some general information regarding health after foot surgery. Let's take a look at a few pointers that you should keep in mind:
Conventional Footwear Can Make Things Worse Post-Surgery
If you're post op and are continuing to wear traditional footwear, you may have already noticed that your normal shoes aren't doing much to make your feet feel better. In fact, they could be making them feel worse.
The truth of the matter is that not only can conventional footwear make it more difficult and painful for you in the recovery process, but this footwear can also undo the results of your surgery. Obviously, you don't want this to happen.
But what causes it? Upon close inspection, we can see that many causes of foot pain are actually caused by traditional footwear, which can be tight, suffocating, and even change the layout of your foot's anatomy. In light of this, it's crucial that you go with an option that gives your feet more freedom and provides more support.
For example, shoes that offer superior arch support are great for plantar fasciitis patients recovering from surgery, and shoes with strong rocker bottoms and square toe-boxes are fantastic for those recovering from bunion removal.
Following your surgery, you may be given a special orthopedic by your physician to help you in the recovery process. In general, depending on the severity of your condition and the nature of your surgery, your doctor will provide you with some type of orthopedic to make sure that your recovery goes well. If not, however, you'll want to be prepared by choosing the right post op shoe ahead of time.
What's more, you want to make sure that you have the right footwear in place so that you can take the right steps after the "acute" recovery phase to ensure the long-term health of your foot.
What does this mean for you? Simply put, it means that it's important to find a shoe that can last you throughout the recovery phase and after so that you can prevent yourself from reopening old wounds or facilitating old problems.
With the right shoe, you give yourself a chance to heal properly and with minimized pain, even if you find yourself unable to escape from work and home duties. As such, it's important to know what to look for in a shoe. Next up, we'll take a look at some specifics you'll want to keep in mind as you find the post op shoe right for you.
Looking for some post-operative recovery tips? Here's 10 tips that can enhance your post-operative care and ensure a successful recovery.
What to Look for in a Post-Surgical Shoe
So saying, let's identify what you need to look for in a shoe post-surgery. Whether you're looking for something to aid you in the recovery process or something more long-term, you'll want to pay attention to the following considerations so that you can find the shoe that's right for you and your situation.
Specifically the right shoe will offer:
With proper arch support, you'll find it much easier to increase your mobility while reducing the amount of pain sustained during movement. It's for this reason that shoes with strong arch support are recommended for patients with a variety of foot-related conditions such as plantar fasciitis.
The truth is conventional footwear won't do as much to provide your feet with the support they need to take pressure off your arches and provide for more comfortable movement.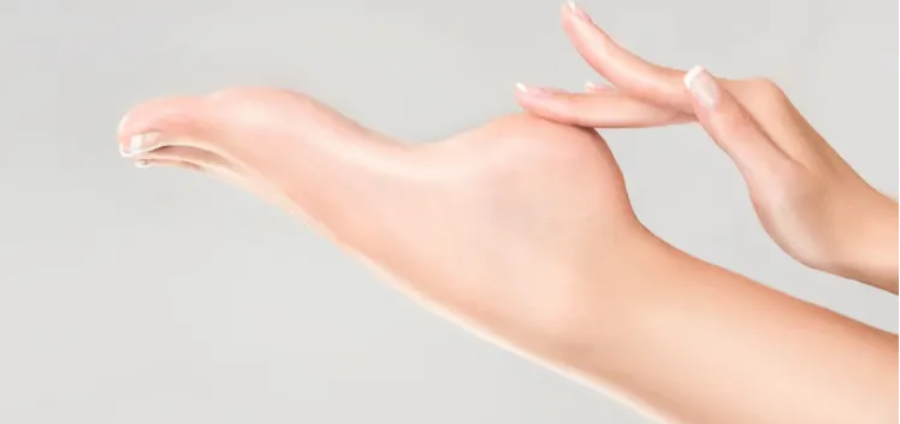 So what should you look out for? Arch support shoes typically come with EVA-cushioned midsoles that provide for excellent shock absorption by making your shoe more stable, durable, and balanced. These midsoles are located between the insole (the part your foot touches) and the outsole (the part that touches the ground) and serve a dual purpose of shock absorption and extra comfort.
Additionally, they come with strengthened outsoles that contribute to durability and balance and help with weight distribution so that your foot doesn't take the unnecessary impact it might with more traditional wear. In some cases, these outsoles also provide for superior traction so that you're able to keep your balance and maintain a higher degree of safety post op.
Arch support shoes enable you to increase your mobility post op without having to worry about undoing the effects of your surgery. For this reason, we recommend going with an option that provides optimal arch support—particularly if you suffer(ed) from plantar fasciitis or related conditions.
You'll also want to see whether or not the shoes you are looking at are considered rocker bottoms. Rocker bottoms are a special type of shoe with a rounded heel and thick sole. Generally, these dimensions are meant to reduce shock to your feet and provide for a more comfortable fit.
For individuals recovering from surgery, rocker bottoms could be the difference between limited and unrestricted mobility, as well as between pain and comfort. Here's what makes these shoes so great: rocker bottoms are designed to give you better balance and weight distribution so that you don't feel discomforting sensations in your feet as you stand or walk.
Whether you're staying active or simply need to stand for long periods of time at work, rocker bottoms will absorb costly impact that can bring pain to your heels and soles and provide extra cushioning so that you don't feel uncomfortable as you go about your daily business. This makes them an ideal candidate for those who are just coming out of surgery (and those who wish to preserve their foot health long term post op).
Here's the truth: adjustability matters. One of the most important factors when it comes to post-op shoes is finding a pair that you can comfortably adjust and maneuver around your bandages. Simply put, without the right fit, you'll find that your shoe can cause aggravation to the site of your wounds and could even cause your wounds to reopen—and no one wants that.
For this reason, we recommend going with a shoe that comes with adjustable straps. This will make it easier to wear your shoe around your bandages and will allow you to make adjustments as necessary. Looking to wear your post op shoe even after the bandages come off? You'll be able to do that if you get a pair that offers optimal adjustability.
It's as simple as this: shoes with customizable fits can make your life ten times easier post op. For this reason, you want to make sure that you are going with a brand that gives you maximum freedom in adjustable fit. In doing so, you'll be able to give your foot necessary breathing room, keeping it comfortable and more mobile. What's more, you'll find it easier to take your shoe on and off and will be able to prevent any painful swelling that you might encounter with a more traditional option.
If you've got wide feet, especially, adjustable straps will help you prevent the wear and tear that causes inflammation, optimizing your foot health even long after your surgery is over.
While performance should be at the top of your list, you still want to make sure that your purchase fits into your budget. After all, healthcare is expensive enough as it is. Whether you're looking for shoes after bunion surgery or an orthopedic that will help following plantar fasciitis correction, you want to get an option that combines performance with affordable pricing. Fortunately, the options in this guide all fit those requirements, giving you more freedom to find a quality post-op shoe that will truly work for you.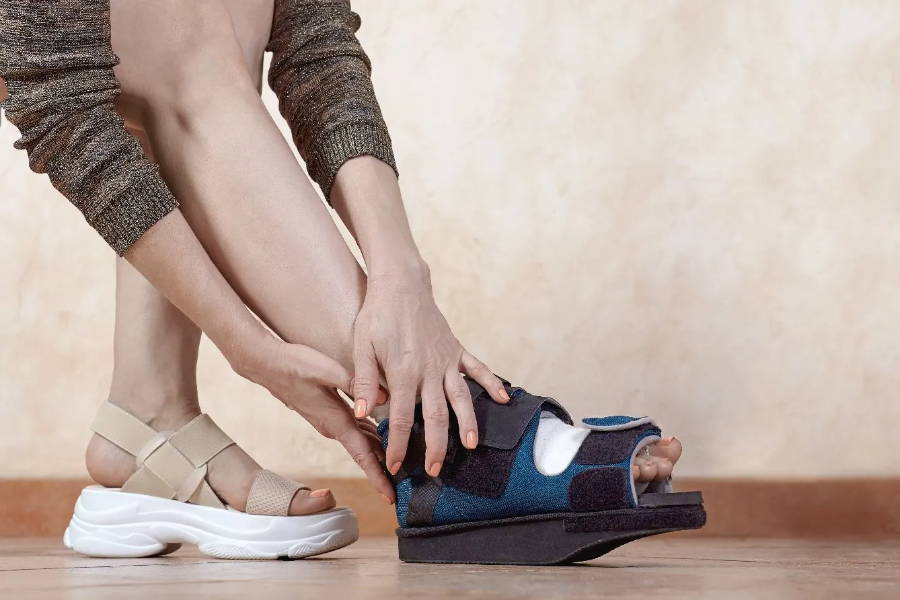 We've touched on this a bit by mentioning rocker bottoms, but it's worth taking a more in-depth look at what options are available for you after surgery. In this section, we'll take a look at some of the best shoes to wear after foot surgery so that you know more about your options:
Orthopedic Shoes
By orthopedic shoes, we're talking the standard, arch-supporting, wide-spaced, and cast-accommodating shoes that are generally required after foot surgery. These shoes come with a full toe box and a strong heel (think rocker bottoms). You may be prescribed a specific orthopedic shoe by your doctor; if not, you can always take a look at the quality options on this list!
Standard Athletic Shoes
You may also get by with a more accommodating athletic shoe. These shoes, as well, should contain thick mid- and outsoles to protect your foot from shocks and provide the arch support necessary for all-day wear. Generally, you want to opt for a wider shoe in case of swelling or the need to continue using bandages. Of course, you'll also want to check with your physician before making your purchase.
Post-Op Sandals
Want to stay stylish after surgery? You can do just that with the right pair of sandals. As we'll see later in this guide, the right pair of sandals could be just what you need to recover from surgery without having to sacrifice your sense of fashion.
Top Seven Shoes to Wear After Surgery
Now that you know what to look out for, it's time that we took a look at some of the best post op shoes that are currently on the market. We've included a wide variety of styles and brands so that you can find the shoe that's right for you. No matter what your recent foot surgery, you're sure to find a great post op shoe in the list below.
With that being said, let's check it out!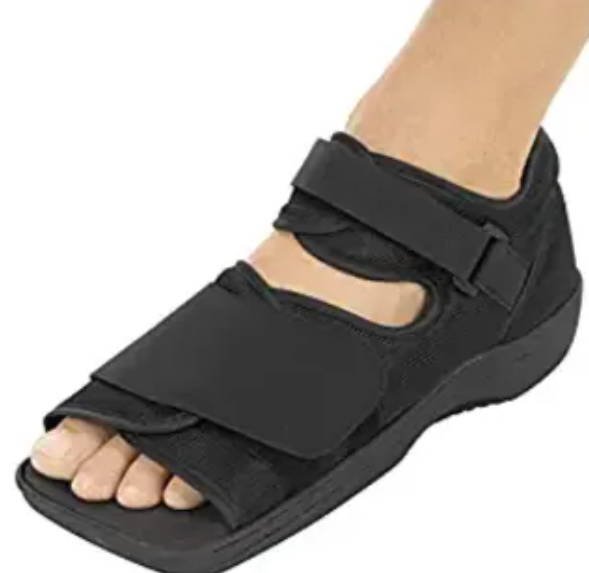 The Post Op Shoe from Vive is exactly what it sounds like—the ideal post op shoe for those still sensitive after major or minor foot surgery. Like the Siena Sandal above, this incredible option from Vive offers adjustable straps for a customized fit. This is designed to maximize both your comfort and your mobility. The Vive Post Op Shoe comes with a rocker bottom for ultimate arch support and comfort. This enhances shock absorption so that you don't feel any unnecessary pain as you walk or move.
In addition to this, the shoe comes with an open-toed, square toe-box that gives your feet breathing room and makes it easier to dress or bandage your foot. This is particularly useful for those who have recently had surgery on their toes. You'll love the dual nature of this light-weight boot, as it can be placed on either the left or the right foot for maximum comfort.
You can use this shoe to boost your mobility and also to keep your bandages or dressings clean during the healing process. Due to its lightweight nature, this shoe won't overburden you or have your foot feeling comfortable, stiff, or sweaty. Instead, it makes the perfect practical option for anyone recovering from foot surgery.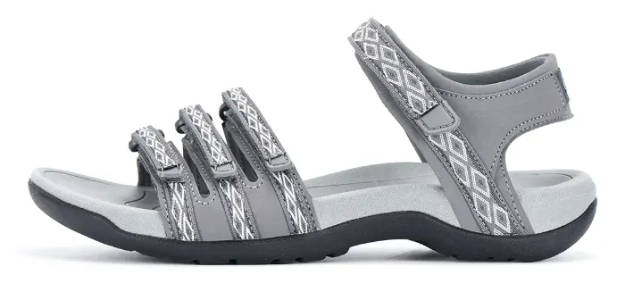 The Viakix Napali Sandal proves to be one of the best for those recovering from surgery.
What really sets the Napali Sandal apart is how adjustable it is. This fully-adjustable option can fit around your bandages, swelling, and any other consequences of your surgery. This makes it one of the most comfortable and practical options available.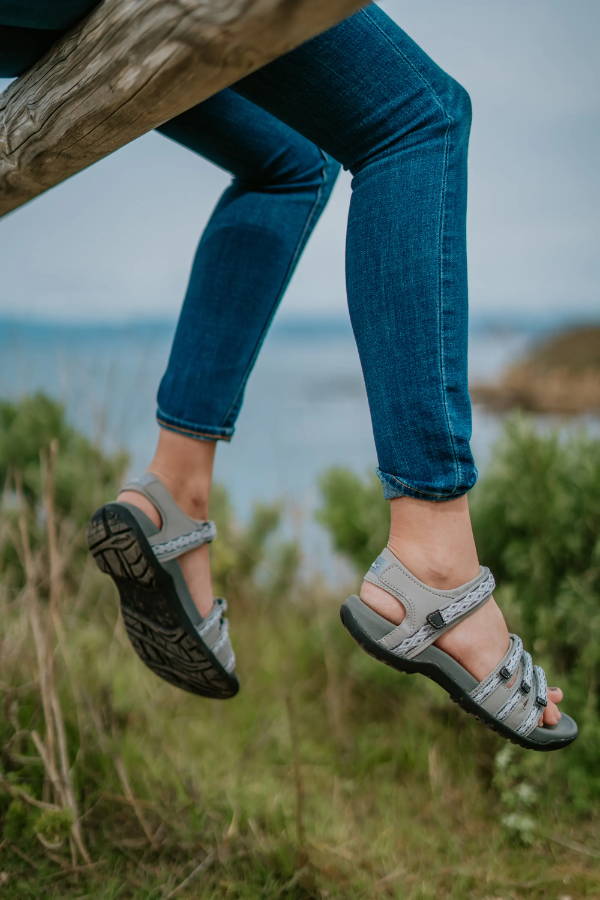 What's more, it comes with an incredible design that will leave you feeling stylish. Say goodbye to boring medical shoes and hello to great fashion with the Napali Sandal. Perfect with almost any casual outfit, the Nepali Sandal will leave you looking and feeling your best.
3. DMI Canvas Rocker Bottom Cast Post-Op Shoe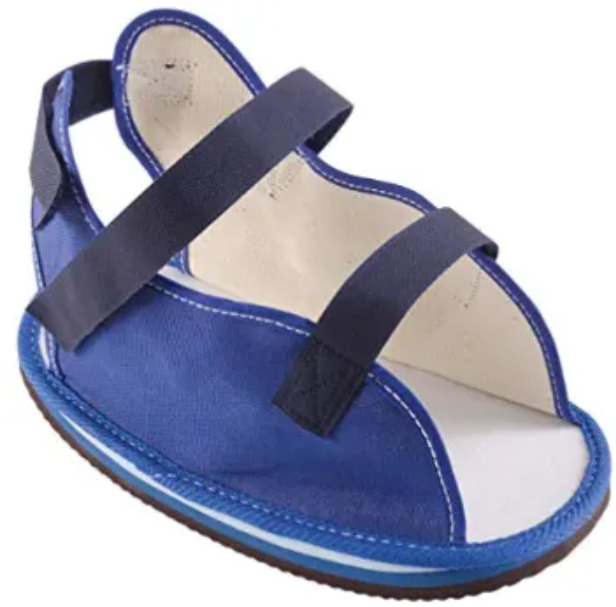 Sometimes it's not about style. If you are looking to take care of your foot in the weeks following your procedure, there's almost no better shoe than this amazing rocker bottom from DMI. With the customary thick sole of rocker bottoms, this thick shoe is designed to provide you with the ultimate in shock absorption so that you never have to feel the pain of jarring impact. Durable yet lightweight, this option provides you with the support you've been looking for.
What's more, it comes wide enough so that it will fit around any cast or bandages. The DMI Canvas Rocker Bottom Cast Post-Op shoe is ideal for individuals who have undergone any soft-tissue surgery or procedure that requires extensive bandaging. Simply put, the design is crafted so that you never have to worry about your cast or bandages getting wet or your scars getting exposed. This makes it one of the most practical designs on this list and a great reason why you should choose it if you are looking for a shoe that will truly keep you safe and aid in your recovery.
To make things even better, this shoe comes open toed so that your foot can breathe. Keep your circulation strong and steady with this sturdy medical option! You'll enjoy the adjustability of the straps as well, as they make it easy for you to customize your fit and keep your shoe (and bandages) secure at all times. Make sure to check it out if you are looking for a post op shoe that won't ever let you down!
4. Alegria Women's Alli Flat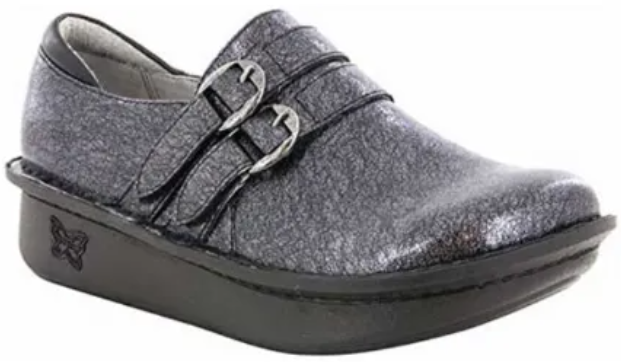 Who says that comfortable shoes can't be stylish?
Algeria Women's Alli Flat provides the great look that you've always wanted with the comfort you need. One of the hottest pairs of shoes on the market, the Alli Flat makes sure that you look your best.
Even when recovering from surgery.
That's right. Though we may tend to think of post-surgery shoes as being ugly medical clonkers, the reality is that the fashion world has caught up. Now, you can get beautiful post-surgery shoe options to fit almost any occasion.
And your collection just won't be complete without the Alli Flat. This incredible shoe conforms to the shape of your foot as you walk, providing you maximum comfort. If you're recovering from surgery, this powerful support offers the much-needed comfort to restore your mobility.
But what makes the Alli Flat's design so special? It includes a footbed that is made from memory foam and cork, all adorned with leather-covered latex. This provides for unbeatable comfort and style—making it the perfect option for your next girl's night out.
Don't let your recovery process keep you from going out. When the world is calling, Alli Flat can help you rise to almost any occasion with its custom design that decreases pressure on the heels and toes.
Perhaps best of all, you can remove the footbed of your shoe, allowing you to insert your own custom orthotic. How is that for maximum comfort?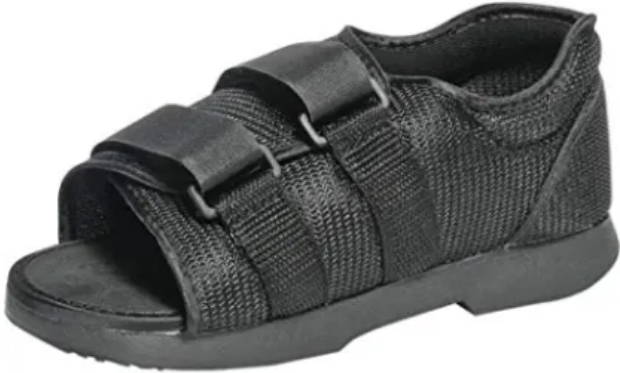 The AliMed Classic is one of the best post-op shoes on the market. Designed with surgery patients in mind, this classic shoe offers the comfort and support you need to heal properly.
It can be scary to think of the recovery process after your surgery. And while you may wish that you could just blink your eyes and have it all be over with, the reality is that a full and quick recovery requires a proactive approach to your health.
Thankfully, after surgery, this often includes adequate amounts of rest. But when you're not resting, you're going to want a quality pair of shoes to give you the support you need.
That's where the AliMed Classic comes in. Designed to be above to fit comfortably over your bandages, the AliMed Classic is one of the roomier options available. What's more, it's delicate feel will provide both the cushioning and the total support you need.
And this support comes in a number of different ways. For instance, the shoes feature incredible compression straps that can help aid in the reduction of swelling and cut down on pain. This incredibly important benefit will keep you feeling your best even while recovering from surgery. These adjustable compression straps give you the power to control your foot's swelling for better and more comfortable healing.
6. Premium Post Op Broken Toe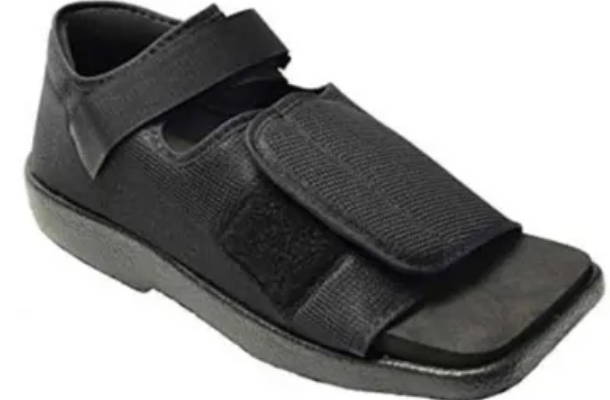 It's tough enough getting around with a broken toe. Don't make it any more difficult than it has to be.
With the Premium Post Op Broken Toe, you'll be able to restore your mobility like you never thought possible. Featuring a unique squared-toe design, the Premium Post Op Broken Toe offers the protection you need to walk with our normal gait.
Well, almost normal. Some who wear this Premium shoe have found that it affects their gait—but only slightly. This tradeoff often proves well worth it, as the shoe works well to protect toes from reinjury.
What's more, with this great option, you'll be up and walking again in no time. If you're tired of using painful crutches or sitting in a wheelchair, these Premium post op shoes can get you back on your feet in no time.
Best of all, because of its unique design, you don't have to worry about reinjury! Your toes will remain well-protected as you navigate throughout the day.
But that's not all. You can also expect these great shoes to come with adjustable Velcro straps. This makes putting these shoes on and taking them off proves incredibly easy—as is adjusting them to your desired fit.
Even better, some customers are surprised to see that these shoes, unlike more traditional boots, actually look more-or-less like shoes. Say goodbye to bulky boots that make it difficult to walk or to even coordinate a basic outfit. With this Premium option, you can start getting around in style.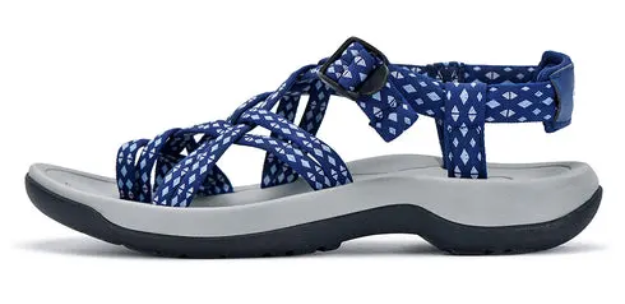 After your bunion removal or other surgery, you'll want a sandal that provides optimal comfort and mobility. In this regard, we recommend the Siena Sandal. Part of an incredible collection from renowned-brand Viakix, this sport sandal provides maximum support for your arches. With customizable straps, this shoe enables you to find the right fit for your foot every time. What's more, the shoe is made from durable, stretchy material and possesses soft flaps that can be customized to your foot to give you an individualized fit. This means that you never have to worry about comfort.
You'll love the thick EVA midsole that comes with the Siena sports sandle. This midsole is custom-made by Viakix to ensure the best fit you'll ever have. With a strong outsole to boot, this shoe offers optimal arch support that will have you feeling more comfortable than you have in months! Simply put, these are the perfect sandals for women who are looking for a more comfortable option after surgery.
The best part? With several color options (black, gray, beige, and blue), you can find the shoe that's right for you and your outfit! Express yourself in comfort with one of the most affordable post-surgery orthopedics on the market.

Now that we've covered some of the best post-op shoes on the market, it's time to take a look at some frequently asked questions to clear up any remaining issues:
Question: How Long Should I Wear My Post-Op Shoe?
Answer: Invariably, this depends on the severity of your issue and the type of surgery performed. With that being said, however, there are some general timelines you can look to for guidance. Generally, it takes about six to eight weeks to recover from bunion surgery, for example, with full recovery lasting anywhere from four to six months. It's typically advised to wear your post-op shoe during the entirety of this period.
Question: My Foot Feels Better; Can I Stop Wearing My Boot?
Answer: You'll likely find that your foot feels better before the end of the standard recovery period. Despite this, it's generally best to continue wearing your post-op shoe long term to prevent the return of any former issues. As always, speak with your physician if you desire greater clarity.
Question: Can I Wear My Post-Op Shoe over My Bandages?
Answer: Yes, and you should. The best shoes after surgery are built to accommodate wide swaths of bandages so that your foot remains protected and healing at all times.
Question: Can I Wear My Post-Op Shoe Like a Normal Shoe?
Answer: Yes, and no. While you'll be able to move around with your shoe and should maintain a healthy level of mobility, you won't be able to take your surgery boot or sandal everywhere you'd take a normal shoe, particularly during the acute phase of recovery, when you will be advised to keep weight off your foot. As your recovery progresses, you can opt for an orthopedic to accommodate your expanded mobility.
The Bottom Line on Shoes For Surgery Recovery
Finding the right post op shoe can be a pain—but it doesn't have to be. We get it better than anybody: you want a shoe that provides you with the ultimate in comfort, mobility, and style. Most importantly, you want a shoe that will protect the long term health of your foot and help aid in the recovery process so that your surgery was a success. Unfortunately, with so many options on the market, it can sometimes be difficult to know which option is the best for you.
By following the information in this guide, you can be sure to find the post op shoe that best works for your situation. Whether you have just removed a rather painful bunion or have had work done on an intense case of plantar fasciitis, you can bet that the right shoe will go a long way to aiding your recovery and securing your long term success.
This guide seeks to be your ultimate reference for finding the perfect post op shoe. Be sure to keep the above considerations in mind as you go about your search, and don't forget to check out any of the seven wonderful options we have provided here. We're sure it will go a long way to helping you solve your problems!
So don't wait! If your surgery's coming up, you want to make sure that you have the right shoe ahead of time. This will save you time and hassle and will pay huge dividends to your comfort and wellbeing.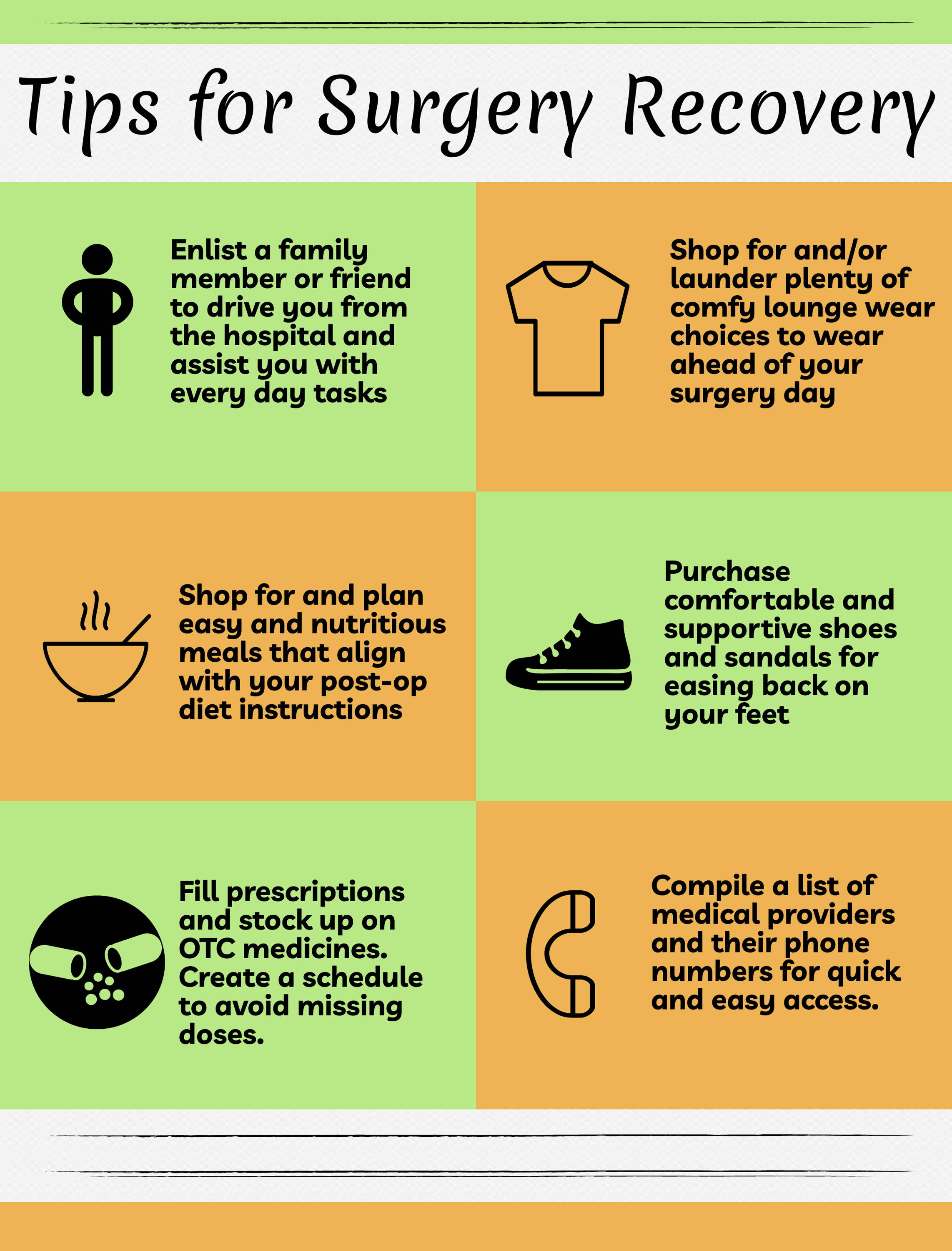 Collection 2019
Sale 70% Off
Title for image