Top Men's Sandals for the Beach
Having the right sandals for the beach can make all the difference in your comfort. You will want to be able to count on your sandals to make it easy to walk on soft sand, navigate the surf and take care of your feet once you are headed home. You cannot count on cheap flip-flops for this kind of comfort.
If you have been struggling to be comfortable on the beach due to your footwear, it's probably time to invest in new sandals. There are many really great sandals on the market for different kinds of beach activities, and you should be able to find the perfect sandals for your needs with ease.
If you are ready to learn more about the top men's sandals for the beach, you need to read on!
What to Look For in Men's Beach Sandals
If you are shopping for beach sandals, you need to be sure that they are going to hold up to your use and meet your needs. You will want to have the right kind of sandals for your feet, and you will need to make sure that the sandals you are shopping for are made in the right way to be comfortable all day long.
These are the things that you need to look for when shopping for beach sandals:
· Look For Waterproof Materials Used in Men's Beach Sandals

You will not get the same experience from a sandal that is not waterproof because the conditions on the beach are naturally going to include water. You will also find that waterproof materials are better able to handle saltwater, which can break down other materials. Steer clear from water-resistant materials and aim for waterproof ones. This will make sure that your sandals will stand the test of time and keep your feet from being wet the whole time you are at the beach.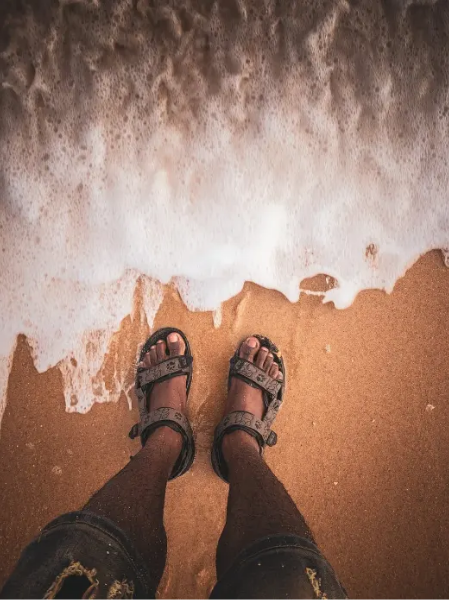 Having a stable sole can make your time spent at the beach much more comfortable. Sand is slippery, and you will need a gripping sole for when you are walking in the water. Grippy soles that will keep you from dealing with a loss of balance are essential. You will also want to look for sandals that will shed water away from the sole of your foot as well. This will help with blister prevention and comfort throughout the day.
· Look For Supportive Interior Soles When Shopping For Men's Beach Sandals

If you are going to be in the water or even walking on the sand, you will want to have the proper interior support in your sandals. This kind of correct shape in the sole of the sandal will improve your comfort and help to channel water away from the center of the sole. Smooth soled sandals will shed sand better than sandals with ridges on their soles. No matter what kind of sole your sandal has, you will need to be sure that the sandals you pick have the correct arch support.
Make Sure That You Know Your Men's Shoe Size

It can be easy to think that it does not matter that much what size sandals you buy, but you should make sure that your beach sandals are the right size for you. This will prevent rubbing and discomfort, and you will find that your arches will feel much better as well if you are wearing the correct size shoe. You will walk more on the beach than you realize during most visits. Having a supportive shoe can make a big difference in the comfort of your feet during the times that you are walking in the sand or the water.
If you are not sure what your shoe size is, you can go to a shoe store and get sized professionally. This will tell you how wide your heel is and how wide the ball of your foot is. Knowing what size your feet are can make all the difference in your shoe shopping experience. You will be much more likely to get the right sandals for your day at the beach when you are armed with this information.
Most sandal makers will show you the measurements of the sole at the heel and the ball of the foot. This can help you to be sure that your sandal's straps will not rub and that you can get the right adjustments in place for your comfort. It can be hard to be sure that your sandals will fit without this information on your side.
Top Men's Sandals for the Beach

1. Crocs Men's Swiftwater Sandal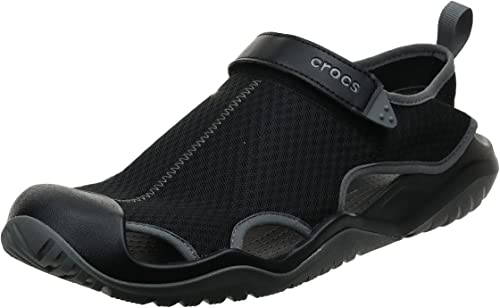 This is a very lightweight and durable shoe that offers you a sporty fit that is a lot like a water sandal. You will love that the durable sole of this sandal grips the sand so readily, and the subtle ridges on the interior of the sole will keep sand and water from remaining trapped against your foot. This is a sandal that is made for the water but that can be trusted on the sand just as easily.
Crocs are well-known for being durable and lightweight, and these water-style shoes are no different. You will get the benefits of a fully-enclosed toe and a soft and breathable upper that will not stay wet for hours. The specifically-designed side openings make sure that water can run off the sole and also allow your feet to get air circulation.
This sandal does run a size smaller than usual, but that is the only thing you will need to make allowances for. The rest of the sizing of this sandal is perfect for those with narrow heels or narrow feet in general. Not every sandal will fit narrow feet this well, which makes this an excellent choice for your needs if you have been struggling to get the right fit with wider-fit sandals.
2. Dockers Fisherman Sandal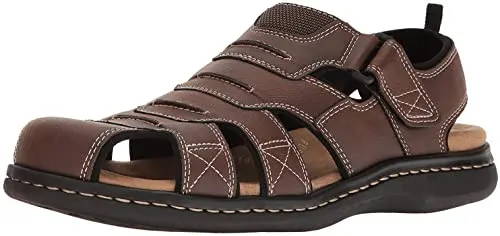 Dockers always make nice and durable sandals and shoes. This sandal offers flexible construction and a durable upper made of linked leather straps. This sandal will shed water, and you will be able to trust the soft interior cushion in the sole to be springy and comfortable. This is a shoe that offers a roomy fit for wider feet, and the interior arch support is flat enough for those with this need at the same time.
This is a great sandal to choose if you want a partially enclosed sandal with the benefit of a closed-toe. There are many sandals that would hold onto lots of sand and water with a partially-enclosed upper, but this sandal will not offer these challenges. The memory foam insole is also made to handle the challenges of the beach and hiking. This means that you will get all the cushiony comfort that you have been looking for in this shoe, along with the practical considerations necessary for the beach.
3. Keen Men's Newport Water Shoe
This show offers a lot of the features of a hiking sandal with the lightweight and waterproof features that you need in a beach sandal. If you are going to do a lot of walking on the beach both in and out of the water, this is the right sandal for your needs. This sandal is built on a sports sandal sole that has a lot of grip to it and an inner sole that will shed water to keep your feet comfortable all day.
If you have high arches and want a sandal that supports your feet properly, you need to pick this sandal for your needs. The soft and waterproof upper will keep your feet comfortable all day, and the elastic and loop closure allows you to adjust the fit as needed. This sandal will keep your feet cool, dry, and comfortable all day due to its quality design. Best of all, if you want sandals for hiking or rafting, these shoes will work perfectly.
4. TEVA Men's Hurricane Sandals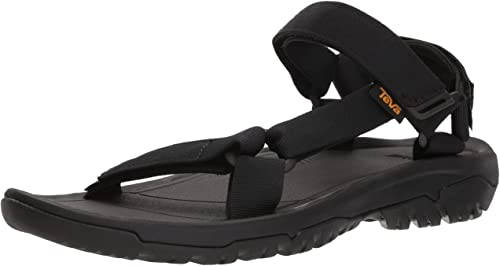 If a fully-enclosed or partially-enclosed sandal is not for you, you need to check out this Teva sandal. It comes in lots of colors, and you will get a great fit from this simple sandal. The sole offers a lot of grip, and you will love the smooth and soft inner layer of the sandal. Sand and water will not pool under your feet in this sandal which is important if you are going to be walking along the beach.
The adjustable straps offer superior comfort for your all-day wear. You can make the heel fit perfectly, and the soft strap across the top of the foot can be adjusted as well. The included Velcro will not pinch your toes or hold onto lots of sand either. This sandal benefits from water-ready straps that will be secure and soft all at once. This is a great choice to make if you love minimal sandals that are still supportive and comfortable for walking and for use in the water.
Sometimes sandals with slim straps or lightweight strap materials can lack durability, but these sandals will take on tough challenges with ease. You will never have to worry about Teva products letting you down, and their sporty materials will keep your feet comfortable while also holding up to water, sand, and sun.
5. Gubarun Men's Casual Flops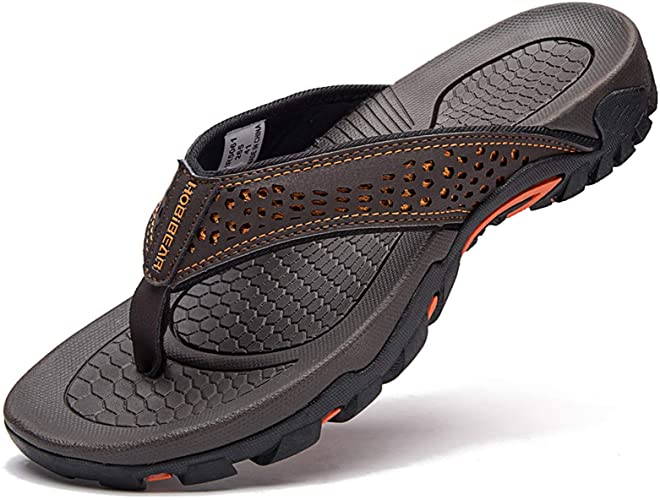 While flip-flops are almost never the right choice for your needs if you plan to walk long distances in your sandals, these well-crafted slip-on sandals will cradle your feet and keep them comfortable with ease. This pair of flip flops are made with a waterproof rubber sole and really excellent arch support that is not always available in slip-on sandals.
The base of this sandal is a sport-style insole that offers flexible and springy comfort for walking on the sand or in the water. These are really well-made sandals that offer superior fit and comfortable grip. The waterproof strap will not pinch your feet, and it is made of durable waterproof material as well. Flip flops can pinch at the toes, but this pair of sandals will never rub your feet at the toes or across the top of the foot.
The midsole is made of a TPR material which makes sure that you get enough to cushion and protect your arches and heels. One of the most significant issues with most flip flops is that they are lacking in support and do not have any arch structure to offer. This flip flop breaks the mold and can take care of your feet at the beach with ease.
6. Visionreast Waterproof Athletic Sports Sandal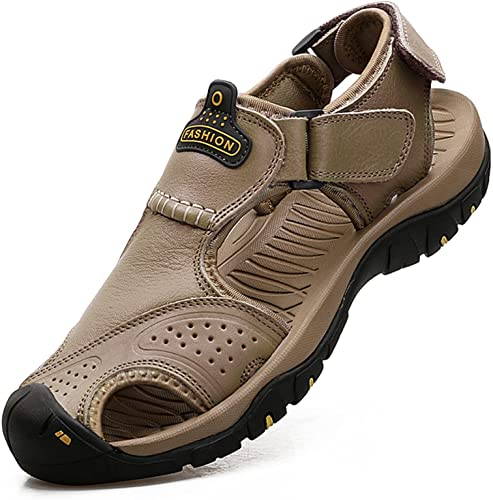 This is a highly-adjustable sandal that offers you quality adjustments at the heel and the front of the upper. The shock-absorbing midsole will keep your arches and your heels comfortable all day long, and the sole will shed water with ease. You can simply slip on this sandal and adjust it at the heel before heading out to have fun on the bench. The leather upper is fully waterproof as well and very supportive without being thick and stiff.
This sandal is made for hiking as well as the beach, and you will love that durability is a big part of its design. There are so many really flimsy beach sandals out there, but this shoe will not let you down like this. If you need the right blend of comfortable sole, supportive upper, and waterproof protection, this is the right beach sandal for your needs.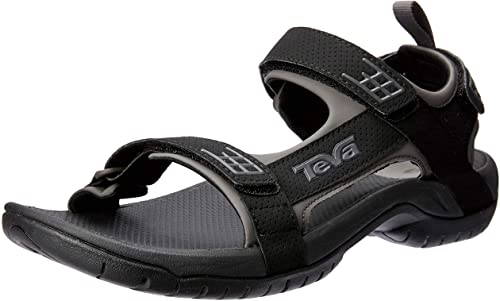 This sandal offers the right blend of a lightweight set of straps and a durable and supportive sole. You will enjoy all-day comfort with this sandal, and the Microban materials in this sandal will ensure that they will always smell their best, even when they get wet all the time. The lightweight straps are secured with quality Velcro that will not hold onto sand or rub your feet.
The sport-style support at the heel and the ball of the foot in this sandal make it a great choice for protective comfort. Every part of this sandal is waterproof, which makes this the perfect shoe for your beach hours. You will love the snug and secure heel support and ankle enclosure on this sandal that will never rub your skin or hold onto water and sand. This is a really nice choice to make for people who enjoy hiking, water sports, and the beach. You will get a lot of versatile use out of these sandals, and they are made to last for years.
8. Teva Universal Sandals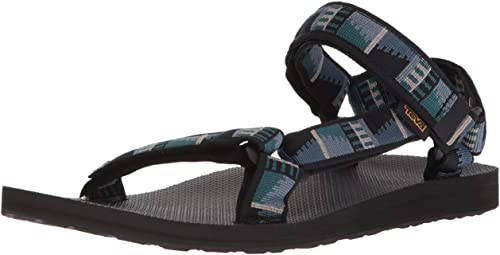 Classic Teva sandals are always made with lightweight straps that promise never to force stiff and uncomfortable Velcro on you. The quick-dry webbing is made to handle the wet without causing friction or blisters or discomfort. The simple and durable sole will cradle your feet comfortably and will never hold onto sand or water. You can adjust all of the straps to fit you perfectly, and you will never have trouble with your foot sliding around in this sandal.
This is a sandal that is made to take on the tough environment at the beach with ease, but you can also use these sandals for hiking or rafting. There are few sandals that will stay on your feet so comfortably, and you will be so glad that you chose these well-made sandals for your outdoor adventuring hours. Whether you are at the beach, on the trail, or paddleboarding, you will have no trouble enjoying yourself in these sandals.
Teva is a great company to invest in if you want to take care of the environment as well. Teva uses recycled products in large part of their construction, and they donate to many important environmental causes. This is a company that cares about its contribution to the health of the planet, and if this is important to you, you will be thrilled to buy from them.
Getting the Right Men's Beach Sandals Can be Easy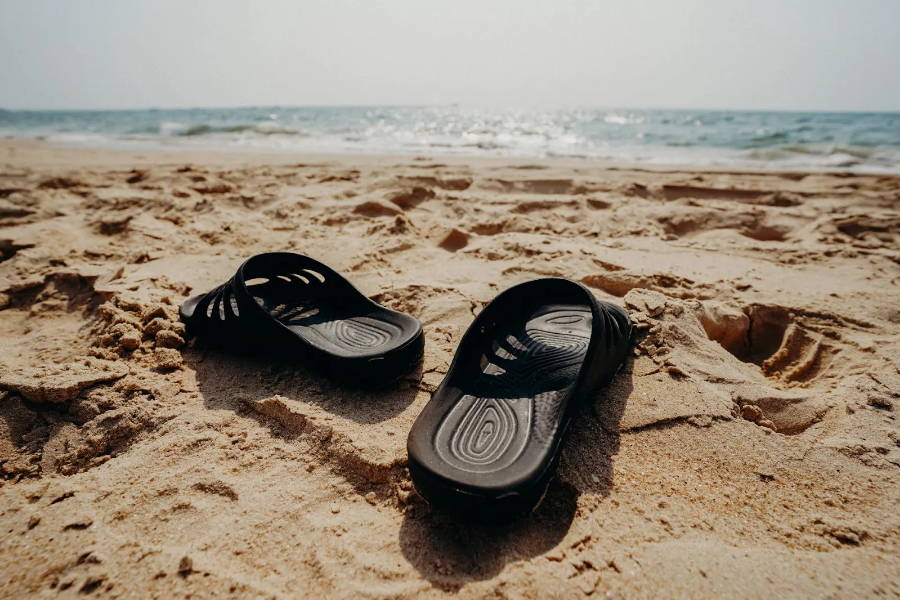 If you are looking for the perfect beach sandals, you will need to make sure that you use this guide for your shopping needs. There are sandals of every kind represented in our guide, and you will be able to find a sandal that will handle the beach with ease. Whether you have flat feet or high arches, there are sandals for you on this list.
Getting the right waterproof and supportive sandals for your beach hours is easier than you might have thought. Always make sure that you look for waterproof materials and durable soles, and you will be able to ensure that you have access to all-day comfort on the beach. It can be tempting to pick up some cheap flip flops for your beach needs, but you will find that these kinds of sandals will never offer you the comfort that well-crafted sandals can.
Collection 2019
Sale 70% Off
Title for image