The 11 Best Women's Shoes for Back Pain
A lot of people don't realize that there is a direct correlation between your back and your feet. If you suffer from back pain, it is so very important to have the right shoes. Having the proper pair can make all the difference.
Don't think that because you're buying a supportive pair of shoes that you won't be stylish as well. Comfort doesn't come at the cost of fashion. Just because you're comfy doesn't mean you can't also be cute!
As you're shoe shopping here are a few key features to look for as you make your decision. If you need some specific examples, here are the top thirteen picks for the best shoes for back pain. You're sure to find a pair to love!
Best Features to Look for When Shopping For Women's Shoes For Back Pain
You Need Arch Support For Back Pain

Having shoes with good arch support will drastically reduce back pain. In order to know what kind of arch is best in a shoe, you have to take a look at your feet. There are three different types of arches. Low, normal or neutral, and high. Try this nifty trick or seek the assistance of a professional to determine where your feet lie on the spectrum.
A pair of shoes that are good for your back will form nicely to the natural arch of your foot, providing support in the right ways and appropriate areas. Also, look for shoes that promote good motion control. Motion control means that they limit excessive side to side foot motion and prevent overpronation. In other words, stability is key.
See if you can find a pair that encourages the impact or foot strike zone to be in the front or middle section of your foot. More on the pads and toes if possible as opposed to your heel taking all the impact. Heavy or repeated impact can do some serious damage to your lower back. Including sciatica, which we'll go over a bit more later.
So you really want something with a lot of cushion in the heel, that also contours nicely to your foot. Good ergonomic shoes for back pain are built specifically to distribute your weight in the right places. This also means a lot of padding in places where your feet do make contact.
A Few Other Things to Know About Selecting a Women's Shoe For Back Pain

Appropriate weight distribution is a major factor in avoiding or at least lessening back pain. Improper distribution creates a greater strain on your feet, ankles, knees, and back. Over long periods of time, the repetition of incorrect distribution of weight and therefore stressful impact on your joints can lead to further injuries.
Pronation, Supination, and Arches Oh My
When you suffer from back pain, look for shoes that encourage proper foot alignment. It is very common for back pain to be caused by overpronation or supination, and the right pair of shoes can prevent that by providing support in the necessary areas.
These issues of pronation and supination are linked to the types of arches that you have. So as we stated previously, determining what type of arch your feet have is important for buying the right shoe and preventing either form of misalignment and improper gait.
As you can see, when you have flat or fallen arches, your ankle rolls inwards. This is called pronation. It happens in the joint directly below the ankle and causes your foot and ankle to tilt inward just as your foot hits the ground after each step. This is also known as the point of initial contact.
Slight pronation is fairly common. However, with a significantly flat arch, the degree of pronation is more drastic. Meaning that the foot will collapse inward and therefore put all of your weight on the inner side of your foot. As you can imagine, this isn't great for your joints and it can certainly lead to more substantial issues down the road if not addressed.
On the flip side, supination is the opposite of pronation and is sometimes referred to as under pronation. It often occurs when you have substantially high arches and leads to your ankle rolling out. For obvious reasons, this is also not ideal for extended periods of time.
Having all of your weight distributed on the outer side of your foot can cause some serious issues. This can lead to shin splints, rolled ankles, and yes, back pain. If any of this sounds familiar then you may need to look for more supportive footwear.
Sciatica is an unfortunately common cause of back and lower body pain as we mentioned before. Upwards of forty percent of people will experience sciatica throughout the course of their life. It is caused by the compression of a spinal nerve root in the lower back.
That compression can be caused by several things, including a lot of impact on the joints in your lower body. Which then will exacerbate the compression of the nerve between vertebral discs. Think about it, every time you take a step and that impact is directly in your heel, that impact radiates up your leg to your back.  
You are very likely to suffer from sciatica at some point if you are a runner and have a poor cushion in your shoes. The sciatic nerve is the largest nerve in your body, and because of that, compression can lead to severe amounts of pain throughout the lower back and down the affected leg.
Some symptoms of sciatica are acute and severe pain in the low back and leg, muscle weakness, and even numbness in your leg. All the more reason to make sure you get a pair of shoes that provide more than adequate cushioning and diverts the strike impact away from your heels.
Back pain is a frustrating occurrence, but there are ways to make it more bearable. Aside from wearing proper footwear, you can also try these exercises to increase mobility and assist in pain relief.
The Siena Sport Sandal is a Great Women's Sandal for Back Pain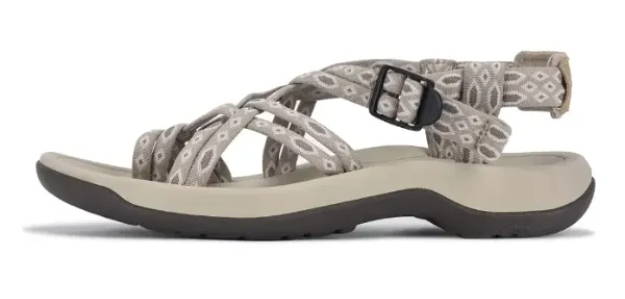 If you are the adventurous type, don't let back pain hold you back! Excursions into the wilderness are what these sandals were designed for. Whether you're wearing them to the lake, on the trail, or around the campsite, they are an unbeatable choice.
These sandals, manufactured by Viakix, come with over-the-foot straps that are stretchy, allowing for a cozy and personalized fit, and a heel strap that is completely adjustable for a super snug fit. Ensuring that there isn't any wiggle room for your heel to land anywhere but the designated cushioned contoured heel cup.
The soles you'll be walking around on are out of this world! Not only do they have terrific traction to prevent slips and trips, but they're also outfitted with structural support shanks. These structure shanks will lessen the impact of each step, making these sandals ideal for people with back pain. The less impact the better to prevent things like sciatica from flaring up.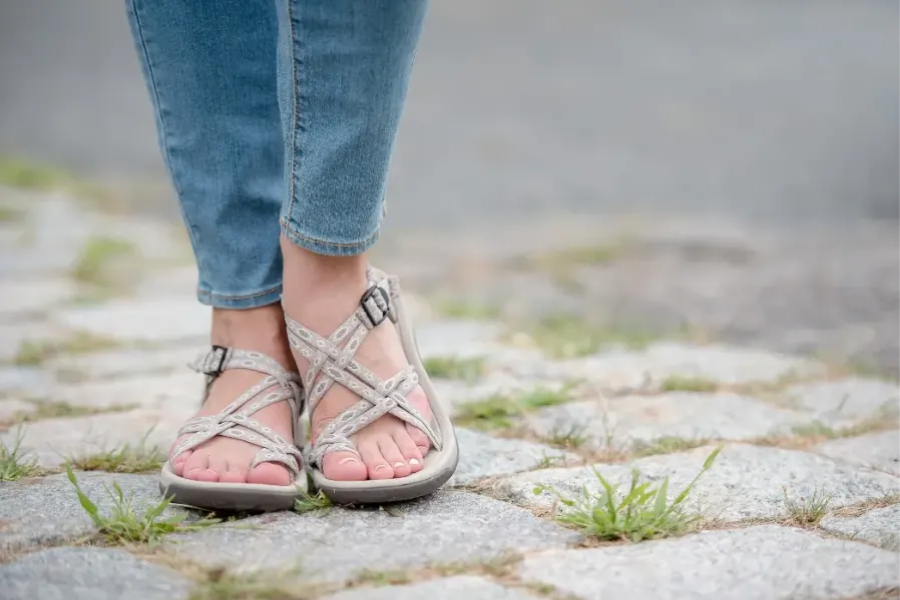 To top it all off, the midsole is made from a hefty layer of EVA foam. This added padding provides great arch support and even more cushion to each step, placing these sandals squarely at the intersection of sport and comfy support.
And our absolute favorite part? Viakix has partnered with Soles4Souls to give back to the community and help those who are less fortunate around the world. We all need a little help sometimes, and these organizations literally help people get back on their feet.
Hoka One Bondi 6, The Shoe For Runners With Back Pain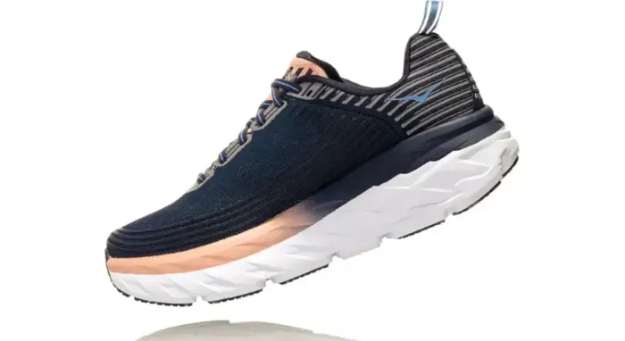 For the runners out there that suffer from back pain, here is the shoe for you. Known to be one of the most supportive and cushioned pairs of running shoes on the market, these are a real winner.
The crazy cushion of the Hoka One Bondi 6 provides unparalleled motion control. Their Meta-Rocker technology is designed for maintaining alignment, which in turn prevents overpronation or supination. That same layer of cushioning also provides a substantial amount of shock absorption, with a full midsole of EVA foam.
The thick and durable outsole adds to the shoe's protective layer to maximize shock absorbency while also having excellent traction for any running surface. All of this adds up to a crazy balanced and smooth ride for your feet and back.
Orthofeet Orthopedic 817, The Formal Women's Shoe for Back Pain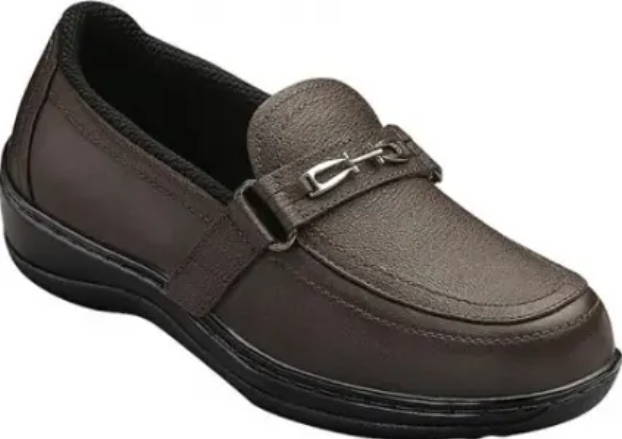 If you're looking for a pair that is going to be appropriate for more formal settings like the office or a special event, these are a great option. Orthofeet's Orthopedic brand is known for their extreme comfort for folks that suffer from back pain while still being stylish for any occasion.
Designed with feet in mind, they are made with super soft leather on top of crazy cushy soles for superb all-around comfort top to bottom. They feature a multi-layered orthotic insert that gives you arch support that is anatomically appropriate. These shoes are made to help soften the impact by providing smooth foot motion and therefore lessening the stress on the low back and joints.
With their Ergonomic Stride technology, the well-cushioned yet lightweight insole keeps your feet aligned to ensure a natural gait. Their supple leather upper is non-binding to prevent rubbing or irritation, for an even more comfortable fit from the first wear. These shoes are everything someone with back pain needs to get through a long day on their feet.
Samara Walking Sandal, The Best Women's Sandal For Back Pain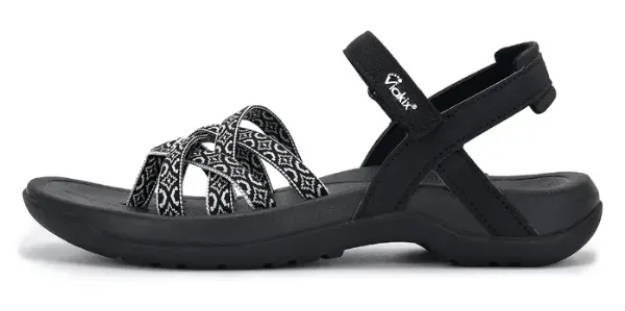 These walking sandals are absolutely top of the line for active folks with back pain. And those aren't just idle words; the Samara Walking Sandal was recognized by Expert World Travel as being one of the top three best walking sandals for 2020.
These sandals are exceptional from the ground up. The durable rubber outsole is equipped with a support shank for stability to aid in preventing any ankle misalignment or rolling. Plus the shank provides shock absorption to ease the impact on your joints. Not to mention it offers excellent traction.
Oh yeah, did we mention they're waterproof? These are outstanding shoes, whether they're being worn for a day at the farmer's market, along a mountain trail, or down at the docks.
The EVA foam built into the midsole will provide an extra buffer of protection for the heel, avoiding major impact upon contact.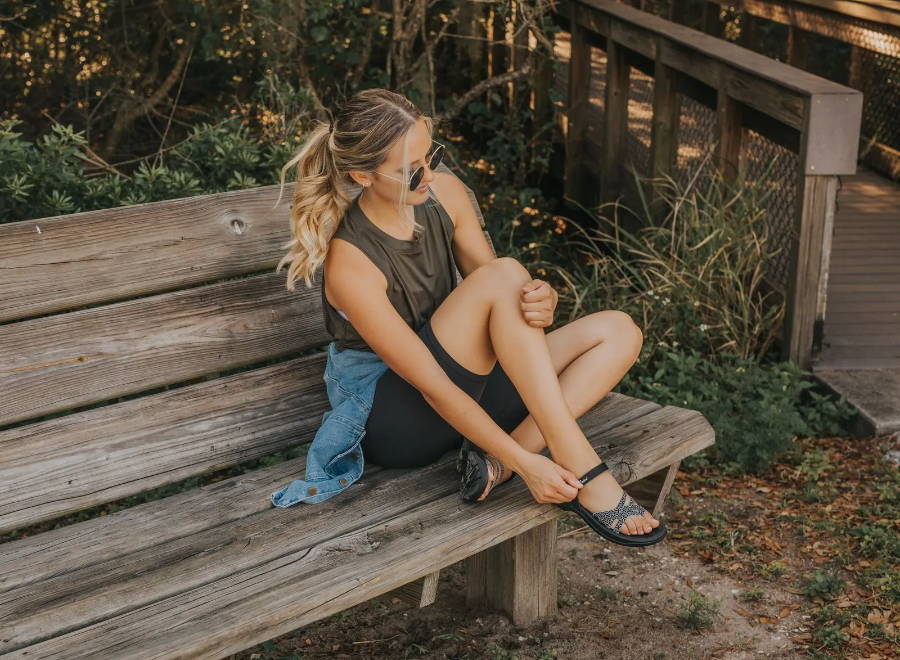 We know lessening this impact is so important for folks that suffer from lower back pain or sciatica. Even people who have given up on the sandals have found success and no foot pair with these shank stabilizing shoes.
Available in four fun colors, with adjustable velcro ankle straps and elastic front straps, these babies are tough enough to handle it out at the campsite and stylish enough to rock at the neighborhood barbecue. It's no wonder that they're one of Viakix's best sellers. They really are the best of both worlds, merging comfort and style.
Asics Gel Kayano 25, Comfortable Women's Shoes for Back Pain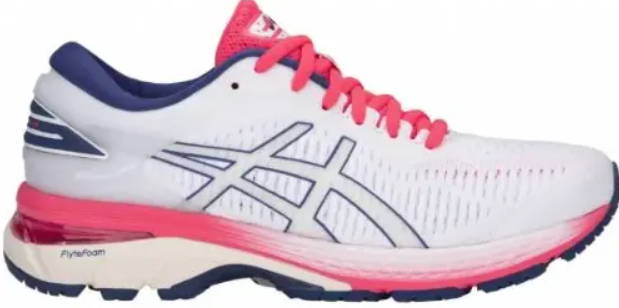 We think these shoes are pretty slick. Look at that color! And everyone loves a pair of Asics. They are known for being out of this world comfortable and super supportive. This makes them a fantastic option for preventing and alleviating back pain.
Asics' top of the line tech can't be beaten. Their FluidRide technology gives you more bounceback from impact, combined with their famous GEL-Cushioning strategically placed in the rearfoot and forefoot provide insane shock absorption.
Add in their Impact Guidance System that is designed with structural support in the midfoot to maintain a naturally aligned gait, these shoes are going to do wonders for back pain. As we mentioned before, keeping that foot strike zone right where it needs to be is key and these Asics have you covered.
Throw in a layer of their signature FlyteFoam for cushion in all the right places and the heavily textured outsole for a secure grip, these shoes are going to be a winner, hands down.
Vionic Logan, Super Cut and Stylish Women's Shoe for Back Pain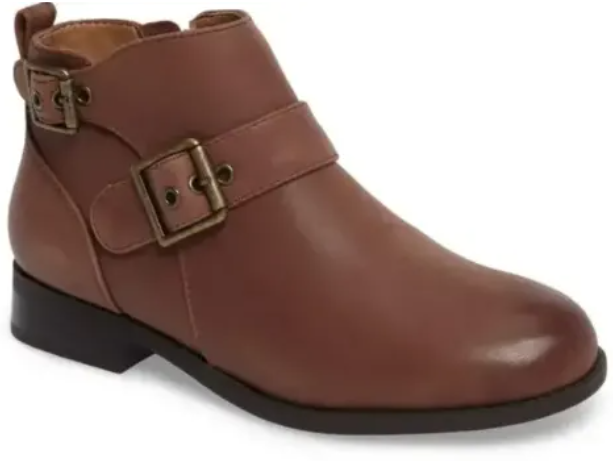 If you're in the market for a super cute and stylish pair of boots, Vionic has just the pair for you. The Vionic line of shoes are technically orthopedics, but you'd never know it by looking at the Logan's design. If you spend all day walking to the copier then this is a great pair of boots for you.
These fashionable ankle boots are designed to help relieve back pain, in addition to numerous other feet and joint issues. Their form-fitting design naturally aligns your feet during strides and provides motion control for impact in the correct strike zone.
Vionic's Orthoheel technology and anatomically fitted footbed keep your feet exactly where they need to be, preventing overpronation. Made from super soft full-grain leather, these boots are comfortable top to bottom. The trendy side buckle is cute, yes, but it also aids in getting the perfect fit.
You can't go wrong with a pair of these boots. They are fashionable enough for an evening out, a day at the fair, or relaxing around the campfire. You can dress them up or keep it casual, either way, you'll be cute and comfortable all day!
Napali Hiking Sandal, Great Water Women's Sandals for Back Pain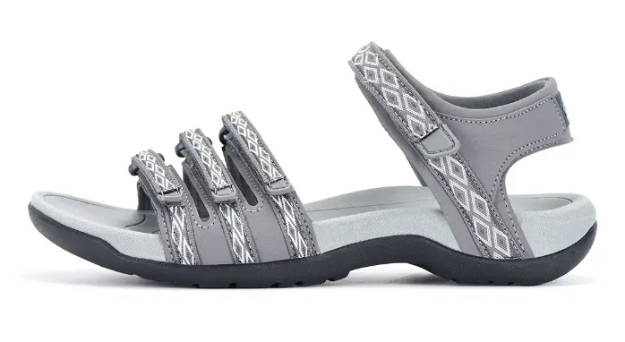 These sandals are great for those who love to participate in water sports but worry because of their back pain. Whether it's a day trip to a river or lake or even a hike that will include crossing some streams, the quick-drying design and stellar traction make these babies a must-have.
The trendy design sports four adjustable straps, allowing for a personalized fit and maximum stability. No slipping and sliding around in these shoes, causing poor alignment or even worst some nasty blisters.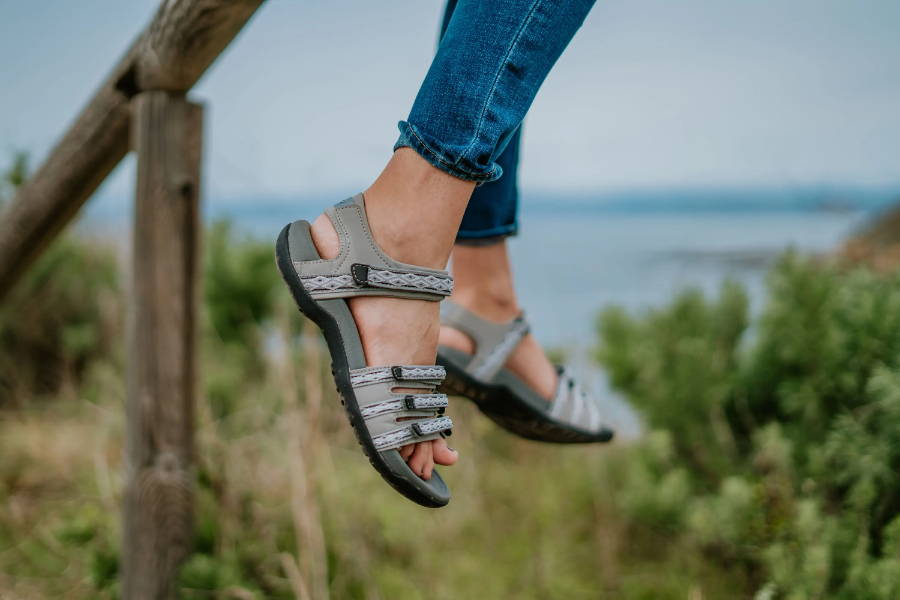 With the Napali, comfort is the name of the game. A high-arched EVA foam sole manages to walk the line of providing ergonomic support while having a pleasantly soft feel. This combination is just what the doctor ordered when it comes to back pain. Especially for folks with higher arches who tend to supinate when they walk.
The long-lasting rubber soles, with built-in support shank, make these sandals a pair that you can wear all day with no problems. From a simple picnic in the park to an all-day trek to a remote campsite, they can handle whatever you throw at them and help your back feel great in the process.
Merrell Encore Ice 4, A Recommended Shoe For Back Pain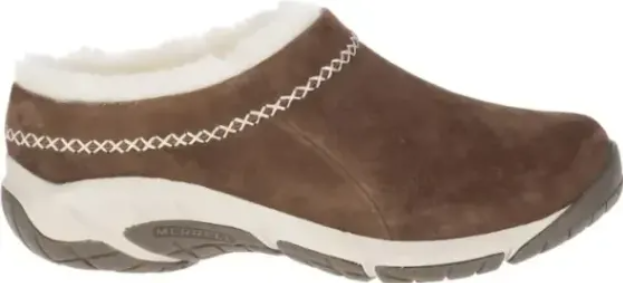 These puppies were at the top of their class for the best shoes for back pain when reviewed by Shoe Adviser. Not to mention, they are insanely cozy! They just look like you'll be walking on cloud nine so imagine how they'll feel once you get them on.
With Merrell's unique ComfortBase technology the insole is contoured to perfectly fit your arch and provide all-day support. Throw in their molded nylon arch support shank and air cushion heel, these shoes absorb every bit of impact, leaving your back feeling great.
A thick layer of EVA foam in the midsole with Merrell's QForm Comfort design specifically to guide a natural and healthy stride. This gives you stability and additional cushion for ultimate comfort. Made with a pigskin leather upper and shearling inner lining, these slip-ons are beyond warm and cozy. Perfect for a night in front of the fire or an afternoon at the movies.
Orthofeet Sanibel Mary Janes, A Versatile Women's Shoe For Back Pain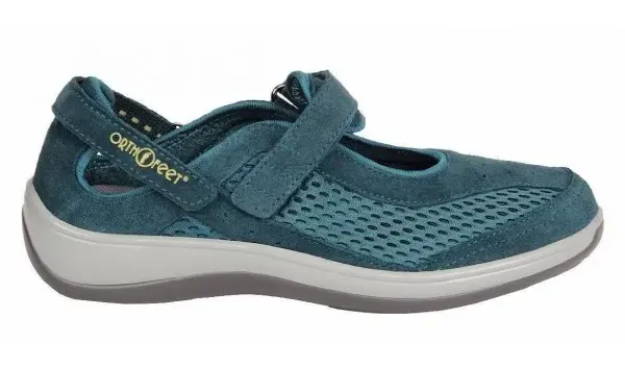 When you're in the market for a versatile, breathable, and comfortable pair of shoes, Orthofeet's Sanibel collection is the way to go. These Mary Jane style shoes have a built-in orthotic insole with anatomically appropriate arch support and multiple layers of cushion.
These shoes are designed specifically to alleviate pain in the feet, heels, knees, hips, and lower back that can be caused by over or under pronation. Their dual adjustable straps ensure you have a customer snug fit and prevents slippage.
They also have a toe box that is a little wider than most shoes. This is to prevent pressure in the forefoot area and leave more room for toe movement which helps with natural stabilization. Plus their interior is soft and seam-free to alleviate any uncomfortable friction or rubbing.
These shoes help facilitate proper foot motion, align your body correctly, and ease the stress on your feet, knee, and hip joints which ultimately eases nagging back pain. Plus, they can go with almost anything. Pairing perfectly with a pair of capris or a flowing summer dress.
The Cole Haan ZEROGRAND Oxford, A Balanced Shoe for Back Pain

The designers at Cole Haan are experts in perfectly balancing comfort and style. This adorable oxford is no different! Here, they create a polished shoe that can be both dressed up or down. It's also well constructed and supportive, helping it eliminate back pain.
The super flexible design allows freedom for a natural stride. The three layers of foam cushioning reduce the impact that's so hard on the spine. Plus, the thread covers the entire sole for maximum stability.
This wingtip is perfect for all of your adventures. They can up your style for casual Friday at the office. The super cute animal print allows you to add some pizazz to your date night outfit. No matter where these shoes take you, they will do it stylishly and comfortably.
Asics Gel Cumulus 20, A Comfortable Back Pain Shoe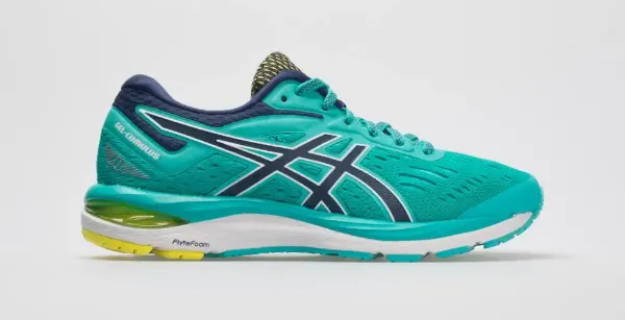 It's no wonder these are named after a cloud. They aren't far off! These shoes feature a midsole of Asics' signature FLYTEFOAM for unmatched comfort. They've also redesigned the heel with new 3D print construction. This, combined with the extra foam cushion lessens the stress on your heels, ankles, and back.  
This shoe is specifically made for people who have a neutral foot positioning. Meaning they don't under or overpronate, or rotate their ankle either way when they walk. Which makes them great for folks with a normal arch, but who still suffer from back pain, which is still very common.
They support your feet in just the right ways with a deeper heel pocket and form-fitting design. Featuring Asics' Impact Guidance System to enhance and maintain your foot's natural gait, and promotes bounceback in the cushion to lessen the stress of impact. With a reputation of excellence, Asics is known for being at the top of the list for athletic folks who have lower back pain.
Vionic Wave, The Casual Women's Back Pain Sandal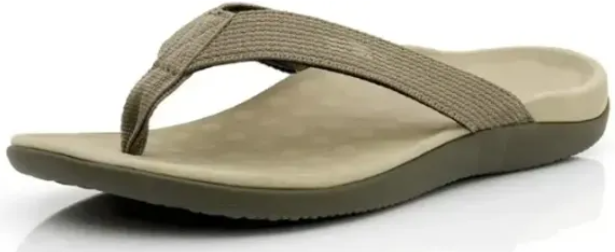 Vionic is at it again, with another pair of super comfy and cute shoes. These thong-style slip-on sandals are perfect for you when you are in a casual mood. These shoes give off a total beach vibe.
The best part is that even though they are wicked casual, they are designed specifically to relieve pain associated with an improper gait, such as over or under pronation. Featuring multi-layered and lightweight EVA foam midsole maximizes shock absorption, lessen the impact, and stress on your feet, ankles, knees, and back.
As you can see, they also have a unique spotted footbed. This gives you more traction and grip to prevent your feet from sliding around while in the shoe. It also aids in foot motion control, keeping your foot in the correct place which helps avoid pronation.
The upper strap and toe post are made of super soft material for even more added comfort as if they could get any comfier! No matter where you wear these flip-flops, back pain won't be bothering you.
There's No Reason to Accept Being in Back Pain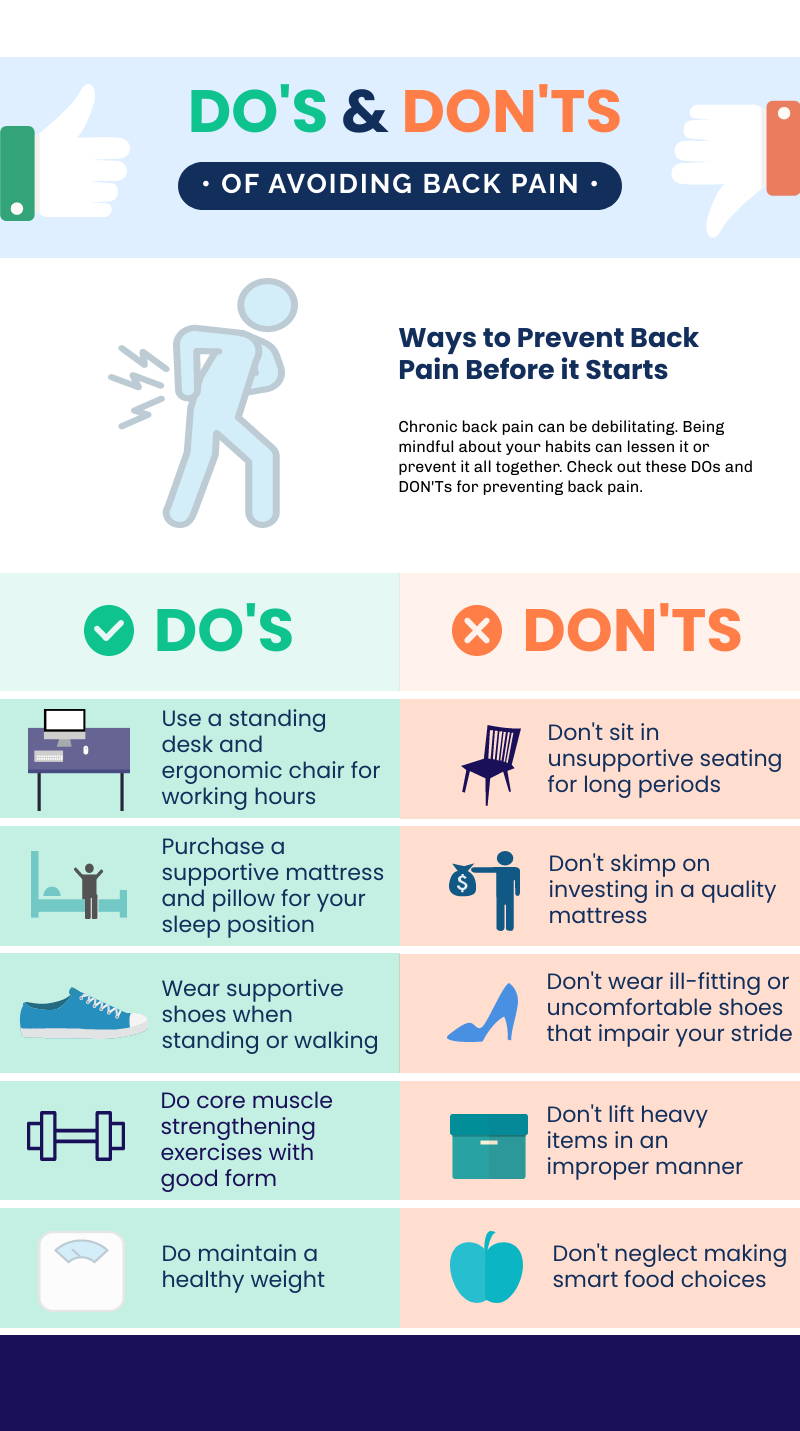 We know it's difficult, and sometimes very uncomfortable, to live with back pain long term. Thankfully there's hope, with a wide array of shoe and sandal options out there for you to choose from. You too can have happy feet!
Remember that cushioning and foot motion control is key! You want as much padding for your heel as possible and ideally some decent arch support for the unique arch of your feet. And don't forget everyone's arches are different. So do yourself a favor and take the time to make sure you really do have high arches before investing in a pair.
Fortunately, there are so many features you can look for to ensure your feet are getting the best care possible. As you can see, there is no reason to hold back on living your best life due to back pain. There are more than enough options for an active lifestyle, casual wear, or a professional look.
So don't worry. Just because you are dealing with back pain, doesn't mean that you can't live an adventurous and simultaneously comfortable life. Simply do yourself a favor and take the time to do a little research. You'll be walking on clouds of foam cushioned midsoles in no time!
Collection 2019
Sale 70% Off
Title for image