Best Travel Sandals for 2019: Finding The Perfect Sandals For this Summer
Finding The Perfect Pair of Travel Sandals
For Women
It's time for that much-needed vacation. Whether you're heading out for blue skies and sandy beaches or secret mountain hiking trails, there's one thing you shouldn't forget:
Packing the right pair of shoes.
Sound cliché?
Trust us: it's not.
You don't want to get to your destination to find that you've brought the wrong pair of shoes.
You know what we mean. You don't want to be stuck marching around the beach or up mountain trails in flimsy sandals or rugged, tight-fitting sneakers. Nor do you want to deal with those blisters after your all day venture exploring that new city.
But before you can pack the right pair of travel shoes, you'll have to buy them first.
Don't know where to begin?
Don't worry.
We know just how overwhelming it can be picking out quality travel shoes. With thousands of options available, it's always better to be informed.
That's why we've put together a comprehensive guide to finding the best pair of travel sandals. Keep the information below in mind as you find the shoes perfect for your travels.
Why You Should Invest in Good Sandals for Travel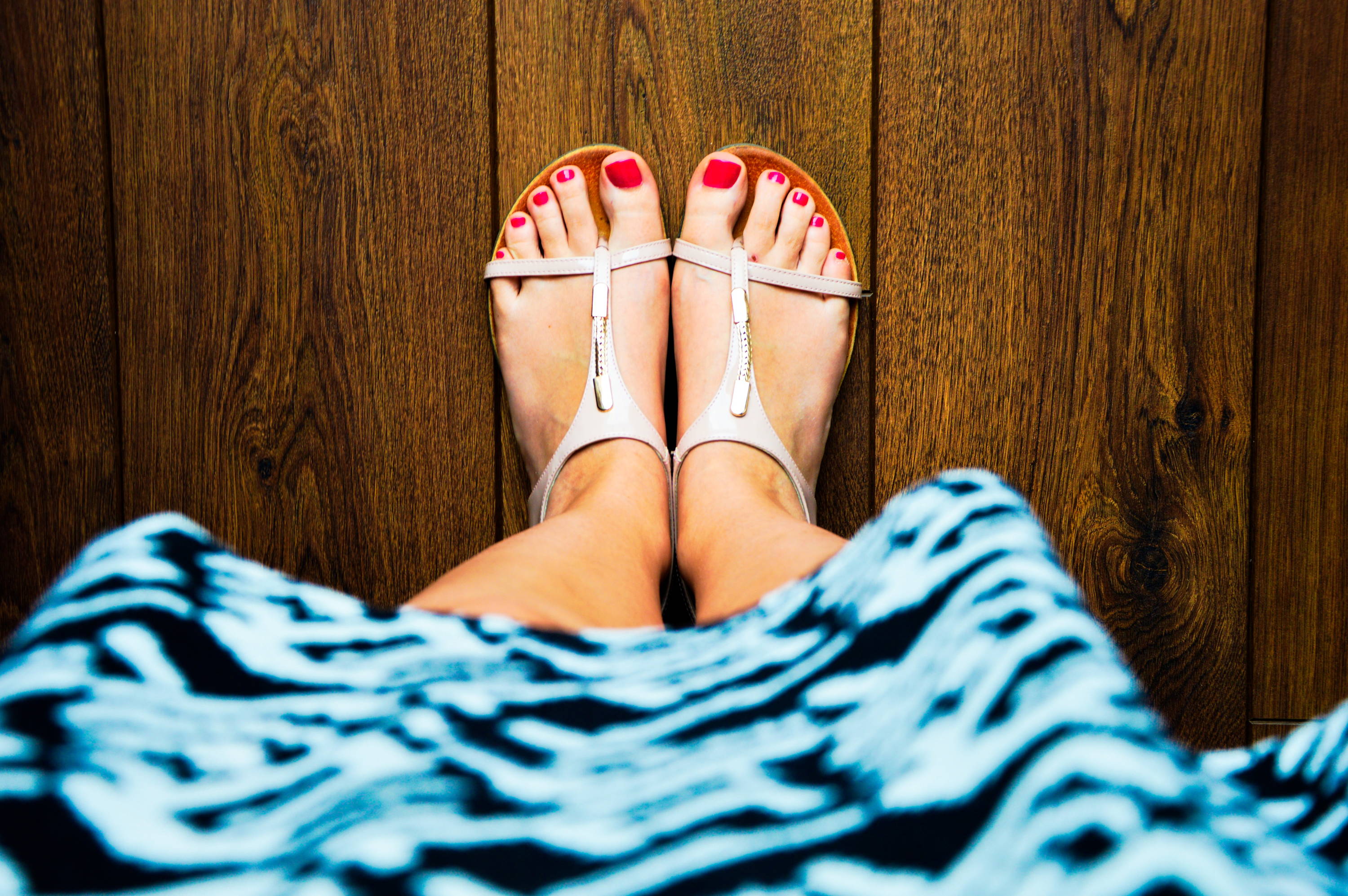 Still not convinced that you'll need an all-new pair of travel sandals for your trip?
Without a change of mind, you may encounter some roadblocks during your travels.
Consider the following:
Increased Mobility
First and foremost, the best travel sandals will increase your mobility and allow you to get the most from your trip.
Let's face it: nothing can put a damper on your trip than having to take needed breaks because your feet hurt. When you travel, you're likely going to be on the go—and the wrong pair of shoes will limit just how much you can do.
Don't leave your vacation having any regrets.
Proper travel sandals for women can help add the comfort and support you need to travel in style. Without the need for frequent rests or for calling an abrupt end to the day's activities, you can make the most of your experience.
Less Pain!
The right pair of sandals can also be the difference between you sleeping peacefully at night or lying in bed in pain.
For those who plan to do particularly engaging activities, nighttime aches can be significantly reduced.
That sounds like a great deal to us.
What all this means is that not only will you be able to do more during your vacation, but you'll be able to do more without giving out.
Characteristics of Good Travel Sandals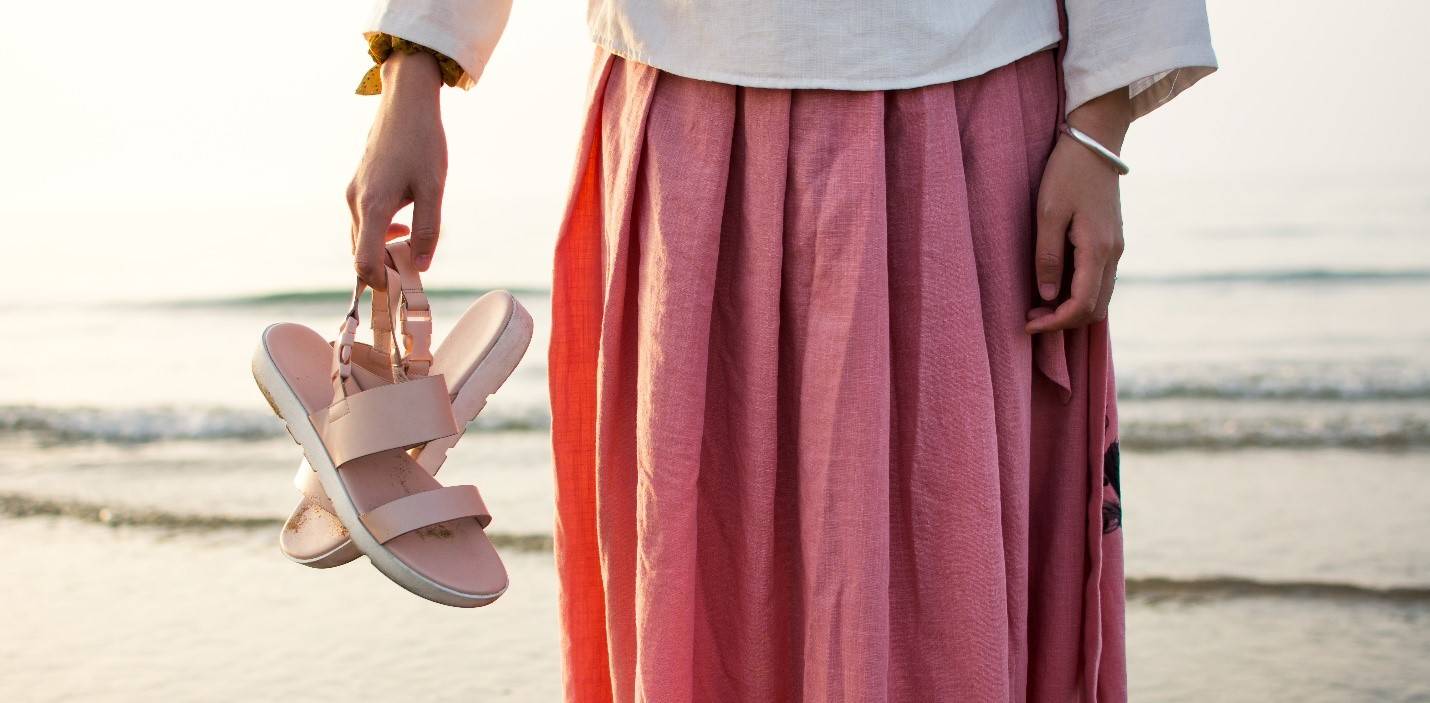 Comfortable Travel Sandals
The most important quality of any shoe is its comfort.
If you can't wear your sandals comfortably, consider making a change. Not only does wearing the wrong shoe subject you to more pain, but it may also be damaging your feet.
This is especially true of your travel sandals.
For this reason, be sure to invest in shoes that are the most comfortable for you. What shoe is comfortable for you will largely depend on your own personal situation.
Fortunately, several shoe brands offer comfortable options that are specifically designed to support your feet. Many sandals are adjustable to ensure you are getting the perfect fit.
We'll look at a few of the top travel sandal options below. First, however, consider these additional characteristics of good travel sandals.
Fashionable Travel Sandals
We know what you may be thinking.
Shoes that are comfortable just don't look cute.
Though there may have been a time when this was true, travel sandals now come in a variety of trending styles.
In fact, several shoe brands perfectly blend style with comfort for the best experience.
You'll even find that the right pair of stylish travel sandals looks just as good as shoes designed solely with appearance in mind.
This means that you're sure to find a pair of travel sandals you can rock with just about any outfit.
For this reason, you no longer have to sacrifice style in the name of comfort. Now, you can sport fashionable travel sandals that provide the support you need with a look you'll love.
In fact, we're confident that our list of best sandals for travel below will include more than a few eye-catching options.
Multipurpose Sandals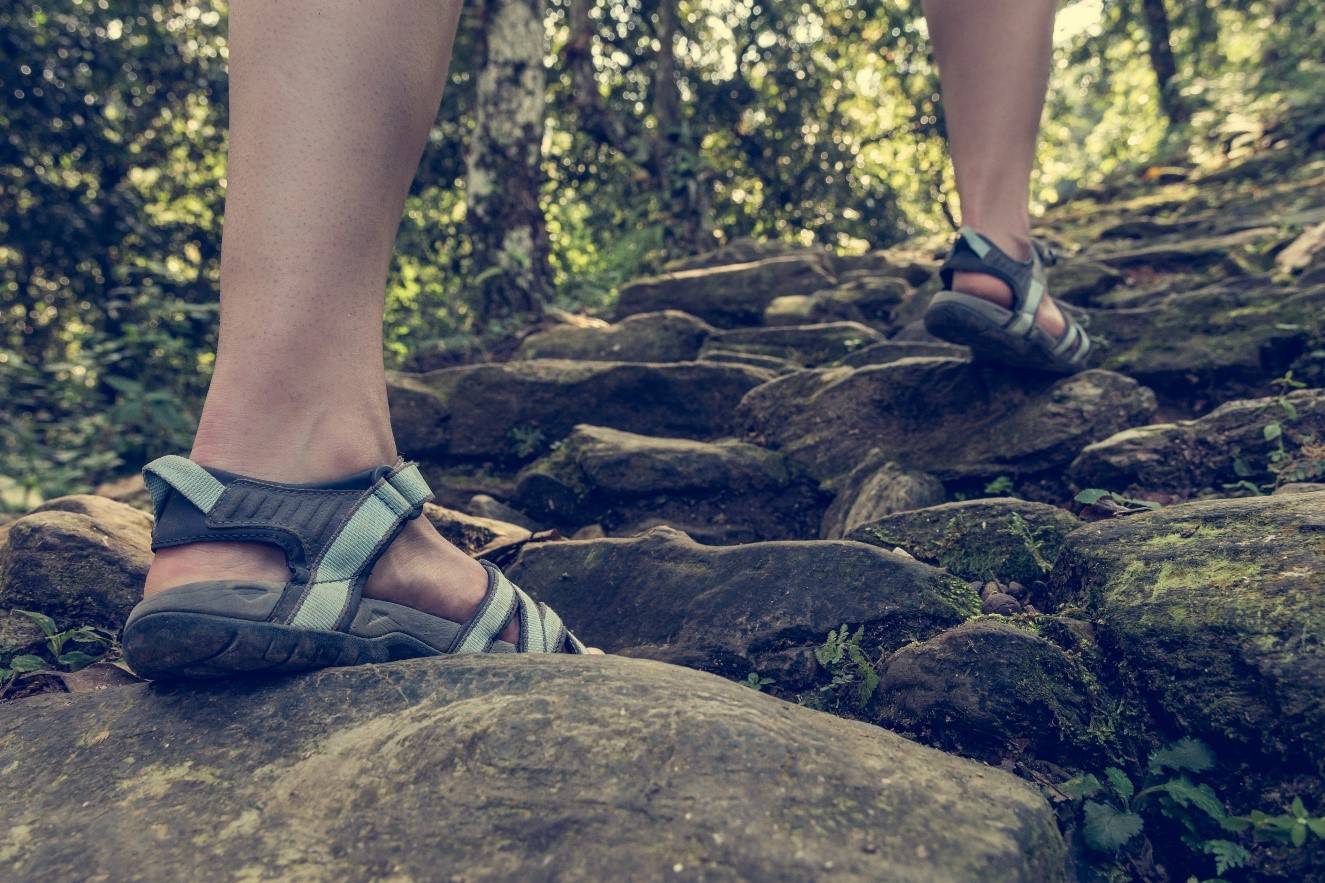 Ladies, you know how it is.
When it comes to packing luggage, it's always as if there's not enough room.
The result?
You end up packing a suitcase that requires the strength of two football players to lift.
Okay, it might not be quite that bad, but we can all admit that people generally tend to overpack.
Did you know that the right pair of travel sandals can help declutter your luggage? Whether you use this to save a little change on your baggage fee or simply to pack other necessities is up to you.
All we can tell you is that having a multipurpose pair of travel shoes can save you room in your luggage. Who knows, maybe you can even ditch that second suitcase!
Because these sandals can do almost anything you ask of them, you won't need to pack extra pairs of shoes.
And trust us: this saves on more than just space. Removing three extra pairs of shoes from your luggage can really cut down on its weight.
Streamline your travel experience by cutting back on the amount of luggage you carry. By finding comfortable, stylish, and multipurpose travel sandals, you'll be on your way to enjoying better travels in no time.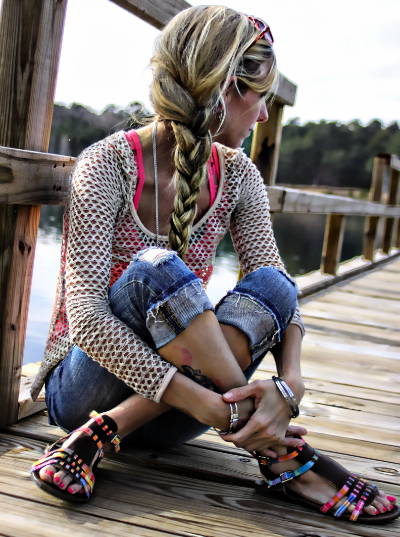 Good Travel Sandals Let Your Feet Breathe
Finding travel sandals that let your feet breathe often proves an overlooked consideration.
But while sandals offer more breathing room by their very nature than other forms of shoes, they're not all made the same.
If you're going to be walking a lot, finding airy sandals is especially important.
By allowing your feet to breathe, you can greatly increase your traveling comfort. This keeps your mind focused on your travels—and not on your feet. And the more your feet breathe, the less sweat and odor.
And that's always a good thing.
It must be noted here, however, that just how much breathing you want is entirely subjective. What must be considered here is finding the shoes that prove most comfortable for you.
For those who tend to sweat a lot, for instance, may require additional breathing room.
By knowing what works best for your personal situation, you can better choose a pair of travel sandals that work for you.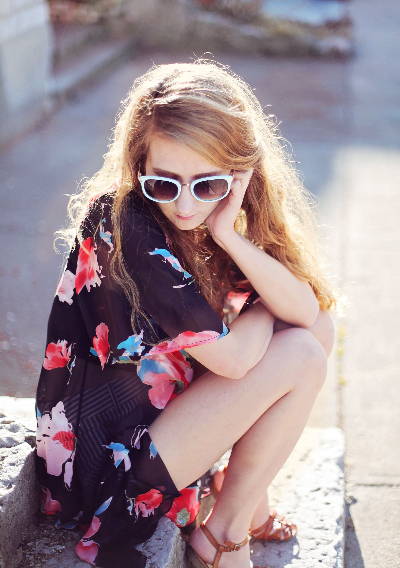 Sandals with Great Arch Support
If you suffer from plantar fasciitis or other forms of foot pain, you know how important arch support for your shoes.
And you also know this: any shoes you wear for extended travels need to provide great arch support.
Without it, you run the risk of putting excess strain on your feet. This is especially true for those who plan to go hiking or undertake any form of intense exercise while out (including walking long distances).
Sandals with arch support help provide stability to your feet. In doing so, they reduce the burden carried by the arch of your feet.
Without proper support, conditions like plantar fasciitis—known for causing excessive heel pain—can result or worsen.
Additionally, keep in mind that some individuals require more arch support than others.
Those who are overweight, pregnant, or athletically active, for instance, need travel sandals that provide better arch support.
Everyone can benefit from arch-supporting travel sandals, however.
Trust us: there's no better way to make walking more comfortable than by investing in shoes with great arch support.
Each time you take a step, your feet bear the impact of your body's weight making contact with the ground.
And, depending on the circumstances, this can cause harm to your feet—and pain in the morning.
Want to know more about how the proper travel sandals can help reduce pain associated with plantar fasciitis?   We wrote the ultimate survival guide for plantar fasciitis.
Best Travel Sandals for Women
With this information in mind, let's take a look at some of the best walking shoes for travel available on the market. We feel that you can't go wrong with any of these popular options.
Truly, they offer the comfort, support, and fashion you need to get the most out of your next vacation.
Even better, they come at prices that won't bankrupt your wallet.
Want to know more about these great travel sandal options? Consider the information carefully as you make your selection.
And remember—make sure to order your shoes in time to get them before your trip.
The Samara Sandal Collection from Viakix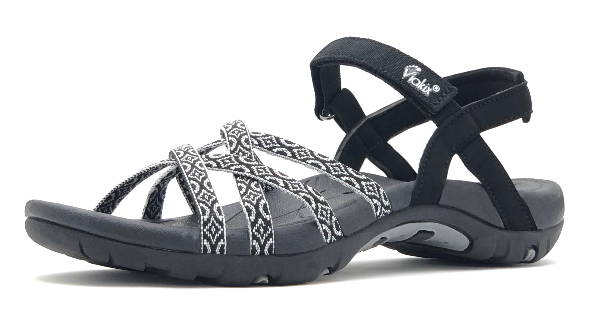 Viakix is known for providing stylish and comfortable outdoor shoes for both men and women.
The Samara Sandal collection proves one of their most popular walking sandals for travel, as it masterfully blends the style women want with the comfort and support they need.
Currently, this game-changing collection features four fabulous color options: blue, black, beige, and grey. This solid color scheme makes them perfect for almost any outfit.
These options give women more flexibility in choosing perfectly-crafted and durable travel sandals designed for comfortable, long-term use.
Samara walking sandals for women feature ergonomic outsoles with shank stabilizing technology to provide maximum comfort and arch support.
Additionally, its elastic front webbing helps wearers achieve a perfect custom fit. It's EVA foam midsole further relieves stress on the feet. This top-quality cushioning helps cut down on foot pain while increasing one's mobility.
But that's not all that makes them perfect for your travels.
With a rugged outsole design, Samara Sandals provide superior traction—making them perfect for nearly all your outdoor activities. Further, these athletic sandals are also water resistant in case you get caught in the rain.
With the Samara Sandal collection, you can start making the most out of your vacation. Don't let foot pain keep you indoors.
Instead, take back control of your travels with this popular and industry-leading travel sandal option.
Best of all, at only $49.99, these travel sandals for women won't break your bank or put you over budget.
Vionic Karina Thong Sandal
Another great option for those looking for the ultimate in travel comfort is the Vionic Karina Thong Sandal.
Though not officially billed as a travel sandal like Viakix's Samara Sandal collection, these great sandals have become a popular travel option.
Why?
Because their unique design allows them to directly target the development and progression of plantar fasciitis.
With their great arch-supporting technology, the Karina Thong Sandals provide maximum comfort—even for those who are on the go.
Keep in mind, however, because they're designed for more everyday wear, these sandals don't provide the same degree of traction as Samara Sandals. For this reason, the Karina Thong Sandal works best for those who don't have complicated outdoor activities on their itineraries.
In terms of comfort, however, Vionic is hard to beat. Designed by a renowned orthotic surgeon, these shoes provide medical-grade support for foot-pain sufferers. You can purchase these sandals for around $69 on Amazon.
Naot Sabrina Sandals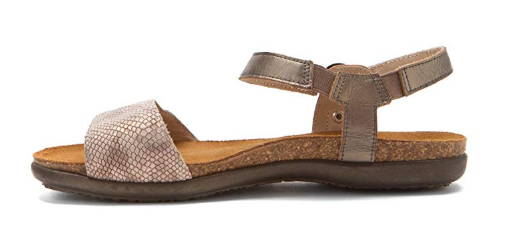 If you are looking for cute sandals that allow you to be on your feet all day, these walking sandals are right for you. These stylish sandals can be worn right out of the box and require virtually no time to break in.
The elegant sandal features rivet accents and metallic ornaments on the upper, while The footbed is made out of with metal ornament and rivet accents. This style has gore at the inside of the instep and an adjustable strap in the back. The Sabrina features anatomic cork foot bed that literally molds to your foot.
At a price tag of $129, these sandals are not for everyone. But if they are in your reach, we do recommend them.  
Ecco Damara Gladiator Sandal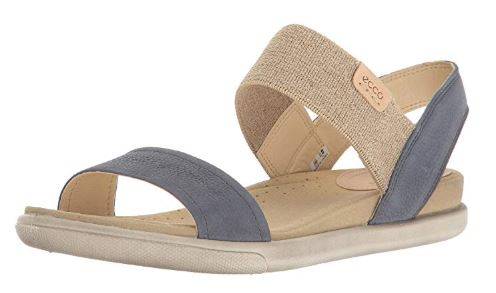 The Damara Gladiator Sandal by ECCO features an attractive crossover blackstrap, which imparts a relaxed style that is also beach ready. Whether you're taking the museum stairs, walking the city streets all day, or out exploring mother nature, the Damara walking sandal is an excellent travel option. The sandal delivers a great fit, durability, support and flexibility.  
The footbed has a comfortable foam insole, that is also durable, for all day walking. You can buy them here! Your feet will thank you.
Blowfish Women's Fisherman Sandal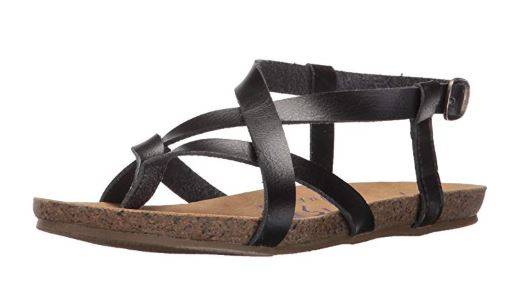 The Blowfish Fisherman sandal is a fresh contemporary line of sandals that are perfect for your next trip.   The Blowfish sandal features a faux leather strappy upper that's also adjustable in the back. And the faux cork footbed provides a light insole to cushion for your long vacation walks.  
And want to know the best part?

These sandals are often featured for less than $39. So you can have comfort that will not break the bank.
Viakix Arenal Sandal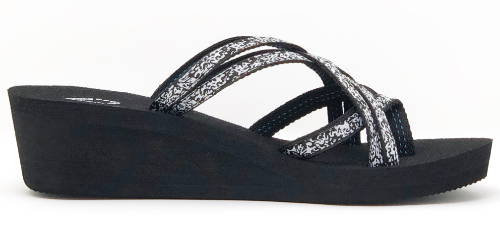 Are you looking for a sandal that is more casual – that you can wear to the beach and then walk around the city? Then look no further than the Viakix Arenal Sandal. This wedge sandal features a flip-flop like material with a trendy double-woven crisscross straps.  
Available in 4 different fashionable styles, including black, gold, blue and pink, the Arenal wedge sandals feature a two-inch heel and a three-fourths-inch platform that will keep you comfortable the whole day through.
The Arenal sandals are extremely versatile and can be worn virtually anywhere and will get you loads of compliments.   Priced at just $34.99, the Arenal wedge sandals are a hidden gem of the wedge-sandal world.
The Wrap Up
Brand
Model
Price
Finally, consider the following tips as you purchase and wear your new travel sandals.
Give Yourself Enough Time
Make sure that you buy your shoes in advance so that you have time to find the right pair for you.
You'll also want to break your sandals in by wearing them for a few hours before you go on your travels. This will help reduce the chances of having to deal with blisters on your next trip, and you can enjoy the most comfort possible.
Try a Few Pairs of Sandals
Be sure to try more than one pair. Because of your foot's unique design and condition, you may find that some brands work better than others.
We strongly recommend the abovementioned brands as you go about choosing the travel sandals right for you.
Depending on the type of activities you wish to undertake, both prove incredibly-comfortable and useful options.
By keeping this information in mind, you'll be able to better enjoy your next vacation.
**If you thought this post was helpful, please share it by clicking on the social media buttons below
Collection 2019
Sale 70% Off
Title for image