Sandals for Women's River Rafting Adventures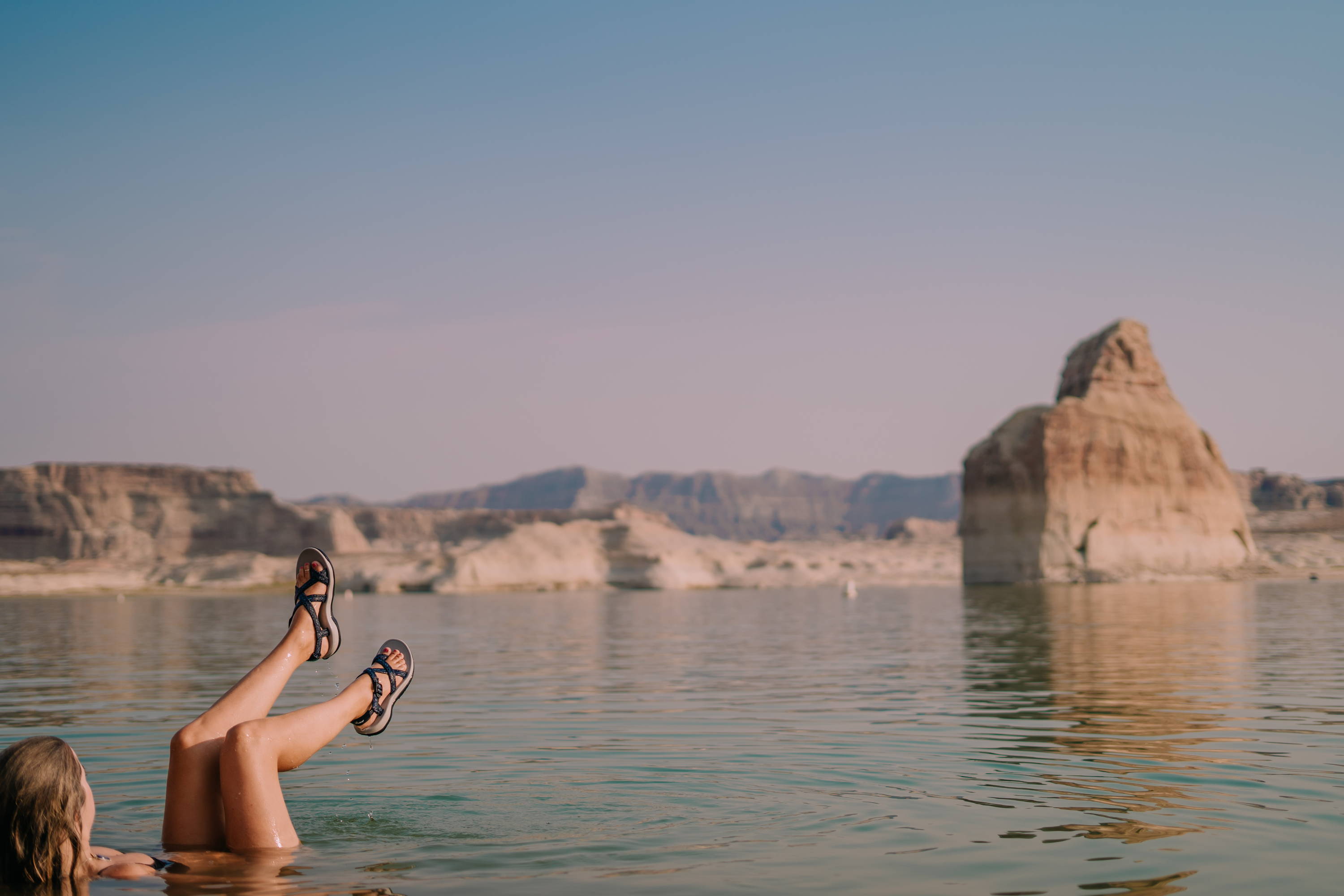 The Best Outdoor Sandals for Your Next Rafting Adventure
Quality rafting sandals are just as important as your helmet and life jacket. While on the rapids, rippling white water and churning eddies will take you and your raft on a thrilling, heart-pounding spin. You'll cruise down rivers flanked by incredible landscapes, where you'll have the chance to spot wildlife and terrain saved only for the most adventurous. But because of the wet and unsteady raft, rugged beaches, and submerged boulders, you'll need a durable, high-performance sandal that'll protect your feet from the elements. Proper footwear makes a huge difference when it comes to rafting, and can add or take away from your experience. I've tried river rafting with sandals that weren't made for the sport, and let me tell you, it did not end well! Not only were my feet sore, but my sandals were completely ruined by the end.
This is where our Viakix sandals come in. Not only are they waterproof and water-resistant, but they're comfortable, durable, and provide substantial support for walking on rocks. These sandals check all the boxes, and let's just say, there's usually a lot of boxes to check!
There's a high chance of debris getting into the raft, like stones or rocks, especially in high waves. There's also a chance you'll step on glass or other sharp objects while you're on the beach. How often have you carefully walked across sharp stones, hoping you weren't going to cut your foot? I know I've done this too many times to count. That's why going barefoot is not an option. Open-toed shoes are your best bet since they'll dry quickly while allowing your feet to breathe. Your feet will be just as happy as you are!
Whether you're an adrenaline junkie searching for your next Class V expert-level rapids, or looking for a soft landing with Class I rapids, we've curated a list of the best sandals to wear on your next river rafting adventure.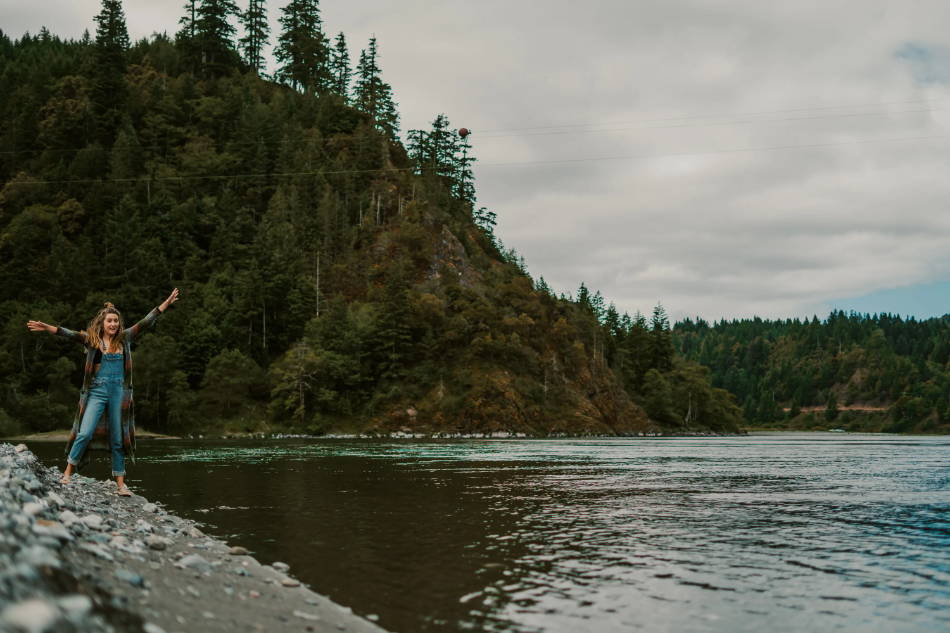 Key Elements When Choosing Your River Rafting Sandals 
Waterproof and Water-Resistant
Walking in the river, stepping on sharp stones, and sitting in the raft requires waterproof sandals. Our Viakix high-quality quick-dry sandals are water-resistant and will keep your feet dry. The lightweight strap material prevents water from getting caught under the strap, which helps keep your feet dry and airy. If you wear your sneakers on a river rafting trip, you'll likely have to say goodbye to them at the end of the day. They won't last!
When you're in the raft and walking along slippery, wet rocks, you'll need sandals with substantial traction to prevent injuries and slips. Our sandals will help prevent injuries while on the raft. The rugged rubber soles and pattern in our Viakix sandals provide the substantial traction you need while sitting on the raft and walking on wet terrain.
Our Viakix sandals are highly durable and environmentally friendly. They have a deep heel cup, ankle straps, and high-quality material that won't break down at the first sign of water. These sandals are here to stay! Durability just means your sandals will last longer, which means you'll save more money. Health is the best investment you can give yourself, and one of the best tangible investments I've ever given myself was quality sandals. Now, I can play in the great outdoors, get my exercise, and know my feet are protected.
Because you're moving around so much on and off the raft, you'll need sports sandals with substantial arch and ankle support. The Viakix sandals are stellar at providing both types. The deep-heel cup, contoured shape, and stretchy webbing will support your ankles, feet, and back during your adventure on the rapids. You can easily adjust the ankle strap as needed.
Spending time in nature means you need environmentally friendly sandals. Viakix is an eco-friendly sandal that strives for a greener future and forest restoration. Enjoy your time on the raft with the knowledge that your sandal supports the environment. We've reduced our packaging by 30%, and use recycled materials in our packaging. We've also partnered with One Tree Planted, which means that for every purchase on our website, you've helped plant a tree. We also incorporated 25% of our packaging into our footwear material. With our shoes, you're making the world a better place!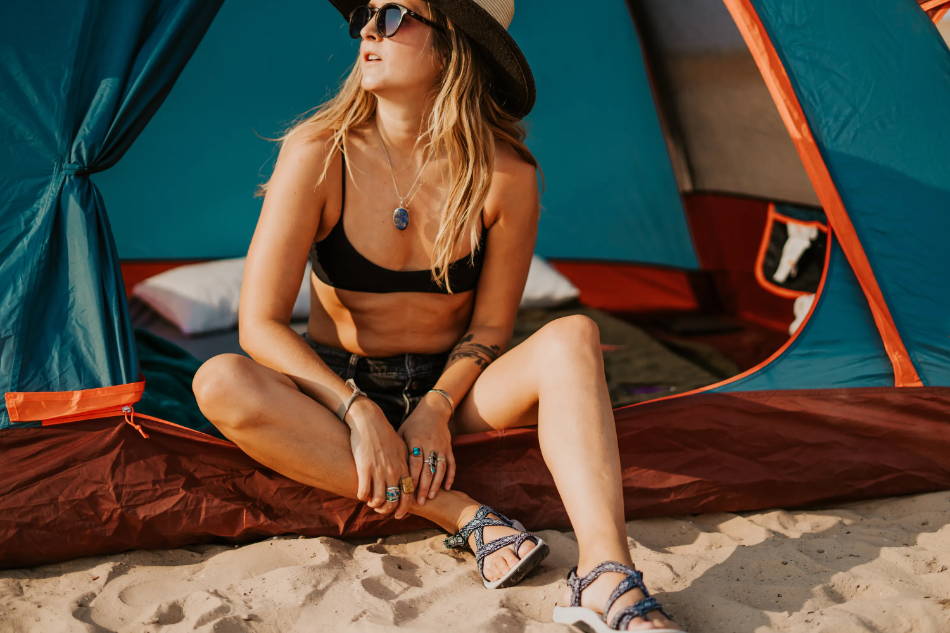 Sandals for Different Types of River Rafting Trips
Because your sandals will constantly get wet, you'll need sandals that are quick-drying. This prevents mold and fungus from growing on your sandal - and feet. And because you're getting in and out of the raft so often, you'll want sandals that provide ankle support and traction. No one wants a nasty fungal growth on their sandals while on an adventure! I love the open-toed sandal whenever I go river rafting, because it's easy to clean and allows my foot to breathe. Since rafting is a water activity, this is probably the most important aspect of sandals for the outdoors. Paying a bit higher price for river shoes ensures it'll last a long time. Besides, at the end of the day, I can put on a pair of wool socks and slip them into my women's water sandal and I have an entirely new, fashionable style.  
Shorter rapid trips typically have more rapids per mile, which means your feet will likely stay wet the entire day. It's also more likely you'll fall out of the boat with the higher rapids, so you'll need shoes that won't fall off your feet. This puts less pressure and stress on having to constantly keep track of your shoes. Less equipment is more, especially when you have limited boat space.
These trips will likely take place early on in the season when the weather and water is colder. This means you'll need waterproof socks, in addition to your waterproof sandals. Neoprene socks will keep your feet warm, while also keeping your feet dry. These socks are the perfect addition to our sandals in cold weather conditions.
Durable Acadia Adventure Sandals for Rapids
The long and violent high-class rapids are typically saved for expert rafters or those who want an adrenaline adventure. This is where our open-toed Acadia adventure sandal comes in. We've engineered this sandal for your next outdoor river rafting escapade. It's durable, comfortable, and waterproof. With five hook and loop straps, the sandal will hug your feet and ensure a customized fit every time, which is important when you're fighting against high-class rapids. If you fall out of the raft, these sandals won't fall off your feet. This is incredibly important since you'll likely have to climb on large rocks to get out of the river.
The last thing I want to think about when I fall out of a raft are my sandals! This gives me the peace of mind that's incredibly important during long rafting trips. With so much variety in the rapids, I can never really predict what sort of experience I'm going to have. This is just another reason I love my Acadia women's footwear.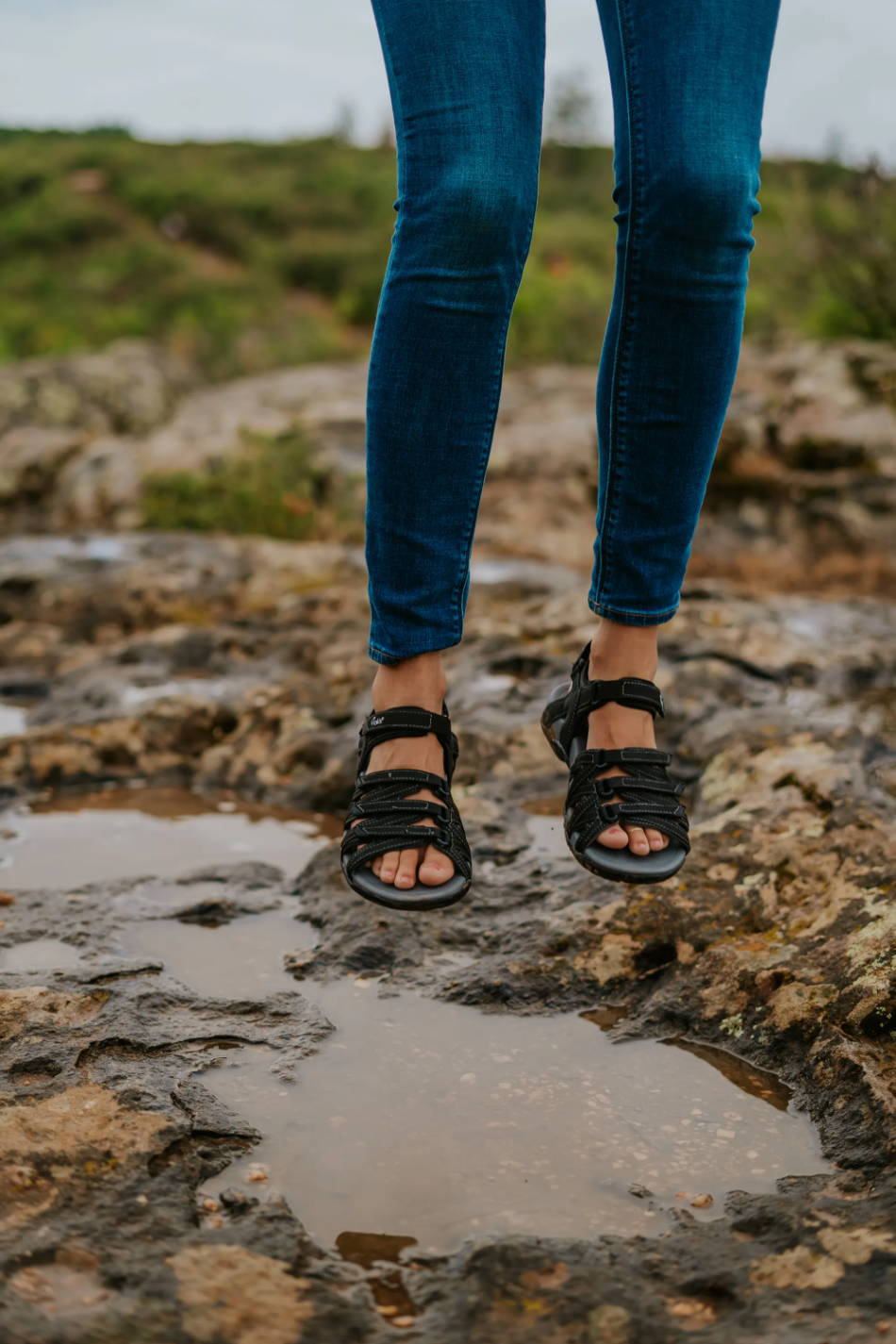 It has a thick EVA foam midsole and an ergonomic outside to provide substantial arch support, which is necessary when you're pushing against the force of the raft and keeping your body stable. The ankle strap prevents accidental ankle roles. And just because the raft gets soaked doesn't mean you have to. The water-resistant materials in the Acadia outdoor sandals are quick-drying, so when you're done with your rafting adventure, your sandals will be dry and ready to go. With this long-lasting option, you can enjoy multiple trips on high-class rapids worldwide without having to worry about comfort or support.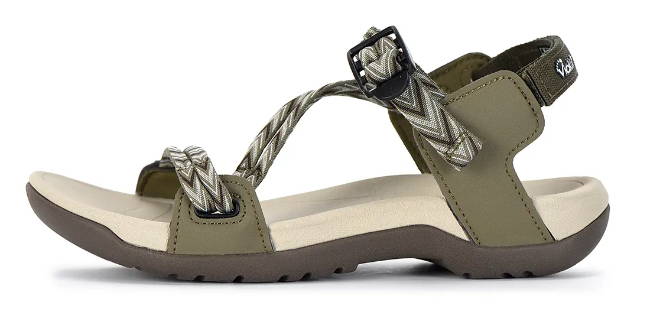 High-Performance Sloane Outdoor Sandals for Rapids
Some rapids can reach up to 15 feet. Those high waves need high-performance sandals, which is where our Sloane sandals come in. The rugged, pattered rubber soles of the Sloane sandal were made for adventure. This provides ideal traction which will prevent you from slipping and sliding in the raft or on rocky terrain when you're off the raft. These athletic sandals also have an adjustable strapping system that hugs your feet. These sandals make it especially easy to walk on rough terrain, which gives me comfort after riding terrifying, yet thrilling rapids.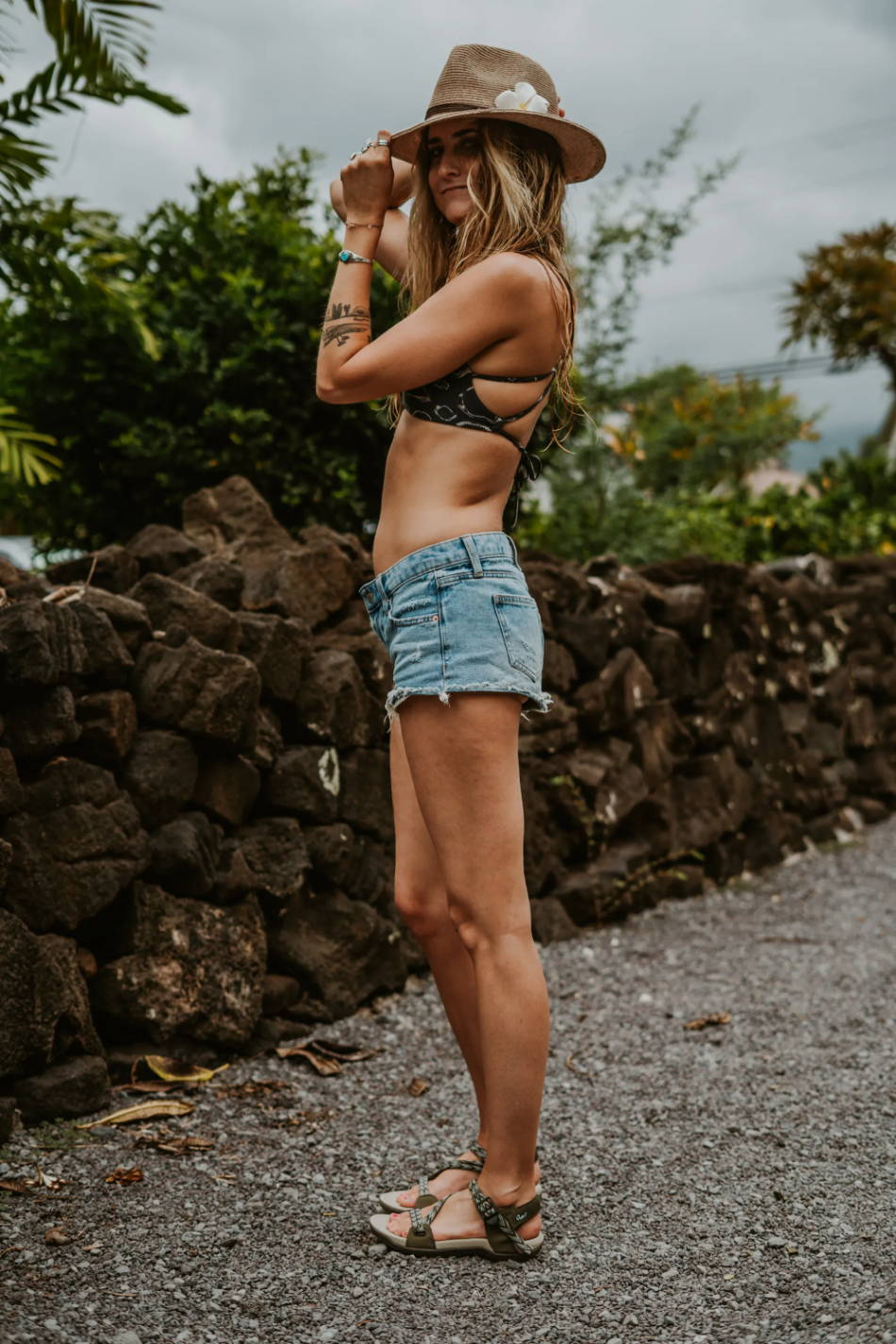 The thick EVA foam midsole and ergonomic outside provide substantial arch support, which you'll need when stabilizing your body against high rapid waves. If you want the sandal to have a tighter fit, you can easily adjust the straps while you're on the boat. While you're river rafting, you shouldn't have to think twice about comfort, making the Sloane adventure sandals an ideal choice. Best of all, they're completely water-resistant and waterproof, so they won't break down when wet. They'll protect your feet and provide the support your feet deserve. These shoes make buying rafting gear easy to buy and easy to pack. Whether I'm on a trip down the Colorado river or in California, I know these bad boys have my back. The raft doesn't always keep me protected, so at the very least, I know my shoes will.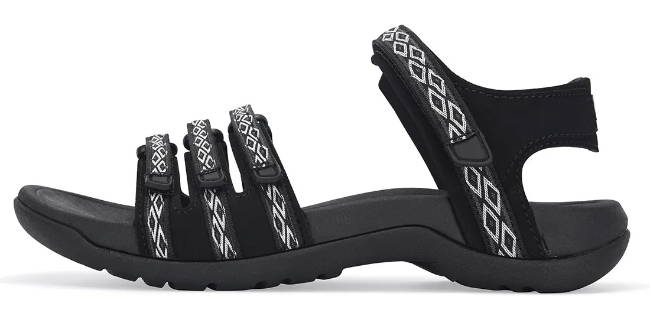 Sporty Napali Sports Sandals for Rafting
High-flowing rapids are no joke. They can, quite literally, sweep you off your feet. If you fall off the raft and into a high-flowing rapid, your helmet, lifejacket, and sports sandals are the three lifesaving pieces of gear you'll need for optimal performance and protection. That's where the Napali sports sandals come in. The lightweight, micro-fiber EVA footbed, and PU insole provide the best support and reliability when it comes to river rafting. It has soft hook and loop straps that'll hug your feet and ensure a customized fit every time.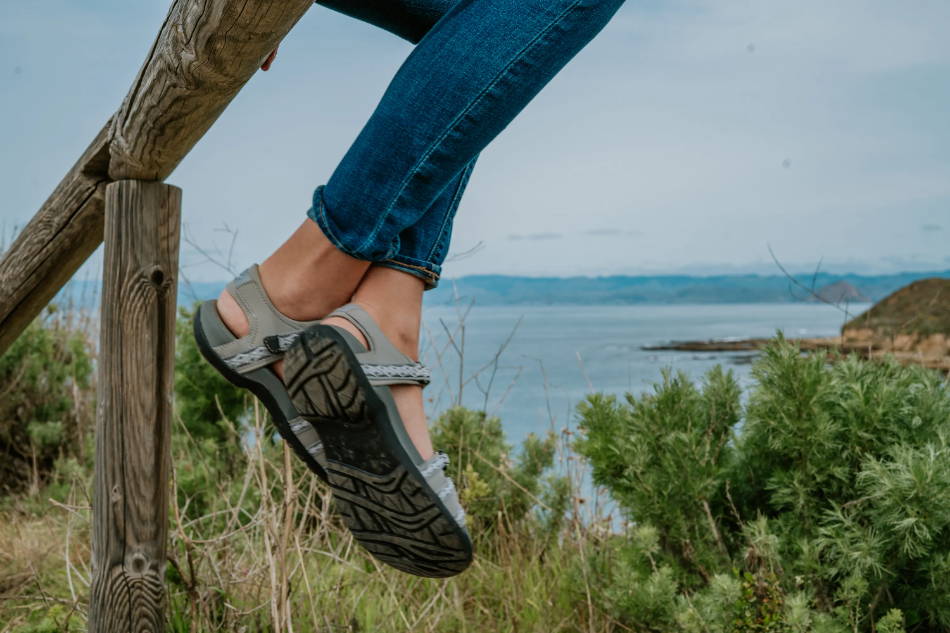 The contoured arch support and stretchy webbing are other ideal features of these adventure sandals. If you fall off the raft, these water-resistant sandals won't fall apart. You'll also need highly durable sandals with substantial arch support while climbing in and out of the raft, loading and unloading gear, and swimming back to the raft, which is why our Napali sports sandals are the perfect fit. Who needs flip flops when you have Napali whitewater rafting shoes?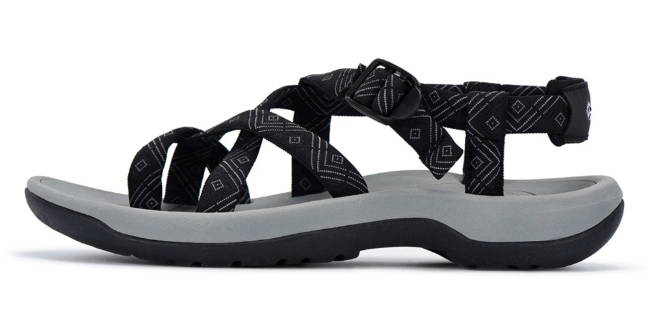 Comfortable Cortona Women's Sandals for River Rafting
If you're a novice rafter or are looking for a soft entry experience to rafting, then choosing an adventure with low-class, easy rapids is the best option. You can float down the river while enjoying the scenery, with rapids that'll provide a comfortable thrill. Our Cortona women's sandals are a great adventure buddy for those easy rapids.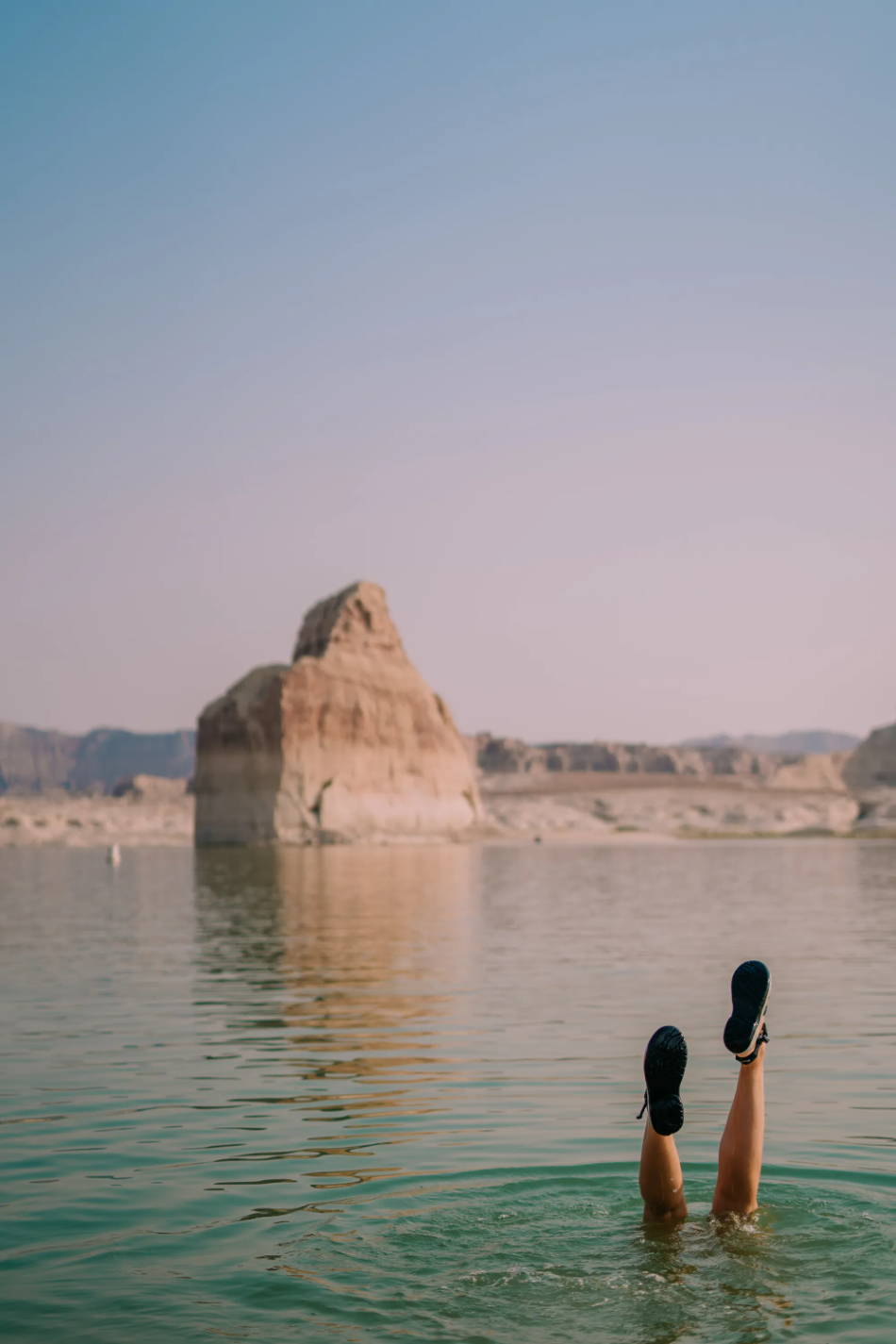 Why give up comfort and style when you're on the water? As one of our most comfortable sandals, your feet will be pampered and cradled during your rafting adventure. The soft, stretchable straps ensure customized feet. These sandals come equipped with our thick EVA foam midsole and ergonomic outsole for substantial arch support for long walks. The open-toe design will help your feet breathe, while also protecting your feet from debris like stones and rocks. It has a deep, supportive heel cup and ankle support for keeping yourself sturdy on the boat. I never have to worry about blisters thanks to its cushioning!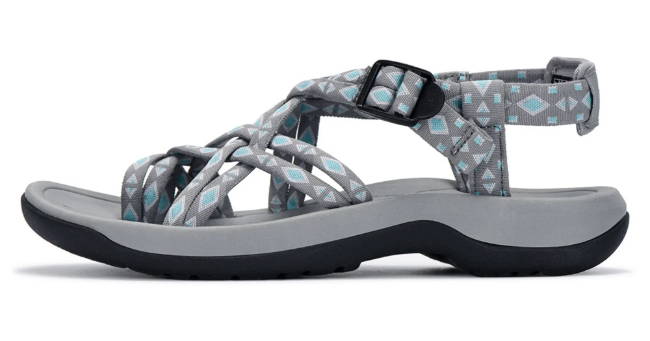 Quick-Drying Siena Sandals for Multi-Day Rafting Trips
With multi-day river rafting adventures, you'll raft from campsite to campsite. Because you're getting in and out of the boat, moving your gear, and walking in shallow water, you'll need durable sandals that can withstand constant exposure to water and sharp rocks. Our Siena Sports sandals are ideal for this sort of adventure.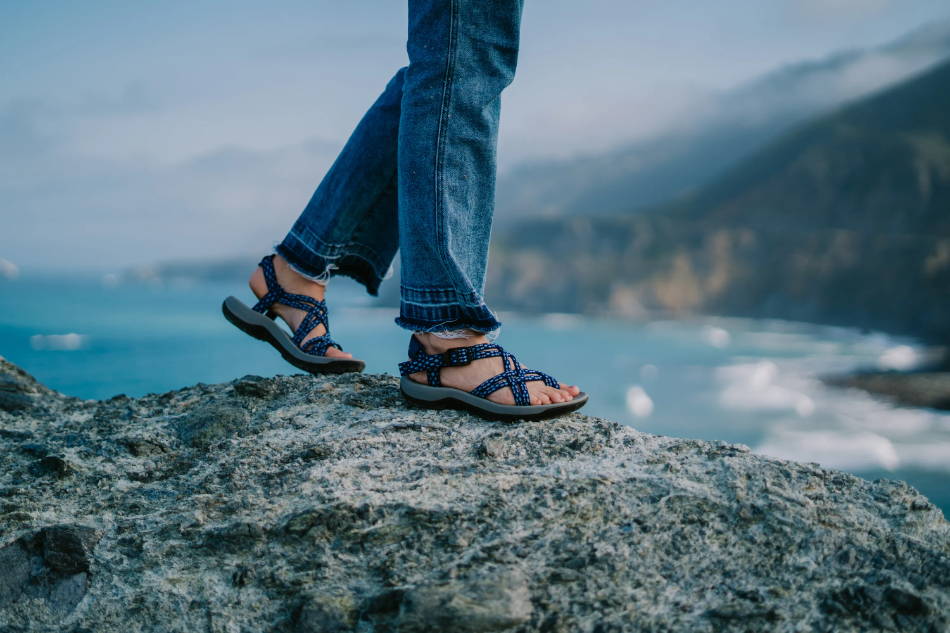 The soft stretchable straps hug your feet, and the thick EVA foam midsole and ergonomic outsole provide substantial arch support for extended rafting adventures. You can easily adjust the ankle strap when you're on or off the raft, and you'll get maximum comfort with the insole cushions that mold to your feet. With ultimate arch support and quick-dry material that won't stay wet, these sandals are a great option for multi-day river adventures.
For the best experience while river rafting, our Viakix sandals provide substantial arch support, waterproof materials, and ultimate traction. You won't have to think twice about your feet, and can instead focus on the rapids! Our product is here to stay, and will so many colors and options out there, you might have a hard time deciding which one best suits you and your adventurous spirit.
Frequently Asked Questions
Why do I need sandals for river rafting?
Because of the potential to step on sharp stones, glass, and other debris, you'll need sandals that will protect your feet. Open-toed, quick-dry sandals allow your feet to breathe and prevent moisture from getting stuck in the straps. Going river rafting barefoot is dangerous because of the potential for injury, especially when entering and exiting the raft, or falling out.
Why are sandals better than sneakers?
Even though closed-toed sneakers will protect your toes better than open-toed sandals, they won't dry as quickly. They'll trap water, which is dangerous if you fall off the boat. The sneakers may weigh your feet down and make it difficult to swim. Our lightweight sandals make it easy to swim and enter and exit the boat, while also protecting your feet.
Why is traction important?
Because you're exposed to several elements while river rafting, traction provides the stability and support you need. Stepping on slippery rocks and placing your feet on the bottom of the wet raft requires sandals with high-quality traction.
Collection 2019
Sale 70% Off
Title for image