Determining Your Foot Width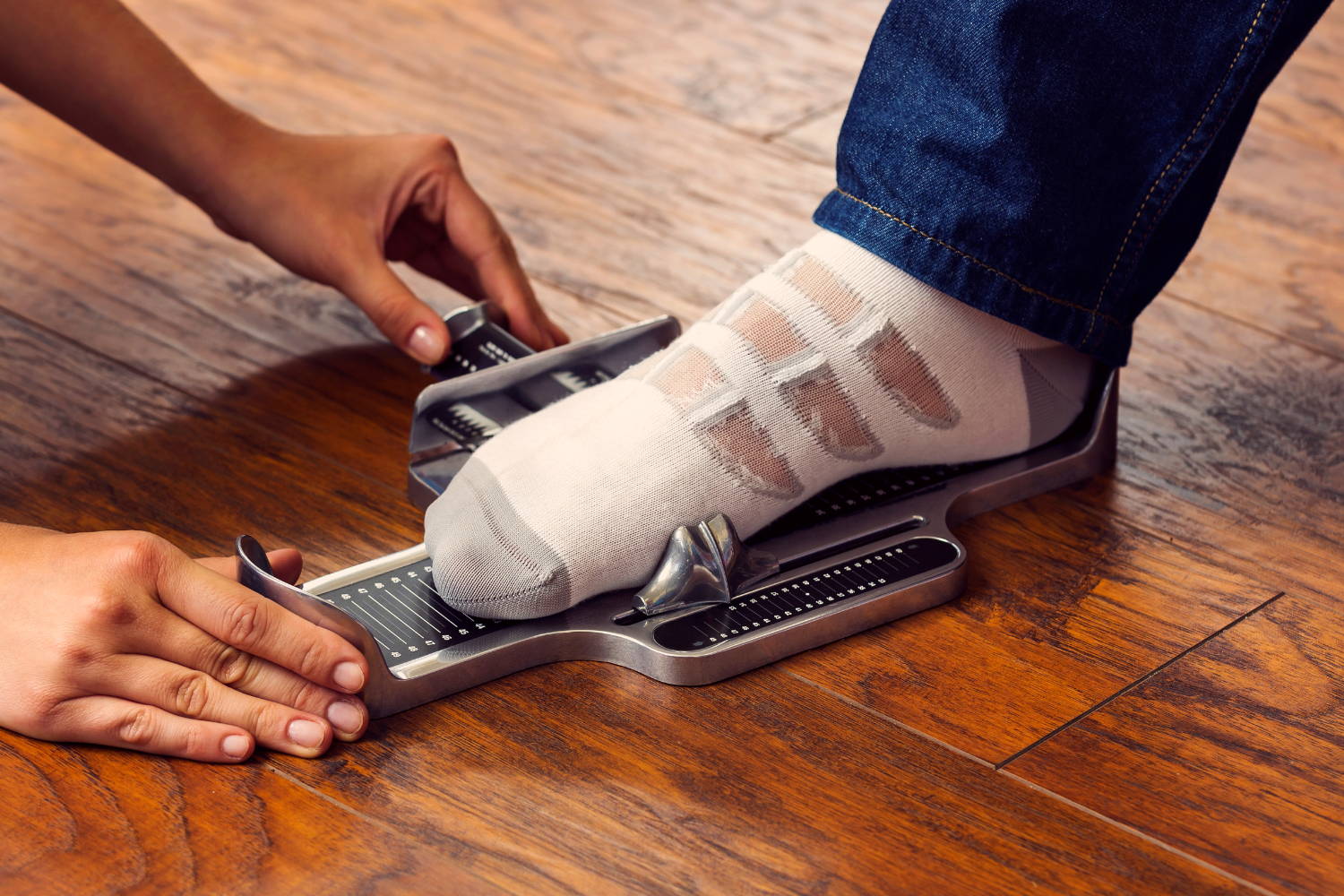 How to Determine Your Foot Width
If you plan on buying a quality pair of shoes, you should know what your foot width is and how to measure it. This is especially important for anyone that has particularly narrow or wide feet.
Most people focus on the length of their foot, and don't give much consideration to their foot width. However, if you are looking to purchase a pair of shoes or sandals that will cradle your feet, you need to know your foot length and width.
There is another important reason to know your foot width. Cramming your little piggies into shoes that are too tight can be uncomfortable and can even lead to foot problems. Luckily, in this article, you will learn how to measure foot width and how to find shoes that fit well. We'll also go over other useful information about foot width that you should know!
Do Foot Width Measurements Really Matter When Buying Shoes?
When it comes to finding the perfect-fitting shoes, does foot width really matter? The short answer is a resounding "yes". It's tempting to squeeze into shoes that are on the tight side, especially if you find a pair that you have fallen in love with. However, you can develop serious foot problems if you don't consider the width of your feet. Foot cramps, sores, bunions, and calluses are just some of the issues that could crop up when you decide to wear shoes that are too tight. Cramped shoes will also make your feet sweat more which could lead to bacterial infection.
It's not just tight shoes that can be bad for your foot health. When you wear shoes that are too big or not tight enough, this creates extra friction and pressure. With shoes that are too wide, you can get blisters, sores, hammer toes, and foot pain.
In other words, if your feet aren't properly supported with shoes that match your foot width, this can cause a range of health issues down the line. No one wants to deal with chronic foot pain or foot disorders. This is why it's so important to measure your feet!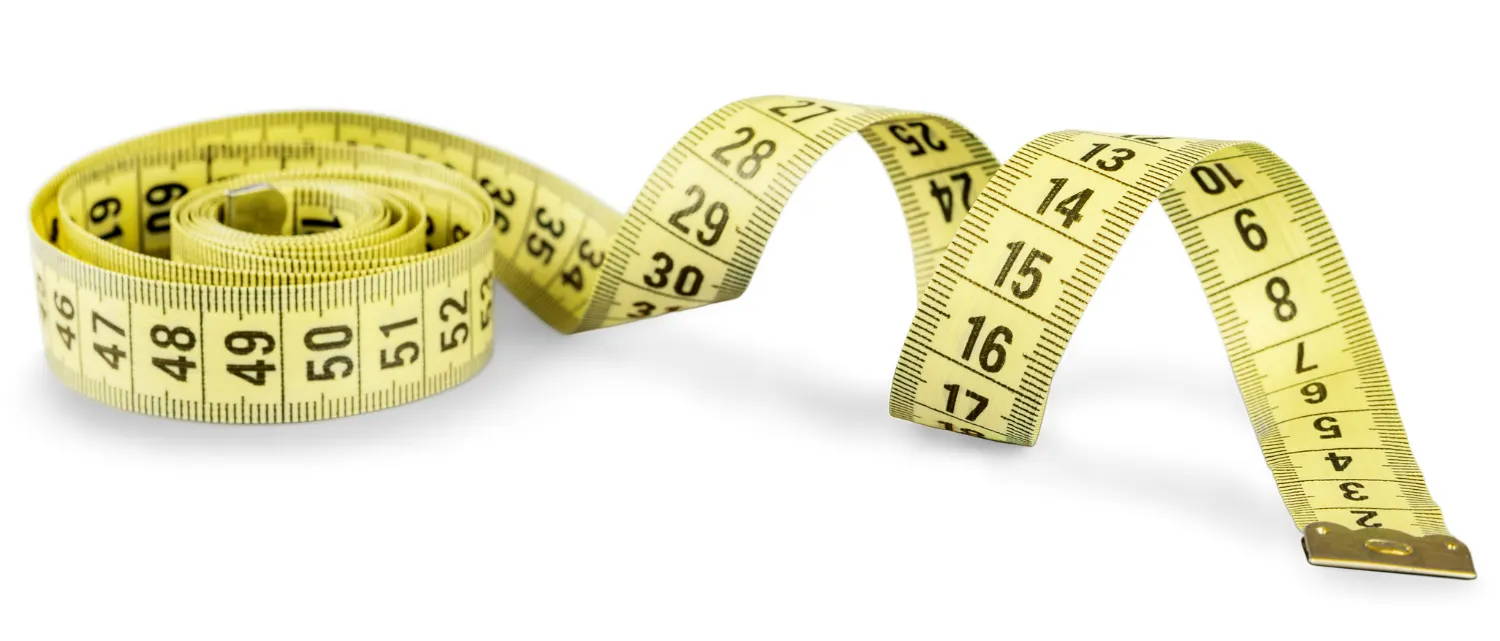 Determining Your Foot Width
We've been talking about the importance of getting your foot width, but exactly how do you determine it? There are many ways you can go about measuring your feet, including going to a professional, but we'll discuss the most simple method here.
Doing the measurement yourself with paper and a simple measuring tape can yield very accurate results quickly and efficiently!
Step 1: Get a piece of paper and sit down.
You'll want to be seated for this first step. Sit up straight with your shoulders back. Then put your piece of paper on the floor and tape it down. Make sure your entire foot fits on the page and is firmly placed. We also recommend wearing socks while measuring your feet.
Step 2: Use a pen or pencil to trace the outline of your feet.
You can use a pen or pencil to trace your foot, although a pen might make it easier to see the outline. Make sure you stay close to your foot while you trace it. Having a friend or family member trace your foot could also work for this, especially if you don't have a steady hand. Note that any friend that helps you trace your foot is a VERY good friend.
Step 3: Trace your other foot.
Make sure that you trace both your feet. A lot of people have different foot measurements on each foot. In fact, one of your feet might be 1/2 size bigger than the other. So, it's important to get both foot measurements down.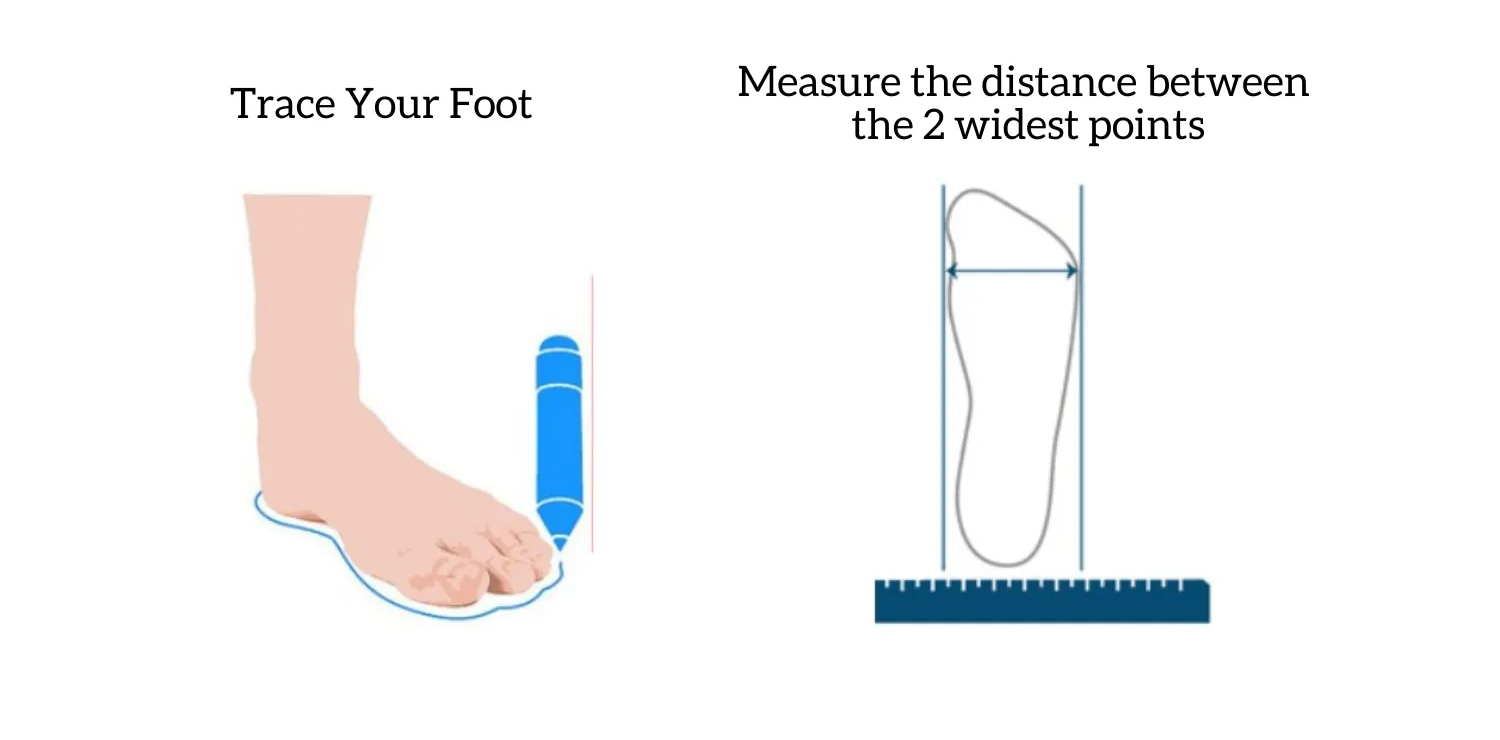 Step 4: Find the widest point of each foot and measure the distance.
To find the width of your feet you will need to find the widest points. With your pen or pencil, mark the area from your big toe to your pinky toe. You should mark the area right below your pinky toe, as this will give you the widest measurement. This area right below the toes lines up with the balls of your feet.
Mark these areas on both outlines of your feet. Then measure the width with a ruler or measuring tape.
Your measurements won't be accurate right away. You will need to subtract a little from them, to account for the thickness of your pen or pencil. Subtract ⅕ of an inch off the measurement or .51 cm. 
Be sure to also use the measurement from your larger foot for accuracy.
Step 5: Find out your foot width
Take your foot width from Step 4 above and then use the chart below to gauge whether you are a Narrow (AA), Medium (B or M), or Wide (D) width.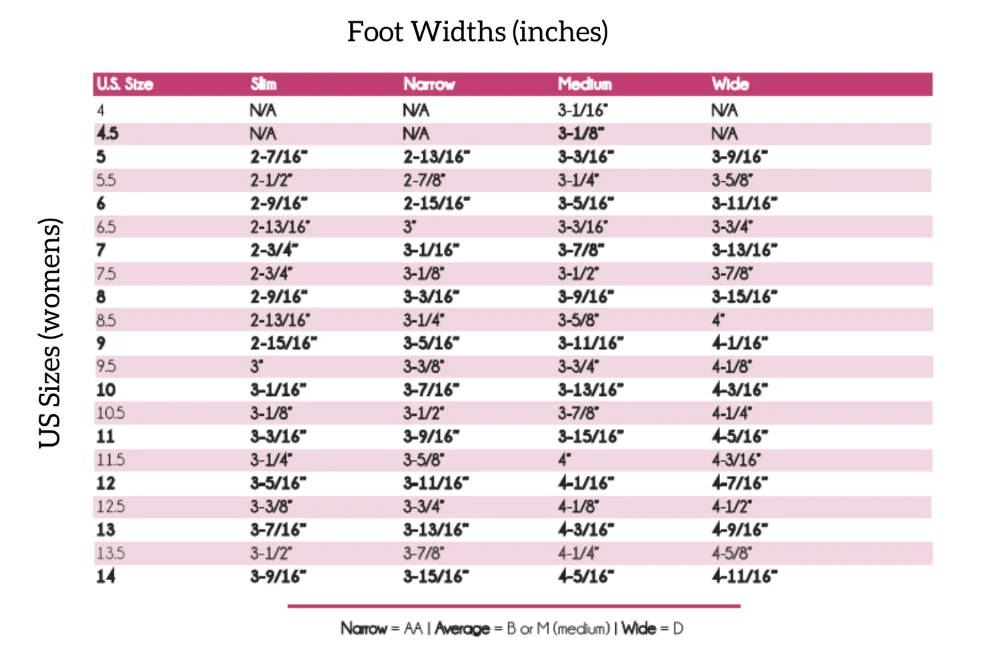 Final Tips For Exact Foot Width Measurement
In this final section of the post, we'll go over some quick tips that will ensure that your foot width measurements are precise. In addition, we'll also share some tips that will help you buy a pair of shoes that actually fits your foot width and foot shape!
Tip 1. Measure Your Feet At The End of The Day
You might not know this, but your foot changes throughout the day. Depending on your diet and level of activity your feet will swell more or less. This is especially true at night when your feet get their biggest.
Hence, to get the most accurate measurements, you need to measure your feet later in the day. You could do this in the late afternoon or even at night. When you measure your feet later, your shoe is more likely to fit you all day.
Tip 2. Wear Socks When You Measure
We talked about this in the first step of measuring your foot width, but it's highly important that you wear socks. Since you will have them on with your shoes they will affect the measurements. Put on socks that you would normally wear for the best results.
Tip 3. Pick The Right Shoe Size
Usually, the larger the shoe size, the bigger the foot width will be. With normal-sized shoes, shoe width tends to be proportional to shoe size. However, if you have a larger foot width and a smaller shoe size, this doesn't mean that you should size up.
Shoes that are too big can also cause problems and even lead to falling and tripping. So, instead, we recommend buying shoes that are the right size but have a larger width.
Measuring your shoes ahead of time will help you find the right shoes for your feet. But even if you have accurate measurements, the shoes you like still might not fit. This is why it's crucial to try shoes on. Depending on other foot factors like foot shape, some shoes aren't always the best fit.
So, make sure to try them on before you buy them. If you buy shoes online, make sure there is a refund policy if they don't match your feet.
Tip 5. Pick a Shoe For Your Bigger Foot
Finally, when you choose your foot size and shoe it should be for your bigger foot. Again, one of your feet is probably bigger than the other. You want both your feet to be comfortable so use the measurements for your larger foot.
We hope this article was informative and will help you find your accurate shoe width. Now that you are an expert go ahead and give it a try! Please reach out to us if you have any questions.
Collection 2019
Sale 70% Off
Title for image