Top Walking Shoes and Accessories for Women
When you decide it's time to get those steps in, it is super important to get the right gear. Whether you are hitting the trail, strolling along the beach, or taking the dog for a walk, being in the best shoes can make all the difference in your level of enjoyment.
Being prepared for any type of trek means you are more likely to get out there more often. With the right walking shoes and accessories, you can adventure just about anywhere on your walks. As women, we have different requirements for gear than men. Not all gear is one size fits all, especially shoes!
Here we'll go over a few basics for getting the best fitting walking shoes and some key accessories to keep you comfortable on your travels.
Things To Look For In a Great Walking Shoe
When in the market for a quality walking shoe you'll want to look for a couple of specific features. A shoe that offers protection and durability is key. Walkers benefit greatly from a thicker, more stiff sole. Particularly if you have nature trails in mind, make sure the sole is super sturdy and durable. You don't want any issues with sharp rocks on the trail.
Though you also need to balance that with flexibility and comfort. A quality walking shoe moves naturally with your foot and offers abundant support for maximum comfort.
Look for shoes that have marked shock absorption. You can tell because they will have a ribbed rubber soul that is a bit thicker and doesn't really bend in the middle. This will really help with the impact on your joints. A decent layer of foam padding also goes a long way for keeping it comfy.
We know it sounds counterintuitive, but a bit of a heel is a good thing too. Nothing crazy, you're not walking the catwalk. But roughly a three-quarter inch increase in height from the toe to the heel aids in proper alignment of your ankles and knees, plus encourages good posture.  
Pro Tip: Shop for shoes later in the day. Our feet swell throughout the day. So to ensure the best fit, try on shoes when your feet will be the most swollen. If they are comfortable on your feet in the evening, they will likely be comfy when you wear them all day long.
The Samara Walking Sandal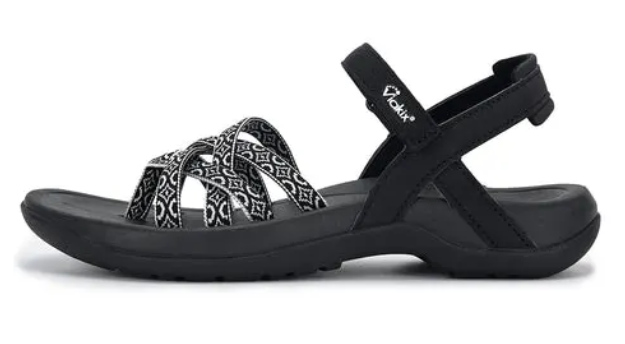 A great all-around option is the Samara. Made with a super durable rubber sole, these sandals have some truly excellent traction and stability. They are ready for just about any terrain you can throw at them. Urban city streets or winding wilderness trails.
Plus, the sole is engineered with a support shank that absorbs the shock of each step. Your joints will thank you, we promise. That thick sole also protects the sensitive soles of your feet from any stray rocks that may try to penetrate through the bottom of the sandal.
A layer of EVA foam runs through the midsole, providing cushy support and making these sandals crazy comfortable even after hours on the go.
When you're looking for a shoe that will be breathable all day long, why not go for a pair of sandals? The Samara has elastic front straps that hug your foot for a snug fit and velcro ankle straps that are completely adjustable. But other than that, your tootsies are free to breathe.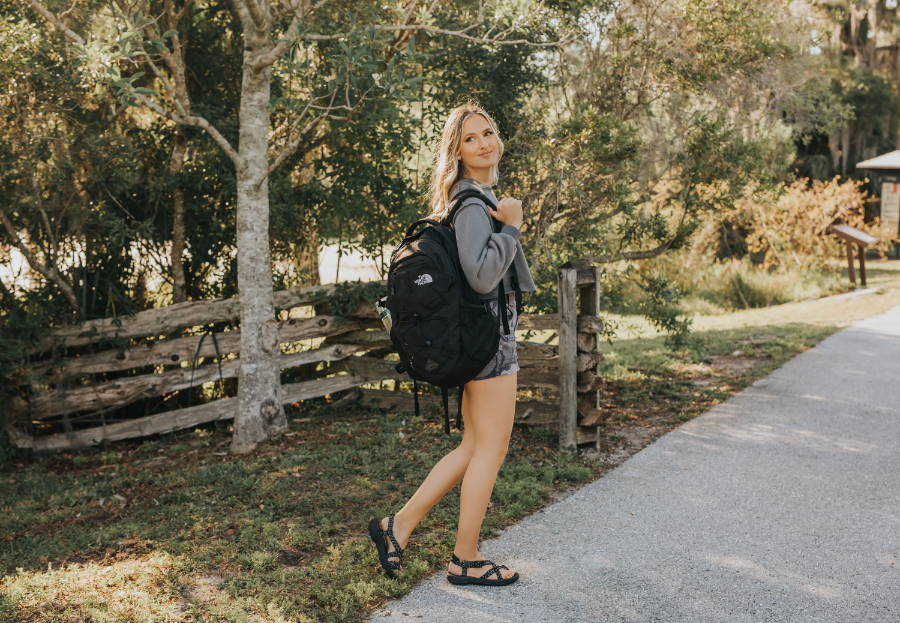 Unlike most breathable options, these sandals are also waterproof. Making them incredibly versatile. Enjoying a walk along the lake, or a spur of the moment stroll through warm summer rain? It doesn't matter. These sandals are perfect for any adventure.
The Siena Sport Sandal is Great for Walking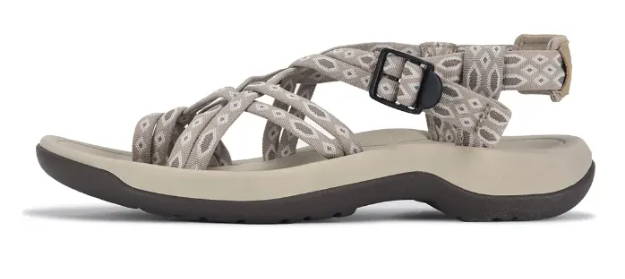 Adventures into the great outdoors and beyond are what these sandals were made for. Whether you're wearing them to the beach or on an urban trail they are a stellar choice.
Made with a strong and durable sole, the Seina Sport Sandals exceptional traction makes this pair a winner. Outfitted with structural support shanks these lessen the impact of each step. Plus, with an EVA foam midsole, you'll be guaranteed unparalleled comfort and support.
Viakix sandals are made to have fully adjustable straps all around allowing for a fully customizable fit. There's nothing worse than when your feet are slipping and sliding around in your shoes creating blisters.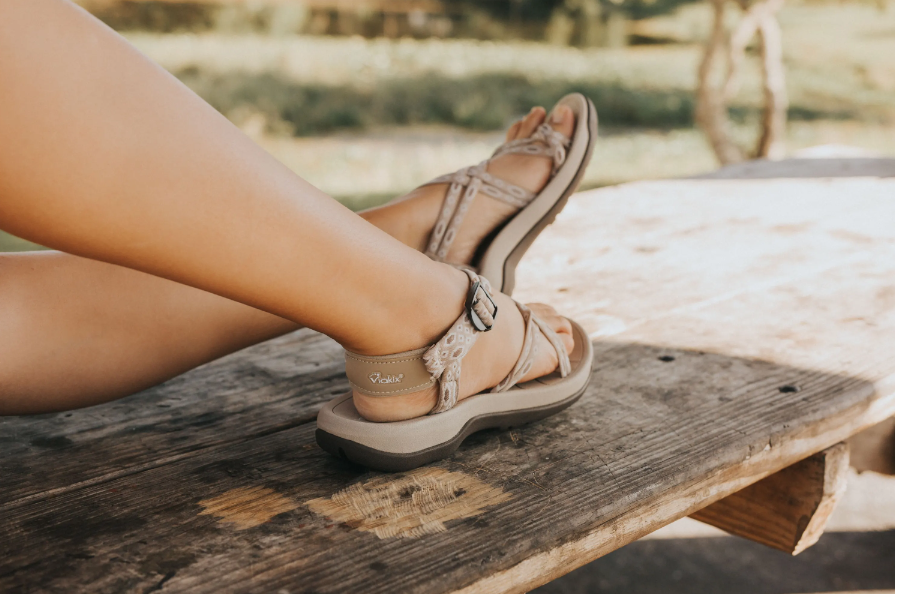 It doesn't matter much what your walk entails, these wicked versatile sandals are totally up to the challenge. And the added bonus, they are super cute! Merging style and functionality perfectly, if we do say so ourselves.
Sure they say hiking, but those same qualities also make the Nepali an outstanding choice for long haul walks. These bad boys are all about the trail and won't let you down.
These sandals are another great option that is both breathable and waterproof. Designed to be quick-drying, you don't have to be afraid to cross that stream or try to avoid that puddle.
The comfort level here cannot be understated. The soles are made with a thick layer of EVA foam to cushion your feet and keep them happy all day.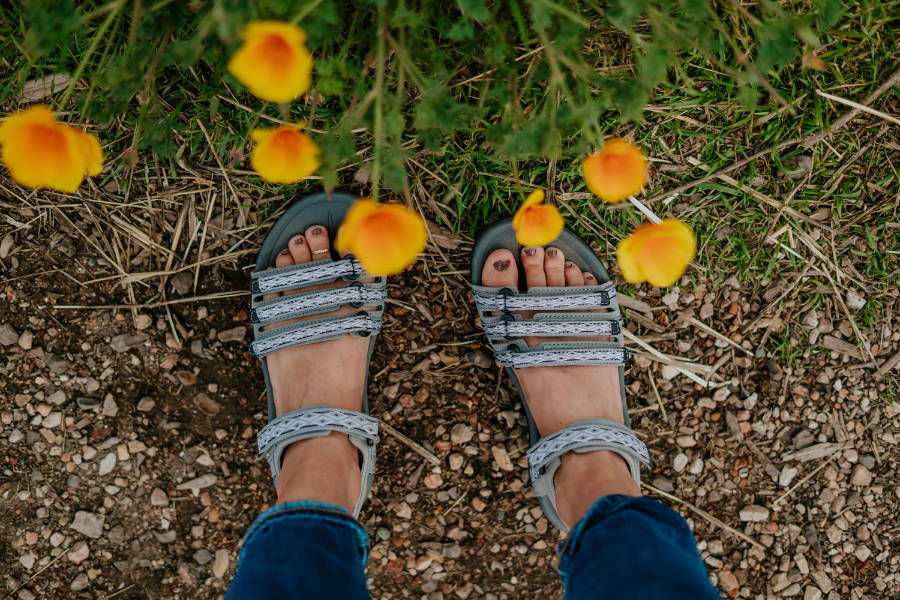 Since they're designed for dry and wet environments, the Napali have a great tread on their sturdy rubber soles that give them unparalleled traction. Throw in a support shank and you've got one incredibly well-built sandal.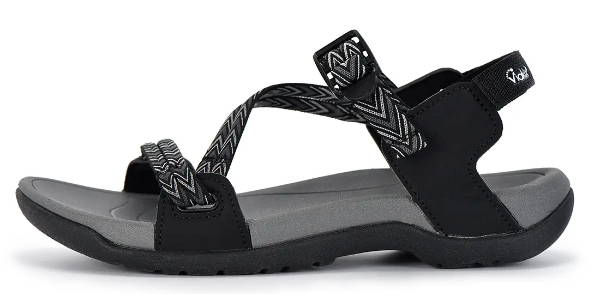 These cuties are a sure bet! With a thick and sturdy outsole, there is plenty of cushion for low impact on your joints. Plus, double-woven crisscross webbing gives you stellar stability.
A pair of Sloane sandals are ready to go anywhere you are. Suitable for an island getaway checking out the local markets or a walk and talk with your girlfriends. Hanging with friends is always better when you are comfy.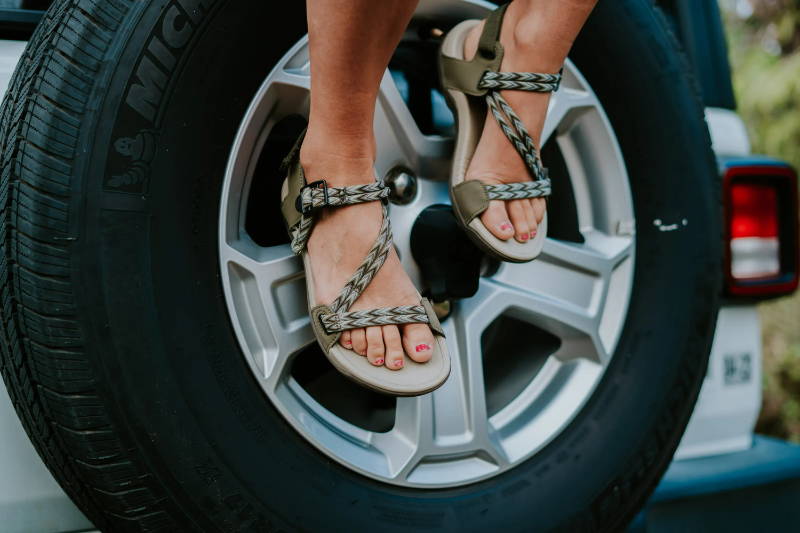 The Acadia Hiking Sandal Is A Versatile Walking Option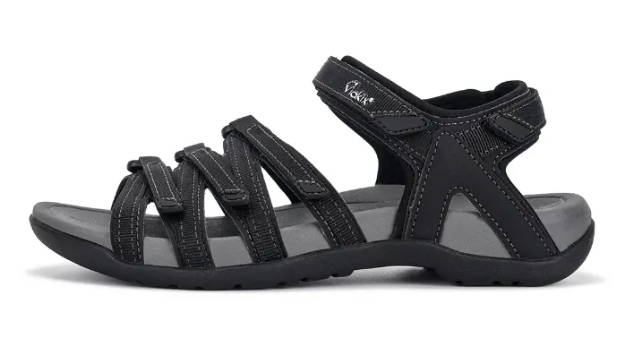 This one is versatile as all get out, delivering unparalleled performance with consistent comfort. Again, we know, they are built for hiking. But that's only an advantage to you as an avid walker.
With customizable straps for the perfect fit every time. Plus the super heavy-duty sole means you will be comfy no matter what you're off doing.
Having fantastic arch support is yet another big bonus to these sandals. As you can see, they have just the slightest heel to help with overall alignment. that puts this pair at the top of the list for pretty much every women's outdoor activities.
A hearty, long-lasting rubber sole with a built-in support shank provides all the traction and support you will need out on the walking trail. Wherever that may be. Rouge tree roots and gopher holes are no match for these tough and durable sandals.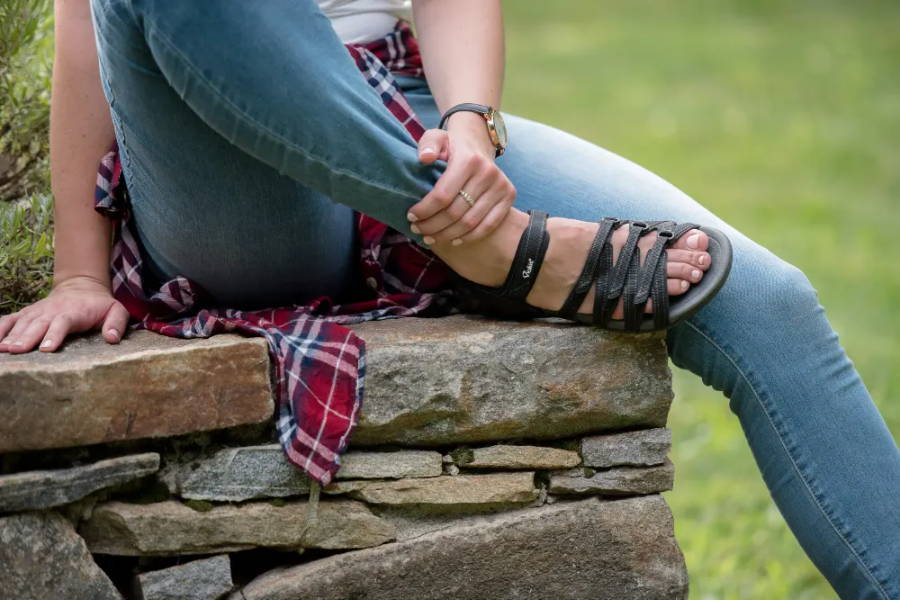 A long day on the trail can be hard on your feet, which is why comfort is a must. Not a problem for these sandals, with ergonomic EVA foam built into the sole that walks the perfect line between cushion and support.
The Cortona Sport Sandal, For High Performance Walking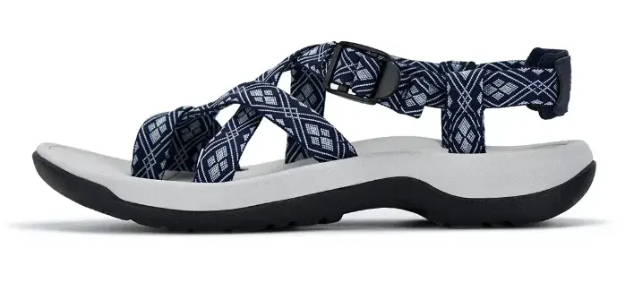 Designed with high performance in mind, while still being super cute and stylish, the Cortona sandal is a top pick all around.
You can wear these puppies on a long mountain trek or a leisurely evening stroll with the dog. Their delightful fit and feel are versatile beyond compare.
These sandals are undoubtedly made for any outdoor walking adventure you can throw at them. Shooting for an all-day trek, or an afternoon taking in the local botanical gardens, this pair of sandals are a great option.
With sturdy webbing that stretches across the front of the foot and adjusts around the ankle, these sandals promise a custom fit. The soft and stretchy strap material conforms to your feet perfectly. They have the best feature combo of cushy straps that are also customizable, providing maximum support and comfort.
Built with a high arch for tons of support, the soles of these sandals are made with a generous helping of EVA foam. This is ready to act as a thick pillow for the soles of your feet. Remember, the more cushion, the less impact, and the better it is for your joints.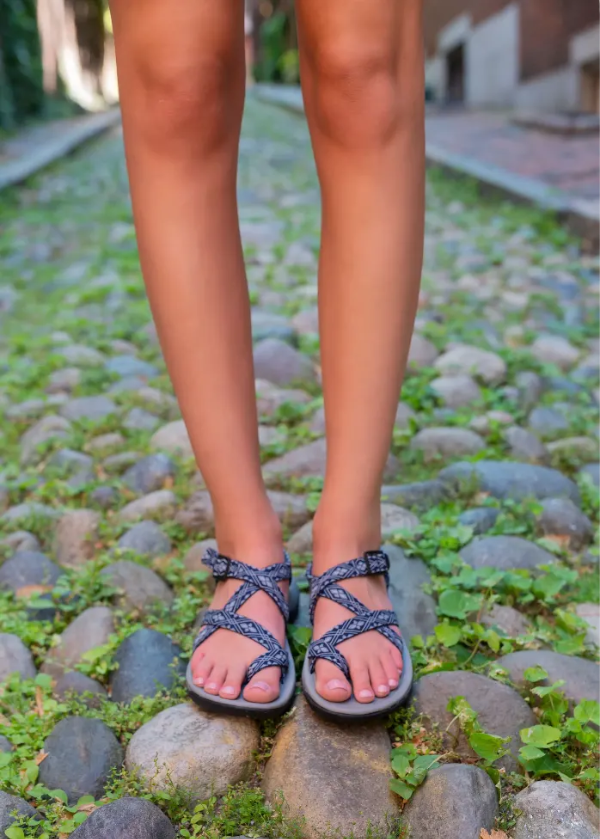 The support shank embedded in the sole works to distribute the shock of each step away from the sole of the foot. Plus, the heavy-duty rubber sole provides top-notch traction and protects from any hazards on your path that might try to penetrate the sole of the shoe.
All in all, these sandals are knocking it straight out of the park when it comes to comfort and durability. Plus they are also wicked stylish and versatile. And really, what more can you ask for?
Now on to Walking Accessories
Yay! When you open your AllTrails app to search for your next beautiful walking destination, you'll want to be ready to go!
Once you have a super comfy pair of walking sandals locked down, keep yourself out there trekking all day with a few of these accessories we recommend.
In addition to what we have listed below, it's not a terrible idea to check out some other outdoor gear when you're going to be on longer treks or far from civilization.
Water Bottles For Walking
Staying hydrated is absolutely mission-critical! You don't want to find yourself on an adventure without some water handy, especially if you plan to be out all day.
Here are some great choices.
Savvy Infusion Sport Infuser - Stay Hydrated While Walking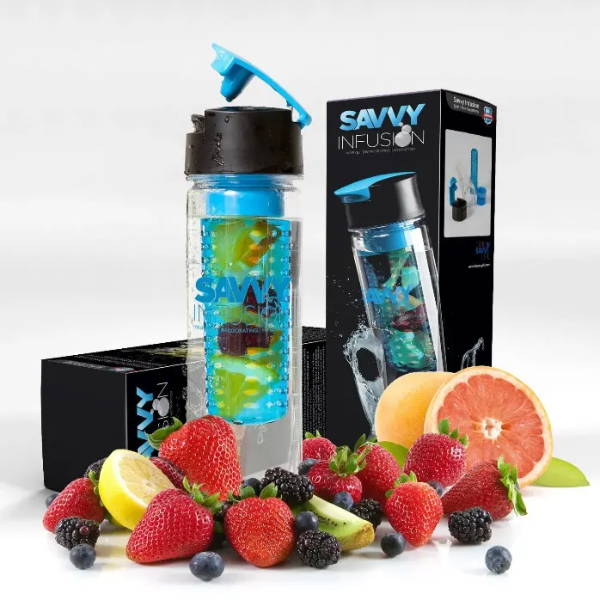 If you're like us, sometimes it's hard to drink enough water every day. The need to stay hydrated increases substantially when you're going for a long walk. Dehydration can cause muscle spasms and you certainly don't want that.
This water bottle with a built-in infuser helps jazz up boring old water. We recommend cucumber and lemon for a super refreshing drink while you're out and about enjoying some sunshine.
Hydro Flask with Straw - A Durable Walking Water Bottle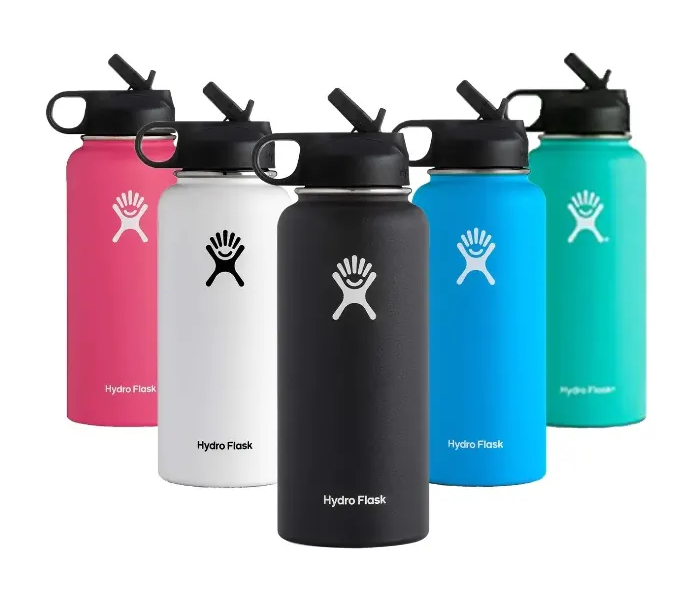 The only thing better than a Hydro Flask is a Hydro Flask with a straw. We don't care, we said it. It's just more fun to drink out of a straw. Plus it's super durable to go along with your shoes! You can drop on a rocky trail with no repercussions.
The double wall and stainless steel design make your water stay cool all day. With a Hydro Flask, you can ensure you stay hydrated with cold crisp water all day. There's nothing better after a walk.
Now this "bottle" is pretty darn cool. Designed to be lightweight and uber portable. This bottle is a great choice for those you aim to do a little more serious trekking. When you're out on the trail the last thing you want is a bulky water bottle weighing you down.
This puppy weighs in at a whole 0.15 pounds and holds twenty-three ounces. The best part? When you're done hydrating you can just fold it up and stick it in a pocket. Easy as that.
Just because you aren't climbing Everest, doesn't mean that your joints wouldn't benefit from all the support they can get. With the proper shoes and a good pair of poles, it's easy to be gentle on your body while walking on any terrain.
Leki Women's Micro Vario Carbon, For Women Who Walk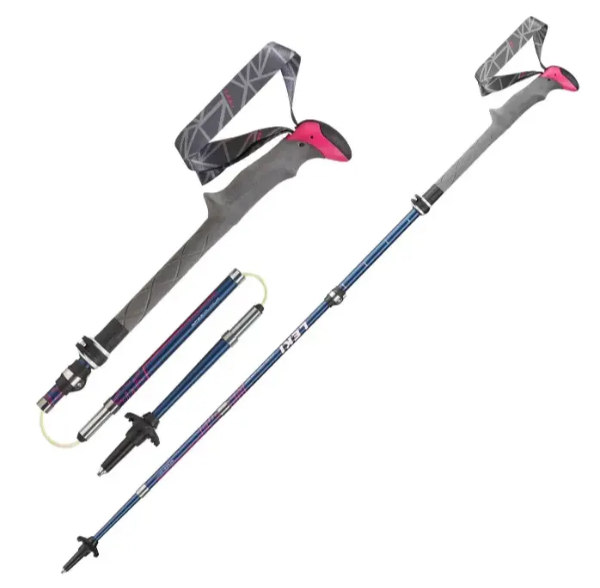 Trekking poles designed specifically for ladies are ideal because they are more lightweight and have a smaller diameter handle, for a better grip. They also come in shorter lengths.
This pair of Leki poles fit the bill. They are light, sturdy, and easily packable. They collapse down to just over a foot in length so you can tuck them away in your day bag.
All-Weather Jackets For Walks
Since you're likley the adventurous type, we don't suspect a little bad weather will keep you inside. Below are a couple of great options to tackle any season.
Rab Kinetic Plus, For All Weather Walking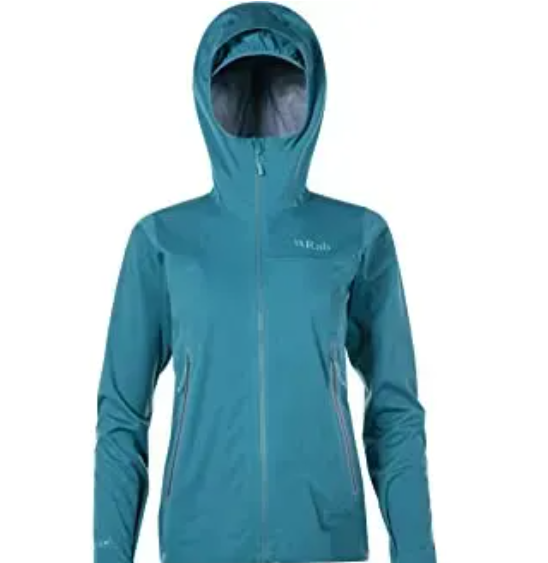 This jacket is a great all-weather option. It's designed to be incredibly lightweight, waterproof, and breathable for maximum comfort. Rab's ProFlex technology keeps it stretchy, for the perfect fit.
Plus, we love the teal color it comes in. Super cute right?
Outdoor Research Helium II, Rain and Wind Resistant Walking Jacket
The Helium II appears to be a simple rain jacket or windbreaker at first glance, but it is so much more. Featuring an adjustable hood for when it gets breezy, YKK AquaGuard Zippers to ensure all-around waterproofness and a carabiner loop, what more could you ask?
This jacket has you totally covered in any situation. Not to mention it weighs a whopping 5.5 ounces. That's 0.34 pounds. You seriously won't even notice you're wearing it. 
Patagonia Stretch Rainshadow, High Quality Walking Coat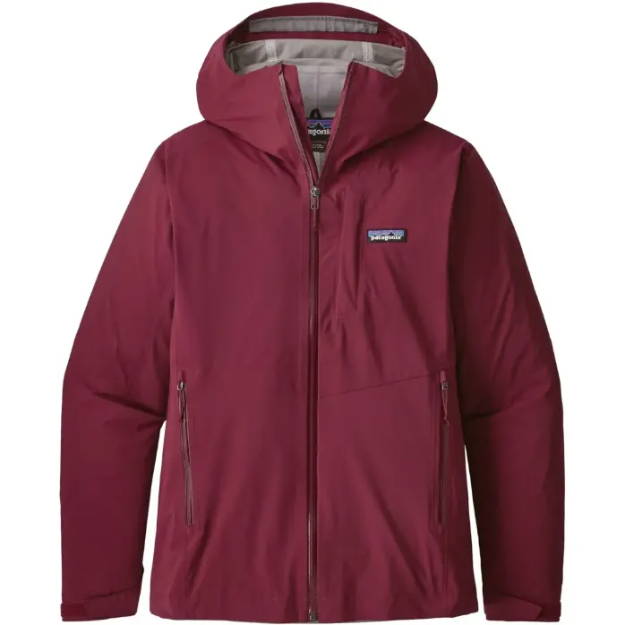 We couldn't get away with discussing outdoor accessories without mentioning Patagonia. Seriously, it's practically a crime to try. They are an industry leader in awesome outdoor gear and have come through again with this jacket.
With Patagonia's slick H2No Performance material, the Rainshadow allows you to move freely; plus it's a super breathable fabric. That material for that awesome shell, by the way, is made of part recycled nylon and part discarded fishing net. So you know we are big fans!
As if all of that didn't make it a top choice for your walks, they made it easily portable too. It folds up into its own chest pocket to make packing it a breeze. Cool right?
It's Time to Get Walking!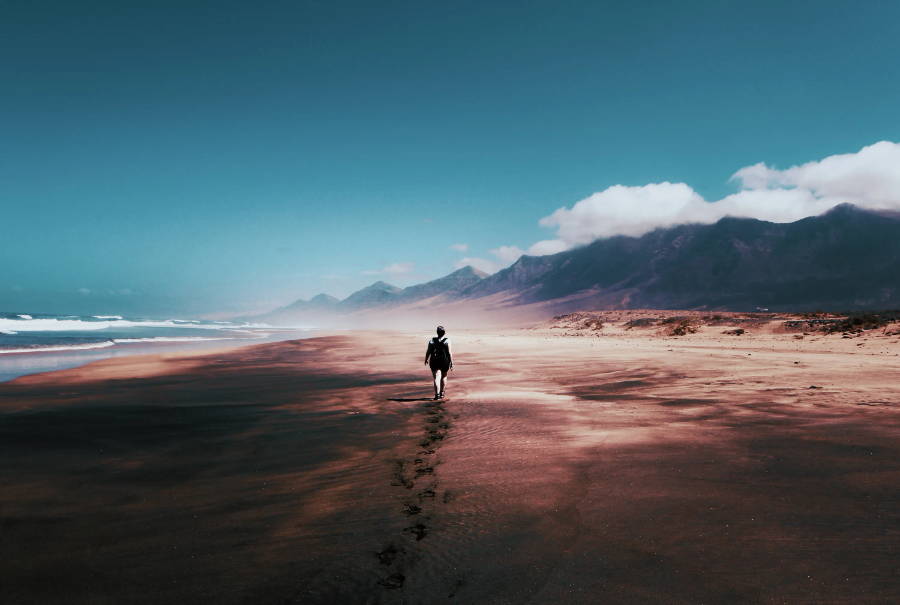 Nothing is going to stop you from enjoying some fresh air on a walk. You can be strolling through the forest or out with your walking group enjoying the neighborhood. In any case, you'll need the right shoes and accessories.
When it comes to shoes, remember to pick a pair that allows your foot to move naturally and helps keep you aligned. This will aid in preventing injuries down the road. Along those same lines, aim for a pair with a decent amount of foam padding. You want it cushioned, but firm, to provide the best support and shock absorption.
Staying hydrated is a must for countless reasons. Make sure you have a water bottle with you that you'll be able to carry along.
Throwing a pair of trekking sticks in the mix can be hugely beneficial as well. They provide effective support and stability while walking. Why not be nice to your joints in every way possible?
And last but certainly not least, have a durable, all-weather jacket handy. You never know when winds will pick up or it might start to drizzle. You don't want to let pesky weather stop you from getting some quality outdoor time.
With the combination of great gear and comfy shoes, you can get to counting those steps just about anywhere.
Collection 2019
Sale 70% Off
Title for image