Why You Must Ditch Your Hiking Boots!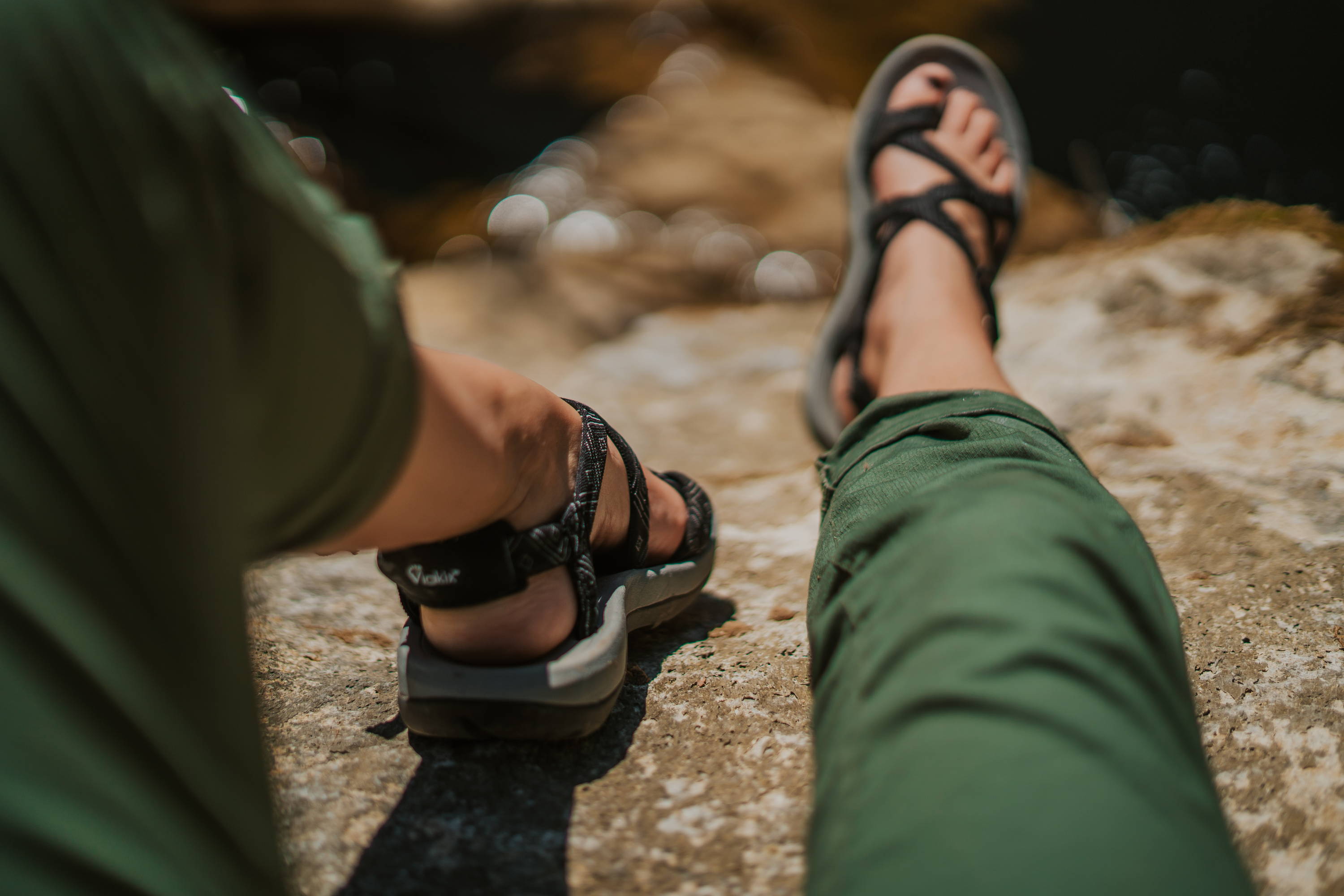 Why You Must Ditch Your Hiking Boots
When you think of hiking, do you think about trekking across valleys and climbing mountains? How about doing all of that after ditching your hiking boots? This may seem like a ludicrous idea but in reality, ditching your boots could be that liberating experience you've been missing. Read on to find out why your hiking boots may be holding you back.
The weight of hiking boots can be too much
When hiking and walking mile after mile, you will use a lot of energy. The more weight you are carrying – whether on your back or on your feet – the more energy you will consume. Its simple laws of thermodynamics at play (ok maybe not that simple!). Hiking boots weigh on average 2.5 lbs (or 1.1 kg for our international readers), which is a lot of weight for your feet to carry, especially on long journeys. That extra weight will consume extra energy, which means you will tire more quickly on your hike. Opting instead for hiking sandals will cut your overall footwear weight by 60% or more. Our Viakix athletic hiking sandals are sturdy yet lightweight, weighing in at a mere 1 pound. That's a big load off you're your feet, which can give you that extra giddy-up in your step.  
They can be uncomfortable
Hiking boots are sturdy but they also do not flex with your feet. Rigid hiking boots often require long periods to break in, especially around the heal and toe areas. Rigid material against your soft giggies creates an uncomfortable, stiff walk.
In addition, most hiking boots are manufactured without proper ventilation. The lack of air flow, and the resulting warm environment, will cause the perfect storm for blister formation. We all know just how painful blisters can be, and getting a blister on a long hike could mean hours of suffering. Who wants to be walking in pain, right at the time you are looking to enjoy nature?  
Walking sandals, on the other hand, have less materials and are far more flexible then their footwear cousins. Properly designed sandals, like our Viakix outdoor sandals, provides the support you need on your trek. So, sandals may be just what you need for a blister-free hike!
They make your feet sweaty (yuck!)
Hiking boots often provide insufficient ventilation for your feet when walking. It's kind of like going for a run with a winter jacket on. The result? Sweaty, soaking feet! Each foot can produce upwards of 6 ounces of sweat on a hike! If you are wearing heavy, poorly ventilated boots, the amount of sweat can be much higher. And we know what happens when your feet sweat – not only do you become prone to blisters (see above), your boots start to smell like your old high school locker room. Could this be why your friends are hiking 10 feet in front of you?
Athletic sandals, by their very open nature, have excellent ventilation and allow your feet to breath. Of course your feet will still sweat, but this sweat will also have the chance to evaporate, leaving you with a much drier and healthier foot environment.
Hiking boots are expensive and require effort
Hiking boots are not particularly cheap to purchase. A good pair of hiking boots can set you back over a $100, and it's not uncommon to spend $200 or more for some brands. To protect your investment, hiking boots should be properly maintained to prolong their lifespan. Otherwise, you may only be getting a few seasons out of your boots.
A light and cheaper alternative to consider are outdoor sandals. If you opt to purchase a pair of Viakix outdoor sandals, you will benefit from a great range of mmovement, sweat-free feet, and comfort. Plus, our Viakix sandals were designed with fashion in mind – we want you to look good on your hikes! So, ditching your hiking boots could be one of the best decisions you make this hiking season.
Collection 2019
Sale 70% Off
Title for image