Womens Sandals for Thailand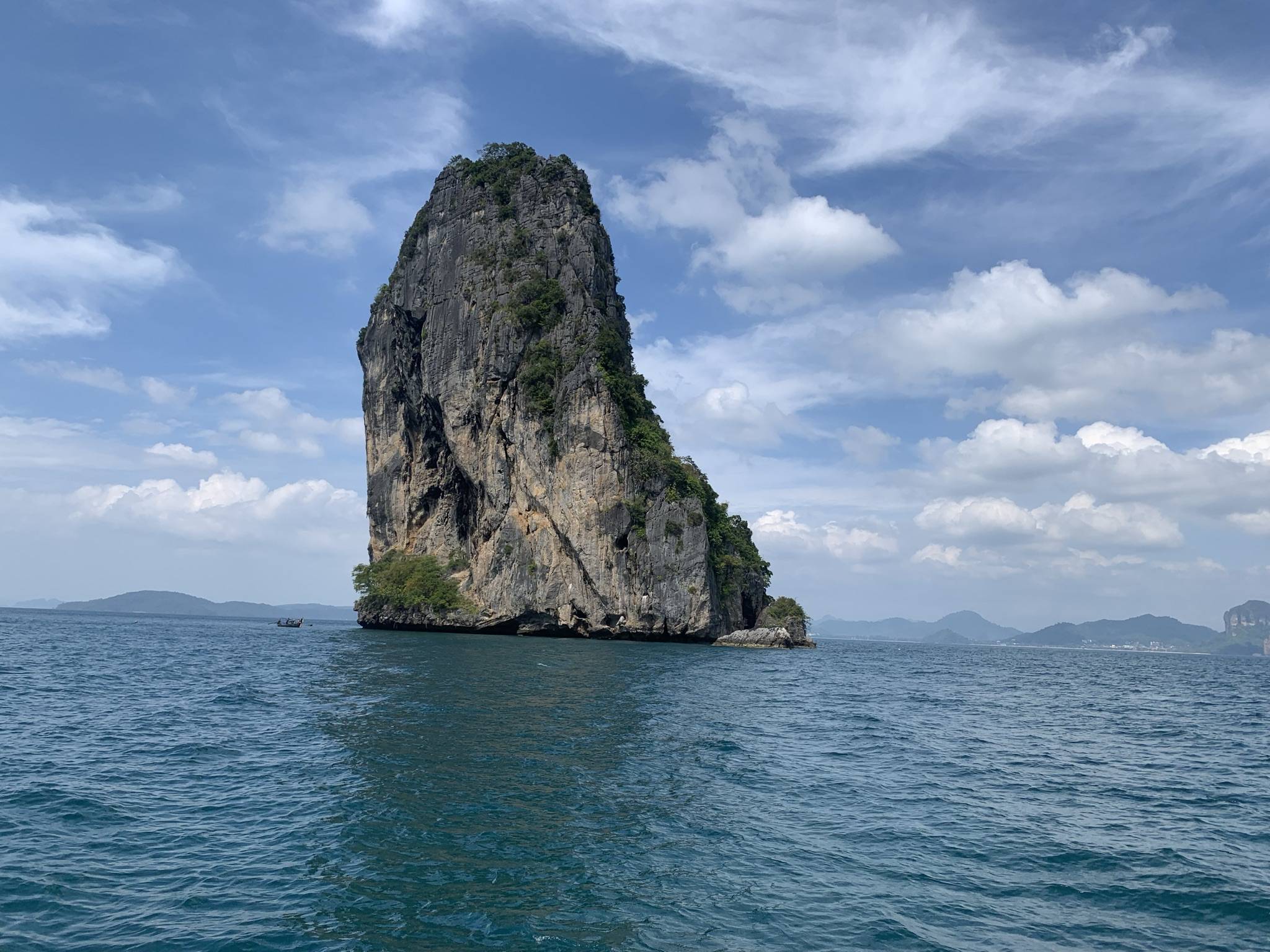 Our Top Sandals for Your Trip to Thailand
Authored by Monica Gray
Thailand, also known as the land of smiles, is a country in Southeast Asia that entices visitors from around the world to its bustling cities and pristine beaches. As a backpacker in Thailand, you'll have the chance to visit these well-known cities, indulge in mouthwatering curries, and swim in lazuline blue water. Bangkok, the capital of Thailand, is a vibrant city with delectable food, colorful temples, and chaotic nightlife. In the north, the laid-back, historic city of Chiang Mai starkly contrasts Bangkok's energetic streets.
Bottle Beach on Koh Phangan, Thailand
Chiang Mai boasts an Old City with moats and crumbling walls dating back centuries, and its atmosphere feels welcoming and hospitable. In the south of the country, islands like Koh Phangan and Koh Tao are home to some of the best beaches in Asia. This is where you can scuba dive, snorkel along colorful coral reefs, and spot fish like barracuda, batfish, and eels. If you love rock climbing, Krabi has some of the best rock climbing in the world, where you can scale towering limestone cliffs flanking the ocean.  
Traveling around Thailand is comfortable and easy. There are overnight trains from the major cities, and flights between highly visited destinations run frequently. One of the best parts about traveling in Thailand, though, is the chance to meet other like-minded travelers who are also on a mission for adventure.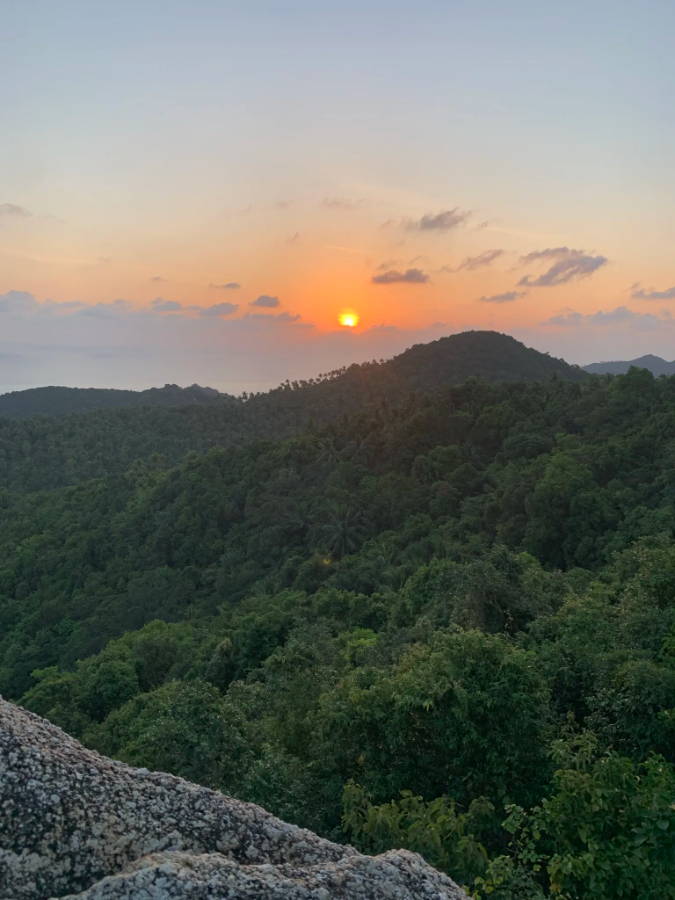 sunset on Koh Phangan, Thailand
These adventures include swimming and bathing with elephants in the elephant sanctuary in northern Thailand, visiting ancient archaeological sites with ruins of monasteries and statues, or trekking through the jungle to incredible viewpoints of the beaches of Thailand. Not only that, but Thailand is an affordable country. You'll get meals for one dollar, and accommodation will only set you back about twenty bucks. If you're on a tight budget, then this is the country for you! You'll get so much bang for your buck, and you can use those extra dollars saved to invest in a great pair of walking sandals.
Top Women's Sandals for Thailand
Long walks need comfortable flip-flops, especially when those long walks are in cities, on beaches, or in mountain towns. Given you're adventuring through Thailand, you'll likely find yourself on all three landscapes, so you'll need a good pair of sandals that are malleable and adjustable. These are preferable to sneakers since sneakers can get dirty very quickly. You'll need comfortable sandals for tropical weather, cooler weather in the mountains, and rain. It's always better to be prepared! Your feet will thank you after you spend an entire day walking around Bangkok or going swimming in the ocean. Luckily, these sandals are easy to wash, easy to pack, and easy to carry in your bag.
The good news is that you don't need to invest in multiple pairs of shoes. These sandals are good for any terrain, whether on land or in the ocean. Not only will these sporty sandals protect those precious feet of yours, but you'll walk around a foreign country in style. It's a relief knowing your feet won't suffer any injuries with these walking sandals. That's one less thing to worry about during your travels to Thailand. That means there's more room for fun and enjoyment during your adventures globetrotting around Asia.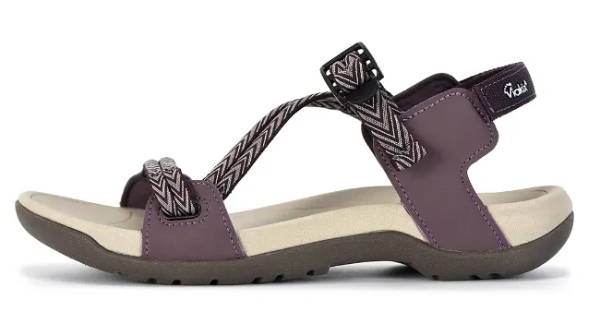 Visiting Thailand is the adventure of a lifetime! The best active sandals to wear in such an adventurous country are the Sloane Outdoor Sandals. Whether you're trekking through the mountains of northern Thailand or visiting a waterfall in southern Thailand, these women's sandals are the best for the most daring travelers of the bunch. The adjustable straps ensure a customized fit every time you put them on. You can adjust the sandal depending on the activity you're doing.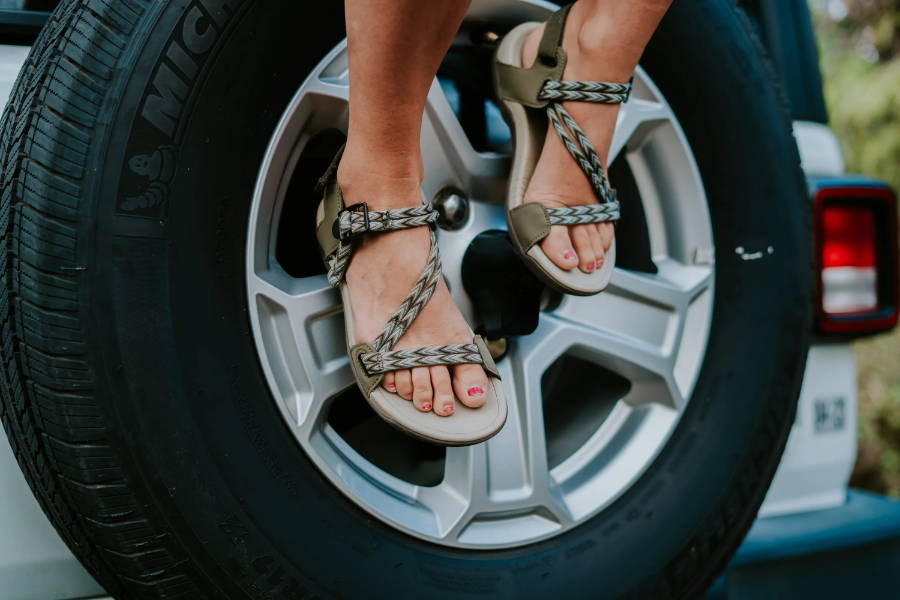 If you're wading through the ocean, you may want to loosen the strap. But if you're climbing up boulders and towards a viewpoint, then you may want to tighten the straps. When you're taking long walks through the jungle surrounded by coconut palms, you'll want a sandal that lets your feet breathe and provides substantial arch support. These sandals will do just that. This is due to the stretchy, soft textile webbing that provides a satisfying fit you'll want on your Thailand expeditions.
Kiawah Orthotic Flip-Flop Sandals for Women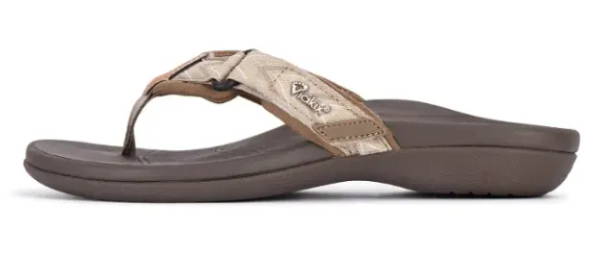 With a thick cushion to absorb shocks and an arch stabilizer to support your arches, the Kiawah Orthotic Sandals are ideal for a trip to Thailand. These women's walking sandals are adaptable to any terrain, and especially adaptable if you're prone to foot injuries. Because there's more cushion in these sandals than is typical of other footwear, you'll walk with more kick in your step. The deep heel cup absorbs any added pressure and helps align your feet naturally.
If you've been struggling to find a comfortable sandal because you suffer from plantar fasciitis, supinate, orthopedic heel, foot pain, or high arches, these arch support sandals are the best ones of the bunch. Once you try these sandals out, you'll never look back. These will be your go-to orthotics sandals. No one wants to worry about injuries when they're traveling abroad. Vacation translates to being stress-free, and this is exactly what these sandals provide.
The Samara Walking Sandal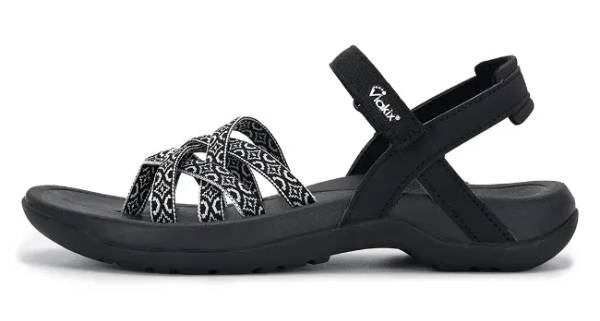 Looking cute in Thailand is just as important as wearing supportive sandals. This is where the Samara Walking Sandal comes in. Not only are these outdoor sandals cute, but they'll take you anywhere, and that means across the lands of a foreign country like Thailand. Whether you're on an adventure to a waterfall nestled deep in the jungle or walking in the ocean, these are a great pick.
These sandals have excellent traction for those of you with a more adventurous spirit. They also have a shank stabilizer, which protects your feet from the inevitable soreness you'll get from walking and exploring the many different landscapes of Thailand. If you have medium or narrow-width feet, these shoes are for you. They'll fit snuggly around your foot for the best support out there, which is great news for those of you who struggle to find a sandal that fits your feet comfortably. These are both functional and fashionable, so you're getting two for one with these active sandals.
The Cortona Sports Sandals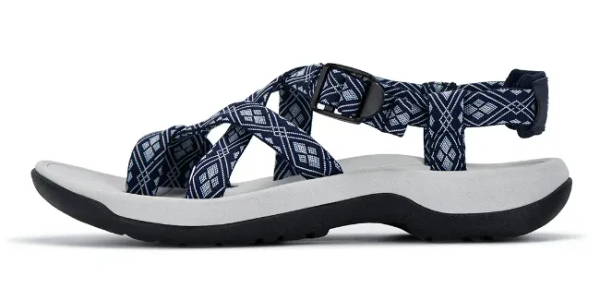 As one of our most comfortable sandals, the Cortona Sports Sandals treat your feet as they deserve to be treated. They pamper, cradle, support, and cushion your foot with every step. Talk about amazing treatment! Why not take your feet on a vacation, too? The soft stretchable straps will hug your feet and give you that feeling of familiarity and the EVA foam midsole provides substantial arch support.
Traveling to another country can be nerve-wracking. But with these sandals supporting your feet on those long walks, you don't have to feel as nervous. Better yet, the strap around the ankle is customizable to your personal needs. You can adjust it as you feel necessary. They're cute and fashionable, so you can be both stylish and comfortable during your travels through Thailand. You don't have to sacrifice one thing for the other, you can have both.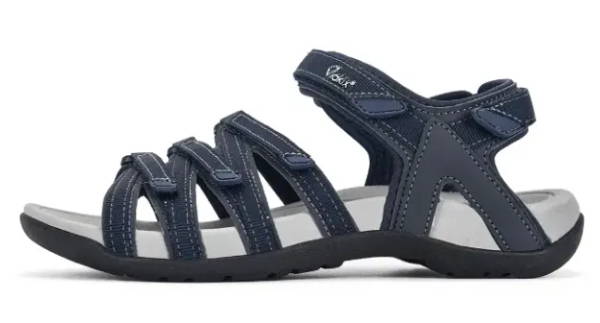 With these outdoor sandals, you'll always have a best friend with you on your next outdoor escape. If you thought you had to sacrifice style for comfort, think again. This sandal has five hook and loop straps that ensure a customizable fit every time you put them on. The ergonomic outsole provides arch support for those long walks you'll inevitably go on while you're traveling.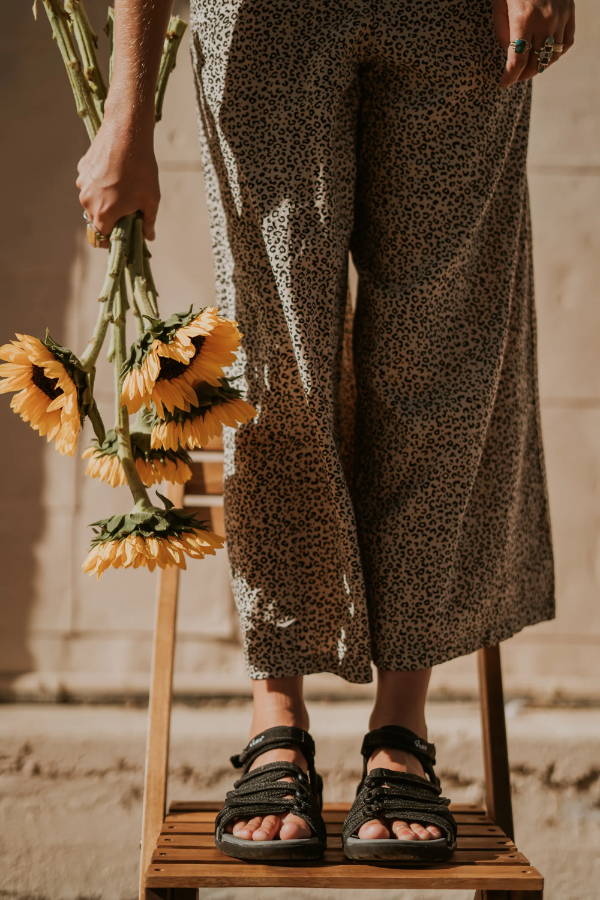 No more needing to worry if your ankle will have the support it needs. These sandals have an adjustable ankle strap that will help prevent you from accidentally rolling your ankle. Injuries abroad can ruin a trip, so it's better to be safe than sorry. In northern Thailand, you'll likely embark on long treks through the mountains, and these are the perfect sandal to wear on those long hikes. They're the best travel companion for any escapade you embark on since they're durable, snug, and will protect your feet.
Our Viakix sandals are an ideal addition to your trip to Thailand. No matter what activity you're embarking on, you'll have exactly the kind of support you need. And for those of you with foot problems, like high arches or supinate, these sandals are the exact solution you may have been looking for all your life. Basically, we have the answers to all your foot problems.
Every single one of these women's sandals gives you one less thing to worry about and one more thing to get excited about. To top it all off, one of the best parts about these sandals is that you can wear them on an adventure, and then wear them out to a bar. All of them are cute enough to double as adventure shoes and party shoes, so you don't have to worry about bringing a second pair of sandals. Packing less is more, which means there's more space in your bag for souvenirs and all those cute clothes you'll want to buy on your trip to Thailand. Whether you're wearing these sandals on a city adventure or wearing them to explore lesser-traveled areas of Thailand, these sandals are the ultimate travel companion.
Sunrise at Bottle Beach viewpoint, Koh Phangan, Thailand
Collection 2019
Sale 70% Off
Title for image