Women's Water Sandals: Our Top Picks!
We independently research, review, and recommend shoes we know you'll love. We want you to find the absolute best pair – whether that's one of our shoes or a pair from another brand. Unlike other websites, if you buy a pair of shoes from another brand, we do not earn a commission. Happy Shopping!
A Practical Guide to Finding the Best Water Sandals

When it's time to stow away the winter boots and bring out the spring and summer sandals, you want to be prepared. Imagine your closet. You look at your shoe collection and see you've got your flip flops, wedges, strappy sandals, and even those complicated lace-up gladiator sandals that you splurged on last year.
But you're not sure any of those options will cut it for those future days at the beach and that lake trip with your girlfriends toward the end of the summer—and you don't want any of those beloved shoes to get wet as they could get damaged or ruined. Even more important is that they could become slippery and cause you to lose balance or fall.
What you need, then, is a great new pair of water sandals. In this guide, we'll go over everything you need to know about water sandals, including necessary components and some of the best models out there today!
Keep reading to find out which sandals are perfect for you this year!
A Quick Look At The Sandals We Reviewed

| | |
| --- | --- |
| Sandals | Types |
| | |
| | |
| | Sandal for the Boat or the Beach |
| Merrell's Hydrotrekker Water Sandal | |
| ATIKA Outdoor Water Sports Sandal | |
| | Comfortable Fit For Your Aquatic Adventures |
| | |
| | |
| Dr. Scholl's Cancun Fishermen Sandal | |
| Teva Original Universal Sandal | |
| | |
| Teva Women's W Voya Infinity Flip-Flop | Lightweight Water-Friendly Design |
| | Water Sandal With Support |
| | |
| CIOR Women's Sport Sandal | |
| | Stylish and Water Friendly |
What Makes a Great Water Sandal for Women?

Let's start by asking ourselves a simple question: what exactly makes a great water sandal? As you'll find out, the best water sandals come with a great number of features, including traction, arch support, comfort, durability, and style. Let's take a look at each of these in turn: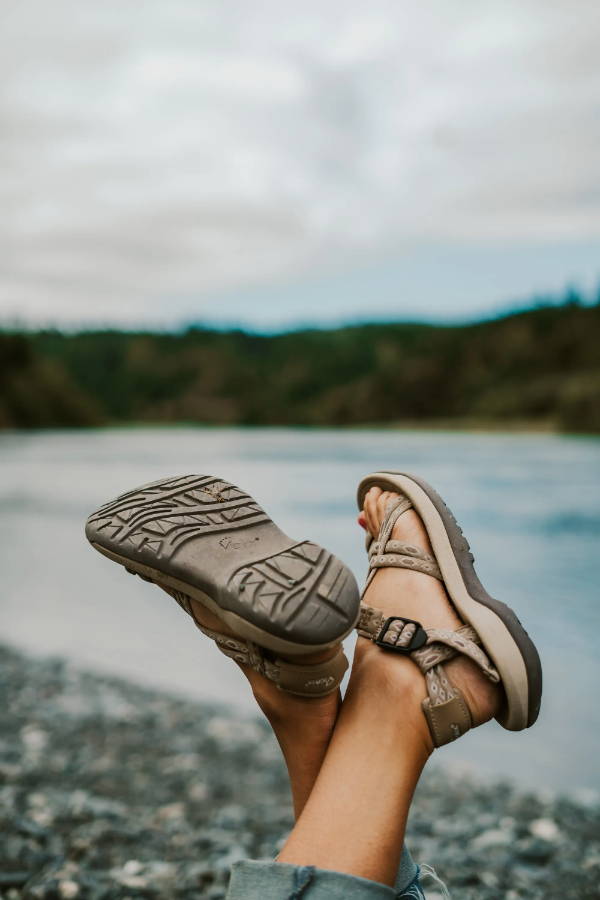 Women's Water Sandals with Traction for Wet Terrain

We believe that the first and most important consideration is great traction. As the name implies, water shoes are meant to be worn in wet and slippery areas. This means you'll want an option with deep lugs on the outsoles to give you that extra safeguard from falling.
As an extra tip, we suggest that you ensure there are no trips or falls, it's recommended to never wear water shoes with slippery or worn-down soles, smooth leather or plastic soles, or synthetic soles.
Supportive Women's Water Sandals with Arch Support

The best water sandals for women also come with arch support. According to Gordon J. Hendry et al., foot pain is one of the most common complaints that leads to podiatrist visits. This is why arch supports in your shoes are so important. The built-in arch support in your shoes provides extra cushion and weight-bearing support for the arches of the feet for a safer and more comfortable walking experience. This experience typically comes in the form of EVA or PU midsoles that absorb shocks and support the foot's natural arches.
Comfortable Women's Water Sandals

The best water sandals allow for the ability to adjust for foot security and comfort. Simply put, you want a shoe that can accommodate your foot size and your weight, so going for an adjustable option is always best. This is especially true when considering that adjustability also correlates with safety (as a shoe that fits better, walks better).
We think that the most important part of comfort also comes in the form of quick removal and quick-drying capabilities. You'll want both of these if you are planning on hiking or trekking anywhere that's substantially wet. Sandal straps are also really important as this can keep the shoe firmly attached to the foot whereas a non-secure shoe (like a more traditional-looking thong flip flop) could lead to injuries, especially if they're non-slip.
A good strap system can sometimes pale in comparison for buyers when debating the value of other technical options such as heel drop, depth, and material. However, having straps in place will ensure you have the proper fit at all times—including when your sandals get wet.
Stylish Women's Water Sandals

We have chosen the best water sandals for women that also come in a style you won't be ashamed of. Let's face it: many of the traditional items on the market just don't cut it when it comes to fashion. Fortunately, there are a variety of options out there that won't just make you feel better—they'll make you look better, too. Keep reading to see the top stylish water sandals out there today!
Benefits of Water Sandals

Everyone knows that annoying squeaky and squishy feeling you get when water gets trapped under a regular footbed and just won't dry. It can be a huge pet peeve and one of those small annoyances that can ruin your day.
If you like a low-maintenance look, appreciate functionality over style and like to pack light, then you're probably on the lookout for an all-around functional sandal that can get wet, won't slip, and will still look stylish for any events you have after the activity is over.
We also took other important characteristics in mind when selecting a water sandal including the following features: adjustability, stability, roomy enough, max 1-inch heel, and motion control.
One of the most amazing things about water sandals is their versatility. They are the perfect footwear solution for a wide variety of situations and activities.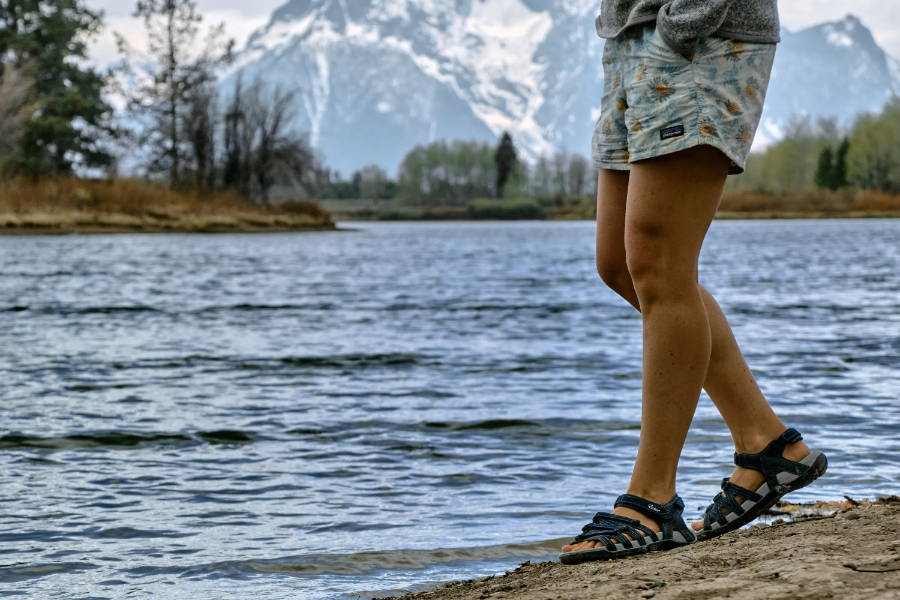 Water Sandals Make Perfect Beach Day Footwear

Water sandals are the perfect footwear choice for a day at the beach. You're probably looking for a sandal that is easy to put on and take off so you can go barefoot in the sand. You also know that the sandal might get wet and want it to dry quickly so you're not stuck with a sandy foot for the rest of the day.
But you know that your normal flip-flops are flimsy and won't give you enough support for comfort throughout the day. In fact, it's not even worth trying because you already know where it's going to end up.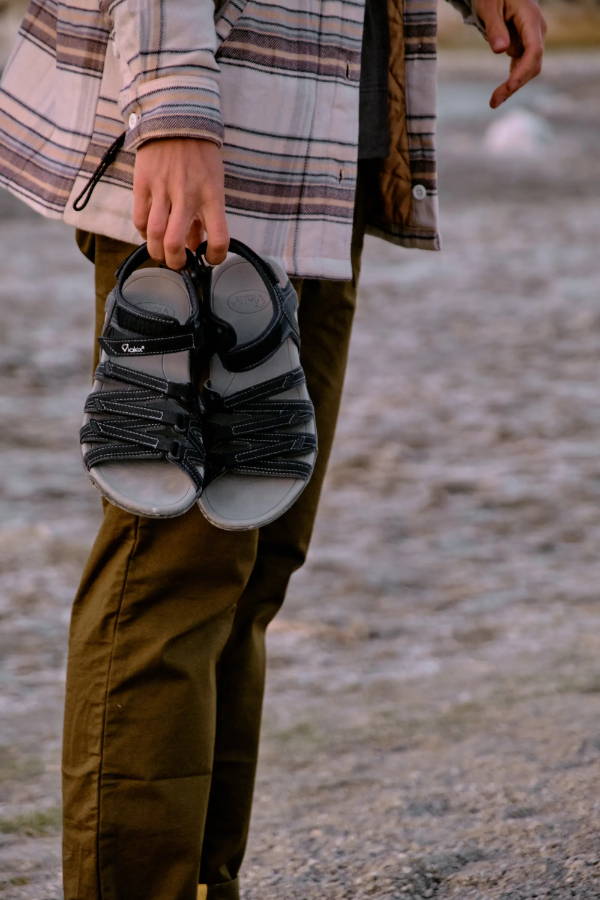 We've all had that experience when expecting to step into soft, squishy sand and instead encountering what feels like the heat of a thousand suns. You end up hobbling left and right, pretending that the sand is lava until you reach the water and finally get to dip your toes in and cool off.
On a typical summer day, you can probably expect to see beach bums lathering up in sunscreen. But very few of us do this correctly—whether you're using lotion or spray, we've been burned one too many times by both.
Your feet are one of the main body parts to get sunburnt. This is because they're an ample flat surface area for the sun to hit and most people neglect to rub sunscreen in and around their toes or the sides of their feet. Wearing sandals, as well as being diligent about your sunscreen application, can help combat sunburn and protect your feet from hot surfaces.
Water Sandals are Great for Hiking

Many of us are under the terrible misconception that the only footwear appropriate for hiking is a good pair of boots. But during the warm-weather season, it's so much more pleasant to hike in a supportive, quick-drying sandal.
This is because a close-toed shoe is very hard to keep water out of, even if they claim to be "waterproof." During your hike, you might encounter wet grass, a body of water that you'll have to cross, or possibly a spring or summer rainstorm.
That's why we believe it's important to wear a water shoe with built-in ventilation—a sandal! While wading through situations like this, it's easy for water to enter at the top where you insert your foot.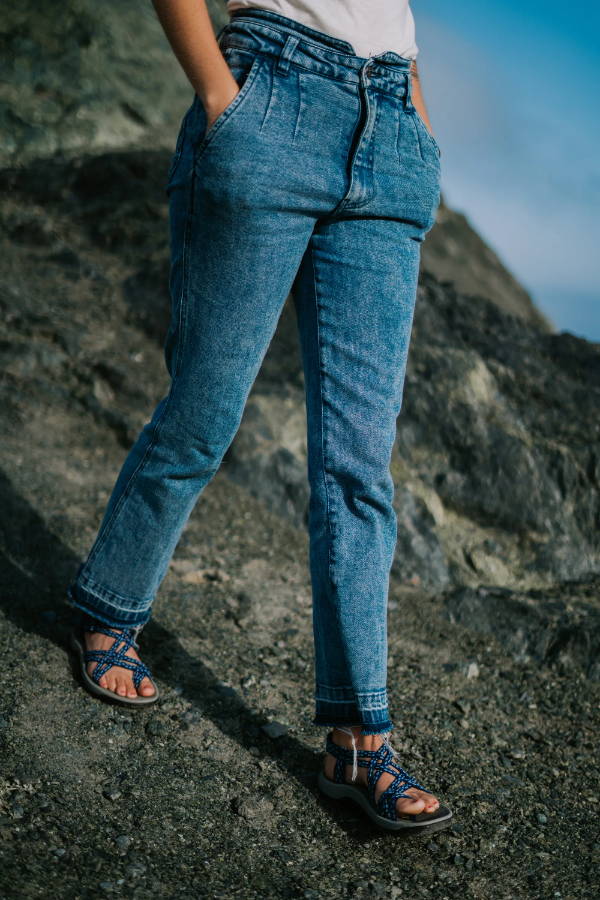 The only real solution to keep water out is to wear long pants and tuck them in, but that tends to be an uncomfortable option for warmer temperatures.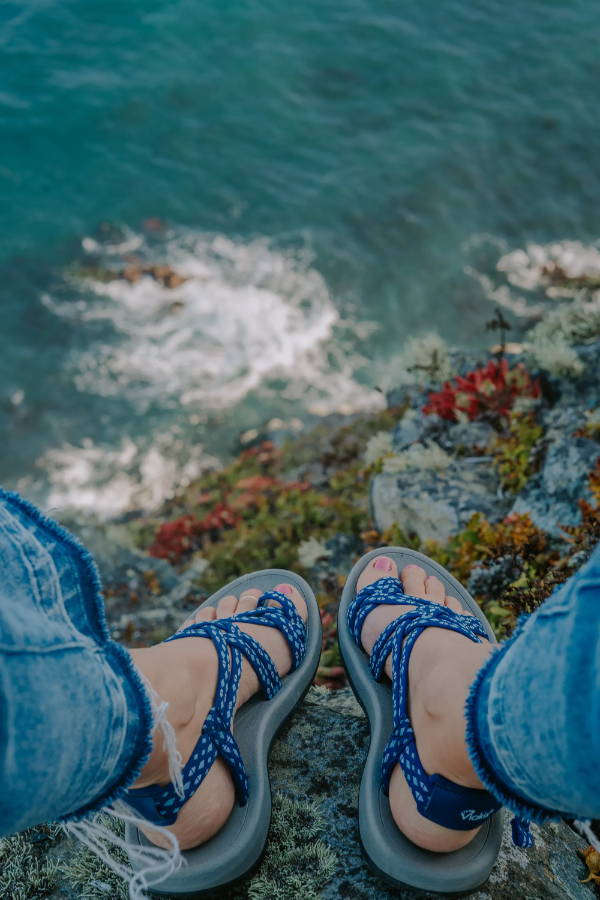 Water Sandals Are The Ideal Shower Shoe

This isn't exactly a warm-weather activity, but if you belong to a gym or visit a campground, you're probably familiar with a communal shower situation. And if you are familiar, you know that it's not necessarily the smartest idea to go into it bare-footed.
But you certainly don't want to wear your shoes. This is because warm and moist environments are a breeding ground for dangerous bacteria that could lead to athlete's foot. To prevent this, wear shower sandals so the water can drain, make sure you're drying well in between your toes, and don't put socks on until your feet are completely dry.
Maybe you've even lived in a dorm during your college days and known the slimline you've toed wearing slippery flip-flops. It's much safer to have a sturdy and quick-drying pair that will stay clean and reliable to pack in your gym bag or your weekend bag for a trip.
Supportive Water Shoes Are Great for Canoeing or Kayaking

So you're going out on the river! Canoeing or kayaking are sure to get your feet wet. It's easy for your small boat to take on water, and you'll most likely have to wade in a foot or two when entering or exiting the canoe at the dock.
You might need to carry your kayak or canoe from your car to the water. Also, you never know what hazards are lurking on the bottom of the shallow water. Launching your boat in bare feet leaves you vulnerable to stepping on sharp litter or twig. And you certainly don't want to wade in your tennis shoes or hiking boots. For this reason, a pair of water shoes is the ideal solution that will keep your feet safe and dry.
Pack Water Sandals for The Perfect Travel Footwear

You're headed on vacation! We know—even the thought of it makes you want to celebrate. If you're going somewhere wet, you're probably looking for a pair of shoes that can do it all. The ones you can throw in your backpack and go from activity to activity in comfort and style while still being able to sport them to dinner later at night.
You might think that no water shoe could fit the bill. You'd be wrong. There are plenty of options on this list with the perfect balance of function and style.
Are we out of the woods yet? If you're headed on a camping trip, you'll want a sandal that will keep your feet cool and protected from debris. It's important to have a water-friendly sandal to wick your foot from sweat and keep your feet dry when crossing creeks or streams. You still want to wear them during a bonfire while roasting mallows or during an epic card game on the cabin porch with the family or friends.
Boating and Cruising Water Shoes

Headed on a simple three-hour boat tour? (We all know that turned out to be a little longer.) Boating can be fun but somewhat brutal—you need sandals that have grip so you can navigate around the boat while it's out on the friendly seas.
Plus, you're essentially out in the middle of a sea with little to no protection from the sun. If you're fishing or doing a combination of swimming off the boat, there most likely will be encounters with water or a bit of water on board.
Maybe you're planning on doing backflips off the end but still want your shoes to stay with you—your strap system is super important here. Okay, who are we kidding, you're totally doing a cannonball! Our best advice besides water-friendly shoes? Don't forget the sunscreen.
Our Methodology for Choosing the Best Hiking Sandals
For this guide, we reviewed the universe of hiking sandals and narrow our choice down to the best of the best. To come up with it, we've used a standard methodology, which entailed giving each pair of outdoor sandals an accurate rating, based upon 5 different criteria:
How well the sandals fit and feel. Do they have good arch support and padding?
How much traction do the athletic sandals provide? Does the sole provide enough traction in different kinds of environments?
Can the sandal adjust to accommodate feet of different shapes and sizes?
Whether the sandal can be worn in many different locations and environments
How stylish/attractive the sandals are.
From these 5 factors, we obtained an overall score out of 100 for each pair of hiking sandals. We also associated each hiking sandal with a category, to help you understand how they are intended to be used. Categories include the most comfortable walking shoes, the best walking shoes for travel, the most stylish walking shoes, and so on.
So, without further ado, let's check out which hiking sandals reached the top of our list!
Summing It All Up - Finding the Best Women's Water Shoe for You

Choosing the right water-friendly sandal could make this the summer to remember! We believe that the right pair gives you the ability to tackle whatever outdoor adventure you have planned, whether it's kayaking with your friends or trekking unknown terrain with your loved ones.
More importantly, a quality pair of water sandals will provide you with the necessary arch support, comfort, and durability to maintain your foot health and get the most out of your next vacation.
What does this mean for you? Simply put, it means that it's time to use this guide as your ultimate reference for finding the right water sandals for you. In this piece, we went over some of the best insider tips and discussed the best models out there today.
So what are you waiting for? It's time to find your pair of water shoes and have that adventure you've been dreaming of!
Love what you see here? Please click your favorite social media button below to help share our guide!
Reviews (1 comment)
Collection 2019
Sale 70% Off
Title for image