Our Top Comfortable Womens Sandals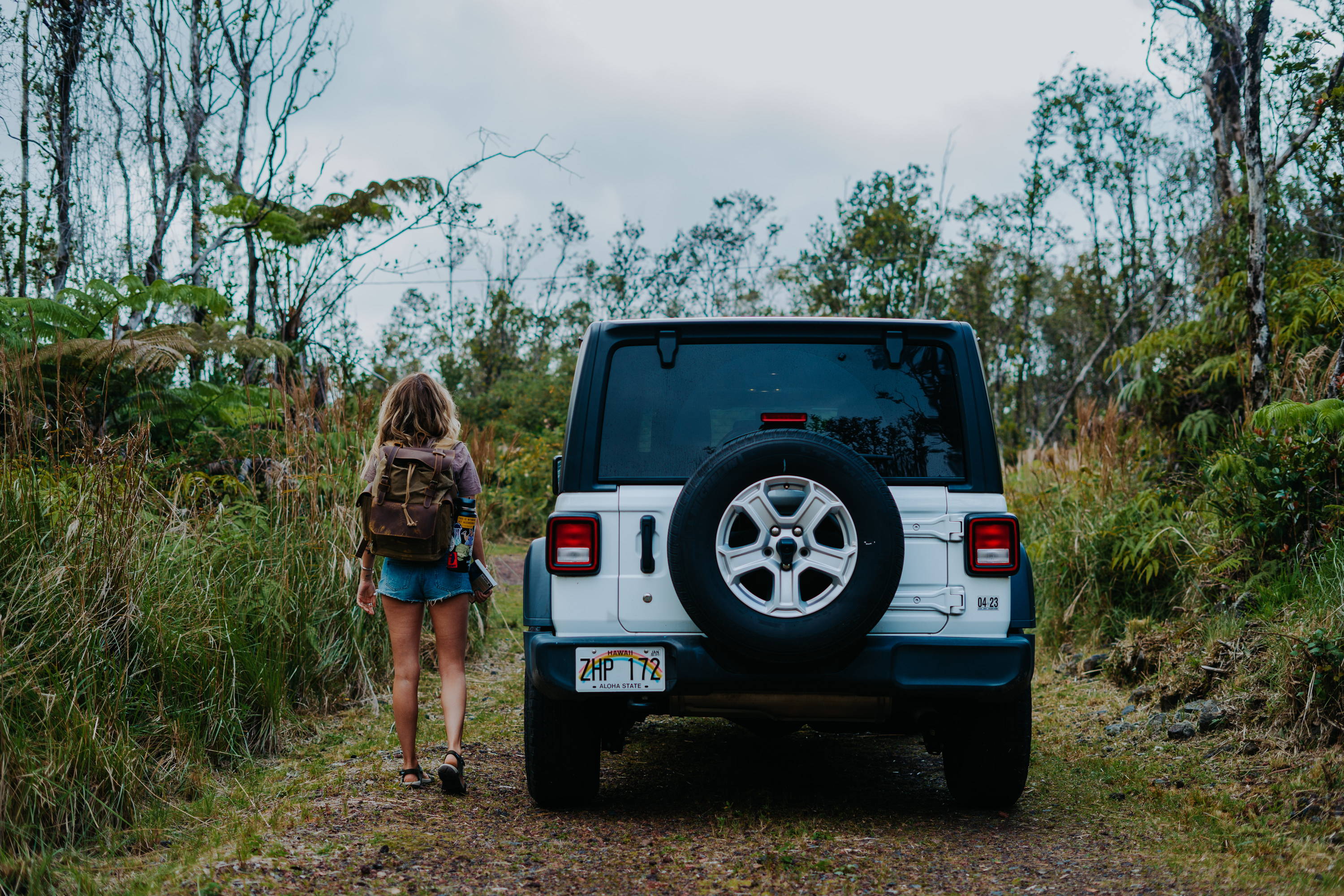 So, you want to go on an adventure. Awesome! Whether you are new to venturing into the great outdoors or a seasoned explorer, it's super important to find the best shoe for the occasion. I always bring my trustworthy pair of shoes with me whenever I explore the world. Preventing injuries and making sure my feet are comfortable is just as important as wearing the right clothes and bringing rain gear. Always pack a good pair of sandals with you in your luggage!
Though, with so many options out there, it can be a bit of a hurdle. You're going to want to have different features for different activities. Here, we'll go over some of our absolute best sandals for your outdoor adventures, so you can have fun in any type of weather and on any sort of terrain.
Factors to Consider When Considering Shoes for Outdoor Adventures
If you think about it, you're definitely not going to want to be wearing the same pair of shoes for going paddle boarding and backcountry backpacking. A good first step is to figure out what you'll be doing and what the footwear requirements will be.
But don't worry, we'll also highlight a handful of all-purpose outdoor sandals if you want to do it all. We've got you covered.
Traction Can Help With Outdoor Terrain
Are you going to be on some pretty steep terrain? Or, out on the docks doing water sports? You'll want some great traction in that case.
Having a shoe with a good grip is important because you certainly don't want to slip and fall. Especially if you are a few miles into a hike. That would ruin your adventure for sure. An adventurer like you needs a good pair of sandals!
Look for shoes with a super sturdy rubber sole. As a rule, the deeper the tread of the sole, the better the traction. Whenever I wear my sandals with good traction, I notice an immense difference in my hike. I walk with more confidence and don't worry about slipping.
Support Helps Keep Your Comfortable While on an Adventure
In general, for any activity, it's a good idea to have shoes with good support. It's better for your feet and overall comfort. Having the proper support can help long term issues. Especially if you have high arches.
Proper support in your activewear shoes isn't just important; it's mission-critical. It not only makes the shoe more comfortable, but it's also a safety issue. You certainly don't want to roll your ankle while out trying to enjoy nature.
Breathability Helps You Keep Dry
This one is pretty important, particularly for longer hiking or walking excursions. You want your feet to say cool and dry the entire day. Nothing is worse than taking your shoes off at the end of the day and having them be all sweaty and gross. Plus it's just not comfortable while you're trekking. Warm summer weather certainly makes it more likely your feet will sweat, so breathabilty is important.
The majority of quality outdoor shoes are designed to be more breathable these days. However, be aware that if you're looking for a close-toed shoe that's waterproof, it might not be super breathable. The mesh material used to keep shoes breathable typically isn't good at keeping moisture out.

Again, this is where planning comes in. Are you going to be doing long hikes in the rainy season or are you planning to be camping in the desert?
Versatility Of Your Outdoor Shoes
This brings us to versatility. Ideally, the perfect outdoor shoe will cover all the bases for every situation. If you're looking for just a single pair to get you by for most of your adventures, look for women's hiking sandals that have the most key features we just discussed.
It's also nice when the sandals you take on your adventures are wicked cute and stylish too. A shoe you can hit the trail or hit the town in is always going to be a winner.
The Samara Walking Sandal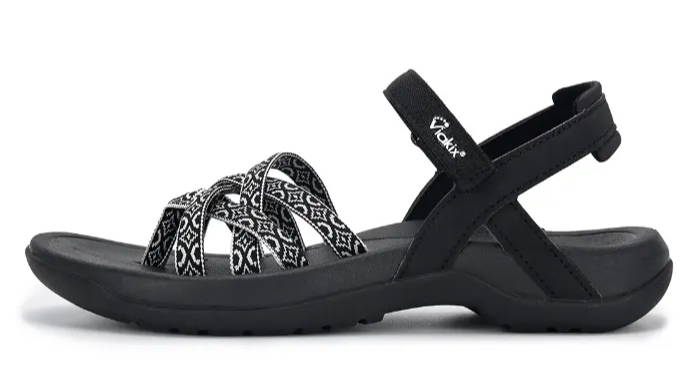 A great all-around option is the Samara. Made with a super durable rubber sole, these babies rock some truly excellent traction that is ready for just about any terrain you can throw at them.
Plus, the sole is engineered with a support shank that absorbs the shock of each step. This protects the vulnerable soles of your feet from any stray rocks that may try to penetrate through the bottom of the sandal. Through my experience with these sandals, I've been able to walk on sharp rocks and scramble on long through-hikes. That's all thanks to their great traction and supportive shank. I've had some of the best hiking experience wearing these!
A layer of EVA foam runs through the midsole, providing cushy support and making these hiking sandals crazy comfortable even after hours on the trail.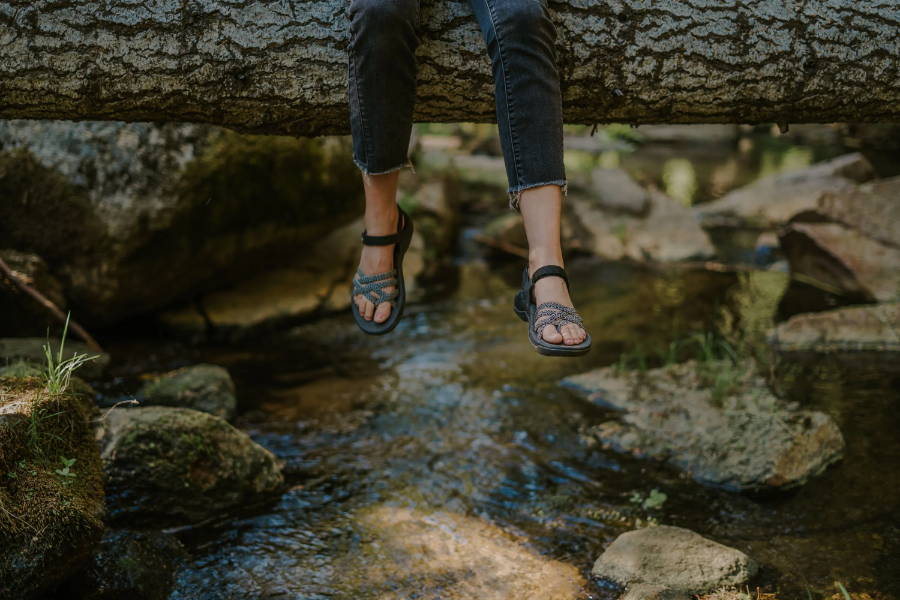 The question of breathability becomes null when the majority of your foot is open to the air. The Samara has elastic front straps that hug your foot for a snug fit and velcro ankle straps that are completely adjustable. But other than that, your tootsies are free to breathe.
Unlike most breathable options, these sandals are also waterproof. Making them incredibly versatile. Hiking a mountain? Check. Paddleboarding? Check. There's nothing they can't do. I feel unstoppable when I wear these, and feel like I can hike on all types of terrain!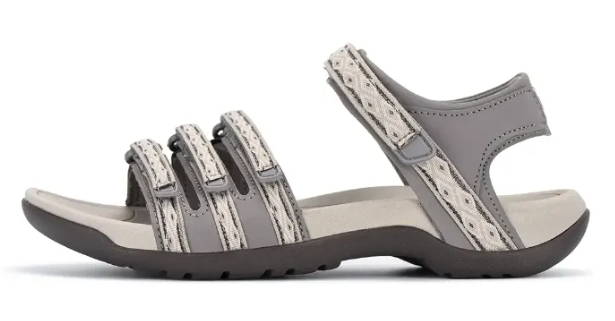 Hiking is the name of the game when it comes to the Nepali. These bad boys are all about the trail and now you can be too.
These sandals are another great option that are both breathable and waterproof. Designed to be quick-drying, you don't have to be afraid to cross that stream or try to avoid that puddle. Plus. all the different styles they come in make them a great sandal for any type of event or outfit. They're trendy and fashionable, and pair well with trekking pants or jeans. I've never felt more sophisticated in a pair of women's outdoor sandals.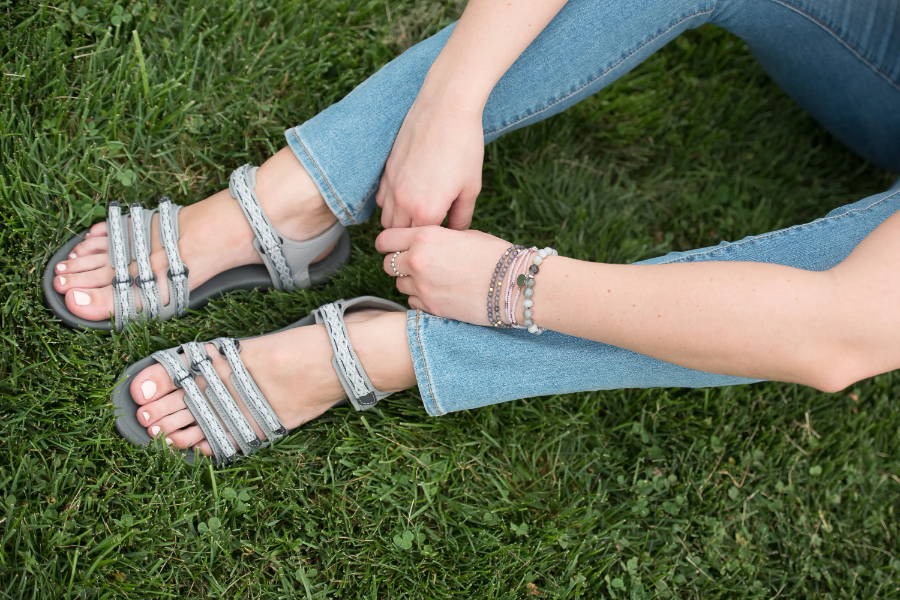 The comfort level here cannot be understated. The soles are made with a thick layer of EVA foam to cushion your feet and keep them happy all day.
Since they're designed for both wet and dry enjoyment, the Napali have a great tread on their sturdy rubber soles that give them unparalleled traction. Throw in a support shank and you've got one incredibly well-built sandal. My favorite part about these sandals is the arch support. I used to wear sandals without proper support, and my feet would feel sore the next day. With these I feel like I'm walking on a cloud!
As a bonus, there are four different adjustable straps that make for a completely customizable fit.
The Acadia Hiking Sandal, A Stylish Outdoor Adventure Sandal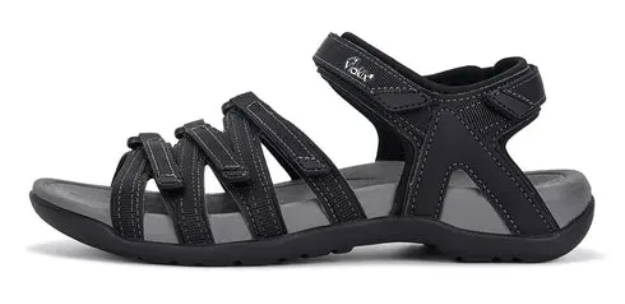 Were you impressed by the four adjustable straps on the Nepali? Well then buckle up. The Acadia ups the game by having five. No, you didn't read that wrong. Every single strap on these sandals is completely adjustable. You're welcome.
A hearty, long-lasting rubber sole with a built-in support shank provides all the traction and support you will need out on the trail. Rouge tree roots and gopher holes are no match for these rugged sandals.
It's pretty darn easy to be breathable when you're rocking a chic open-toe design. Plus, it means water can't get trapped inside, making these puppies easy to dry. That sounds like beautiful music to my ears!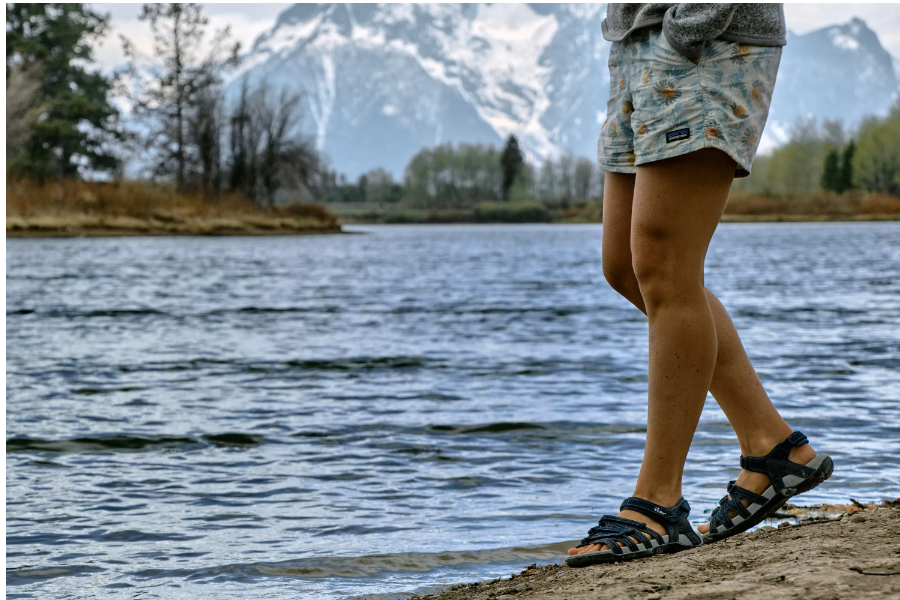 A long day on the trail can be hard on your feet, which is why comfort is a must. Not a problem with these sandals. With ergonomic EVA foam built into the sole, they walk the perfect line between cushion and support.
These Sloanes are made for any outdoor adventures. Kayaking, camping, walking, hiking through a a forest, it's all on the table.
With a thick durable rubber sole and open-toe design, you are totally ready to go. No tired feet or regrets here. Featuring a full adjustable webbing cord for a perfectly snug fit. No amount of hiking will ever make my feet sore when I wear these ladies walking sandals.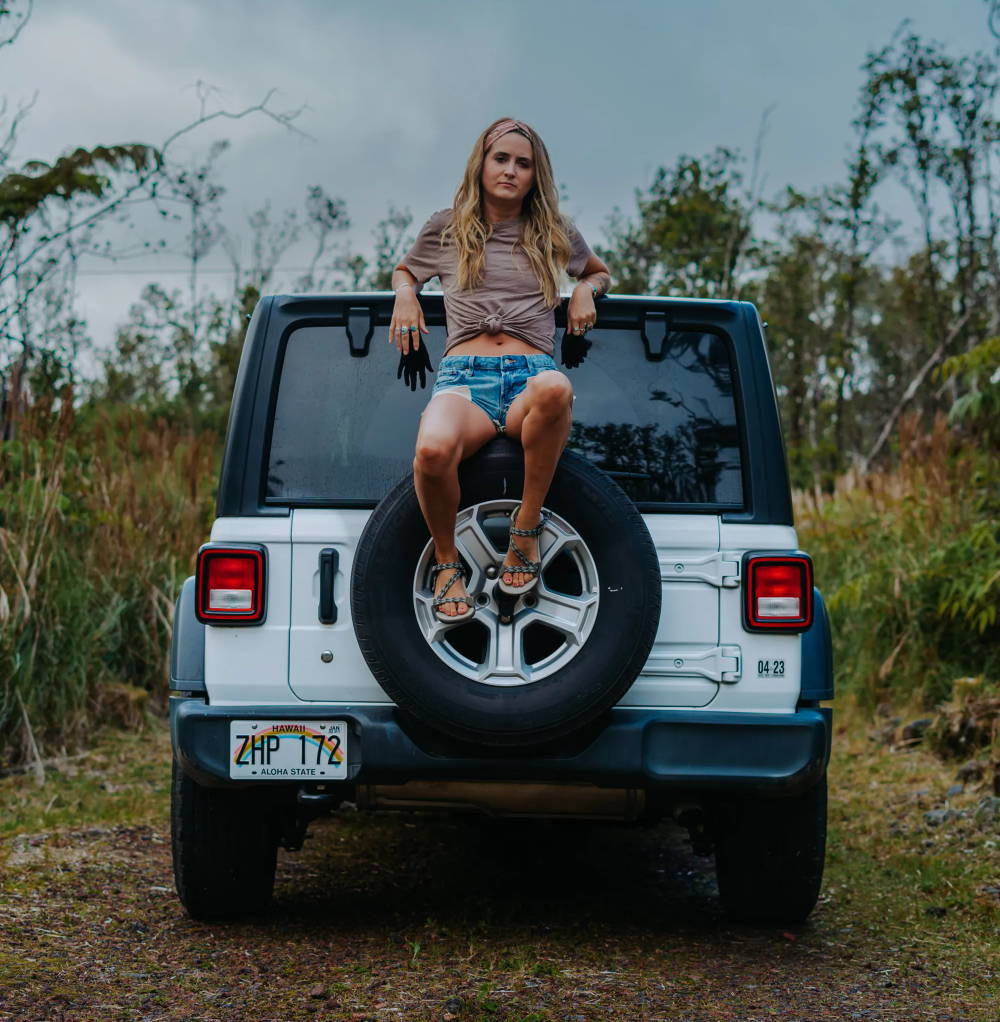 Their midsole is made of Viakix's signature shock aborbing EVA foam, for an extra supportive and comfortable experience. The Sloanes are super quick-drying and will keep ready to go.  
Who wouldn't want to have a tropical getaway to splash around and soak up the sun? We sure want to!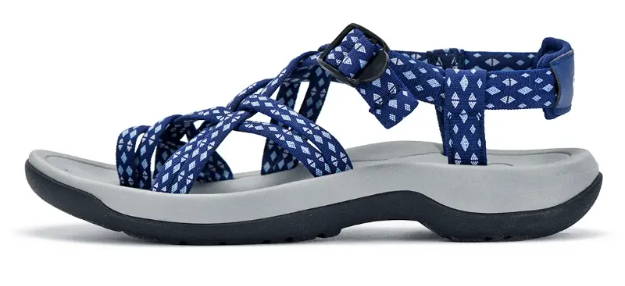 Excursions into the wilderness and beyond are what these sandals were made for. Whether you're wearing them to the lake, on the trail, or around the campsite, they are a stellar choice.
Made with a strong and durable sole, the Seina Sport Sandal's exceptional traction makes this pair a winner. Outfitted with structural support shanks, which lessens the impact of each step, and an EVA foam midsole, you'll be guaranteed unparalleled comfort and support.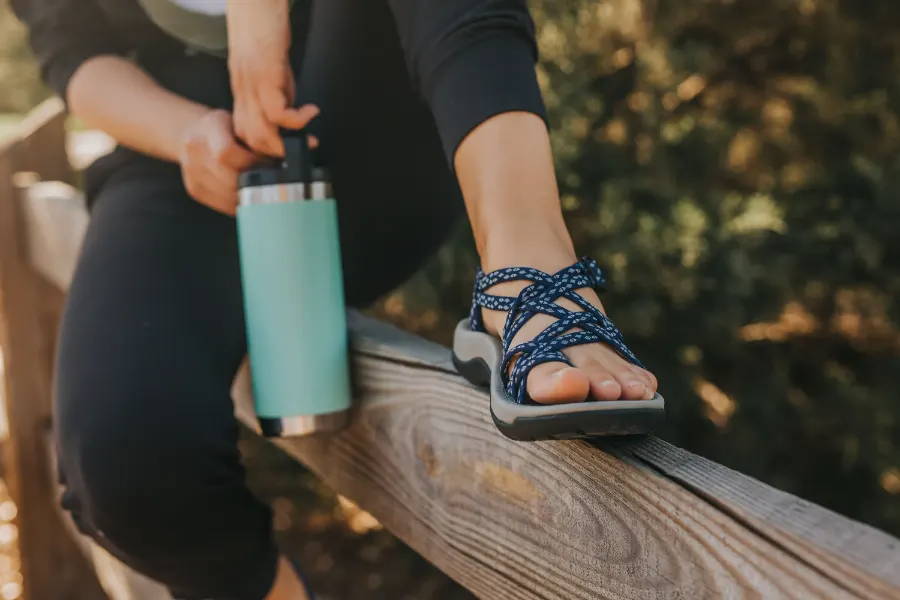 Viakix sandals are made to have fully adjustable straps all around allowing for a fully customizable fit. There's nothing worse than when your feet are slipping and sliding around in your shoes creating blisters.
It doesn't matter much what your activity is. Rugged hike through the backwoods, a vigorous game of volleyball at the beach, or a simple stroll along the lakeshore; these wicked versatile sandals are totally up to the challenge.
Added bonus, they are super cute! Merging style and functionality perfectly.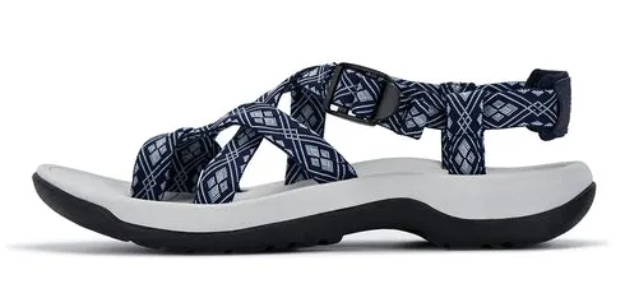 These sandals are undoubtedly made for any outdoor adventure you can throw at them. If you are going on a camping trip, having fun playing water sports, or headed out for a day hike these are a great option.
Designed with high performance in mind, while still being super cute and stylish, the Cortona sandal is a top pick. You can wear these babies on a long mountain trek or a leisurely evening stroll with your four-legged friend.
With stylish webbing that stretches across the front of the foot and adjusts around the ankle, these sandals promise a custom fit. The soft and stretchy strap material conforms to your feet perfectly. They have the best feature combo of cushy straps that are also customizable, providing maximum support and comfort. I love the footbed and how comfortable it is, and always feel like my feet have plenty of room to breathe.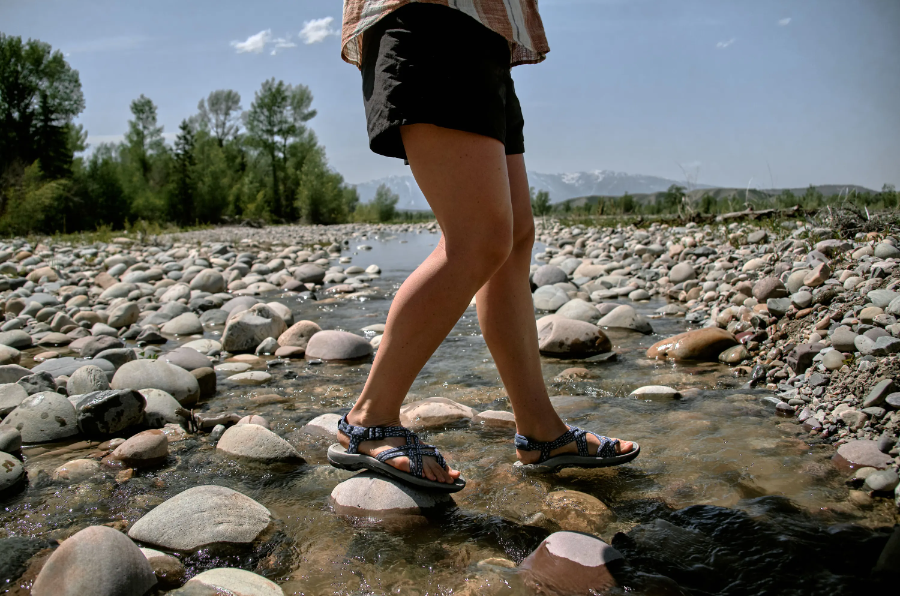 Built with a high arch for tons of support, the soles of these sandals are made with a generous helping of EVA foam, ready to act as a thick pillow for the soles of your feet.
The support shank embedded in the sole works double-time to dissipate the shock of each step away from the sole of the foot. Plus, the heavy-duty rubber sole provides top-notch traction and protects from any hazards on your path that might try to penetrate the sole of the shoe.
All in all, these sandals are knocking it straight out of the park when it comes to comfort and durability. Plus they are also wicked stylish and versatile. And really, when you think about it, what more can you ask for?
Get Moving on Your Outdoor Adventure with the Right Footwear!

There are more sports to play and adventures to embark on than anyone could possibly count. No matter what yours is, there is a shoe on this list that is ready to get to work and allow you to do the same.
Like the foundation of a house, the shoe you choose will be the bedrock on which your adventure is built. But don't stress. Always keep in mind the factors we listed above and you'll be just fine.
Traction for safety, breathability, and support for maximum comfort and always go for the shoe that's going to get you the most bang for your buck.
The great outdoors is waiting for you! So, strap on a Viakix sandal and get the heck out there!
Frequently Asked Questions
How do women's outdoor sandals differ from indoor sandals?
There are a few key differences when it comes to women's outdoor sandals and indoor sandals. Outdoor sandals are made of materials that are more durable and suited for hiking and trekking. They're typically water resistant and have great traction. Indoor sandals are usually made of softer material with less arch support, and are not made for long walks.
What are the different types of women's outdoor sandals?
Women's sandals are made to fit any type of activity. Whether you're hiking or wandering around the beach, the arch support, ankle support, and soles will support that sort of activity. They're incredibly versatile, so if you want to wear them on a long walk and then to the poolside, they'll work perfectly.
How should women's outdoor sandals fit?
Fit is just as important as the sandal itself! Imagine going on a long walk, only to cry in pain because your shoe was too small? Luckily, our sandals are suitable for both narrow-width and wide-with feet. You want a sandal with necessary support and protection for your feet. Make sure they're not too tight or too small, since both will cause problems in the long run.
Collection 2019
Sale 70% Off
Title for image