The Best Hiking Gear, Apparel, and Accessories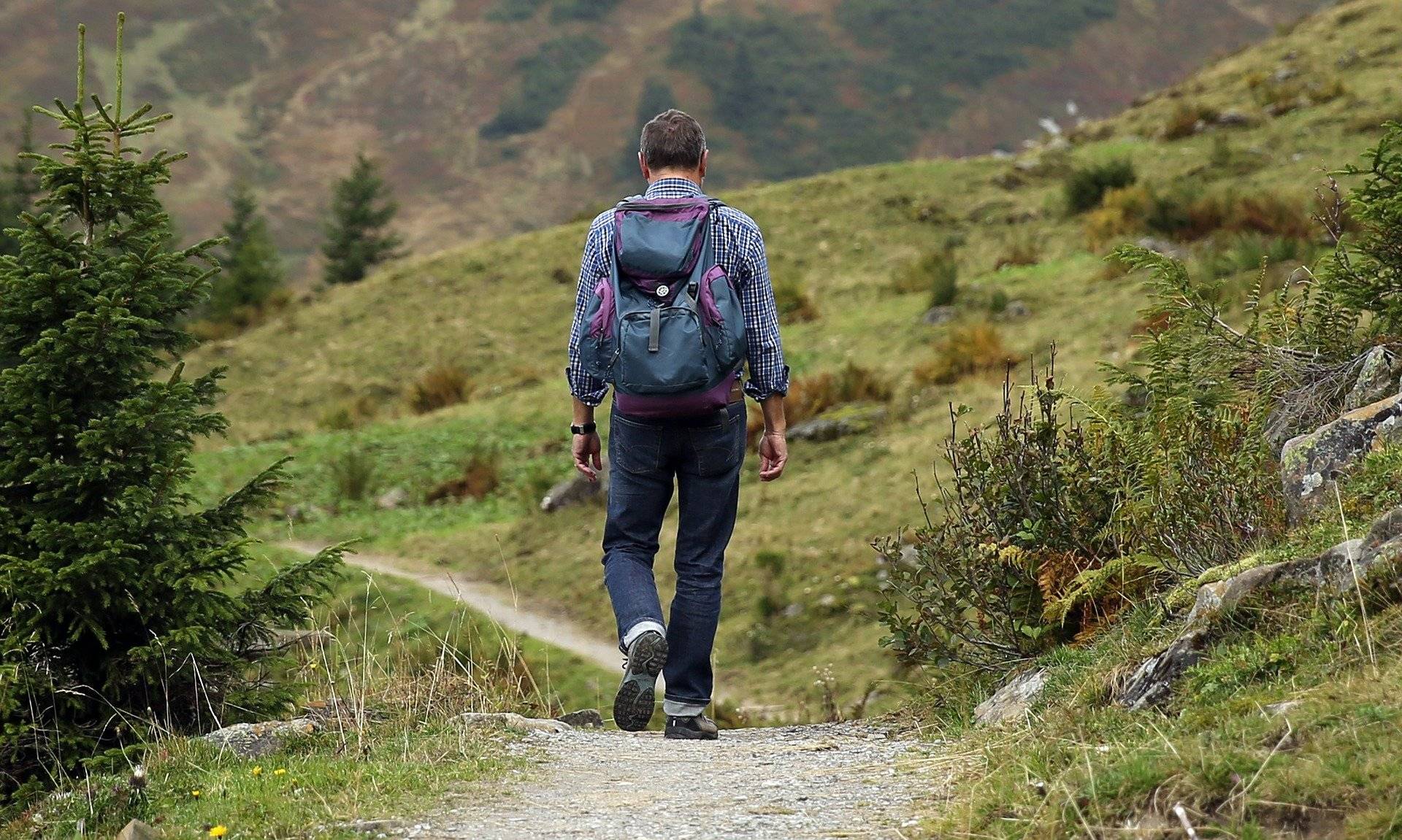 Many of us here at Viakix love to go hiking. A recent survey by the Adventure Travel Trade Association found that hiking has become the most popular outdoor activity amongst adventure travelers. It is easy to see why — it is a relaxing pastime that combines exercise with exploration! Who doesn't love getting some fresh air while taking in beautiful views?
The popularity of hiking has led to the introduction of many new types of hiking gadgets and gear. They range from technologically advanced GPS systems to clever eating tools. In this guide, I'll share the hiking tools that I've come to use and love. They will make your hiking excursions safer, more comfortable, and a whole lot of fun.
As you are looking for fun hiking gear and gadgets for your next outdoor adventure, keep a few points in mind. Always look for things that are super durable and sturdy. We recommend not trying to "save money" when it comes to this type of gear. Some of it can be life-saving and you don't want the cheap version to break or not work at a critical moment.
Water-resistant is not the same as waterproof. Water-resistant means that it is able to resist the penetration of water, to some degree, though not entirely. This means that your cool gadget can still get ruined if you drop it in a stream. However, it will be protected if there's a little spill.
Water-repellent is another feature a lot of hiking gear has. That means it is not easily penetrated by water, usually from being treated with a special coating. Though water can still get in it, again, if it's submerged. Now, waterproof means that it should technically be impervious to water and able to be fully submerged in liquid for a decent amount of time.
Generally speaking, think of your hiking equipment as a long term investment. If you buy the cheap stuff, you're not doing yourself any favors and will likely have to purchase new stuff down the road anyway.
Depending on your budget, that might mean not running out and buying all the latest and greatest gear all at once. But that's alright, when you've found the right gadgets and equipment, invest in single items over time. Build up your gear stockpile slowly. We promise it will be worth the wait to have the best stuff available for the most awesome adventures possible.
CamelBak All Clear Is a Great Accessory to Take Hiking
Having access to clean drinking water is essential when hiking. You don't want to get dehydrated halfway through. However, carrying gallons of water on a long trip can be back-breaking. This is why hikers often use mountain springs and dams to fill up their water bottles. Unfortunately, you can't always guarantee that the water you are drinking is safe, so it needs to be boiled or sterilized.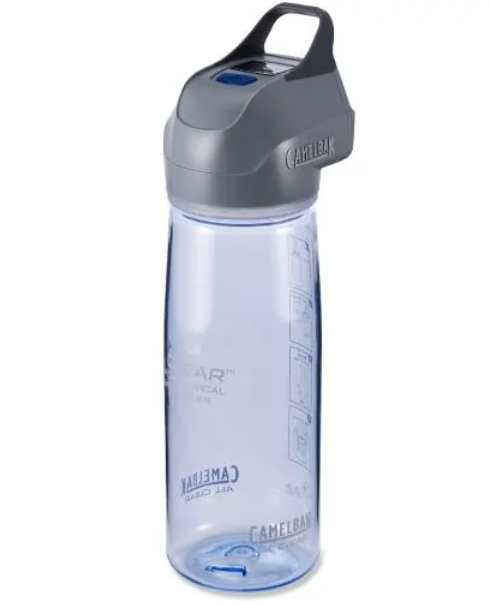 The CamelBack All Clear makes it possible to sterilize water while on the move. It is a technologically advanced water bottle with a powerful UV light in the lid to sterilize water. The manufacturer says it can sterilize sixty liters of water per charge, more than enough for most camping trips.
However, it is important to note that this device can only sterilize clear water of bacteria and viruses. It will not remove particulate matter and is not suitable for purifying water that is not already clear.
Anker Super Bright Tactical Flashlight Makes Hiking Easier For Early Mornings
Even if you start your hike first thing in the morning, you should always take a flashlight with you. As they say, time flies when you're having fun! It is an essential emergency tool and will be useful if your hike takes longer than expected.
Ideally, a hiking flashlight will be lightweight, super-bright, durable, and have long-lasting batteries. The Anker Tactical Flashlight meets these criteria easily. Keeping you safe and prepared for any outdoor activity.
FKANT Waterproof Solar Charger Accessory Will Keep You Connected While Hiking
It's always a good idea to take your phone with you when hiking. Most phones have useful mapping tools installed and it will give you a way to obtain help in the event of an emergency.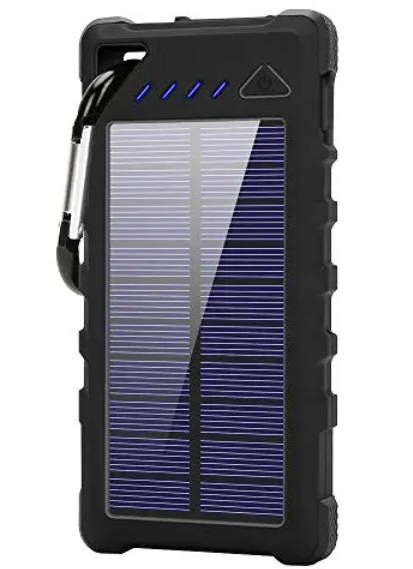 Of course, a phone with a dead battery is useless, so you need a way to charge it. This solar charger fits the bill perfectly. It is a small device that contains a battery pack, solar panels, USB ports, and a built-in flashlight with SOS mode. It will keep your phone running and may be useful for getting you out of a dangerous situation.
Hiking Sandals Are A Must Have Apparel Piece For Hot Weather And Wet Conditions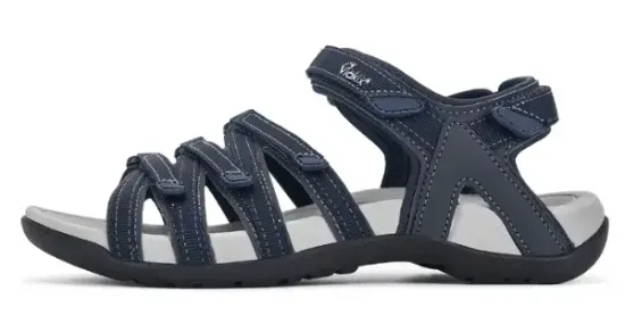 The popularity of hiking sandals and water sandals has skyrocketed in the past few years. They are ultra-durable sandals that are designed to handle the rigors of hiking. Hiking sandals and water sandals are particularly useful for hiking in warmer climates where you may be going in the water. A good example of these athletic sandals includes the Acadia hiking sandal for women.
Designed to be quick-drying and super durable, these are the perfect pair of breathable sandals for the trail. Featuring a sturdy outsole with great traction and adjustable straps, you can cross the river on those wet and slippery rocks, no problem. Plus, they are pretty darn cute and stylish so you'll look fabulous on your adventure.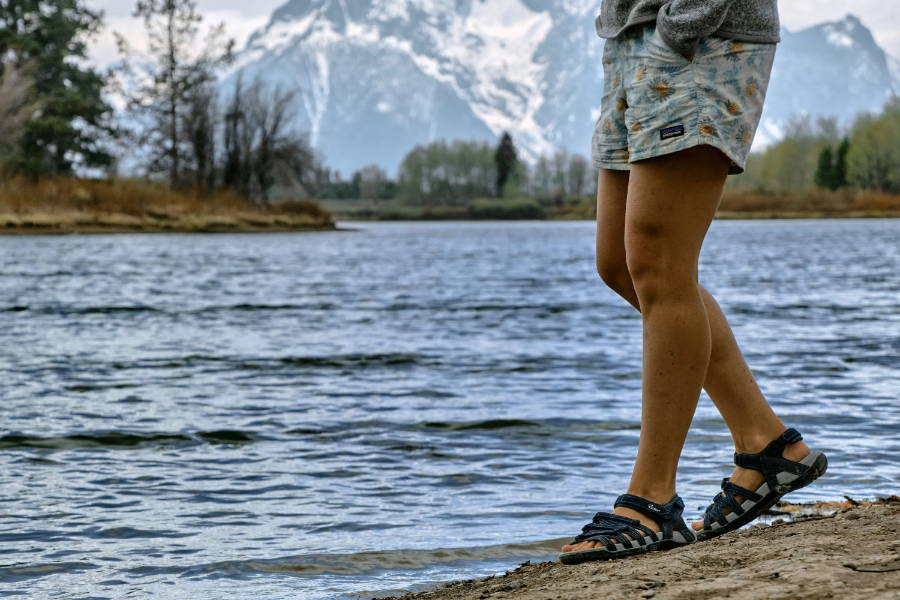 Gerber Bear Grylls Ultimate Multi-Tool
Multi-tools can be very handy when hiking, and just in general for that matter. They will help you make shelter, start a fire, repair your footwear, treat an injury, or fight off a bear! The Gerber Bear Grylls Ultimate Multi-Tool is one of the best multitools for hiking because of its wide array of tools. Including spring load pliers, serrated knife, file, scissors, and bottle opener.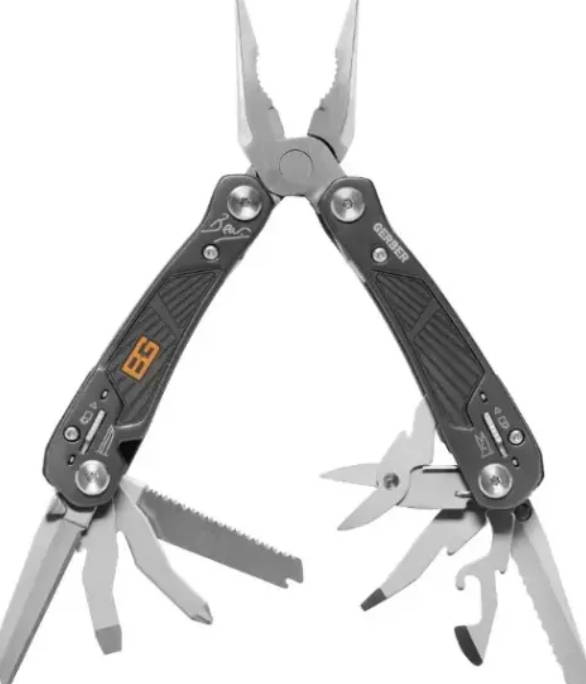 Rest assured, when you've got this tool, you're ready for any situation the great outdoors can throw at you.
Garmin Fenix 5 Sapphire GPS Watch Is A Great Hiking Gear Piece For Back Country Hiking
GPS watches have become very popular with hikers in recent years. Especially for those that enjoy getting out into the backcountry. They are technologically advanced gadgets that give you your precise location using GPS satellites.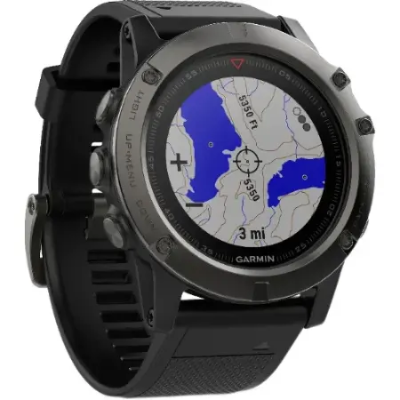 GPS watches also have dozens of other features including alarms, heart rate tracking, a compass, distance traveled calculators, steps taken, and total calories burnt. Of course, most of the enjoyment of a hike is just getting out there, but also won't it be nice to see how many calories you burned and add to your daily step count?
Etekcity Ultralight Portable Outdoor Backpacking Camping Stove Is A Great Hiking Gear Addition
If you are going on a long hike, you will need to replenish your energy with a decent meal. This portable camping stove can easily be attached to your backpack and will let you enjoy warm food during your hike. It is a clean-burning stove with a piezo ignition system. It runs on any seven/sixteen thread single butane/butane-propane mixed fuel canisters and has a fully adjustable flame.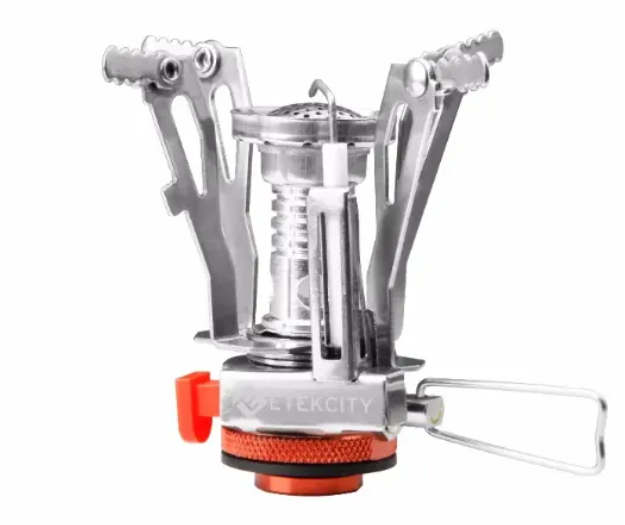 It's a very useful gadget if you want to enjoy a can of warm soup or baked beans mid-way through your trek. It's also great for coffee or tea when you need that little caffeine boost when you're low on energy to keep going.
GoPro HERO5 Black Is a Great Accessory To Preserve Hiking Memories
This gadget may not be a "must-have" but it will certainly make your trips much more fun and memorable. It is a portable high-definition camera that is capable of filming 4K video footage and taking high-resolution twelve-megapixel photographs.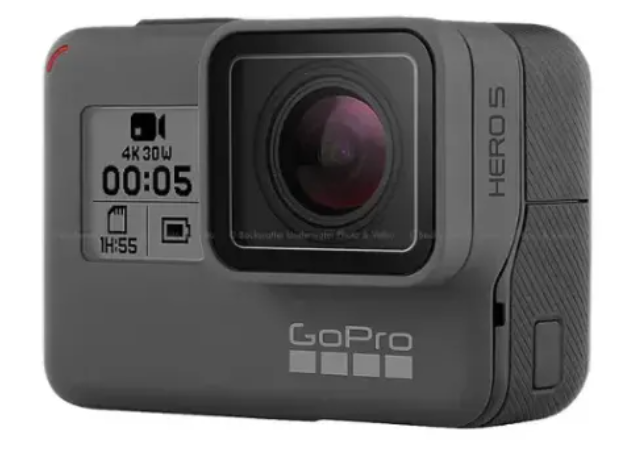 Its small size makes it easy to carry while hiking and you can even attach it to your hat or shirt. Designed to also be waterproof, which means you can take it swimming and grab some incredible images in the process. It will help you document your hiking trips and share your adventures with others.
Moon Lence Sleeping Pad - Hiking Gear Needed for Overnights
If you intend to go on longer hikes where you sleep overnight in the wilderness, you will need a sleeping pad and/or sleeping bag. The Moon Lence Sleeping Pad is one of the best choices on the market for sleeping pads.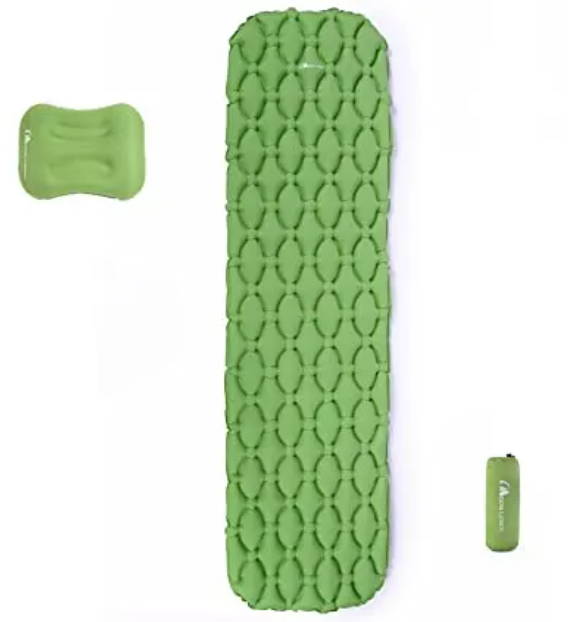 It is a super-light product which makes it easy to carry when you are hiking. Designed with individual cells that are very comfortable and limit heat-loss through the pad. Made from ripstop 20D nylon, it is quite tough and will resist punctures from sharp sticks or stones.  
So when you need to kick back and relax for a bit on your trip, make sure you have one of these in your day bag. Your back will thank you.
Sawyer Products MINI Water Filtration System - A Hiking Accessory In Case You Need Water Out in The Sticks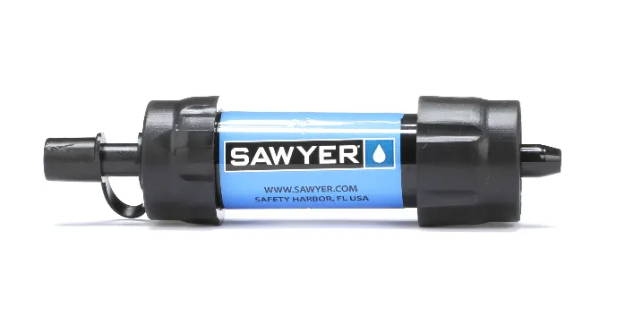 If you are traveling to a location where the water that is available is not high-quality, you will need a more thorough water filtration system. The Sawyer Products MINI Water Filtration System is a great choice.
It uses a high-performance 0.1-micron filter to remove contaminants from the available water supply. The system comes with all of the components you require, including a drinking pouch, syringe, and filling tube.
Though you are always diligent about bringing enough water, sometimes things happen and it's always a good idea to have a backup plan. This little filtration system is the perfect plan B.
Sea to Summit Ultra-Sil Day Pack, Must Have Hiking Apparel
A high-quality day pack is one of the most important gadgets that you will need for hiking. After all, it's the thing that will hold all of your other gadgets! This particular backpack, the Sea to Summit Ultra-Sil Day Pack, is incredibly lightweight and designed to collapse and fit inside large camping backpacks.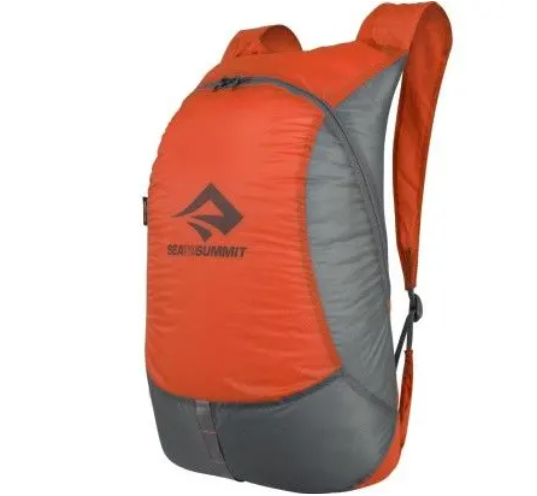 It is the perfect size for holding your lunch and a collection of various gadgets. This makes it the perfect hiking companion for your next trip.
VSSL Compact Hiking Adventure Kit To Add to Your Accessories
This tiny aluminum tube is absolutely packed with gadgets that are crazy useful when hiking. They include a triple mode LED light, oil-filled compass, candle, and water purification tablets. Perfect for a pocket-size reassurance that everything is going to be okay.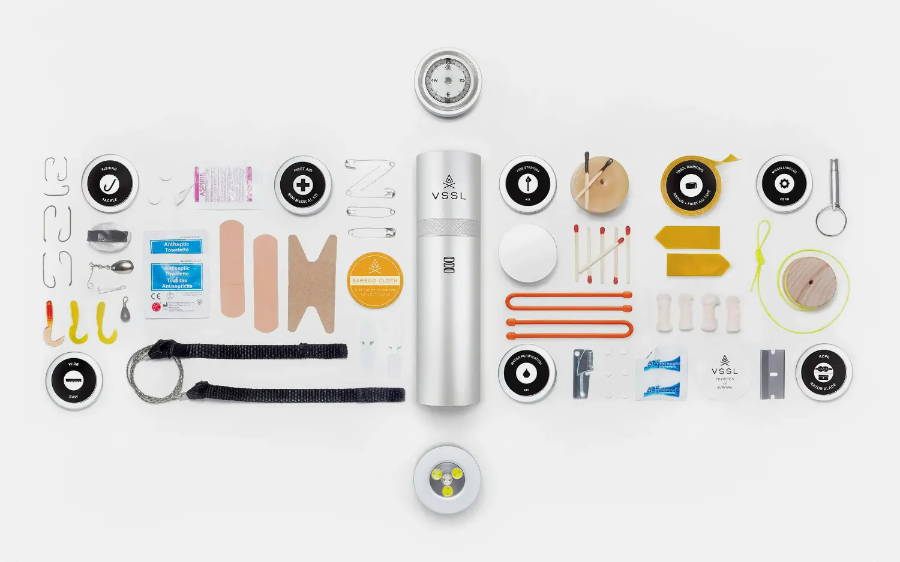 Inside this awesome kit, you'll also find Tinder Quik® fire starters, fishing hooks, emergency whistle, and waterproof matches. The signaling mirror, first aid supplies, survival instructions, and more will have you prepared for anything. If you only carry one survival gadget, carry this one.
CLIQ Chair, Great Accessory For Multi Day Hikes
If you're going to be on a long trek and will need a nice place to sit along the way, this portable chair is great. It folds up into the size of a water bottle to make it super easy to toss in your day pack. It's easy setup design and lightweight material make it perfect for when you've hiked all day and need a rest. It holds up to three-hundred pounds and is weatherproof too!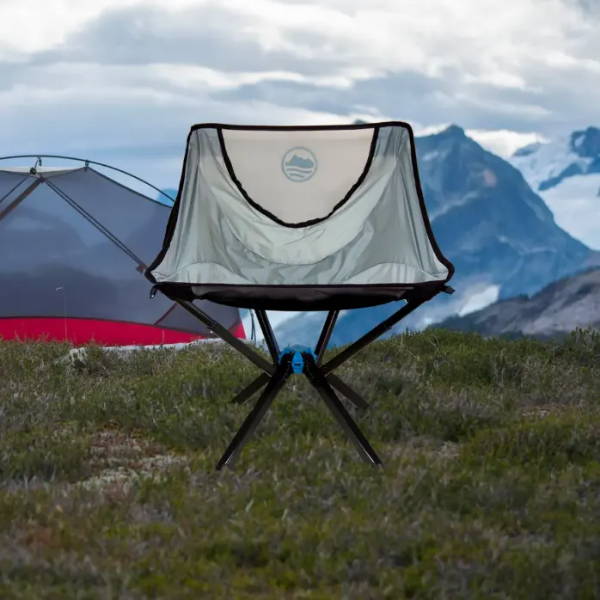 JBL Clip 3 Bluetooth Speaker, A Hiking Accessory to Keep Your Entertained
Want to jam out to some tunes along the trail? Pick up one of these little guys. It connects easily to your phone via Bluetooth, has a built-in carabiner to easily clip to your day pack, and is super durable.
It provides high-quality sound and features IPX7 waterproof tech in case you're splashing around at the river during your adventure. As a matter of fact, you can even fully submerge it in water with no issues.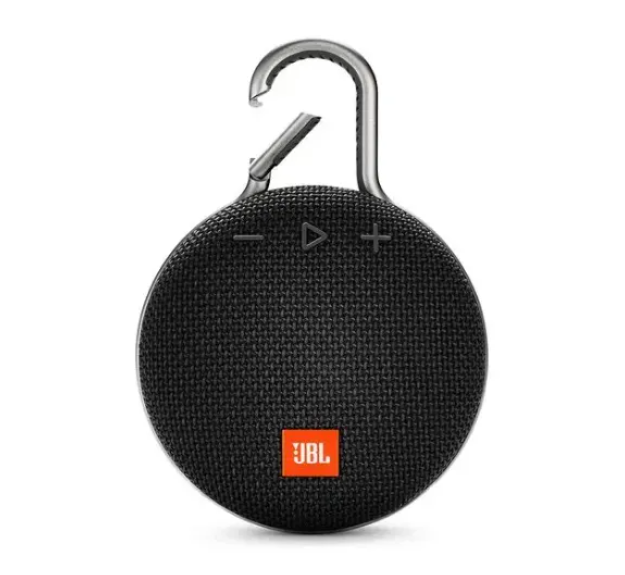 Nikon Trailblazer ATB Binoculars
If you really want to take in all of the sites on your hike, pick up a pair of these binoculars. They are compact yet still offer the same level of magnification as a full-size pair. Their high-tech design optimizes light transmission for the absolute best view. And, they are waterproof! Bringing along a pair of these is a must when you're hiking up to the lake to go bird watching.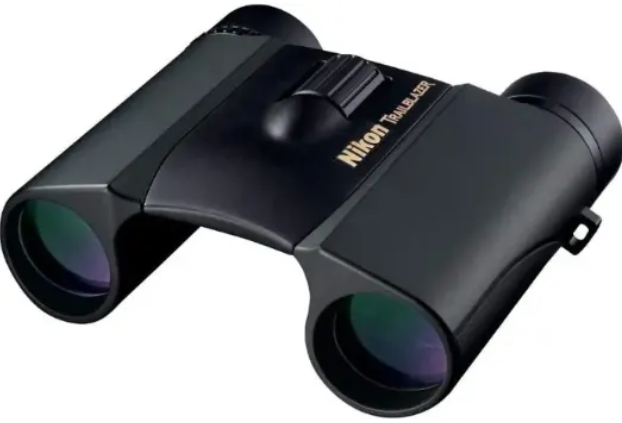 Pocket Weather Pocket-Sized Weather Station
With this handy little gadget, there's no more guessing if those clouds rolling in will mean rain on your hike. It also monitors altitude, air pressure, and humidity. It's small enough to fit in your pocket and also has a built-in carabiner so you can clip it to your pack.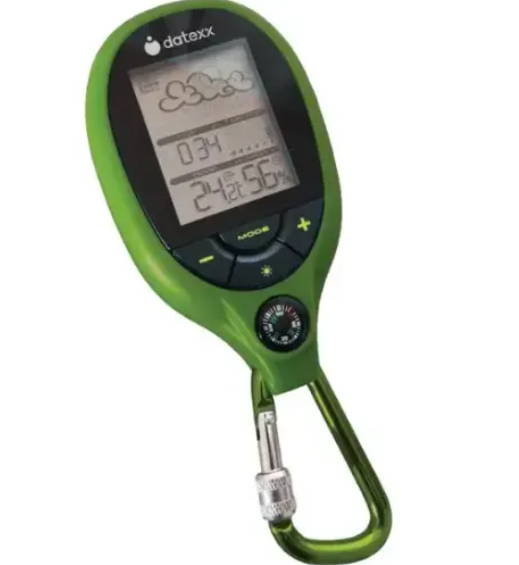 This useful gadget will help keep you up to date on changing weather conditions so you can be prepared and really enjoy your hike.
Leki Micro Vario Carbon Trekking Poles, A Functional Hiking Accessory
Just because you aren't climbing Everest, doesn't mean that your joints wouldn't benefit from all the support they can get. With a good pair of poles, it's easy to be gentle on your body while walking on any terrain. These poles in particular are great for all-day adventures because they are super lightweight and fold down to be just fifteen inches. This makes them perfect for a long trek through tough terrain.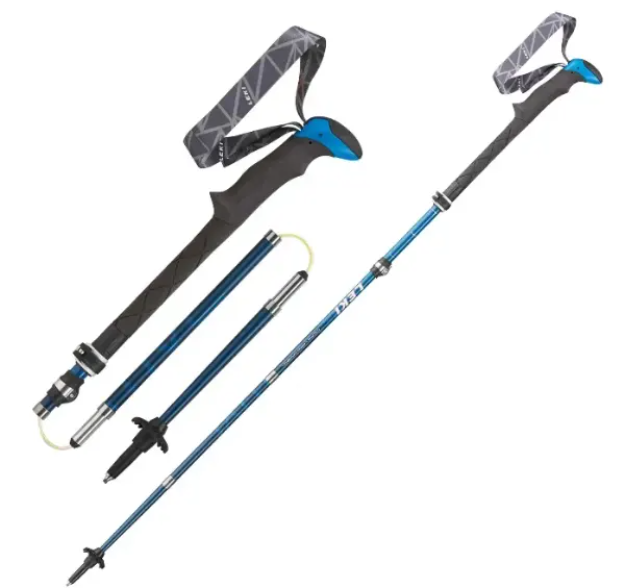 ACR ResQLink View Personal Locator Beacon, A Hiking Accessory Just In Case You Get Lost
It's always smart to be on the safe side. If you're going to be way far out in the backcountry, you might want to have a rescue beacon on you. Not that we ever want anything bad to happen, but unexpected issues can always arise. If you get lost, or slip and fall causing an injury, having a way to call for help is super important.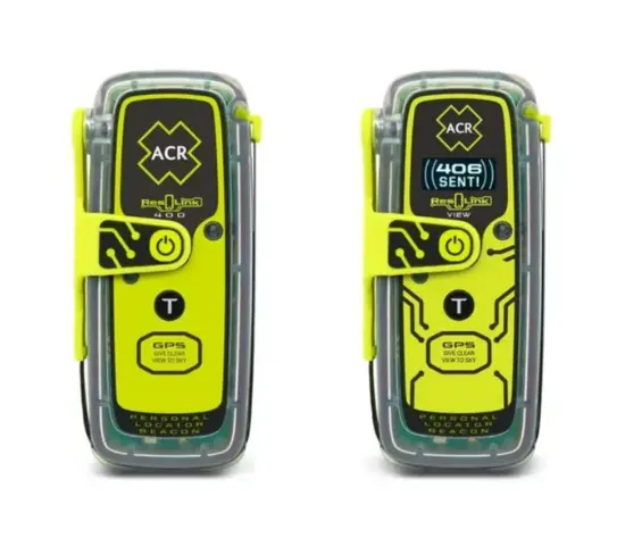 This ResQLink beacon has a highly accurate GPS positioning system that will transmit your location to a network of satellites around the world. It's also waterproof and floats if you find yourself in a predicament in water.
KUHL Renegade Convertible Pants - Keeping Dry While Hiking
Sure, technically pants aren't "gadgets," but these ones are pretty cool and wicked functional. Made with KUHL's Duralux fabric that is breathable, durable, tear-proof, and water-resistant. When your hike starts off it might be a little cooler, but then as the sun rises and it gets warm these pants easily convert to shorts for versatile all-day comfort.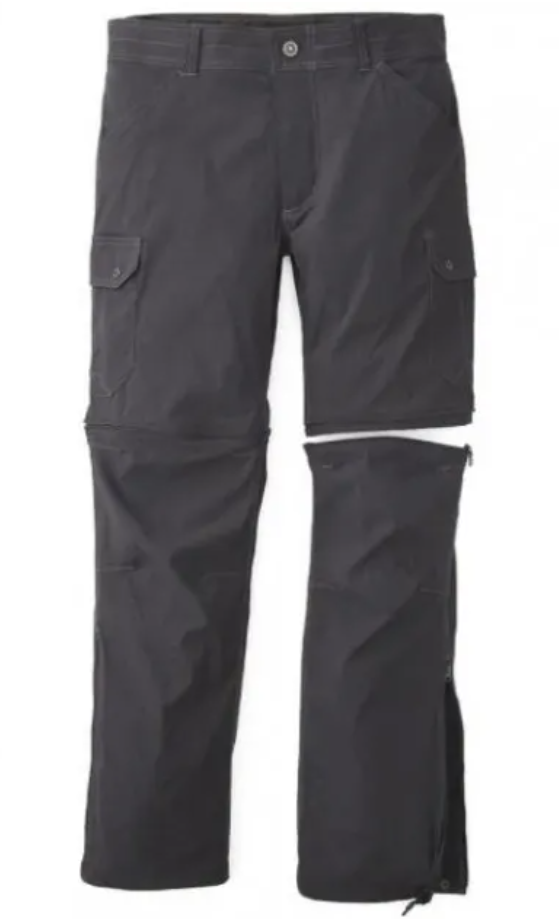 Petzl Actik Core Headlamp - A Great Hiking Accessory For Dim Conditions and Caves
It's never fun to be caught out still on the trail when it gets dark. This handy headlamp will be a lifesaver in that situation. It's lightweight, rechargeable, or it can run on a few AAA batteries. It can run on its medium setting for up to eight hours. The LED light has three brightness settings and a red light to help maintain decent night vision.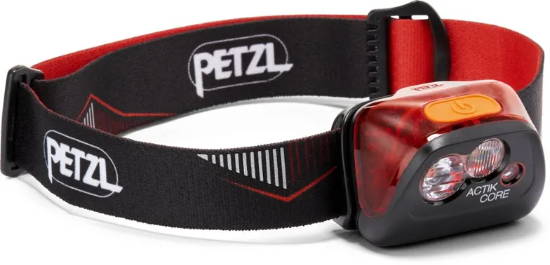 With this gadget, you'll never have to worry about starting your hike before dawn or still being out on your adventure after dusk.
Patagonia Stretch Rainshadow, A Warm Hiking Apparel Choice
We're going to go out on a limb here and guess you're the adventurous type. And we don't suspect a little bad weather will keep you inside. After all, as the Norwegians say, there's no such thing as bad weather, just bad clothes. Patagonia is at the top of the outdoor gear game and this jacket is no exception.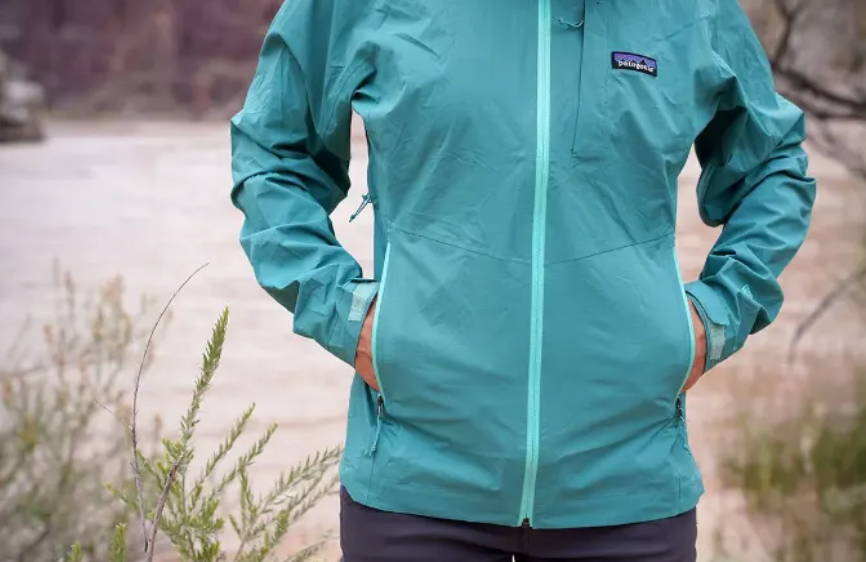 With Patagonia's slick H2No Performance material, the Rainshadow allows you to move freely; plus it's made from a super breathable fabric. They also made it easily portable too. It folds up and fits into its own chest pocket to make packing it a breeze.
Darn Tough Micro Crew Light Cushion Socks
While on the topic of having the best outdoor clothes that provide the most comfort, let's talk about socks. Making sure your feet are comfortable and dry on long hikes is crucial. It's common to get blisters and overheating when on extended treks, however having the right pair of socks can make a big difference.
These Darn Tough socks are cost-effective, lightweight, and cushioned. They are made of a very breathable blend of material, are moisture-wicking to keep your feet dry all day, and are slide-resistant to avoid rubbing and blisters. Plus, they even come with a lifetime warranty. That's one tough sock for sure!
Grand Trunk Nano 7 Hammock, A Hiking Accessory To Sleep in Style

Who doesn't love kicking back in a hammock? After you've been on the trail all day and have finally reached your amazing destination that overlooks glorious mountains, bust this puppy out and relax. The Grand Trunk Nano is super lightweight, coming in at only seven ounces, and folds down to the size of a softball. It's the perfect hiking accessory to help you really enjoy the experience.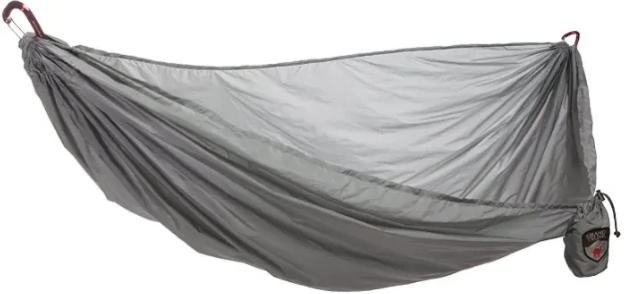 IceMule BOSS Cooler, A Hiking Accessory To Keep Your Beverages And Food Cold
Whether you are planning to do a short day trip and have a picnic or are headed out for a full-blown expedition, a quality cooler makes a world of difference. This boss of a cooler is perfect for hikes. It retains ice for up to three days, is super durable and waterproof. It floats for when you want to relax in the lake or river. It's also easy to carry and doubles as an extra dry pack when it's empty at the end of your trip.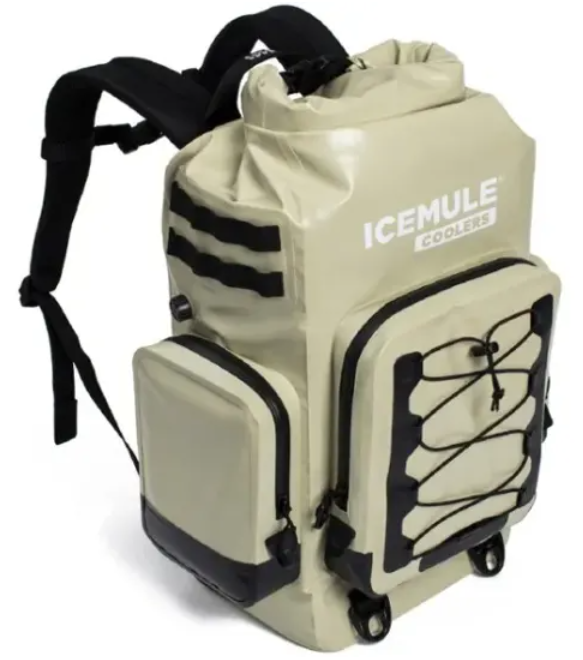 Adventure Is Out There! Take Some Awesome Hiking Accessories

We know we just threw a boatload of awesome equipment at you all at once. You're welcome. But also, these really are all gadgets that are essential to having the best hiking experience possible.
Remember it's not about getting all the gear you can carry on your trek right away. Get the basics, of course, good shoes, a water bottle, a phone charger, solid clothes, maybe some trekking poles. But from there, do your research and plan to really invest in high-quality gear. We know it's super tempting to get on bargain sites or buy used gear to save a few bucks and get everything you want right out of the gate. That's not the way to go to have the best time though. Even if it takes a few years to accumulate the gear and gadgets of your dreams, it will be well worth the wait.
Hopefully, our list of the newest apparel, gear, gadgets, and accessories has helped you find exactly what you're looking for and inspired you for the next glorious outdoor adventure. Have fun and be safe!
Collection 2019
Sale 70% Off
Title for image