Cute Hiking Sandals for Wide Feet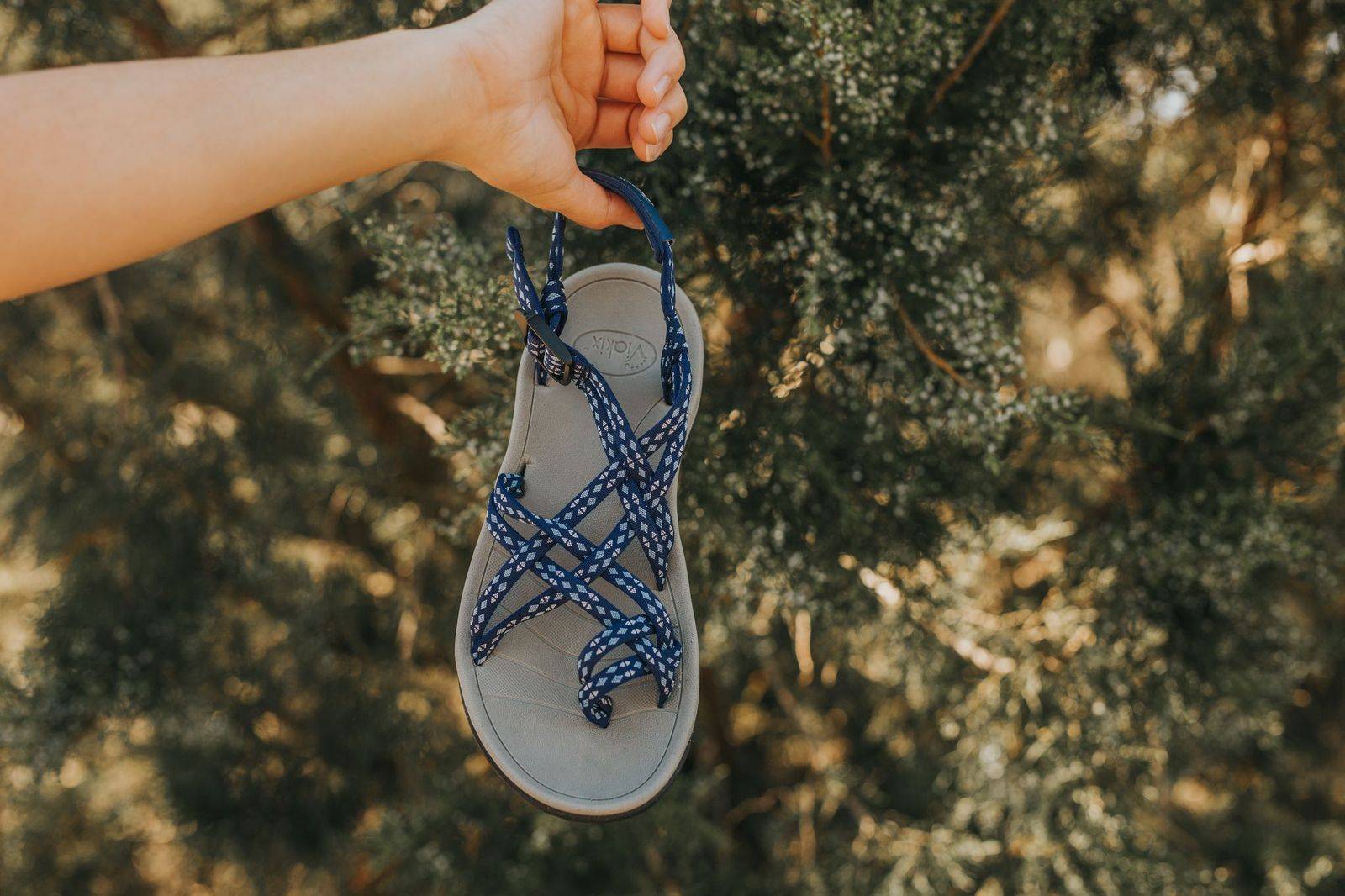 Wearing the right size shoes is important to your overall well-being. If you are wearing the wrong size sandals, you might actually be injuring your feet all day long as you walk around. Cold weather or walking habits can make your feet wider than average, leading to difficulty in finding comfortable shoes.
Sometimes sandals can be very hard to fit if you do not have narrow feet. There are many challenges to creating shoes that fit all sizes of feet, and sandals can be the hardest kind of shoe to fit if you have wider-than-average feet. Kristina Stanković et al found in their study that the personal characteristics of sex, age, BMI, frequency of sport activity, and shoe size, all significantly influence the shape of the foot. This is why a well-fitting shoe is critical to foot health.
If you want to know which wide-width sandals are the right ones for your needs and comfort, read on for some suggestions to make sure that you can wear your favorite cute sport sandals in comfort!
What Influences Foot Width?

There are many factors that influence foot width. You might be taller than average, or you could be very active. People who walk or run frequently often have wider feet than those who do not. The shape of your arches and other parts of your feet are genetically influenced and these can affect foot width as well.
Sometimes wearing improper footwear can also cause your feet to change shape. While it can be tempting to keep wearing a cute shoe when it is hurting your feet, you should avoid doing this and get shoes that are the right size shoe for your needs.
Some health conditions and other physical changes can also cause your feet to widen. For example, pregnancy can relax the ligaments and joints in your feet and make them spread out. Swelling can also greatly affect your foot size.
How to Measure Your Feet Properly When Looking for Wide Width Sandals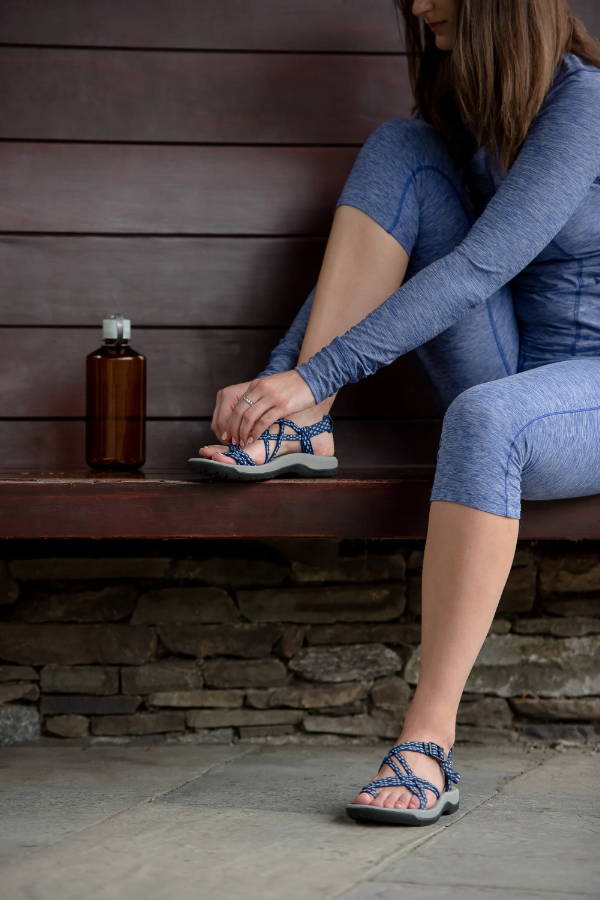 Many people are not aware of the right way to measure their feet. You might not even have wider-than-average feet. You might just be measuring your feet incorrectly.
Trace Your Foot: Put a piece of paper on the ground and set your foot down on it. Trace carefully and slowly around your foot. It will be much easier to measure your foot size with this tracing. Make sure that you have traced your foot accurately by placing your foot back over the tracing and checking that it is correct.

Get Out a Measuring Tape: Measure this outline from the heel to the point of the longest toe and write that number down. You may want to check this measurement twice.

Measure Foot Width: Wrap the tape around the widest part of your foot just across the ball of the foot. Make sure the tape is lined up with your toe joint. Write this measurement down.

Check the Measurements: You can check these measurements against the sizing guide for the shoes that you want to buy and you will be able to make sure that you get the exact right fit from your new sandals! No more guessing and ordering the wrong sizes!
The Right Hiking Sandals for Wide Feet

If you are ready to start looking at the right sandals for your wide feet, you are in luck! We offer plenty of styles that come in this width, and you will be comfortable every day that you go walking in these lovely sandals.
All of our sport sandals are designed with cozy comfort in mind, and the high-quality textiles will not fade or fray over time and with use. If you have been struggling to find the right sandals for your wide feet, then our customized fitting styling will provide you with the chance to wear sandals that are comfortable and fit correctly each and every day!
The Siena Sport Sandal: Stylish and Supportive Sandals for Wide Feet


Our Siena sandal offers a proprietary arch stabilizer that will make the insole a comfortable height and width for your feet. We love that the foam midsole is soft and kind to joints, and the customized fit will ensure that all the straps fall in just the right places for comfort and support.
The shape and styling of the straps on this sandal are ideal for wide-fit requirements and they are so cute and fun that they will never look like they are made with wide styling in mind. We made these sandals to prevent more awkward sandals purchases with only basic options!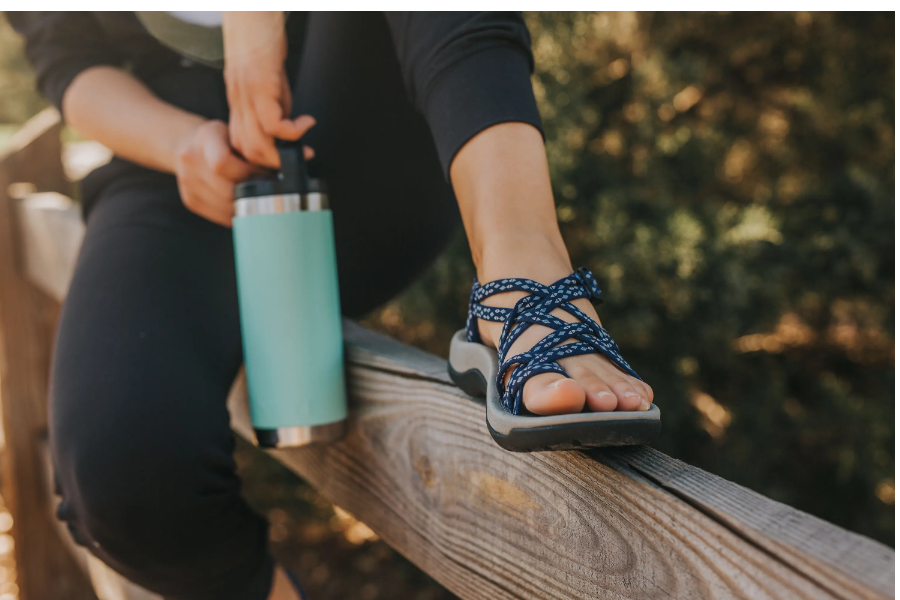 The luxurious comfort of this sandal is our byword, and we make sure that all of our sandals are made with quality textiles designed for superior comfort during all-day wear. You can go hiking or walking around town in the Siena Sport Sandal and you will be comfortable all day!
The Acadia Sandal: A Wide-Width Sandal for A Wide Range of Outdoor Activities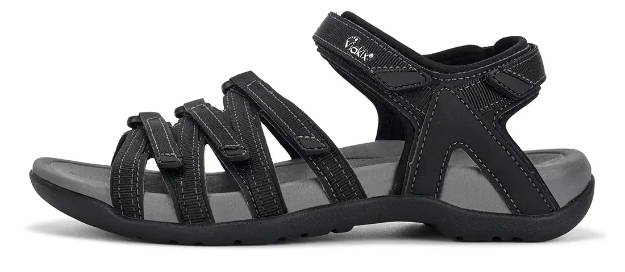 The Acadia is made for hiking and is a perfect fit for those who love to be active all day. We made this sandal with classic styling that is perfect for those who love a traditional durable sandal without clunky fittings or boring colors.
This is a great sandal for challenging daily wear due to the five adjustable hook and loop straps that will never rub or pinch. The styling of this sandal on the inside and the outside is made for comfort and to hug your feet. No more slippery sandals that will rub your feet raw, or pinch your toes.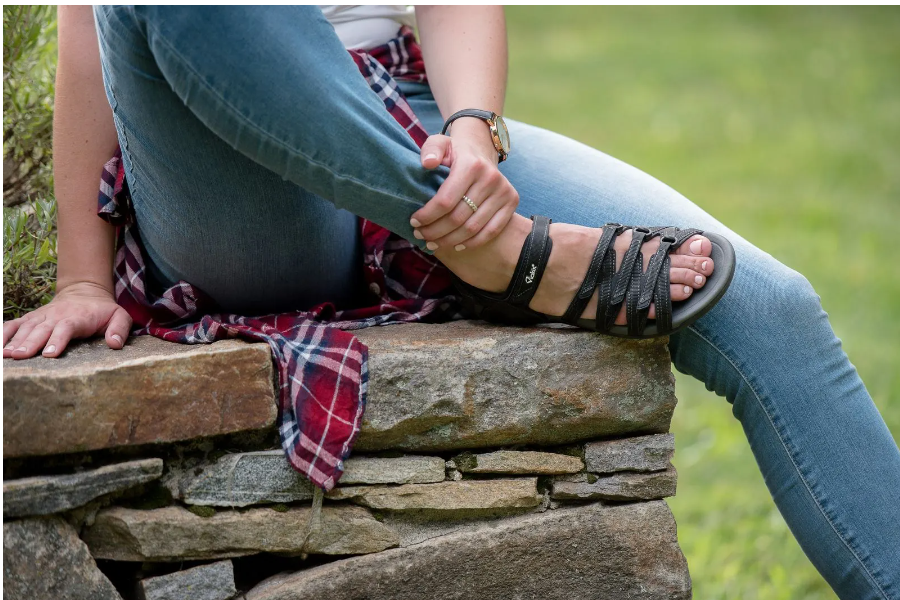 With the Acadia in your closet, you can put on a cute sandal and go on an adventure every day of the week! This is a great all-around sandal that can handle the toughest day of hard work or the most sedate day of lounging around the house.
Napali Hiking Sandals: Superior Comfort for Wide-Width Feet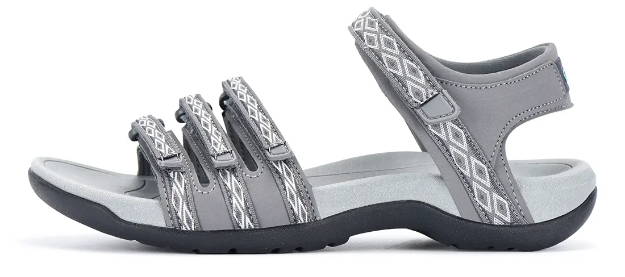 The Napali Sandal is another great hiking sandal we made for active use. This style offers four hook and loop straps that are adjustable to fit any size foot. The arch support in this sandal is comfortable on joints and offers softness and support at the same time.
If you are between sizes in this sandal, you will want to size down to the next size, not up. All the quality textiles in this sandal are made to prevent rubs and burns and to keep the bottom of your feet from getting hot. You will get a customized fit without having to sacrifice styling or fun colors and textiles.
This is one of our best sport sandals for wide feet and our customers will tell you just how much they love this sandal for daily wear.
The Sloane Outdoor Sandal: A Custom Fit for Any Width Foot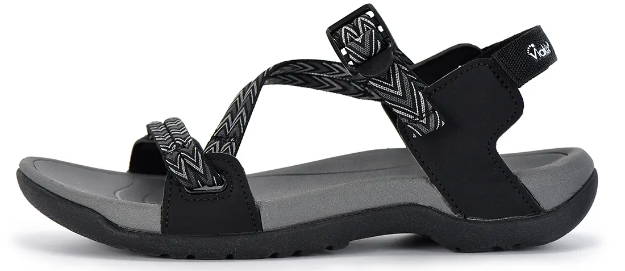 This recent addition to our lineup was made with customized sizing in mind. This is one of our most adjustable shoes and you will be so pleased with the fit that you can achieve that you will want to wear these sandals all day every day.
This is also one of our cutest styles and the thick EVA foam in the midsole makes it a great choice for those with tender feet, or who have lower arches. The ankle will never rub, and you will feel like you have worn them more years from the first day that you put them on.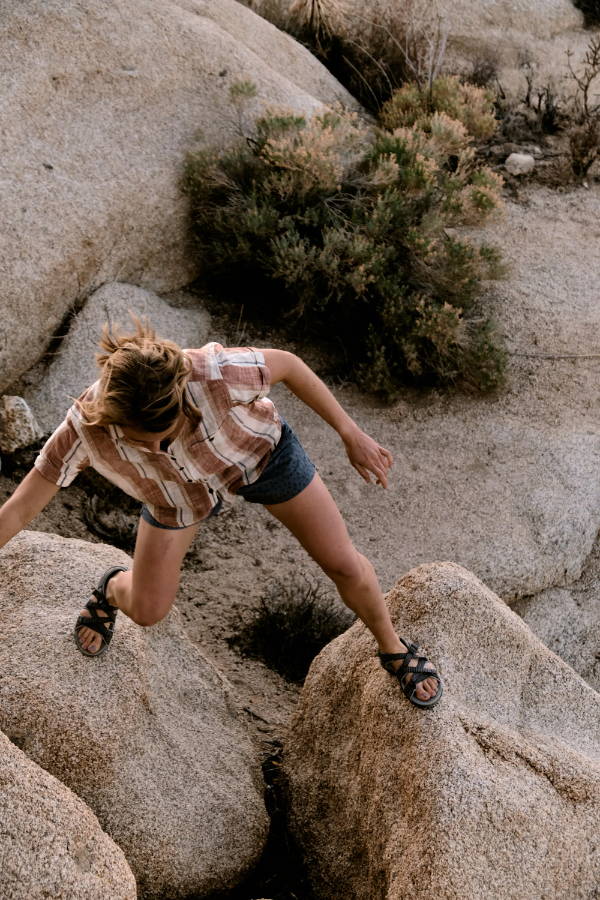 For a truly custom fit for wide feet, the Sloane is a great choice that will last for years.
Finding Hiking Sandals for Wide Feet Doesn't Have to Be a Struggle

If you are sick of struggling to find cute outdoor sandals to fit your wide feet, your days of searching in vain are over! All of our sandals are made with quality materials to stand up to daily wear, and we make very cute styles. You will never have to feel like you have compromised on quality or fun when you buy from us!
Making sure to take care to find the right fitting shoes is important to your overall health. Make sure that you put your foot health first and buy the right cute sandals that fit your feet perfectly!
Collection 2019
Sale 70% Off
Title for image