Nude Hiking: Your Survival Guide to Hiking Naked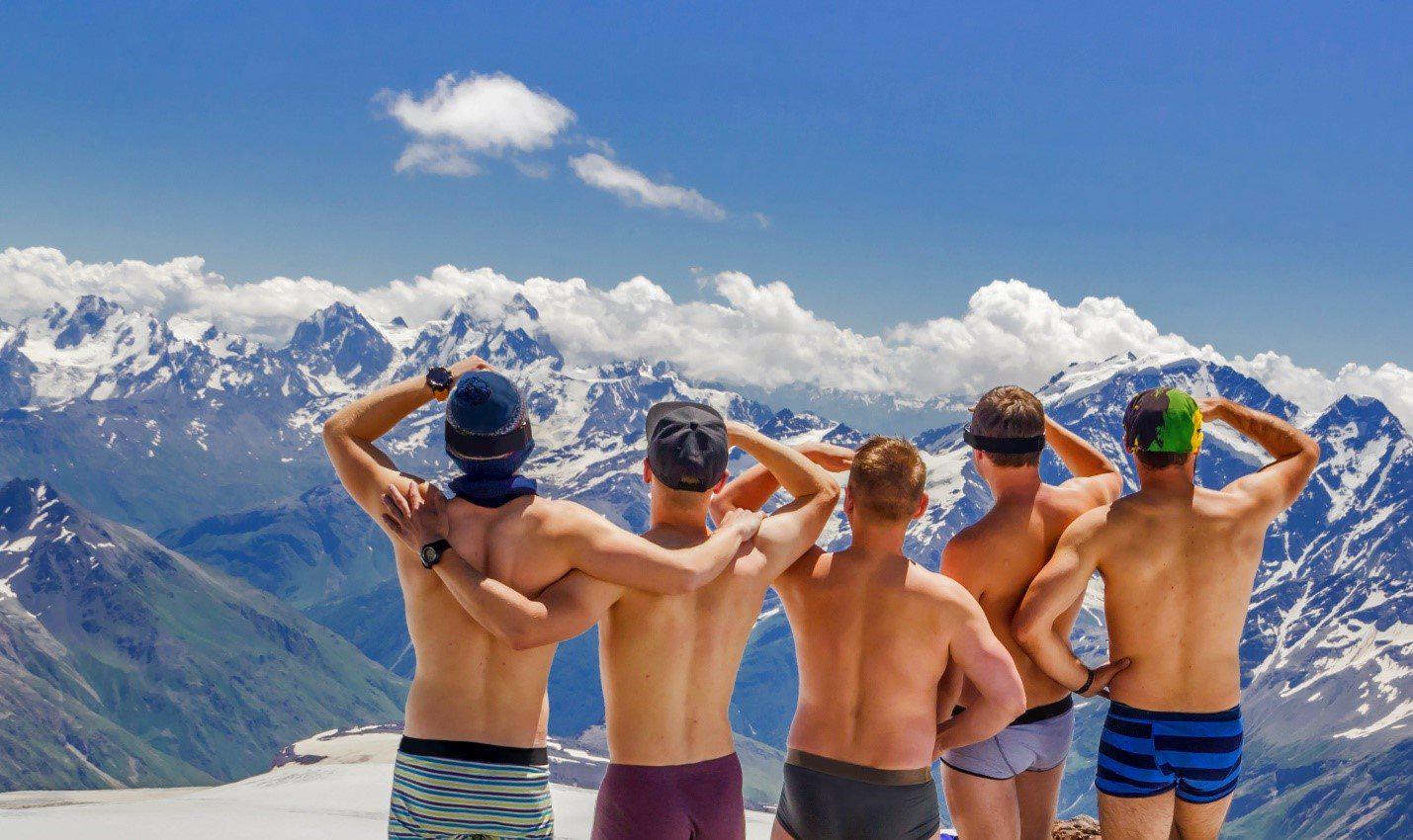 Nude Hiking Day – Your Complete Survival Guide to Hiking Naked
Naked Hiking Day is coming up fast (yes, that's right, we said naked), so get ready to pack up your hiking shoes and get to the mountains! Heard of it before? We're guessing those of you that are either nudists or avid hikers may have, but for much of the general population, you may be a bit surprised to know that this is actually a named holiday. Naked hiking day falls on the summer solstice (how perfect is that?!) which lands on June 21st, so it's perfectly nice and warm.
The first thing you might be wondering about is if it counts as naked if you're wearing sandals or shoes… and the answer is yes, yes it does. Although the rest of you is unclothed, we need to make sure our feet are properly covered so we don't come home with cuts, bruises or stubbed toes. Otherwise, be free and allow nature to be the only cover you need!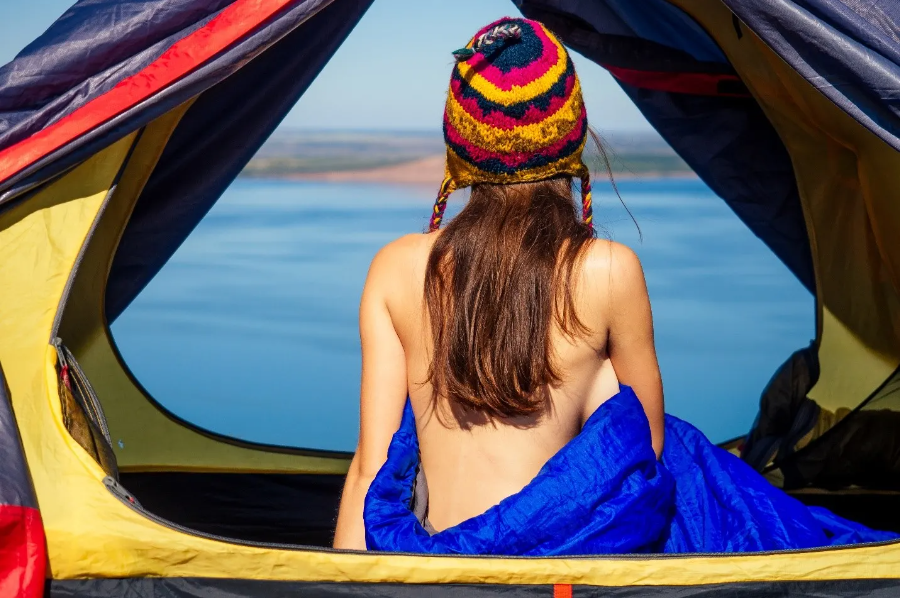 Now that you've heard of Naked Hiking Day, don't go too crazy and just start taking off all of your clothes at the local mountain. Be sure to check out the rules and regulations around hiking in the buff in the state and town or city you might want to try this out in.
Although there are no federal rules that ban nudity in national parks (if you're not inciting crude or sexual behavior...let's be honest, there have to be some rules about this), there may be local legislation that will put a stop to the party before it begins. Not only will they stop the party… you could be arrested or charged with a crime, so again - be sure to check first!! You don't want to be like this guy.
Since this fabulous holiday lands on a weekend for 2019 and 2020, you may want to celebrate on a weekday to avoid large crowds that may not take to nude hikers so well. The good news is, the next few years after that will be on a weekday, so buff hikers, rejoice!
Now that we've gotten the disclaimers out of the way, we're ready to roll and prep you for survival out there.
Nude Hiking Rule #1 - Bring a buddy
As you might be able to imagine, it's likely safer to hike naked with a friend (or many). Since you never know who the next person you might bump into is, we encourage each of you to take some precautions just in case.
If you don't have a friend that's willing to take this rare adventure with you, or your significant other isn't really "down" for this kind of thing, there are definitely other options that will help you stay safe. One of those options is to join a group that has done this before!
There are lots of people out there just like you that want to experience this unusual day, so you might as well band together and take the trek with like-minded company. Make sure your group has done their research and has a good, remote spot planned out to adventure together.
You may be surprised to learn that there are meet-up groups all over the US that take part in this renowned tradition, so check them out if you so choose!
Nude Hiking Rule #2 - Be Aware
Still on the safety note, we want to ensure that you're taking the right precautions not to get yourself in a sticky situation. Be aware of other hikers around you in two ways. The first is to notice the fellow naked hiker that's just a little too excited to see everyone in the buff, or the man or woman that creepily watches as you walk by.
There may be groups out there that are into a bit more than hiking, so just be aware of that if you do join any groups as noted above. Make sure to get a full understanding of what you're getting yourself into before you agree and start the trek!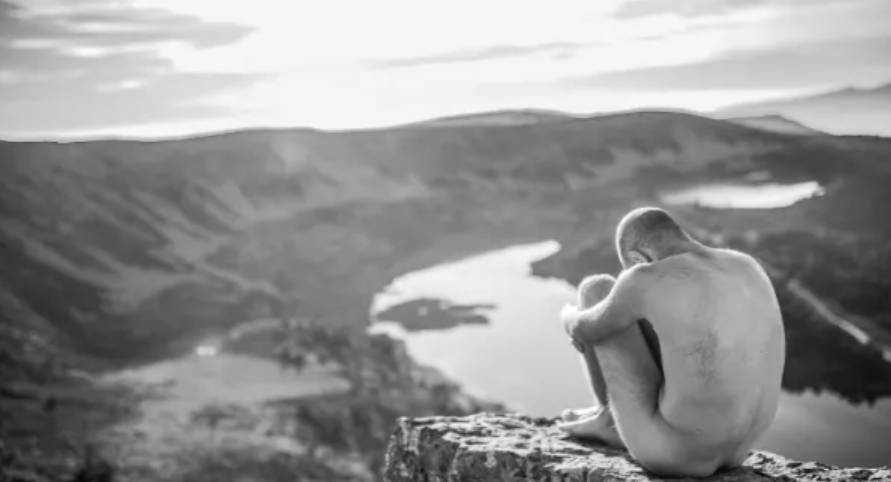 The other thing you need to watch out for is clothed hikers that you might be making uncomfortable! As you can imagine, not everyone is aware that this gem of a holiday exists, so be aware that you might run into families or solo hikers that don't have the best reaction to your lack of clothing. Try to be as polite as possible and just move on in your trek! Not everyone is as open as those of you brave enough to take this adventure on!
Nude Hiking Rule #3 - Find the perfect spot to be naked
Location, location, location. As we alluded to above, there are so many places that will have rules against this. Live in Colorado? Don't even think about it, especially in public places (but maybe, just maybe, you can get away with a super remote hike if you really do your research). They're not into your cover-less preferences.
There are plenty of great locations, however, that will welcome this day with open arms. You can find articles that will outline all of the places that won't give you a ticket (or put you in handcuffs) such as this one!
As you can probably guess, the more remote your location is, the better. It's just easier not to have to deal with the many awkward encounters you might run into! Find a spot you've never been and take this opportunity to enjoy some hiking paths less traveled!
It's basically a great excuse to check out somewhere amazing and new. Basically, we're just trying to tell you not to be these people right here: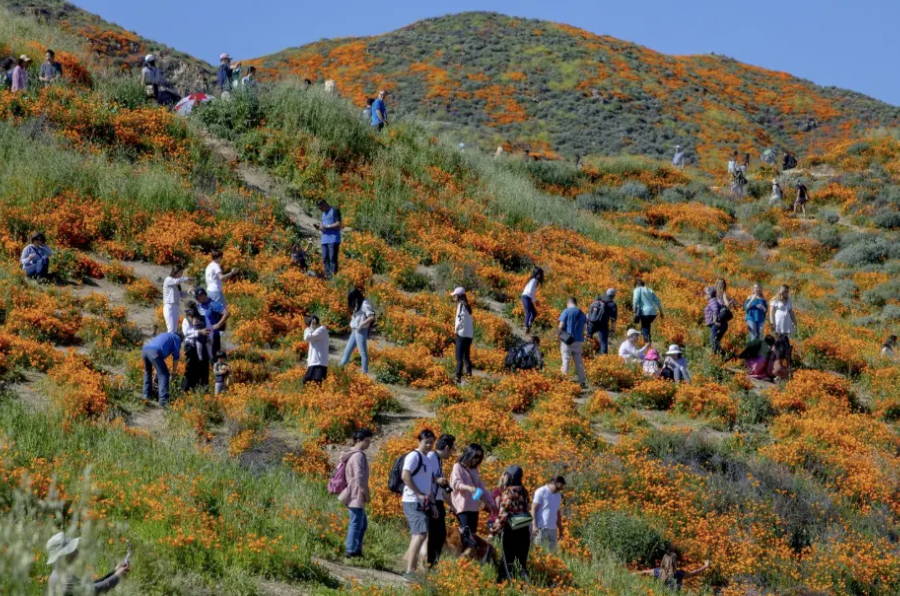 Photo credit: Kyle Grillot/Bloomberg News
Nude Hiking Rule #4 - Pick out the perfect hiking sandals, hiking shoes, boots
OK so now that we've gotten a bunch of the necessary warnings out of the way, let's get to the fun part - picking out great shoes! Thankfully, nude hiking still allows for footwear, as we mentioned above, so you're going to want to make sure it's the right pair. We have three different options that will make your life so much easier, and will match perfectly with your…. Well, never mind.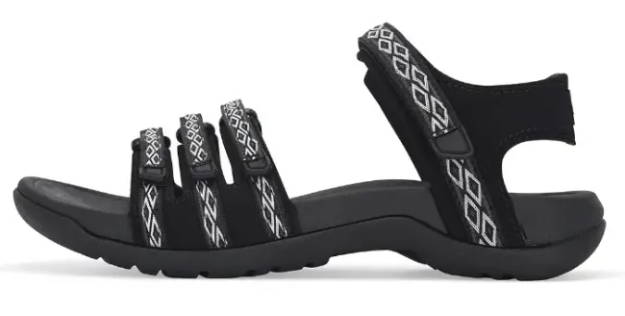 One of our fan favorites is the Napali Hiking Sandal for Women. Since it's rather warm in most places by late June, a sandal is a great choice. Viakix sandals make it easier to trek through the uncharted territory you'll inevitably find on your remote trail. This athletic sandal, in particular, is the perfect choice for the hikers that aren't afraid of a small river or tougher terrain; it will keep your feet comfortable throughout your adventure.
This Napali is one of our favorite hiking sandals since it has water-resistant webbing, a rugged rubber outsole that can survive even the toughest of hikes, and will provide you with traction that's unparalleled.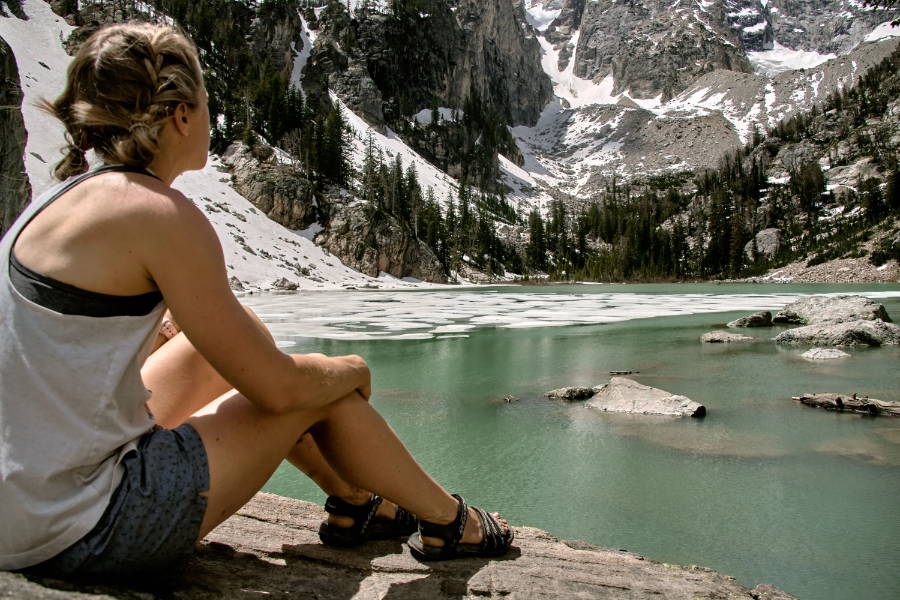 Since you're not going to be wearing anything else that can protect your body from each step, this outdoor sandal is a perfect choice with it's EVA foam midsole and ultra-comfortable fit. Another perk? They won't leave you with some seriously ridiculous looking tan-lines like those heavy duty boots do!
These sporty sandals also come with great orthotic support for those who need better arch support.
Siena Sports Sandals for Hiking Naked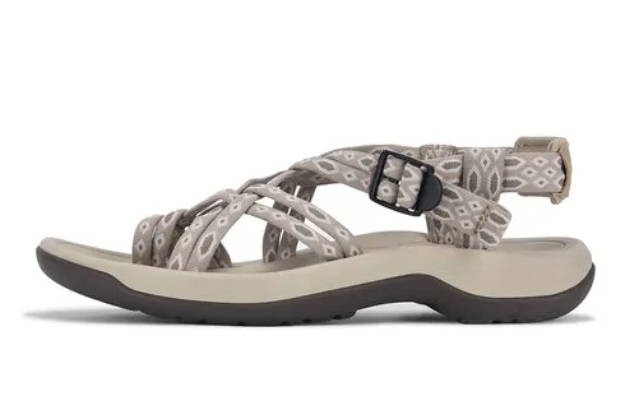 If you're more of the walker/hiker, our Siena Walking Sandal might be a better fit. If you're planning on a shorter or flatter trip and aren't looking for anything too crazy on your nude hiking adventure then these cute and comfortable sandals is the one for you.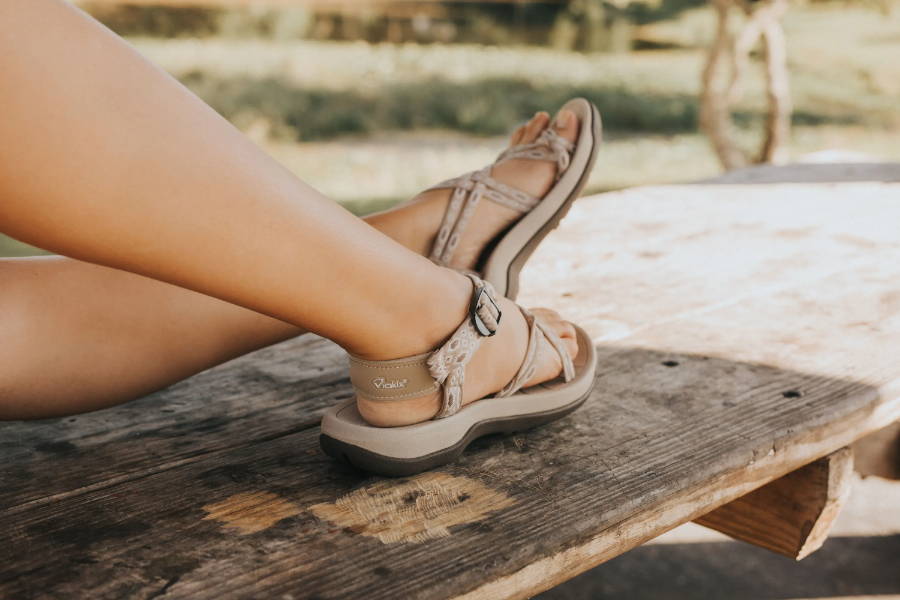 Made specifically for women, these this stylish sandal are constructed to be extra comfortable with superb arch support and EVA foam midsole, a quick-dry finish, and our rugged rubber outsole.
Men's Shoes for Nude Hiking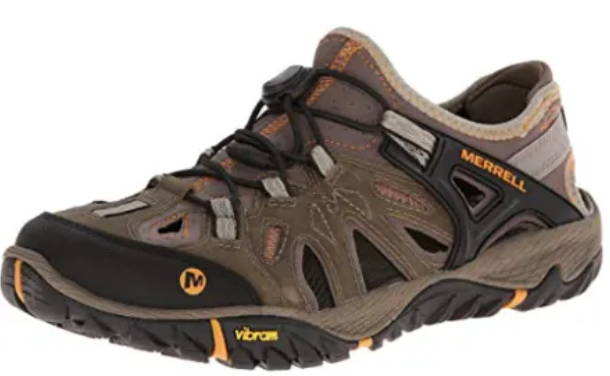 For the men out there, this one's your best bet. The Merrell All Out Blaze Sieve is a favorite of many hikers, although we haven't read any reviews about nude hiking in particular ;). They're light-weight, water-friendly, and have even been called the "surf and turf miracle shoes". They will tough out some serious terrain and will stay comfortable even without your trusty hiking socks. Although these may not be as tan-line friendly as our female options, they definitely beat hiking boots in the tan legs, ghostly feet arena.
Nude Hiking Rule #5 - Don't let the wilderness beat you.
Don't get us wrong, nature is awesome, but it can definitely bite you in the bottom (okay, some pun intended) if you don't prepare for it. The first thing to pack in your bag? Sunscreen! We don't need to tell you how uncomfortable a full body sunburn will be. Be sure to bring water-resistant sunscreen that will last, but also don't forget to re-apply every few hours.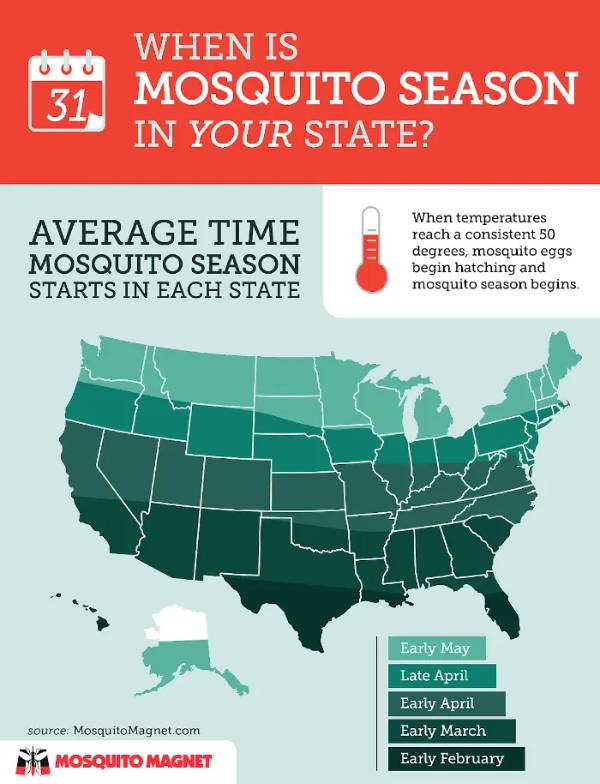 Not only is the hot sun coming for you, but there are also pleeeenty of mosquitoes out there that aren't afraid to bite. Try to avoid hiking near dusk when mosquitoes are most active (at least in the United States) so you're not covered in bites by the time you get home.
They're also most active near water, so check out your route for still water before you head out. While we're talking about our little bug friends, don't forget about ticks and stay out of the higher grass and brush!
You, quite literally, have no protection against these little guys when you're nude, so this is not a rule to skim over. Be sure to continuously check for ticks throughout the hike, stopping them before they latch on.
Read up on ticks that can carry Lyme disease so you can head right to a doctor if needed, and take a small plastic bag with you to save it if you're unsure. Your doctor can test it for Lyme if you're worried!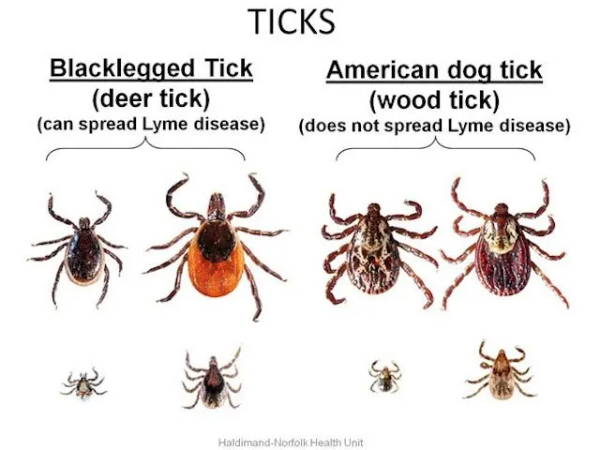 Lastly, don't forget about your good friends poison ivy, poison oak and poison sumac. These two might be the least fun and the longest lasting out of nature's nude hiking challenges.
Given the extra skin being exposed, you need to know what plants to avoid. Check out, or actually study the below picture that can help you identify these three plants that actually appear to be pretty beautiful in person.
Need we say the obvious? Don't touch them.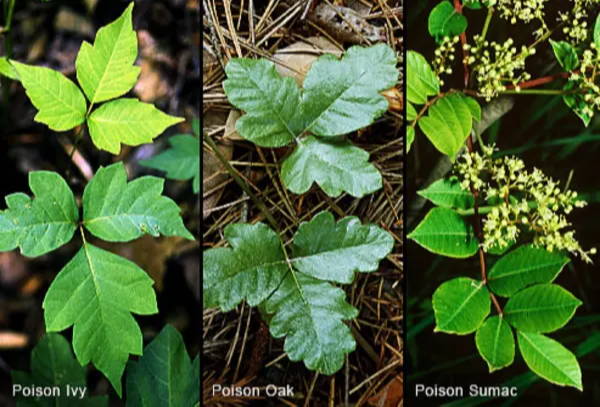 And don't forget your sunscreen. Sorry, we just had to warn you one more time.
Nude Hiking Rule #6 - Stay Hydrated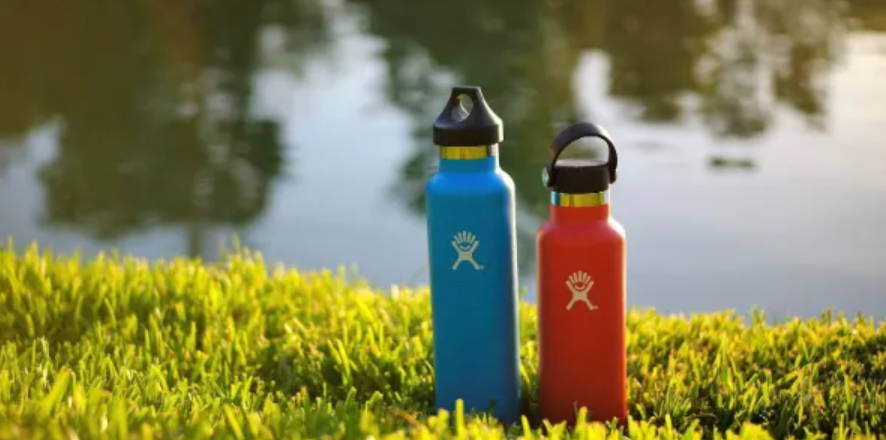 This one is a no-brainer for any hiker. Being naked doesn't mean you can't bring along a fanny pack or backpack that can keep your water supply handy.
Since the sun will be beating down on skin that doesn't often see the light, you want to ensure that you're drinking the right amount of water needed for your height, weight and level of exercise. You can check out resources like this article that can outline just how much you should plan on bringing with you.
Now that we've outlined your rules for survival, it might sound like there aren't all that many benefits to nude hiking and potentially more warnings than you would have liked to hear about, but that's not the case! If you're well prepared and do your research on how to do this successfully, this epic day can easily become a holiday that you look forward to each year.
And, if you need another reason to get out there on June 21st, there are plenty of those when you look at the benefits of being naked more often! We can't think of better incentives to start prepping your journey and take advantage of this unique opportunity to let it loose!
Reviews (3 comments)
Collection 2019
Sale 70% Off
Title for image