Our Top Sandals for Cruises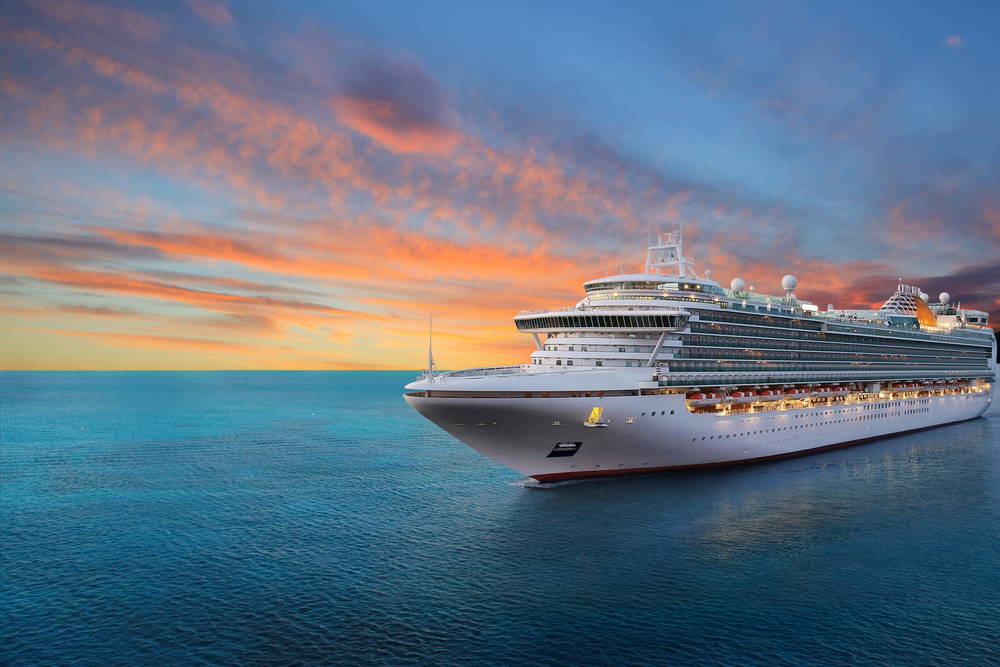 Choosing the Best Sandals for Cruises
Exploring the world on a cruise ship combines luxury, comfort, and adventure. Without worrying about planning transport or booking accommodation, you can enjoy all the perks of traveling without any of the hassles. This is what makes cruises one of the best travel options out there, whether you're a couple, family, or single. Cruise ships offer short-day excursions to nearby islands or countries, depending on where you are. They give a fulfilling experience that varies between food, drink, and culture. It's a choose-your-own-adventure way to travel. Personally, I love cruises because they take care of all the planning. Without having to think too much, I can fully enjoy my vacation without having to wonder where I'm sleeping, eating, or going every day. Once that stress is lifted, I can fully relax into my holiday.
Whether you're cruising the Caribbean or touring Alaska, cruises offer a wide variety of destinations at great value. If your cruise includes all you can eat or drink, then you're well on your way to a comfortable adventure in a beautiful part of the world. I always tell myself that the food and drinks I consume on a cruise don't count. It's a vacation, after all, and I'm all about living life to the fullest! Evenings spent on the deck of a cruise ship are special. It's one of those things you'll remember forever.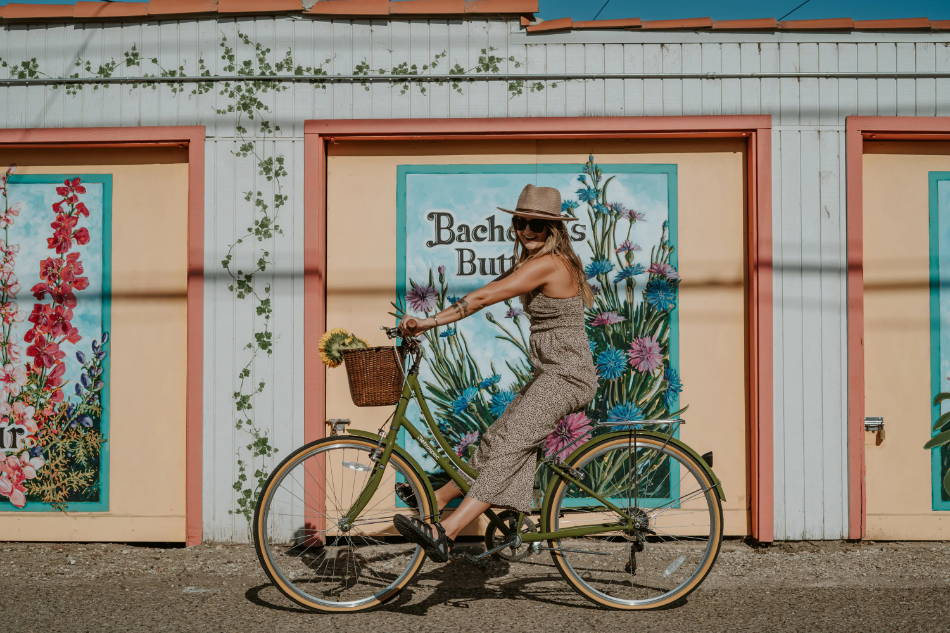 Overpacking for a cruise is a major no-no. The cabins on the cruise ship are not very spacious, especially if you're sharing it with one or two other people. There's nothing worse than lugging around a giant backpack and trying to find space in close quarters. You can easily avoid this by limiting your footwear. Packing sandals for a cruise is one of the best ways to prevent overpacking. Our sandals double as adventure shoes and dinner shoes, so you can wear them out on a day trip and then out to dinner.
For day excursions that involve a lot of walking, choose a sandal with a back strap, which most of ours have. I know I love wearing sandals with straps on them on cruises. They're easy to strap on and off, and they make hiking and walking very comfortable. Our sandals are breathable, which is a necessity in tropical or warm climates. If your cruise is taking you to a colder location, you can easily wear socks with our sandals to keep your feet warm and dry. They pair well with cruise outfits like long dresses and skirts. Besides, they're ideal for shore excursions that involve a lot of walking.
One of my favorite parts about wearing Viakix sandals on cruises is how versatile they are. They're great for days sitting by the poolside, hiking, or abseiling adventures on the water, followed by dinner in the evening at a fancy cruise restaurant. Choosing the correct sandal mainly depends on where your cruise is going, your length of stay, and the number of excursions you go on. We're here to give you tips and help you find your perfect sandal match.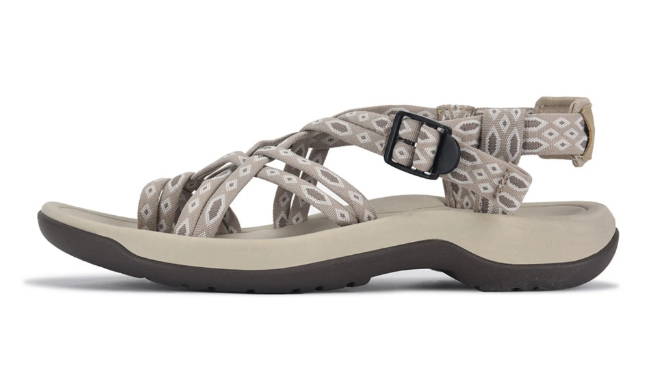 Siena Sports Sandals for Cruises
Taking yourself on a cruise is one of the best ways to pamper your mind, body, and spirit. So why not take it a step further and wear comfortable shoes that pamper your feet during the day and night? Our Siena sandals pair wonderfully with jeans, sports shorts, and dresses. They're versatile for any outfit and cruise occasion, whether you're trekking through island cliffs or dancing the night away to a guest DJ. Never again will I try to squeeze my feet into wedges or heels. Those fancy cruise occassions are not worth the pain, especially when I know I can wear open-toe sandals that actually support my feet! And to think I used to give up comfort just to try to be stylish.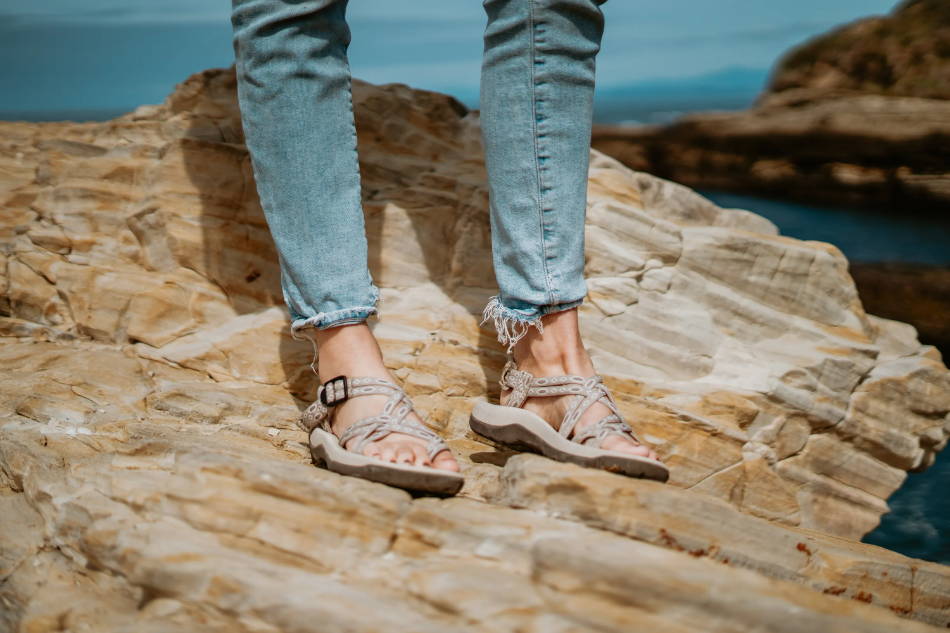 These sandals have thick EVA foam midsoles and ergonomic outsoles with substantial arch support. The adjustable ankle strap is customizable and won't trap water if you get wet. Our sandals are made with high-quality material, and the rubber soles and patterns provide excellent traction to keep you safe while walking around the cruise. You can choose between several strap designs and color options best suited to your nighttime outfits. Walk around your cruise in style! Comfortable sandals are a must-have for any cruise, especially ones that offer quite a bit of activities and involve a bit of exercise.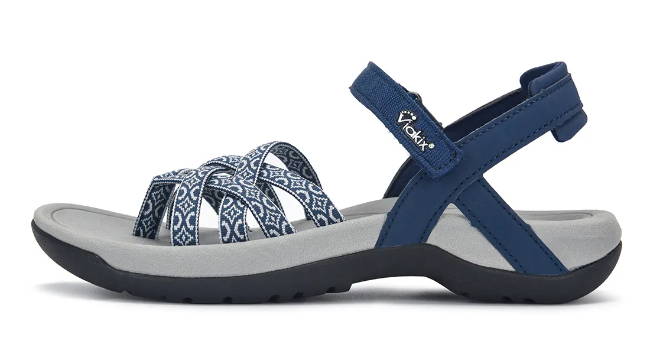 Samara Walking Sandals for Cruises
There's a good chance you'll get you'll hit your daily 10,000-step goal on a cruise ship. Walking from the pool to the restaurant, and back to your room might take ten to twenty minutes, depending on how big the cruise is. That's why you don't have to feel guilty about gorging on food at that 24-hour restaurant in the middle of the night. Our stylish walking Samara sandal is an essential cruise ship item. Not only are they cute, but they're comfortable, functional, and fashionable. The traction on the bottom of the sandal will prevent you from slipping on any wet surfaces on the cruise ship, for example, if you're often near the poolside (which is hopefully the case during your vacation!).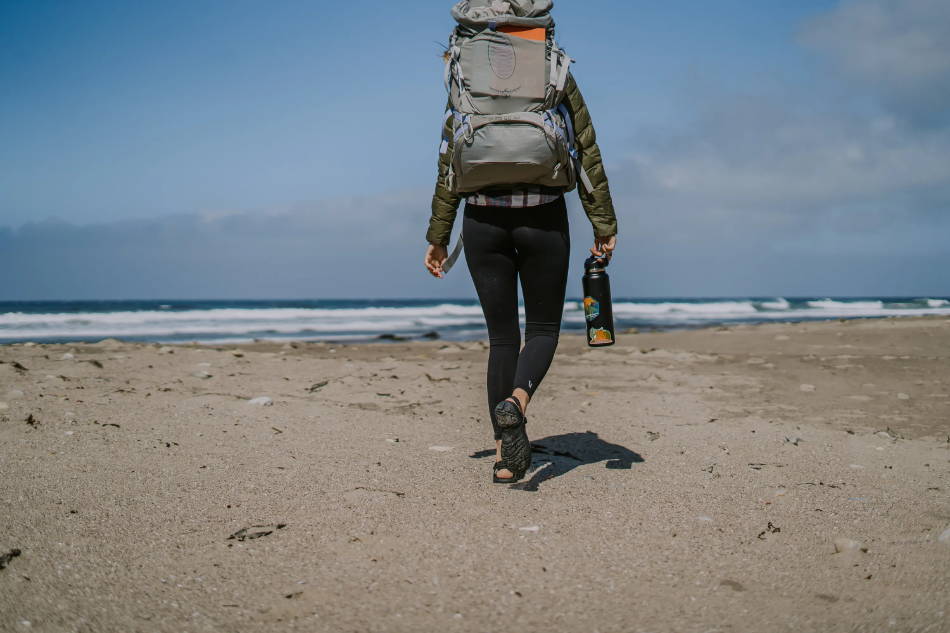 They have a thick comfortable EVA foam midsole to provide cushioning and reduce joint stress. The ergonomic outsole, equipped with a shank stabilizer, is durable and supportive. The front of the sandal has elastic textiles, ideal for those of you with medium and narrow-width feet. The hook and loop strap on the ankle is customizable, so you can adjust it to fit your level of comfort. You don't want to injure your foot while walking around the cruise ship or suffer from heel pain, which is why our Samara sandals make you a great cruise companion. With so many pairs to choose from, you might have a hard timing picking your favorite color or style. Don't fret, because whichever sandal you choose are the best cruise shoes. I love wearing a neutral color, since I know it pairs well with many of my outfits. I have friends who prefer colored sandals, since they love things that are bold and bright!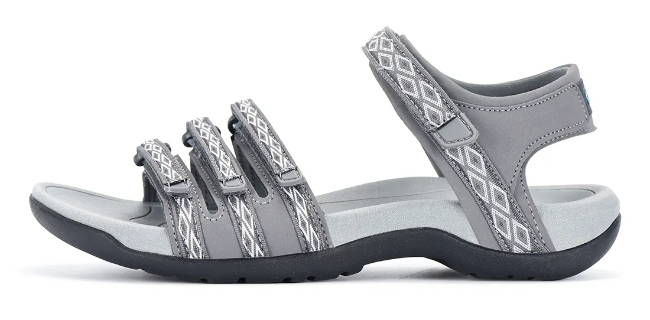 Napali Adventure Sandals for Cruises
If your cruise takes you to the wild waters of Alaska, Hawaii, or other mountainous parts of the world, you're in for a treat. This is where you'll embark on day trips that'll involve hiking and walking, and why you'll need a hiking sandal that you can wear hiking, in the water, and on other types of excursions. Our Napali adventure sandal, named after the Na Pali Coast on Kauai, Hawaii, is a quintessential packing item. Not only will their cute design look great with your dress at the cruise ship's late-night bar, but they're comfortable and pampering for long day tours.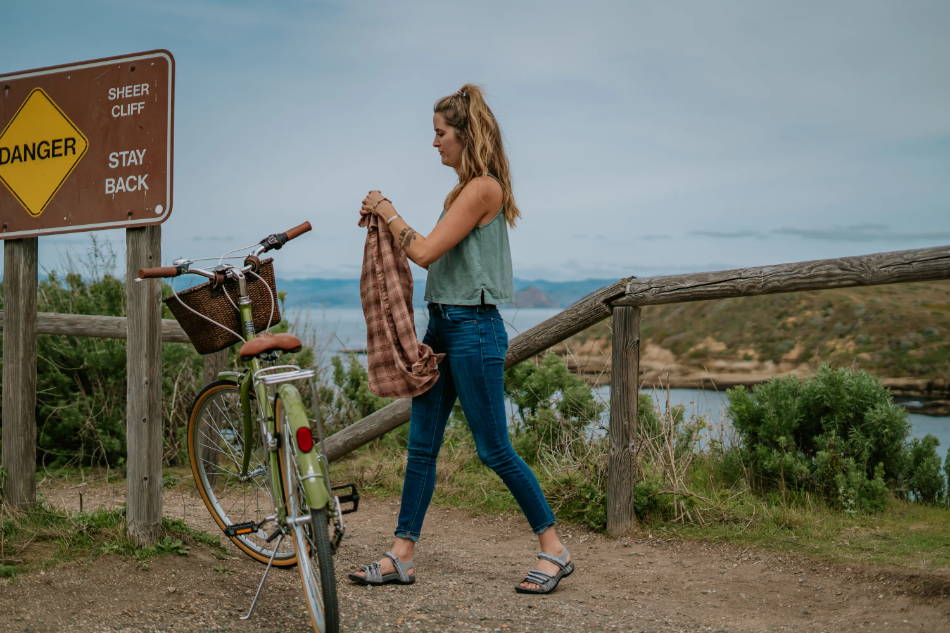 The soft hook and loop straps will hug your feet for a customized fit every time. It has a thick EVA foam midsole and an ergonomic outsole for substantial arch support on long hikes. The adjustable strap is easy to change, and the water-resistant material will keep your feet dry in wet weather or on wet surfaces. You can even wear these shoes in the water. If one of your cruise excursions involves a kayaking trip, you can easily jump off the kayak and swim in the water. While in the Bahamas, one of my day trips involved abseiling. I wore my Viakix sandals while flying through the air with an incredible view of the islands and the cerulean blue sea. They comfortably stayed strapped to my feet and dried quickly after the excursion. Talk about the perfect travel sandals!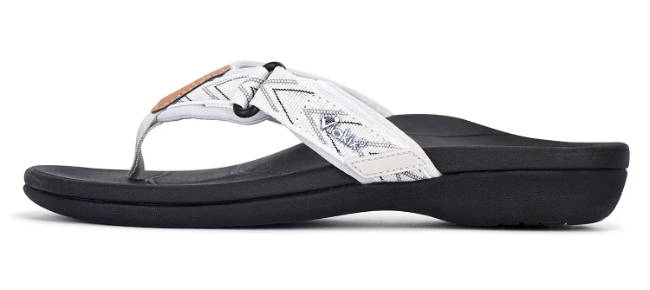 Kiawah Orthotic Flip-Flops for Cruises
Walking around the cruise ship calls for easy-to-slip-on and easy-to-slip-off flip-flops. Unfortunately, flip-flops are oftentimes unsupportive and can cause more pain, especially if you're prone to high arches or supinate. That's where our Kiawah orthotic flip-flops come in. These sandals are ideal for warm weather, lounging by the poolside, going on escapades to nearby beaches and islands. They're convenient in that you can take them on or off in a matter of seconds. They're not advisable for hikes but are perfect for cruises where you don't have hiking excursions. So if you're one of those travelers who takes relaxation to the maximum, then you'll love these flip flops.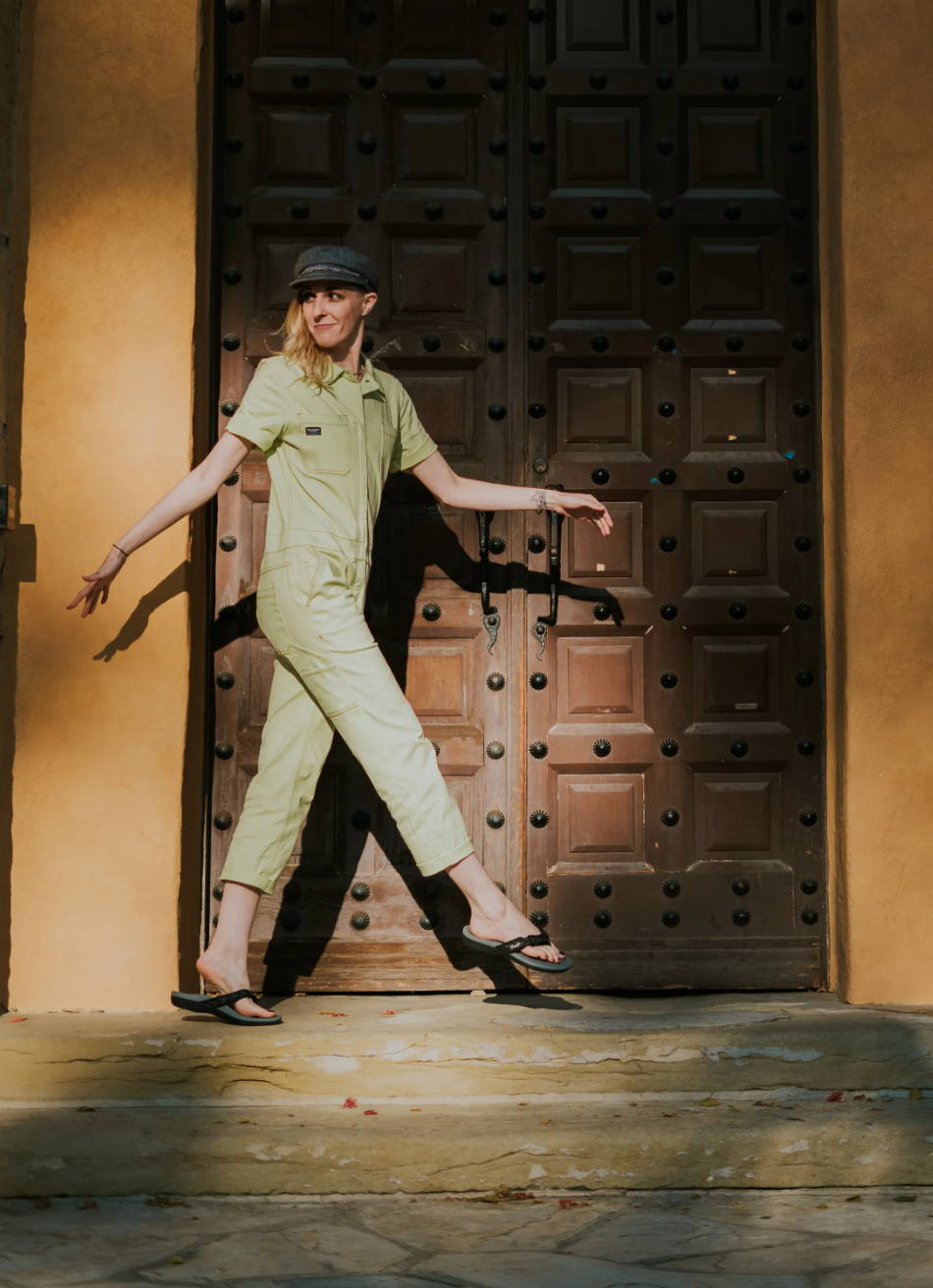 Better yet, if you suffer from any foot pain, high arches, or supinate, our orthotic flip-flops take care of you. They have a cushioned ergonomic EVA foam sole, excellent arch support, and a deep heel cup that absorbs the body's impact. This naturally aligns your feet, and you'll feel a soothing fit whether you have an orthopedic heel, plantar fasciitis, supinate, or high arches. Doesn't it sound like a blessing for those of you who suffer this pain? These will be your number one orthotics sandals for cruises. You'll never go back to any other sandal, especially after your experiences with these.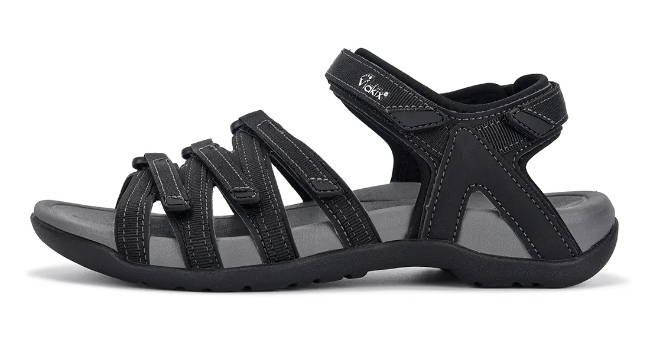 Acadia Adventure Sandals for Cruises
Everyone wants breathable sandals. There's nothing worse than dealing with sweaty feet, especially when you're in a tropical climate. There's no need to hide in your air-conditioned cruise ship room when you can wear the Acadia adventure sandals. Our breathable sandals come equipped with our renowned thick EVA foam midsole and ergonomic outsole, which provides substantial arch support. If excursions from your cruise involve walking or hiking, these sandals will cradle every curve of your foot. They have five hook and loop straps to ensure a customized fit. The strap around the ankle is customizable and supports your ankle, heel, and arches.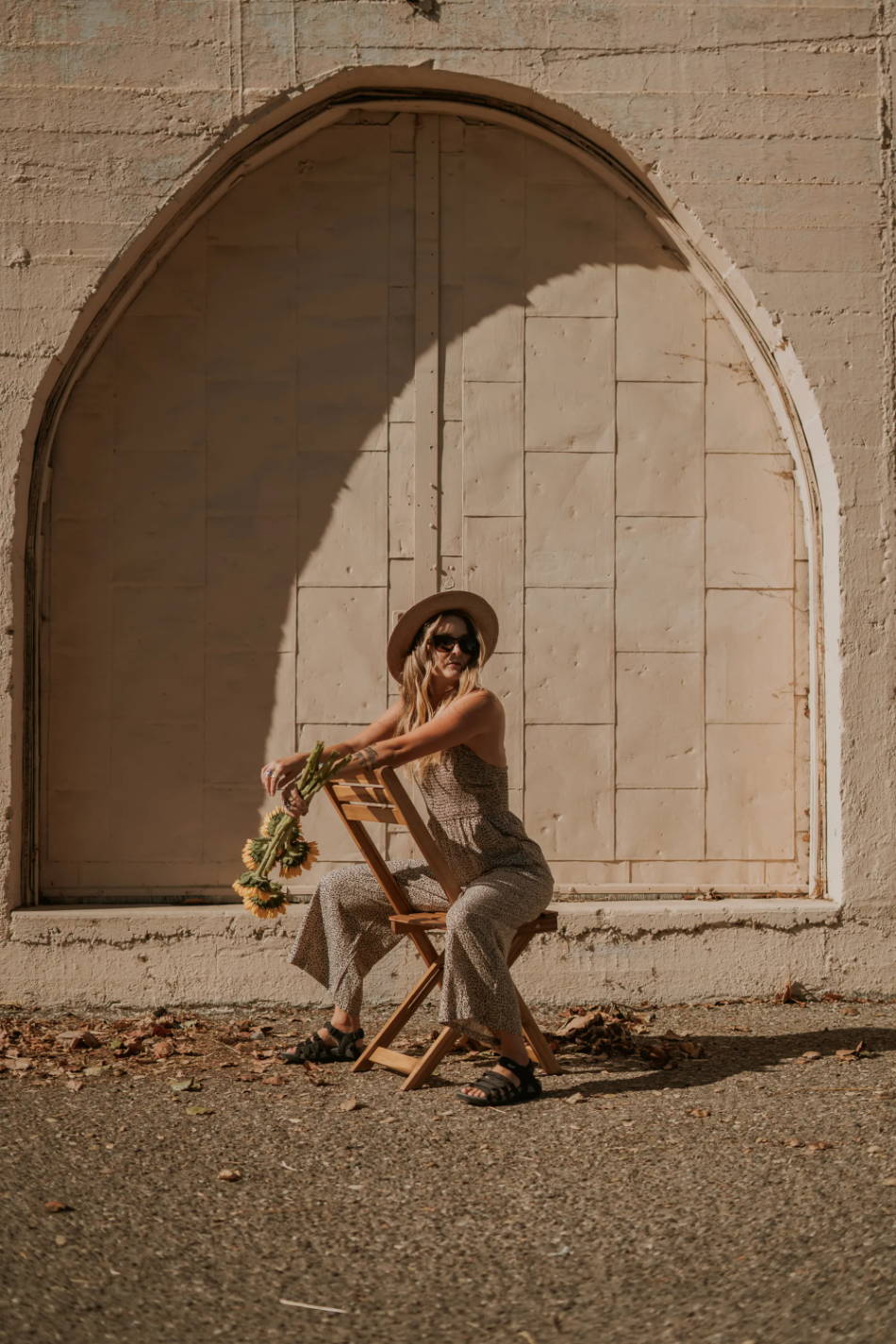 If you want to go to the gym while you're on your cruise, you can wear these sandals on the treadmill, the elliptical, or the bicycle. Head to the pool wearing these sandals after your gym session, and then wear them out to a fancy dinner. These sandals are a three-for-one deal! I love wearing my Viakix sandals on adventures and then to the bar. It saves the hassle of packing extra footwear or spending time looking for a decent sandal. These versatile sandals have cute straps that match my dresses, jeans, and skirts. I can pack lightly because I wear these sandals everywhere I go. If you do the same, it means you'll have more room in your bag for souvenirs.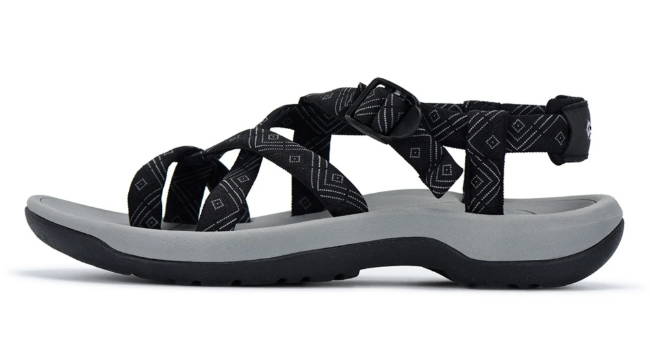 Cortona Sport Sandals for Cruises
When you're on a cruise, you want a sandal where comfort and style go hand in hand. You're pampering your mind and body, so why not pamper your feet, too? That's a job for our Cortona sports sandals. These sandals have soft stretchable straps that hug your feet for a customized fit every time. If you're swimming in the pool wearing your sandals, you can easily adjust the strap so they hug your ankles. If you want a looser fit out of the water, simply loosen the strap. These sandals also have a renowned thick EVA midsole and ergonomic outside for substantial arch support for long walks. I love wearing these sandals and knowing my feet won't suffer at the end of the day. There are so many views to see, and I don't want my shoes to be the reason I can't see them.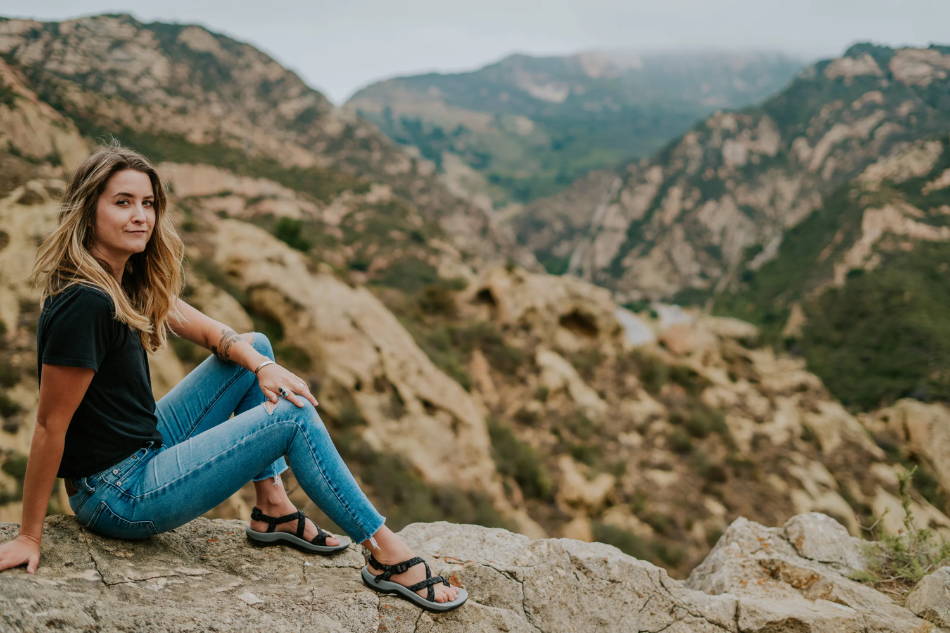 If your cruise excursion takes you to a nearby island, bring these sandals with you. These cute sports sandals are also great for kicking a soccer ball on the beach or playing frisbee on hot sand. Don't worry about burning your feet, because the high-quality material will protect your feet from the elements. You can also walk from your towel to the water wearing these sandals, and don't have to think twice about stepping on coral or sea urchins. But one of my favorite parts about these sandals is how easily they fit into my luggage, and the fact they don't add any extra weight to my bag. We're here to protect your feet.
For your next cruise escapade, pack one of our Viakix sandals. Our top picks are perfect for water activities, hiking day trips, working out at the gym, and enjoying a cruise ship dinner at one of its many restaurants.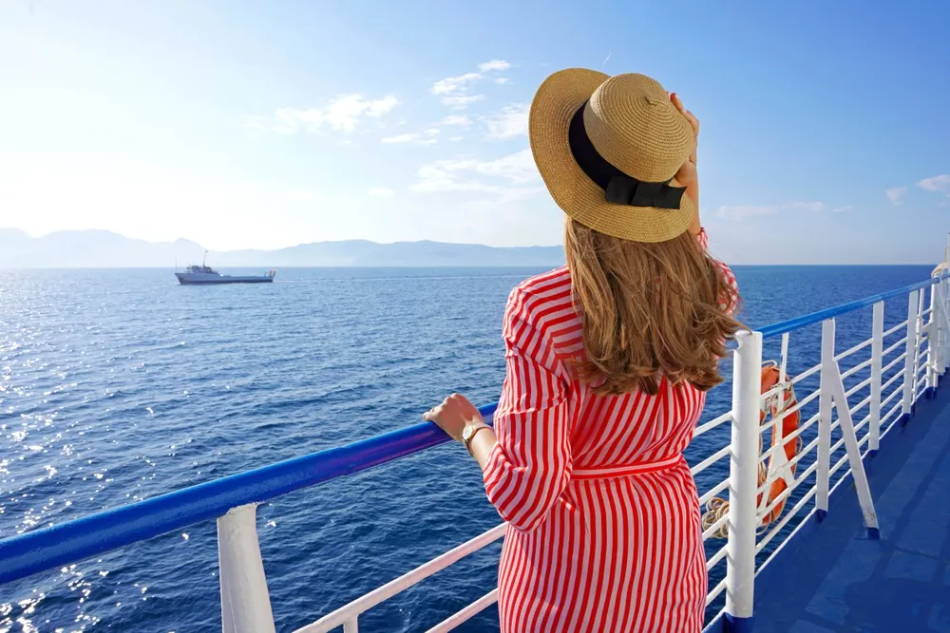 Frequently Asked Questions
Do I need to wear sandals on a cruise ship?
To prevent injury and keep your feet protected, it's always a good idea to wear sandals on a cruise ship. Unlike sneakers, sandals help your feet breathe and provide substantial comfort and support. Our Viakix sandals also have great traction to help prevent slippages on wet ground. These are the top no-slip shoes out there for any sort of activity you want to do. We're bringing cruise sandals to another level!
Can I go swimming in Viakix sandals?
Absolutely! Our Viakix sandals are waterproof and water resistant, which means you can easily swim in the water without worrying about ruining the sandal. The quick-dry straps won't chafe your feet, and these sandals protect your feet from rocks, shells, gravel, twigs, and coral. You'll be the most popular person on that cruise, all thanks to your Viakix sandals.
Should I wear sandals or flip-flops on a cruise?
It's totally up to you! If you're walking around the cruise ship and want a sandal you can easily slip on or off, then the Kiawah flipflop is your best option. But if you plan on going on long day excursions or hiking, then wearing a sandal with ankle and back straps will give your feet and arches the support they need. Make sure you choose the best shoes for the activities you plan on doing.
Collection 2019
Sale 70% Off
Title for image