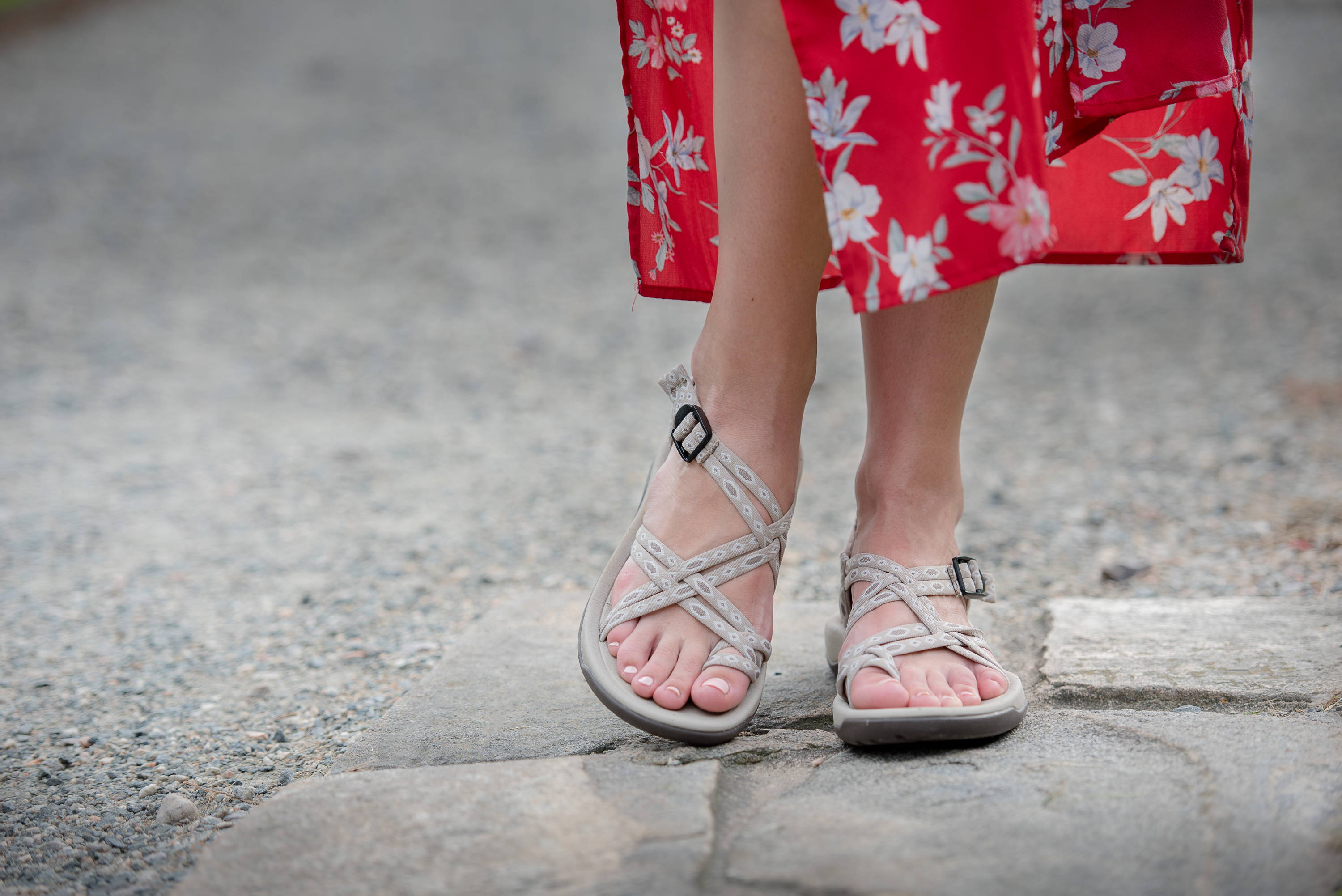 Top 6 Outfit Choices for Pairing With Sandals
When it comes to putting an outfit together, your shoes matter. Did you know that a staggering 70% of sandal wearers believe that the right pair can elevate even a classic pair of jeans? (Source: Modern Magazine, 2021). There's nothing worse than splashing your cash on an outfit that makes you look fabulous, only to be let down by uncomfortable shoes that squash your mood and ruin your day. That's why it's paramount to find shoes that are not just stylish, but also comfortable and durable — even if you intend to wear them every. single. day.
While you might initially associate sandals primarily with long hikes, around 60% of our customers have expressed their love for pairing them with flowing maxi dresses for a breezy vibe. Think sandals can't extend beyond your usual outdoor gear? Think again. Dive into our guide below to explore our top 3 outfit choices perfect for pairing with our best-selling sandals.
1. Shorts, Sandals, and a T-shirt
Perfect for running errands, doing housework or just meeting up with friends for a coffee or brew, you can't go wrong with the shorts and t-shirt combo. It's comfortable, easy to throw on, and socially acceptable for most outings. And nothing compliments shorts and a tee-shirt quite like a comfortable and stylish pair of sandals. I love wearing sandals with t-shirts, mainly because it screams summer and spring weather.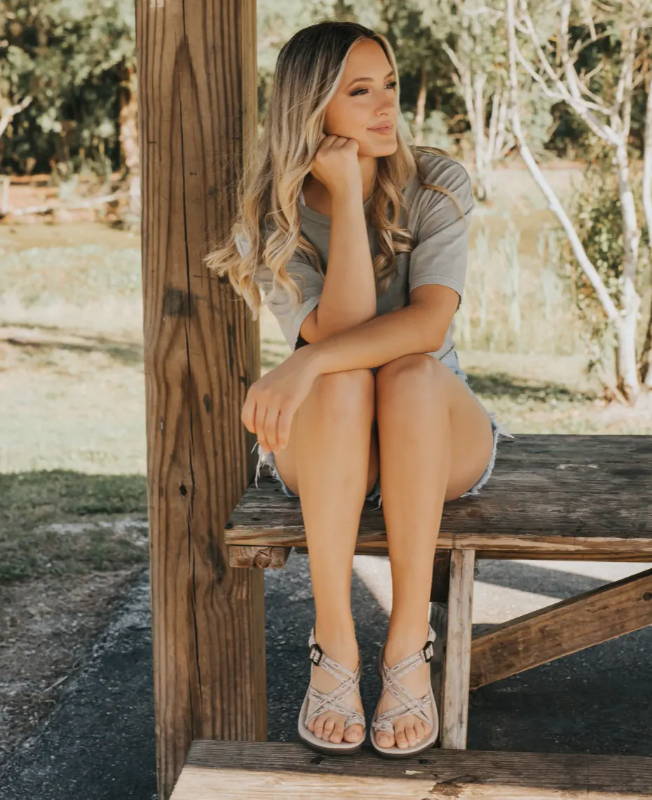 The Sienna Sports Sandal is a no-brainer when it comes to a laid-back and carefree outfit choice. Available in 5 different colors, this sandal is not only ultra-comfortable but stylish, too! You know those sandals that can only be worn for a hike outdoors? The ones that look a little weird when paired with a regular everyday outfit choice? The Sienna Sports Sandal is not that shoe. This sandal is the perfect choice for a chilled and relaxed vibe no matter what you're into.
Is there anything better than throwing on a comfortable sundress that makes you feel like a million bucks? Sundresses are great for hanging out with friends or going on a fun-filled date with someone you're seriously crushing over. They look like you've put a lot of effort into what you're wearing but the truth is - they're easy, comfortable and flattering!
The great thing about sundresses is that they can be played up or down. If you're heading to a super fancy dinner, you can pair them with a killer pair of heels and have a polished and sophisticated look. But if you're planning on playing mini-golf or having a bonfire with friends, high heels won't do the trick. Now's the time for stylish sandals! Whenever I travel, packing a light summer dress is a must-have item. When I pair it with Viakix sandals, it creates a great going out outfit for meeting other travelers.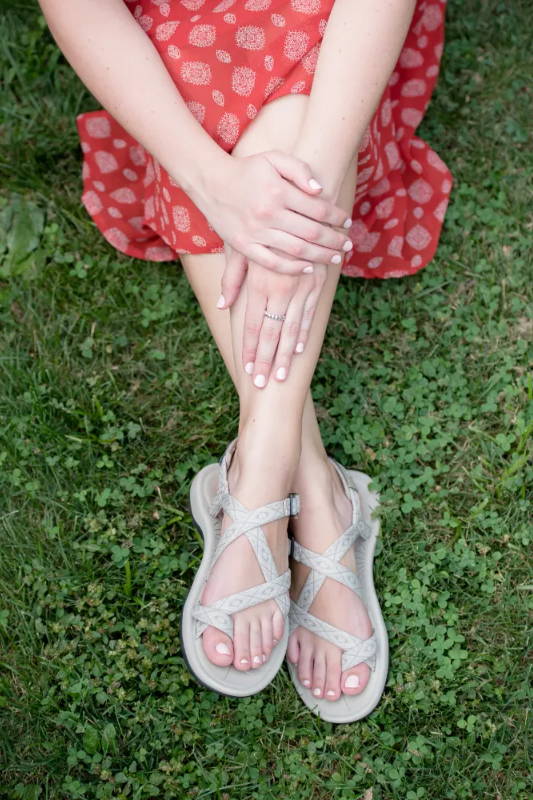 Our Cortona walking sandals are perfect for pairing with fun and freeing sundresses. They have excellent arch support and naturally align with your feet - making them the perfect fit for someone who wants to look and feel great and comfortable at the same time. Looking and feeling your best doesn't mean you have to wear uncomfortable shoes and clothes that ruin your day and mood. With comfortable and stylish sandals, you're free to enjoy yourself without worrying about blisters, aches and pains the next day.
3. Leggings and a sweatshirt
You've got a full day of yard work and cleaning ahead of you. What do you wear? Leggings and a sweatshirt. You've got 10 minutes to run to the grocery store and get everything you need for dinner. What do you wear? Leggings and a sweatshirt. This combo is a woman's best friend. It's easy, reliable and asks no questions. You simply can't go wrong with leggings and a sweatshirt. I love putting my leggings on and heading outside on a warm spring day. I feel athletic, comfortable, and stylish all in one. There are times I don't feel like looking for a complex outfit, which is why leggings and sandals are perfect for me.
This is the combo you throw on when you need to get stuff done. When you don't have time to mess around looking for a cute outfit because there are things to do and people to see. So, what shoes compliment an outfit like this? One where your aim is to feel comfortable, protected and ready for whatever's thrown at you? That's easy - sandals! I also love wearing these sandals with socks and sitting around a campfire on a cool summer evening. Pair them with some leggings and a sweatshirt, and I feel the comfiest I've ever felt!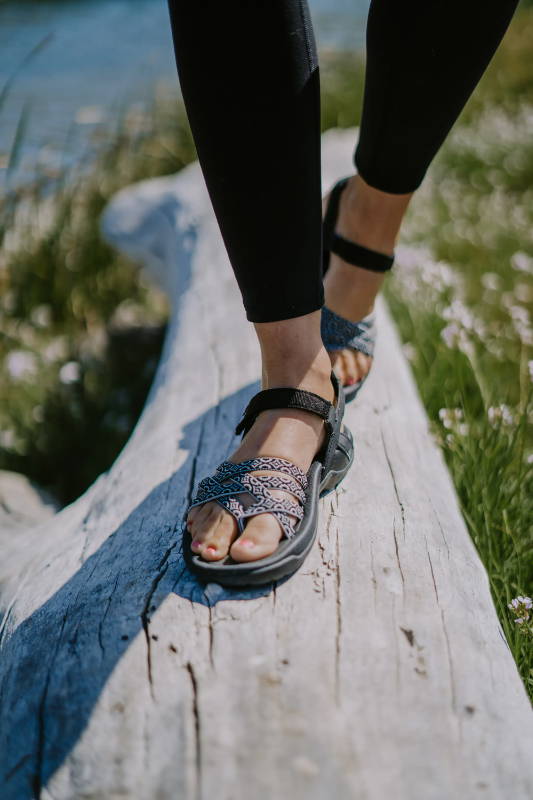 Our Samara sport sandal is the partner you need for a full day ahead. Whether you need a trusted shoe to accompany you on a long walk in the woods or to finally give your yard the TLC it deserves, you can't go wrong with the Samara sandal. Featuring hook and loop straps, this sandal hugs your feet and ensures a custom fit every time. It's the comfortable and stylish shoe you need that won't let you down. Perfect for pairing with leggings and a sweatshirt.
You can't go wrong with a long skirt and sandals! Keep your body cool and comfortable with a long flowy skirt that reaches your ankles. Fashion enthusiasts suggest that pairing sandals with off-shoulder tops and skirts offers a perfect blend of bohemian and modern vibes. This is the perfect casual outfit for meeting friends for lunch or going on your first date with someone. Better yet, leave your skirts hanging in your closet so you can skip the iron and jump right in.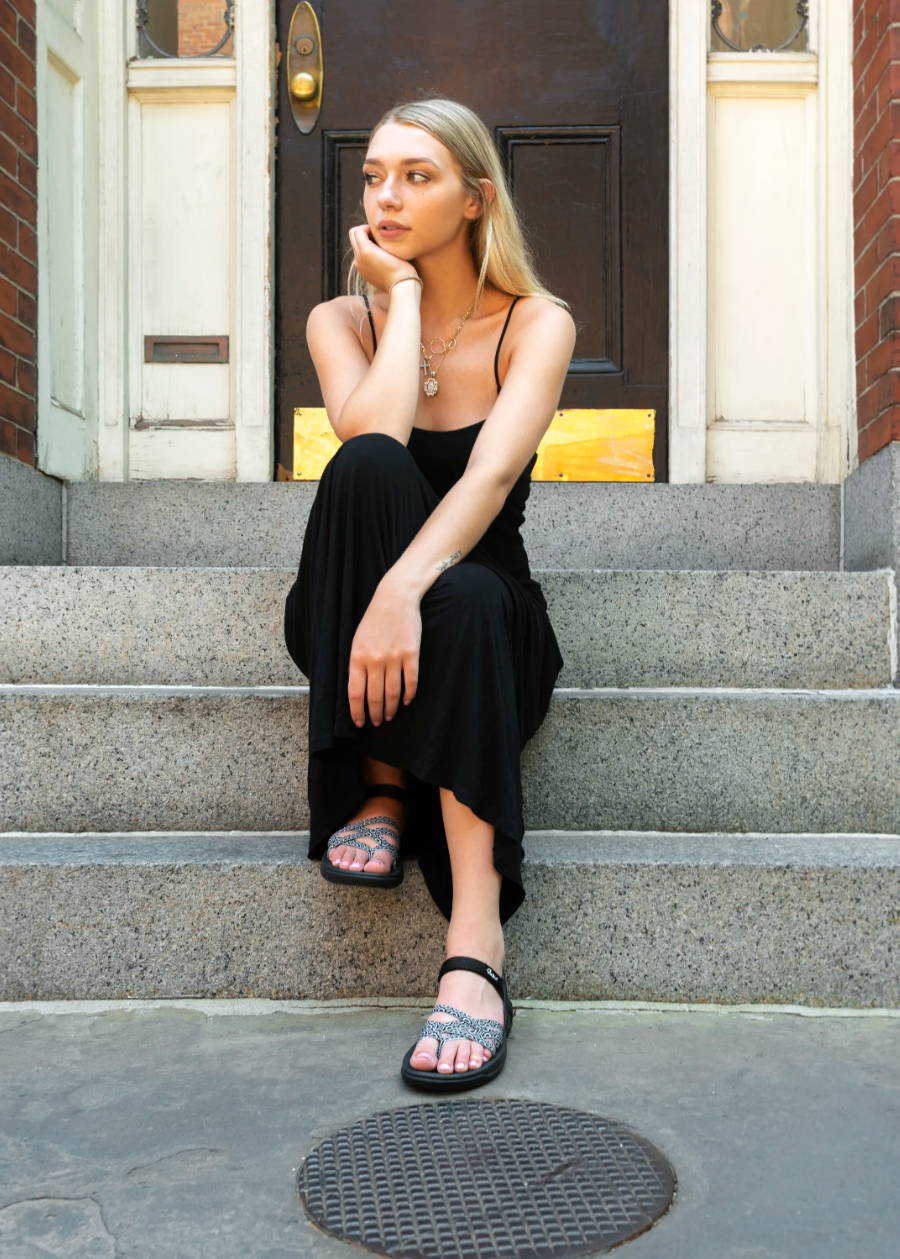 The Napali sandals pair well with long, flowy skirts. Because they're comfortable, fashionable, and durable, they make the perfect partner for casual hangouts or fancier dates. You can dress up or down depending on how you're feeling or what the event is. Even if your first date involves a long walk through the woods or a stroll down the beach, your feet will be hugged and pampered the entire time. The EVA foam midsole and ergonomic outsole provide the support you've been looking for your entire life. As the long skirt flows in the wind, rest assured, your feet will be the star of the shoe in these sandals.
Jeans and sandals have been around for as long as we can remember. Whether you're a 90's baby and rocked denim and sandals, or started wearing the look only recently, you'll be glad you found this style. Jeans are versatile and can be worn anywhere, including casual jobs, dates, hangouts, birthday parties, and adventures. So why not pair jeans with a pair of cute, comfortable sandals that can also be worn on many different occasions, including parties, adventures, and dates? I have several pairs of jeans in my closet always waiting to be worn. There are skinny jeans. boot cut jeans, and high wasted jeans, all in differing shades of denim. There's a reason I have so many pairs, it's because I wear jeans and sandals so often.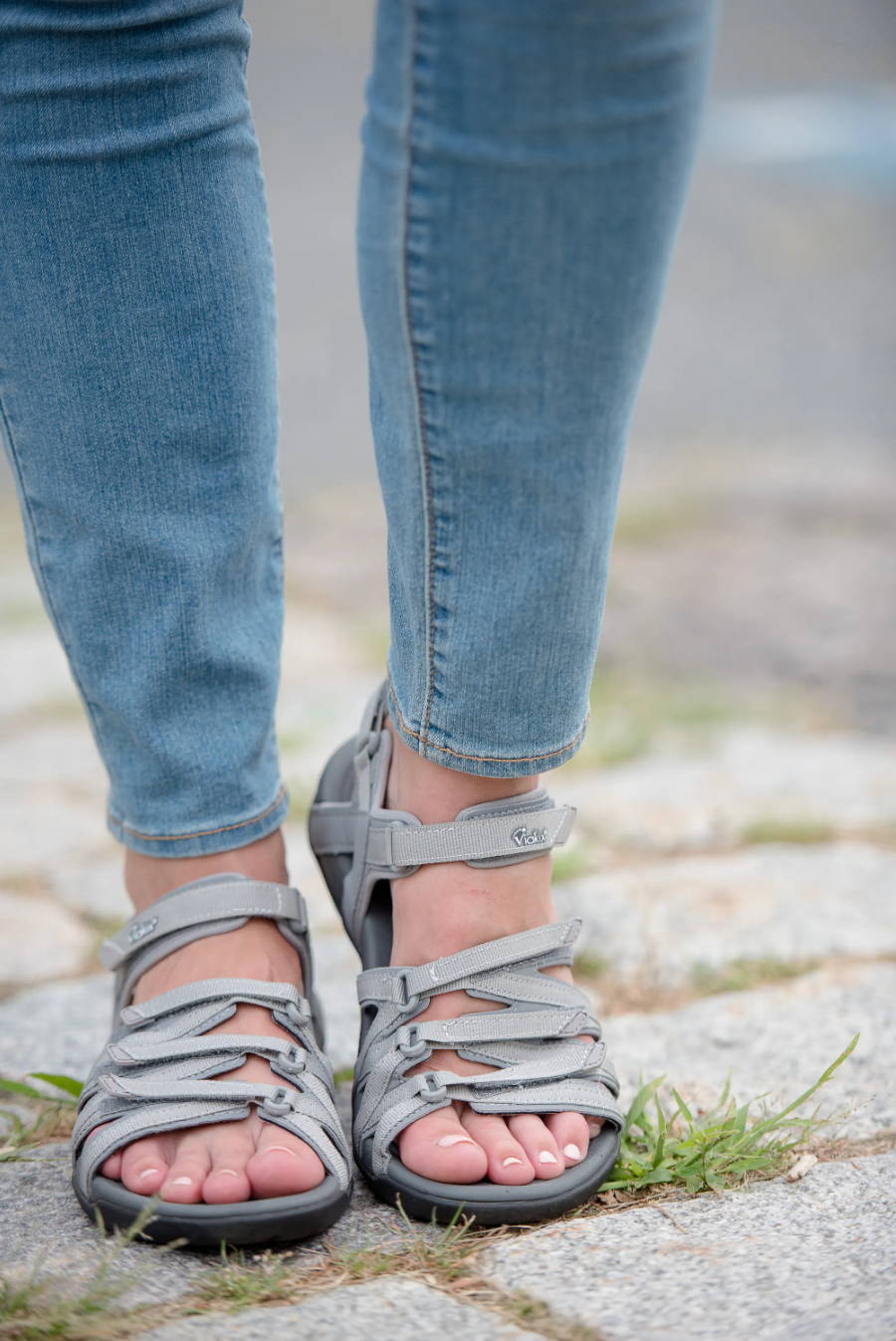 The Sloane outdoor sandals have an adjustable wrapping system that'll hug your feet every time you slip them on. The thick EVA midsole and ergonomic outsole provide substantial arch support that protects your foot from injury and pain. You'll always have a partner on those long walks through the woods or on the beach. These cute sandals come in a variety of colors, so you can choose one that best suits your wardrobe. Your jeans will hug your legs, and these sandals will hug your feet.
6. Business dresses and sandals
Just because you're dressed all business, doesn't mean you have to give up style and comfort. You don't have to pick one over the other, either. You can have both! Business dresses are a great addition to have in your wardrobe for interviews, business meetings, work, and fancier dinner parties. You can't go wrong with a sexy and stylish business dress, especially when it's paired with a cute pair of sandals. They're so versatile, that you can wear them casually or for a business meeting.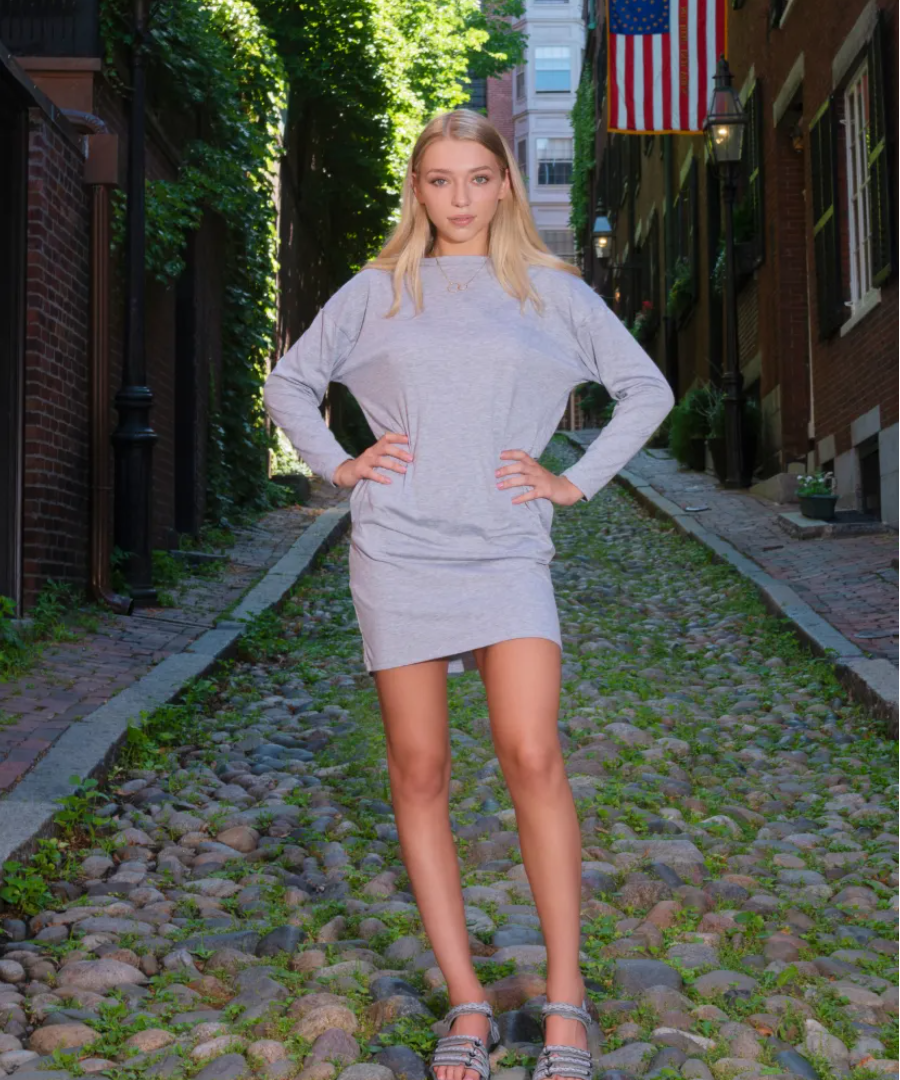 Soul mates do exist because our Acadia hiking sandals are the perfect match for your business dress. You can look smart, sexy, casual, and stylish at the same time. The sandal has five hook and loop straps that cradle and pamper your feet, just as you pamper your face, hair, and skin. The thick EVA midsole and ergonomic outsole provide substantial arch support, and the adjustable ankle strap customizes your every need, and that includes your need for talkin' business.
Browse our Women's Sandal Collection today
If you need reliable, comfortable and fashionable sandals that work for any number of outfits, visit our website to browse our selection of sandals today. Here's to cute outfits and even cuter shoes!
Collection 2019
Sale 70% Off
Title for image