Sandals That Feel Like Sneakers
We independently research, review, and recommend shoes we know you'll love. We want you to find the absolute best pair – whether that's one of our shoes or a pair from another brand. Unlike other websites, if you buy a pair of shoes from another brand, we do not earn a commission. Happy Shopping!
Comfort is King when it comes to footwear.  Around 80% of consumers say they won't compromise on comfort when it comes to footwear, regardless of the type. (Source: Footwear Fashion Weekly). However, sandals are not always well known for being comfortable. Many people have spent an uncomfortable day in flip-flops or other sandals that did not fit and realize that not all sandals are made for all-day comfort. There are many kinds of sandals that are made for different purposes, and you should make sure that you are looking for sandals that are comfortable and feel like sneakers if you want an all-day pair of shoes.
Finding the right sandals is all about knowing what kind of fit and features are required to get a quality pair of sandals. You should be sure of your own size before you go shopping and make sure that you look into reviews and information on each pair of sandals that you are thinking about buying. Knowing about how different sandals are constructed can help you to make good buying decisions even if you cannot see the sandals or try them on before you buy.
If you are ready to learn more about sandals that feel like sneakers, you should read on!
The first thing that you need to do is know your foot size and shape. Many people spend most of their lives guessing at their foot size and buying shoes that do not actually fit. You might not realize that you can get your feet professionally sized at a running shoe store or a location that sells hiking gear.
These stores can give you your exact size as well as telling you how narrow your heels are and how high your arches are. You can also get the measurements for your toe box needs. This can help you greatly with your shopping and make sure that you are able to buy shoes that will fit you without a bunch of guesswork.
One of the worst parts about not knowing your shoe size is that you might also not be picking the right kind of arch support or heel design. This is particularly important when you are shopping for sandals since they are made to be held in place by the shape of the sole and footbed and the adjustments at the heel.
If you are not sure what size foot you have or how narrow your heel is, you might end up with a long list of sandals that are nice shoes but are not made for your feet. Make sure to take the time to get your feet professionally sized before you go shopping for sandals that will be comfortable enough to be worn all day long.
Can Sandals Really Feel Like Sneakers?

About 60% of active individuals who opt for sandals are drawn to ones with athletic attributes, emulating the support and cushioning typical of sneakers. (Source: Sportswear Monthly, 2021). It's a perfect blend of fashion meeting functionality. This trend explains why a significant portion of our clientele seeks sandals that offer the feel of sneakers or tennis shoes.
But, how does a sandal match up to the comfort of a sneaker? Enter: Sport Sandals. These are designed to encapsulate the core features and benefits of sneakers, minus the laces and enclosed structure. Crafted with durability in mind, these sandals bear a striking resemblance to hiking sandals but boast a softer, more cushioned footbed. The strap design is ergonomic, ensuring minimal friction and no pinching. Moreover, many sport sandals feature supple straps that feel comfortably worn-in straight from the first wear.
In a survey we carried out in 2020, 55% of our customers expressed a desire to pack fewer pairs of shoes when traveling. The allure? Sandals that merge the comfort of sneakers, obviating the need to lug around multiple footwear options.
Identifying true sport sandals can seem straightforward, given their distinct design. However, don't be misled by sandals with only thick soles and lacking other vital support features. A handy tip: sandals without adjustable straps typically don't qualify as sport sandals and might not serve your purpose.
Can I Wear Sport Sandals Instead of Sneakers for Hiking or Rafting?

According to a 2019 survey by Lifestyle and Living, about 40% of outdoor enthusiasts prefer sandals that provide the same level of support as their go-to sneakers. This highlights the versatility of sports sandals; they're not just for leisurely strolls or errands. From beach play, hiking, and kayaking to white-water rafting, these sandals are game for nearly any adventure. Think of them as the functional equivalent to hiking or trail sandals, with the added comfort of your favorite sneakers.
Golfers, especially in warmer climates, are also trading their traditional golf shoes for sports sandals. Imagine the freedom of engaging in your favorite activities without being constrained by closed-toed shoes. Whether it's a shopping spree or a fishing expedition, the right footwear can amplify the experience.
A standout feature of these sandals is their water resilience. Whether you're trudging through muddy trails, wading in waters, or strolling along the beach, these sandals handle it all. And cleanup? Just a quick rinse and you're good to go. For me, they're a travel essential. They're not just about being waterproof; it's about ensuring foot comfort. Exploring a new city becomes even more enjoyable when you're confident your feet won't let you down.
Moreover, high-quality sport sandals are designed for quick drying, eliminating the discomfort of damp straps and reducing the risk of chafing and sores. Their adaptability makes them a cherished addition to any wardrobe, suitable for a myriad of adventures.
Are Sport Sandals Basically Sneakers With Straps?

They can be designed this way! You will find that some hiking sandals are basically sport sandals with a slightly tougher sole. There are many different styles of sport sandals on the market that look like shoes but you need to consider the features that you want to have. You might want to pick based on the style of the soles that you need for your activities or you might want to pick based on strap design.
There are various components that make a sports sandal and the sneaker part of the design is not all of what makes these sandals so comfortable. You will find that the combination of comfortable straps, well-made soles, and comfortable heel support is what makes a sandal comfortable like a sneaker.
Sports sandals might be made to look like sneakers or tennis shoes, but they can be designed like hiking sandals with lightweight materials and improved strap designs. Hiking sandles are great options, as they're usually made to be durable rather than solely comfortable while sport sandals are made to be light on your feet as well as supportive and strong enough for tough challenges.
Sandals That Feel Like Sneakers Are a Real Possibility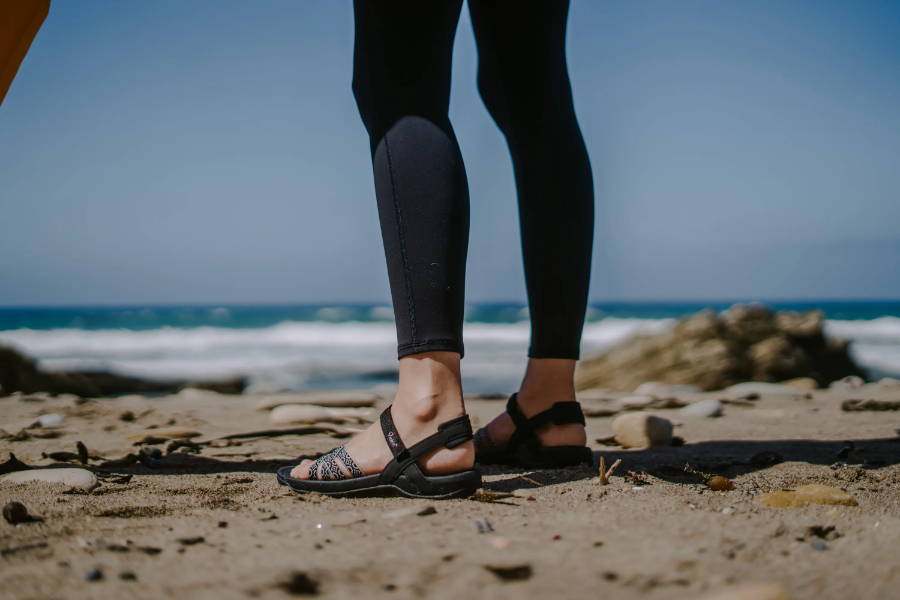 If you love sandals and wish that you could wear your favorite sandals to go out on a run or a hike, then you need to invest in some sport sandals. These sandals are made with all of the benefits of sneakers or sport shoes and you will love that you can get all the benefits of a sandal along with the comfort and sturdy design of a sneaker. If you are tired of wet and sore feet after a long day of hiking or outdoor adventures, then you need to get a sports sandal for these needs.
Sports sandals are made to be attractive as well as effective at taking care of your activewear needs and you will find that new design features are made possible daily by new materials that are created to be waterproof as well as durable and comfortable. The design features of these sandals would not have been possible even ten years ago, and the benefits of being able to access all the features that you love about sandals and sneakers all at once are due to these technological advances.
Modern sport sandals are so comfortable that you might never want to wear sneakers or other kinds of shoes ever again!
Frequently Asked Questions
How do sandals that feel like sneakers compare to regular sandals?
There are a few factors involved when making sandals that feel like tennis sneakers. Sneaker-like sandals are usually more comfortable than regular sandals. They're versatile and can be worn in all sorts of weather, giving you more options and plenty of times you can wear your sandals. These sandals provide more cushioning and support, which is ideal if you suffer from plantar fascitis or struggle to find sandal sizes that fit your feet. Foot pain will become a foreign concept!
How are sandals that feel like sneakers made?
To make sandals that feel like tennis or athletic sneakers, they'll use a combination of tradition sandal-making techniques and modern sneaker-making technology. You'll have a variety of different materials like foam and mesh. When combined with materials that provide durability, structure, cushioning and breathability, you'll get an ideal sneaker-sandal hybrid. Bring these sandals on your travel destinations around the world. Two-for-one never hurt, especially when you're saving lots of room in your bag.
How do sandals that feel like sneakers work?
These sandals provide the same, if not better, comfort that sneakers provide. You won't have to worry about socks, and for a better price than a sneaker, get a lightweight sandal that has a flexible sole. The cushion and support of these women's sandals moves with the foot, making every step breathable. You don't have to give up fashion this summer in exchange for comfort! Keep in mind that these sandals are versatile and can be worn for plenty of activities. Whether you're wearing these sandals on your travels and sightseeing in another country, or are one of those shoppers looking for a comfortable sandal, these sandals will provide everything and more that sneakers provide.
Collection 2019
Sale 70% Off
Title for image