Sandals for Hiking, Biking, & Kayaking
Sometimes you just have to hit the great outdoors for some fresh air and an awesome adventure. But, who wants to wear hot heavy hiking boots all the time? Or, what if you are going to be in the water on your outing, maybe enjoying a relaxing float down the river in your kayak? Perhaps you are a cycler and are tired of the whole shoes and socks routine.
Gone are the days that sandals are restricted to beaches and pool parties. Though, sometimes, hunting for the perfect outdoor sports sandal is hard. There are so many styles to choose from with all kinds of features.
A bad pair of outdoor sports sandals can let your feet slide around, which can lead to blisters or even more serious issues down the road. Hopefully, this outline of what to look for and a comprehensive list of options will help you narrow down your search.
Features You'll Want in a Women's Multi-Purpose Sports Sandal
There are a few features that you will want to look for in a good outdoor activewear sandal. Each particular activity has slightly different requirements for the designated footwear, but there are some basic things to look for.
A super sturdy sole with good support. Arch support can be pretty important in activewear sandals just like all other shoes.

Ankle straps, preferably adjustable. This will give you better stability compared to a simple slip-on.

Adjustable webbed straps across the top of the foot to get a nice snug fit. The more the better!

A comfortable insole with a lot of cushioning, particularly for hiking sandals. You don't want

too much impact on your joints

while on a long hike.

Lots of traction, especially when you're looking to go kayaking or participate in any other water sports.
Luckily, during the warmer months when you are ready to tackle the great outdoors, there is a wide variety of sandals out there to accompany you. There are countless options that will keep you comfortable while enjoying endless adventures.
Acadia Hiking Sandal is a Great Hiking, Biking and Kayaking Sandal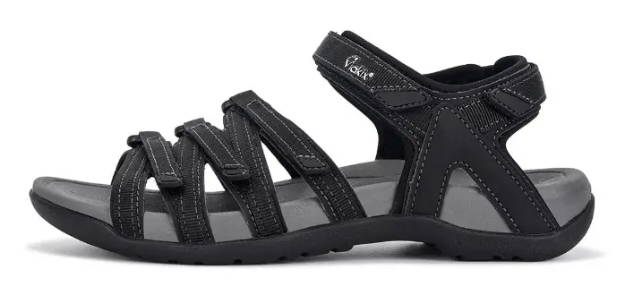 The name says it all. These ones are versatile as all get out, delivering unparalleled performance with consistent comfort. Featuring five customizable straps for maximum stability and a super heavy-duty sole, you will be crazy comfortable on your hiking endeavors.
Their design provides fantastic arch support which is yet another big bonus to these sandals, putting this pair at the top of the list for pretty much everyone and all outdoor activities.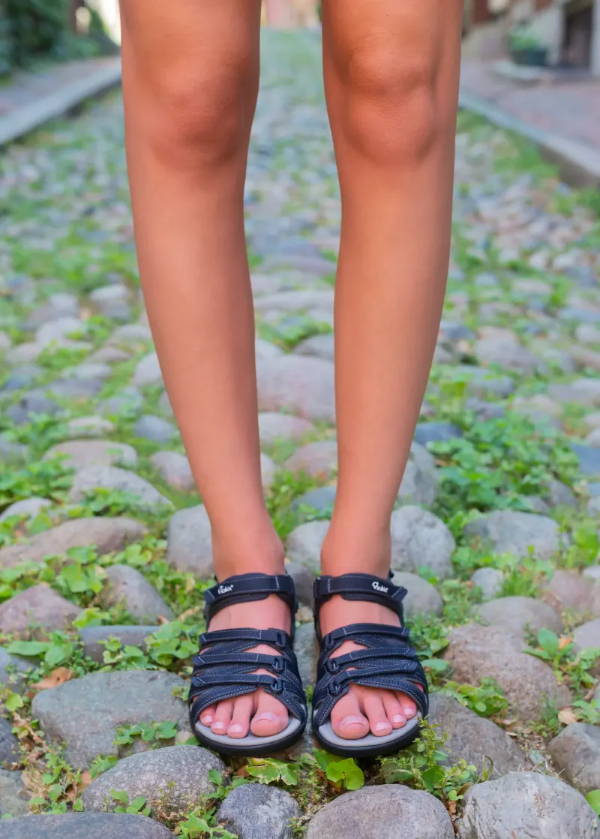 Having an EVA Foam midsole also really cuts down on the stress to your joints. No matter if you are taking a day hike, backpacking to a remote location to camp, or strolling on your favorite local trail, you'll be cozy in a pair of these.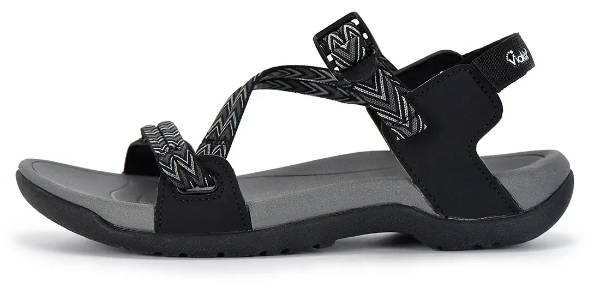 The Sloane pair of sports sandals checks all the boxes for a knockout hiking sandal. Wide adjustable straps and a cute little toe-loop for a stylish look and added stability certainly do the trick.
The Sloane sandal has a compound rubber outsole which gives them a solid grip on any rough terrain. Whether you are out on an urban trail or backpacking through the forest, these will do you well. Plus, they come in a ton of fun colors and patterns too!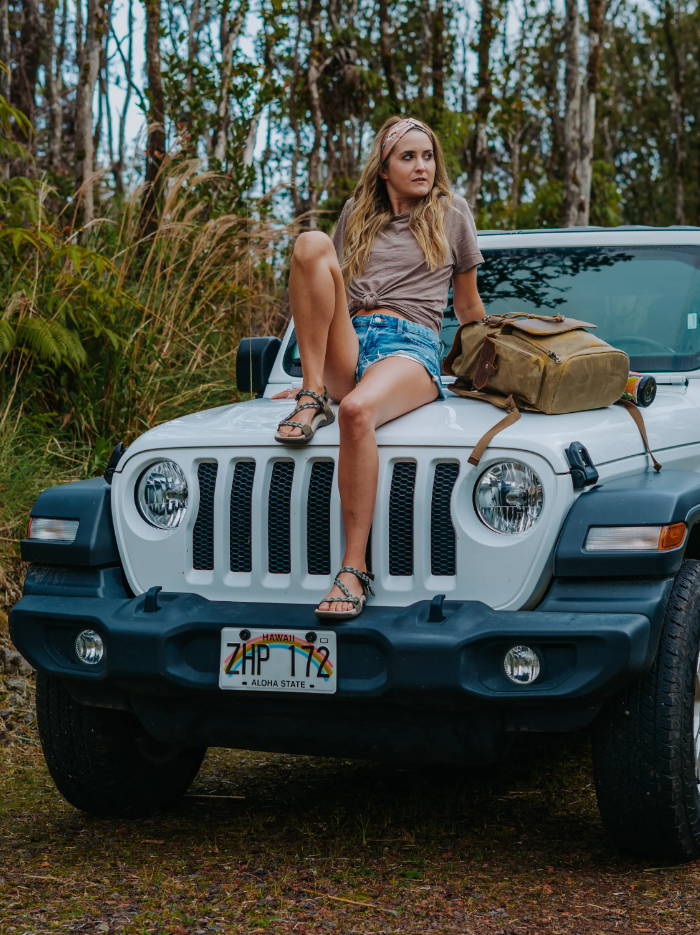 The Siena Sport Sandal - High Performance For Hiking, Biking and Kayaking For Women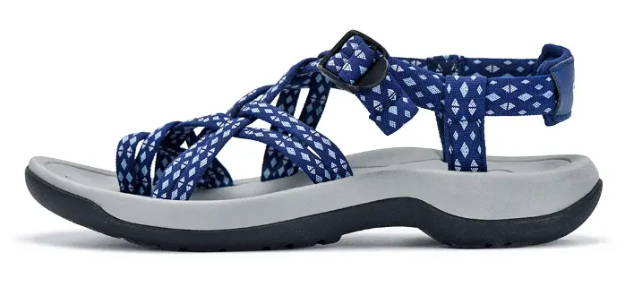 These sandals are designed for your outdoor adventures. If you are going on a bike ride, having fun playing water sports, or headed out for a day hike these are a fantastic choice.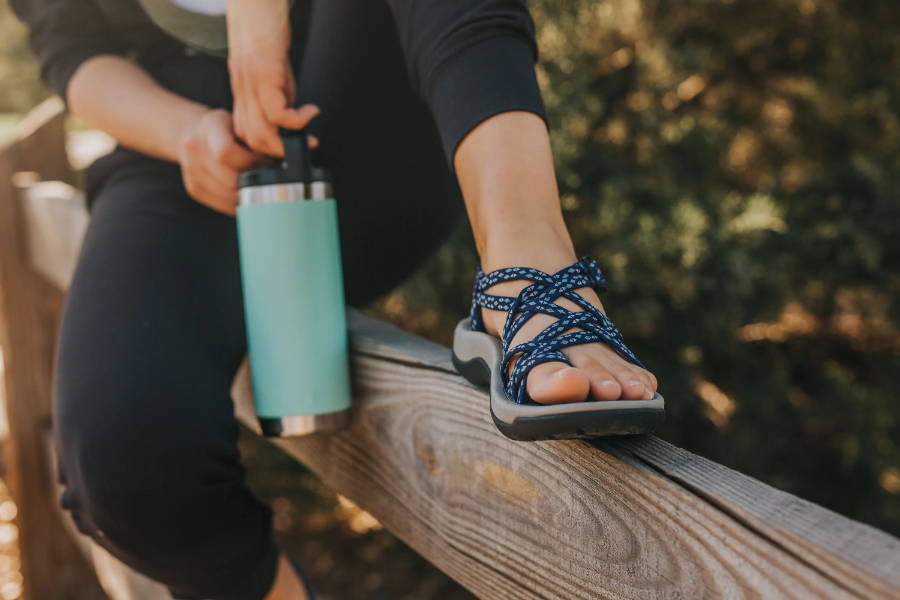 The Siena Sport Sandal's exceptional traction makes this pair a winner for navigating any terrain. They are made with a super durable foundation, which is a critical staple in a suitable activewear sandal. You want them to stand up to all the challenges you throw at them.
Designed with super comfortable EVA foam and an ergo-friendly outsole, these sandals are ideal for a comfortable experience in any athletic situation. Viakix sandals are made to have fully adjustable straps all around allowing for a fully customizable fit, perfect for feet of all shapes and sizes.
Nepali Hiking Sandal That is Also Great for Kayaking and Biking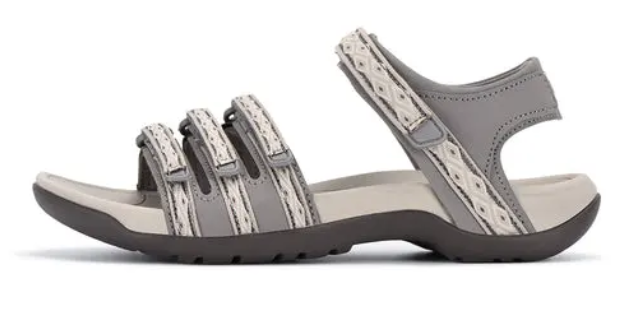 A pair of these sandals can take you anywhere. The Viakix brand revolves around activewear, so there is no way you can go wrong with these sandals.
Right on trend and wonderfully functional, this sandal is ready for the rugged backcountry or an easy hike. Whichever is more your style, they've got your bases fully covered.
They check all the boxes for a superb sandal; straps that can be fine-tuned for a customized fit, a durable rubber sole for great traction, and more than sufficient cushioning that contours to your feet for unbeatable comfort.
The Samara Women's Walking Sandal, Comfortable for Reduced Hiking Stress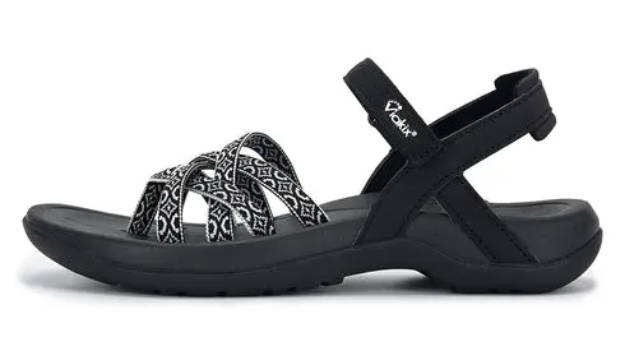 Okay, okay. We know these are technically "walking" sandals. But hear us out. They are a totally stellar option for unmatched comfort in a hiking shoe. These walking sandals reduce stress on your joints which is critical on long hauls.
With a sturdy layer of EVA foam midsole, they also offer killer arch support which is important for lasting comfort. We know you want to be out enjoying nature as long as possible.
Another lovely feature on this pair is the stretchy webbing material and fully adjustable straps to get them nice and tight. Remember that was a key feature to keep a lookout for when shopping.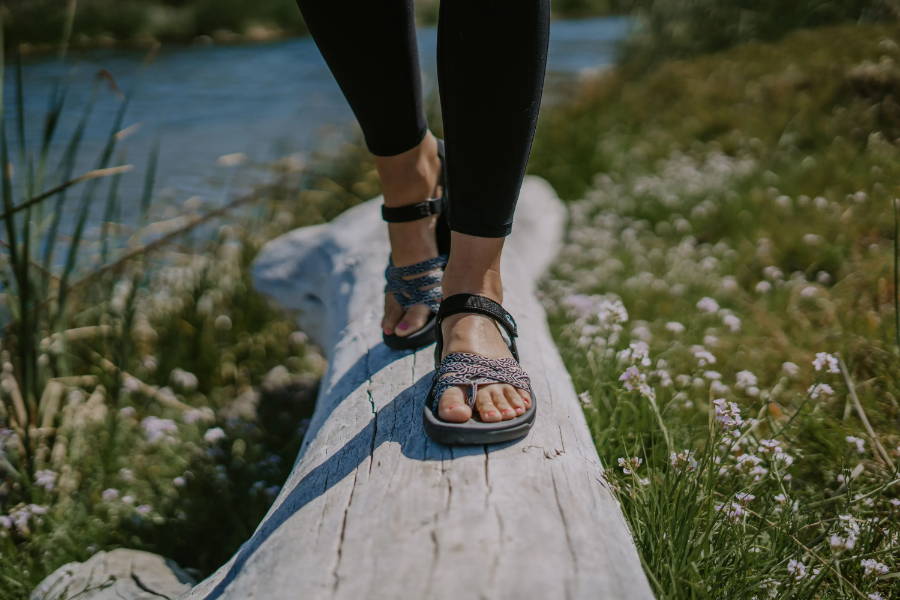 Making these sandals a no brainer when you are on the hunt for a pair of fully functional and fabulous sandals.
With a super tough rubber outsole, these sandals are suitable for any terrain you can throw at them, making them a superb choice for any outdoor adventure.
The Cortona Sport Sandal, Top Notch for Kayaking, Biking and Hiking For Women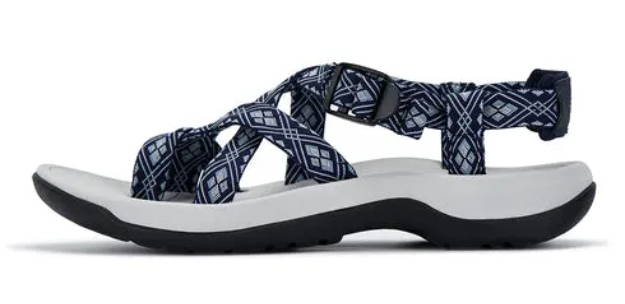 Designed with high performance in mind, the Cortona sandal is a top pick for those who are looking for style and comfort. Not to mention that they are sporty, as the name suggests, and functional too!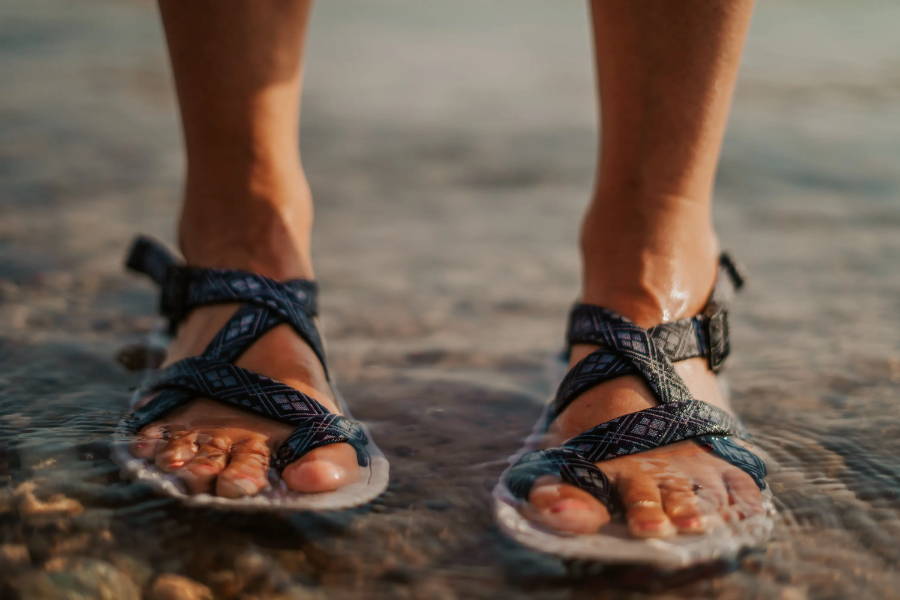 The soft and stretchy strap material conforms to your feet perfectly. Having the absolute best feature combo of soft straps that are also adjustable. Providing stellar support, stability, and comfort all at the same time.
You can wear these babies on a long mountain trail or for a cruise on the bike. Their delightful fit and feel will have you wearing them everywhere.
Adventures in Women's Sandal Comfort While Hiking, Biking Or Kayaking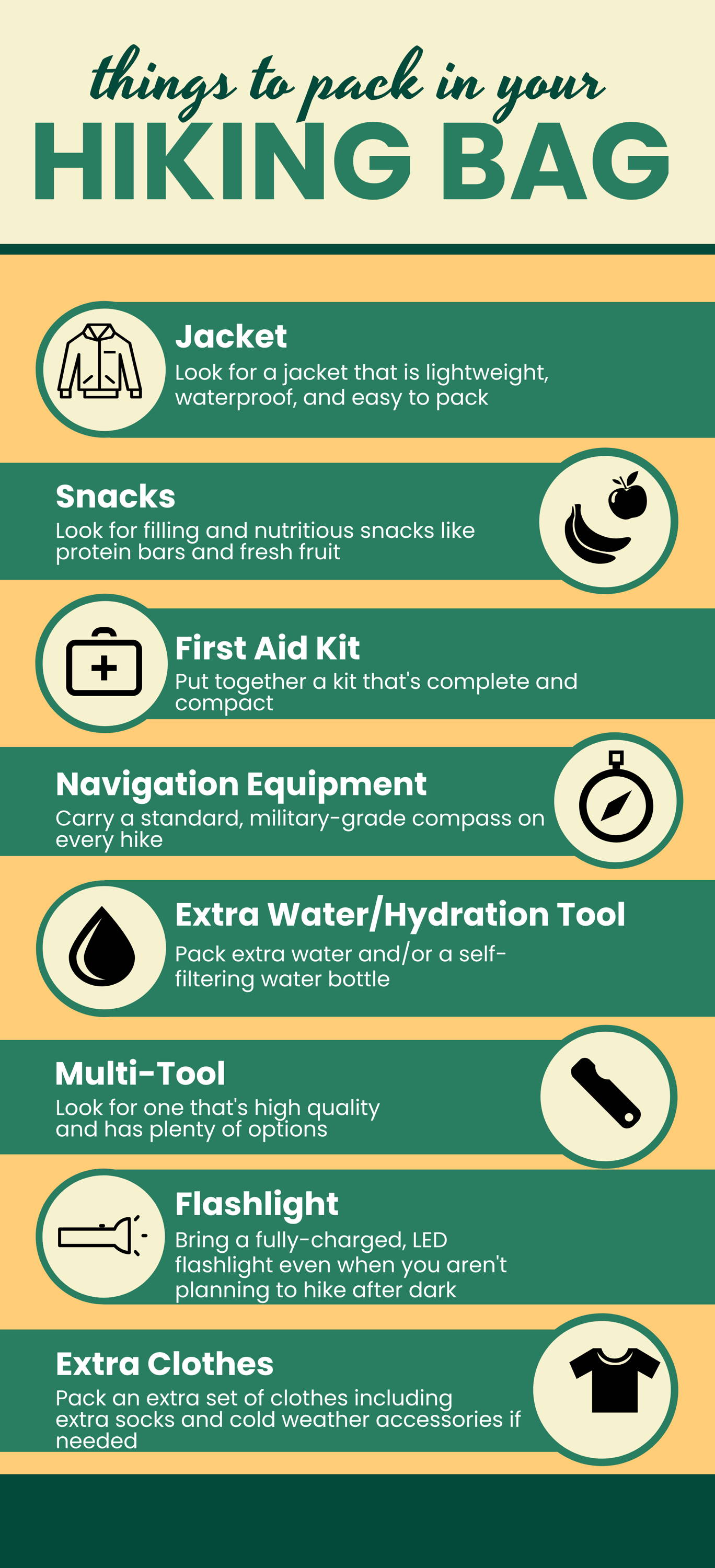 Owning a functional and comfortable pair of shoes for the summertime is absolutely essential. A breathable pair of sandals that can get you anywhere you want to go outdoors is a wardrobe must-have for anyone with an active lifestyle.
Whether you are looking for a waterproof pair for a day out kayaking, a tough pair of hiking sandals, or a breathable pair of shoes for cycling, the options are endless.
Having sports shoes that don't fit just right isn't only annoying but it can also lead to more unpleasant and serious issues down the road. Make sure to take good care of your feet to prevent injury. You don't want to have to skip out on a bike ride on a beautiful day because of wicked blisters from wearing the wrong shoe.
Say goodbye to soggy water shoes that stay drenched while you're kayaking and bulky boots for trekking through the woods. A lightweight pair of sandals that let your feet breathe is totally the way to go.
There is nothing better than enjoying nature, with the sunshine on your face and wind in your hair. So while you're at it aim to enjoy the whole journey by finding a pair of shoes that will carry you lightly along on your path. Simply do yourself a favor and take the time to do a little research and you'll be on your way in no time!
We hope this list and the couple of useful shopping tips will help you find the positively perfect pair of activewear sandals.
Now you just have to choose where you are off to next. Happy trails!
Collection 2019
Sale 70% Off
Title for image