Vegan Shoes: Your Complete Guide
When most people think of veganism, the immediate place the mind goes to is food. However, veganism is actually defined as a lifestyle that attempts to exclude all animal products from personal use, in an attempt to limit the exploitation of animals and animal cruelty as much as possible.
What this means is that 'vegan' does not simply mean not consuming animal products in one's diet, but also from clothing or any other purpose, as much as is possible. Much of the clothing we wear are made with animal products. Leather used in belts, shoes, jackets, and more are all made from animals.
There are even products that may appear vegan, but use animal derived glues in their manufacturing process. For everyone who cares about the wellbeing of both our animals and our planet, it is important to shed light on the positive impact vegans are having by choosing to exclude animal based products from their lives.
What Does it Mean to be Vegan?
Well, we've got the definition down pact, but veganism means different things to different people who are a part of this lifestyle, this movement. For many individuals, it is a journey as they discover more and more ways to eliminate animal products and materials from their lives and move towards better alternatives, continuously educating themselves on how they can make the most impact.
Selena Kiser, vegan of 5+ years, wildlife biologist, conservationist, and animal lover describes her journey:
"With the knowledge I've gained over the years, I've come to realize that veganism has a three-fold meaning to me. First of all, knowing how animals are tortured, or at the least kept from having a happy life, makes me very upset, and I find it inhumane to treat any animal in a way that causes suffering. I grew up on a farm, and we did eat most of the animals we raised. However, at least they had a happy life, and the end was very quick."
Selena was raised on a farm, around animals, and was not always a vegetarian or vegan. However, after seeing the inhumane ways in which many animals are raised and then slaughtered, she decided to make a life change and set herself on a path towards helping rather than harming our planet and the animals.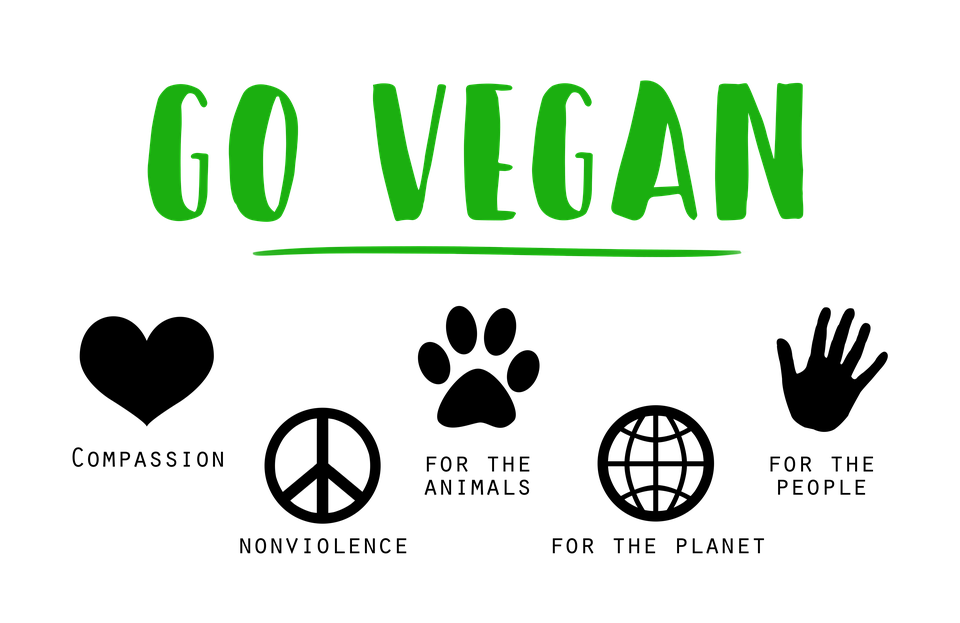 She goes on to say, "So, my second reason for being a vegan is the devastating impact that raising animals has on this planet...Thirdly, humans do not have the anatomy or physiology ...that is suited to eating any animal products (except maybe the occasional insect!)."
Kiser's journey began when she decided to become a vegetarian. When she moved from vegetarian to vegan, she started with only her diet. A few short months after, she realized that she no longer wanted to wear clothing that used animal products either.
Having a number of shoes that were leather, Kiser started her search for vegan shoes, but found this to be a challenge, as many of them were poorly constructed and did not last long at all, or simply would fall apart. Fortunately, there are now many more vegan shoe options available, making it easier to exclude the use of animal based shoes.
What Are Shoes Typically Made of?
As we touched upon, many of the shoes that we wear are made of animal products, primarily leather. Some shoes also use animal fur, other animal skins, and even animal glue binding.
However, you might be surprised to know that the use of animal products in footwear often goes beyond just what we immediately think of. For example, when thinking of possible non-animal alternatives, one might think canvas.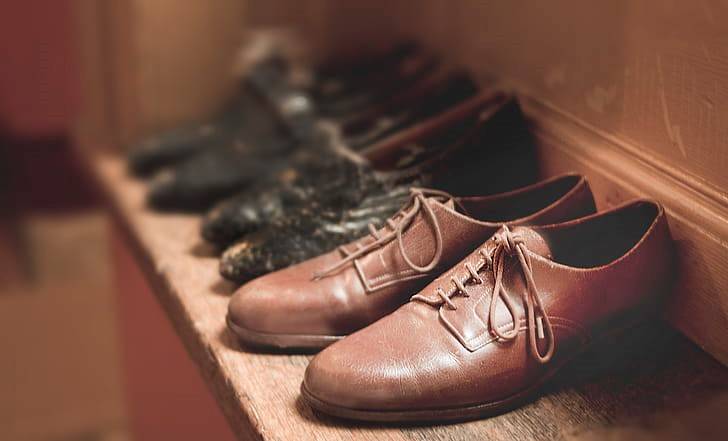 While canvas is definitely vegan friendly, many canvas shoes actually have leather soles. It's important to be aware of what you're purchasing. Many shoe companies also use animal based dyes for coloring. Unfortunately, the animals that are used to create your beautiful new shoes, are usually animals that are factory farmed, raised in cruel conditions, deprived of a happy life, and then killed in brutal and painful ways.
Rather than supporting companies who treat harmless, defenseless animals this way, we should love our fellow living creatures and refrain from supporting such barbaric behaviors towards them.
Vegan shoes are an incredible alternative to leathers, suedes, and furs. They are made without the use of any animal materials or byproducts, typically made with a variety of synthetic fabrics. Polyurethane is typically used to create vegan leather and microfiber synthetic fabric typically simulates suede.
Vegan shoes typically use a partly recycled resin alongside insoles made of recycled cardboard to create the soles. While many shoes may appear synthetic, do be on the lookout for any markings or taggings that confirm the product is vegan as some synthetic products do still use animal adhesives or other less noticeable byproduct.  
What to Look for in Vegan Sandals?
The first thing most of us probably notice when we're shoe shopping is the look of a shoe. The appearance is definitely the first attraction, but there's a lot more to look for than something 'pretty' or 'sleek'. When looking for vegan shoes, it's important to consider the materials being used. Even if a shoe is vegan, that doesn't necessarily mean they are going to last.
Unfortunately, there are many poorly crafted vegan shoes that just fall apart after a few uses. You're going to want to steer clear of these. Try to find sandals with a thick rubberized sole, These are usually longer lasting, and they also tend to offer shock absorption, which will make longer walks feel more comfortable and less impactful on your joints.
A lot of vegan shoes also have an antimicrobial coating, which is great for exposed feet. This can help eliminate odor and keep feet protected. Arch support is a great additional feature to look for, especially if you notice that your heels start to hurt after walking for extended periods.
Vegan Shoes Don't Have to be Limiting
One common misconception is that vegan shoes can't be 'cute', 'sexy', 'classy', or 'professional'. On the contrary, vegan shoes are just like every other type of shoe. While yes, there are many more bohemian styled vegan shoes, that doesn't mean that's all that exists. It's also important to remember that not all shoes are made with animal products in the first place.
There are a number of materials that are vegan and used by more mainstream brands. However, if you choose to go that route, do be sure to inquire about whether any animal byproducts are used, such as glue.
Some materials that you can look for are acrylic, bamboo, canvas, chambray, cotton, denim, hemp, nylon, velour, to name just a few. Once you actively start looking, you'll surely be surprised at just how many incredible vegan shoe options are available to you. If you aren't able to find something suitable in stores, rather than giving in, shop online! The options there are surely endless!
For those of you interested in exploring vegan clothing, firstly, thank you for supporting efforts to end animal cruelty. We understand that being vegan can be challenging sometimes, especially when so many regular products use animal materials.
In an effort to make your footwear search just a little easier, here's a list of some of the top vegan sandals that you absolutely have to check out! You're taking a very impressive step towards saving animals, the least we could do is point you in the direction of some trendy, fun, durable sandals.
Our top picks for Women's Vegan Shoes and Sandals
The Samara Walking Sandal for Women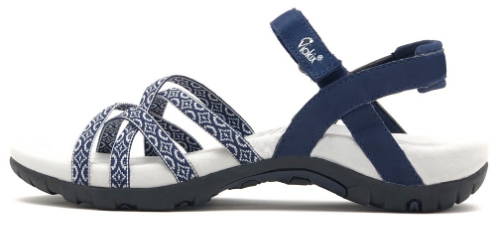 The Samara sandals are one of the most popular of the Viakix collection. These outdoor sandals were thoughtfully constructed using thick EVA foam for the midsole, providing extra cushioning for comfort and reducing stress on your joints. The outsole, equipped with shank stabilizer, provides extra traction, making these great walking sandals for tougher, uneven terrain.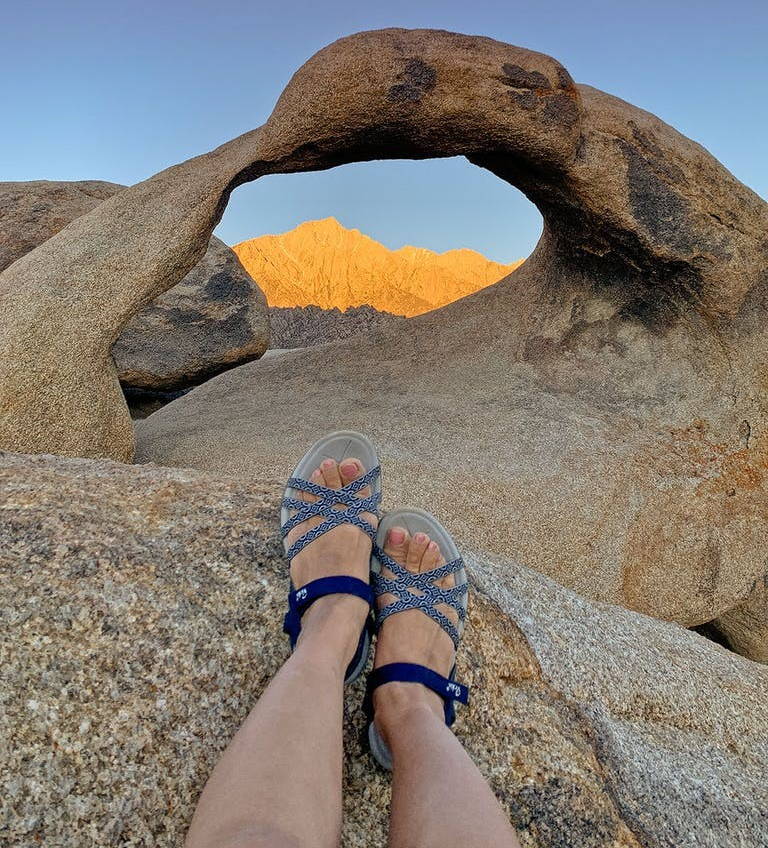 They will hold up well walking through the woods, and even on damp ground. The velcro straps allow you to completely customize the fit to your foot, ensuring they feel secure at all times. The use of elastic webbing allows the sandal to conform to your foot, creating a unique fit that's only for you. These sandals are handcrafted, truly showing a passion and love for vegan footwear.
Birkenstock Women's Gizeh Vegan Thong Sandal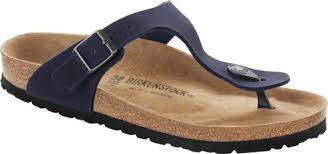 This is a great everyday vegan friendly sandal. They are extremely comfortable, even suitable for long walks. These shoes offer the same suede look you would get from real leather, using colored microfiber instead of animal skin. You get the same classic look, without any worry of animal cruelty. The cork styled bottoms offer a great amount of arch support, curving perfectly to hug your feet. Birkenstock has become quite the summer trend lately, so you'll definitely fit right in with the rest of the crowd.
Napali Hiking Sandals For Women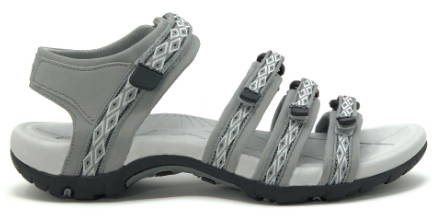 The Napali sandals are great for all outdoor activities. They have thick rubber soles that absorb impact, making them great for walking across uneven and rough terrain. The adjustable velcro straps allow you to customize your fit for optimal comfort. These are also ideal sandals for women with low or fallen arches, with premium support that makes walking for longer periods of time comfortable.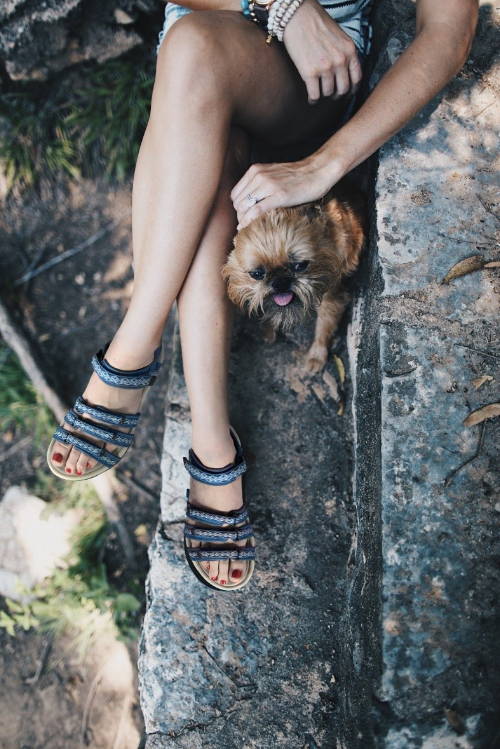 Available in a variety of colors, and at an affordable price point, these are durable vegan sandals that will hold up well with wear.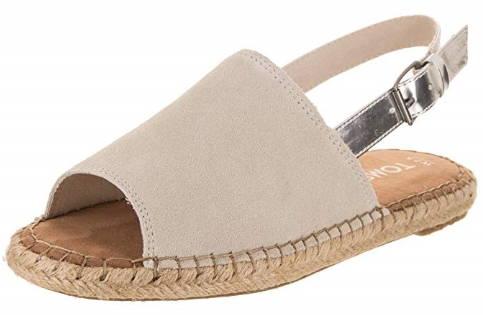 TOMS is a brand most famous for their "Buy One, Give One" mission, where the brand promises to donate a pair of shoes for each one purchased. It's important to note that not all TOMS products are vegan, as some do use beehive ingredients such as beeswax. However, these espadrilles are a summer must-have. Made from natural linen, they are very subtle and muted, perfect for the everyday summer errands or vacations. The convenient and comfortable backstrap keeps them in place so you can feel free to run about without them slipping off. They come in either natural linen or chambray colorways.
Teva Women's Verra Sandal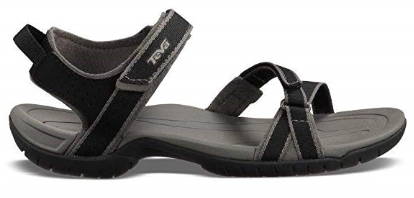 These sandals by Teva are where comfort and performance meets style. They are muted in design, making them very simple yet effective everyday footwear. Hook and loop closures make for easy fastening and a shock absorbing cushion allows for low impact. They also feature a microban zinc-based antimicrobial treatment to keep your exposed feet protected when wearing. Available in over 20 color options, there's a Teva sandal to suit every preference.
The Siena Sports Sandals for Women

The Viakix Siena Sports Sandals are unique in that they are designed specifically to be comfortable and durable during physical activity. Typically, these moments would be reserved for sneakers, but these sandals are so comfortable and supportive, they'll be perfect for your physical lifestyle.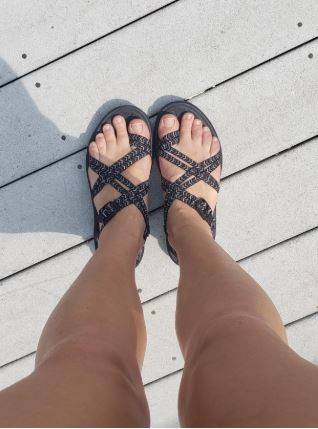 Any time you're thinking of heading to the great outdoors, be sure you're bringing your Siena sandals along with you. They are the perfect camping sandal, very breathable, easy to travel with, and even hold up well in and around water. They also come in a variety of colors to fit your personal style.
Chaco Z1 Classic Athletic Sandal
These vegan sandals by Chaco are simple, comfortable, and practical. They are the perfect everyday walking sandals for men. Each sandal is constructed of only 8 parts, maximizing durability and minimizing opportunities for weak points. They use podiatrist certified LUVSEAT soles for all day support and comfort. Adjustable straps easily customize the fit to your feet. An antimicrobial protectant helps eliminate odor, so these are suitable for all day wear without worry of the effects of sweat.
Arenal Wedge Flip Flop Sandal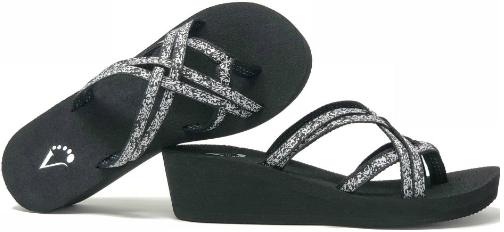 Sometimes, you want to mix fashion and function. The Arenal Wedge Flip Flop Sandal accomplishes just that. These sandals are super lightweight and easy to travel with, made with EVA- foam and durable outsole. The foam insole cushion makes them comfortable for long term wear and hiking, and the curves provide arch support throughout your trek. The double woven criss-cross straps are trendy and casual, giving a nice feminine element to an otherwise simple sandal, making them perfect for summer. These are perfect for all scenarios, from a vacation on a beautiful island to long hikes in the woods.
For women looking for something simple, with easy on and off, these slip in vegan flip flops are the perfect option. The slim foot bed shape and rubberized soles offer comfort, durability, and best of all, the sandals are lightweight and easy to travel with. The heavy canvas nylon thong strap design gives a clean, muted look. These are perfect for a day at the pool or beach, or even a day of running around doing small errands. With premium craftsmanship, you won't have to worry about chafing or blisters.

Reef is a classic summer footwear company. While not inherently a vegan company, they have been rolling out some vegan shoe options to meet new customer demand. They offer these vegan sandals crafted with an asymmetrical design. This helps support your feet's arches so you don't walk in flat shoes all day as would be common with most other flip flop alternatives. A compression molded triple density midsole and rubber outsole make these sandals durable and long lasting. You won't have to worry about these vegan shoes falling apart easily or getting destroyed in their first rainstorm.
Making Vegan Footwear Part of the Mainstream
Vegan shoe shopping can be quite the chore. Unfortunately, not enough brands have been inclusive of this lifestyle and are not producing product that would be vegan-friendly. However, we are lucky to live in a time where online shopping makes everything so easily accessible, that we are able to search out the right products for us. There are many vegan sandal alternatives available to you, many of which take not only comfort, but style into consideration, which is of course, a major draw.
While some major brands are becoming inclusive of vegan products, what really should stand out are the brands that truly highlight this movement by being vegan at their core. Most major brands that offer vegan alternatives use this as a marketing ploy, feeding a 'trend' and capitalizing on it by making their vegan footwear expensive and inaccessible to those unable to afford the 'trendy' shoes. Viakix is a brand that was founded on the principles of excluding the use of any animal materials in their products. Any item purchased from this brand is an item you can trust, no questions necessary.
We believe in sharing the planet with our animal friends and treating them with the same love and respect that we treat other humans with. This is why we are completely animal free, and work tirelessly to offer the best, most durable, classic, and trendy vegan footwear alternatives on the market at an affordable price point that doesn't scare people away, but instead, attract consumers to the idea of going down a new route, and trying something different without taking on too much risk. What are you waiting for? Give vegan sandals a try today. We're sure you're going to ditch the leather once and for all!
Collection 2019
Sale 70% Off
Title for image