5 Cute Sandals for Wide Feet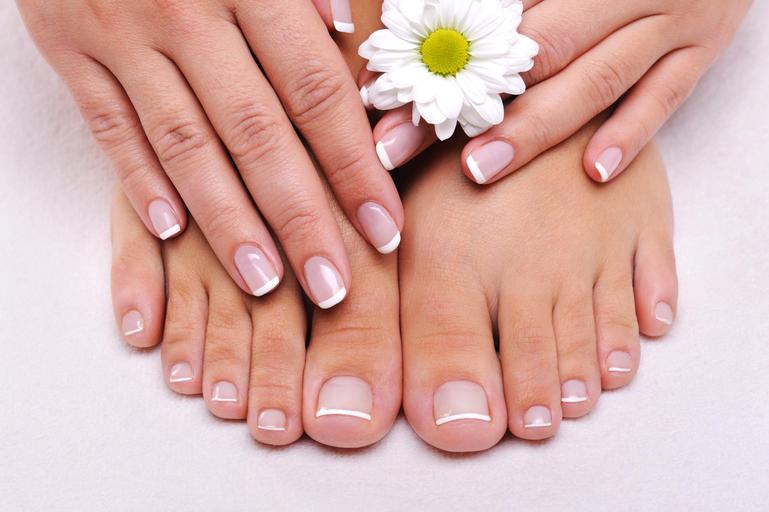 You see the cutest shoes on the rack, but when you try to squeeze your foot in…well, you know the drill. That cute pair of shoes just don't fit your wide feet. Finding cute sandals for wide feet can sometimes feel harder than finding that proverbial needle in the haystack.
But it doesn't have to be. In this guide, we examine the causes, anatomy, and consequences of wide feet. What's more, we provide an in-depth look at some of the cutest sandals on the market right now for wide feet.
When we develop sandals, we look more than just at the styling of our sandals. We also looked at the materials that were used to craft the sole, the arch support and strap design as well. Through this guide, we will provide you with a complete review of our sandals for wide feet. You won't want to go back to birkenstock or teva after learning about our sandals. You and your wide feet will thank you!
If you're ready to up your style with a pair of cute sandals that are designed with you in mind, keep reading!
What Exactly Is a Wide Foot?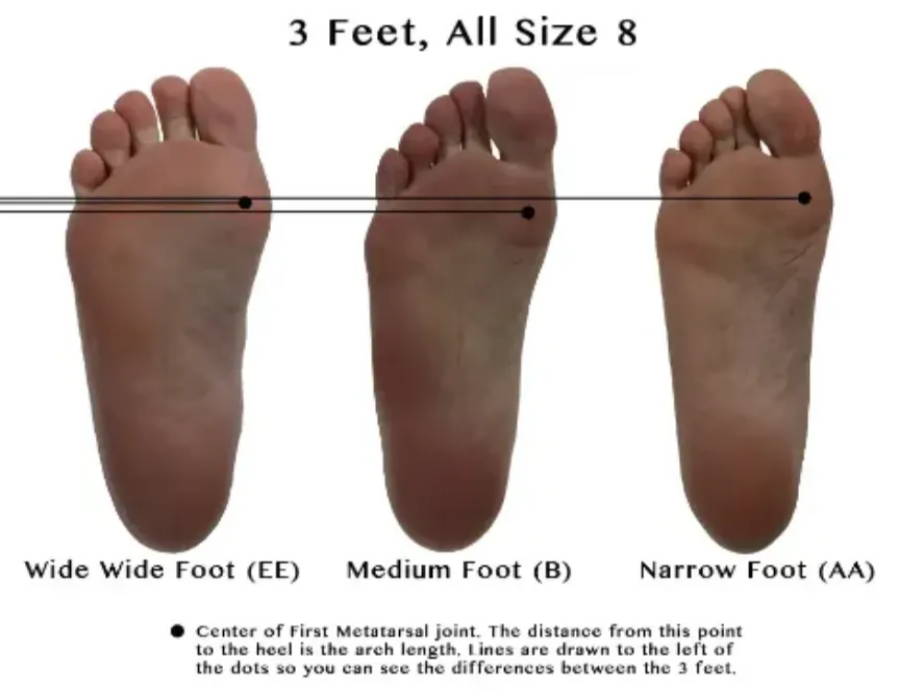 So what constitutes a "wide" foot? The answer is more scientific than you may think. As depicted in the graphic above, there are multiple width and size classifications for feet. These categories are taken into consideration by both shoemakers and sellers, meaning it's important that you, too, understand the distinctions and how they impact your footwear selections.
Your feet can start as small as an "AA" size, which means your foot is more like the foot on the right (pictured above) at 3 ¼". At their widest, feet can range up to what they call an EEEE or 4E. This means your foot can be as wide as almost 5" (4 and 11/16", to be specific). It's imperative that you actually get this measured so you know what type of shoes will provide you with the most comfort. The Insole Store actually provides their customers with a whole chart that converts shoe sizes into inches and centimeters for your ultimate fit found here. Check it out after your next sizing to determine what's best for you!
Has your foot been measured before? Get it remeasured, anyway! As we'll see later in this guide, you're not guaranteed a single-foot size throughout your life. For this reason, it's important you stay up-to-date on the size of your foot.
Want to see how to measure the size of your feet? Check out the attached useful video.
What exactly, you might be asking, causes wide feet? If you're like some of us, you may remember a time when your feet weren't wide at all. Yet again, you may always have had to search for larger-width shoes. In reality, there are a number of causes for wide feet, so it's important to look at them one-by-one to get a better understanding of the issue.
As strange as it may sound, our feet are actually molded by the type of footwear we choose to don. This means that individuals who wear sneakers or other looser-fitting shoes tend to have wider feet than individuals who've worn high heels from an early age. That's not a hard-and-fast rule, of course, as genetics does play a role in foot shaping.
Still, shoes play a powerful role in shaping the way our feet look. Take a look at the graphic below to get a better idea.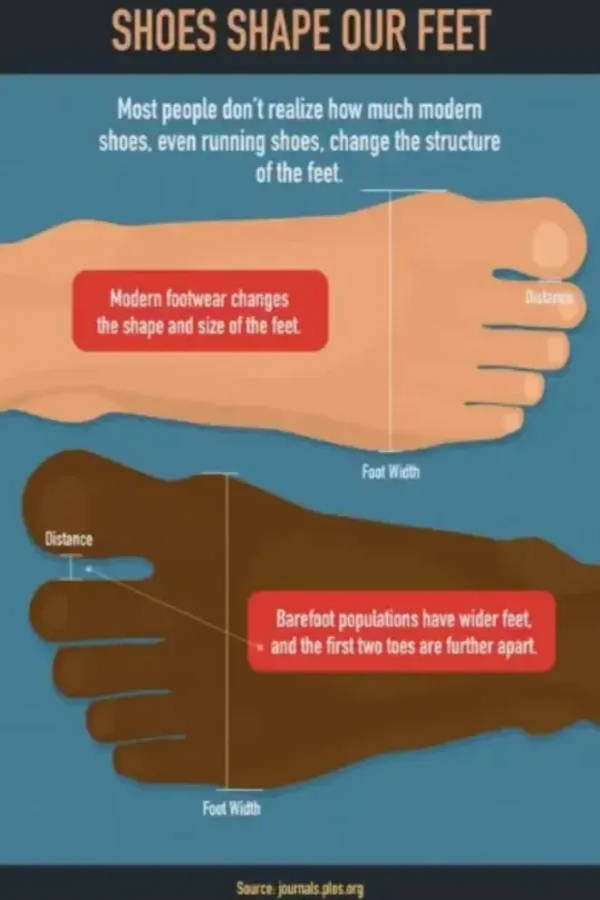 As you can see, your foot would be at its widest state if you didn't wear shoes at all. This means that any type of footwear is likely to alter (and narrow) the shape of your foot. If you have wide feet, then, it may simply be because you opted for looser-fitting shoes instead of daintier options such as high heels or tight boots.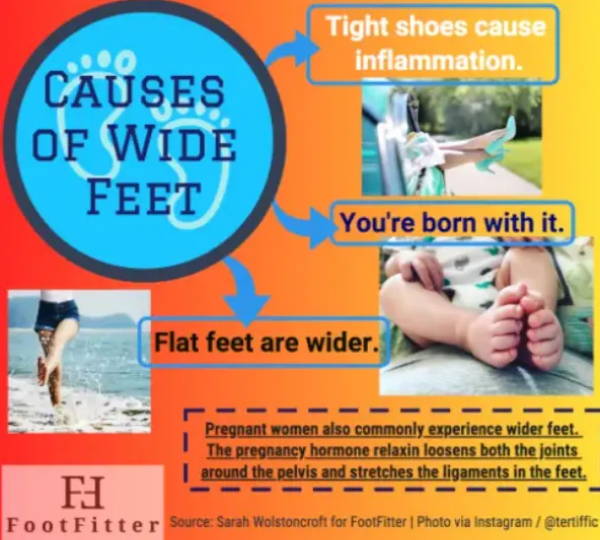 Footwear isn't the only influencer of foot shape, however. Pregnancy also serves to widen the feet, as hormones in the body cause structural changes to accommodate for the growing baby.
You may have noticed this during your own pregnancy and shouldn't be alarmed if your feet are still wider than before—it's perfectly natural. As we'll see later in this guide, there are a number of terrifically-cute sandal options out there that are perfect for women post-pregnancy!
If you can't remember a time when your feet weren't wide, it's likely that you were born that way. Call it luck of the draw, but some of us are gifted with a few more square inches of matter down at the extremes. This is especially true if you have flat feet, which are commonly linked to wider feet due to the evening out of natural foot arches.
As mentioned in the chart, overly-tight shoes can also be a cause of wide feet. For those born with wider-than-average feet, this means it's not a good idea to try and squish your feet into narrow shoes that don't really fit. We get it—footwear does play a role in the shape of your feet, but in all likelihood, you'll only end up with feet that are more inflamed and larger than before.
For this reason, we highly recommend you continue reading and check out the incredibly pretty sandals for wide feet covered below!
If you have flat feet, especially, you'll want to know what options are out there for you. We've encountered this problem with many of our customers, but it's not the end of the world! The most important thing here is that you find a proper insole that can decrease, and prevent foot and back pain. You'd be surprised at how much the two are interrelated. Find a great insole that has a standard amount of arch support, and can ensure that your foot is getting the orthotic love they deserve.
Tips for Those with Wide Feet

Understanding the cause of your wide feet is simply the first step. Understandably, you'll want to know how to manage them, as well. For this reason, we've compiled a list of tips to help you live better (and much more comfortably) with your wide feet. Harvard Health has various suggestions for managing the process of locating the right wide sandals for your wide feet. Make sure that you think about having room for your feet to swell during the day and that you trust your own comfort level and not what others who might not have wide feet have said about a sandal.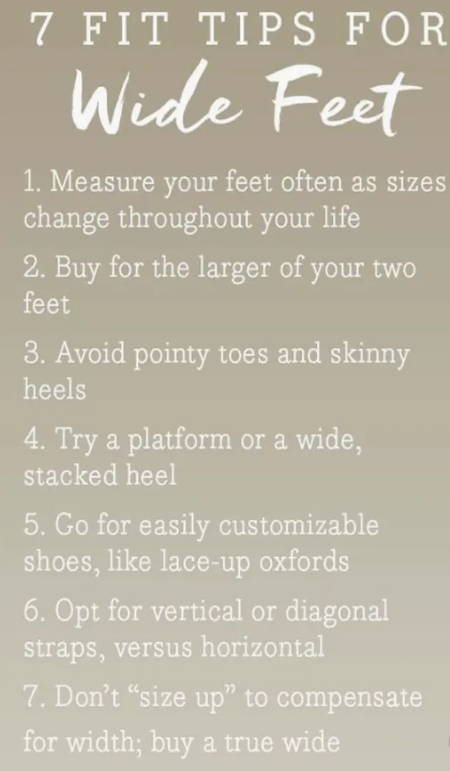 We cannot recommend this checklist highly enough. If you're like most of us, it's likely that you've made at least a few of these mistakes at some point in your life. Unfortunately, this information isn't widely disseminated, even at popular foot retailers. This means that those with wide feet are often fighting a lonely battle.
In light of this, we've selected a few of the major points from the chart above to give you a helping hand:
Measure Your Foot Throughout Your Life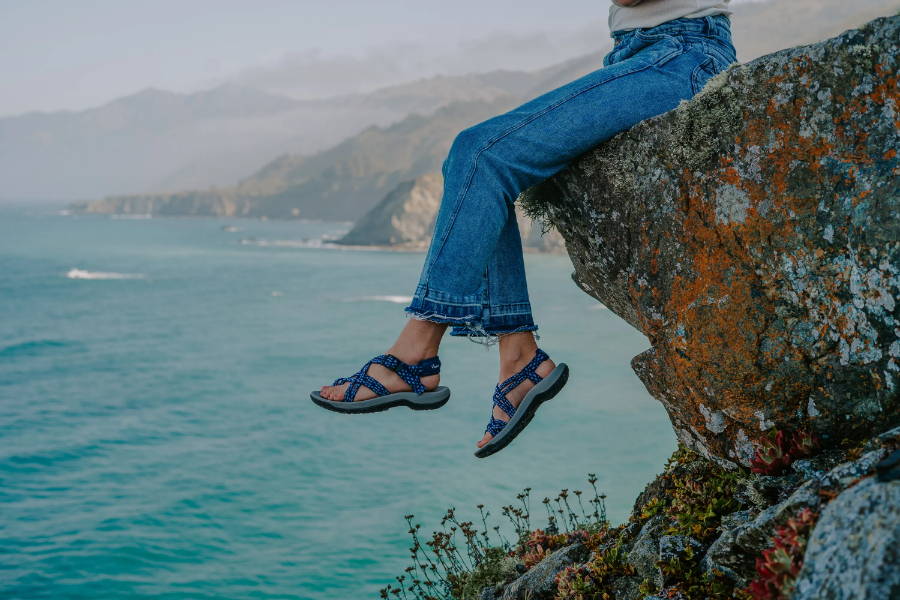 We've touched on this briefly, but it's worth stressing again. The shape of your foot changes throughout your lifetime—especially for women. This means that you want to get your foot measured every few years so that you are getting a shoe that's comfortable and supports your weight properly. This can work miracles for your foot health, helping to minimize pain and reduce inflammation.
Don't Size Up to Compensate for Width

Many of us believe that we'll be alright if we just buy a bigger shoe. Unfortunately, the size printed on your shoe label refers primarily to length. This means that you aren't necessarily getting a shoe that's designed for your particular width, but you are definitely getting a shoe that's uncomfortable length-wise. In other words, you could be hurting yourself without knowing it.
We get it—no one likes admitting they have large feet. Still, you'll save yourself a lot of hassle by buying for the larger of your two feet. If you notice your feet aren't exactly symmetrical, make sure you don't try to buy down to the smaller size, as this could cause foot pain and lead to inflammation.
What Sandals Are Right for Your Wide Feet?

Understanding the difficulties that come with wide feet, we set out in search of cute sandals that will actually work for feet that need a little extra width for a comfortable stride. We searched high and low, store after store, to find wide sandals that were actually comfortable and cute. What a combo. We were bombarded with options from every direction, but we took a number of different aspects into consideration. Were they actually comfortable? Could they withstand some adventuring? Were they non-slip, or have some sort of grip? Wanting to give you only the best, we tested each sandal individually to see how it stacked up—and came up with the following list.
If you're sick of being in pain or shopping around for hours and only finding options that are narrow-foot friendly, we're hoping that one of the options we've found here will save the day. From moderate width to true wide sandals, there truly is something for everyone here. Join us on this journey through options that can work for you!
Our Sandals for Your Wide Feet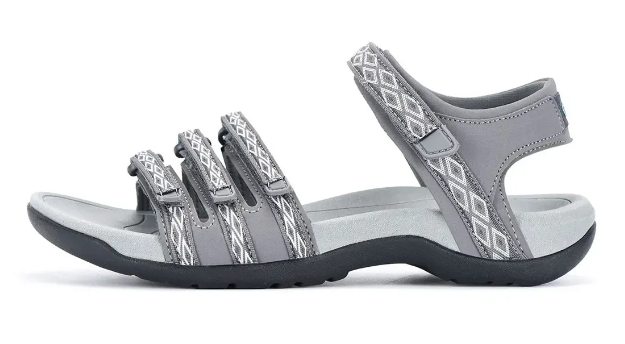 How...amazing...are... THESE!? As you can tell, we were super excited about this sandal. They come in four colors, each with a cute contrasting patterns on the strap. On top of that, they're made from high quality materials. We're one of the only sandal brands out there that check all the boxes for cuteness and comfort. The soles are made of EVA foam that cradles the foot and isn't going to fall apart on you. The straps are actually made out of soft-fit materials that allow for superior adjustability. These are hand crafted with ergonomics in mind for any width of feet. This is also the reason why these are perfectly made for wider feet. My wide feet have never felt better. Usually, I can never find shoes that perfectly fit my wide feet, and I usually end up suffering, especially if I go on longer walks. With these sandals, all I have to do is adust the strap and I'm good to go.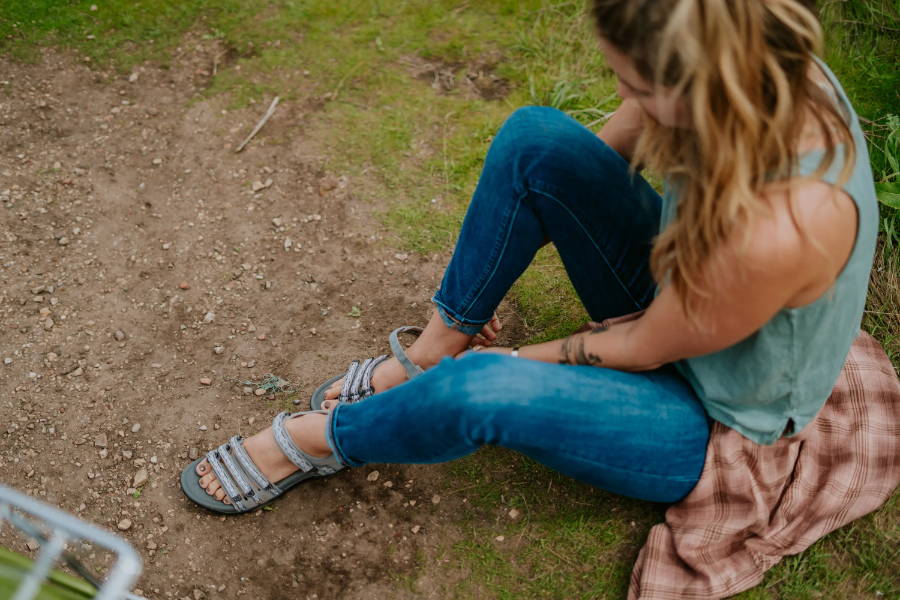 With four different straps to adjust, you're sure to find the perfect fit for your wider foot. These will withstand hiking, watersports, or a long day strolling through your new favorite town. With the ultimate support, not only will your feet be happy, but your knees and ankles will thank you too! Plus, with the adorable design, you won't sacrifice an ounce of style to enjoy a ton of comfort!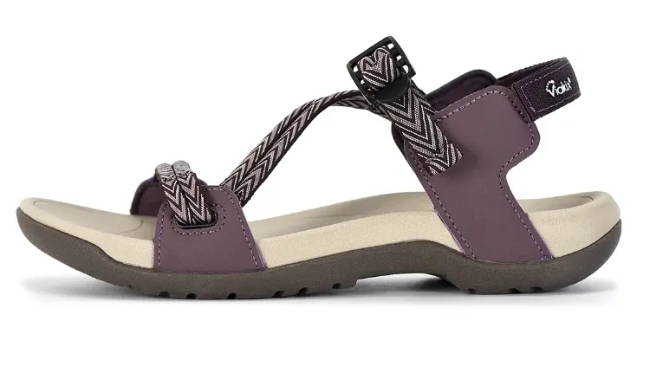 Our Sloane sandals are such a great go-to sandal for wider feet. They're great quality and really take wide width feet. This amazing option is available in 4 classic and cute colors, but we're partial to the mauve color shown above. These are made with PU leather, soft webbing material and a rubber sole that minimizes slippage. The webbing is adjustable to accomodate wider widths. With a flexible EVA outsole, we can't recommend them enough if you want something practical but cute and unique as well. I'm all about cute and unique styles, and my Viakix sandals checks all the boxes, with the added bonus that they cater to my wide feet. If these recommendations don't convince you to go Viakix, I'm not sure what will!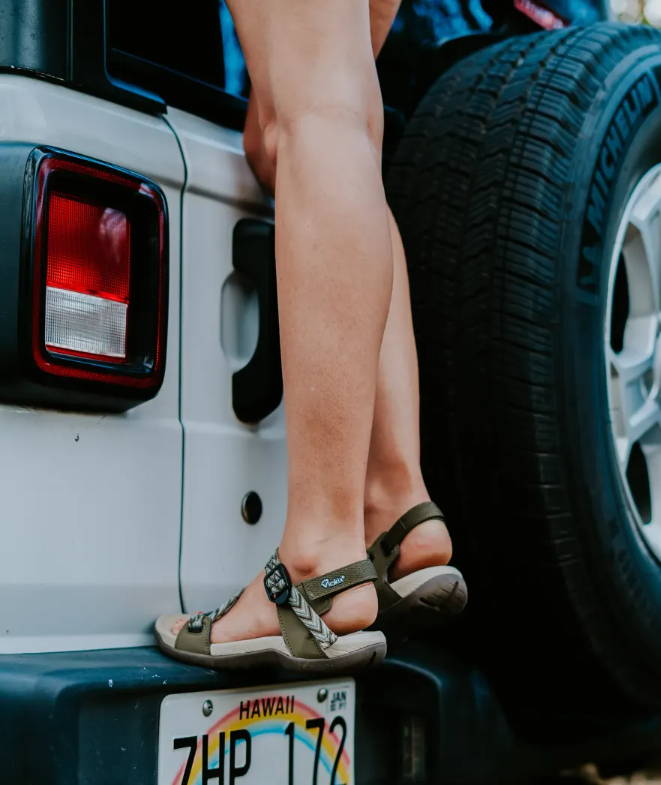 These sandals have stood the test of time, and have been a customer favorite for years. We're confident that they'll be one of your favorites as well. Jumping through puddles on treks and climbing up stone staircases in foreign cities has never felt better before. These sandals are a must-have for me when I travel. I never want to be in a position where I have to find sandals that cater to my wide feet in a foreign country.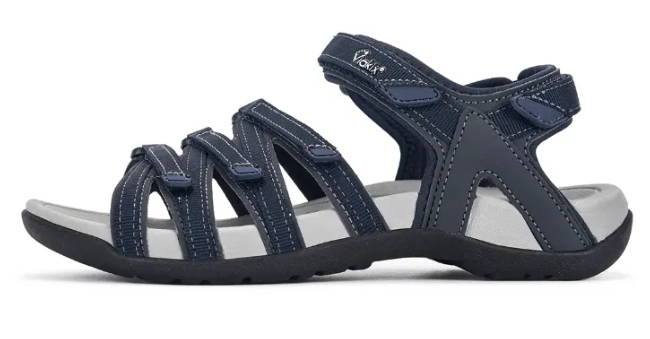 These beauties are perfect for when you are thinking about heading to a place that's a little more adventurous, but also want that sense of comfort. Ideal for a walk on the trail, the Acadias have 5 adjustable straps to ensure you get a customized fit and garner a ton of compliments. Another option with added comfort, this style has incorporated a layer of memory foam so you stay comfortable after a long day on your feet. For those of us on the shorter side, these give you a 1" heel.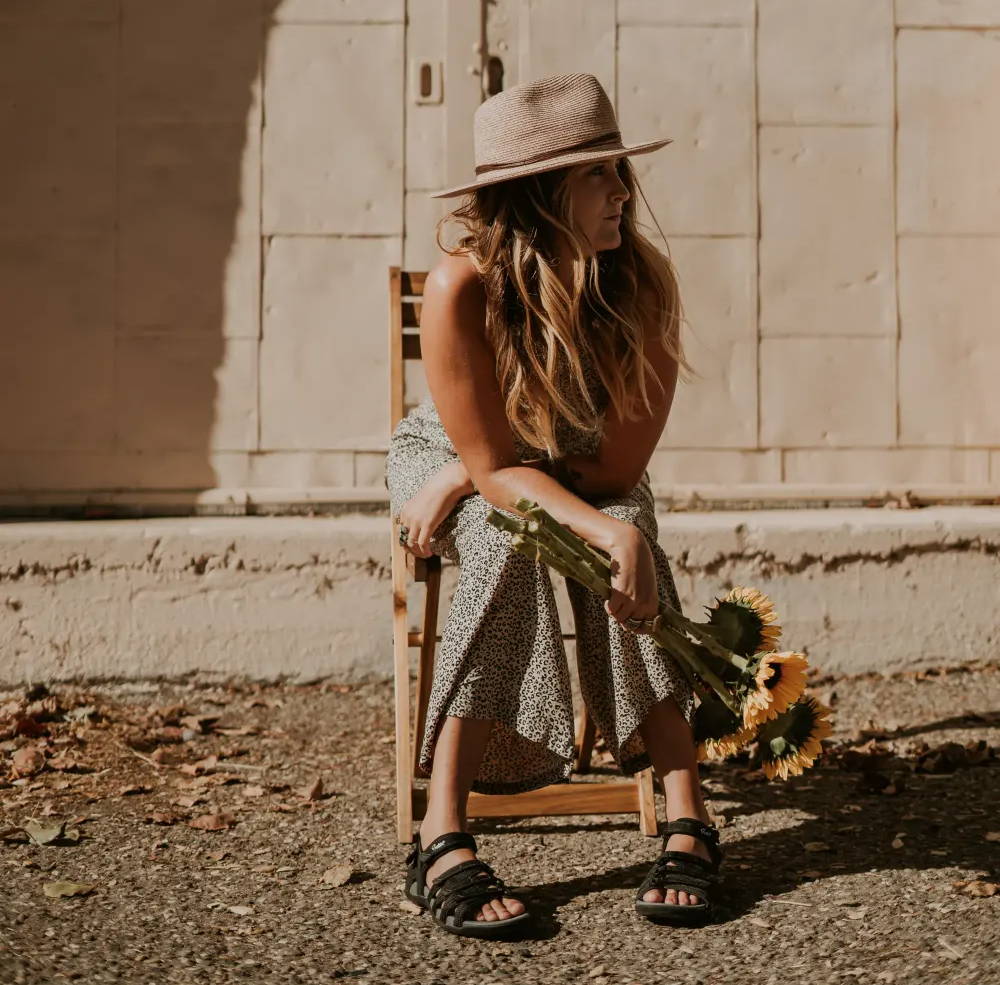 What we loved most about these shoes is that the adjustablility gives each customer the option to find just the perfect fit. In reading through the customer reviews, we found many women rave about the comfort these provide, even with foot problems. In our own testing, as well, we found that these cute sandals with arch support outperformed our expectations in every metric. All in all, a must get!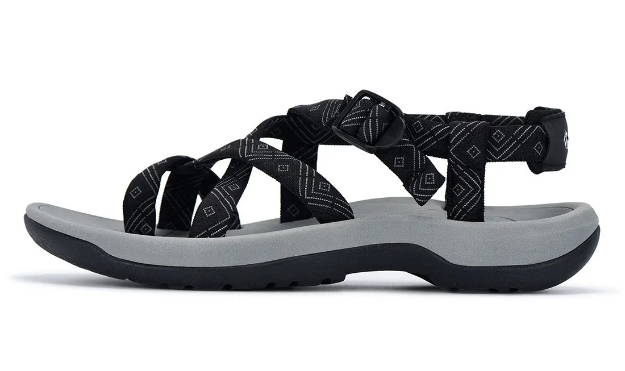 The Viakix Cortona Sandal is a great option that's both versatile and super adorable! It's incredibly supportive and provides for all-day comfort. We think its the perfect shoe for outdoor adventures, no matter where your exploration takes you. The EVA foam foot bed is built to last and with ergonomic support in mind. We especially love the thick midsole provides the ultimate cushioning for your joints, and the ankle strap is fully adjustable.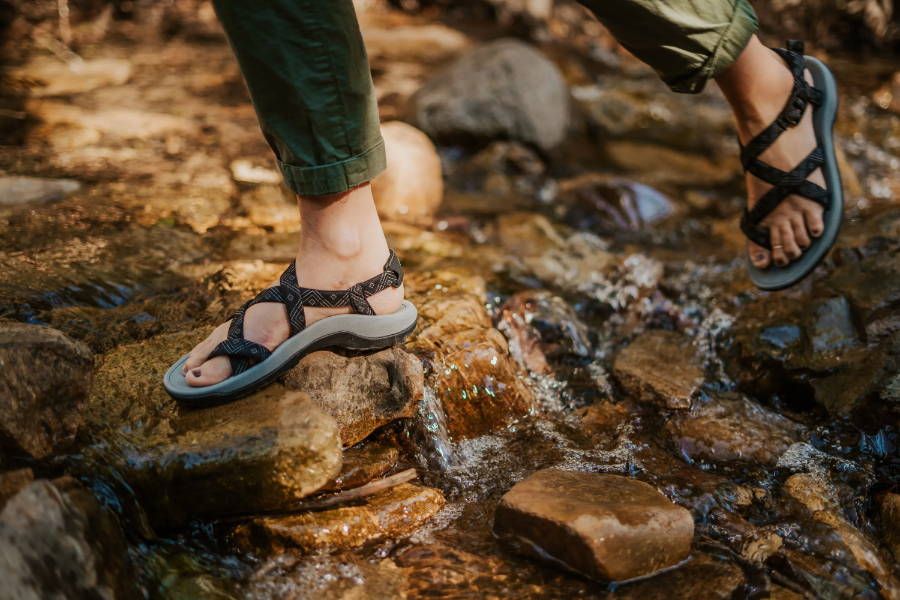 What makes our Cortona even more awesome is that they are fully adjustable, a perfect feature for wide feet. The straps are stretchable and soft, giving the flexibility for a just-right fit. The adorable graphic details give you just the right amount of style and pop. Plus, a tree is planted for each purchase so both your feet and the environment win!
Cute Sandals That Fit Wide Feet

We hope we gave you some options to consider for your wide feet. At Viakix we've developed a number cute sandals out there with the support and styling you are looking for. Many of which come in a variety of color options to give your wardrobe that extra boost.
If you have a hard time finding shoes to fit your feet perfectly, make sure to check out all of our Viakix options. As a leader in the field, we present customers with only the best in arch support, comfort, and price! Whether you're heading to the beach or to the mountain, there's something there for you that we can assure you that you'll love.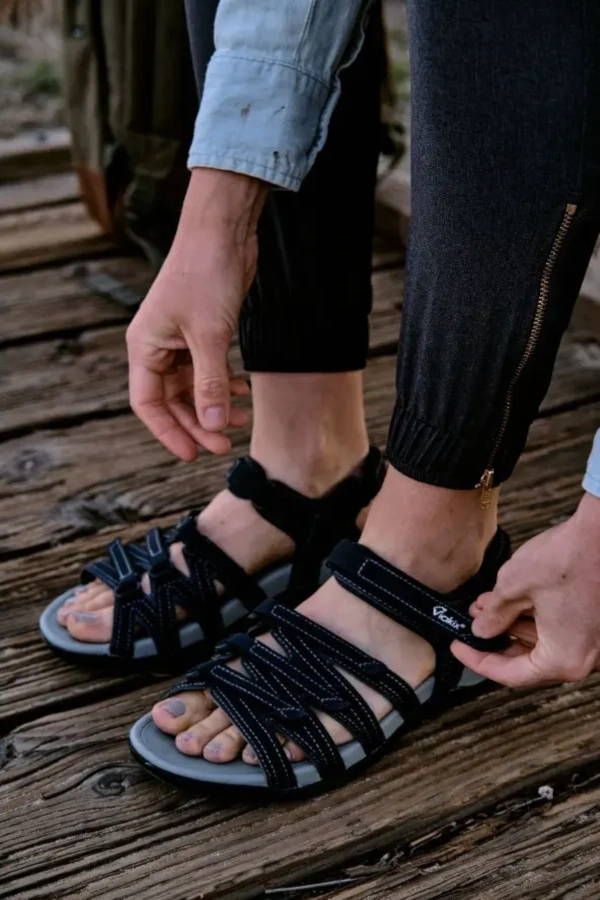 If you're off to shop on your own, don't forget the few most important things to look for: added insoles with plenty of arch support, stretchy fabrics to host any variety of wide feet, and a nice little strip of memory foam that can keep you comfortable all day. Finally, make sure to use this guide to find the most fashionable sandals for wide feet. Best of all, you can pair these with shorts or different dress styles and have a brand new look every time.
If you have any questions about what might be right for you, contact us, and we can ensure that you're heading in the right direction.
Frequently Asked Questions
What are the benefits of wearing sandals for wide feet?
As we've mentioned in this article, wearing sandals for wide feet has numerous benefits. More than just having extra room! Your feet need to spread out and feel comfortable. Wearing shoes that are too tight can create a variety of problems, like blisters and foot pain. The Viakix sandals are open-toed and breathable, with adjustable straps that allow you to adjust the straps as you need.
What features should I look for in sandals for wide feet?
Sandals with adjustable straps that are customizable is a top feature to look for. You also need sandals with a wide toe box for extra toe room. This will prevent your toes from feeling cramped or squished, neither of which are enjoyable. The more comfortable your feet are, the happier you'll be during your adventures or walks around the city.
How do sandals for wide feet differ from regular sandals?
Wide foot sandals differ from regular sandals several ways. FIrst of all, sandals for wide feet have extra room in the toe box and the arch of the foot. This gives you room to spread your toes and have extra cushioning for foot support. All of this combined will help prevent foot pain and discomfort, and even blisters. Our sandals also tackle other foot problems, like plantar fasciitis, supination, and bunions.
Reviews (2 comments)
Collection 2019
Sale 70% Off
Title for image