Women's Sandals for Standing All Day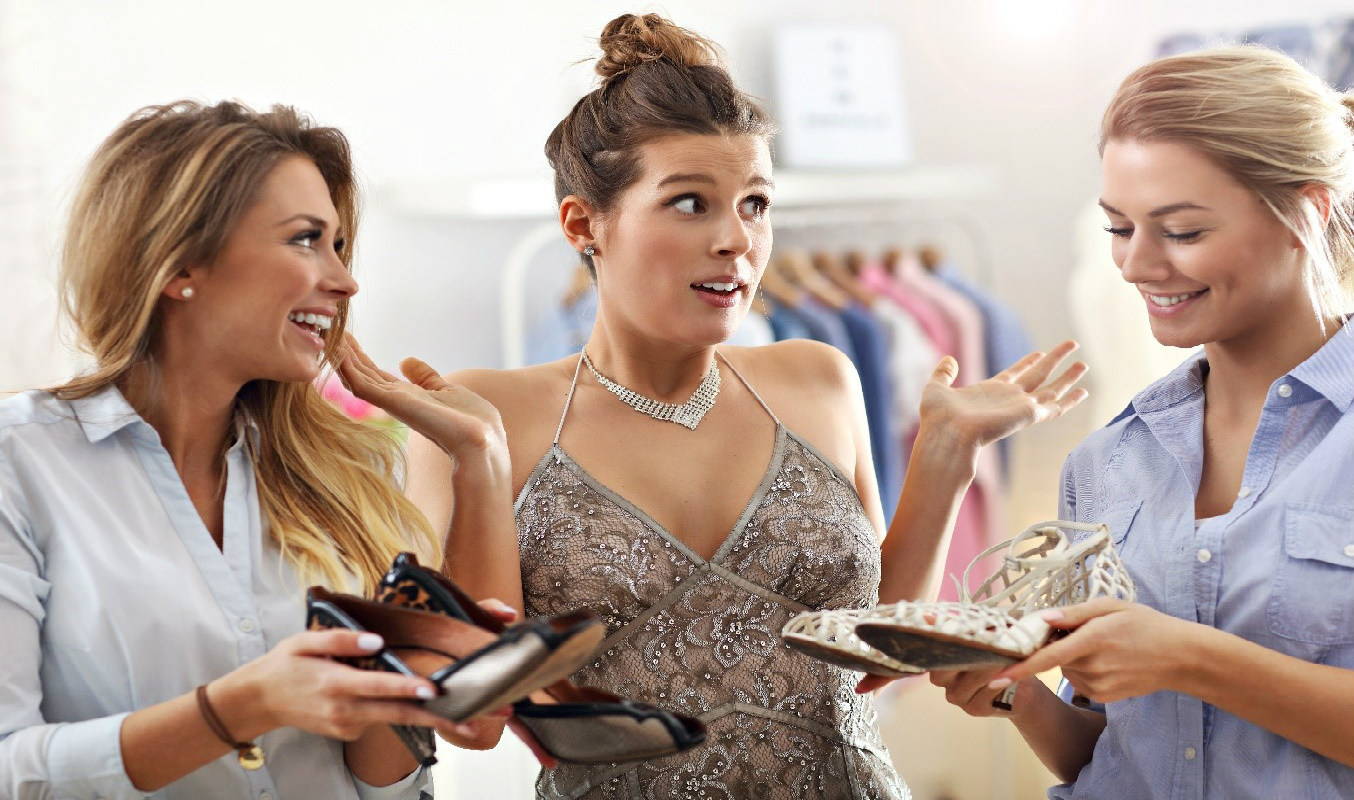 When you stand all day, your feet need to be well taken care of. Whether you are a nurse working a twelve-hour shift or are planning a trip to Disney, you better have the right shoes. Though finding the perfect balance between cushioned comfort and style can be challenging. Of course, you want a cute pair of walking shoes that go with everything, but don't sacrifice the well being of your feet in the name of fashion.
Think about how bad it feels when you have worked a long shift in the wrong shoes, with no support and terrible padding. Or have been at a local farmers market all afternoon and ended up getting blisters at the end of the day from poorly fitted shoes. These unfortunate and uncomfortable situations can be avoided. I used to dread the days when I had to constantly stand and be on my feet. The first thing I'd do when the day was over was take off my shoes and lie down to take the pressure off my feet.
So good for you! You're already taking the first step in doing the right thing for your feet and your body by reading this article. Here you'll find a list of the best shoes for standing all day, plus a few shopping tips.
Some Features to Help Guide You in Finding Standing Shoes for Women
When you're shopping for the best pair of comfortable and stylish shoes for standing all day, there are a couple of key characteristics to look for. The reason you need these shoes will dictate the basic features of the shoe, such as closed-toed work shoes for a server or open-toed designs for an outdoor event.
Either way, these three features are definitely something to keep in mind when you are shopping around.
Wide toe box:

This will aid in all-day comfort, giving your toes room to move. It also provides space for them to expand as the day goes on and

your feet swell

a little after standing all day.

Durability:

This one is pretty obvious but super important. Especially if you regularly spend your day standing. Nurses for instance know exactly how critical it is to have a pair of super durable shoes. Look for a pair with a thick and sturdy rubber outsole, quality stitching, and overall manufacturer quality.

Lightweight:

Even though technically you are just standing, you'll also almost certainly be walking in the process and you don't want your shoes weighing you down. It can be a challenging balance between being durable and lightweight, but there are some brands that do a great job at shooting for the middle.  
It shouldn't be too challenging to find a fantastic pair of shoes that meets all of the above criteria. We've done the research for you and here are some of our top picks.
With Nepali Hiking Sandals, You Can Stand for Hours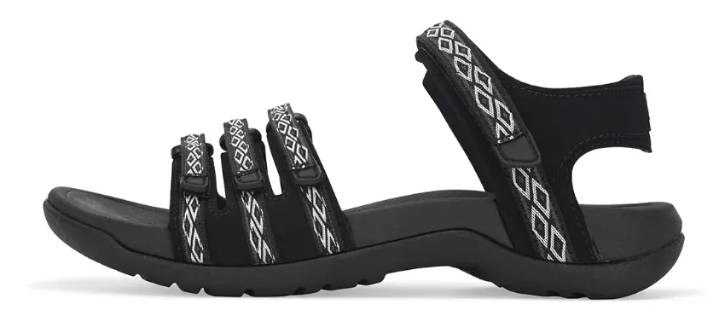 Yes, they are technically for hiking, but that also makes this pair of sandals perfect for standing all day too! These sandals are great for days that are going to include extended periods of standing and walking.
With the Nepali, comfort is the name of the game. A high-arched EVA foam midsole manages to walk the line of providing great ergonomic support while having a pleasantly soft feel. Not too firm, but also not too squishy either. This combination is just what your feet need when facing a long day standing. I love wearing these shoes on days I have to constantly stand. Not only do they support every inch of my foot, but it feels like I'm standing on a cushion.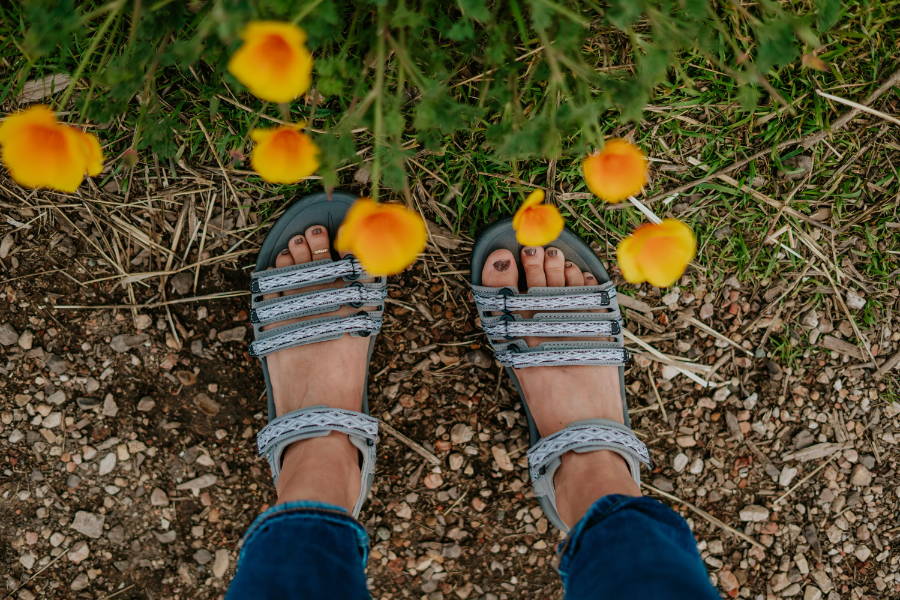 The durable rubber soles, with built-in support shank, make these sandals perfect for all-day wear with no issues. If you've got a long day at the amusement park planned, or are hitting up a local music festival, they can handle whatever you throw at them and help your feet do the same in cozy style.
Stand For Long Periods of Time With The Samara Walking Sandal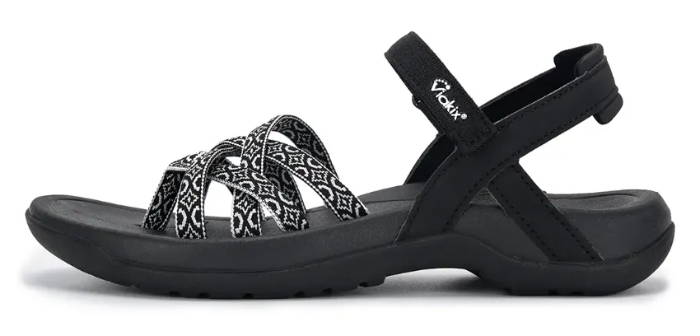 These walking sandals are absolutely at the top of our list. And that's not just us fluffing them up; the Samara Walking Sandal was recognized by Expert World Travel as being one of the top three best walking sandals. When you consider their awesome design, it's no wonder why.
These sandals are quality from the sole up. The durable rubber outsole is equipped with a support shank for superb stability and shock absorption to ease the stress and weight on your feet. They also have excellent traction, so if you're organizing an event on an uneven lawn or working on slippery surfaces all day you'll be safe.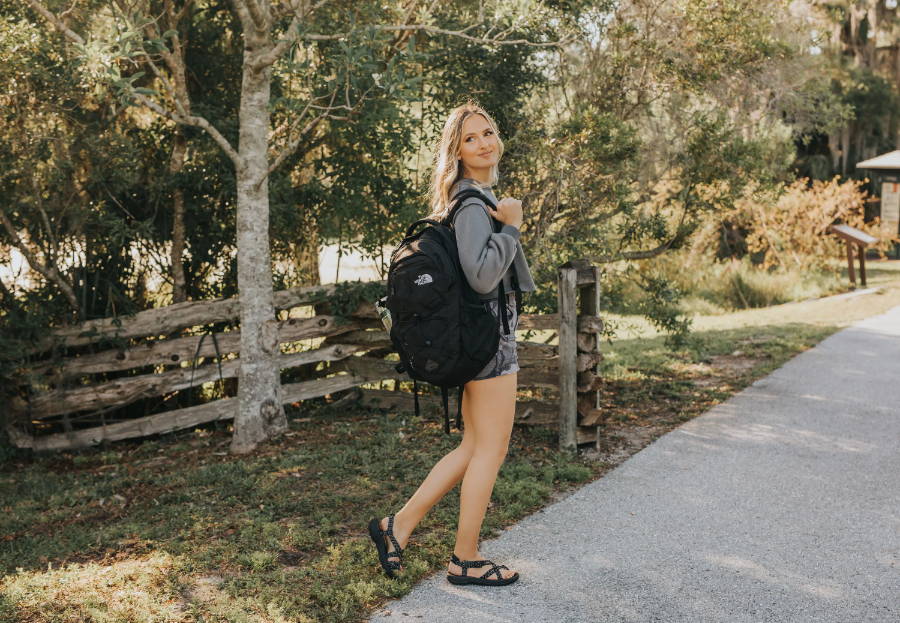 The EVA foam built into the midsole will provide an extra layer of protection for your joints and delightful cushioning for your feet. With the added bonus, the top layer material isn't just cute and form-fitting, it's also waterproof.
Available in four colors, with adjustable Velcro ankle straps and elastic front straps, these babies are tough enough to handle a day standing on a paddleboard and stylish enough to sport at the neighborhood barbecue. It's no wonder that they're one of Viakix's best sellers. They truly are the best of both worlds.
Sloane Sandal Is Great For Standing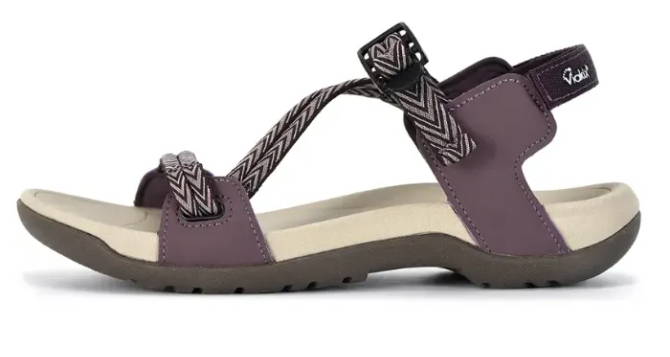 These shoes are so fabulously fashionable and comfy, our customers have called them the "most
comfortable and stylish sandals around". Which isn't hard to believe if you are at all familiar with the Viakix brand. They are known for super cute and cushy shoes that last forever.
The Sloane sandals feature a footbed molded precisely to fit the curves of your feet. Combine that with the lightweight EVA foam midsole and you'll be standing on cloud nine in no time.  
It might be hard to imagine a sandal being for banker tellers that are on their feet all day. Maybe you are an event planner working hectic weddings that still want to rock a stylish look. No matter why you're on your feet all day, this is the pair of sandals for you.
The Cortona Sport Sandal Is A Cute Way to Stand All Day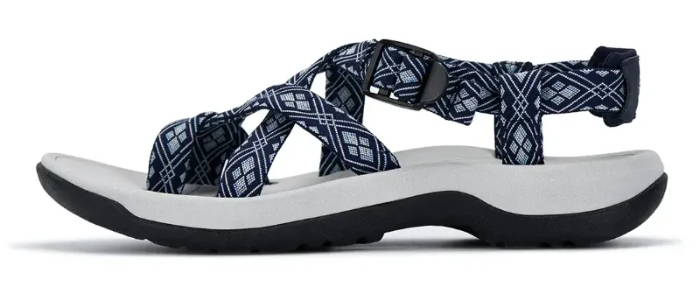 It doesn't matter what activity is calling for you to be on your feet for hours on end. A day at the museum chaperoning your child's field trip or checking out an all-day art festival downtown; these super cute sandals are unquestioningly up to the challenge.
High arched for loads of contoured support, the midsoles of these sandals are made with a generous helping of EVA foam, ready to act as a thick pillow for the soles of your feet. Plus the EVA foam is super lightweight.
The support shank embedded in the sole works double duty to disperse the shock of each step away from the sole of the foot and to protect from any hazards on your path that might try to penetrate the sole. Plus, the heavy-duty rubber sole provides top-notch traction with unparalleled durability.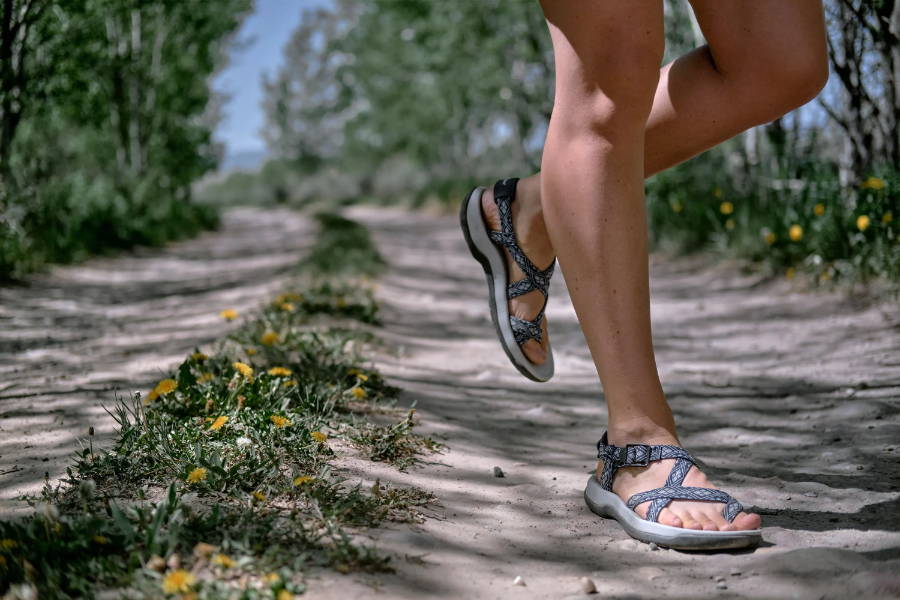 With stylish straps that stretch across the front of the foot and adjust around the ankle, these sandals promise a custom fit that will work for any foot and rock a stylish look that will turn heads. They pair great with cute jean shorts or a flowing summer dress.
Overall, these sandals are hitting it out of the park when it comes to not only comfort and durability but also style and versatility. What more do you need?
Siena Sport Sandal, Looking Good While Standing
Extended stretches of tough use are what these sandals were made for. Whether you're spending the day volunteering at a local food bank or work in retail, this pair will suit you well. The open-toed design gives your little toes plenty of space and makes them breathable to boot.
This pair of sandals, manufactured by Viakix, come with over-the-foot straps that are stretchy, allowing for a comfortable personalized fit, and a heel strap that is completely adjustable. Making sure there is no slipping and sliding, even after a long warm day standing when your feet might get a little sweaty.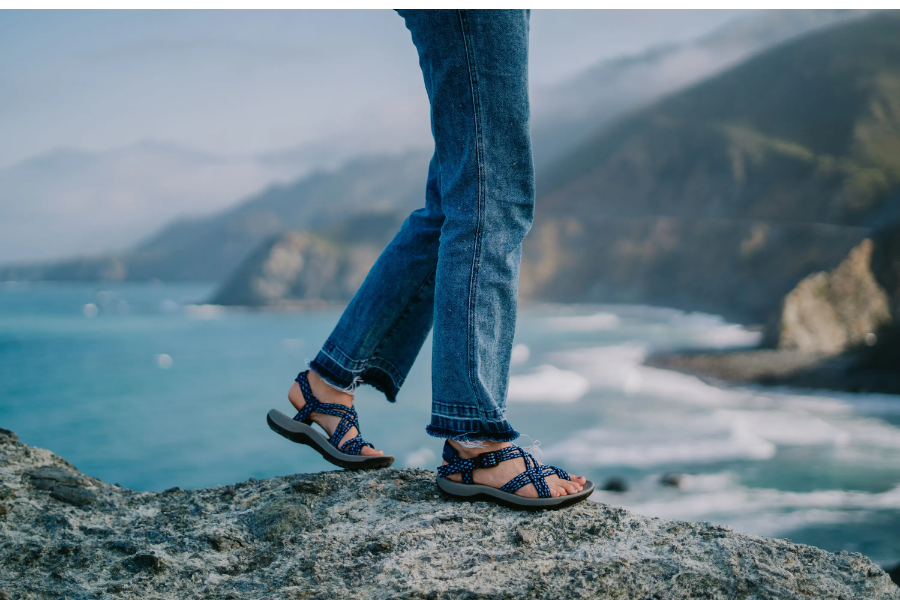 The soles you'll be gliding on are out of this world! And we do mean gliding. They're outfitted with structural support shanks, which lessens the impact of each step. This makes these sandals perfect for folks who are on their feet endlessly. Less impact means less stress on your joints, which is always a good thing. I know how important it is to protect my joints, especially as an avid hiker. I need to prevent injury as much as possible while I'm on the trail, which means wearing supportive sandals that provide ample support, even when I'm just standing.
To top it all off, their midsole is made from super cushy and lightweight EVA foam. This added padding provides great support and even more cushion to each step. Placing these sandals squarely at the intersection of comfort, support, and style.
Standing Is Easy With The Acadia Hiking Sandal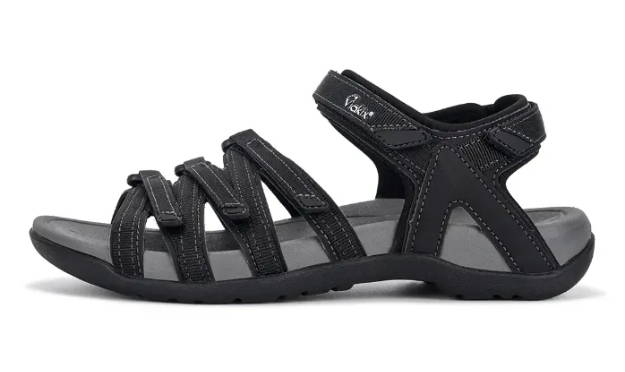 Hiking sandals again, we know. But trust us, these hiking sandals fit the bill perfectly. If you have a day of farmers market hopping planned or are expecting to do a lot of standing during a shift you won't be disappointed with these sandals. Plus they're wicked stylish to boot.
These beauties aren't just the newest addition to Viakix's activewear sandal line, they're also the most versatile on this list! With five adjustable straps, the perfect fit isn't hard to find. Ensuring lasting comfort and a snug fit all day. Women's footwear just got a lot more comfortable with the Acadia sandals. Based on my travel experience, I love wearing these sandals thanks to their arch support and quick-drying features. No more having to worry about potential injuries or sopping wet sandals!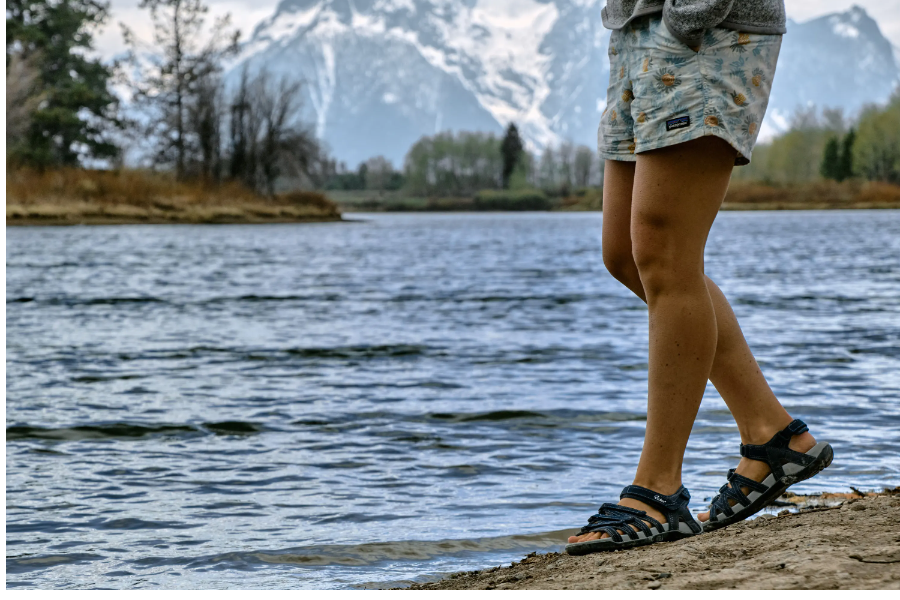 Their ergonomic EVA foam midsoles are back again to save the day. Providing an equal measure of support and padding, they check all of the boxes for hours of standing.
From strolling around town to utilizing that new standing desk set up, and everything in between, these sandals can be trusted to carry your weight seamlessly. With the help of Viakix's patented support shanks, engineered into the strong rubber soles you'll have no problem lasting for an entire day on your feet.
With dependable outsoles and their light-weight comfortable design, there's nowhere these sandals won't make you as comfortable as you've ever been on your feet.
There are so many different reasons you need to be on your feet all day. From being an emergency room nurse to chasing after toddlers in a daycare center for hours. Regardless, it's absolutely imperative to take care of your feet and invest in the best pair of shoes.
Depending on the situation, you're going to want a few different key features. If you work in the restaurant industry, you'll want a pair that has a solid rubber outsole for traction on slippery surfaces and a closed-toe design.
Though remember the toe-box, or front portion of the shoe, needs to be roomy enough to accommodate your toes if they get a little puffy hours into your shift. Everyone's feet swell a little, it's ok. Just be prepared and shop accordingly.
If the setting is a bit more casual and a sandal will do, look for a pair with a decent layer of EVA type foam and enough straps to help the top layer really form to your foot and keep it in place. No flimsy thong flip-flops.
Lightweight shoes are always the way to go when you are planning for a long day on your feet. You don't want to feel like you have a couple of bricks weighing you down only a few hours into the day. Though make sure to not sacrifice sturdiness and durability at the same time.
We know, it's tough finding exactly the perfect pair to meet your needs. Hopefully, we were able to lend some useful advice and point you in the right direction. Good luck and keep those feet well cared for!
Frequently Asked Questions
How do I know if the sandals I have are good for standing?
Take your sandals on a test run! Wear them throughout your day as you normally would. Be sure to stand more than usual. Adjust the ankle-strap to your size, and pay attention to how the sandals feel. If your arches feel supported and the sandal feels secure and stable, then they're great for standing.
What are the benefits of wearing sandals for standing?
There are numerous benefits to wearing sandals for standing. First of all, open-toed sandals allow air to circulate around your feet. This will help keep you and your body cool and dry. Sandals for standing also provide ample cushioning and shock absorption, which is the sort of support you need if you're standing all day. This lessens strain on your feet, ankles, and legs, and are a better alternative to flats, sneakers, slip-ons, clogs, pumps, and loafers, all of which can cause injury from lack of support. It's always important to wear supportive footwear if you're standing. The most comfortable shoes will provide ample arch support, be made of durable materials, and be suitable for people with high and low arches.
What are some tips for taking care of my sandals for standing?
After making sure your sandals fit your feet perfectly, it's important to take care of them by washing and cleaning them. Our Viakix sandals are waterproof, water resistant, and quick-drying, which means they'll stay dry in wet conditions. You'll want to keep your sandals around as long as possible, especially to prevent injuries like bunions and plantar fasciitis. Supportive sandals are one of the first treatements to treating foot issues.
Collection 2019
Sale 70% Off
Title for image