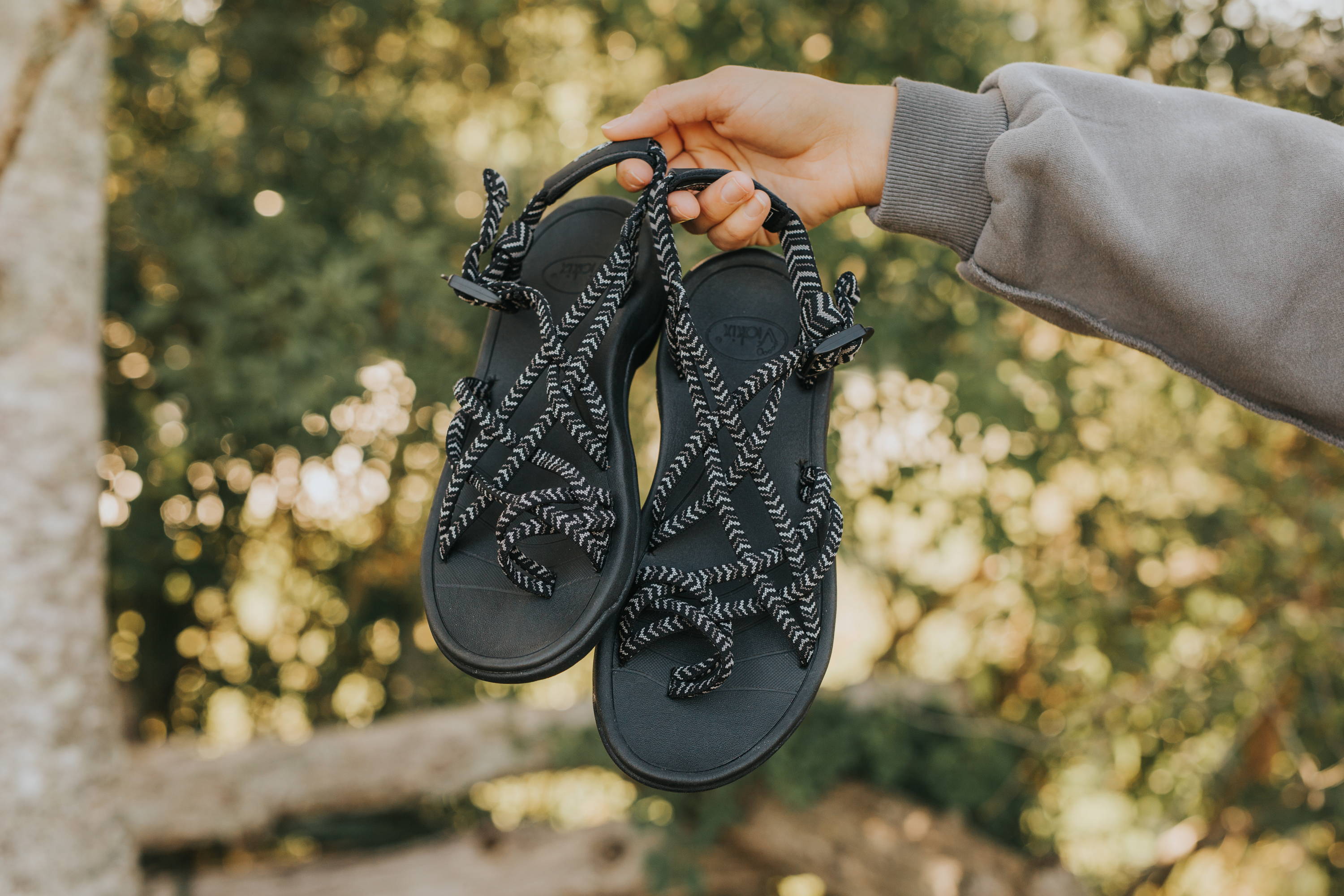 Comparing Viakix and Teva Sandals
When it comes to walking sandals, you may find it tough to choose the perfect sandal. Teva and Viakix sandals are two popular brands that both offer a wide array of benefits like arch support, comfort, and durability. But when it comes down to it, you'll need to make a decision on which sandal to buy. We've curated a list that'll help you with your next walking sandals purchase.
Hiking on rocky terrain or in national parks requires durable sandals you can trust. Better yet, when sandals feel like sneakers, you're getting a two-for-one deal. Traveling with one pair of sandals and one pair of sneakers can add a lot of weight to your bag, so purchasing a versatile sandal that can act as both will save you a lot of money and luggage space. You'll thank us when you find a bunch of souvenirs you want to bring home. There will be tons of space in your bag!
| | | |
| --- | --- | --- |
| Category | Viakix | Teva |
| | Deep & supportive heel cup | |
| | Contoured foot support and stretchy webbing | |
| | | |
| | Water-resistant and waterproof | |
| | Hiking, beaches, city walking, casual wear | Multiple colors and designs |
| | Rugged rubber soles and patterns | Rugged rubber soles and patterns |
| | | |
| | 4 - 5 different colors per style. 6 different styles | Multiple colors and several different styles |
| | Water-resistant materials for quick drying | Water-resistant materials for quick drying |
| | Works with One Tree Planted. Reduce packaging by 30%, commitment to use 25% recycled materials in footwear | Made from recycled materials and treated with Life Naturals |
Similarities and Differences Between Viakix and Teva Sandals
Let's look over the similarities and differences between the two of the most popular active sandals on the market. We're comparing the sandals' materials, durability, support, and design. When you're between two sandals, even the smallest details count. There are certain features of a sandal, like heel cups and ankle straps, that make a huge difference.
Heel cups help stabilize your feet. They align the hips, knees, and ankles to help prevent injury and discomfort. They're an important feature of any sandal, and while both the Teva sandal and Viakix sandals have heel cups, they have major differences. The deep heel cup in Viakix sandals supports the heel, while Teva's heel cup is a bit more shallow and is not as supportive or substantial as Viakix sandals. Viakix also has specific sandals, like the Kiawah Orthotic Flip-Flop sandals, that support women with plantar fasciitis, orthopedic heel or foot pain, and supinate. I love wearing these slip-ons because of how comfortable and supportive they are. It's rare to find flip-flops that actually fit and have arch support. Best of all, they're lightwegith and water resistant! Did someone say beach?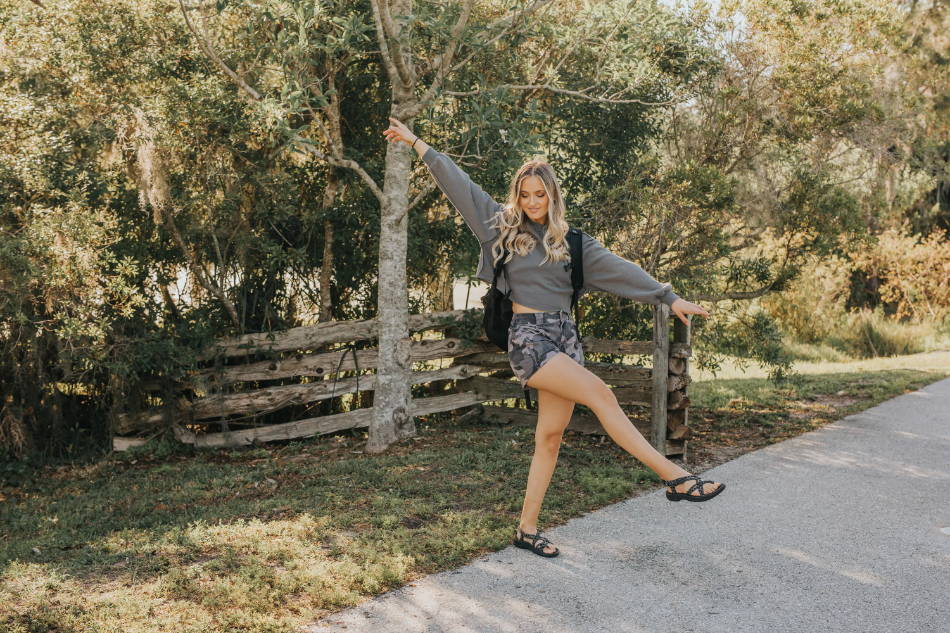 Arch support helps prevent injury and helps wearers walk better, while also providing more back support. This helps posture and helps ease foot pain and prevents injury, especially if you have flat feet. People with flat feet often suffer after standing or walking for long periods. Viakix sandals have contoured foot support and stretchy webbing. The Sloane outdoor sandals have a thick EVA foam midsole and ergonomic outsole that provides substantial arch support. Teva sandals have arch support but are lacking the webbing and contours that line your feet that's present in Viakix sandals.
Viakix sandals have superb ankle support. Our sandals come with an adjustable ankle strap that'll hug your foot. These ankle straps are tighter than Tevas and better compliment the heel cup and arch support features, with a firmer grip on the top of the foot. Whether you're walking on the beach or hiking on rocky terrain, you can adjust the ankle strap as needed. Teva sandals have a rubber outsole and an EVA midsole. Their ankle support straps support their heel cup, but their ankle and foot straps are not as stretchy as the ones in Viakix sandals. For example, the Viakix Napali sandals have soft hook and loop straps that hug your feet.
Viakix sandals are fully water-resistant and waterproof. You can wear them in the ocean, walk through puddles, and hike in the rain without having to worry about the durability of the walking sandals. Teva sandals are only waterproof and lack the breathability that Viakix sandals have. Teva sandals are better suited for seaside adventures, while Viakix sandals are suited for mountains, forests, beaches, and rocky terrain. Their water-resistant materials prevent moisture from getting trapped underneath the straps, which keeps your feet dry and airy.
While Teva sandals are made for walking outside, Viakix is more focused on outdoor adventures like hiking and kayaking trips. Teva sandals are built for more casual occasions, like walking on the beach or through town. If you're an adventurous woman, you'll need to check out the Acadia hiking sandals. Without sacrificing style or comfort, these sandals have five hook and loop straps that hug every curve of your foot. They're waterproof and have advanced ankle, arch, and heel support that'll accompany you on your next outdoor escapade.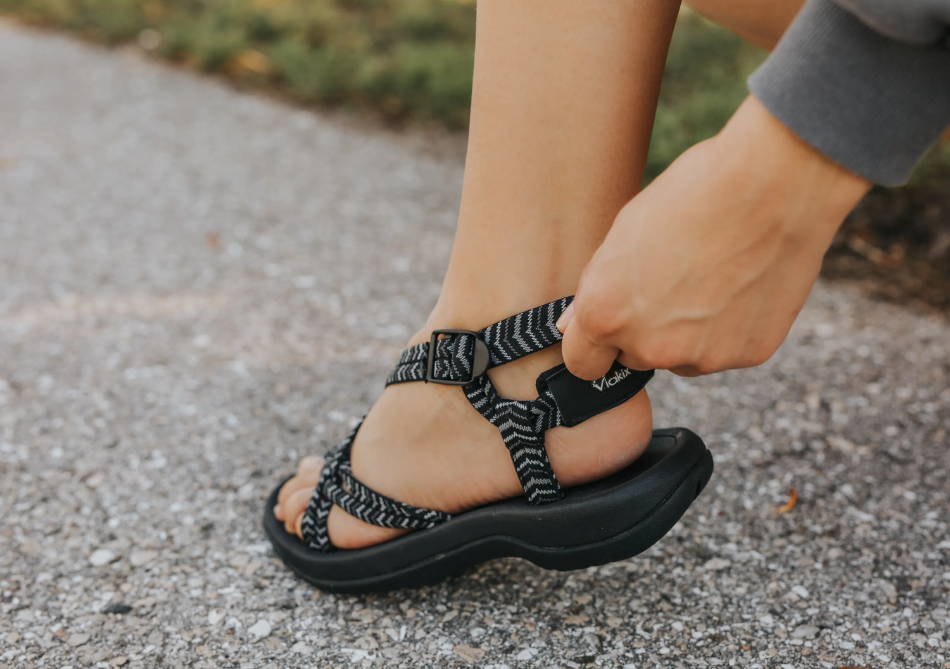 Teva sandals have quick-dry straps that are ideal for water adventures at beaches or waterfalls. These straps don't trap water on your skin and are better for activities out at sea. The Viakix straps are not as quick-dry as Teva straps and may feel more uncomfortable for a longer period of time if the straps do get wet. If you're more likely to be around water, then the Teva sandals may be a better choice.
Both the Viakix sandals and Teva sandals have rugged rubber soles and patterns that provide traction in wet weather conditions. This helps prevent slips and falls that may happen while walking over slippery surfaces like boardwalks, sidewalks, or rocks on the trail. The Viakix Samara sandals offer incredible traction that'll safely carry you across wet surfaces not only on the trail but in the city or at the beach. These sandals also provide a front webbing made out of elastic textiles. This provides a soft, custom fit for those with medium and narrow-width feet.
Viakix sandals come in many different colors. They're cute and stylish, and you don't have to give up comfort to wear fashionable sandals. Teva sandals also come in many different colors and styles. You'll get bright, fun colors like blue, yellow, green, tan, and white. While it may be fun to have brightly colored sandals, it doesn't make a difference on the trail. What makes a difference is the arch support, heel support, and ankle strap that Viakix sandals provide. So, while the Teva sandals may have more shapes and designs on their straps, the Viakix sandals have designs that match more outfits and can be worn in more outdoor activities.
Teva sandals also use environmentally friendly materials. Their sandals are made of recycled materials in their straps. They also use less water when making their sandals, and less waste in their packaging. This change began in 2020. Their sandals are also vegan, and the webbing is made from recycled plastic with traceable polyester yarn. However, this material lacks the durability and long-lasting materials that Viakix sandals have since our sandals are made of high-quality materials.
The Viakix sandals are made for outdoor adventure. Whether they're your travel buddies in Central America, or you take them on a wild hike in the Great Smoky Mountains, these sandals will take care of your feet so you don't have to. On the other hand, Teva sandals are a great option if you only plan on wearing them in the ocean or on rocky sand. They'll help prevent cuts and scrapes you might acquire from sharp coral and rocks. They're also good to wear to festivals, since they're stylish and come in quirky designs.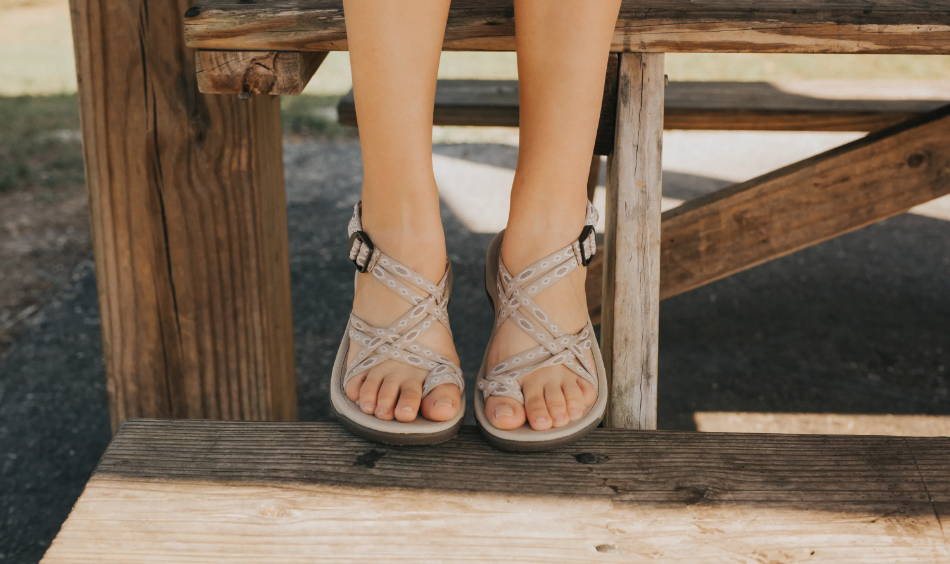 As we've mentioned, Teva sandals are made from recycled materials and treated with Life Naturals, which is a peppermint-based antimicrobial. This helps fight the growth of odor-causing bacteria. Luckily, because Viakix sandals are so breathable, this feature is not needed. They're easy to clean and easy to keep smell free. You won't have to be that smelly person in the city streets!
Choose Viakix for a greener future and forest restoration! Viakix works hard to reduce packaging by 30%, and have implemented recycling materials into our packaging. We partnered with One Tree Planted, which plants a tree for every order placed on our website. If you've purchased two of our sandals, you've helped plant two trees! We're also striving to incorporate at least 25% of our packaging into our footwear material by the end of this year. Not only will you have a brand new pair of shoes, but you're also helping make the world a better place.
Additionally, Viakix sandals are family-owned. We put love and care into every one of our sandals. We're personable and strive to ensure every single customer has a seamless buying experience and loves their sandals. This is because we're hyper-customer-centric. Not only that, but we give back to charities with our profits. Indirectly, you're contributing to a good cause with every purchase. To top it all off, we offer free returns if you're unsatisfied with your sandals. Our customer support team is always here to help.
Which Sandal Should I Choose?
I recommend the Viakix sandals, especially if you're an adventurer who's always looking for their next outdoor escapade. Not only that, but if you have a job that requires you to stand on your feet all day, like waitressing, Viakix sandals provide substantial arch support with a deep heel cup that'll keep your feet cushioned and comfortable.
If you're only looking for a simple sandal to take to the beach, wear to a festival, or walk around the city, then the Teva sandals are a great choice. However, Viakix sandals also get the job done! Whenever I go hiking, I love wearing my Viakix sandals. After a day hike, I peruse the sites in a nearby city before heading to a bar for a local beer. The best part about the Viakix sandals is that I can wear them hiking and then out for a drink. I don't have to think twice about comfort or changing my shoes. There's ample cushioning for long hikes, and enough toe room so my feet can breathe.
Viakix is one of the most durable and supportive hiking shoes out there. When it comes to competition, there is no match.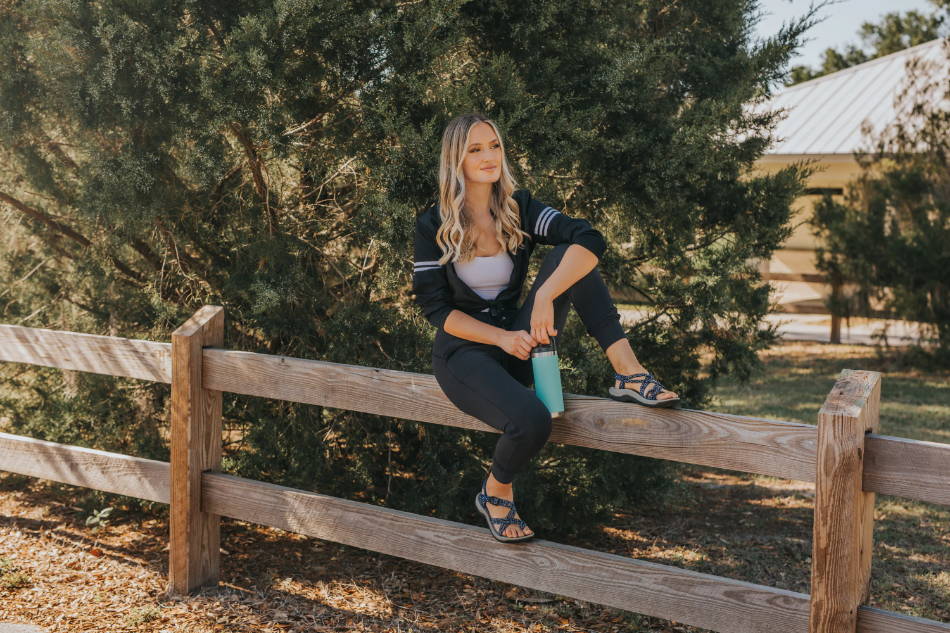 Frequently Asked Questions
What is the price difference between Viakix and Teva?
Viakix sandals cost $54.99. Teva sandals range in price, but generally speaking, they cost anywhere from $55 to $90 depending on the sandal you choose. When these two sandals are compared, it's important to choose one that best suits your wallet and budget.  
Q: How do Viakix sandals compare to Teva sandals in terms of comfort and support?
Both Viakix and Teva sandals are designed for outdoor activities and provide comfort and support for your feet. However, Viakix sandals have a specific focus on arch support, with built-in arch support in the insole and a contoured footbed. Additionally, Viakix sandals feature a cushioned sole for added comfort and shock absorption. Teva sandals, on the other hand, may have a more general focus on outdoor activites. Ultimately, the choice between the two brands will depend on your specific needs and preferences. Reading the reviews will only do so much, so it's up to you to pick a sandal that best suits your needs.
Which brand has a better return policy?
Viakix sandals offer free returns, making it an easy and smooth return experience. Our staff are always available to chat and help you with any questions you have.
Collection 2019
Sale 70% Off
Title for image