Choosing the Best Hiking Sandals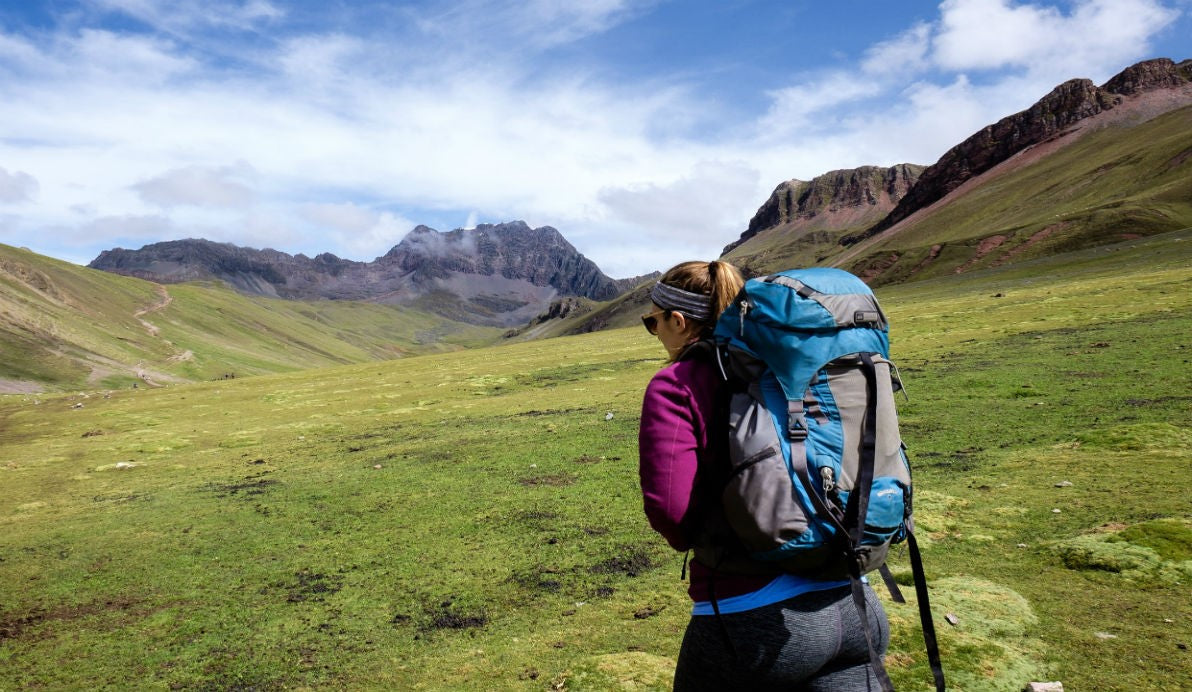 Hiking is an exhilarating past-time that can take you to some amazing places. The feeling of freedom you experience when exploring a new trail is hard to beat!
To make the most of your hiking experiences, it's important to have the right equipment. This includes sun protection, a water bottle, first aid equipment, and most importantly — high-quality footwear.
So what options are available for female hikers? Traditionally, you would simply buy a pair of women's hiking boots that fully enclose the foot. While they will protect your feet well, they also weigh a ton, make your feet hot and sweaty, and aren't particularly attractive to look at. Sound appealing?
Another option is to buy a pair of high-quality women's hiking sandals. Hiking or walking sandals will provide your feet with plenty of protection while being lighter and more comfortable than a traditional hiking boot. Hiking sandals are also more stylish than most brands of hiking boots. You will be able to wear them to the beach or local cafe without looking like you are about to go on a safari! I love wearing my sandals on a big hike and then going straight to dinner. They're versatile and perfect for any occasion. I even wear mine out to the bars! It makes traveling much easier, and it's one less thing I have to think about. The sandals do the work for me.
Hiking sandals have seen a massive resurgence in popularity over the past decade. The reason is simple: women love hiking sandals because they are light, durable, convenient, and extremely comfortable. Another important feature is that they allow for more breathability than hiking boots in summer and dry faster than closed shoes in water.
Wearing a pair of well-made women's athletic sandals will give you the freedom to hike wherever you want to go — you can traverse difficult terrain, have traction up hills, and be able to walk across those slippery rocks.
They're also the ideal summer option for all types of activities from adventurous travel, fitness weekends away to romantic sunset strolls on the beach. Their look has also improved from clunky footwear to trendy and fashionable accessories.  
Another thing active women particularly like is that hiking sandals are very versatile and can be worn in both urban and natural environments. This makes them particularly useful for women who want comfortable stylish footwear that they can wear virtually everywhere. Trust me when I say, less is more, especially when you travel. I love packing light, which is why I love these sandals so much. Not only are they lightweight, but they match every article of clothing I own, from dresses, to pants, to jeans,to hiking clothes!
There are several types of women's hiking sandals available on the market; from stylish lightweight sandals to rugged hiking sandals designed for trekking long distances. This gives you plenty of options when shopping for a pair of hiking sandals.  

If you are interested in learning more about hiking sandals for women, you've reached the right place. This guide is going to share some essential tips for choosing a pair of hiking sandals and showcase a few of the best hiking sandals on the market. Let's get started!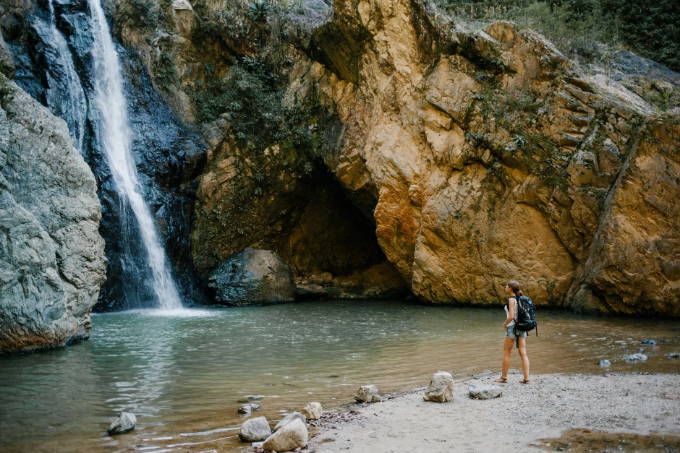 Hiking sandals are designed to be much tougher than a standard pair of sandals. They are built this way to withstand the stresses that occur when you are moving across the uneven and rough terrain in the wilderness.
Because you will often be walking on sloping terrain, quality hiking sandals need to handle a lot of lateral movement — which stresses the glue or stitching holding the sandal together. That's why it is important to choose sandals that use high-quality glue or double stitching to reinforce each layer.
Another important difference between standard sandals and quality hiking sandals is how much cushioning they have. Well-made women's walking sandals will have a thicker midsole, which provides more cushioning. This reduces stresses on your joints and will help you remain comfortable on long hikes.
The final key difference between sandals and quality hiking sandals is how they handle water. A quality pair of outdoor sandals will maintain their traction when walking over slippery surfaces thanks to their superior grip. They will also dry quickly after being immersed in the water. This is thanks to the water-impervious synthetic materials they are normally used for the footbed of hiking sandals.
To deal with the rigors of the trail, most hiking sandals will be made from a combination of traditional and synthetic materials. These materials often include rip-resistant nylon, rubber, and hard-wearing synthetic plastics. They are stitched or glued together in a way that ensures durability and a long lifespan.
When choosing a new pair of women's hiking sandals, look closely at the materials that are used to make them. If it is a high-quality product, the manufacturer will be very upfront about the kinds of materials they use.  
Also, look at how hiking sandals are put together. If they are stitched, how strong is the stitching? Does the manufacturer specifically mention any techniques they used when manufacturing the sandals? How long are they guaranteed?
Having a pair of hiking sandals made from high-quality materials will ensure they last a long time, are comfortable to wear, and will perform well on your hikes — regardless of how rough the terrain is.
Viakix always uses high-quality materials for our women's hiking sandals. This makes them very sturdy, lightweight, and comfortable.
Having comfortable footwear is essential when hiking for long distances. Not only will it make your hike more enjoyable, having comfortable sandals will prevent the development of blisters and bruises on your feet.
Fortunately, there is no tradeoff between functionality and comfort when it comes to hiking sandals. Well-built hiking sandals will have a number of features that increase your comfort. You should look for:
An insole that feels comfortable against your skin
The insole is the part of the sandal that the bottom of your feet rests against. Most hiking sandal insoles are made from a comfortable, grippy synthetic material. Some older styles will be made of leather. These materials feel great against your skin and won't cause blisters by rubbing at your skin with each step. The insole on most quality hiking sandals will also be curved to follow the natural shape of your foot.
Arch support
Some women's hiking sandals have arch support. It is a lifted section on the insole that matches in with the arch in your foot. This additional support can make the sandal more comfortable and reduce the risk of injuries to your feet. Look for a hiking sandal with the appropriate level of arch support for your feet.
View of the arch support from the back of our Napali hiking sandal
A thick midsole
The layer beneath the insole is called the midsole. Most pairs of high-quality Women's hiking sandals will have a thick midsole that helps to cushion your feet and legs when walking on rough terrain. The midsole should have a moderate amount of responsiveness to give you a tiny bounce when you put pressure on the ground. This reduces the "jarring" response felt when stepping on rough terrain.
A strong outsole
The outsole is the bottom of the sandal. Hiking sandals must have a tough outsole that will not be punctured easily by sharp rocks, sticks, and other objects you might encounter while hiking.
Adjustable straps
Well made hiking sandals will have highly adjustable straps that allow you to keep the sandal strapped tightly to your foot. This keeps the sandal nice and snug, so it doesn't slip off or have excessive movement that can cause blisters.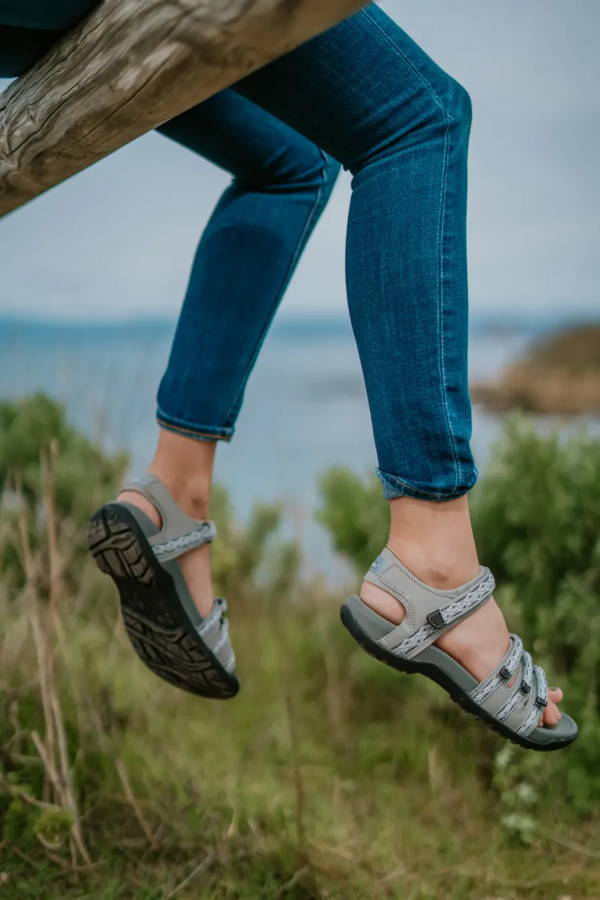 Quality materials
As mentioned previously, the quality of the materials used will affect how comfortable your hiking sandal is. A high-quality synthetic material or leather is usually the best option for long term comfort.
Weight
Many women are opting to wear hiking sandals instead of hiking shoes simply because sandals weigh less. This can improve your comfort levels when hiking.
At Viakix, we always design our women's hiking sandals for comfort. We use high-quality materials in every section of the sandal to ensure they feel great during long hikes.  
The soles of our sandals use an ultra-tough synthetic material that is puncture resistant. This helps you walk on sticks, sharp rocks, and other potentially dangerous materials in complete safety.
3. Buy hiking sandals that deal with water well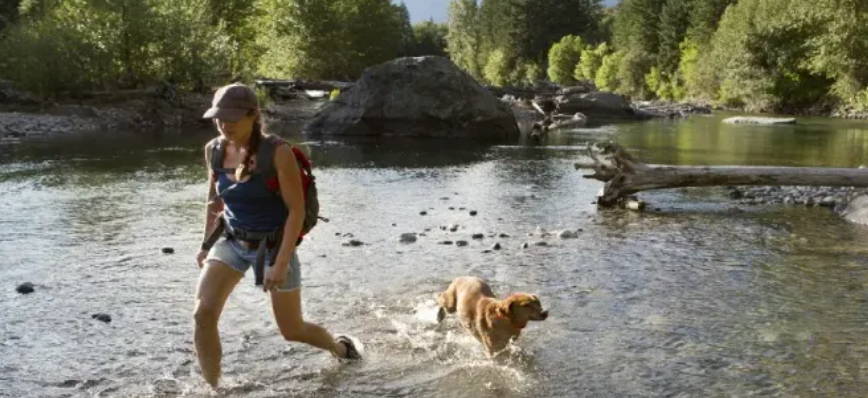 Hiking can often be unpredictable. You don't always know if you will encounter a stream that you need to cross or a puddle that you mistakenly step in. If you are kayaking or rowing a boat, you might find your feet (and much more) completely immersed in water by accident!
If you are wearing a normal pair of running shoes when your feet get wet, it can be extremely annoying. You will end up walking around with waterlogged shoes that weigh a ton. The skin on your feet will become shriveled and very soft. If you are walking for a long distance this can lead to your feet becoming blistered and swollen.
Avoid these issues by choosing a pair of walking sandals that are water-resistant. Any water you step in will simply slide off the sandal. That means you won't have waterlogged footwear and your feet will dry much faster.
4. Where will you be hiking?

It's important to think about the kinds of conditions that you normally hike in. In simple terms — the more dangerous or inhospitable the conditions are, the more protection you will need for your feet.
If you are hiking in locations where there are many rocks or trip hazards, you might be best off purchasing hiking sandals that have a toe cap. They will keep your toes (and toenails) safe if you happen to stumble or kick a huge rock.
Also, if you are hiking in very slippery conditions, buy a pair of hiking sandals with a more robust outer sole. Ideally, the outer sole should be made from natural rubber or high-quality synthetic material and have a deep tread.
5. "You can have anything you want in life if you dress for it." — Edith Head.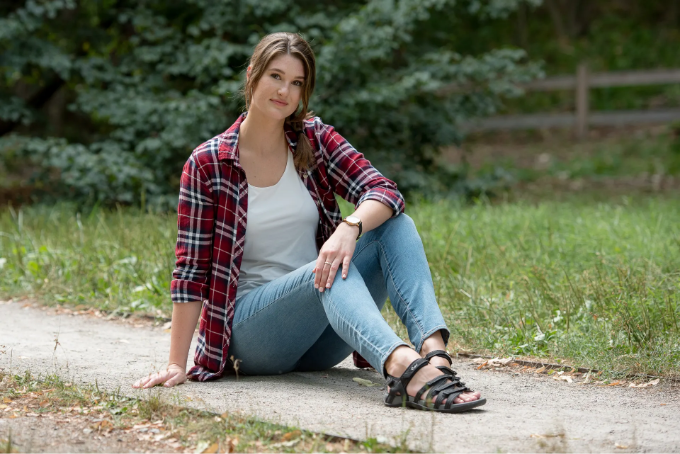 After you have weighed up a product's durability, weight, tread pattern and water-resistance think about its design. It's important to find a pair of hiking sandals that you love the appearance of — otherwise, you might not wear them as often as you had expected!
A few years ago, there were only a handful of companies making women's hiking sandals. They were making sandals that looked similar to hiking boots — big and bland. While many of these products were comfortable, they made women wearing them look like Linda Hamilton from Terminator (mean and ready to kick Arnold Schwarzenegger in the face).
Fortunately, that has changed with many manufacturers now offering more feminine walking sandals. They have attractive, slimline designs that come in a variety of color options.
Viakix is one of the manufacturers leading the way with our range of stylish women's walking sandals. In fact, the entire reason we started this company was to create America's most fashionable outdoor footwear!  
Our products have a strong emphasis on both pragmatic and aesthetic factors. We create footwear that is versatile, durable, and functional — while retaining a beautiful and attractive form factor.  
You will have no problem wearing our hiking sandals to a local cafe or movie theater after you go on a hike because they look so damn good!
6. How the sandal attaches to your foot

Women's hiking sandals use a variety of different mechanisms for securing the sandal to your foot, including:
Single loop designs
These sandals will have a single loop that runs over your toes and around your ankle. You can tighten this loop to attach the sandal more securely to your foot. This is a very basic design that is more likely to become loose while hiking.
Velcro fasteners
Other sandals use one or more velcro fasteners to secure the sandal to your foot. In some cases, this will be a single fastener for the ankle and another for the toe section. Viakix's most popular hiking sandal for women uses four separate velcro fasteners, which allows you to tighten the sandal to match the unique shape of your foot.
Laces
Some high-end hiking sandals start to resemble shoes and often use complete uppers. The upper often have holes for laces to be added, so you can secure it like a normal shoe.
Each type of fastening option has different pros and cons. Single loop designs are usually a poor choice for hiking as they become loose. Hiking sandals with velcro tend to work well, but mud and water can impair the effectiveness of the velcro sections. Laces are also great and usually the choice of hardcore hikers. However, they can be snagged while hiking and make putting your sandals on much slower.
The last consideration you should keep in mind when purchasing hiking sandals is the price! Opting for the cheapest pair on the market is usually a recipe for disaster. The best option is to balance the need for quality with your budget.
The price of hiking sandals can vary greatly. They typically start at around $20 and go all the way up to $250. The more expensive hiking sandals tend to have more protection, with a thicker midsole, large toe protector, and heal protector.  
So how much should you spend? It really depends on how often you go hiking and how strenuous your hikes are. If a 10 or 20-mile hike every weekend is the "norm" for you, perhaps you should spend a bit extra to get a really well-made pair of hiking sandals. If you only go on a 5 or 10-mile hike every month, a more affordable pair is more appropriate.
The conditions that you hike in are also a factor. If you regularly walk across abrasive rocky outcrops, spend a little extra to ensure your sandals can deal with rough terrain. If you usually walk on paths at national parks, you won't need ultra-rugged hiking sandals.
If you like to run when hiking, you should also opt for a more expensive pair of cross-country sneakers. That's because moving at a higher speed will result in more stress on your feet.
We want to deliver exceptional value, and we do so by selling directly to our customers without wholesalers and retailers jacking up the price. As a result, we are able to keep most of the hiking sandals in the $30 to $50 range. Which is an exceptional value. They are very durable sandals perfect for people who are very keen on hiking and go on short or day-long hikes.
Frequently Asked Questions
Before showcasing a few of the best hiking sandals for women in 2018, we are going to answer a few frequently asked questions. The answers to these questions will hopefully give you a better idea of what hiking sandals are capable of!
Q: Why should I buy a pair of hiking sandals instead of hiking shoes?
A: There are plenty of reasons why you might opt for hiking sandals instead of hiking shoes, including:
Hiking sandals are lighter than hiking shoes: Hiking sandals can weigh between 50 to 75% less than a pair of hiking boots. This means you won't have very heavy footwear attached to your feet when walking — allowing you to comfortably hike for longer distances.
Your feet won't get as hot: If you like to go hiking in the warmer months, you know how sweaty a pair of enclosed hiking boots can be. You can avoid this issue by wearing hiking sandals. You will be much more comfortable, sweat less, and quite frankly, your feet will smell better.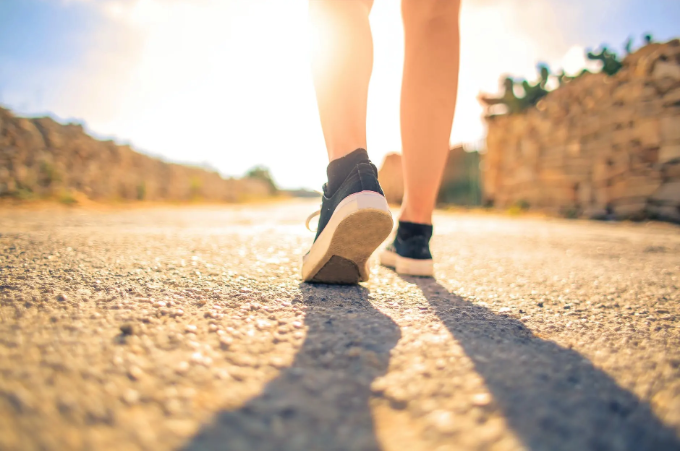 Viakix Women's Hiking Sandals

Viakix Acadia Women's Hiking Sandal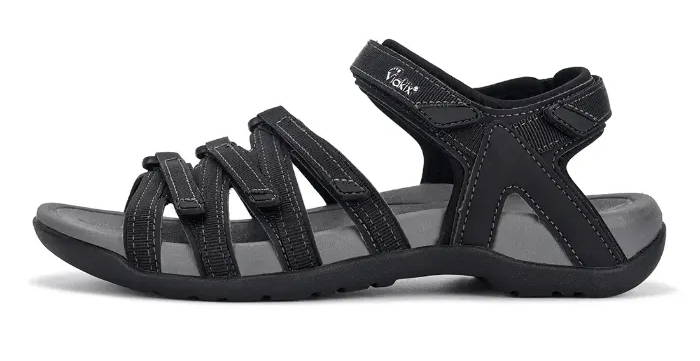 Our Acadia sandal is the perfect choice for all types of terrain. It's great for hiking through wooden trails or strolling by the creekside. It has five adjustable straps for a fully customizable and snug fit. This allows you optimal traction and incredible support. With this shoe, you're ready for anything.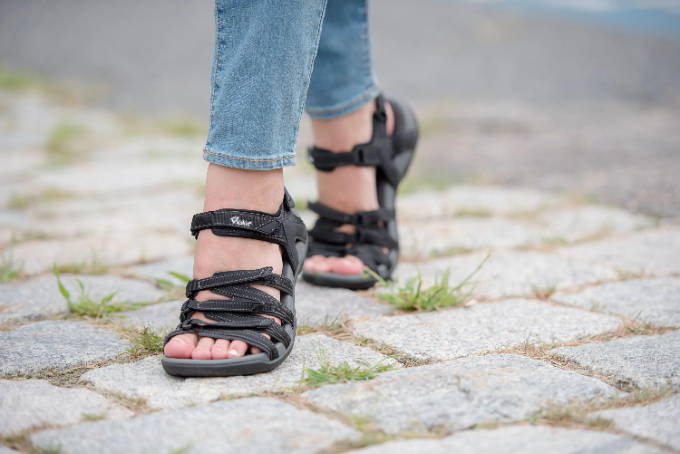 The Acadia comes in some awesome and adorable colors. The neutral hues make it the perfect shoe for any outfit. It can be dressed up to match your favorite sundress then transition seamlessly to your outdoor adventure complementing your hiking gear. It's a sure win for that summer hiking trip.
Viakix lightweight and sturdy design also makes this a great value. You can be sure that these sandals will last you the long haul, no matter what kind of action you through their way.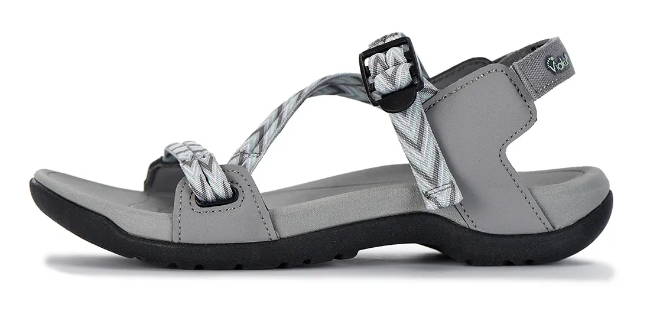 The Sloane is the latest of our sandal lines. The sandals have a soft midsole that cushions the heel remarkably well and a curved insole which is snug against the foot.  
The sandal is secured by a fully adjustable webbing strap that loops around the ankle and toes. They do a great job of keeping your foot secure. The upper is made from PU leather, which is comfortable against the skin during longer hikes. The outsole is also rubber, which provides excellent traction.  
While we love what this sandal can do, we love how it looks even more. It has a trendy design that can be accompanied with any outfit.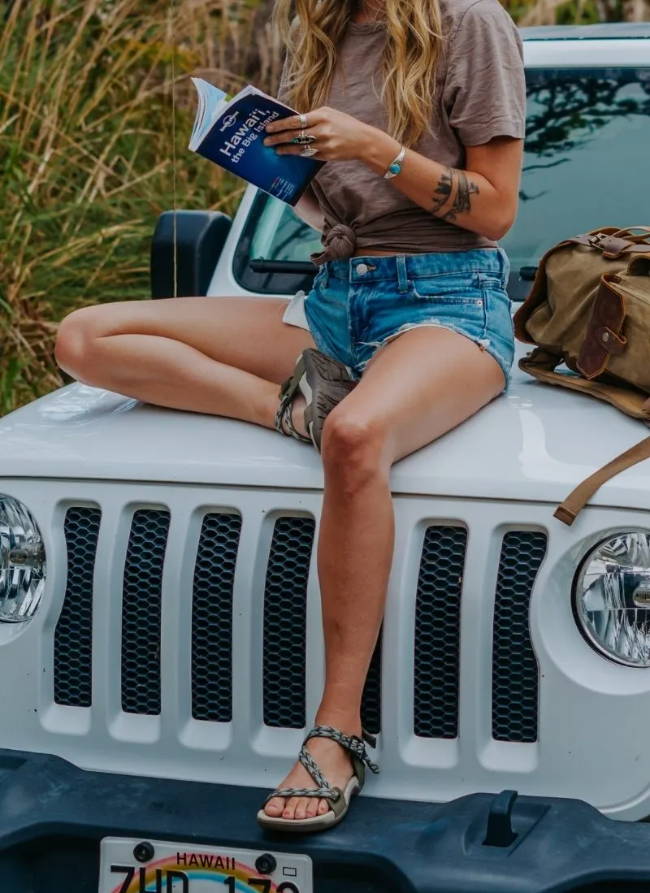 We just love the sleek strap design of the Cortona sandal. The Cortona is extremely lightweight and well made. It's a great choice for walking along the beach or for short trailers without too many hazards.
Want to be able to wear leggings, ripped skinny jeans or white linen dresses with your hiking sandals? The Cortona sandal is made for you! Indeed, they have been designed so that you can literally wear them with anything and look fashionable while being comfortable.
This amazing pair of sandals can be worn to a restaurant, to a shopping center, to the beach, or even to walk challenging jungle tracks, thanks to its incredibly attractive design and versatility. The cherry on the top of the cake is that they're also perfect for water activities. Going on an exciting kayak trip this summer? These amphibious waterproof shoes will perform as well in water as they do on land.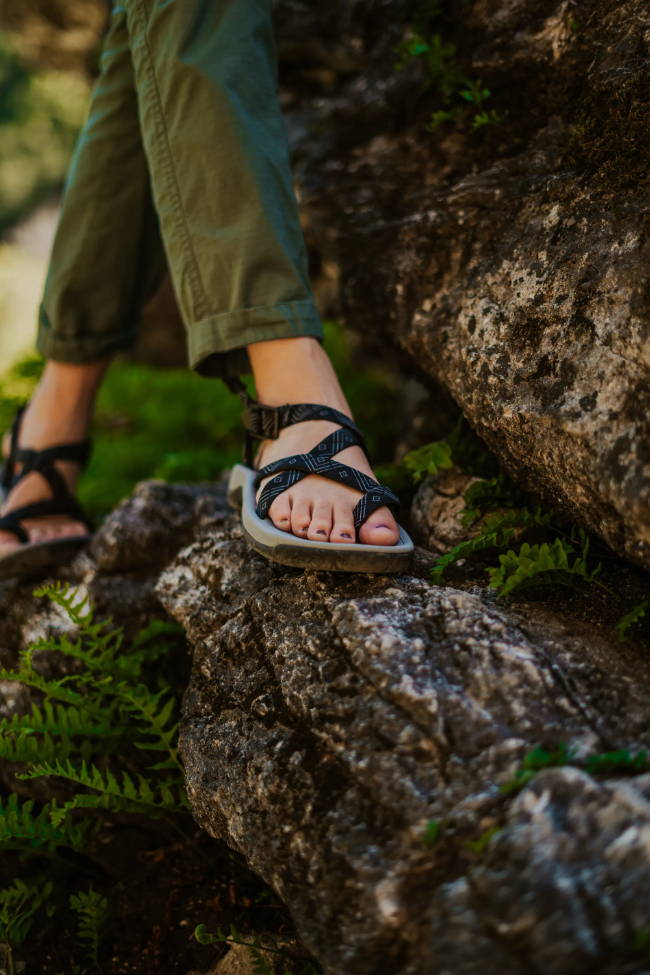 Viakix Napali Hiking Sandals

The technical team at Viakix has clearly spent a lot of time designing their fabulous Napali hiking sandals. They are one of the few products reviewed here which perfectly combine functionality, style, and durability. These sandals look fantastic while still providing the features necessary for hiking in rough conditions.
These athletic hiking sandals have an upper made from a water-resistant webbing that can be adjusted by three straps to precisely fit your feet. Having multiple closures on the sandal means they hug the feet and are suitable for people with any foot shape (narrow, wide, average).
The insole has excellent arch support and a shank stabilizer, which adds stability to the sandal. The midsole is EVA foam-injected, which provides plenty of impact absorption, making it easier to walk for long distances. The outsole is made from natural rubber, which is extremely durable and provides plenty of traction. Best of all, Viakix has developed these hiking sandals to provide maximum arch support, by engineering an innovative arch stabilizer right into the sandal outsole.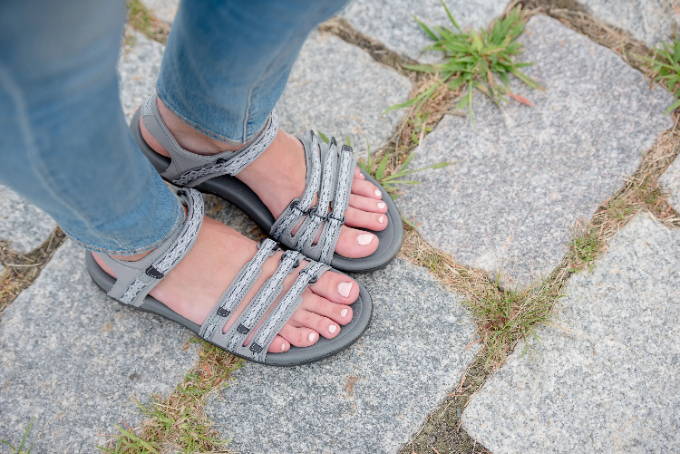 These hiking sandals are also water-resistant. This means you can walk through streams and puddles without worrying about doing damage to your sandals. It also means that your sandals will dry quickly, which improves your comfort levels — no more walking around with soggy feet!
The Napali Hiking Sandals come with four adjustable straps per sandal. This will allow you to make the sandal snugly fit the unique shape of your foot. You won't have to worry about the sandal being dropped or tripping you up by being too loose on your foot. These sandals fit my foot perfectly. There's even a big selection of colors and patterns, so you can pick your favorite.
The versatility of these sandals makes them an excellent choice for many kinds of activities, including hiking, water sports, travel, and camping. To top it all off, Napali hiking sandals come with a 30-day guarantee. If you decide you don't like the way they fit or how they look, you can return the unused pair within 30 days and get a refund.
The Samara Sandals have remained a very popular women's hiking shoe for several years now. This vegan-friendly option is one of the better long-distance women's hiking shoes we have seen on the market, thanks to its combination of a thick midsole, highly adjustable upper, and lightweight. My favorite part about traveling is breaking out my Samara sandals and wearing them around a new city or on a trek. They're so comfortable, I almost feel like I'm walking barefoot.
The shoe's upper is made from a polyester jacquard webbing, which allows for the foot to be perfectly secured. This additional level of support is one of the reasons why this is such a great sandal for the trail. This serious shoe also boasts a soft surface, perfect to protect your feet from rubbing.
Another feature making it one of our top choices is the excellent traction it provides. You can feel safe wearing the Samara as you experience any type of terrain from slippery rocks to gravel paths.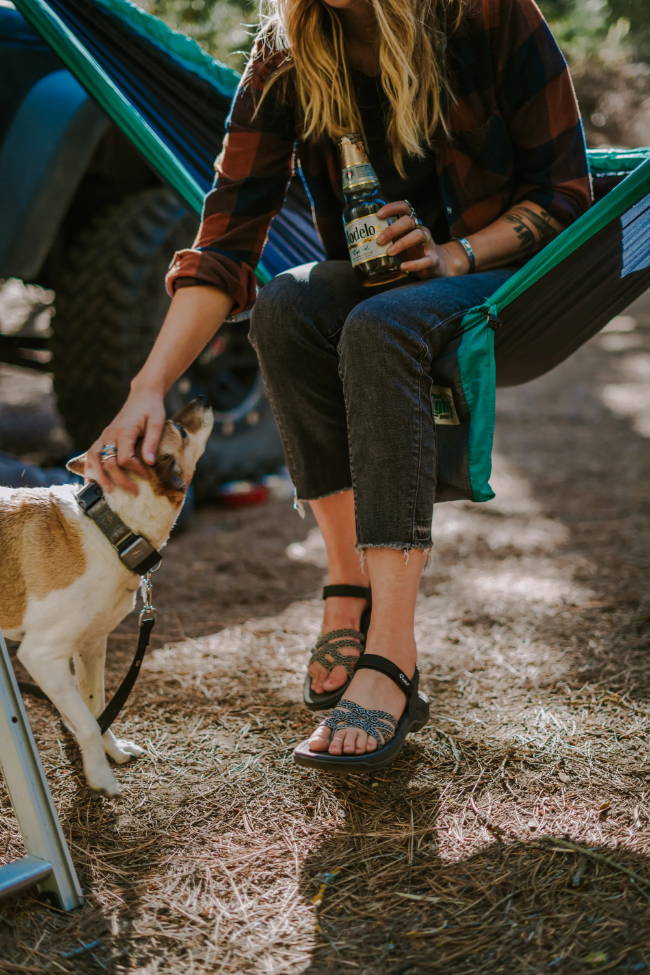 Viakix Siena Sports Sandal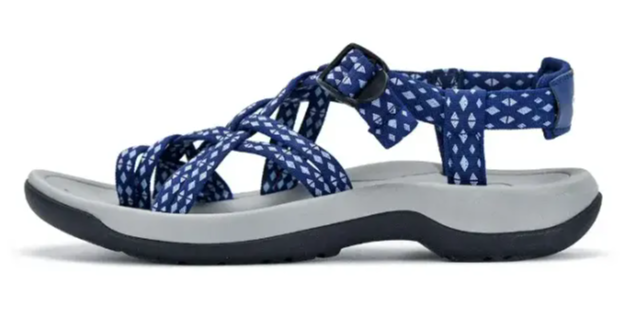 The Siena Sports Sandals are one of the latest additions to Viakix's highly versatile and functional range of walking and hiking sandals. Equipped with a shank stabilizer, these sandals will provide you with great traction so that you can hike and walk anywhere even on rough terrain. Dreaming of a mountain or jungle adventure? I know I always am, which is why I love wearing these sandals when I travel. The heel strap and arch support makes these trekking sandals my favorite travel companion.
These shoes will keep you comfortable while allowing you to make the most of your adventures without having to worry about rubbing. Designed to provide maximum comfort, these shoes also come with an EVA foam midsole which offers extra cushioning.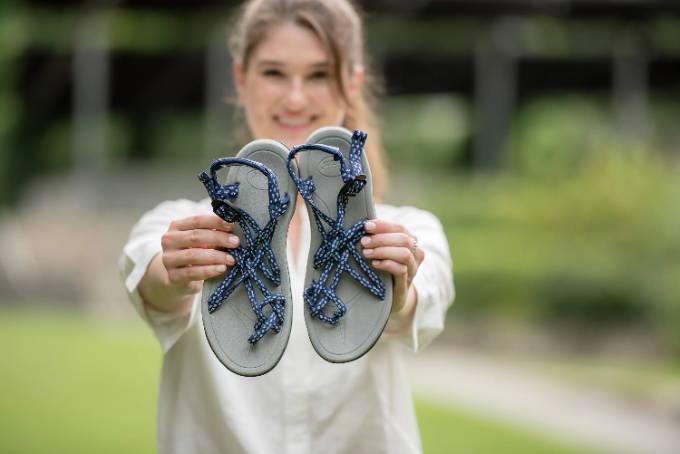 The added support means higher shock absorption and less stress on your joints or bones. If you have high arches, these shoes are the perfect fit!
The straps allow for full customization to your feet for the best comfort.

Choosing The Best Women's Hiking Sandal for Your Adventures
As always, choosing the perfect shoe for you can take some time, dedication, and effort as we've all got different types of feet and potentially uniquely specific conditions. However, we have done most of the groundwork for you to help you better navigate the sports-sandal market.
Through this guide, we've strived to only select top grade sandals that will cater to your specific needs, may you be an avid traveler, a driven adventurer, or simply enjoy walking in the city. Therefore, you can rest assured that at least one of our top picks is right for you.
Now that you have read this guide, you are one of the most informed consumers around when it comes to hiking sandals. We hope that you feel more confident about selecting a walking sandal that meets your needs.
Our pros and cons sections are also designed to provide you with the most exhaustive information for each pair so that you can make the best decision for yourself and enjoy your time wearing hiking sandals.
We do hope you enjoyed this article and found it helpful and informative. If you are in the market for a great pair of sandals to hike in, make sure to check out one of our sandal picks! Remember — look for sandals that are durable, attractive, comfortable, and have enough traction for the surfaces you will be walking on. Hiking sandals are one of the best products you can purchase because they will help you make the most of your life. You will wear them while traveling, hiking, kayaking, rafting, and exploring the world. You will love your new hiking sandals!
Frequently Asked Questions
How do I know if a hiking sandal is right for me?
Choosing your hiking sandal is a personal experience. It's important to think about the type of terrain you're trekking on, of if you're going to be walking around a city. If you plan on doing a lot of hikes on uneven, rocky terrain, then you'll need shoes with good support and traction. Flat terrain won't need as much support, though it's always a good idea to wear supportive shoes to prevent bunions, plantar fasciitis, and heel pain.
What are the main features you are looking for in hiking sandals?
Whenever I shop for sandals, I always look for women's shoes with arch support, ankle support, good traction, and cushioning. It's a bonus if they're waterproof, which is important when I'm trekking. You can't control the weather, but you can control your footwear! Whether I'm on a slippery slope or a steep mountain, I always look for sandals with good grip. It's even better when I can have sandals in fun patterns and colors!
How do I know if a hiking sandal will be comfortable?
You need to make sure the shoe fits! At Viakix, we have sandals that work for wide feet and narrow feet. Our sandals have ample cushioning and ankle support for added comfort. More importantly, our sandals have arch support for every foot type. Whether you're backpacking or wandering around a city, we'll help you choose the best hiking sandals. We promise you'll find your favorite hiking boots here at Viakix! Our sandals are breathable, supportive, and come in every size. Choosing one will be easy.
Collection 2019
Sale 70% Off
Title for image