Our Top Women's Water Sandals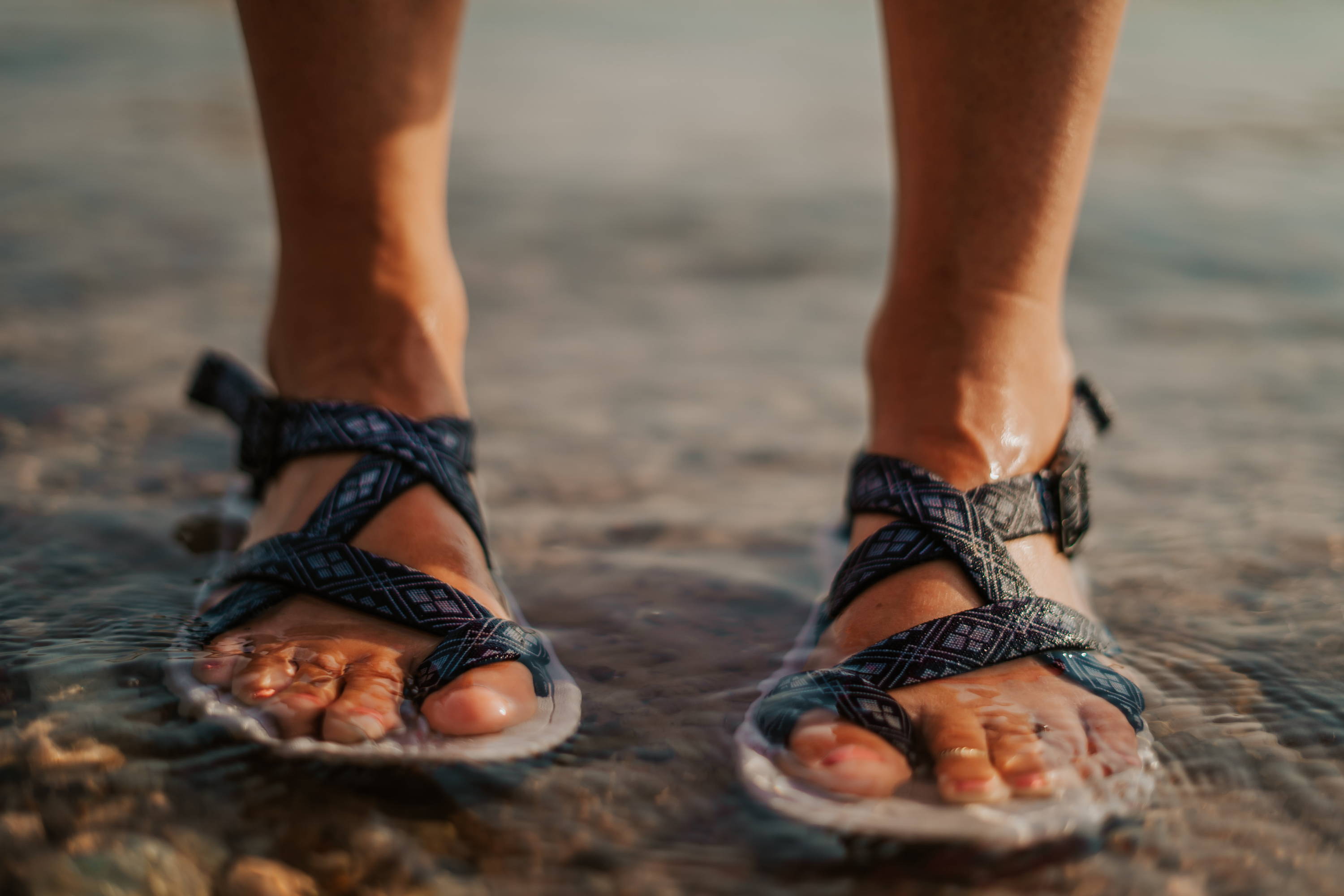 Big trip coming up? If your adventures look to take you by the waterside, you want to make sure you have the best water shoes or sandals to go along for the ride. The right pair of water shoes can provide you with the comfort, durability, support, and protection you need to get through any adventure without issue.
In this guide, we'll tell you everything you need to know about water shoes so that you can be informed for your next purchase. Specifically, we'll go over the necessity of using water shoes and sandals for waterside activities, identify how to find the best water shoes for your purposes, and go over some of the best water shoes on the market today.
Keep reading to find that ultimate pair of water sandals for your next vacation!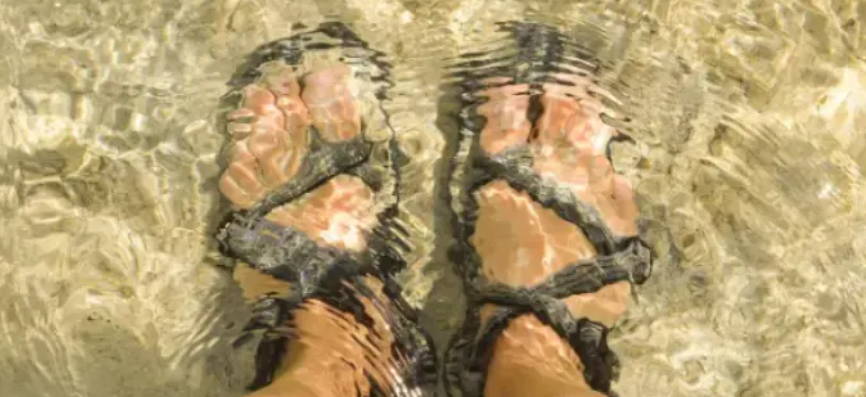 Why You Should Invest in Women's Water Shoes
Let's start by taking a look at why exactly you should invest in a good pair of water shoes. Though it may not seem necessary at first (after all, you already have a pair of shoes), a closer look reveals just what a quality pair of water shoes can do for you.
Specifically, water shoes provide you with:
As anyone who's ever hiked a rocky knoll will tell you—taking a regular pair of shoes or sandals across the craggy terrain isn't fun at all. This means you want a pair of shoes that can hold up and protect you, even as you maneuver unknown territory. This is particularly true when hiking underwater (you never know what lurks below).
But the issue of whether or not to buy water shoes actually runs deeper than that. The best options also come with arch support to keep you upright and comfortable throughout your trip. Water sandals with arch support are designed to balance out your weight and ease the foot burden.
It follows, then, that a good pair of water sandals will improve your comfort and increase your chances of success during your next trip. Here's the deal: the wrong pair of shoes can quickly turn an outdoor adventure into a nightmare. With the right pair of arch support water sandals, you can spend your time actually enjoying that day at the beach instead of curled up on the sand relaxing your feet. Best of all, open-toe sandals let your feet breathe, which will keep you cool on those hot summer days.
Several water sandal models come with thicker mid or outsoles for greater comfort, and many even have added heel cushioning to get your foot as comfortable as possible.
We know what you're thinking: isn't that an orthopedic? And aren't orthopedics, well, not cool?
Not so fast.
You may be surprised to learn that there are tons of quality water sandals with arch support on the market that also impress in terms of style. Simply put, there's no need to sacrifice your fashion for a pair of serviceable shoes. Later on in this guide, we'll go over several of the top options that combine both style and functionality so that you can get the pair of shoes you deserve.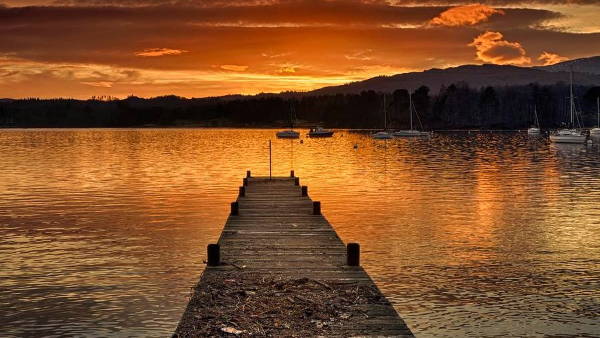 Maybe you've been there before. You plan the ultimate vacation, make the perfect itinerary, and set sail for adventure. Unfortunately, you packed the wrong pair of shoes—and only realized it when your favorite pair of Nikes got drenched (and subsequently ruined) in an unexpected puddle. The non-slip traction prevents the possibility of any injuries.
With water shoes, you don't have to worry about this. Instead, your shoes will be able to withstand the damage that's commonly associated with water and moisture. In fact, most water shoes come with quick-drying functionality that allows your shoes to get ready for whatever lies ahead—without having to take unnecessary gaps in between.
Moral of the story: don't take shoes that aren't meant for water exercise to water exercise! Instead, keep reading to find a pair of water shoes that will make your vacation ten times better!
One of the main differences between water shoes and standard tennis shoes or sandals is the amount of traction provided. If you plan on traveling anywhere wet (or hiking at all), you want to make sure that your shoes have a great amount of traction so that you can minimize the risk of slipping or falling.
Water shoes are designed so that you can navigate slippery and moist terrain easier and more safely than if you were wearing a standard athletic shoe. In general, shoes with deeper lugs (the ridges that are on the bottom of the shoe) provide more traction. Getting a pair of shoes with strong traction could help keep you safe during your vacation.With this in mind, you definitely want to secure your own pair of water sandals or shoes before your upcoming trip.
No matter what your outdoor needs, water shoes or sandals are the perfect fit (pun intended). Avid wearers ourselves, we've taken ours on a variety of outside adventures: fishing, kayaking, canoeing, and beachside fun, for example. The best thing is that these shoes are so stylish you don't even need to change out of them when you transfer from your waterside activity to whatever comes next! Instead, remove the hassle and simply wear the same shoes or sandals to dinner or for that day on the time. Trust us—nobody will be the wiser!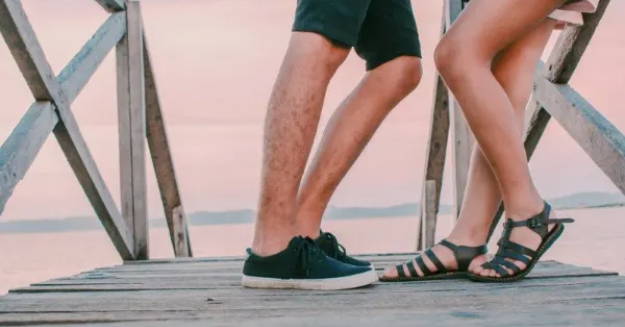 Types of Water Shoes and Sandals for Women
Does all this sound fun to you? It does to us, too. That's why we encourage you to read about the different varieties of water shoes out there. You'll be happy to learn that the term actually refers to a broad category of footwear that includes standard athletic shoes, sandals, and even footwarmers.
With that being said, let's break down these different types to give you a better idea of which one is right for your trip:
Looking for a stylish way to spend your vacation? Water sandals are a great way to do so! These sandals provide protection primarily to the bottom of your feet, making them great for casual water activities such as fishing, casual tubing, swimming and any slick or wet surfaces where they can still provide traction. Because they do not cover the entirety of the foot, they're not recommended for more intense water sports. Still, the best water sandals provide you with ample protection in just about any circumstance.
The best part? There are several water sandals that come with arch support for that extra bit of comfort and mobility. This makes them a great spring and summer option!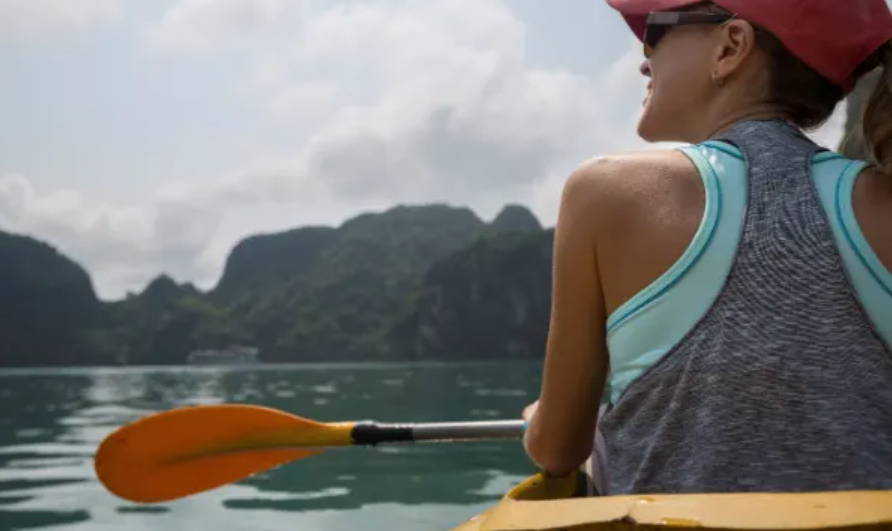 These are great for the sporting types out there. Versatile, functional, and on the warmer side, they're almost like an athletic sneaker made just for absorbing water efficiently. Great year round, they are stellar options for those looking for that extra bit of protection.
They provide similar traction and safety, covering the toe and top of your foot unlike the sandal above. This makes them great for even the most intense of water activities!
To make things better, water shoes are made specifically for all different sports. You'll even see specific shoes made just for spartan races where you need to have that drainable option. This means that you can customize your option based on your specific needs.
These are good for keeping your feet warm. You'll see these on tubing or float trips, or even be forced to wear them depending on your tour. This shoe has little to no sole on the bottom, however, so you should not wear them for actual labor-intensive activities.
They are absolutely not made for hiking, river walks, or anything that you wouldn't want to do completely barefoot. Made out of the same material as a wet suit, the wet shoe will keep you warm for long days out on the water (think surfers too), but are not meant for walking purposes.
If you really need warmth AND protection, you have the option to actually wear these under a pair of water sandals. They're going to be better than any of these options at keeping you warm, even water shoes, so keep that in mind.
It might not be the cutest look (kind of like when people wear high white socks with their sandals), but it works! And let's be real: if you're planning on going somewhere cold, you won't care what it looks like (plus, it's not like you wouldn't rock it, anyway).
These really aren't the kind you want to go walking through a river in, but they'll keep your foot safe on boats, as the name implies.
They're good for moderate to light water exposure, but they're best kept for the nightlife on the shore where you want to look like you belong, but also look cool. In sum: don't wear these in the water, just at the water.
Don't even think about wearing these on hikes or during water sports unless you're looking for some serious discomfort. Unlike some of the other options on this list, they're not designed with sturdy soles, nor do they come with arch support. Keeping this in mind can save you tons of misery during your trip.
What to Look for in a Women's Water Shoe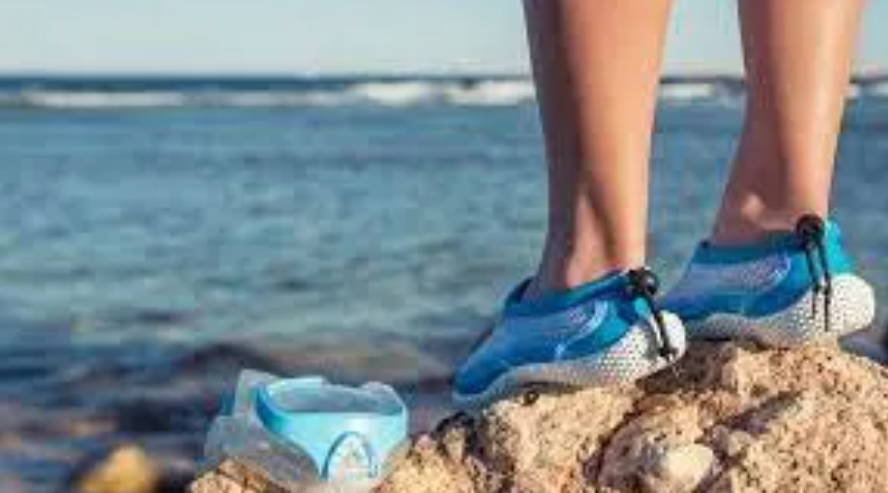 Now that you know why you should pick up a pair of water shoes for your next vacation, it's time to examine what you should look for in a quality water shoe. Simply put, it's not enough to know what a water shoe is—it's also important to be able to discern which options are the best for you.
In this section, we'll take a look at the factors you should consider when making your purchase:
As with anything else, you want to make sure that your water sandals or shoes are made with the right materials. It's like a meal: the wrong ingredients can give rise to something nasty. Cheaply-made water shoes, too, often fail to get the job done, putting you, your comfort, and your safety at risk next vacation season.
So what materials should you avoid? It starts with leather, and here's why: leather sucks up water and refuses to let it go. Talk about heavy shoes! Water shoes should be made out of various synthetic materials like nylon and polyester. You also need to check out the bottom of the shoe. If they aren't thick and have visible treads, they're not right.
The treads are one of the most important parts of the shoe if you're going to be dealing with any slippery surfaces. Simply put, you want the maximum amount of traction so that you can minimize the risk of falls while you're out having fun.
Lastly, flip flops are not water shoes. You need an option that extends around the back of the foot to keep you secure in your steps. There are plenty of waterproof flip flops out there, but they're slippery and not made for adventures!
The best water sandals come with durable mid- and outsole construction. Without this, you won't be able to enjoy that arch support that will give you all-day comfort and protection. The best options come with thick, EVA foam midsoles and sturdy outsoles with deep lugs for extra traction.
It's as simple as this: you can't have a great vacation if you've blown out your budget. For this reason, you want to make sure you get a quality pair of shoes for a price you can afford. Fortunately, at brands such as Viakix, you can get a quality pair of water shoes for less than fifty dollars! In general, you should expect to pay between fifty and one-hundred dollars for a good pair, though this isn't a hard-and-fast rule.
Coming up in this guide, we'll go over some of the best and most affordable options on the market today!
Our Water Sandals for Women
Ready to get into the good stuff? It's time to go over the top six water sandals out there today. The following sandals combine the best in functionality, style, comfort, and durability.
Keep reading to find the pair that's best for you: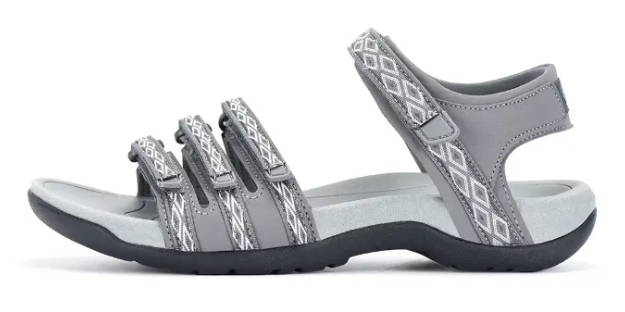 These outdoor sandals will take you absolutely anywhere. From hiking to water sports, the Napali sandals will truly do it all. Camouflaging as a typical outdoor sandal, these shoes are one of the most versatile options out there.
They are incredibly comfortable, with adjustable straps providing a highly customizable fit for any width. They have a cushioned EVA foam midsole with ergonomic arch support—that's the good stuff, especially if you just need a comfortable sandal.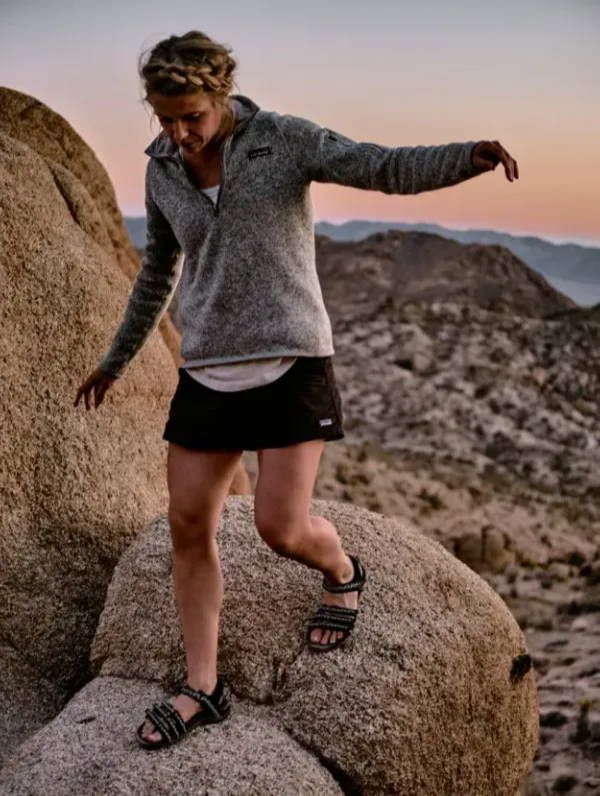 For those of you who need a comfortable pair with arch support, these outdoor sandals are the option you want to purchase. A light-weight option, they're perfect for carry-ons so you can go right from the plane to vacationing on the beach. All I have to do is put them in my backpack, get on the plane, and slip them on as I take a taxi from the airport to the beach. They make traveling a lot easier!
They're made of exceptional quality and have a water-ready, quick-drying webbing on the top to keep your foot enclosed. Although these are called a hiking sandal, they can easily be used for any and all water adventures or hikes with river components.
These are sure to take you the places you want to go! They have a super rugged outsole, so rocks and tough surfaces are easy to navigate. Knowing this, make sure to try them out for yourself!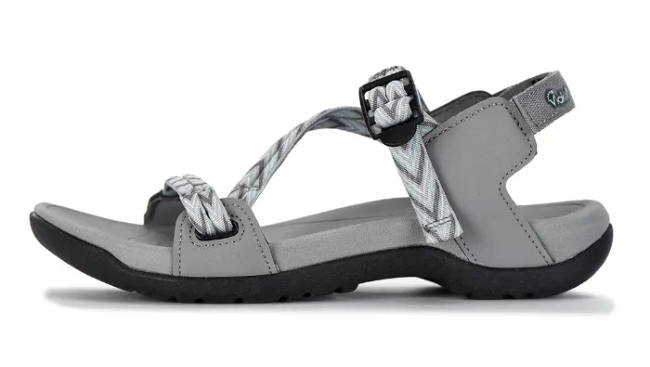 The Sloane women's sandal are a perfect example of the Viakix brand.
Tese sandals will provide you with a ton of comfort and water-ready polyester webbing that's durable and dries mind-blowingly quickly once they've gotten wet. As you can see from this image, they have superb arch support with a "contoured" EVA sole and will provide superior comfort throughout your entire day, whether you're hiking, boating, or playing a sport. I love pairing these sandals with all sorts of accessories, sweaters, jackets, and dresses. They're extremely versatile and match any type of clothing style.
These shoes also come with an adjustable buckle, so you can take them on and off quickly and with ease. The rubber outsole is thick and durable (another check on our checklist) and even contains a nylon shank which serves as a stabilizer for uneven terrain.
This option comes backed by great reviews from all types of customers, so these are worth the buy!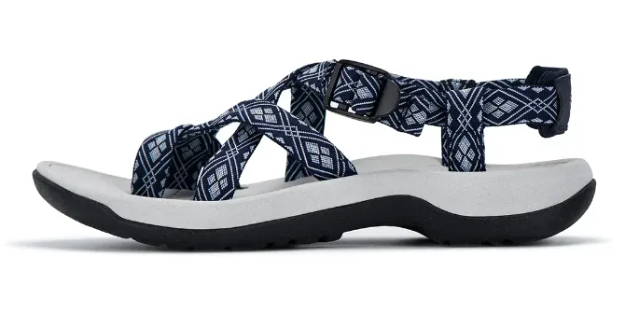 The Cortona Sandal is a perfect choice when looking for a great water sandal for women. This comfortable athletic sandal checks all the boxes in terms of style, comfort, and water resistance. The Cortona sandal can service as your everyday walking sandal as well with its thick comfortable EVA foam midsole, which provides more cushioning and reduces stress on the joints. At a price under $50, these water sandals are a more budget-friendly option (though they look like a million bucks!). As a full-time traveler, I need to make sure my feet are always protected from the elements. This means wearing durable, long-lasting shoes, which is why the Cortona sandal is one of my top picks for treks.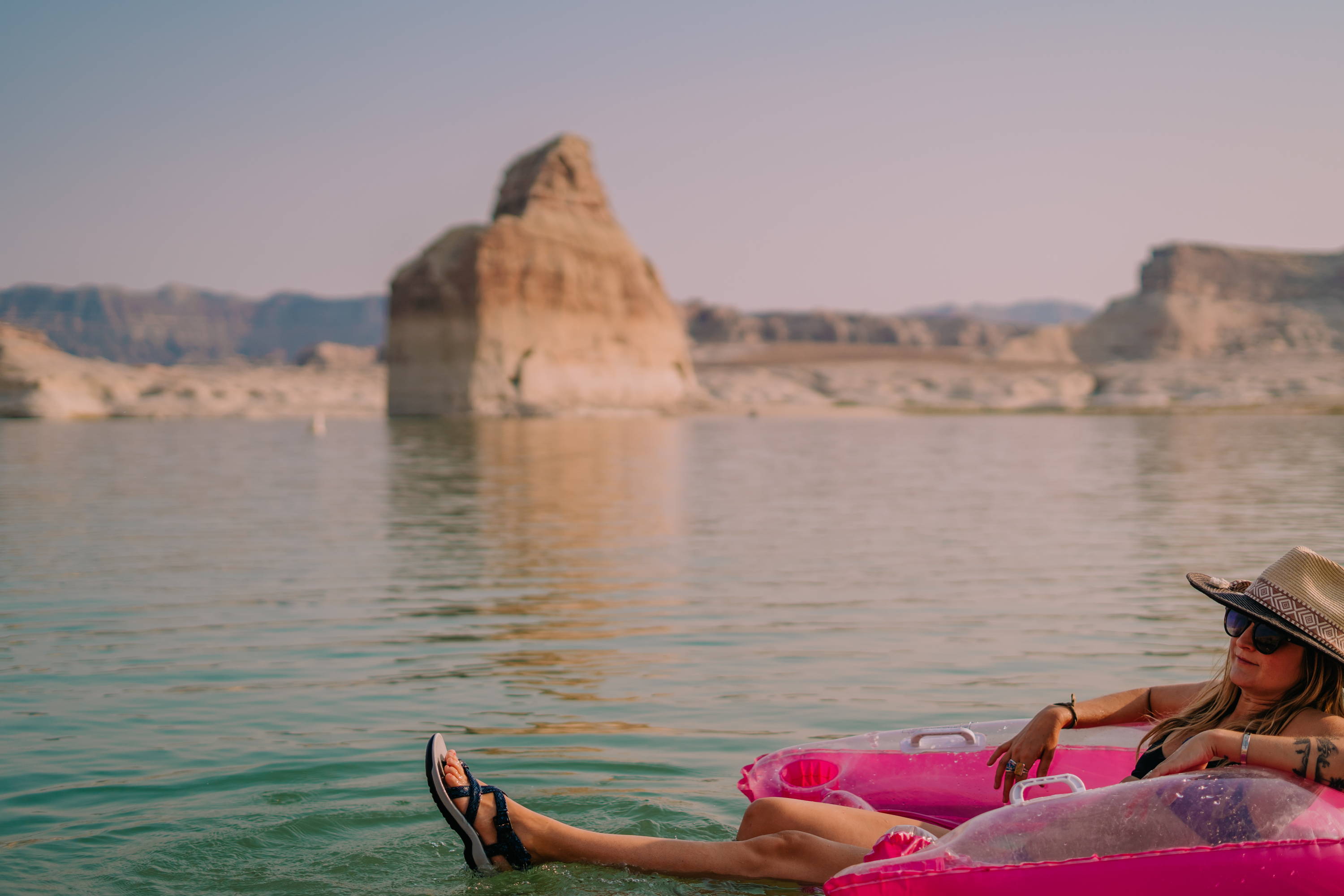 All Viakix water and saltwater sandals come with an ergonomic outsole, fully equipped with a shank stabilizer to provide exceptional arch support. The front webbing is made out of elastic textiles to provide a soft, custom fit. The sandals have a Velcro strap on the ankle to adjust and customize to your needs. Simply put, they're well worth a spot at the top of your list!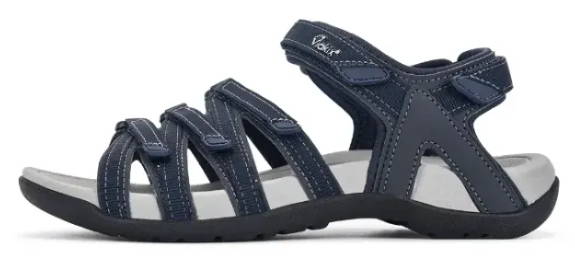 These women's water sandals are an incredible choice for those of you that need the ultimate sports ladies sandals. With a range of great colors (including the adorable blue option above), you can certainly find one you like. With 5 adjustable straps, getting the perfect fit is never in doubt. The back strap makes getting in and out of your wet sandals a snap. You can also choose between tons of different colors and styles to match your taste.
They're extremely versatile, and can be used for walking and water use around the beach, pool, waterpark, water sports, hiking, walking, and so much more. Simply put, these perfect water sandals are so lightweight you can literally shove them into your suitcase, no problem! This is one of the benefits of our Viakix hiking sandals.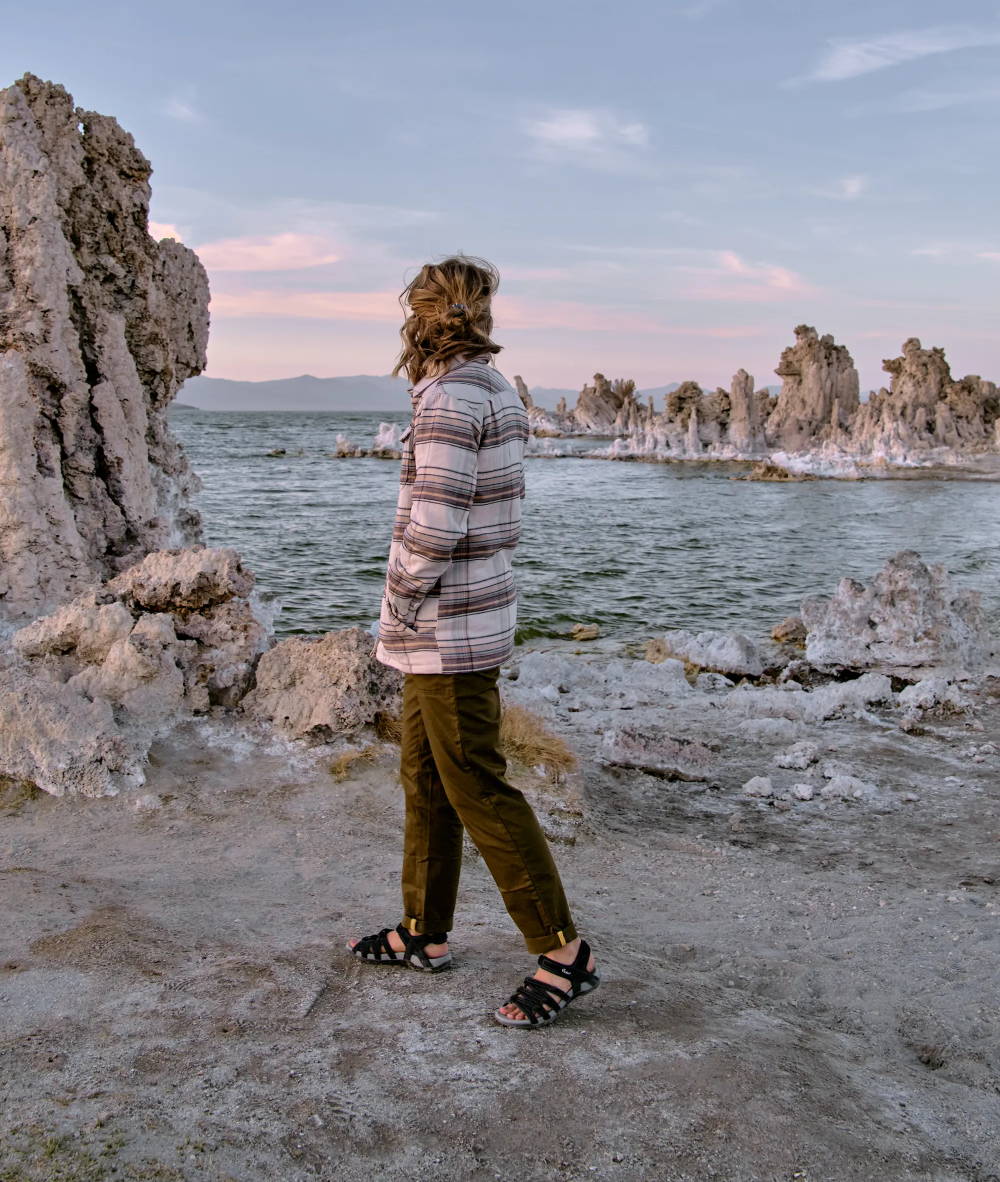 The Acadia women's sandals are made with cushioned insoles so that you're provided with nonstop comfort, and the durable outsole is made out of flexible rubber so you can romp around on a variety of surfaces without having to worry about a lack of comfort. I love wearing these active sandals on long treks through the backcountry. I never have to worry about slipping or walking through rivers, since I know my Acadia sandals have my... feet!
But don't take our word for it. If you check out our reviews, you'll find that almost all of our customers give this shoe a 5/5, which is almost unheard of.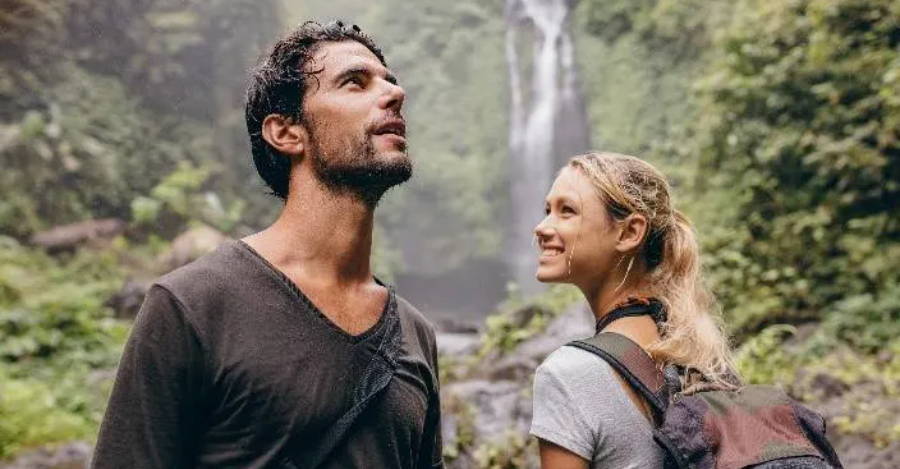 Now that we've dug into sandal options, we hope you're sold on purchasing your own pair. If you're a constant water-shoe user, we highly suggest you purchase a new pair every couple of seasons to keep the treads intact and grippy. After all, the reason you're purchasing these bad boys is to keep your feet, and your body, safe! If you have kids, we highly suggest that you purchase a shoe for them as well. These can easily protect their tiny feet, even in water parks where slippery surfaces make balancing tougher for growing young ones.
Questions about your exact needs? Feel free to email us, or find us on LinkedIn, Instagram, and Facebook. We're always here to answer your shoe questions, regardless of if you purchase one of ours!
Get to it, adventurers!
Frequently Asked Questions
How should women's water sandals be cared for?
It's important to keep your water sandals in good condition so they can last many years. First, rinse of the sandals after each use. This will take the chlorine or salty seawater off of them, which is important for the longevity of your sandals.
How are women's water sandals different from regular sandals?
Women's water sandals are specially designed to be worn in wet conditions, such as at the lake, the pool, or the ocean. They protect your feet from any dangerous elements. They're made of water-resistant and quick-dry material. The soles of water sandals are thicker and more durable than regular sandals, which means they provide great traction for wet surfaces.
What are the benefits of wearing women's water sandals?
Not only do women's water sandals protect your feet from the elements, but they're made from waterproof materials. This means they have great traction and will help prevent any potential injuries on slippery surfaces. It's important to always protect your feet from the elements, to avoid possible injuries that could ruin a trip.
Reviews (1 comment)
Collection 2019
Sale 70% Off
Title for image