Womens Sandals for Long Toes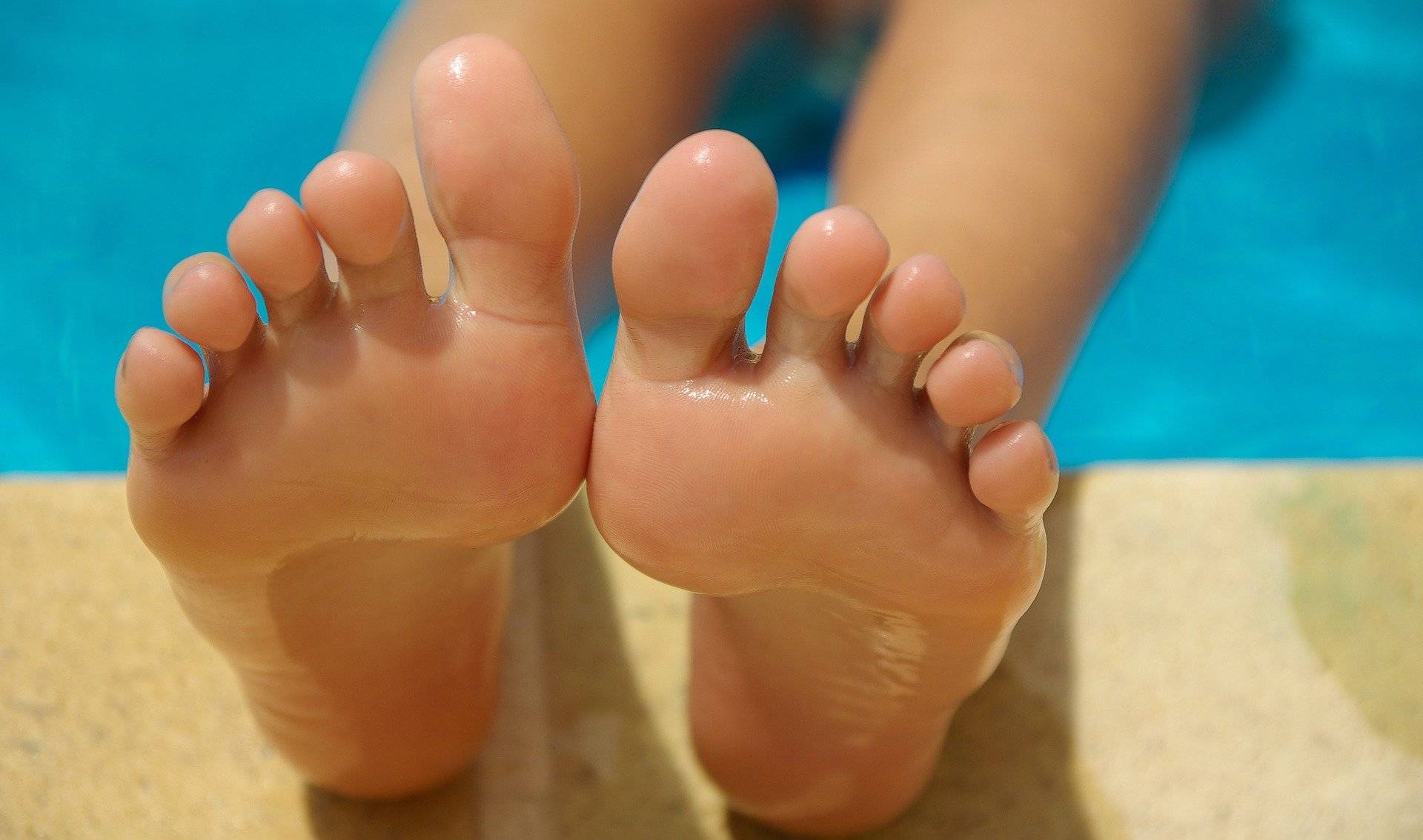 We know that people are all built a little differently. Some of our customers have wide feet and some have narrow feet. Others have high or low arches, some have short toes and others have long toes. This makes for quite a challenging experience when buying the right shoes. Where do you even start?
If you have long toes you might have had a hard time finding sandals that fit just right in the past. And there's nothing worse than struggling to find a sandal that fits. Even open-toed sandals can be a poor fit for your foot shape and toe length. Having longer toes inherently means that your whole foot is going to be slightly longer and larger in size and require special footwear. I dread having to shop for sandals for my long toes, because I know I'll usually end up disappointed. Sometimes I wish I could find sandals as easily as I find dresses or a pair of jeans.
That's alright! Luckily for you, we have developed some great sandals for long toes. Just for you.
A Few Tips and Things to Look For When Shopping Women's Sandals For Long Toes

We know from studies that having longer toes means that it requires more energy to take each step and that you generate more shock than folks with shorter toes. This means the muscles in your feet have to work harder to maintain stability as you walk. This can affect your balance and endurance when running or on long walks.
An improperly fitted shoe or sandal means the foot can slide around, or be scrunched up, leading to instability and blisters or even more substantial injuries long term. When we create all of our shoes, we take the time to look at foot modeling studies and other expert-provided information to be sure that we are creating sandals that will fit many different kinds of feet.
Our recommendation is that you head into your local shoe store and have your feet measured. And don't rely on a measurement that you had done that one time you needed nice fancy shoes for a wedding a decade ago. As we get older the soft tissues and ligaments in our feet will stretch and relax. This causes our feet to change shape and size over time. Including in our toes.
Knowing exactly what length of sandal to be on the lookout for is going to be a huge help in your search for the perfect pair. Also, this might be stating the obvious, but search for sandals designed specifically for people with long toes. Do some research online and read the reviews of folks that are looking for the same thing.
Besides that, when searching for the right shoe or sandal for long toes, keep in mind that there are a couple of features that will help guarantee you'll get a nice snug fit for your longer toes and feet.
Be on the lookout for a well-cushioned and extra supportive sandal with added stability features. With the proper padding and support in the right places, it will aid in balancing out some of the mechanics of foot motion that occurs with longer toes. Adrian Esterman 1, Louis Pilotto found that flat feet had significantly poorer outcomes under stress than feet with an arch in them. Since this can be a companion issue for those with long toes, you need to sure that you are getting sandals with the correct arch support for your flatter feet.
To know that you are getting the most comfort and support, you should know the basic components of the shoe and what features to look for in each of them. We have taken the time to look at all the factors which lead to correctly supported feet of all shapes and sizes. These are the factors that we have identified as being critical to healthy feet for people with long toes.
The Upper – This is the topmost portion of the sandal that covers or wraps around the top and sides of your feet. The material for this portion is important because if your toes rub against it you don't want it to be uncomfortable or create a blister.
The most commonly used materials for sandals best for long toes are soft leathers like suede, synthetics, and in some sports sandals, a breathable textile fabric blend. Whatever it's made out of, make sure it's soft or padded.
The Footbed and Midsole – Next is the footbed and midsole, where the bottom of your foot sits. This is where the cushion and support come in. Ideally, the footbed is contoured to match the natural curves of the bottom of your feet. Arch support is a big factor in that. Look for an anatomically shaped design with a midsole that is padded with EVA foam, memory foam, or a good layer of cork. This will give you the support you need and help with shock absorption.

The Toe Box – This is, well exactly what it sounds like. This is the space where your toes sit. For folks with wide feet, they look for a wide toe box to make sure their little piggies don't get squished. You on the other hand need to look for a more elongated toe box.

The Outsole – This is the part of the sandal where the rubber meets the road as they say. Shoot for a pair of sandals with a durable rubber outsole with a thick lug style tread. This will provide good traction on all surfaces which will help with your stability. Plus, a tough outsole means they can take a little more use and last a good long while.

Adjustability and Closing – For sandals you're either going to slip them on, or there will be some strap that forms the upper portion of the sandal that needs to be fastened once your foot is in the shoe. Most sandals that aren't slip-ons have either velcro, a buckle, or a hook-and-loop design.

Other Features – To get the most stable sandal out there that will keep you balanced we highly recommend looking for a pair with adjustable straps. This will allow you to get a nice snug fit. Ensuring your feet don't slide around and cause any unnecessary instability.
Along those same lines, a bonus feature to keep an eye out for in active-wear sandals is a moisture-wicking lining. Again, aiding in stability to prevent slipping around in case your feet get a little sweaty. Also, a deep heel cup with plenty of cushioning is going to be critical for absorbing shock. Helping save any undue stress on your feet and joints.
Some Options – Narrow width shoes may be something to look into, as most people with long toes tend to have more narrow feet. Now that's not always one hundred percent true (which is why you should get your feet

professionally measured!

) Though it might be worth investigating. Narrow width sandals may have the correct extended toe box for your extended toes.
Below you'll see we have outlined a diverse selection of the best sandals for long toes. From pairs that are well suited for the rugged outdoorsy type to pairs that have a more delicate look and elegant style to go with any outfit.
If you're looking to head outside for some fun, these sandals are designed for your outdoor adventures. If you are going on a camping trip, planning on participating in water sports at the lake, or headed out for a day hike, these are a fantastic choice to keep your toes comfortable along the way.
We made the Siena Sport Sandal with a strong and durable foundation, which is a critical staple in well-fitting shoes for long toes. The Siena Sport Sandal's exceptional traction also makes this pair a winner. I chose to make Viakix sandals to have fully adjustable straps all around allowing for a fully customizable fit, perfect for feet and toes of all shapes and sizes. Based on my experience, these are some of my favorite sandals for my long toes. They also have an ankle-strap for support, and great traction. These sandals, though minimalist, are great for dressy occasions.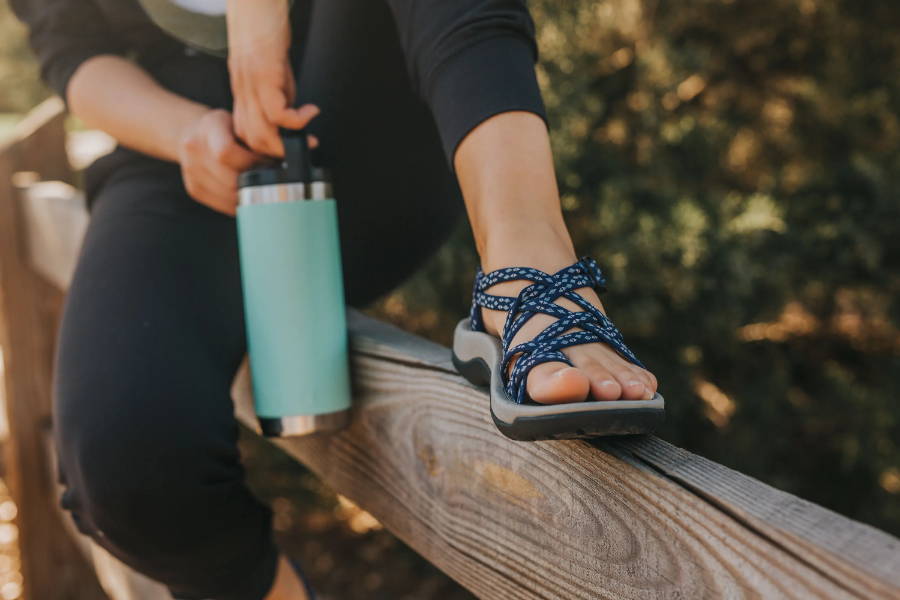 Designed with super comfortable EVA foam and an ergo-friendly contoured midsole, these sandals are ideal for a comfortable experience in any athletic situation.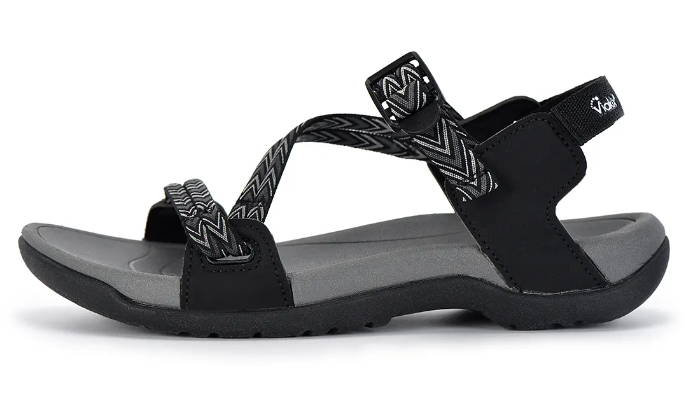 Our Sloane sandal is a leader in the comfy and cute category. The Sloanes in particular fit the bill nicely for those with long toes. We really liked that the upper portion of the sandal is made with a water-resistant synthetic material that is durable yet super soft. The upper webbing is also made from recycled plastic making these cute kicks eco-friendly. Whenever I walk around wearing these sandals, I know I'm one step closer to helping the environment.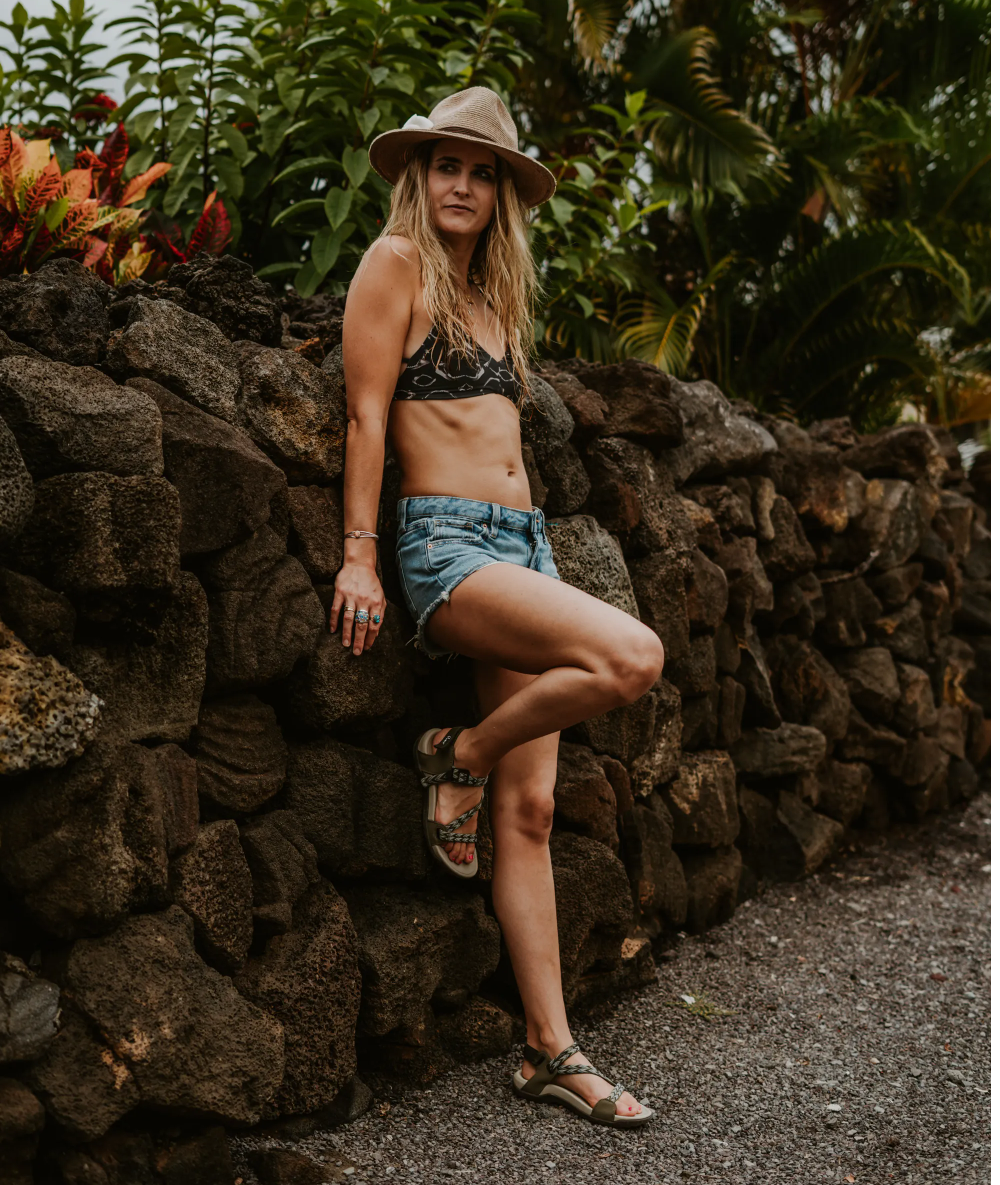 As you can see, there is an added heel strap on the back strap to increase stability and comfort, ensuring a snug fit without any unpleasant rubbing on your heel. The anatomically contoured footbed molds perfectly to the shape of your foot. Featuring a layer of low-density EVA foam in the midsole for excellent shock absorption and support.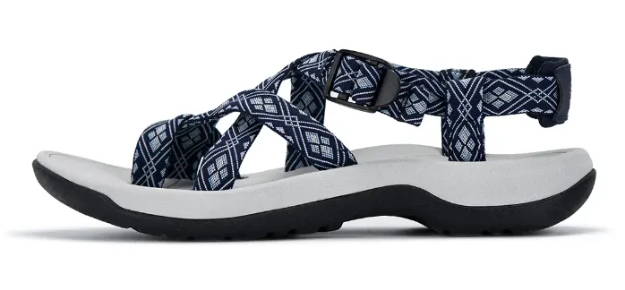 For those more sporty folks, we think that you should take a look at these. Designed with high performance in mind, while still being super cute and stylish, the Cortona sandal is a top pick.
We made these sandals to have soft and stretchy strap material that conforms to your feet perfectly. A wonderful choice for folks with long toes, since they have the best feature combo of dual adjustable straps that are uber also soft. And, as you can see, there's plenty of room in the toe-box for all your toesies.
The support shank embedded below the EVA foam in the midsole works double-time to dissipate the shock of each step away from the sole of the foot, which is one of our best design features. Plus, the heavy-duty rubber sole provides top-notch traction. It also protects from any hazards on your path that might try to penetrate the sole of the shoe.
You can wear these babies on a long mountain trek or a leisurely evening stroll with the dog. Their delightful fit and feel are versatile beyond compare. These are my favorite pair of women's footwear to take along on hikes. They're so comfortable, it almost feels like I'm walking barefoot!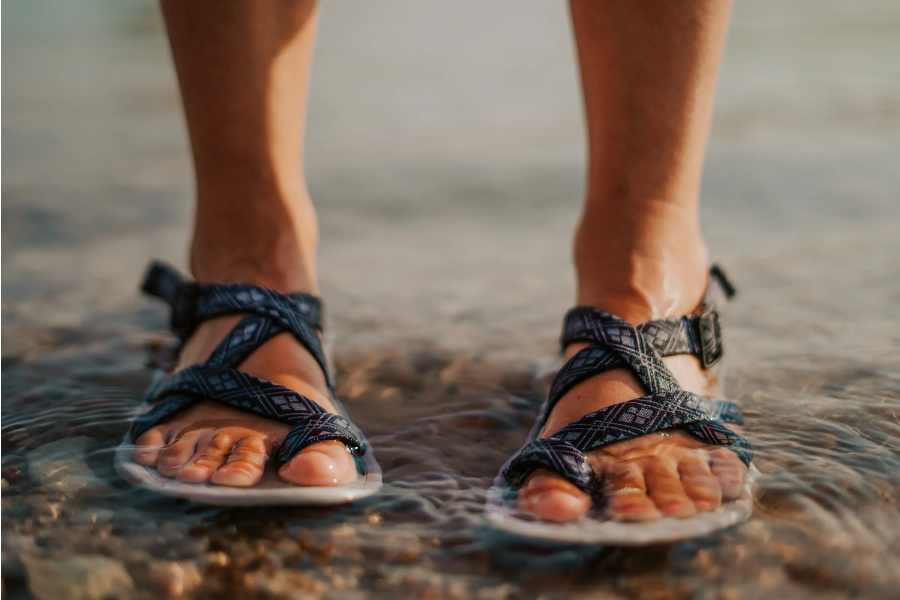 True to form and true to fit, a pair of our Napali sandals can take you anywhere, longer toes and all. We take so much pride in the design of these sandals from state to finish.
Super trendy and wonderfully functional, this sandal is ready for the rugged backcountry or a low-key picnic in the park. For a sandal that is up to the challenge of your active lifestyle and meets your needs for great shoes for long toes, these are a definite go-to.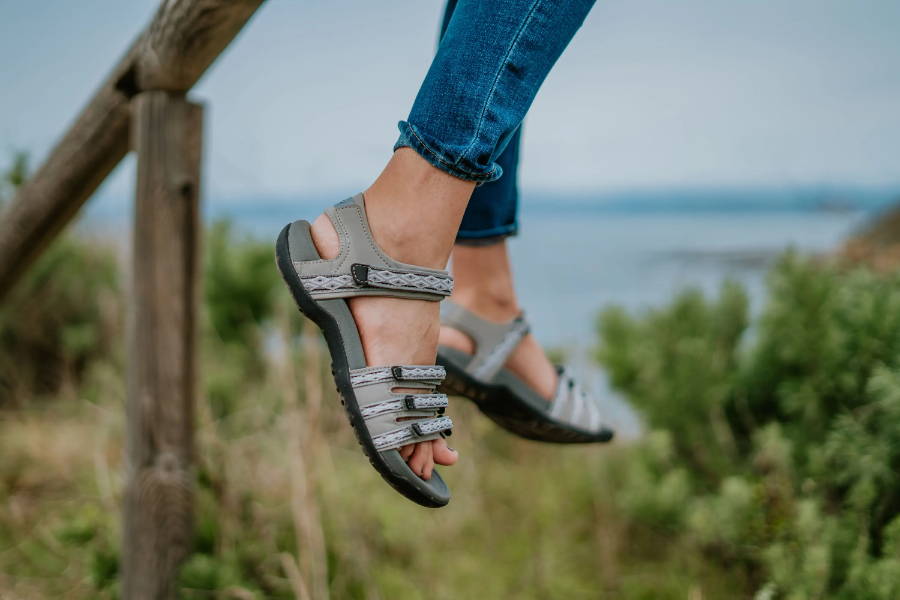 They check all the boxes for a superb sandal; four straps that can be fine-tuned for a customized fit, a durable rubber outsole for traction and stability, and more than adequately cushioned midsole of EVA foam that contours to your feet. So when you're ready for an adventure, pick up a pair of these!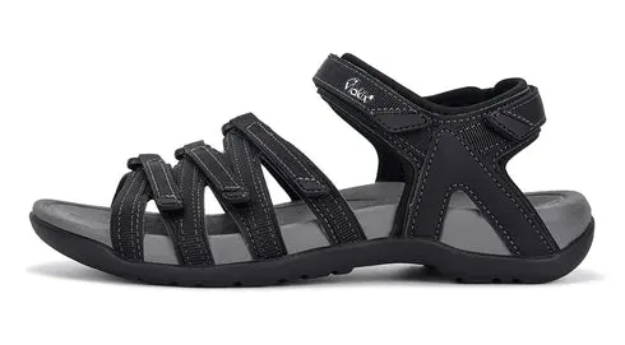 As the latest addition to the Viakix line of fantastic sandals, this one is versatile as all get out. We think that this sandal succeeds in delivering unparalleled performance for hiking with consistent all-day comfort with long toes. Every pair of Viakix sandals comes with a thick layer of EVA foam in the midsole, providing pillow-soft comfort.
Designed with five customizable straps for the perfect fit and a hearty, long-lasting rubber outsole with a built-in support shank provides all the traction and support you will need out on the trail. Hiking, backpacking to a remote location to camp, or practicing water sports; no problem!
There Are Sandals for Everyone, Even If You Have Long Toes
Just because you have long toes, does not mean you should have to sacrifice quality and comfort in a pair of sandals. We have shown you with thi guide that you can care for your feet and long toes with stylish shoes that are great at their jobs.
Owning a fashionable and durable shoe for the summertime is absolutely essential, and a cute pair of sandals that can get you anywhere you want to go is a wardrobe must. Don't get discouraged when shopping for a great pair of shoes to fit your feet and lifestyle. There are a lot of top-notch choices out there!
Whether you are looking for a casual slip-on, a classy slingback, or a tough pair of hiking sandals, the options for long toes are endless. Just remember to look for a couple of features like straps that can be adjusted, a soft yet supportive footbed, a durable outsole with good traction, and a longer toe-box space.
Keep in mind having shoes that don't fit just right isn't only annoying but it can also lead to more unpleasant issues down the road, like calluses and even bunions. There is nothing better for helping enjoy the great outdoors or a stroll downtown than shoes that carry you lightly along on your journey.
Hopefully, we have sent you on your way to discovering a glorious pair of sandals designed just for you.
Happy shopping!
Frequently Asked Questions
How do women's sandals for long toes differ from regular sandals?
Women's sandals for long toes have extra room in te toe bed. This allows you to wiggle your toes more freely than if they were cramped on a sneaker. That means a more comfortable walk! This extra room is achieved with a wider toe box or a split toe design. These sandals typically have extra padding in the footbed, which gives you that extra comfort. You'll feel like you're walking on a cloud with our Viakix sandals.
How can you tell if a sandal will be comfortable for long toes?
When you try on the sandal, make sure there's enough room in the toe box for your toes to comfortably spread out. This is key, since this means your toes won't feel cramped. The sandals should have a wide toe box, or one that's slightly longer than your longest toe. More importantly, look for sandals with adjustable straps so you can customize them to fit your foot. Our Viakix sandals have it all!
What are the benefits of women's sandals for long toes?
If you have long toes, you need the extra support that these special sandals provide. Extra cushioning means a more comfortable lifestyle. This helps reduce fatigue and discomfort that comes along with unsupportive sandals. If your feet are happy, you'll be happy!
Collection 2019
Sale 70% Off
Title for image