14 Best Sandals for Women With Narrow Feet
It is an all too familiar scene; summer has arrived and it's time to get outside. You find a super awesome pair of sandals online after doing a ton of research to ensure they are a good match for your narrow feet.
Of course, you get really excited when they arrive. But then you try them on and sure enough (as you had already suspected) they just don't fit right. It's so frustrating!
Having narrow feet can make choosing the right sandal a real challenge. It seems that there are endless options for wide feet, but not so many for the slimmer footed folks out there. An improperly fitted sandal allows the foot to slide around, and this instability can lead to blisters or even more substantial injuries long term.
A Few Things to Look For When Choosing Sandals for Narrow Feet
When selecting the right shoe or sandal for narrow feet, bear in mind that there are a couple of features that will help guarantee you'll get a nice snug fit for your slim feet.
Straps that are easily adjustable; and by more than just a couple centimeters!

Smooth lining and soft material for those straps

Footbed that is a contoured design to really fit the shape of your foot

Outsole made of super durable and sturdy rubber

Availability in narrow sizes specifically
To offer a little additional assistance in your shopping endeavors, here is a video on how to properly size your feet at home.
Below you'll see we have outlined a diverse selection of the best sandals for narrow feet. From pairs that are well suited for the rugged outdoorsy type to pairs that have a more delicate look.
We hope it helps simplify your choices and will allow you to find the sandal that is going to meet all of your needs.
The Siena Sport Sandal is a Great Choice For Narrow Feet
These sandals are designed for your outdoor adventures. If you are going on a camping trip, having fun playing water sports, or headed out for a day hike these are a fantastic choice.
Made with a strong and durable foundation, which is a critical staple in well-fitting shoes for narrow feet, the Seina Sport Sandal's exceptional traction makes this pair a winner.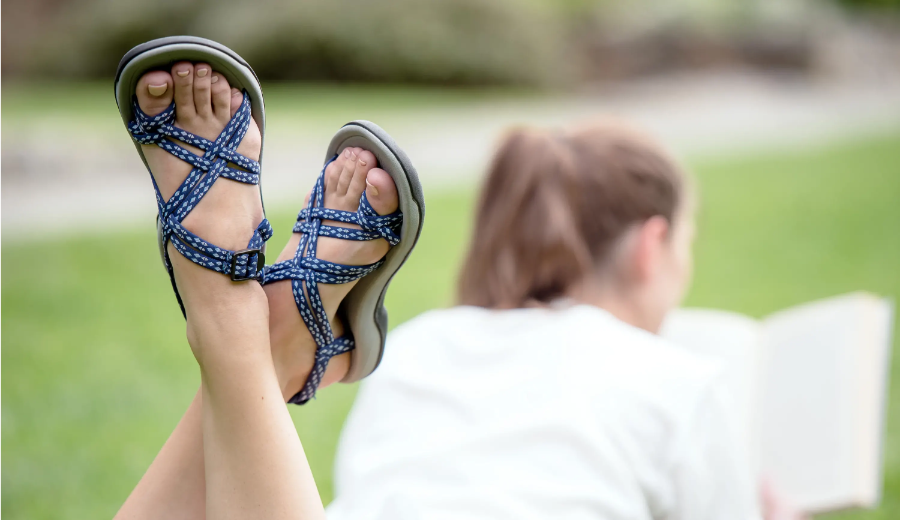 Viakix sandals are made to have fully adjustable straps all around allowing for a fully customizable fit, perfect for feet of all shapes and sizes.
Designed with super comfortable EVA foam and an ergo-friendly outsole, these sandals are ideal for a comfortable experience in any athletic situation.  
Chacos Are a Good Choice for Customers With Narrow Feet



Now, this brand of sandals offers a few different varieties of their designs. Some with the strap that wraps around the big toe which gives them a very Roman-style sort of feel, or you can go with no toe strap, providing lots of styles to choose from.
This particular choice is a stand-up option for folks with narrow feet since each individual strap can be tightened and adjusted for a snug fit.
If you put in a request when you order, they will even take a little length off various straps for an even better fit.
For example, their Women's Wayfarer Loop sandal comes with the fun toe loop offering forefoot stability, and comfortable suede insoles. Made of leather, this sandal is a perfect option for a casual night out or a weekend adventure outdoors.  
People With Narrow Feet Might Consider Rainbows

For the more casual wearer who needs a great pair of slip-on sandals, the Rainbow flip flop can't be topped.
They are a very popular brand and therefore have a lot of online reviews from customers, nearly all of which are 5 stars.
These sandals are known to last for years and have a slimmer design through the middle and in the heel. This quality makes them a great choice for shoppers with narrow feet.
Additionally, as they are worn they mold and form nicely to your feet which gives them a natural contour effect.
The Samara Walking Sandal Was Made for Narrow Feet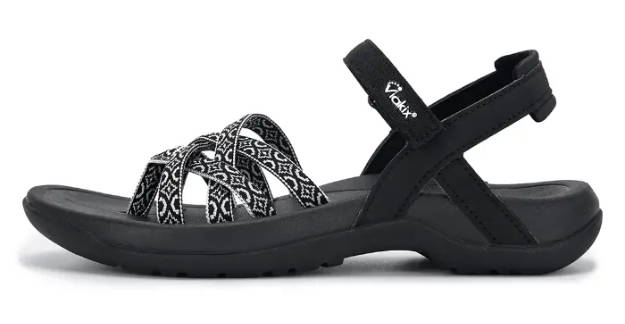 Another stellar option for unmatched comfort, these walking sandals reduce stress on your joints. With a sturdy layer of EVA foam midsole, they also offer awesome arch support.
Yet another lovely feature on this pair is the stretchy webbing material and fully adjustable straps to get them nice and tight. This makes these sandals a no brainer when you are on the hunt for a pair that will be a match for your narrow feet.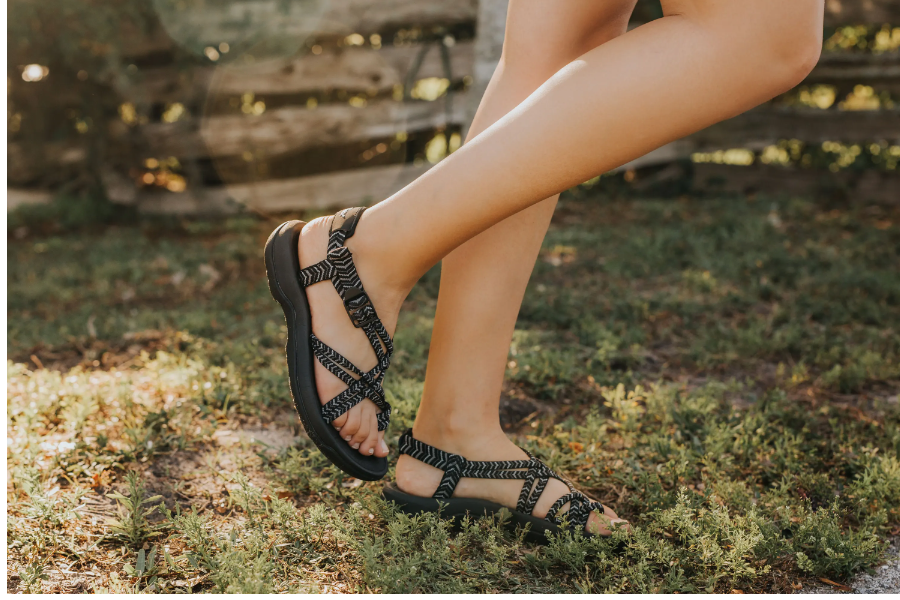 With a super tough rubber outsole, these sandals are suitable for any terrain you can throw at them, making them a superb choice for urban or outdoor adventures.  
It's no wonder that the Samara Walking Sandal by Viakix was listed in the top 3 best walking sandals by Expert World Travel.
Clarks Leisa Vine Sandals Also are a Great Choice for People with Narrow Feet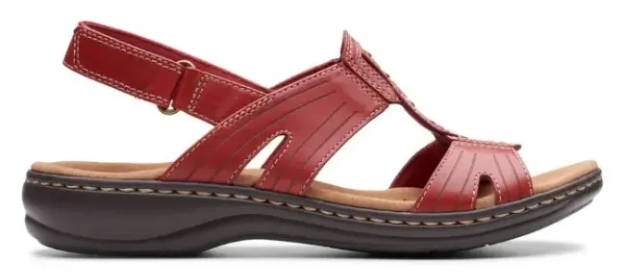 These wonderful sandals are highly rated. They sport a footbed made from Ortholite, an eco-friendly material made from recycled rubbers, which also happens to provide insanely comfortable arch support to boot. 

With a basic understanding of the anatomy of our feet, especially narrow feet, we can start to realize what these sandals have to offer.  
If you're in the market for a comfortable and durable athletic sandal, look no further. These are known for having outstanding and dynamic support provided by their trademark Receptor technology.
The Receptor tech works by balancing the impact between the main 3 points of contact when your foot hits the ground and when it pushes off. Thereby simulating the motion your foot naturally makes going from heel to toe.
This ensures the weight is adequately and evenly distributed across the sole giving you extraordinary stability.
With dual-axis flex channels and an exo-skeletal wrap-around shank for unparalleled support, these sandals are a top choice; especially when you have narrow feet or high arches.
The Cortona Sport Sandal Is Also A Good Narrow Foot Option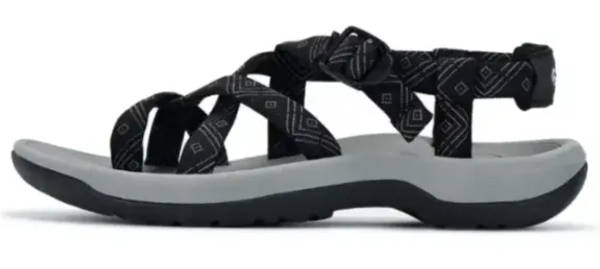 Designed with high performance in mind, while still being super cute, stylish, and comfortable the Cortona sandal is a top pick.
The soft and stretchy strap material conforms to your feet perfectly. A wonderful choice for folks with narrow feet, since they have the best feature combo of soft straps that are also adjustable.
You can wear these babies on a long mountain trek or a leisurely evening stroll with the dog. Their delightful fit and feel are versatile beyond compare.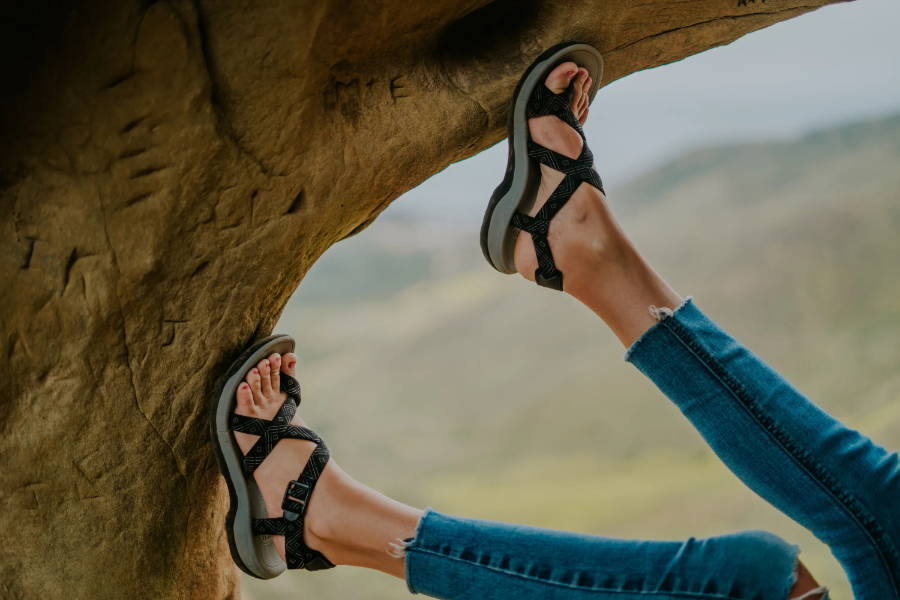 Easy Street's Tuscany Slingbacks For Narrow Feet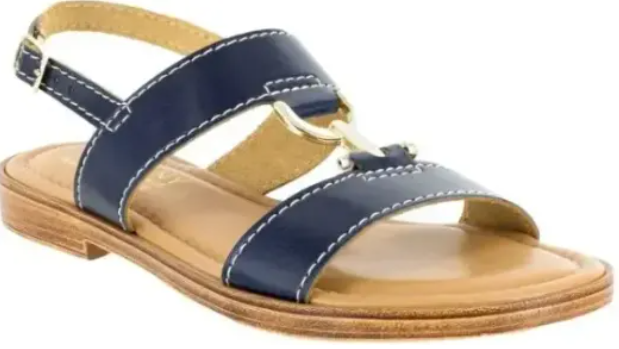 Giving a more sophisticated, yet still laid back feel, these sandals are super cute and all sizes come in narrow. The slingback heel strap is adjustable to allow for a nice fit and to help prevent slipping and nasty blisters.
Made in Italy, the Tuscany slingback offers a stylish look and a nice selection of colors for every occasion. If it's a Sunday brunch or a leisurely stroll in the park, these slingbacks are a fabulous choice.
Naturalizer's Taimi Sandal, A Good Formal Choice For People With Narrow Feet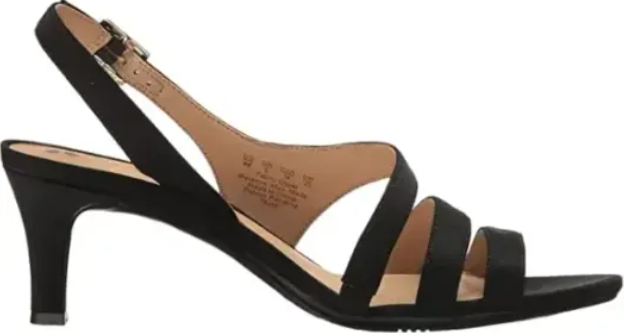 These fancy and functional sandals are great for a night out. They have a durable synthetic sole, are available in narrow sizes, and come in a variety of colors.
The Naturalizer sandal can easily meet your need for performance, comfort, and style. Adding a new take on a classic look that goes with everything. These are a high-class choice to add to your collection.
Established in 1927, it is fair to say they have made a few good pairs of shoes along the way. One look at these beauties and it's apparent that Naturalizer's elegant fashion sense has only grown more polished with time.
Need To Go Hiking, But Have Narrow Feet? Try The Nepali Hiking Sandal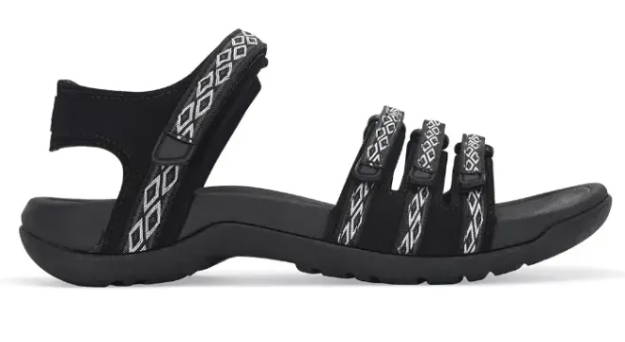 True to form and true to fit, a pair of these sandals can take you anywhere.
Super trendy and wonderfully functional, this sandal is ready for the rugged backcountry or a low key picnic in the park. Whichever is more your style, they've got all your bases covered.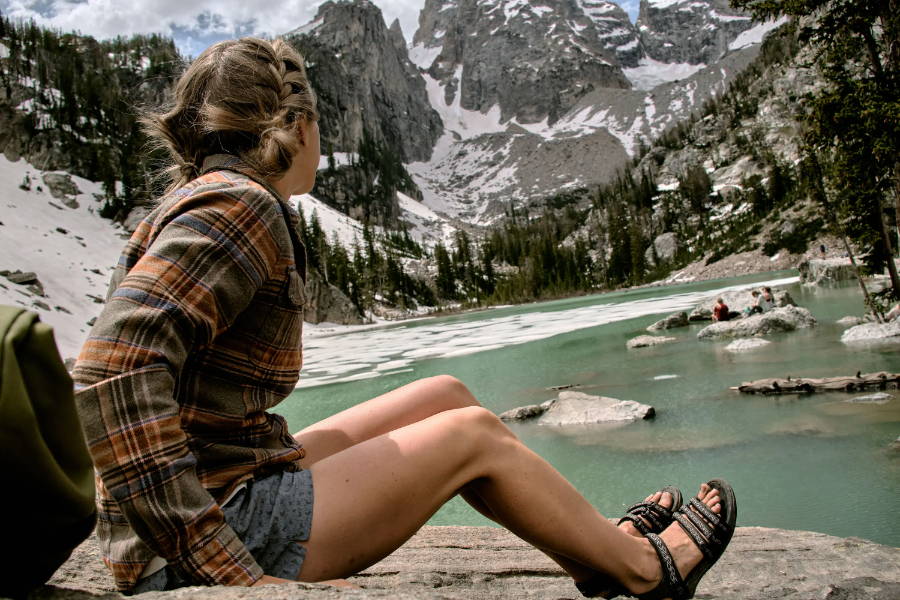 For a sandal that meets your active lifestyle and fits your narrow feet, these are a definite go-to.
They check all the boxes for a superb sandal; straps that can be fine-tuned for a customized fit, a durable rubber sole, and more than adequate cushioning that contours to your feet.
Now you just have to decide where to go next!
Earth Origins Sophie Sandal Is Lucrative for Narrow Feet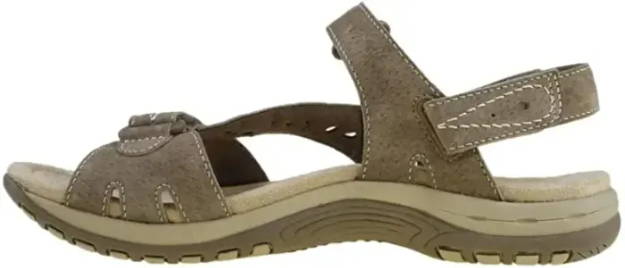 These sandals are pretty nifty. Not only do they come in narrow sizes and are very attractive, but the heel strap is also removable. Giving you two different looks from one pair of sandals.
With nearly 2,000 customer reviews on Amazon and upwards of 70% of them being 5 stars, these are a sure bet for an exceptional look and comfort.
The inner portion of the straps is lined with fabric to prevent any uncomfortable rubbing or blisters and they are noted to have excellent arch support.
Teva Terra-Float Travel Work Well for Narrow Feet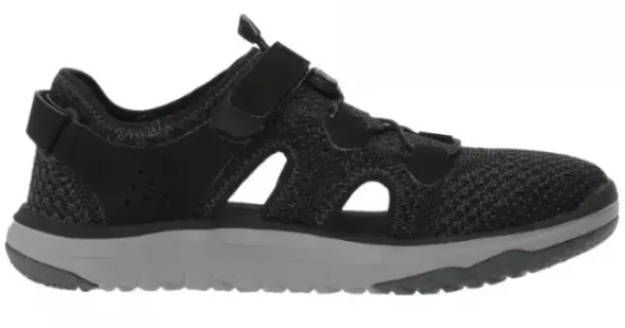 Float is right! These puppies are one dreamy pair of sandals that can make it feel like you're walking on clouds. The Float-Lite midsole material provides outstanding cushioned comfort that lasts.
Built a little slimmer than the standard sizes by default, these actually make a great choice for globetrotters with narrow feet. Though they don't come in narrow sizes specifically the majority of buyers noted them to be on the thinner side.
Now technically there are no adjustable straps on them, which seems a bit strange since that is a top priority when searching for narrow fit travel sandals. However, the design has a closed toe to help with movement and friction, plus they do lace up on the top.
Acadia Hiking Sandal, Awesome Functionality For Narrow Feet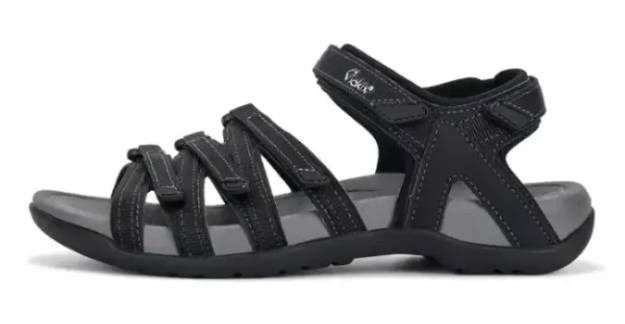 This one is versatile as all get out, delivering unparalleled performance with consistent comfort.
With customizable straps for a more narrow fit and a super heavy-duty sole, you will be comfy no matter what you're doing.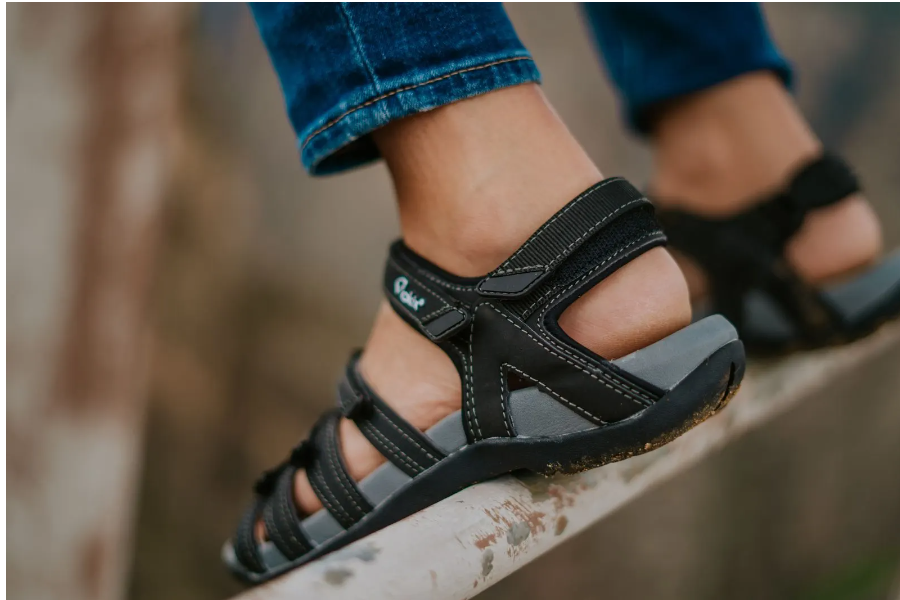 Having fantastic arch support is yet another big bonus to these sandals. It means they are great for folks with narrow feet, putting this pair at the top of the list for pretty much everyone and all outdoor activities.
No matter if you are hiking, backpacking to a remote location to camp, or practicing water sports, you'll be cozy in a pair of these.
Birkenstock Yao, Oldies But Goodies For Narrow Feet

Everyone loves a good Birkenstock. The Yao design is excellent for narrow feet with a naturally contouring fit, EVA cushioning, and feather-light weight.
These oldies but goodies are available in narrow sizes and come out of the box shaped and ready to mold right to your feet.
Good for a day at the beach or a casual social mixer, having a pair of Birks leaves you well prepared for any summer event.
A Good Pair of Sandals Is Essential, Especially When You Have Narrow Feet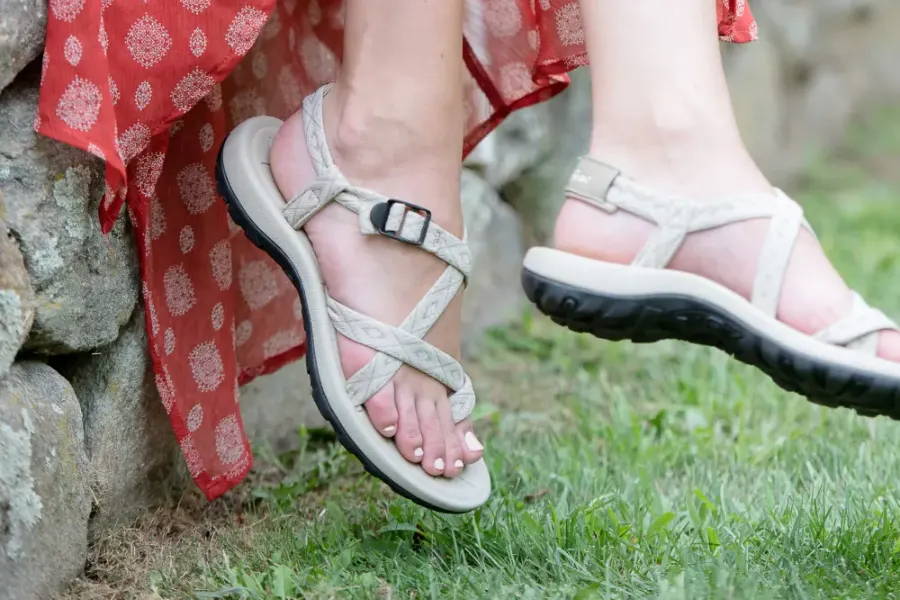 Just because you have narrow feet, that does not mean you should have to sacrifice quality and comfort. Don't get discouraged when shopping for a great pair of shoes to fit your feet and lifestyle. There are a lot of top-notch choices out there! Whether you are looking for a casual slip-on, a classy slingback, or a tough pair of hiking sandals, the options for narrow feet are endless.
Owning a fashionable and durable shoe for the summertime is absolutely essential, and a breathable pair of sandals that can get you anywhere you want to go is a wardrobe must-have.
Just remember to look for a couple of features like straps that can be customized (and again, ones that tighten more than just a tiny bit), a soft yet supportive footbed, and a durable sole. Keep in mind having shoes that don't fit just right isn't only annoying but it can also lead to more unpleasant issues down the road. There is nothing better for helping enjoy the great outdoors or a stroll downtown than shoes that carry you lightly along on your journey.
Hopefully, this list and few helpful hunting tips will aid you in avoiding the disappointment rollercoaster that's unfortunately so common with buying shoes online. Instead, we hope to have sent you on your way to discovering a glorious pair of sandals designed just for you.
Happy shopping!
Collection 2019
Sale 70% Off
Title for image