Sandals for Women's Camping Trips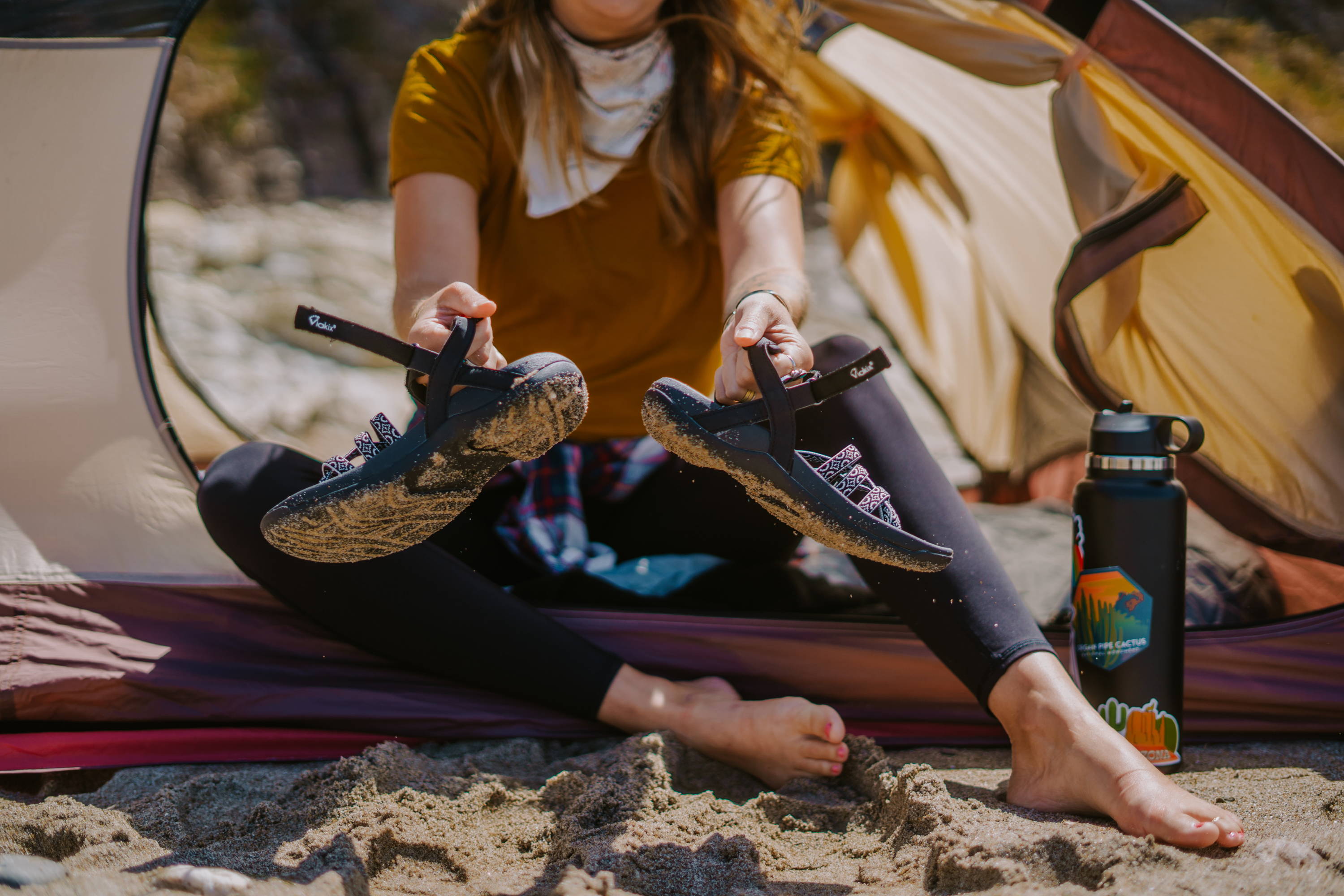 The Best Women's Outdoors Sandals for Camping Trips
We've all heard of hiking boots, which are a staple item when it comes to camping. But while the hiking boot is an essential part of your trip, we're introducing you to another indispensable item that surpasses the hiking boot in terms of practicality: the hiking sandal. Now is the time to think outside the (shoe) box and try something new. Time and time again, people are switching from hiking boots to sandals as their walking footwear preference. Sandals are easy to slip on and off, easy to clean and give your feet the necessary space to breathe. They're easily paired with socks for nights sitting around the campfire, and provide arch support and substantial traction that bring trekking to an entirely new level. Personally, I love wearing sandals on camping trips. It makes packing a lot easier, and I don't have to waste time untying my shoelaces. Best of all, I don't have to worry about my shoes smelling! And as an avid hiker, you probably know how easily your sneakers can stink.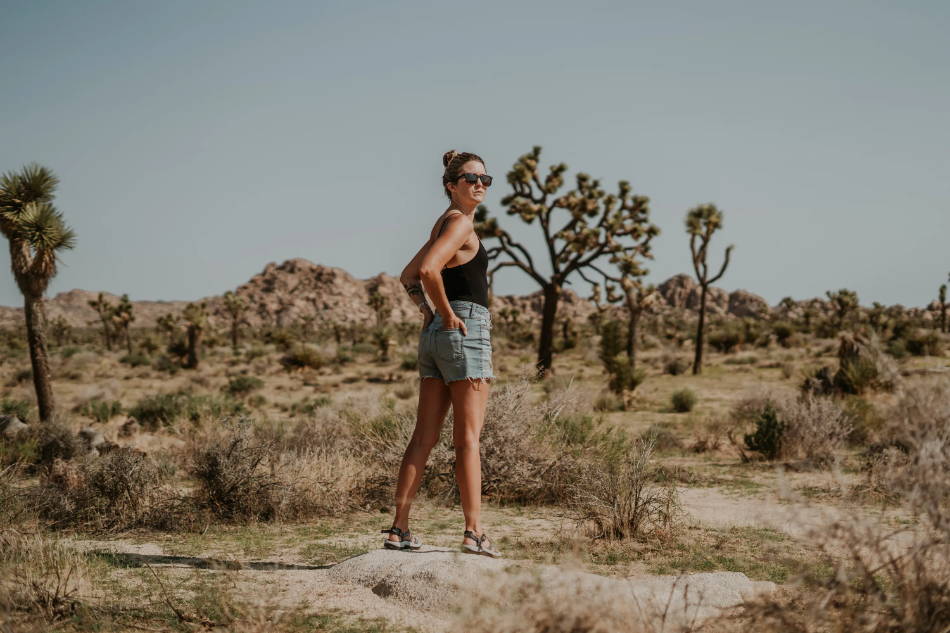 Spending time outdoors, sleeping in your tent, and cooking dinner over a fire are some of the best parts of camping. There's nothing like waking up to an expansive view of crystal clear lake water or mountain peaks towering towards the sky. That's why, during your next jaunt in the great outdoors, you'll want to pack one of these pairs of women's adventure sandals. They're a camping partner that'll stick around for life. Better yet, while hiking in the wild, rest assured you're walking with shoes that are good for the environment. The Viakix sandals are committed to using 25% of recycled materials in our footwear. We've also reduced our packaging by 30% to help make this world a greener place. I'm trying to live a greener life, and knowing my footwear is also contributing to this makes it easier for me. I love using less plastic, wearing recycled clothes, and lowering my carbon footprint, all in my Viakix sandals.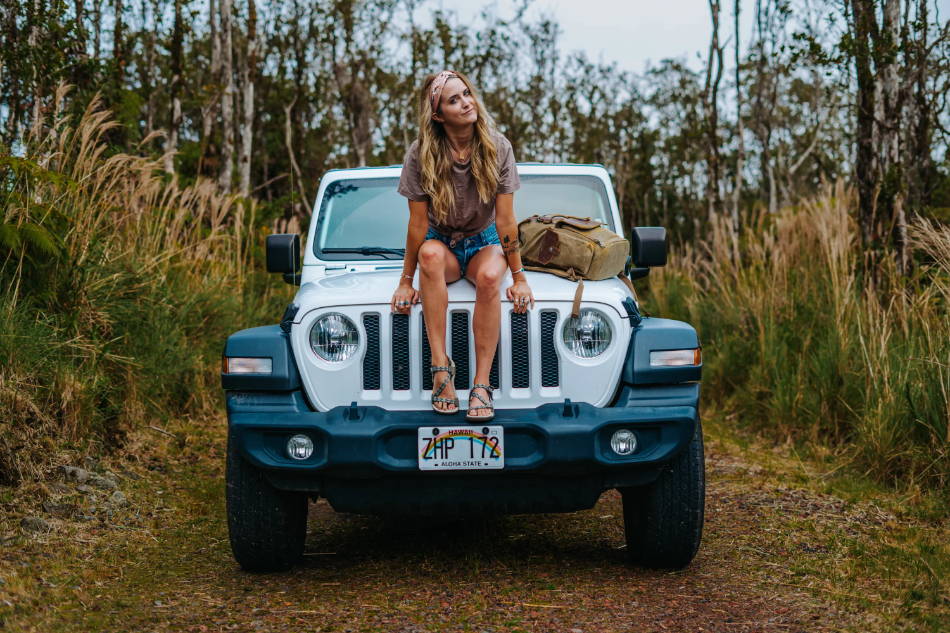 How to Prepare for Camping Trips
Preparation paves the way for a seamless camping trip. You don't want to encounter any issues while you're already on your trip, and the only way to prevent that is by preparing. You'll need to bring the obvious: a tent, yoga mat, and headtorch for those dark evenings under the stars. Pack dry bags and a waterproof tent cover in case it rains, and more than enough food for you and your camping adventure buddies. Also make sure you pack a medical kit, portable charger, and water purification tablets. If you're car camping, you can easily store food and enough water in your trunk. It's always better to be overprepared than underprepared, so with a few simple changes and a checklist, you're well on your way to a great adventure.
One of the best ways to prepare for a camping trip is to bring hiking sandals that are durable, waterproof, and supportive. With so many options out there, you might feel stressed with choosing the best option. When I look for sandals, I want one with variety. And that's where our Viakix sandals come in. These sandals are made of long-lasting material that will protect your feet. Once you choose our products, you'll never go back!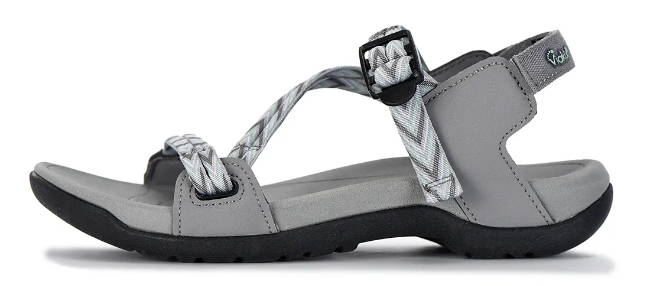 Athletic Sloane Sandals for Camping Trips
We've curated the Sloane athletic sandal solely for adventure, which is what makes it an ideal item on your camping trip. It has an adjustable strapping system that hugs your feet, so you're constantly getting pampered while camping. These sandals are easily paired with socks to keep your feet warm during chilly evenings spent around the campfire. The thick EVA foam midsole and ergonomic outsole provide substantial arch support for long, strenuous walks in the mountains or around lakes. These sandals are also great for swimming since they're waterproof and stay strapped to your feet. Simply walk from your campsite and straight into the lake without thinking twice. If your camping trip also involves river rafting, then these sandals act as a two-for-one. It's always better to be prepared with good gear than not, especially if you plan on doing multiple activities.
You can easily switch between adventure athletic sandals or cute, stylish nighttime sandals. They're versatile and durable, which means they pair well with any outdoor escapade and will last a long time. They also have deep heel cups that'll cradle your feet like you're walking on a cloud. Your post backpacking trip and end-of-day campfire lounging just took on an entirely different meaning thanks to the Sloane womens hiking sandals.
Trekking Acadia Sandals for Camping Day Trips
For lightweight, year-round, durable trekking sandals, the Acadia trekking sandals will check all the boxes. No more having to worry about finding a pair of sandals that's good for any terrain or type of weather, these sandals will do the job. Style and comfort go hand in hand and pamper every inch of your foot. These travel shoes have five hook and loop straps that provide a customizable fit, so you can easily adjust it whether you're lounging at your campsite or going on a day hike in the woods. I find I constantly adjust my sandals throughout the day, depending on the activity. When I'm camping, I like to put on my wool socks to keep my feet warm once the sun goes down. I don't have to worry about untying and retying my camp shoes.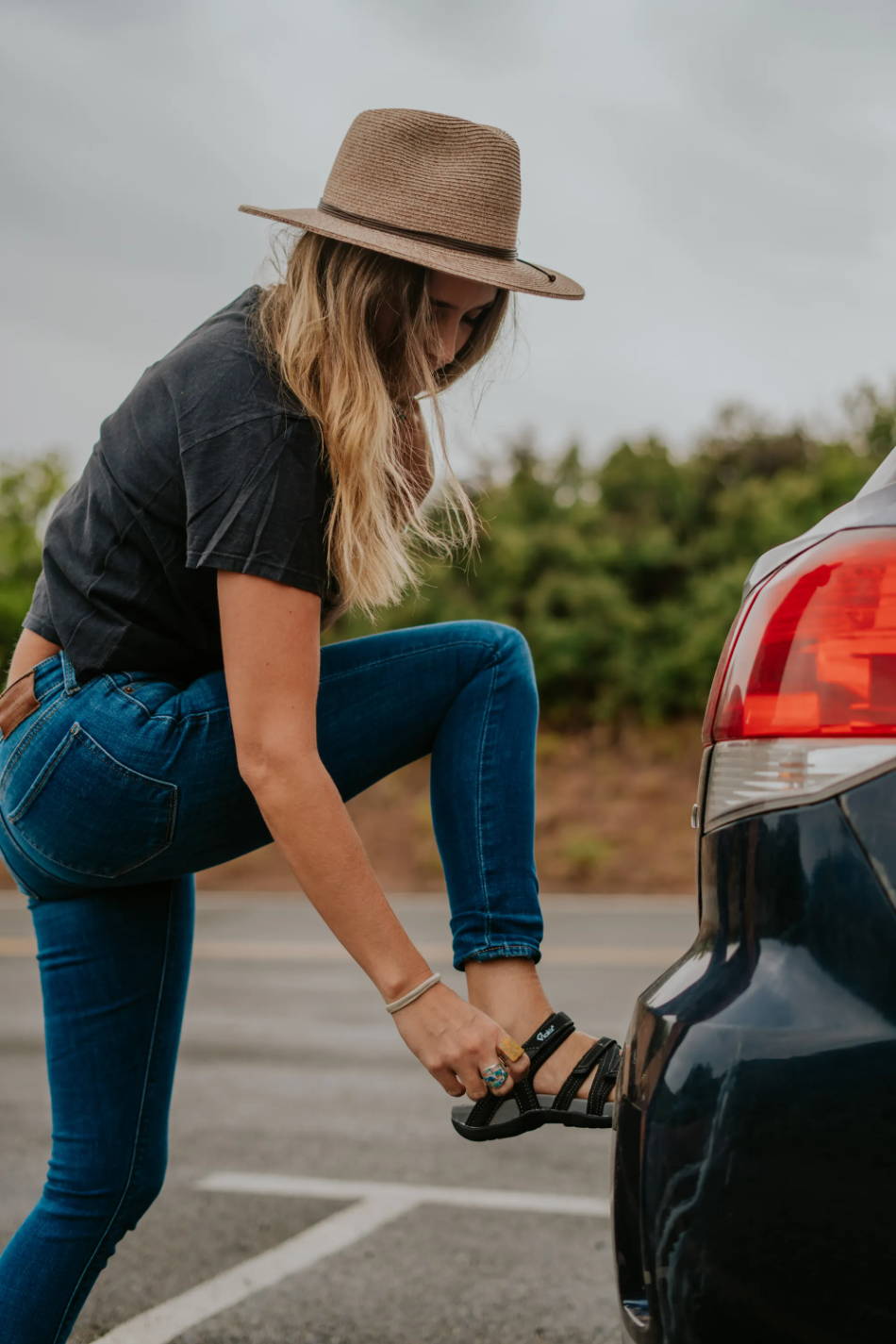 Bring these sandals with you if you plan on doing several day hiking trips from your campsite. We make it easy for you, all you have to do is climb out of your tent, strap the sandals on, and you're ready to go. When you're back from your adventure, easily clean the sandals and put a pair of warm socks on. With these sandals, you won't have to worry about getting injured while on the trail or at your campsite. The EVA foam midsole and ergonomic outside provide substantial arch support, and the deep heel cup cradles your foot. The waterproof and water-resistant material fend for your feet in wet weather conditions, and the quick-dry strap doesn't trap water, which means they won't chafe your skin.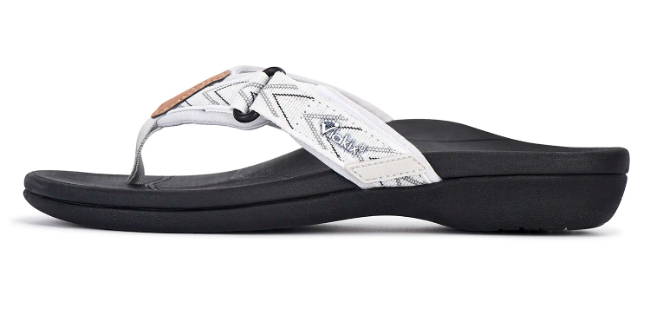 Sport Kiawah Women's Sandals for Camping 
With a cushioned ergonomic EVA foam sole, excellent arch support, and a deep heel cup, the Kiawah women's sandals make an ideal addition to your camping packing list. The deep heel cup absorbs the body's impact and naturally aligns your feet, and with this, you'll notice a soothing and comfortable fit. Because the Kiawah sandals are flip-flops, they're also easy to slip on and off. This makes entering and exiting your tent easy. Keeping your feet clean before you enter your tent is important, otherwise, you'll drag dirt and sand into your tent. The amount of times I've had to turn my tent over just to pour out a pile of dirt is endless. No one wants to sleep in dirt, or spend time cleaning up something preventable. With my Viakix sandals, it's easy for me to take off my sandals and leave them outside my tent.  
These are also ideal if you suffer from plantar fasciitis, orthopedic heel or foot pain, or supinate. Its special, supportive contouring means those of you with high arches will love these sandals. For your go-to orthotics camping sandals, you've found your perfect match.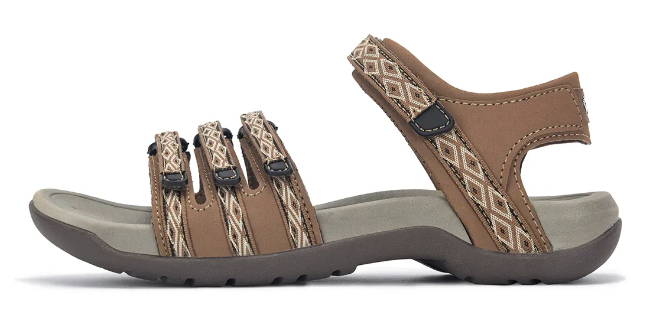 Adventure Napali Sandals for Camping 
As a self-proclaimed adventure sandal, the Napali women's sandals are ideal for outdoor escapades and camping trips. We've named this one after the Na Pali Coast on Kauai, Hawaii, and for good reason. With these, you can attain an easy balance of style and comfort. It has a soft hook and loop straps that will hug your feet. The thick EVA foam midsole and ergonomic outside provide superior arch support for long walks, and the adjustable ankle strap protects your ankles. If you're one to go on strenuous day hikes our tours while on camping trips, these sandals will protect your feet from rough terrain like rocks, sticks, and twigs. These are important features when it comes to finding the perfect hiking sandal.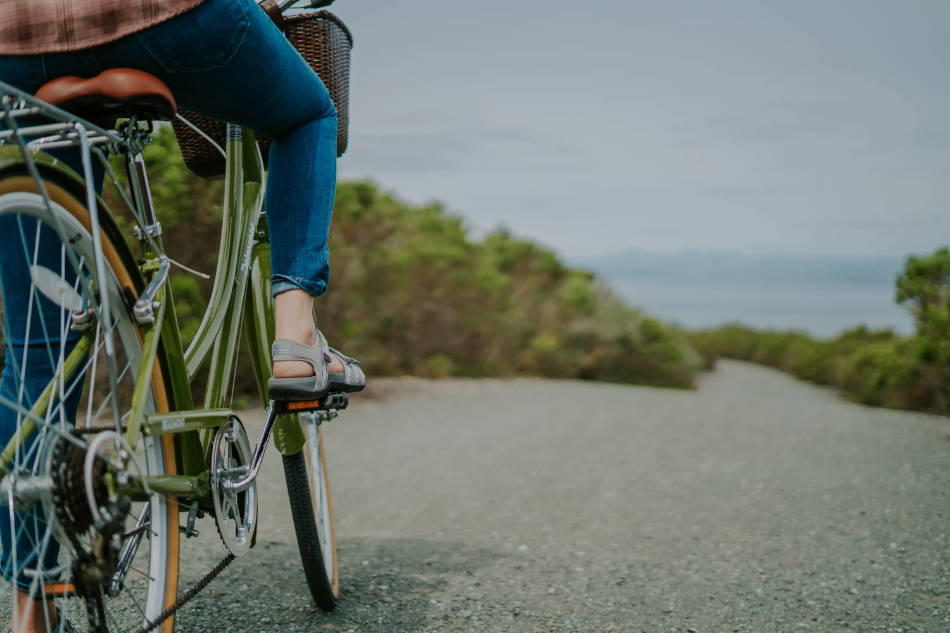 These lightweight sandals are also waterproof, so whether you're jumping in puddles or caught in a rainstorm your shoe won't fall apart. This one is one of my favorites because of the cute design and arch support. Whenever I take long day hikes during my camping trips, I love wearing these sandals. I always manage to get them dirty in the mud, but because they're so easy to clean, I don't think twice about it. They're as good as new by the end of the day, almost as if my backpacking experience never happened! That's how I know I've made the perfect travel sandals choice. There's nothing better than getting exercise that doesn't feel like actual exercise, and it's all thanks to these comfortable sandals.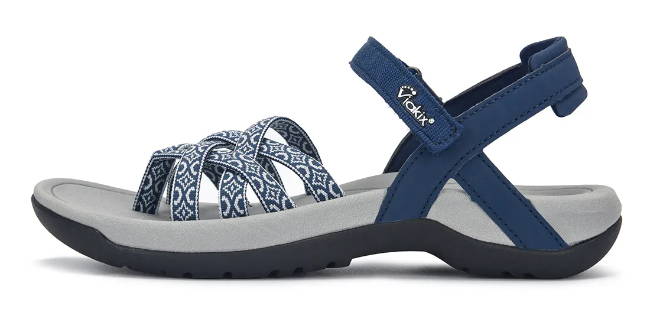 Hiking Samara Sandals for Camping Day Trips
What's camping without a fun day trip? That's where the Samara hiking sandals come in. We've found your camping soulmate. As one of our most popular sandals, these are both functional and fashionable. They have a thick EVA foam midsole and ergonomic outsole with a shank stabilizer, for more cushioning, reduced joint stress, and excellent traction. These sandals support not only your ankle and heel but your hips and back. With proper foot support, you'll have better posture and less of a chance of injury. As I get older and mbark on more camping and hiking excursions, I make my foot health a priority. Without it, I wouldn't be able to go on backpacking trips anymore. With a little bit of investment in quality equipment, I know I'm getting the best I can. It adds to the enjoyment and pleasure that comes with exploring.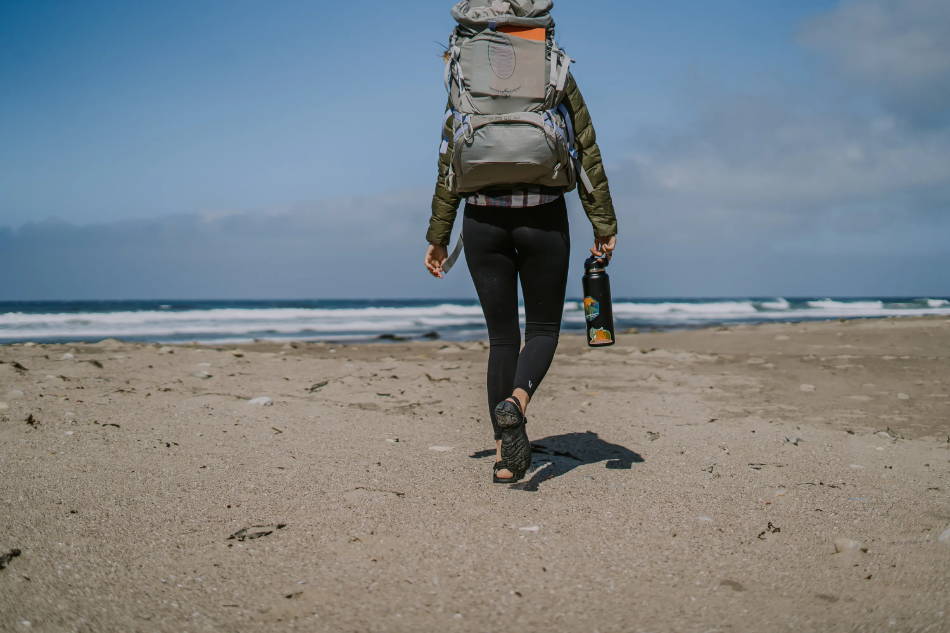 If you're one of the most adventurous of the bunch and love day hikes that involve steep ascensions or scrambling, then these sandals are your ideal adventure buddy. The front webbing is made of elastic textiles which provide a soft fit for those of you with medium or narrow-width feet. They also have a hook and loop ankle strap, which you can adjust and customize to fit your needs.
With our Viakix sandals, you're taking your camping trip to the next level. With better traction, support, and durability all around, these sandals are a necessary packing item on your list.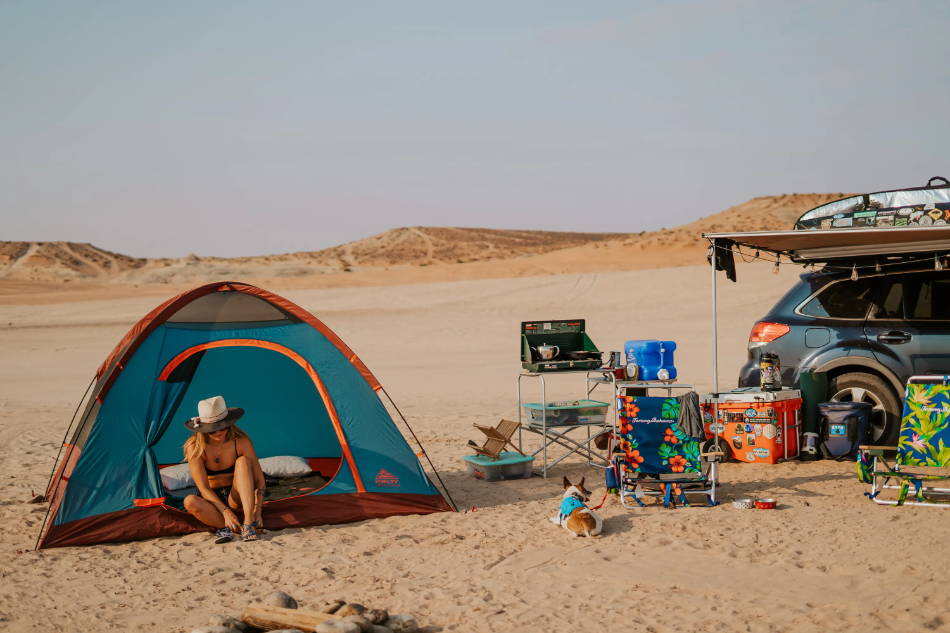 Frequently Asked Questions
Why do I need waterproof sandals while camping?
Because you're outside, you're exposed to all of the elements. This means the weather can quickly change from sunny to rainy. There's nothing worse than camping with wet, soggy sneakers, which would unlikely dry the rest of your trip. Our Viakix sandals are quick-drying.
Can I wear socks with Viakix sandals?
Absolutely! Our sandals are comfortable with or without socks. If you want to keep your feet warm during nights spent around the campfire, then throw on a pair of socks and put on your Viakix sandals.
Are Viakix sandals easy to clean?
Yes! All you have to do is rinse them off with water and dirt and any other debris will quickly fall off. This makes them a great addition to your packing list. It's likely your clothes and shoes will get dirty while you're camping, and one way to reduce the stress of dirty items is to buy sandals that are easy to clean.
Collection 2019
Sale 70% Off
Title for image